How do I find the right tire size? It is frequently questioned by both beginners and pros alike. The only sign you have to replace a new tire is when it is worn and not working correctly. If you want to search for your bike tire's best fit, take a look at the bike tire size chart. Nothing is more wonderful than a bike that shows its full potential.
Bike Tire Size Chart
Before you replace any tire, consider the bike tire size chart carefully to make the wisest choice. The rim is affected by the tire size. If you use bike tires and rims that do not fit correctly, dangerous situations can occur.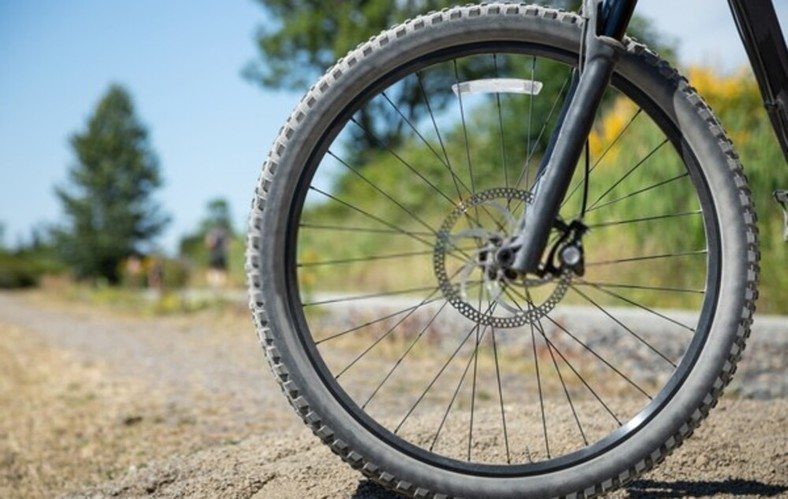 Tires that are not wide enough will quickly deflate and make it difficult to travel on surfaces. Conversely, a tire that is too wide will result in excess air and decreased stability.
There are many types of bicycles on the market today. The three popular types of bicycles that people often use are mountain bikes, fat rims, and road bikes.
Mountain Bike Tire Size Chart
| | | | | | | | | |
| --- | --- | --- | --- | --- | --- | --- | --- | --- |
| Internal rim width (mm) | Tire size 1.9'' | Tire size 2.0'' | Tire size 2.1'' | Tire size 2.2'' | Tire size 2.3'' | Tire size 2.4'' | Tire size 2.5' – 2.7'' | Tire size 2.8 – 3.1'' |
| 19 | x | x | x | | | | | |
| 20 | x | x | x | x | | | | |
| 21 | x | x | x | x | x | | | |
| 22 | x | x | x | x | x | | | |
| 23 | x | x | x | x | x | x | | |
| 24 | | x | x | x | x | x | | |
| 25 | | | x | x | x | x | x | |
| 26 | | | x | x | x | x | x | |
| 27 | | | x | x | x | x | x | |
| 28 | | | x | x | x | x | x | |
| 29 | | | | x | x | x | x | |
| 30 | | | | x | x | x | x | |
| 31 | | | | | x | x | x | x |
| 32 | | | | | x | x | x | x |
| 33 | | | | | x | x | x | x |
| 34 | | | | | | x | x | x |
| 35 | | | | | | | x | x |
| 40 | | | | | | | | x |
| 45 | | | | | | | | x |
| 50 | | | | | | | | x |
Mountain Bike Tire Size 29 Inch
This 29-inch size has a long lifespan. Many professional cyclists opt for a 29-inch bicycle tire. The Mountain bikes using these tires often deliver superior speeds. In uneven terrain, the large diameter of the tire will help ensure speed, friction and improve stability for the cyclist.
Initially, they built pretty simple 29-inch tires with slopes and long bodies so that cyclists could pedal better.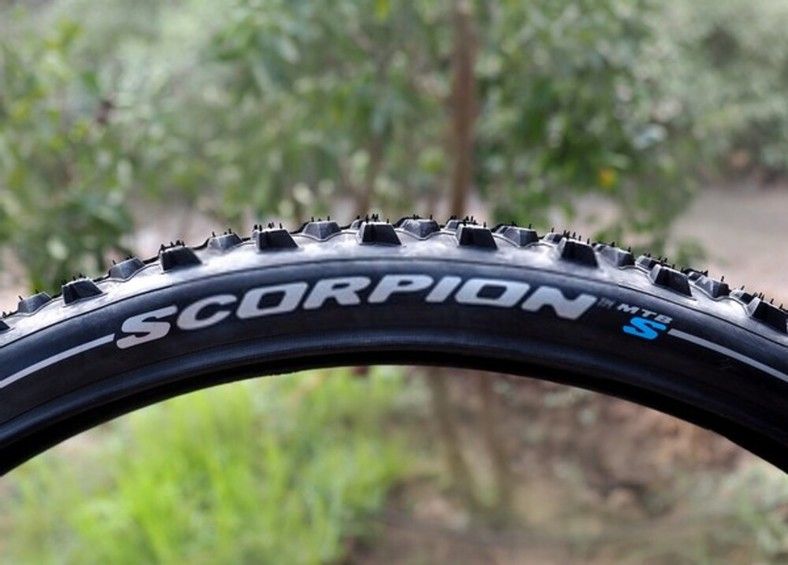 However, this design does not guarantee safety because it is easily bent and not sturdy. A while later, the 29-inch tires were modified by the manufacturers of the frame.
Mountain bike's 29-inch tires will provide riders with improved flexibility and balance. This effective combination is especially suitable for tall people or those who use a giant size bicycle.
Even if you are taller than you usually would, do not worry. The technological advances will be combined with careful calculations to expand the limits of mountain bicycles.
Ensuring that you get the right mountain bike size is crucial for a comfortable and safe ride. Our mountain bike size chart provides comprehensive information on frame sizing, inseam measurements, and recommended rider heights for different mountain bike types. Whether you're a beginner or an experienced rider, using this chart can help you find the perfect fit for your needs.
Mountain Bike Tire Size 27.5 Inch
This size of tires was first introduced eight years ago. These tires are a great combination of 29-inch and 26-inch tires. It both easily handles unique spins while ensuring fast speed and good friction. Many riders trust this tire size for its versatility and balance.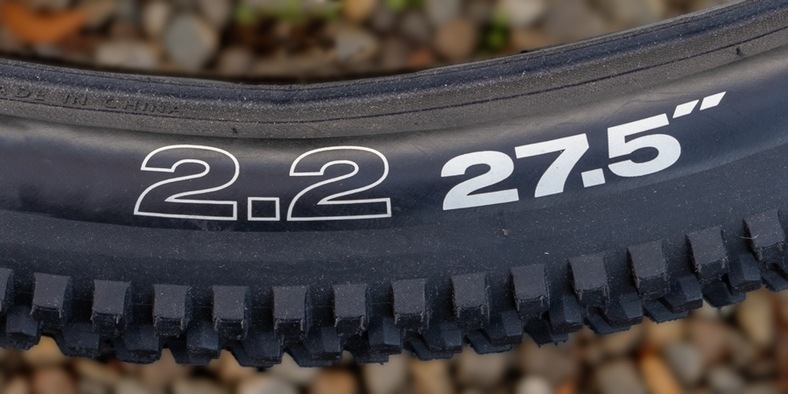 Some mountain bikes use these tires in preparation for long trail travel. It not only guarantees the smooth rotation of the frame but also ensures durability and accuracy.
Moreover, it is easy for anyone to get used to this bike tire size, which offers many significant benefits. If you want to replace your bike tires, you can consider 27.5-inch tires.
Mountain Bike Tire Size 27.5 Inch Plus
27.5-inch plus tires are essentially the same as 27.5-inch tires. However, this tire has some more advanced features in larger configurations. With sizes 30 – 40mm and large volumes from 2.7 to 3 inches, 27.5-inch tires can provide plenty of support for cyclists.
The first advantage of 27.5 inch plus tires is their excellent grip. Plus, you will feel the perfect balance from the comprehensive tire profile and efficient suspension. The large rim makes the tire taller, comparable to conventional 29-inch tires.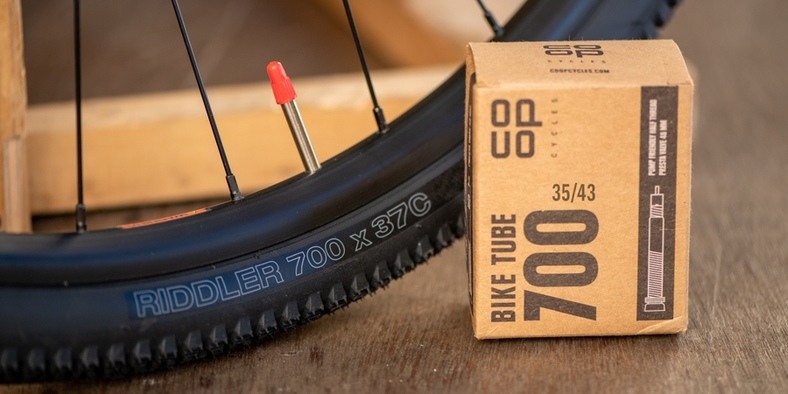 Besides, 27.5 inch plus tires inherit the durability and rigidity of 27.5-inch tires and ensure the adjustable speed of 29-inch tires.
Aside from the pluses, 27.5-inch tires also have drawbacks. Their weight is a bit heavy and requires a constant number of parts to change. You will often have to deal with the tire pressure, tire configuration, and suspension. If you are just into casual cycling, then you should opt for different tire sizes.
To ensure the productivity of your bike using 27.5-inch tires, you need to be diligent and spend a reasonable time on adjustment. What's more, it is not perfect with sticky muddy roads, lots of obstacles, and bad weather conditions.
Mountain Bike Tire Size 26 Inch
Since the advent of 29-inch tires, people have barely used 26-inch tires. But this size is still a good choice for long-distance cyclists.
Some underage racers also prioritize this tire. They are no longer suitable for kid bicycles, but they are not suitable for adult bicycles either. 26-inch tires will suit cyclists 10 to 14 years old.
If you have 26-inch tires on your mountain bike, it's important to know what size person they are ideal for. Check out this guide for more information about the recommended tire size based on height and inseam length to make the most out of your mountain biking experience.
Fat Bike Tire Size Chart
| | | |
| --- | --- | --- |
| Internal rim width (mm) | Tire size 3.8 – 4.2'' | Tire size 4.3 – 5.0'' |
| 55 | x | x |
| 60 | x | x |
| 65 | x | x |
| 70 | | x |
| 75 | | x |
| 80 | | x |
| 85 | | x |
The Pressure of the Fat Bike Tire
Tire width is the determining factor of how much pressure you put. Typically, the standard size of a fat bicycle tire is 3.5 to 5 inches. When you use a wide tire, the pressure will be less. Therefore, to ensure your cycling experience, choose the correct value from 5 PSI to 15 PSI. You will love the smooth feeling it gives you.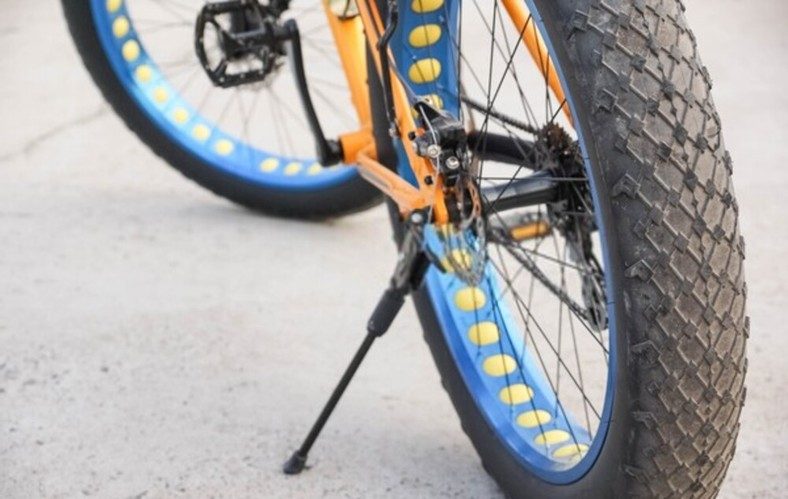 Fat Bike Tire Size for Street Cycling
You can choose correct tire size. However, cyclists typically use tires that are about 4 inches narrower than usual. This size is suitable for city roads and ensures a smooth journey.
Finding the right bike for your size is essential for a comfortable and efficient ride. Check out this women bike size chart to determine what size bike you need based on your height and inseam. With different styles and models of bikes, the chart includes road bikes, mountain bikes, and hybrids. Make sure you get the right size so you can enjoy biking to the fullest.
Fat Bike Tire Size for Exceptional Terrain
For rocky and sandy rough roads, Fat Bike Studded Tires will be a perfect choice. Its riveted design will disperse the grip on this bad terrain. You can choose between 27.5-inch and 26-inch sizes. Standard widths will be between 3.8 inches and 5 inches.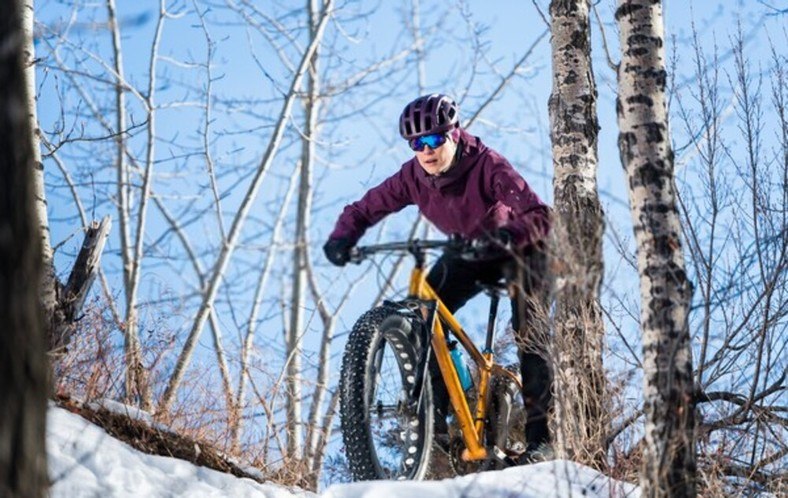 Many manufacturers also make fat bicycle tires specifically for the snowy weather. Fat Bike Snow Tires has a durable design to ensure grip on the snow. Currently, the market has quite a few popular sizes.
Road Bike Tire Size Chart
Tire Size
The width of Internal rim (mm)
23-25C
25-28C
28-30C
30-33C
33-35C
35-38C
38-40C
40-43C
43-45C
45-48C
49-50C
17-19
x
x
x
x
x
x
20-21
x
x
x
x
x
x
x
22-23
x
x
x
x
x
x
x
x
x
24-25
x
x
x
x
x
x
x
x
x
This road bike tire size chart depends on the research paper on the compatibility of the tire rim with some of the current popular tires. Several other factors, such as pressure, design, and other variables, will have a minor effect on actual compatibility.
After checking out the bike tire size chart, you should still consider it carefully before buying. The best option for cyclists can range from 25C to 30C.
Looking for the right tire size for your road bike? Check out road bike size charts to ensure you get the perfect fit. These charts take into account your height, frame size, and riding style to help you determine the right tire size for your road bike. Don't settle for a one-size-fits-all approach when it comes to your bike tires.
Some Things to Keep in Mind When Choosing Bike Tire Size
International Organization for Standardization
International Organization for Standardization (also abbreviated as ISO) has minimized the complications for manufacturers of decoding many metrics.
This organization has created a new system for tire measurement alignment. Currently, the information on the new tire indicates the width and diameter of the ISO measurement.
The Diameter of the Bike Tire
The tire's diameter is the necessary parameter for you to compare with the bike tire size chart. The two most important numbers you need to know when choosing a bike tire size are diameter and width.
The tread shape is the deciding factor in how the tire's actual diameter will change. Therefore, you must consider BDS. It performs the calculation of the tire's inner diameter.
The manufacturer will print this number on the tire. It is listed as an inch or a millimeter.
The Width of the Bike Tire
Next, you need to care about when checking the bike tire size chart is the tire width. If you use large-width tires, it will be easier for the tires to create friction with the surface of the road. It helps you feel secure and balanced.
Conversely, a smaller tire width results in less drag. Tires do not create too much friction with the road surface so that you can go at a faster speed. Usually, the three standard sizes of bicycle tire widths are 28C, 25C and 23C.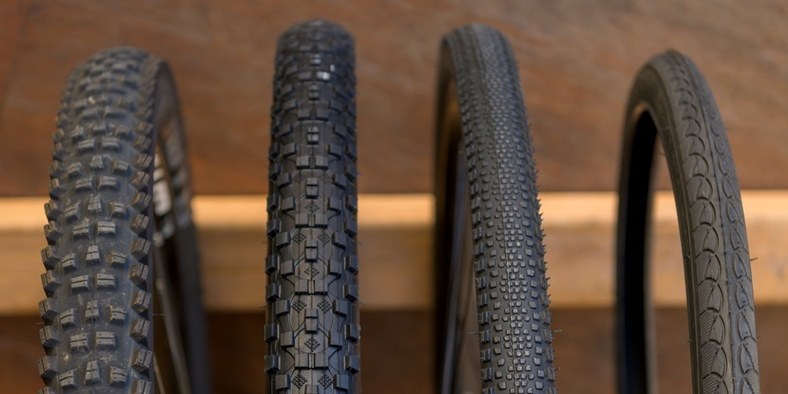 Before deciding which tire to use, you should consider the two most important factors. The first factor is bike fit. The second factor is your association with your cycling style. If you combine the two, you can experience total comfort at a balanced speed.
Cyclists usually opt for a 25mm- width. This size combines weight balance, outstanding performance, and exceptional comfort. For uneven roads, a smaller one would be a reasonable choice, such as 28mm.
Please refer carefully to the bike tire size chart when you are not confident with your choice.
When choosing the right tire size, it's important to measure the width of your bike tire accurately. This can be done easily with a tape measure. For more information on measuring mountain bike wheel size, check out Hood MWR's guide on mountain bike wheel size.
FAQs
Is a bike tire size chart necessary?
Before choosing any tire, you should check the bike tire size chart. This chart not only helps you make the right choice but also saves you time and money. The sizes of the bike tire size chart are all exact parameters. Besides, it may be influenced by external factors, but the error is negligible.
How to find the right bike tire size?
As a first step, consider the sidewalls of the tire. Manufacturers will print the parameters on it, such as tire size, width, and outside diameter. However, the order may be different. For example, on the tire rim of a road bike, the parameter is 700 x 32C. You can tell that this tire has an outer diameter of 77mm and a width of 32mm.
What is the unit of measure for bike tire size?
Usually, the tire's outside diameter and width will be represented by two numbers with an x. The most common unit of measurement for bike tire size is inches and millimeters.
What height is a 26-inch tire for?
Cyclists taller than 6 feet will accommodate this height. Some conventional bicycles today often use 29-inch wheels or 700C.
Is a bike suitable for different tire sizes?
You do not have to use only one tire width. Existing bicycle wheels can be easily changed for different sizes.
The Verdict
Choosing the correct tire size is not easy. So, checking the bike tire size chart before buying a tire is extremely necessary. Whichever bike you are using, remember that the tire's width should be between 50 and 60% greater than the width of the inner rim. If you want to try various braces, go to a reputable store and seek professional help.
Hopefully, this article has given you a bike tire size chart and necessary information to find your best tire.