When you are looking for a new bike, the bike weight is always one of the most important factors to consider. The more lightweight a bike is, the more efficient and faster it is. Besides, it allows you to accelerate quicker than a heavyweight model. What's more, lighter bikes are more convenient to store, transport, or carry for commuters. Typically, bike weight can make a huge difference when you are in a race.
So, how much does a bike weigh? Actually, this depends on different factors. But an average bike can weigh between 17 and 80 lbs. In general, a good road bikes are one of the lightest bikes among other types. They weigh only around 17 lbs. The mountain bikes are a little bit heavier, with an average weight of about 25 lbs. You can find beach cruisers and hybrid bikes having the same weight as mountain bikes. And perfect electric bikes are the heaviest bikes, which can weigh up to 80 lbs.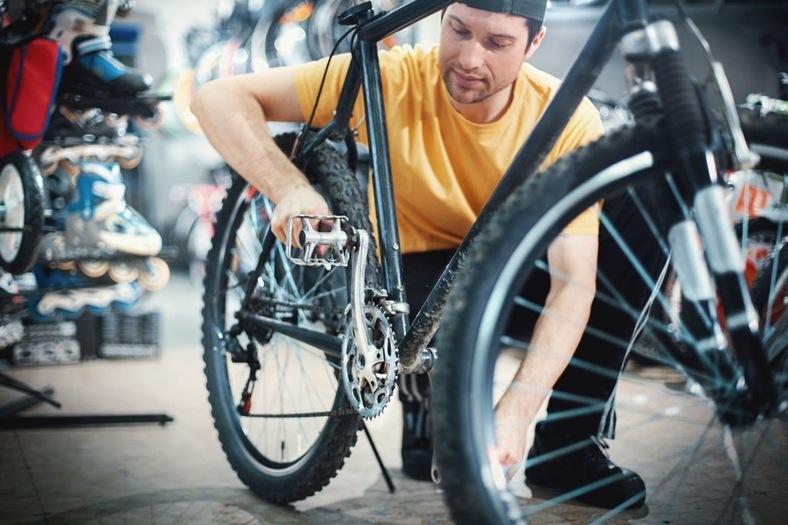 Bike Weight Comparison Chart
Below is the bike weight comparison chart based on the types of bikes.
| | |
| --- | --- |
| Type of Bike | Average Weight |
| Road Bike Weight | 18 lbs |
| Mountain Bike Weight | 21 – 29 lbs |
| Single Speed Bike Weight | 20 lbs |
| Hybrid Bike Weight | 29 lbs |
| Beach Cruiser Weight | 35 – 40 lbs |
| Recumbent Bike Weight | 81.5 lbs |
| Kids Bike Weight | 24 lbs |
The following table will show you the bike weight comparison based on frame materials.
| | | | |
| --- | --- | --- | --- |
| Frame materials | Cheap | Strong | Light |
| Steel | Yes | Yes | |
| Aluminum | Yes | | Yes |
| Titanium | | Yes | Yes |
| Carbon fiber | | Yes | Yes |
So Why Is A Bike's Weight Important?
The weight of a bike can affect how fast you can speed up on a bike and how fast you can ride. The difference of the 1 pound gap doesn't really matter in this regard. However, a 20 lbs difference will make a huge gap.
This might not be important if you ride as a hobby because it is a few pounds more. In this case, it will be more profitable and cost-effective for you to lose weight rather than spending lots of money on a more lightweight bike. But in professional cycling, even brief seconds can make a huge difference between first and second place. And, of course, the bike weight is paramount. For cyclists, a bike that weighs just a few pounds won't make much of a difference.
As I mentioned earlier, the weight of a bike is really crucial to bike commuters. This is even more important if you have to lift your bike on your road from home to your office. Hence, you might want to buy a bike that is a little bit lightweight or at least not too heavy to lift.
In the rest of this reading, I will explain to you thoroughly why different types of bikes weigh as much as they do. Besides the traditional bikes, I will also discuss the weights of a mountain bike, hybrid bike, road bike, cruiser bike, kid bike, etc.
Reducing the weight of your bike can help you ride faster and longer, with less energy expended. Read more about best bike brands for lightweight bikes or consider investing in lighter components such as wheels, handlebars, or framesets. However, keep in mind that a lighter bike usually comes with a higher price tag.
How Bike Weight Affects Your Riding Performance
When it comes to cycling performance, a lightweight bike will give you more benefits when you are handling steep inclines. On flat terrain, if the wind is blowing hard, you may have trouble riding against wind resistance due to the lightweight of your bike.
Competitive cyclists usually opt for lightweight road or hybrid bikes because the lightweight frame of these bikes can offer six to ten seconds more to their speed.
But commuters spend most of their time riding on flat terrains. Therefore, a bike with a lightweight frame can be a big disadvantage for them. Hence, a more heavyweight bike will be much more beneficial for commuters rather than a lightweight one.
Road Bike Weight
On average, a road bike usually weighs around 18 lbs, including all components such as cages and pedals. Since this type of bike is typically made for riding on paved surfaces and city streets, they will have more lightweight frames and smaller tires than almost all other types. Therefore, you can ride very fast without too much effort handling it.
If you are a novice or just looking for a minimalist or simple bicycle, bike weight might not be a huge factor to consider. In fact, it can be even better if you purchase a heavier bike to ride as a hobby or for recreational purposes. This is because heavier bikes will give you more chances to practice exercising.
On the other hand, bike weight plays a very important role for road racers. This is not only crucial when they are preparing for their competition but also much more essential for real racing to reduce the total weight of a bike. This way, they can ride faster because of less wind resistance.
For those who don't know, the International Cyclists Union set a minimum weight limit of race-legible road bikes is 14.99 lbs. Therefore, you can buy a bike that is even more lightweight than the average weight of a road bike.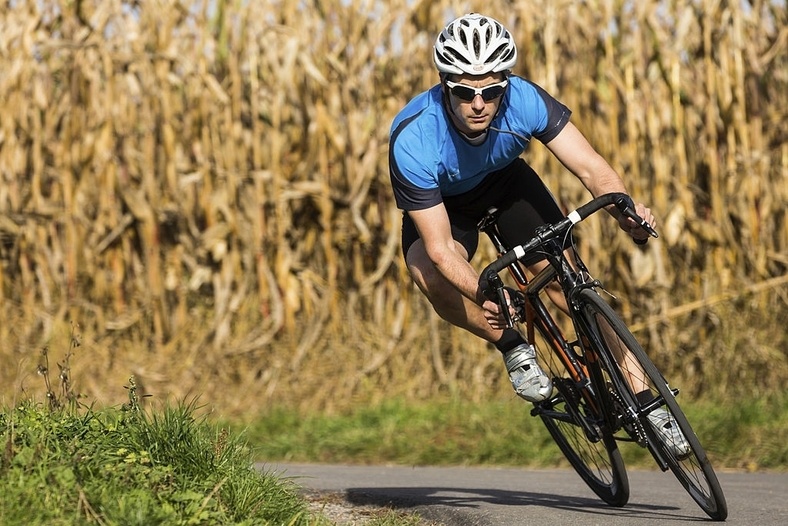 Mountain Bike Weight
A good mountain bike weight ranges from 21 to 29 pounds on average. Because these types are typically designed for rugged and hard trails, they will be heavier than most other models.
One of the main reasons for this heavyweight is that mountain bikes are usually equipped with extra gears to handle the rough terrains. They often feature front and rear suspensions that provide riders with better stability and balance when they are navigating and controlling their bikes on uneven roads. What's more, they need to have a more powerful and stronger brake system to deal with the slippery trails and steep ascents.
Mountain bikers also tend to equip their bikes with extra gear, such as water bottle holders, cameras, etc., which can increase the total weight.
Even if you have a hardtail or full-suspension mountain bike, it still weighs between 21 and 29 pounds on average. But most riders prefer mountain bikes with a bit heavier in this range, which is around 28 or 29 lbs.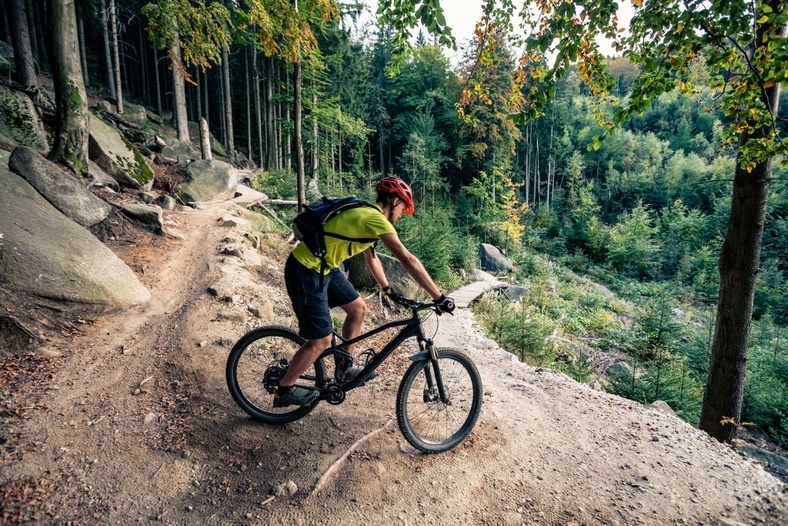 It's important to make sure you have the right size mountain bike for your height and body type. Check out our mountain bike size chart for a frame sizing guide and tips on how to measure your inseam and reach. A properly sized bike will help with your bike's weight distribution and overall riding comfort.
Single Speed Bike Weight
Single-speed bikes will be a little bit heavier than road bikes and more lightweight than mountain bikes. They usually weigh around 20 lbs. This is because they have simpler designs when it comes to gear systems compared to mountain bikes. They are often equipped with simple gear, and other components are also fewer than MTB bikes. Therefore, you will not need to spend lots of time and effort maintaining this type of bike.
In fact, single-speed bikes provide you with such an excellent drivetrain that they can even work better than a standard multi-geared model. Straight chain line, no chainrings, ramps, chain drag, and pin are also an advantage of this bike because it contributes to the overall efficiency.
However, there are different single-speed bikes that are either lighter or heavier than the average weight of 20 lbs. You can find some models that weigh only 13 or 14 lbs, like the TrekMadone. Other models, on the other hand, can be even heavier than mountain bikes. They can weigh up to 30 lbs, such as the Karate Monkey. The main reason for this is the materials used to build the frame and other parts of the bike.
Hybrid Bike Weight
As their name suggests, high quality hybrid bikes are made with a combination of mountain bikes and road bikes. Hybrid bike weight will vary depending on the purpose and design.
For example, if a hybrid bike has more mountain bike styles, its weight will be around 29 lbs. However, the cruiser-styled hybrid bikes will be heavier, with an average weight of around 32 lbs. Hybrid bikes with road bike styles are in between these types. They weigh around 26 lbs.
Hybrid bikes usually feature large cushioned saddles, medium-wide tires, and upright handlebars. This design makes them really comfortable to ride as in casual or recreational riding. They are suitable for riding around the neighborhood, around town, or on short-distance commuting.
Besides, hybrid bikes are great to ride on paved or unpaved streets. However, they might not perform well as road bikes. In addition, if you prefer speed, you can opt for lightweight styles instead of heavier ones.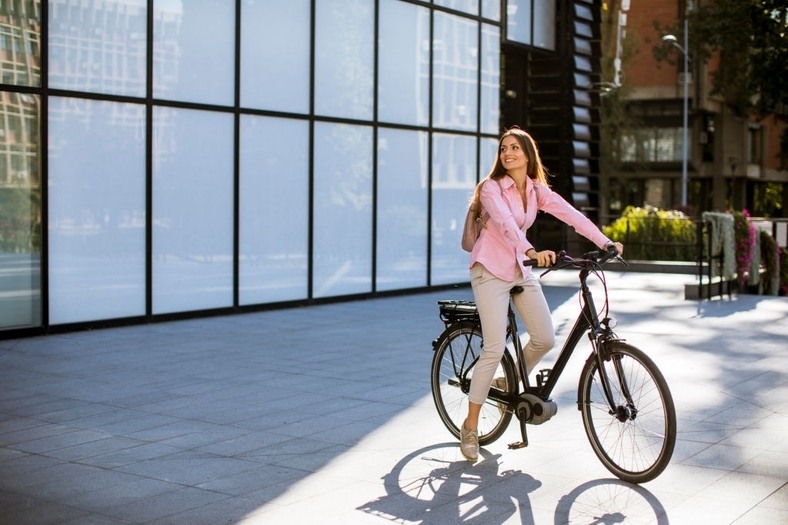 Beach Cruiser Weight
In fact, beach cruiser bikes are relatively heavy, typically when you choose cheaper models. On average, a beach cruiser bike will weigh approximately 35 to 40 lbs. Some models can also weigh a little bit more. These types of bikes are really sturdy and designed to resist small crashes. Since they are built for long-distance ridings, their tires are usually heavier and larger.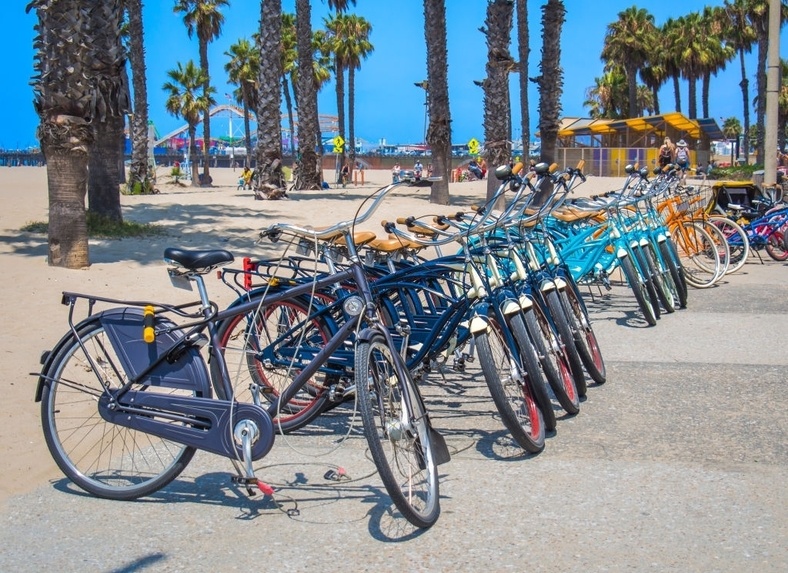 Recumbent Bike Weight
The unusual shape of recumbent bikes makes lots of people think that it is not a bike, at least one time! They are also not built like your normal bike. Recumbent bike weight usually exceeds the weight of an equally priced road bike by about 4-5 pounds, which is around 81.5 lbs. Besides, they are also really comfortable to ride and usually faster on the street than diamond-framed bikes.
On a flat surface, the drag is often 30% less than when you are riding your bike in an upright riding position. This difference is one of the greatest things that makes recumbent bikes more interesting to ride. Since recumbent bikes are specially made for long touring cycles, they will give you more thrust as you push into the saddle, providing you with incredible acceleration and sustained high-speed runs.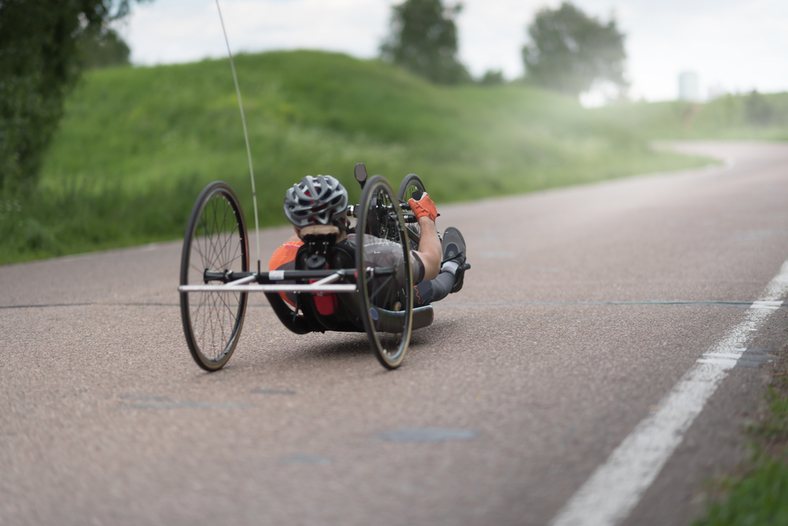 Kids Bike Weight
When reading this, lots of people might be surprised because kid bike weight can even be heavier than adult bikes. A bike designed for kids with the age range from 5 to 7 can weigh around 24 lbs. This weight is really heavier than standard road bikes for adults.
Another thing that might add extra weight to the overall load of the kid bikes is the suspension system. If a mountain bike for kids is equipped with suspensions, it can raise the overall weight up to 33 pounds. The main reason for the heavyweight of kid bikes might be because they ride their bikes a lot. And the weight can also make sure that minimal maintenance will be required.
Moreover, it can increase balance and stability, typically when your kids are still learning how to balance on their bikes. Having said that, several bike brands create lightweight versions of hybrid bikes for kids. They offer different styles and sizes for your kids to choose from.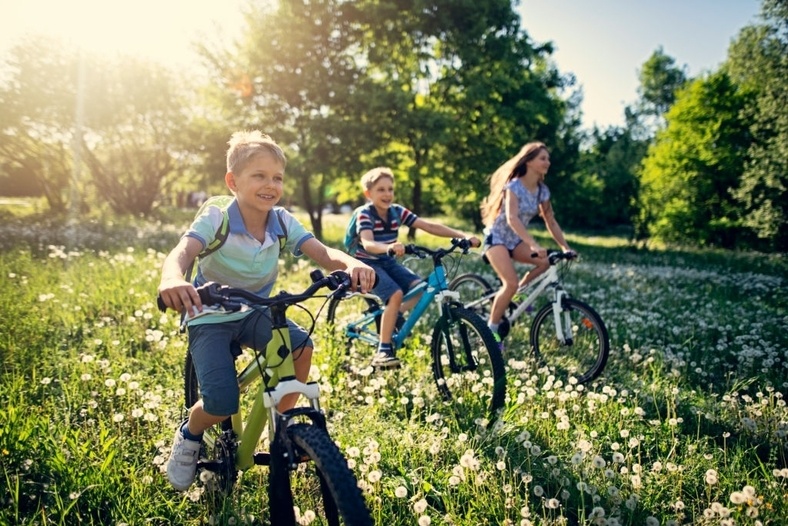 Bike Weight Based on Material
It is obvious that materials used to create bikes affect a lot on the overall weight of a bike. They feature different properties which either boost or decrease your riding performance. It all depends on the road that you ride on.
Each type of material has its own advantages and disadvantages. A lot of riders love bikes made from aluminum frames because they are lightweight. On the other hand, other cyclists complain that aluminum makes the bike so stiff to ride. In the same matter, stainless steel is considered one of the most durable materials to make bikes. But it is quite heavy, typically when you ride it for a long distance.
Below are the details of different materials used to make bikes and their pros and cons. This will help you easily choose the most suitable material for your bike.
Steel Frames
No matter how strong it is, almost all available types of steel have the same weight and level of hardness. The steel can be thinner a little bit when chromium and molybdenum are added to it. As a result, your bike made of this material combination will be lighter. As you might know, almost all types of bikes today are made of chromium tubing, which not only adds strength but also reduces the overall weight.
The strength of the steel lets bike manufacturers create bicycle frames with a specific amount of flex, creating a tube that is resilient compared to the stiff tubing that you may find on the old stainless steel bike frame. Steel bicycle frames are also easier to fabricate and repair than other types of bicycle frames; take aluminum, for example. This might be because when aluminum bends, it tends to damage the frame a bit.
Steel bike frames that contain more levels of carbon content will be less expensive to produce. This, as a result, allows welding to become much more straightforward. But it is also much more heavyweight than other types of material.
Nevertheless, a lot of riders choose to buy a bike with a steel frame because of its reputation for strength and durability. These features are much better than most types of bike frames, typically aluminum.
Aluminum Frames
Bikes made from aluminum frames have been available on the market for around 30 years, and it has become one of the most popularly used materials to create bikes of different styles. Aluminum frames are much more lightweight than their steel counterparts since they are less dense than stainless steel. Nevertheless, their tubing frames tend to be larger in order to reinforce the frame due to the reduced density of the metal. This might lead to a harder riding experience.
An advantage of aluminum frames over steel frames is that they don't rust. However, the rigidity of the metal in steel gives the bike frame a more responsive feel because the power transmitted through the pedal force is instantaneous.
This all depends on your preference because some riders find the stiffness is harsher to ride. The good news is that the added carbon fiber fork will help you reduce this problem to some extent. This system can substantially absorb shock and impact on the road, leading to much more comfortable riding.
Titanium Frames
When it comes to frame design, titanium is considered a perfect choice for most cyclists. This material is lighter and considered more enduring than aluminum. Nevertheless, titanium is also not as dense as steel. It is also around half as stiff and stainless steel.
For those who don't know, people usually compare the hardest titanium alloys with the toughest steels. However, a bike frame made from titanium will need wider tubing. Titanium is also light and non-corrosion, just like aluminum. What's more, titanium can be designed tougher to accommodate different riders' weights.
Another disadvantage of titanium is its high price because it requires manufacturers to weld the frame meticulously to prevent contamination.
Carbon Fiber Frames
Carbon fiber frames are usually made up of non-metallic graphite fiber cloth and epoxy resin. Since this material is relatively pricey to produce, they offer a greater weight-to-height ratio. This type of material is considered exceptionally tough and sturdy.
While metals share the same properties of rigidity and strength in all directions, carbon fiber composites can target the areas where they are needed most. This is the main reason why carbon fiber is often used to design bicycle frames with unique shapes.
Other Factors that Influence Bike Weight
Below are some common factors that will affect the overall weight of a bike.
Components: The materials used to make other parts of the bike, and the number of gears on a bike can significantly change the overall weight of a bike.
Frame Material: This is the factor that has the most influence on bike weight. Steel is considered the heaviest material to build bike frames. Aluminum is usually lighter than steel, but it might not be as light as carbon fiber or titanium. But these two materials are more expensive to produce.
Saddle: A comfortable bike seat can reduce your bike weight, but it might not be really comfortable for you to ride on, typically when you ride long distances.
Tire Size: Standard bike tires often weigh between 1 and 1.5 pounds per tire. This weight can be even more if you have a mountain bike with large fat tires.
Rack: Not all bikes have racks. If yes, they are usually mounted on the back or front of a bike. This can add extra 1.5 pounds to the total weight of your bike.
Other accessories: Any additional accessories that you mount on or carry will add extra weight to your bike's weight. Think more about bicycle tubes, bells, lights, pumps, tools, water bottles, etc.
If you are considering buying a bike light in weight, it is important to consider other factors that contribute to the overall weight of the bike. Check out our guide on bike size chart to help you find the perfect weight and size of bike that suits you.
Frequently Asked Questions
In this part, you will find some of the most frequently asked questions relating to the bike weight. Let's take a closer look and get your own answer.
How much does a bike weigh in lbs?
This all depends on different factors, but the materials used to create a bike have the most influence. For example, an average bike can weigh between 17 and 80 lbs. Road bikes weigh only around 17 lbs. In the meanwhile, the average weight of a mountain bike is about 25 lbs. And electric bikes can weigh up to 80 lbs.
Is 15kg heavy for a hybrid bike?
Almost all available hybrid bikes weigh about 28 pounds (approx. 13 kg). So 15 kg is not really heavy for a hybrid bike. This all depends on the material used to produce that bike, and the road you ride your bike on is more important.
How much does an average road bike weigh?
Usually, a standard road bike has an average weight of around 18 pounds. Make sure that your road bike should not weigh more than this amount, including cages and pedals.
Does bike weight really matter?
Bike weight is a really important factor, typically for professional racers using their bikes in competitions. In fact, the lighter your bike is, the faster you will go because it can reduce wind resistance significantly. However, if you just ride as a hobby or for exercise purposes, then bike weight doesn't really matter.
Are heavier bikes harder to ride?
Actually, heavier bikes are not more difficult to ride. They just give you different feelings from riding a lighter bike. Heavier bikes require you to put a little more concentration to not tip over at really slow speeds. However, they also start to balance themselves at a slower pace than their lighter counterparts.
Conclusion
It is true that there is no standard weight for various designs of different types of bikes. This all depends on the frame materials and other parts or components. A stainless steel bike will be heavier than an aluminum one. On the other hand, a fiber carbon bike is considered the lightest bike because it is even lighter than the two models. All you need to remember is that a bike frame and wheels are the two heaviest parts of the bike. So they will determine the overall weight of a bike.