Cino Cinelli is the founder of the Cinelli bike company. He established the bike brand in 1947 when he was a former professional racer who won the Milan-Sanremo championship in 1943. Although not an engineer, Cino was an obstinate perfectionist, and for only 20 years, his company became a leader in the production of handlebars and racing bikes.
Key Takeaways
Cinelli is an Italian bicycle manufacturer.
They are well-known for their unique designs and partnerships with artists and designers.
The majority of their bikes and parts are road bikes.
They are well-known in the fixed-gear and track bike worlds.
The production value is approximately 80% components and 20% bikes.
Cinelli has been active in competitive cycling since 1947 and has a long history.
The company is concerned with sustainability and ethical production.
Cinelli's product line includes frames, handlebars, stems, and accessories.
Cycling lovers and professionals alike are fans of the brand.
There are a lot of interesting things to learn about this well-known Italian bike company. Let's find out in this article.
Part of List of Bike Brands.
Overview of Cinelli Bike Company
History of Cinelli Bike Company
Cinelli was established in 1947 by Cino Cinelli, an Italian road rider who became a professional, famous racer from 1937 to 1944. Cinelli won a lot of cycling-related prizes, such as the Tour of the Apennines in 1937, the Giro di Lombardia in 1938, and the Milan–San Remo in 1943.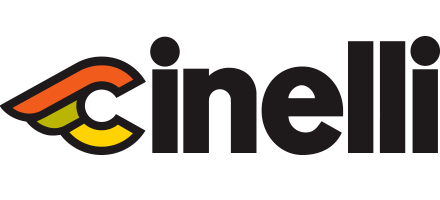 After having some mechanical problems during his races, Cino Cinelli started to be interested in bike technology. He began developing and creating new, innovative bike designs. Unfortunately, he didn't receive support from other manufacturers in the bicycle industry.
As a result, Cino teamed up with his brother Giotto, who was manufacturing steel bars and stems in Florence. After that, he quickly moved his company to Milan, which turned into the center of the Italian bike riding industry.
In 1978, Antonio Colombo, the owner of the world-famous Columbus tubing, assumed the position of Cinelli's president, and in 1997 Cinelli officially became a department of Gruppo S.r.l.
To this day, Cinelli still operates very much like a family business model. And like all cycling enthusiasts, Antonio still loves riding bicycles.
Cinelli Bike Company has been around for over 70 years and is known for its innovative designs and high-quality bicycles. If you're interested in exploring more brands that offer top-notch bikes for cycling enthusiasts, check out our full overview of YT Bikes. Ride in style while taking your cycling game to the next level with the perfect bicycle from our list of top brands.
Where Are Cinelli Bikes Made?
Cinelli is an Italian bike manufacturing company located in Milan, Italy. Most of their bikes and components are road bikes, and the production is valued at about 80% components and 20% bikes.
The Technologies of Cinelli Road Bikes
Cinelli road bikes are also equipped with quite a lot of advanced technologies. Three of them should be hybrid geometry, 1.5-inch Megahead, and Thru-axle dropouts.
The hybrid geometry can ensure optimal bike control even in the toughest conditions, thanks to Columbus Thron three-butted steel tubing. In addition, powerful disc brakes help you accelerate quickly in the last meters and sudden, sharp turns. What's more, you will never stop pedaling because of the 20mm higher bottom rack design. The internal cable routing is typically designed to increase aerodynamics and make cleaning frames much easier.
Besides, Cinelli equips most of its road bikes with 1.5-inch Megahead tubes. This oversized head tube can enhance the front rigidity and allows for taking advantage of the disc brake power. Therefore, you can get precise directions when pedaling downhill or cornering at high speeds.
The rear positions are also integrated with micro-molded thru-axle and dropouts. The unique flex of the chainstays allows the installation of lat disc brakes with a ground clearance suitable for 28mm tires. As a result, urban circuits could be easily addressed at maximum performance.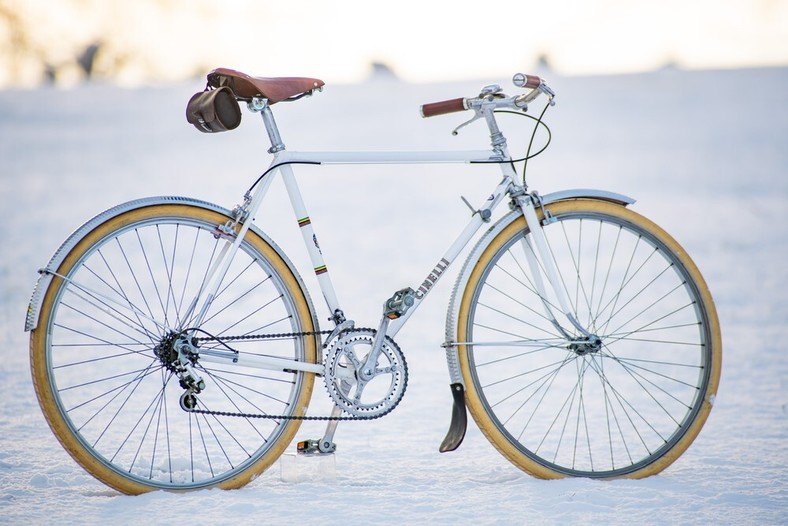 If you're a cycling enthusiast, you'll appreciate the innovative technologies used in Cinelli road bikes. From its unique crimping system to its use of high-quality carbon fiber, Cinelli is committed to delivering top-notch performance and durability that cyclists crave. Explore other road bike brands such as Merida Bikes for their unique technologies and design features.
Performance of Cinelli Road Bikes
Over the past few years, Cinelli's fixed bikes, such as the Red Hook series, have been considered the most popular bike brand when it comes to fixed-gear criterium racing. The brand has now chosen to take the fixed bikes' geometry and put it into a geared road bicycle.
If you notice, the Cinelli Vigorelli features a head and saddle angle that is about one degree steeper than most regular road bikes. In particular, it is 73.5 degrees for the saddle and 74 degrees for the head tube. This design allows for quick and sharp handling at corners.
Thanks to the 28mm Michelin tires of the Vigorelli in particular and other road bikes in general, you will feel completely confident when throwing your bike into big corners. This also adds more comfortable cushioning when you ride your bike on solid roads.
There is no denying that the Vigorelli Road offers an enjoyable ride for both amateur and experienced riders. It is a type of road bike with a fixed frame. In addition to that, the geometry tends to lead to a quick and tight experience through turns.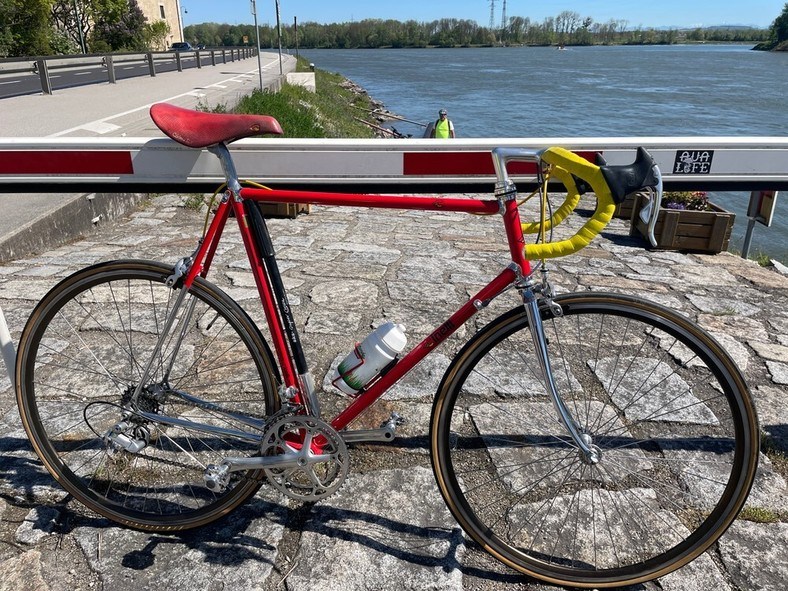 Cinelli Bike Categories
In general, Cinelli offers quite a wide range of bikes of various disciplines. Here are all the bike categories that the brand has to offer:
Gravel Bikes
Road Bikes
Singlespeed Bikes
Travel Bikes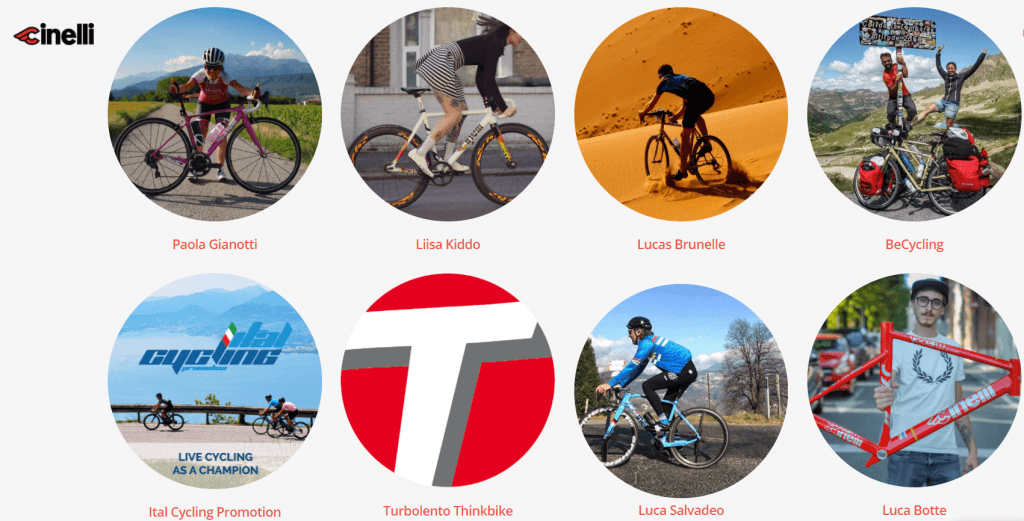 Most Popular Cinelli Bikes
Many of you might have heard about the Cinelli Vigorelli Road Bike since it is one of the most popular models of the company and can be compared with other great road bikes out there. But below is the list of several most popular Cinelli bikes for your reference.
Gravel Bikes: Cinelli Zydeco
Road Bikes: Cinelli Veltrix Disc
Singlespeed Bikes: Cinelli Tutto Plus
Travel Bikes: Cinelli Hobootleg Interrail
Cinelli Bike Price Range
Generally speaking, most Cinelli bikes from all ranges are mid-range and high-end models. Therefore, they might not be as cheap as some other bikes you can find on the market. Of course, you will get the value for what you spent. And here is the price range of the major bike categories of Cinelli bikes.
Gravel Bikes: $1,711.30 – $4,816.06
Road Bikes: $2,299.99 – $3,099.99
Singlespeed Bikes: $1,274.20
Travel Bikes: $1,485.68 – $2,798.05
If you're looking for a high-end bicycle brand that offers bicycles with the latest features, the Specialized Bicycles can be a great option for you. With a reputation for innovation, their bicycles cater to different cycling needs, whether it's off-road riding or city commuting. The price range for their bikes varies, but you can expect to pay more for a higher-end product.
Are Cinelli Bikes Any Good?
As you might know, Cinelli was one of the best bike manufacturing companies for premium bikes of its time. And to this day, the brand still makes great bikes. Their models are not only eye-catching but also offer a great riding experience. Overall, Cinelli bikes are valued for their money. They are also considered the most wallet-friendly options for the rider to get into the world of cycling.
Cinelli Vs. Bianchi
If you are looking for the most versatile road bicycle, then Cinelli and Bianchi are the two great names to consider.
As you might know, Italian bike brands usually lead the way when it comes to great road bicycles. In particular, Bianchi and Cinelli are the two leading bike brands that are very loved and favored by most road riders.
You might wonder which one will be better between the two. So, in this part, I will give you a detailed comparison of the two most popular road bikes from these brands and their major differences. This way, you will get an informed buying decision.
And the two models in this review are the Cinelli Vigorelli and Bianchi Intenso. Both of them are valuable models, but they feature several differences. That is why I came up with this section. Let's get rolling.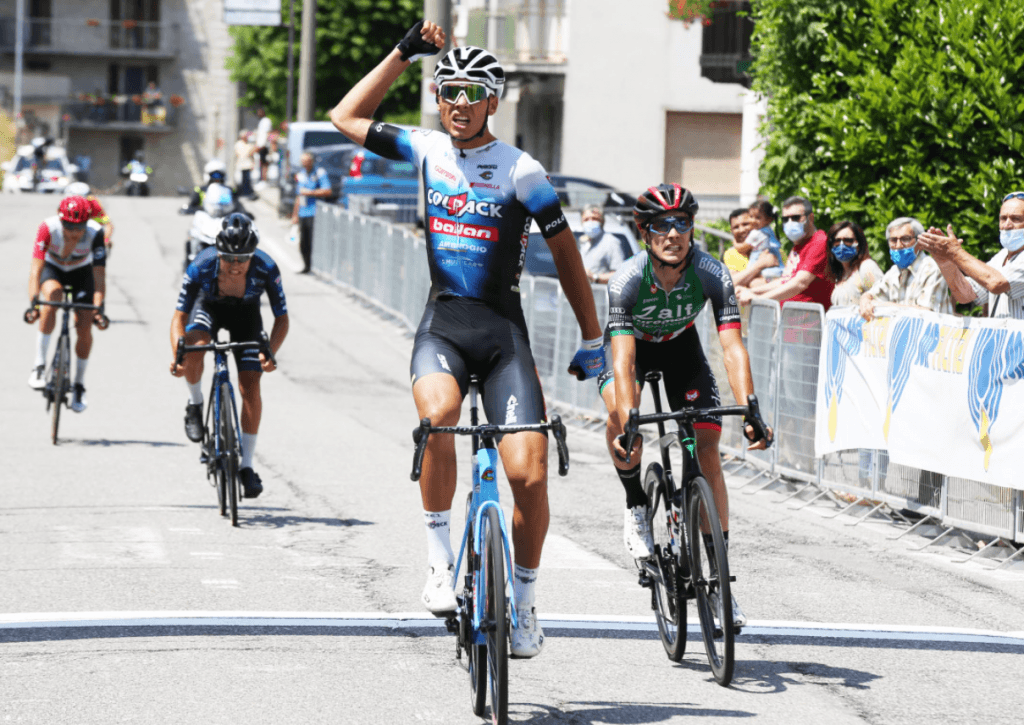 If you are looking for a brand that blends tradition and innovation, Bianchi bikes could be an excellent option. With over 130 years of experience, Bianchi offers a variety of bicycles that prioritize comfort, style, and performance. Meanwhile, Cinelli focuses more on high-performance road bikes and track bikes, perfect for professional cyclists or enthusiasts who prioritize speed and precision.
Cinelli Vigorelli Road Bike
If you have ever seen the Cinelli Vigorelli Road Bike, you will find it has a special design and strong construction. It will be sure to help you go long distances on various types of terrains.
This will be a great option for those who are looking for a steel road bike. It is built with a Columbus triple-butted steel frame, making it last for many years without any issue.
The great thing about the Vigorelli is the added strength on the tube wall diameters while the overall weight is still light. This model weighs about 21lbs, which is not really heavyweight for a steel road bicycle.
Besides, you can enjoy a maximum ground clearance of 28c because of the straight and sturdy saddle extending towards the rear axle.
While the previous model of the Cinelli Vigorelli frame was particularly made for single-speed bicycles, this model provides you with a hybrid model of a fixed-gear pedal. You will get an 11-speed bicycle that can be used for different purposes, such as commuting to the urban areas or pedaling uphill.
Moreover, the geometry is typically designed to suit the rider's needs. Accordingly, the upright saddle tube angle is 74 degrees, and the head angle is 73.50 degrees.
All in all, you can handle sharp turns and go through corners easily with this great Vigorelli.
Pros
Built with heavy-duty, durable steel frame
Offer excellent handling for a better riding experience
Come in a beautiful look with aggressive geometry
Fit various riding situations with the 11-speed drivetrain
Cons
The wheels seem to be a little bit heavy
The brakes should be improved
Bianchi Intenso Carbon Italian Road Bike
Like Cinelli Vigorelli, the Bianchi Intenso Carbon Road Bike also features some impressive things that are worth considering. It is the bike that can tackle any rough terrain effortlessly while still providing the rider with some fun and comfort.
The frame is constructed out of sturdy carbon fiber coming with Kevlar layers. This means that it will reduce shocks and vibrations in your hindquarters and hands after every ride.
This model is designed with a geometry that aims to give you overall comfort and sharpness. As a result, it will be a perfect bike for those who prefer long-distance ridings. The head angle is a bit shallow at 72.5 degrees, with a racing saddle tube at 73 degrees.
I really love the compliant and solid feeling that the bike offers, making it much easier to maneuver on asphalt or broken tarmac. In addition, the large Fulcrum's mid-range Racing 5s wheels contribute to the stability on the trail.
Equipped with an excellent 20-speed Shimano 105 Drivetrain, this bike will guarantee you superiority when riding on the road. The dual-pivot brakes are also a great thing about this model. They are very simple to operate, thanks to the incredibly smooth and responsive Reparto Corsa lever.
Generally speaking, Bianchi Intenso is an ideal bike for long riders because it offers an exceptionally comfortable saddle and seat post.
Pros
Designed with an ultra-durable and light frame
Responsive and powerful dual-pivot brakes
Offer 20-speed drivetrain for various types of terrains
Provide smooth rides and sharp handling
Typically made to minimize vibrations on the road
Cons
Some cyclists would prefer larger wheels
So, now you know the detailed review of the two most popular road bikes from these bike brands. Choosing a suitable bike is up to you since both are great for long-distance ridings. However, the Bianchi models seem to be a little bit more expensive. Of course, you pay for what you will get, and their components could be slightly better in some ways.
Cinelli Travel Bikes
Hobootleg Interrail "Emerald Pathway "
The Cinelli Hobootleg Interrail's travel geometry has been revised with a new blue appearance. The reach and stack are also moved as needed to get the most out of this all-terrain machine, with a wheelbase ideal for long, comfortable rides.
What's more, you can freely choose your favorite itinerary thanks to the dual FSA Omega Compact Megaexo. You can also get a further flavor of travel in fashion with the WTB Byway tires with great tan sidewall.
Besides, the Hobootleg Interrail models are equipped with a dual trouble handlebar, which is already highly appreciated by riders from all around the world. This handlebar ensures a variety of riding positions with the ability to change the rider's position, switch between comfort, take-off, and aerodynamic postures. Furthermore, the innovative dual tube can deliver the ability to attach handlebar pouches and a multitude of travel accessories offered in the market.
Gazzetta Della Strada Bicycle "Brown Eyed Girl"
The Gazzetta Della Strada, the classic version of the randonnée bicycle, has changed to disc brakes and flat bars in the urban version.
In the new model, the company still keeps the comfort-focused racing geometry. However, the riding position is redesigned, focusing more on safety and looks more urban. This construction makes it easier on the eye, and you can capture everything in sight.
Moreover, the ergonomic, perfectly finished handlebar design and comfortable Cinelli ergo grips ensure the most comfortable handling and controlling experience.
Besides, the new Gazzetta Della Strada model is now equipped with a powerful disc brake for the safest and most effective braking in all road conditions.
To complete your stylish bike look, pair your Cinelli Gazzetta with a comfortable and durable pair of work boots like Keen vs. Red Wing Work Boots. These brands offer top-notch protection for your feet while still being stylish enough to match your Cinelli. Choose the one that fits your needs best, and you're ready to hit the road in style and comfort.
Cinelli Gravel Bikes
Zydeco Bicycle "Chasing After Rainbows"
As you notice, Zydeco continues to offer the best for the gravel cycling industry. It symbolizes a unique combination of touring, gravel, and road bikes. When it comes to gravel cycling, you can't help but mention the Cinelli Zydeco.
In line with this novel claim of fidelity, the braking performance of the horizontal and hydraulic brakes has been improved. This combines with the gravel-specific Shimano GRX groupset, enhancing reliability in shifting efficiency.
What's more, you can easily control the Zydeco bike on any terrain thanks to the blend between the most ergonomic lever with a curving shape and non-slip coating and a Shadow RD+ chain stabilizer.
King Zydeco Bicycle Grx
This unique, innovative frame allows you to go fast on various types of surfaces, including white roads, asphalt, rough trails, etc., thanks to the ability to assemble tires up to 2.1 inches with 650b and 700c wheels.
Besides, you will experience the incredibly lightweight and fast feeling with this frame because of the racing geometry and carbon monocoque build. It is ideal for long-distance gravel racings and also a great option for bikepacking adventures.
Zydeco LaLa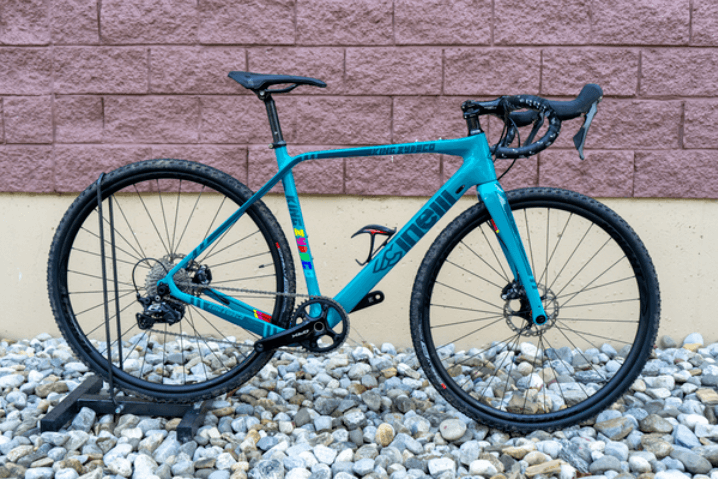 For those who don't know, Zydeco LaLa is a new member of the Cinelli gravel bike range. Its frame is made from triple-thick Columbus Zonal aluminum tubes. Besides, if you are the kind of rider who prefers 1x set up, thanks to the integrated Shimano Sora and two front rings.
Some of the best features about the new Zydeco LaLa are the flat mount, mechanical disc brakes, Columbus Futura Disc 1-⅛-inch fork, with disc up to 160mm. It is also congruous with hydraulic disc brakes. With external cable routing, maintenance becomes easier and simpler than ever.
All in all, the Zydeco LaLa machine is typically built to conquer new cyclists to the increasingly common gravel sport.
Cinelli Road Bikes
Veltrix Disc Bicycle – Blue In Green
In fact, Cinelli Veltrix is a monolithic carbon frame typically made for competitions. It is very fast, has simple handling, and high performance. What's more, it is very easy to operate, making it suitable for various purposes. In other words, the Veltrix frame is perfect for not only pro cyclists but also a great option for mid-range riders at less competitive races.
In general, it will be an exceptionally high-performance vehicle thanks to the various uses of carbon fiber coupled with the optimal dimensions of the chassis and other frame elements' parts.
Dynamic Race Geometry
In order to get the best position on the saddle, Cinelli's engineering teams have designed the Veltrix geometry for the best proportion between the length of the saddle tube and that of the horizontal tube. As a result, it allows for a more aerodynamic riding position and the ultimate balance of the rider's center of gravity. Besides, it is great for pedaling on the steepest ramps, controlled high-intensity shots, and perfect control on the fastest descents.
Cinelli Singlespeed Bikes
Tutto Plus
As you might or might know, the Tutto Plus is the newest, most detailed, and refined model in the urban track range ever. It can switch itself from messenger work bicycle to criterium bicycle, to a single speed cyclocross model, or into an indestructible means of transport. Of course, it is built with Columbus Cromor steel tubes.
The Tutto Plus frame is typically manufactured to allow the rear derailleur to be mounted and can adapt to modern racing wheels. You will also feel a stiff and strong urban aesthetic when riding the Tutto Plus, thanks to the integrated TIG welded fork.
Gazzetta
When it comes to the Gazzetta single-speed bike, what you will feel is the unsurpassed versatility and low maintenance. The company has optimized its geometry and revised the distribution of the measures on the four dimensions. These models will be a perfect option for messengers, commuters, as well as aspiring urban racers.
Vigorelli
The new Vigorelli is specially designed with contemporary use in mind on the track. In addition, Cinelli has developed it based on the ideas and needs of the most experienced riders in mind. As a result, the Vigorelli will take you back to where it all started without any compromise.
The aerodynamic saddle and specialized aluminum rear posts add to the Vigorelli short and super responsive chainstays. What's more, it makes the frame just a bit longer than the conventional one, allowing the rider to get the most aerodynamic and aggressive riding position. Besides, the Columbus Futura Caliper carbon fork creates a perfect grip on different trails.
FAQs
Where are Cinelli bicycles manufactured?
Cinelli bicycles are manufactured in Italy, where the firm is located.
Who manufactures Cinelli bicycles?
Cinelli is a bike manufacturing firm that designs and manufactures their own bikes and components. They have a staff of designers and engineers who focus on product development.
Are Cinelli frames of decent quality?
Indeed, Cinelli frames are well-known for their unique designs and high quality. The brand is well-known for making high-quality road bikes and components. Gruppo Srl, an Italian company that specializes in the production of bicycles and cycling components, presently owns Cinelli.
Are Cinelli bicycles manufactured in China?
Cinelli bicycles are not manufactured in China. They are manufactured in Italy, where the company is based.
What is the most costly Cinelli?
The Laser Mia, a limited edition bike, is the most expensive Cinelli. It is manufactured of Columbus steel and has a one-of-a-kind design produced in conjunction with artist Barry McGee.
Cinelli is well-known for what?
Cinelli is well-known for its avant-garde designs and collaborations with artists and designers. They have a prominent presence in the fixed-gear and track bike worlds, as well as a reputation for making high-end road bikes and components.
Conclusion
If you are looking for a great road bike, Cinelli is a great choice to seriously consider. Since the company focuses more on road bicycles, their models will be carefully designed and manufactured, bringing the best riding experience on different road conditions possible.