Transition Bikes is a relatively well-known bike company based in Bellingham, Washington. It has been manufacturing some of the best models in the bicycle industry for a few years. Although many of you might know that Transition bikes are also known as some mantras, such as "Rider owned for life", "Engineered to party", the company don't just play around or compromise, but they are really serious when it comes to design and manufacture bikes.
The design philosophy of the Transition Bikes company is to make a bicycle that they individually want to shred. A bicycle that is designed to deal with the wildest terrains and largest jumps. However, it is also manufactured to last, and most importantly, geared for having fun on it.

Part of Best Bike Brands.
Overview of Transition Bike Company
History of Transition Bike Company
Nearly 20 years ago, the Transition bicycle company was founded by Kevin Menard and Kyle Young. The founders established the company in 2001 in Washington State.
One of the greatest things that Transition always prides themselves on is the "rider-owned" bike company. What's more, Transition maintains a level of transparency and accessibility even when the company develops.
While doing the usual corporate jobs, Kevin and Kyle used to look for inspiration elsewhere. They first founded a brand known as Comparebikes.com. The company was started as a project where people could compare the specs, geometry, and prices of all types of mountain bikes available on the market. Keven and Kyle had to gather as much related information from many bicycle brands as they could to meet the requirements of the project.
After realizing that this might not be a viable business venture, Keven and Kyle decided to concentrate on establishing their own bicycle company. This is a kind of company that could still reach out and take care of the customers no matter how far they grow.
Transition has moved their headquarters to Bellingham so that they can be closer to the local bike riding community as well as trail facilities, instead of being more than an hour away as when located in Ferndale.
After a lot of different models and manufacturing processes, Transition Bicycles now produces bicycles for any type of mountain riding, from downhill to trail or anything in between. In fact, Transition is not a kind of company that aims to maximize profits. Instead, they would love to make bikes that everyone wants to ride and don't satisfy quality over fashion.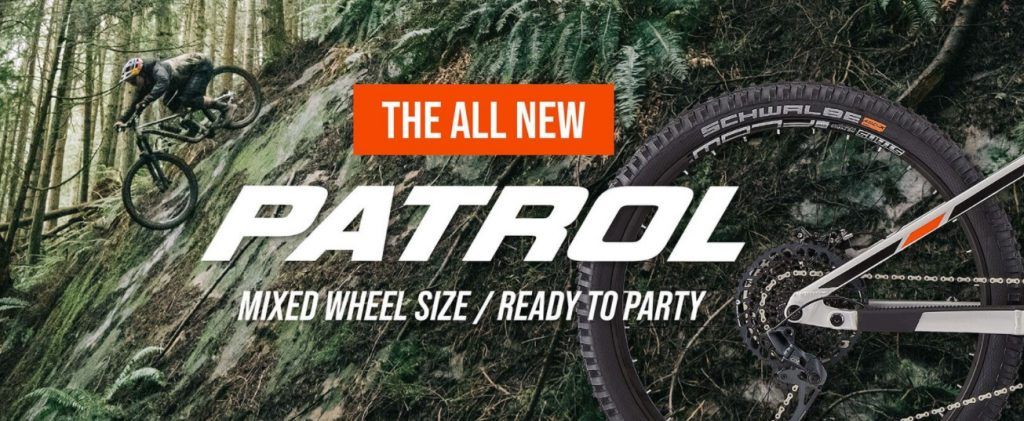 Where Are Transition Bikes Made?
Transition Bikes is based in Bellingham, Washington, but it seems that almost all their bikes are manufactured in Taiwan.
The Technologies of Transition Bikes
Many of you might have heard about the GiddyUp suspension when it comes to mountain bikes in general and Transition bikes in general. The GiddyUp suspension is typically designed to make it easier to experience excellent rear suspension performance. Basically, the GiddyUp suspension system is created to work intuitively on a wide variety of setups.
With a nearly 24% improvement and the latest innovation of the GiddyUp suspension, the Patrol offers a perfect balance of support and little impact sensitivity. In addition, the anti-squat is adjusted to improve pedaling performance and offers a platform for push-ups when pumping. The best thing about it should be your excellent riding experience without compromising on the bottomless feel when necessary.
Transition adjusts the layout of the GiddyUp suspension to make sure it works properly with both air and coil rear shock absorbers. This allows riders to add or eliminate volume buffers on the rear air suspension to fit their own riding style. It also gives you a lot of control from the bottom up with coil shocks or air when things get noisy.
When using 205 mm x 60 mm travel shock absorbers, the Patrol offers 160mm rear wheel travel. However, a longer travel shock absorber, 205mm x 65mm, can also be fitted to enhance the rear wheel travel to 170mm if you want to experience longer travel.
Performance of Transition Bikes
When it comes to the performance of Transition bikes, the innovative Speed Balanced Geometry plays an important role. It allows the bike to keep agility at a low speed. What's more, it offers better front wheel traction and the right weight balance for riders. At the same time, you can feel more confident while pedaling up hills at high speeds.
You will also not feel too far when it comes to the distance between the front of you and the front wheel. This, as a result, will enhance the weight distribution from front to back on the bicycle. One of the biggest advantages of Speed Balanced Geometry is that it makes you feel confident when it comes to steering. More stability at high speeds, more agility at slow speeds, and improved grip, control, and confidence for riders of all skill levels.
Transition Bike Categories
Transition bikes are designed and manufactured with durability in mind, rather than trends and appearance. Transition knows that every bike they offer is a worthy investment that keeps their riders developed in skills rather than being led by trends. Taking this into account, the company has produced a great collection of bikes that can do it all. This actually blurs the line between bike range.
The brand has developed different bikes in the mountain bike category. However, each model has its own features and innovations, making it a do-it-all bike. Here are the major types of bikes in the Transition bike range:
Cross-country Mountain Bikes
Trail Mountain Bikes
Enduro Bikes
Downhill Bikes
Hardtail Bikes
Dirt Jump Bikes
Kids' Bikes
Most Popular Transition Bikes
Transition focuses on designing and making great mountain bikes rather than offering a wide array of different bike types. Typically, each bike range has only one or two models. And here are several most popular Transition bikes that are available to buy.
Cross-country Mountain Bikes: Transition Spur
Trail Mountain Bikes: Transition Scout
Enduro Bikes: Transition Sentinel
Downhill Bikes: Transition TR11
Hardtail Bikes: Transition Throttle
Dirt Jump Bikes: Transition PBJ
Kids' Bikes: Transition Ripcord
Transition Bike Price Range
You can easily find a Transition bike dealer all over the world. Even though Transition bicycles offer competitive prices, they produce high-end models made of durable carbon frames. Hence, their bikes will be a good investment. What's more, their mountain bikes are designed in different styles and builds to ensure they fit any budget. So, you don't need to worry about this problem, and can choose a suitable model for your level. Here is the price range of several popular Transition bikes:
Cross-country Mountain Bikes: $5,900.00 – &7,100.00
Trail Mountain Bikes: $7,899.00
Enduro Bikes: $4,400.00 – $7,900.00
Downhill Bikes: –
Hardtail Bikes: –
Dirt Jump Bikes: $2,999.00
Kids' Bikes: $2,000.00
Are Transition Bikes Any Good?
All Transition bikes are made with durability in mind and on the company's ethos of "rider-owned". They manufacture bicycles that their employees always want to ride. This is one of the greatest ways to prove their bike quality. All models are typically built to last without paying any attention to trends or fashion in the mountain bike industry. Because of this and high-quality components, carbon frames, Transition bikes are usually not cheap. But in contrast, they are considered a worthy investment.
Transition Vs. Yeti
Both Yeti and Transition are great, famous bike brands making excellent mountain bikes. That's why lots of people are wondering which one is better for them. Each company has its own unique feature and technology that makes them apart from each other. Now, let's take a look at the main advantages and disadvantages of Yeti and Transition bikes.
Transition Bike Review
For more detail, I will give you the pros and cons of the most popular bike from the Transition – Transition Spur model.
Pros
Innovative Speed Balanced Geometry
Offer excellent rear suspension performance
High-quality, full carbon frame
Good threaded bottom bracket
Provide comfortable riding position
Cons
It seems to be relatively costly
Yeti Bike Review
As mentioned above, Yeti bikes is a great company that makes great mountain bikes. Similarly Transition, I also give you some highlight advantages and weak points of the most common mid-travel trail model from Yeti – SB130. If you are a trail rider who wants to experience different types of terrains with one bike, this model is just perfect for you.
Pros
Offer great ventured riding position
Long reach design for easier riding up hills
Incredible anti-squat capability for simple climbing
Come in great stability while riding at a high speed
Various models suitable for every budget and need
Cons
You might find it tight at the rear tire clearance
It seems that both bike brands come in great features to help you perform well on different terrains. In general, Yeti bikes are a good option for riders who want to enjoy comfort when spending lots of time on the seat, when they want to go up hills with ease, or just love riding around at a slower speed.
Transition bikes, on the other hand, will perform best when it comes to downhills. So, for anyone who wants an efficient bicycle that feels familiar when pedaling down hills, this is your great option.
Transition Cross-Country Mountain Bikes
Cross-country, or XC mountain bikes, are great for anyone who loves to ride on long, less tricky trails. The Spur is the only and considered the best model in the Transition's XC lineup and even among their other bike types.
The Transition Spur is a perfect combination of the capability of an XC bike and the great geometry of a rugged bicycle. This model is equipped with 29-inch wheels and 120mm front and rear suspension travel. The large wheels allow you to pedal over bigger obstacles with ease while you don't need much skill to move the bike around.
There are a wide array of RockShox suspension and SPAM groupsets for you to choose from. Another great thing about the Transition Spur is its dropper post, which is not really popular in excellent mountain bikes. What's more, this bike is exceptionally light with a weight of only 11.2 kg (24.7 lbs).
Transition Trail Mountain Bikes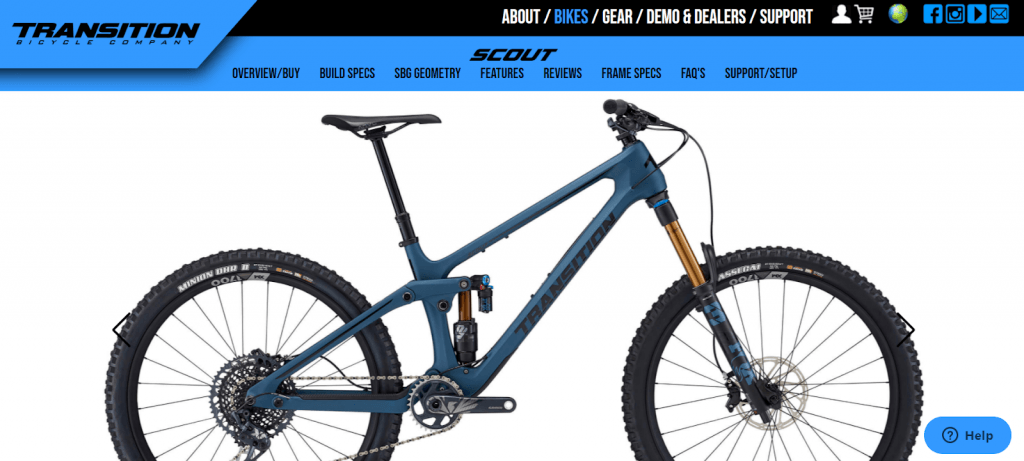 Trail bikes are typically designed to give you the excellent ability to pedal up hills. And Transition is successful when creating a great bike in the Trail arsenal. However, like the XC bike category, Transition offers only one model in their Trail bike range, which is the Transition Scout.
The 2020 Transition Scout is an excellent combination of standard trail and enduro categories with the 150mm front and 140mm rear suspension travel. With the wheels of 27.5 inches, the Transition Scout bike is just large enough for quick momentum but also small enough to require more technical off-road skills.
The Scout mountain bike is all carbon and comes in a number of groupset selections from SRAM and Shimano. You can also choose suspension from Fox and RockShox. The great thing is that you can purchase the frameset only and design the bicycle you love with your own specifications.
Transition Enduro Bikes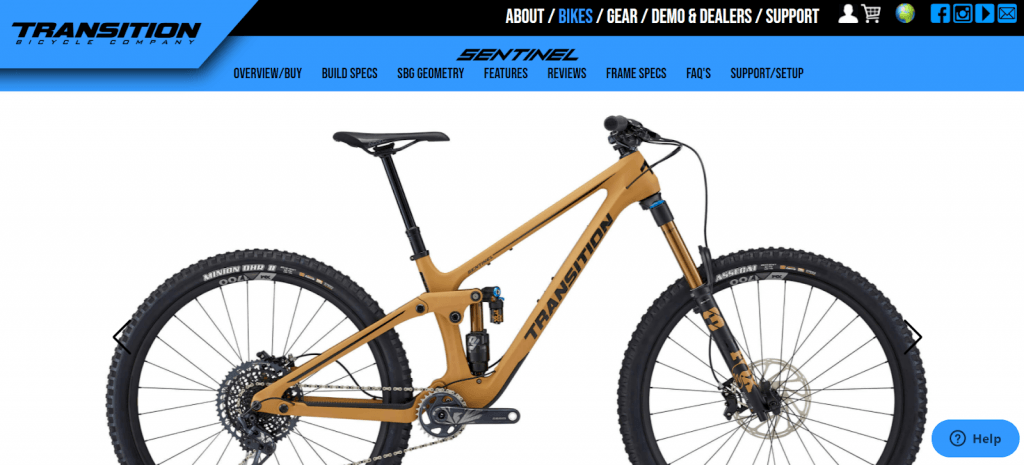 Enduro bikes are a mix of Downhill and Trail mountain bikes. They have a great balance between downhill and uphill capabilities but are more heavyweight than Trail bicycles. Unlike Trail and Cross-country ranges, the Transition Enduro 2020 comes in 2 different models, the Patrol and the Sentinel.
The Transition Sentinel model is a full-suspension enduro bike that is made of full carbon. It features 29-inch wheels with 160mm front and 150mm rear suspension travel. It is the large wheels that make it more simple to pedal over big obstacles on trails and increase speed.
This model is also equipped with different groupsets, including Shimano and SRAM so that you can choose one that fits your needs. The same applies to Fox and RockShox suspension selections.
Transition Downhill Bikes
If you are looking for a bike to conquer extremely steep trails or technical descents, downhill bikes are a perfect one to opt for. And like usual, Transition offers only one bike in their downhill category, the TR11. But I'm sure it will be a worthy model to consider.
This model has been updated for 2020. The Transition TR11 is made from full carbon with an overall weight of around 15 kg (34 lbs). This is considered relatively lightweight for a downhill mountain bike. Besides, it comes in 25.5-inch wheels with 200mm of suspension travel in both rear and front. It is equipped with an SRAM X01 groupset and doesn't offer other options like previous models. However, you can select between RockShox and Fox suspension to fit your needs or build your own bike.
Transition Hardtail Bikes
The only bike in the Transition Hardtail category is the Throttle. But it seems that the company is going to offer a new model soon since it is only available as a clearance selection on the official website.
This model is equipped with 140mm front suspension travel and made of a lightweight carbon frame. Since it is constructed from carbon, Throttle will be exceptionally lightweight. And it will be a perfect feature for long climbs. However, it is still comfy enough for descents. Discover our latest guide about lightweight bikes.
When you compare this Throttle hardtail model with a full-suspension mountain bike or an Enduro bike, it will not be as comfortable as theirs. Nevertheless, if your purpose is to look for a versatile MBT bike that allows you to take jumps, this will be a great one to consider.
Transition Dirt Jump Bikes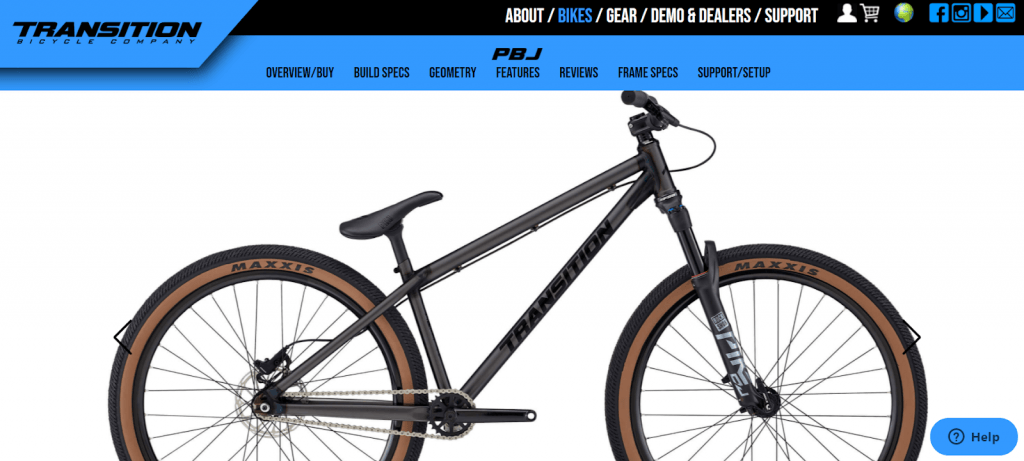 The only dirt jump model in the Transition Dirt Jump bike category is the PBJ one. Typically, it is not equipped with lots of gears since riders also don't have to pedal too much on other models once they have accelerated.
You might not know that the PBJ is one of the long-lasting bikes in the history of the Transition bike line. It is equipped with 100mm front shock absorber travel and 26" wheels. It claims a comfortable shape to keep the rider comfortable yet nimble enough to accommodate even the tightest bike parks and trails.
There are three sizes for you to choose from, including short, long, and x-long. Besides, Transition offers frames so that you can buy them separately and customize your bike with desired specs. This model has only a rear brake with a single-speed build.
Transition Kids' Bikes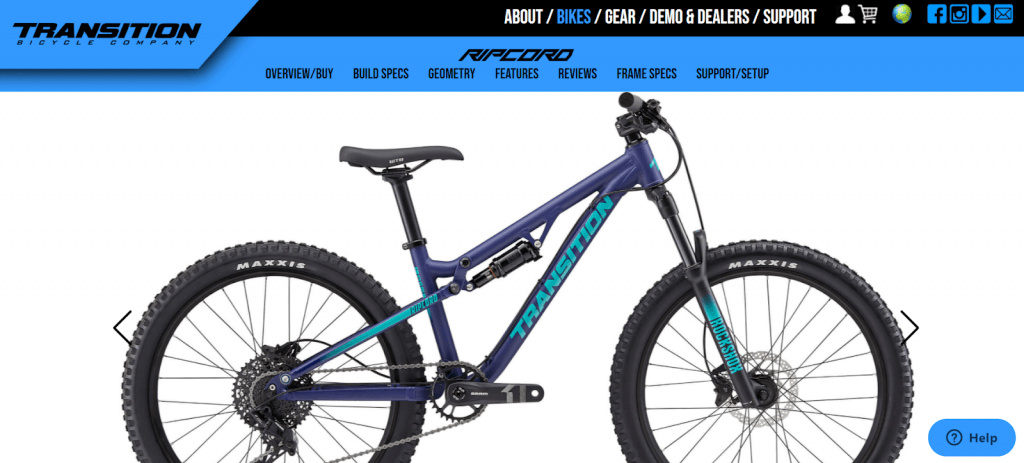 Just like almost all other Transition bike ranges, the company provides the market with the only kid bike, which is the Ripcord. However, Transition promises to make your child want to put their toys down and get outdoors and enjoy some fresh air and nature. It could be a little bit expensive for a kid's bike, but it is really worth it. You will need to do some research to make sure that you get the right fit for your kid.
The Ripcord model is made from an alloy frame and equipped with 100mm of both front and rear suspension travel and 24-inch wheels. It is particularly built as a do-it-all bike. No matter what the purpose of you or your kids is, this Ripcord absolutely helps your kids entertain for hours while allowing them to build their confidence in terms of riding skills.
This bike has only one size with an SRAM NX 11-speed drivetrain. Besides, it is equipped with great Shimano hydraulic brakes for a more powerful stopping capability. The wide variety of color options, such as grape and teal, loam goal, or raw alloy, will make your kids love them at first sight. See also high quality kids bikes you should choose for your kids.
Conclusion
Even though Transition doesn't offer a wide range of bike types and models, their bikes are really high-quality and bring a great experience, no matter if you are a beginning rider or pro cyclist. You might find their price ranges a little bit higher than some popular brands of the same bike type, but with the premium components, durable build, and the "rider-owned" pride, Transition bikes are really worthy of trying.