Jamis bike brand was founded in 1979 by Ron Jamis in Tallahassee, Florida, US. Their first revolution was " Earth Cruiser," one of the first beach cruiser bikes released in 1979.
Overview of Jamis Bike Company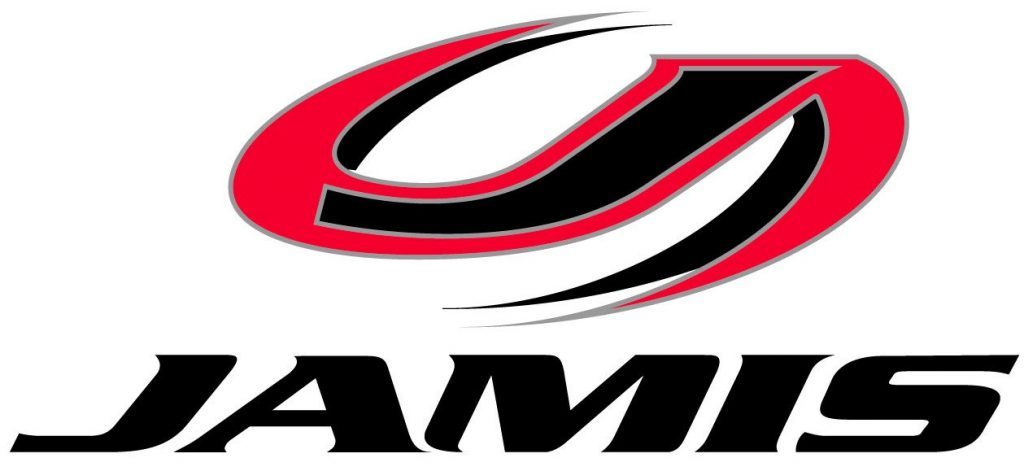 Jamis brand thrives on manufacturing the best quality parts and cycling accessories, and they are widely producing road, mountain, triathlon, and single-speed bikes. Besides, they are offering excellent repair services and warranty top performance among the market bike brands. So now, if you are curious about their history, let's check it out right here!
If you're looking for something beyond the Jamis brand, we recommend taking a look at Diamondback Bikes as a great alternative. Their high-quality bikes are made to last through any terrain and weather condition. Check out their full brand overview on Hood MWR.
History of Jamis Bike Company
Jamis brand was founded in Tallahassee, Florida, USA, taking the name from a founder Ron Jamis and distributor East Coast Cycles. As mentioned, they released the first cruiser called Earth Cruiser in 1797.
In 1980, they introduced the Boss Cruiser with a double diamond frame and the cheeks saddle. They sold the Boss Explorer bike in 1981, Boss Cruisers, and mountain bikes.
In 1983, they launched Dakota, Jamis Lightfoot, and Jamis Roughneck. Their first Jamis Dark was a custom-built and race-ready bike in 1985.
In 1988, the manufacturer released the Quest and Eclipse, which is their first bike. After that, Jamis introduced the Tangier and Coda hybrid bikes with 700c tires and upright seating position in 1991.
In 1993, Jamis sold their Dragon – mountain bike with the fillet welded, Rock Shox front suspension, Ultegra Bubs, XTR drivetrain, and the hand-polished frame. Especially, their first full-suspension was made in 1995.
In 1998, Jamis made a Dakota mountain bike, and they won the Bike of the Year Award from "Mountain Biking." In 2000, Jamis one more time won this Award for a bike under $800 with the Dakar Sportbike. In addition, they are the first company to use the rare 650B wheel size way back in 2010 before becoming the standard feature for mountain bikes.
They always try to turn their everyday bike into an adventure bike experience. So we totally can trust this brand; they have already received many awards for best value bikes by famous magazines and organizations.
Jamis Bikes Ranges
Jamis produces the complete product line, including:
Mountain bikes
Road bikes
Hybrid bikes
Cruiser bikes
Women's bikes
Kids bikes
These five types of bikes make their well-known brand massively consumed and loved all over the world.
If you're looking for other bicycle brands to explore, check out this complete overview on Priority Bicycles. Learn about their unique features and how they stand out in the market.
Most Popular Jamis Bikes
In this section, best-selling bikes from different bike categories will satisfy your expectation. Take a look at the details right here.
Mountain bikes – Dragon series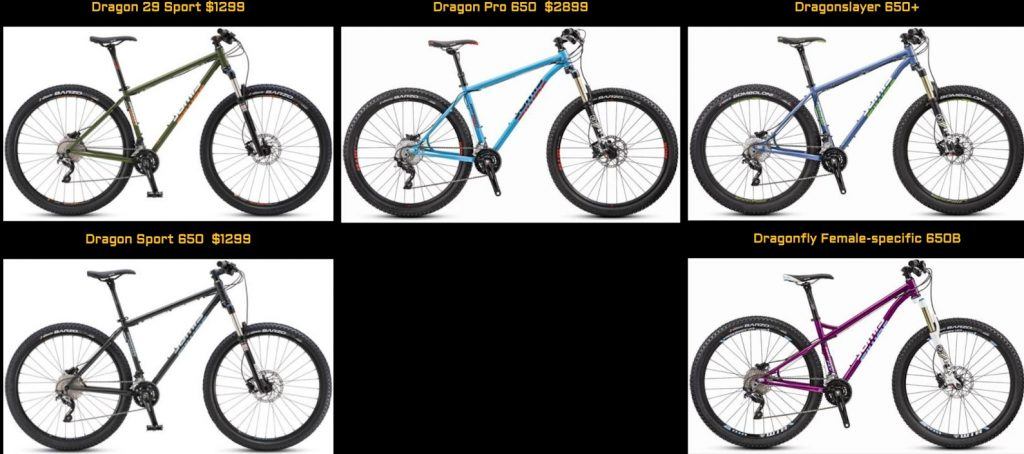 Jamis Dragon series deserves to be the best-selling mountain bike, rated as the number 1 mountain bike; its price is the highest, though. If you are hunting a bike for a fast and challenging ride, this series will be perfect.

Besides, it is impossible to forget 3VO- complete suspension mountain bikes, which come with the most efficient propulsion, no loss of pedal energy thanks to the suspension movements. Mainly, it features the drive forces directed into and via the curvature's center or the virtual pivot at the travel points. Hence, its design keeps active and supple to absorb minor impacts.
Two models are available, including the 29″ portal with 130mm travel and 27.5″ hardlines with 160mm travel. Both versions are in total carbon and aluminum frame.
Additionally, the system keeps highly active and responsive when the most aggressive braking and the anti-rase counteract the weight shift to keep the stability.
Road bikes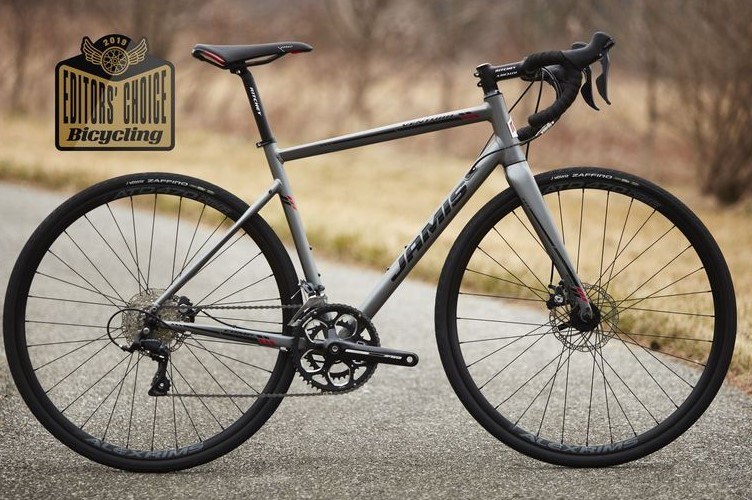 Jamis Ventura is a famous series among all the Jamis bikes, and it features the modern frame, high-end details. They provide a smoother ride in the small size for boosting frame stiffness for bikers who ride in the large size.
Venture comes with two aluminum choices and a specific version for women. The full range at $1200 features the carbon composite fork and Shimano sora gear, tektro mechanical disc brake, and Alex rims.
This bike comes with open dropouts, quick-release wheels, and cable-actuated discs for overall performance. In Particular, they made an intelligent compromise to maintain the low price. There are many options of road bikes to choose the one that best suits your needs.
Hybrid bikes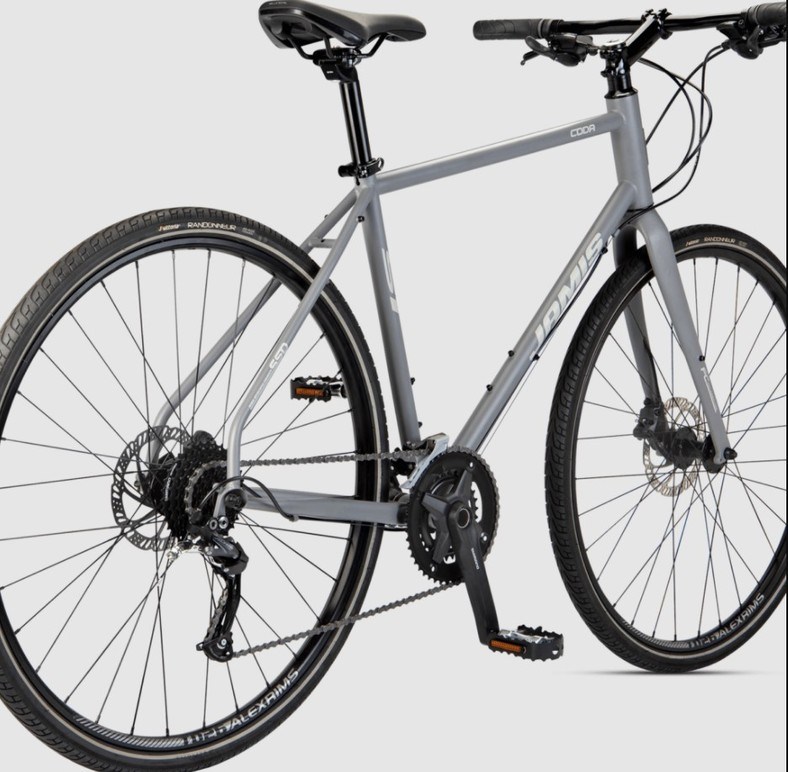 Jamis released the Coda model for the hybrid section, a flat bar, 700c, multi-speed bike and perfect for riding everywhere, especially for taking on road or gravel rides, rails, to trail adventures.
Jamis Coda Sports is the best model in the market, and it comes with the standard hybrid issue Shimano Tourney front and the Acera rear derailleurs. Besides, it features Vittoria Randoneur, which is an honest tire company. This tire manufacturer made great quality custom tires.
Besides, these bikes come with steel-wrapped resin pedals, which make them solid for rough cycling. It is exceptionally super lightweight, with the steel frame weighing only 27 pounds. It is light compared to the 19" frame size.
Besides, the frame is resilient, and it can absorb the road chatter you might feel while riding on the rough pavement. Moreover, this bike features two variants, Coda Sports and Coda Sports Reme. With less than $600, you can have this good hybrid bike for under $500, how wonderful it is!
Cruiser bikes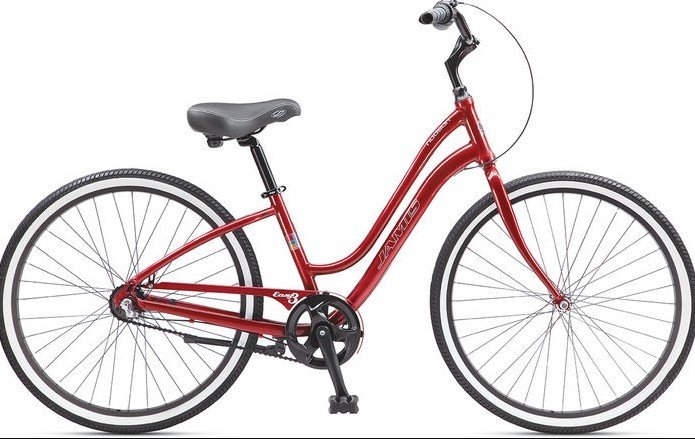 If you are looking for value comfort over speed, the Jamis Hudson series will make you satisfied. It supports having fun, relaxing, and low impact. Although the manufacturer offers both standards and step-thru frames, the step-thru model will easily get on and off easily and quickly, and It is for both men and women.
Hudson comes with the upright riding position, which can help to reduce the pressure on your hand and provide the rider a more commanding view of the surroundings. In addition, it is easy to adjust the handlebar's height thanks to the rider's handlebars and quill stem.
Especially, Hudson is a very lightweight and easily maneuverable cruiser; it is only under 30lbs, with a short wheelbase. In addition, Hudson comes with a few different gearing combinations. If you want to ride in the traversing gently rolling area or the slightly hilly terrains, Hudson Easy 3 will be a perfect choice. Read our latest guide about cruiser bikes for women you should to buy.
One more thing, Hudson comes with the memory foam saddle, which is very comfortable. The saddle is lower to the ground. Hence, the rider can put their feet on the ground while still keeping seated on the saddle.
Kids bikes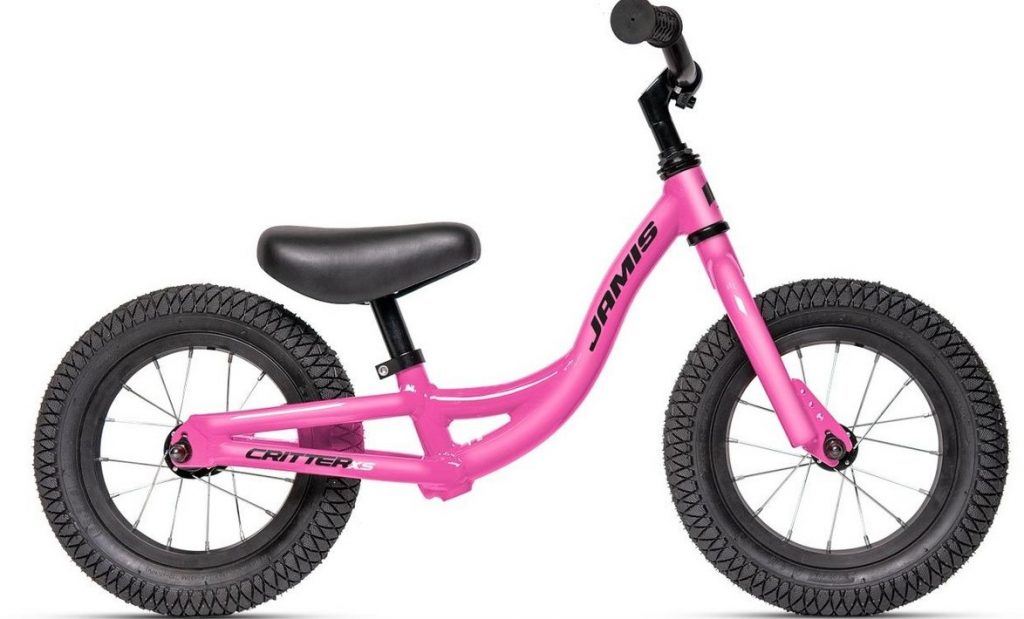 Jamis Critter 12 Raspberry is one of the most popular kids bikes for kids from 2-3 years old from Jamis brand. It features the lightweight 6061 aluminum Fork High-tensile carbon steel, which is easy for kids to handle.
Jamis uses size-specific items such as saddles, cranks, and grips, enhancing comfort and handling by providing the best bike fit. The manufacturer focuses on the frame with the low standovers to take the awkwardness out of getting on board and dismounting.
Besides, they also produce many bikes for kids of different ages from 2 to 12+ years old.
Women's Bike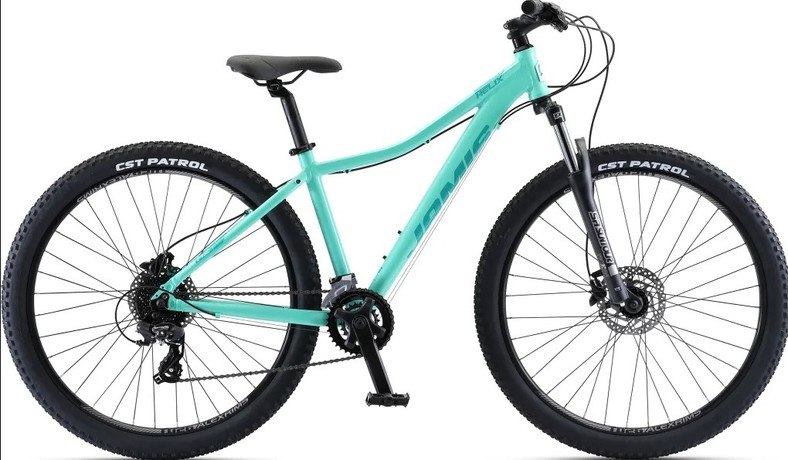 For women, the Helix series is one of the best bikes ever, with a simple but attractive design and color options. This model is also affordable at less than $800.
Helix features the 6061 aluminum frame, which is very lightweight and easy to handle for women. It features the Jamis ATB sport womens, with the SL cover and protective front and rear guards.
Jamis Bike Price Range
Because of different bike types, they offer various price ranges for users. For mountain bikes, the price will range from $1.700 – $2400 for the Faultline A1, A2, and Dakar. While The full suspension Hardline and Portal costs up to $3.200 and $8.500.
For road bikes, Renegade models are ranging from $1000-$3700, and the Venture is only $1200.
Are Jamis Bikes Any Good?
I can say that Jamis is a famous and well-established bike brand that has been selling thousands of high-quality bikes for decades. Their bikes are famous and familiar in US cities. They are innovative bike manufacturers. They always listen to customers and improve their products day by day.
They have their excellent customer service policy and guarantee services; Especially, as you see, they offer a wide range of bikes and prices. Briefly, they are reasonably good bike brands.
For those looking for other brands to consider, Specialized Bikes is a great brand to check out. Their wide range of bikes and accessories consistently receive positive feedback from customers, making them a reliable choice for both casual and serious riders.
Jamis vs Trek Bikes
Which is the better bike brand? Jamis or Trek?
When deciding on a bike, understanding how it is on the market and finding out different brands is crucial in your process. If you are looking for a valuable bike brand, do some research into their models and compare their perks. Here I give you a short comparison between Trek and Jamis.
Firstly, let's briefly checking on its different features and components through this table below:
| | | |
| --- | --- | --- |
| Specification | Jamis | Trek |
| Wheels | Alex ATD | Bontrager LT2 Comp |
| Saddles | Selle Royal Asphalt | Bontrager H1 |
| Brakes | Tekra Lyra | Shimano Hydraulic |
| Shifters | Shimano Sora | Shimano Acera M371 |
| Stem | Jamis Performance ECO | SR Suntour NEX |
Jami's fork is constructed of carbon and the steerer for precise steering, which is better than the Trek with cushioning absorbing road vibrations. Jamis comes with the clean-cut geometric with tapered head tube and hidden bearing cup. The tubes and buttes are shaped to reduce the weight and increase the quality of the ride.
Trek padded saddles make the generous padding for excellent comfort, which is better than Jamis with the Ritchey bar design. Jamis use the Ritchey bar, Seatpost, and stem, which is cool and adds more comfort to riding.
Jamis uses the Shimano Sora boasting of 9 speeds; it is also impressive as the Trek bike Cranksets with nine speeds.
For protecting 28mm wide Vittoria Tires from debris, Jamis features the rear rack mount and fenders.
In general, Jamis offers riders a superb frame that quickly and accurately responds to rider's input. Through the fork, detailed design, and disc brakes, the bike gives the rider adequate feedback for supporting you to the next move. Trek bikes give a lightweight and robust bike frame which offers the rider simple control over the bike handling. If you like the stability, pick a Trek bike.
For me, Jamis is better than Trek, though it is heavier. Jamis has reliable handling and muscular power. Besides, Jamis bikes are reactive and responsive to all terrains when climbing hills and offer balanced and smooth handling.