Fuji is one of the greatest examples in the bicycle industry and in the bike market today. Now they can catch up to more popular brands. But the outstanding feature of Fuji bikes is that they offer a competitive price while providing quite high-end models.
Established in 1899 in Japan, Fuji Bikes is one of the oldest bicycle companies in the world. For years, the company has been creating advanced, high-performance bikes that can take on any challenge. Thus, setting them apart from their competitors when it comes to performance, comfort, durability, or appearance. Nevertheless, these bikes are not cheaply manufactured and even slightly high-priced.
Part of Best Bike Brands.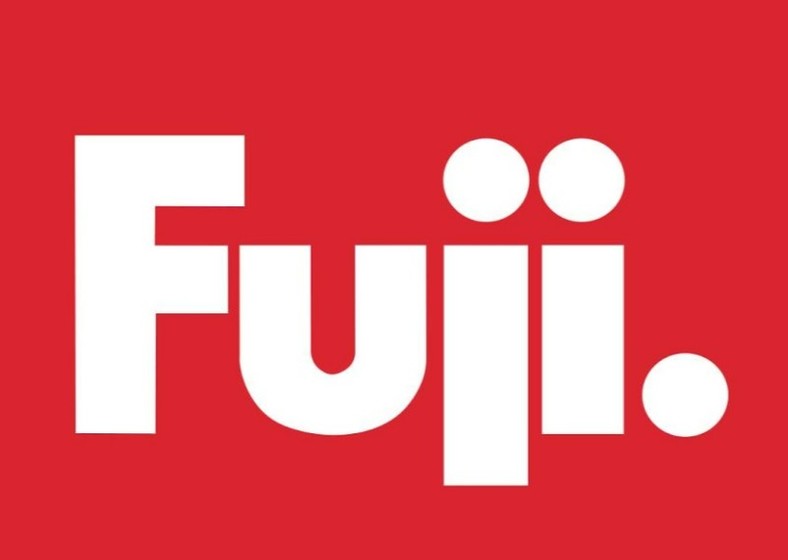 So, in this article, I will give you an overview of Fuji bikes, their history, bike categories, price range, and some details about different types of Fuji bikes. Let's delve into it!
History of Fuji Bike Company
Fuji bikes were first established in 1899 by Okazaki Kyūjirō under the name Nichibei Fuji Cycle Company, Ltd. A year later, the company took the trade name "Japanese-American Trading Company". It is also known as one of the oldest bicycle companies in the industry.
During World War II, this bike company name was changed to Dainippon Cycle. However, after the war ended, its name was changed back to the Nichibei Fuji Cycle Company.
During the first few years, Fuji was importing and distributing bike parts and products from the US. After that, the company started to produce its own products in Japan.
And in the late 1920s, Fuji became the most popular bike company in Japan. In the 1930s, Fuji began sponsoring the winning teams who took part in their national race between Osaka and Tokyo. Today, it remains one of Asia's top races.
Toshoku America became the new distributor of Fuji bikes in the US during the 50s. The distributor used other retailers, such as Sears & Roebuck and Montgomery. By doing this, it was successful in selling Fuji-made private-label bikes as household brands.
During the 1970s, Fuji became a really big part of the bike craze in the US after the company began distributing different models in America using the newly founded Fuji America. Fuji elevated their wheel power by enhancing the rear axle to significantly diminish the spoke dish in the middle of the 70s. This improvement resulted in the mass production of 12-speed bikes.
By 1974, Fuji was officially recognized on the bike map, and it became so popular that the acclaimed author of Richard's Bicycle Book gave the company high ratings.
In the early 80s, Fuji created their first touring bikes and quickly made history as one of the first bicycle companies to build bikes with titanium frames. Nevertheless, it soon faced some tough times after failing to prepare for the growing popularity of mountain bikes in the 80s. As the consumers switched to using mountain bikes, Fuji's touring and road bike sales fell.
The Fuji company faced the hardest time in the early 1990s because many competing brands were providing cheaper bikes in the US bicycle market.
In the end, Fuji had to move its production to Taiwan to minimize costs. However, American consumers didn't seem to have a positive attitude towards Taiwan bicycles. This is because they feel that the initial Japan bikes offer better quality. Finally, Fuji had to offer their consumers what they needed, but it seemed to be too late. In 1997, Toshoku America declared bankruptcy. The Nichibei Fuji Cycle Company also went bankrupt the following year.
Where are Fuji Bikes Made?
Fuji bikes are currently manufactured in Dong Guan, Guangdong Province, China; Taichung, Taiwan; and Kutno, Poland by the Ideal Bike Corporation. The Advanced Sports International, a privately held company in the US, also owns and distributes Fuji bikes.
Fuji Bikes are made in Taiwan and China, with the majority of bikes being produced in Taiwan. Being one of the popular bicycle brands, Fuji produces quality bikes and frames. Explore more top bike brands like Tommaso Bikes and Salsa Bikes on 59 Best Bike Brands in 2022 to find the right bike for yourself.
The Technologies of Fuji Endurance Bikes
The Gran Fondo is one of the best endurance Fuji bikes. This model is equipped with excellent disc brakes and new, innovative VR Technology to minimize vibrations and boost comfort.
VRTech is short for Vibration Reduction Technology that can decrease vibrations up to 24.6 percent, according to Fuji. The manufacturer uses polyurethane-treated natural fiber to put it in the main areas in this model's high-modulus carbon fiber frame, which are seat stays, fork, and chainstays.
The most outstanding feature of this technology is to give excellent rolling smoothness while allowing fast speeds no matter what terrain you are riding on. Whether you are climbing uphills or pedaling downhills, the Gran Fondo with Vibration Reduction Technology will let you ride comfortably, smoothly, and stay strong all day long.
Performance of Fuji Endurance Bikes
Gran Fondo is considered the most powerful Fuji endurance bike. The first greatest feature of this model is the efficient disc brakes. The manufacturer uses the most recent flat-mount standard and 12mm thru-axles at the back and front of the bike. This design will significantly increase the brake's rigidity and also allow you to steer more exactly.
What's more, the Gran Fondo model comes in a better geometry that offers a more upright riding position. Hence, you will feel much more comfortable riding all day. You will also experience a great ability to stabilize the bike thanks to the lengthened wheelbase.
Fuji Bike Categories
Fuji provides the cycling market with various types of bikes to serve a wide range of purposes. Their bikes range from mountain, road, hybrid, city, triathlon, kids', and cruiser bikes. Let's have a closer look at the available Fuji bike categories and pick one type of bike that fits your requirements and is your favorite.
Looking for a trustworthy and sturdy bicycle? Discover various kinds of road and Trail bikes from Fuji in this section, and make your cycling journey fun and safe. With the perfect balance of performance and durability, you can't go wrong with a Fuji bike.
Road Bikes
Competition
Endurance
Adventure and Touring
Cyclocross
Mountain Bikes
Trail
All Mountain
Sport
Pavement Bikes
Fitness
Cross Terrain
Urban
Comfort & Cruiser
When it comes to mountain bikes, Fuji Bikes is one of the best brands out there. With over 120 years in the cycling industry, Fuji has created some of the most innovative and high-performance mountain bikes on the market. Whether you're a beginner or experienced rider, their mountain bikes offer a perfect combination of durability, speed, and stability. Check out some of their latest models on our Fuji Bikes Brand overview.
Electric Bikes
Kids' Bikes
When it comes to finding the perfect bike size for your child, check out our bike size chart for kids. Our comprehensive guide has all the information you need to make sure your child has a safe and comfortable riding experience. From measuring your child's inseam to selecting the right wheel size, we've got you covered.
Most Fuji Popular Bikes
Fuji provides riders with a wide variety of bike types, models, features, sizes, etc. Each bike is designed for different purposes, but here are some of the most popular Fuji bikes you can consider.
Fuji Mountain Bikes: Fuji Outland 29 1.1
Fuji Endurance Bikes: Fuji Gran Fondo 1.1
Fuji Cyclocross Bikes: Fuji Altamira CX 1.1
Fuji Urban Bikes: Fuji Feather
Fuji Comfort & Cruiser Bikes: Fuji Crosstown 1.5
Fuji Outland 29 1.1 Mountain Bike Review
When riding a mountain bike, you need to be confident in its ability to take on any obstacle in your path. The Fuji Outland 29 1.1 is designed for exactly that, with its AM Inner Tube Technology which provides uncrushable power in the worst weather conditions possible. And the Outland's low weight and Giant's Bikes' GTR2C Suspension System will keep every ride smooth and comfortable.
Performance
Designed for the rider that needs a mountain bike that stands up to the most demanding conditions, the Outland 29 1.1 is meant for those who want a mountain bike that can take a beating. The aluminum frame and hard-tail design mean it can withstand even the most challenging of climbs and descents, and its AM inner tube Technology offers not only the excellent pedal ability but makes every ride as smooth as possible even when subject to extreme weather conditions.
Features
The 29-inch wheels mean that this bike can maneuver on any terrain, even rougher roads, and the lightweight frame keeps this bike as nimble as possible. The 3×8 Shimano gear system offers a wide range of gearing options for even the most demanding of riders, and the 27-speed options mean each rider can find a perfect balance of bumps and climbs. And with its Shimano hydraulic disc brakes, riders will be able to stop the bike on a dime even when skidding on muddy hillsides.
Gearing
This bike's wide range of gearing options means easy pedaling for many riders. The 27 different speeds give riders enough variety for any type of terrain they may encounter, and the Shimano shifters are easy to use even when the rider's hands are covered in mud.
Design
The hard-tail design allows for fast passage over most types of terrain, but it is the 29-inch wheels that make this bike so versatile. This mountain bike can handle any kind of road or trail without breaking a sweat, and the Outland is even strong enough to take on steep climbs with ease.
Fuji Gran Fondo 1.1 Endurance Bike Review
A bike review on Fuji Gran Fondo 1.1 Endurance bike which has been designed for endurance riding and includes some interesting features such as quiet gearing and a durable frame. The review concludes with some feedback from testers of the bike.
Performance
The Fuji Gran Fondo 1.1 Endurance Bike has been designed specifically for endurance riding and hence performs well in this area. The bike is well balanced and makes use of a stiff frame, which adds to the overall stiffness of the bike. The size of the frame has been kept to a minimum, thereby contributing towards reducing overall weight and allowing smooth cycling over long distances. The bike also makes use of triple chainrings that provide seamless power transmission without causing any jerks in either acceleration or slowing down.
Features
There are 3 main features in this bike that make it a good performer when it comes to endurance rides. These include the Shimano triple front and single rear derailleurs that allow for smoother and quiet gear shifting; the fully padded saddle with a gel cover that provides better breathability and comfort; and the durable frame with a one-piece construction that makes it sturdier and renders it more resistant to cracks.
Design
The design of this bike is quite good but could be improved upon. The diamond pattern on the seat post head, which serves as a grip to prevent slipping, looks good but does not contribute towards improving traction. The diamond pattern also serves as an aesthetic feature of the bike, making it stand out from other regular bicycles. It is made of lightweight material that makes it feel hollow when dropped or struck at its base.
Gearing
The gearing of the Fuji Gran Fondo 1.1 Endurance Bike is quite unique and interesting. The bike uses Shimano triple front chainrings and a single rear derailleur, allowing for seamless gear shifting between gear ratios without having to wait for the chain to align itself with the next sprocket in the chain line. The fact that this bike makes use of smaller sprockets also means that it is capable of providing higher gear ratios than most other bikes in its class, which contributes towards making it suitable for endurance rides.
There are some drawbacks in terms of gearing on this bike, however.
Frame Construction
The materials used in the Fuji Gran Fondo are intensive and meant to be able to withstand any kind of use without having to worry about any cracking or warping. It is also made of lighter materials than some other bikes, making it easier to handle on the road.
The hubs on this bike are Shimano 105 as well as alloy, meaning that they can endure any kind of weather and they will not only last a long time but will not break down when you are out for a ride. The frame material used in making this bike is Fuji Gran Fondo 1.1, which is made with lightweight materials that are very strong and durable to withstand any type of weather or use that you might have.
The frame also comes in three different sizes so that if one person has a smaller head, someone else might have an adjustment to help them get the best fit possible for comfort while riding.
Road & Mountain Bike Compatibility
This bike can be used on both street and mountain terrain with no problems. The bikes are made with Shimano 105 shifters that are not only great for grip but will be able to withstand long hours of use without any hassle or damage to the frame of the bike. There is also a Shimano 105 rear derailleur on the backside, which is also made of durable materials, basically guaranteeing that this bike will last for years to come.
Wheels
The wheels are made with 30 mm deep-section rims for durability and lightweight materials. The rims are also double-walled to provide extra support for the weight of the rider while riding, and the spokes are 2.0 mm thick for extra strength. The thickness of the spokes is important because it allows them not to bend or break easily when you are riding on difficult terrain, which would be very dangerous if something were to happen.
The bottom bracket used in this bike is Shimano press-fit, which is great because it allows the bike to bear more weight than other models since it is so durable. This bike can handle weights up to 200 lb, and the entire bike will not be damaged if someone were to ride on it with high weight.
Gearing
This bike comes with a lot of gears so that if you are out for a ride and you notice that you've been going for a while and need to take breaks, this bike has you covered. The bikes come with 3-speed Shimano gears which add up to low gears such as 1st (6-28 teeth), 2nd (3-22 teeth), and 3rd (2-20 teeth).
The grips on the bike are smooth and easy to grip and move around on. The shifters are also smooth and will not be uncomfortable when out for a long ride, and the shifters also have a thumb lever for shifting even while wearing gloves if you choose.
Handlebars
The handlebars on this bike are an alloy made with ball ends, which will not only withstand durability but will also provide you with a comfortable place to hold onto while riding. Also on the bars is an alloy stem that is easy to adjust while riding the bike.
It is important to have a flat or level handlebar for the proper riding position because it will allow you to have a more upright position so that you can ride more comfortably and can also prevent fatigue. The handlebars also help you keep your body steady while riding so that you will not have to worry about falling over.
Pedals & Seatpost
The bike comes with wide pedal threads, which allow them to fit any kind of shoe without having issues with the fit. The Seatpost has a size 13, 14, 15, 16, 17, 18, 19 made of aluminum alloy and steel inner frame.
Fuji Altamira CX 1.1 Cyclocross Bike Review
The Fuji Altamira CX 1.1 Cyclocross Bike is a versatile and stylish bike that offers everything you need for your next event. It is durable, lightweight, and offers some excellent functions for cyclocross use as well as practicality on the roads.
While there are many different cyclocross bikes on the market today, the Fuji Altamira CX 1.1 Cyclocross Bike stands out because it can truly function as a fast racing machine or daily commuter without needing to be swapped around to suit whatever use you want it for at any given time of year.
Performance
The Fuji Altamira CX 1.1 Cyclocross Bike offers a sealed aluminum frame, which is constructed from lightweight and durable materials. The frame also comes equipped with a disc-specific fork, which allows for the bike to absorb the bumps of the road while keeping your wheels on their intended path.
The Altamira CX offers a Shimano 11-speed drivetrain that enables riders to ride fast on any terrain, even if they've never cycled before. Features such as a nine-speed rear derailleur and a 15-speed Shimano Alivio mechanical shifter offer an easy solution for inexperienced riders who want to get into some serious racing without needing to research any more complicated parts beforehand.
Since the Altamira CX 1.1 comes equipped with disc brakes, you will have no problems stopping when you need to. You can choose between a front rim or disc brakes based on your preferences. The Altamira CX 1.1 also comes equipped with an alloy linear-pull brake caliper, which is reliable and easy to operate.
This bike also features a Shimano crankset and bottom bracket, as well as a nice steel racing wheelset that is perfect for those who like speed and endurance racing. With this bike, you'll be able to reach high speeds and go long distances without needing to worry about anything slowing you down or inhibiting your performance in any way possible.
Ride Over Rough Terrain
The Altamira CX 1.1 Cyclocross Bike's frame is also perfect for handling off-road conditions thanks to its increased tire clearance and mudguard eyelets. It has similar frame measurements to the Klunkerz frame, one of Fuji's classic off-road frames. The frame geometry is also comparable to Klunkerz's. This gives you the confidence and security of knowing that your bike can handle off-road conditions without falling apart on you while you are out there riding around.
The fork offers plenty of clearance for up to 3.7″ tires while still maintaining a decent amount of stiffness and strength needed for a good ride experience. This is great if you like to use some high-end tires like Schwalbe's Hans Dampf or lots of clinchers, depending on where you decide to ride.
The Shimano 105 shifter is adjustable for perfect ergonomics, provided you like it set up quite low on the handlebars. It allows users to adjust to their preferences without compromising the bike's functionality or design.
The wheels offer you a smooth ride with no rattling or squeaks. This is great for riders who like to travel through the city without any worries about their bike skipping over potholes or other cracks in the road. Suspension systems like this one are also beneficial because they compensate for all of those unpredictable conditions that may come up when you are riding through a busy metropolitan area, so they'll hold onto your wheels better and give you a more comfortable ride overall.
Ride With Speed and Style
The main feature of the main shifters is the Shimano 105 derailleur. This is a high-quality system that you won't get with some other brands. You will get a smooth-shifting experience throughout the whole range of gears no matter how fast you are going. The derailleur is also adjusted so it can be used on most road bikes from 25″ to 29″.
The FSA Gossamer crank and crankset allow for a very smooth and quiet ride when in use.
The bike also comes with a complete Shimano 105 groupset that offers smooth and fast changes for when you are in a rush to get to your destination. The drivetrain is a 9-speed system so it won't be the fastest out there, but it will get you from point A to B in no time at all, and with a solid feeling under your feet.
Ride With Comfort
The Altamira CX 1.1 Cyclocross Bike comes with a slightly longer wheelbase than Fuji's other cyclocross bikes to allow for more robust travel over rougher surfaces. You will feel a little more relaxed on this bike, and the seat post is a straight 27.2 size so you won't have to worry about fiddling with it for too long.
The frame is designed to feel like an extension of your body, allowing for easy handling, quick movements during fast rides, or strong sprints over rough terrain. The steel frame also has a damping built-in which reduces rattling and other bumps experienced during rough off-road rides.
The brakes are Shimano 105 which match the shifters perfectly. They are of excellent quality and very responsive with no annoying squeaks or rattles while you are riding around town or down the trails.
Fuji Feather Urban Bike Review
The Fuji Feather Urban Bike is an urban bike manufactured by the bike maker, Fuji. This bike has a lightweight magnesium frame that makes it much more durable than other bikes. It also has a feather-light design that doesn't cause any discomfort when people are riding it. One of its most unique features is its quick-release system, which allows for easier wheel balancing in the event of something breaking down unexpectedly.
Performance
The Fuji Feather Urban Bike is a very smooth and easy-to-ride bike. It has a wide range of gears for people to choose from when riding, and it has 20-inch aluminum-alloy wheels that make it very easy to ride. It comes in three different colors: Orange, White, and Black.
Features
The Fuji Feather Urban Bike is equipped with a quick-release system that makes it easy for people to fix any difficulties that may arise when riding. It weighs around 25 pounds, making it lighter than its competitors. The seat is also adjustable so that people can easily change their height when riding.
Gearing
The Fuji Feather Urban Bike has a wide range of gears for people to choose from when riding, which makes it very easy to handle different types of terrains. It also has 20-inch aluminum-alloy wheels that give the bike more balanced when rolling on different terrains.
Design
The Fuji Feather Urban Bike comes in three different colors: Orange, White, and Black. All these colors have their own unique features to offer depending on what color they are. The orange one comes with a different grip and a stylish set of pedals.
Fuji Crosstown 1.5 Comfort Bike Review
Fuji Crosstown 1.5 Comfort Bike Review
The Fuji Crosstown 1.5 is a cruiser bike that can also perform as a commuter bike for those looking for an upright, non-suspension ride style. The Crosstown 1.5 offers an impressive assortment of features at a great price point, making it one of the best cruiser bikes available on the market today! The frame is made from lightweight aluminum, which makes it easy to handle even when fully loaded with groceries or cargo, and the saddle comes with springs for added comfort to ensure you are always comfortable no matter what gear you are in.
Performance
The Fuji Crosstown 1.5 is a solid performer. The tires are wider than average, which makes the bike extremely stable and easy to ride, meaning you won't have to worry about any awkward movements or accidents caused by a bumpy ride. The wide tires also make it very easy to handle in excess of 300 pounds of cargo. This bike is a great choice for commuting long distances to work or even running errands around town, offering a comfortable and reliable ride that you can always depend on.
Features
The Fuji Crosstown 1.5 offers an impressive variety of features at an affordable price, making it one of the best cruiser bikes available today. The aluminum frame is lightweight and reliable, making it easy to handle even under the weight of over 300 pounds. The brakes are excellent, offering very good coverage and stopping power, which makes the bike feel very secure no matter what speed you are traveling at. The wide tires mean less rolling resistance, giving you more comfort and control over the ride.
Design
The Fuji Crosstown 1.5 has an excellent design that will appeal to many different kinds of riders. The frame is made from lightweight aluminum which gives you a clean look without weighing too much compared to other frames out there on the market. The frame also comes with curved tubing that offers a more comfortable ride than other bikes on the market that feature straight-tube frames.
Fuji Bike Price Range
By their standards, Fuji bicycles are relatively popular among advanced riders who want to get a good-quality bike with a better deal than most cheaper, entry-level bike stores offer. Below are the Fuji bike price range of several popular models:
Fuji Mountain Bikes: $449.99 – $2,999.99
Fuji Endurance Bikes: $849,99 – $5,999.99
Fuji Cyclocross Bikes: $1,799.99 – $3,499.99
Fuji Urban Bikes: $499.99 – $719,99
Fuji Comfort & Cruiser Bikes: $499.99 – 599.99
As you can see, the Fuji bike price range is considered much greater when it comes to entry-level bikes. What's more, it is equipped with lots of features at a far more competitive price. Another great strength is that Fuji bikes are really simple to assemble, repair, and maintain.
Are Fuji Bikes Any Good?
Generally speaking, Fuji bikes are a great option for those looking for a bike for recreational or commuting rides. Even competitive riding is also a good reason for you to choose Fuji bikes. They are made of durable and lightweight frames. The ergonomic handlebar and seat post provide you with an exceptionally comfortable riding position. What's more, the efficient drivetrain, outstanding impact-resistant forks allow an incredible riding experience.
Fuji Vs. Trek
Fuji Hybrid Bike Review
Fuji is one of the oldest bike manufacturing companies all over the world. The company was established in 1899 in Japan and built different types of bikes, such as the hybrid bikes, mountain bikes, and kid bikes. Fuji hybrid bikes, also known as pavement bikes, are a perfect combination of the comfort of the road bikes and off-road performance of mountain bikes.
Among various hybrid models, the Crosstown and Traverse are the two most outstanding ones. The Fuji Crosstown also has other 10 different models, but all share the same feature, which is the front suspension. Hence, you can handle different terrains.
It is the suspension that makes Fuji bikes more outstanding than other bike brands in terms of riding quality. What's more, you can even feel comfortable while riding at very high speeds thanks to the excellent disc brakes. Besides, they offer powerful stopping performance no matter the trail you are riding on.
If you are looking for a commuter bike or a recreational bike, this model will be a perfect option to consider.
Let's take a closer look at the two most popular Fuji hybrid bikes:
1. Fuji Crosstown
The Fuji Crosstown has a similar shape to a fashionable town bike. With 700cc tires and a front suspension, the bike offers exceptional comfort while riding on any off-road excursions. You can also experience a smooth feeling thanks to the advanced SR NEX suspension fork.
In addition, this bike is equipped with a 27-speed Shimano drivetrain and Tektro mechanical disc brake. These features provide you with more reliable shifts and powerful braking.
2. Fuji Traverse
Another Fuji hybrid model that is very famous is the Fuji Traverse. This bike resembles a cross-country racing bike manufactured by Fuji. Nevertheless, you can still feel the comfort on the city roads because the geometry is not really stiff.
With this bike, you can experience both rapid speed shifts and smooth feeling thanks to the 30-speed Shimano Deore drivetrain. Just like the Crosstown, this model is also equipped with an innovative SR NEX front suspension for better performance on different types of terrains.
Trek Hybrid Bike Review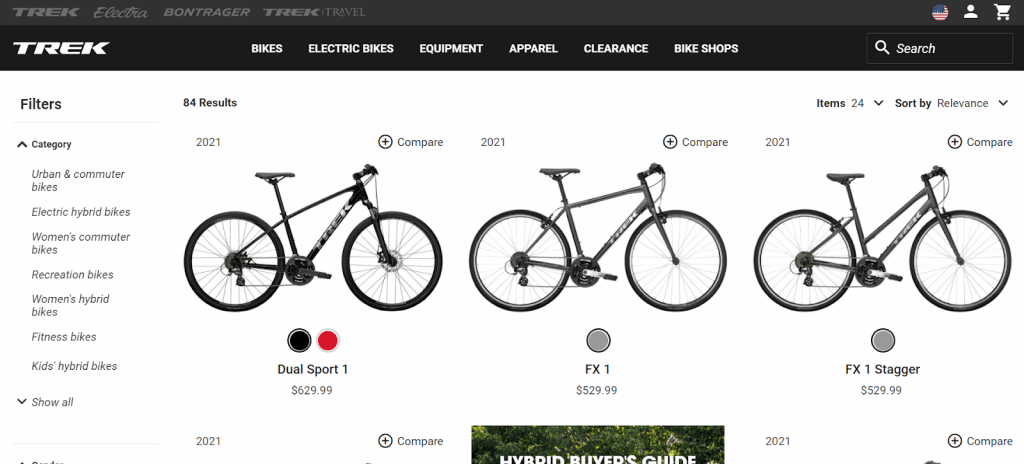 Trek hybrid bikes are also relatively common among hybrid riding thanks to their versatility. Therefore, you can ride these bikes on different types of roads. One of the most outstanding things about Trek hybrid bikes is the unique feature equipped on each model. Hence, you can enjoy fast riding on paved roads or ride comfortably on any terrain.
In general, Trek hybrid bikes are perfect for commuting, recreational, and fitness riding. Besides, this bike brand offers a wide line of hybrid bicycles, such as the Verve series. Just like Fuji hybrid bikes, Trek hybrid bicycles are also equipped with Shimano drivetrains for faster speed shifts and a comfortable feeling.
Almost all Trek hybrid bikes are manufactured with an aluminum frame. Their tires and suspension forks are designed to ride better on various trails.
Trek also provides several models of hybrid electric bikes. They offer similar performance as the hybrid models but provide added performance thanks to the excellent Bosch pedal-assist system.
If you're looking for a reliable hybrid bike, check out the Trek 820 mountain bike, which offers great value for its price and is perfect for casual rides or light off-road trails. With its comfortable saddle and sturdy frame, you can enjoy a smooth and stable ride.
Conclusion
Generally speaking, both Fuji and Trek hybrid bikes are great for comfortable, recreational, commuting, or fitness riding. You can opt for any one of these two brands since each model has its own strength that you can make the most of it to get the most comfortable and smooth riding.
When it comes to suspension forks, Fuji hybrid bikes seem to be a little bit better than their Trek counterparts. The front suspension is an outstanding feature that makes Fuji hybrid bikes more enjoyable and comfortable while riding on different trails than almost all their competitors.
You can check the top list of 15 hybrid bikes for entry-level here.
Fuji Mountain Bikes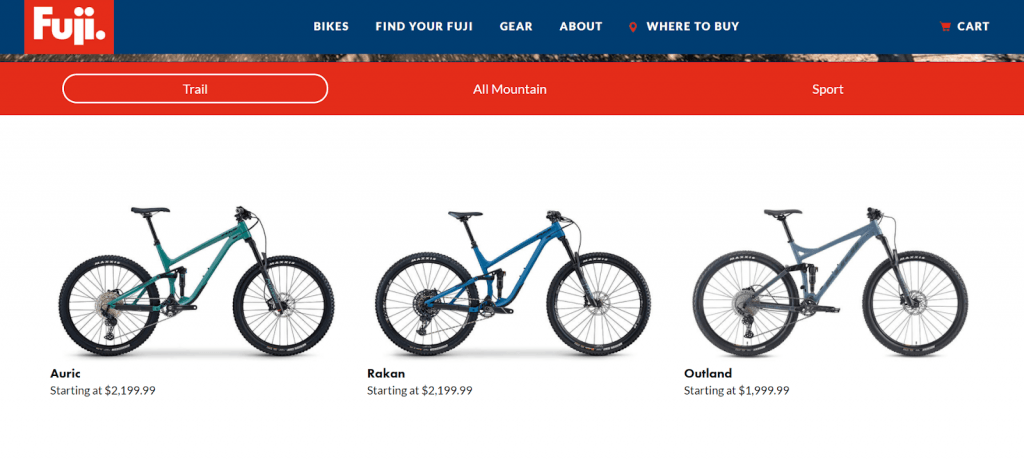 Fuji provides different types of affordable mountain bikes for both beginning and advanced riders. The two most remarkable mountain bike lines should be sport, trail, and all-mountain bikes.
Both these models are made of high-quality, enduring frames that can last for an extended period. Depending on the terrain and your riding style, you can choose full-suspension or hardtail bikes.
Fuji Road Bikes
Fuji road bikes are manufactured using top-of-the-line components to create first-class bicycles. Fuji gathered information from pro athletes and mechanics and used that useful information to produce their world-class road bikes.
There are four main categories when it comes to Fuji road bikes, including Competition, Endurance, Adventure & Touring, and Cyclocross. All these models are typically designed with the aim of giving a maximum performance at the most affordable price.
Fuji Hybrid Bikes/ Fuji Pavement Bikes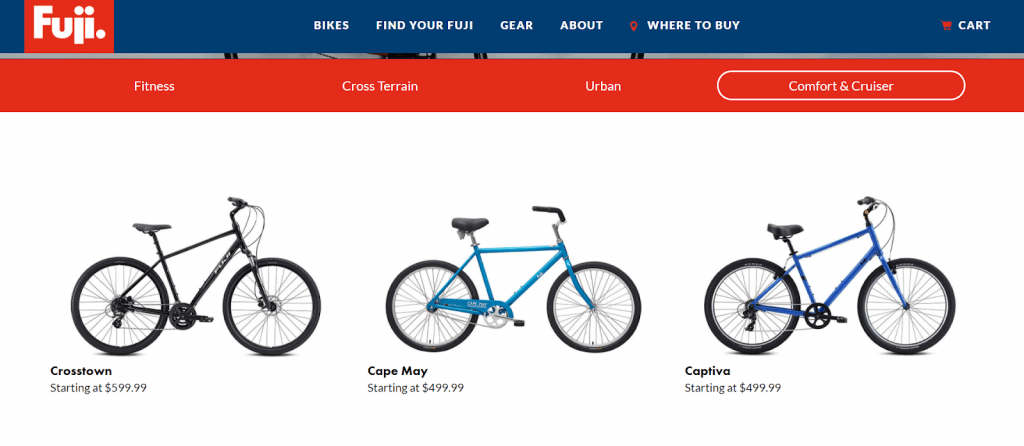 It seems that hybrid bikes are the most popular bikes of Fuji. There are different categories, including urban, cross terrain, fitness, and cruiser bikes. These models are all manufactured to ride on hard terrains, such as pavement, tarmac, etc. Besides, they can be ridden well on city roads, ideal for commuters, or just comfortable rides on weekends.
In general, Fuji hybrid bikes are reasonably priced, with the cost ranging from $250 to $1,200. Almost all their hybrid bicycles are made of an alloy frame and equipped with different features to meet the needs of entry-level and advanced riders, such as Shimano, Kenda, Promax, Tektro, etc.
Some of the most common Fuji hybrid bike models are Fuji Crosstown, Fuji Absolute, and Fuji Traverse. Fuji Crosstown has the shape of cruiser bikes and is particularly designed for ultimate comfort. It comes in different variations to be suitable for different riding levels and purposes. For example, the step-through frames are typically lowered to mount more easily.
Fuji Absolute bikes include a wide option of hybrid bikes that are suitable for general fitness or commuting. On the other hand, Fuji Traverse models have different types of hybrid cross-terrain bikes.
Fuji Electric Bikes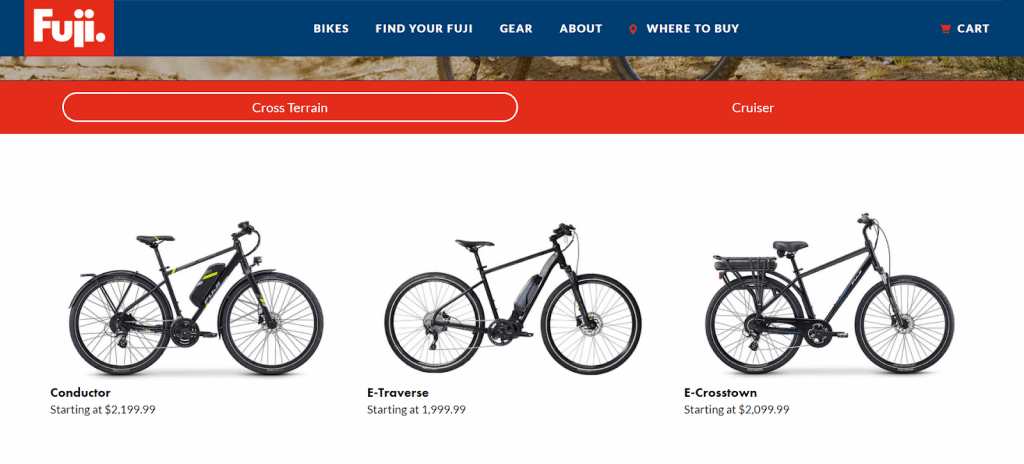 Fuji provides the market with five different types of durable and comfortable electric bikes, including three electric mountain bikes and two-hybrid cross terrain bikes. Generally speaking, these models have a relative price in the field of electric bikes, which are from $1,400 to $4,000.
These bikes are made from an alloy frame, and all are custom-butted with excellent equipped components, such as Shimano power steering, SR Suntour forks, and hydraulic disc brakes. One important thing to note about the component is that the quality range is relatively huge. For example, if you choose a model with a lower price, your e-bike might lack several reliable parts. Ideally, you can opt for any model in the midrange for the best value for money.
Conclusion
On the whole, Fuji provides great bikes at reasonable prices. Among their wide varieties of bikes, hybrid bikes seem to be the best models. They offer outstanding riding quality over other competitors thanks to the incredible front suspension system.