Unlike almost all other bike companies in the cycling industry, Factor is the only owner of the Factor manufacturing facility and creator of every Factor bike. It is this unwavering commitment to domestic manufacturing that creates an environment in which motivation becomes an important element of flawlessness. Excellence here is not by chance or luck, but it is the product of personal oversight and obsessive attention to detail, no matter how tiny.
Part of Best Bike Brands.
Overview Of Factor Bike Company
History Of Factor Bike Company
Factor Bikes was established in an industrial unit in Norfolk, England, in 2007. Initially a branch of bf1systems, Factor Bikes started out as a top leading engineering company specializing in working at the highest levels of creation and design with several most renowned and fastest brands across the globe, such as Aston Martin, Ferrari, Maserati, Lamborghini, and many other Moto GP, WRC, and F1 teams.
As you might not know that, Factor first joined the world of cycling in 2009 with its radical FACTOR001. Its novelty on a road racing bike is a feat of beauty as well as unique flair. In fact, it was many years ahead of its time. And even when the brand continues to grow and develop, its core commitment has not fluttered.
This was followed by more avant-garde development, and in 2012, the brand started a partnership with Aston Martin – to produce the Factor ONE-77 £25k Hyper Bike.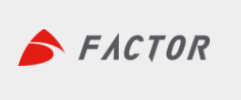 In 2013, Factor Bikes introduced its very first production bicycle, the creatively aerodynamic Vis Vires, which is completely non-UCI compliant. Blending everything before in a beautiful package, it includes a power meter developed by bf1systems, the brand's proven Twin Vane splitter, and a 'Dual Bayonet' outer fork.
And finally, the Vis Vires has ushered in a completely new age of Superbikes. It is the incredible combination of aerodynamics, data and system integration in one breakthrough product package. The Factor Vis Vires platform was launched to vital acclaim by the world cycling press and renowned design award committees.
Early next year, the company's engineering team started developing the next generation of framesets, including O2, ONE, and ONE-S. Even though the brand has worked closely with professional racers in the past, they still felt the modifications they had imagined needed a more crucial, proven eye.
If you're interested in high-performing bikes with cutting-edge designs, check out our brief overview of the best bike brands on the market. These bike manufacturers are known for their innovation, quality, and reliability, making them a great choice for cyclists of all skill levels. Factor Bikes is one of these best bike brands, and their history is one of innovation and excellence.
Where Are Factor Bikes Made?
Even though it was born in England, Factor Bikes has its production facilities in Taiwan. This means that the company can act more quickly on the response that Millar has given them and adjust the designs until they are ready to be in the race. And bypassing UCI oversight, it is essential that Factor wants its bikes and fast.
The Technologies Of Factor Bikes
The only way to intentionally design a bicycle to keep out the wind is to use Computational Fluid Dynamics (usually known as CFD) software. Although most have to be outsourced, all the Factor models are done exclusively in-house on potent factories that compare home computers to pocket computers.
To achieve exceptional performance, the company invented innovative OTIS – A Fully Integrated System. The OTIS features a one-piece stem and bar for softer airflow, a patented steering fork to reduce frontal area while allowing more air on the track surface, and its Twin Vane split down tube.
At first sight, you might think that the Twin Vane down tube might look like an uncommon answer to aerodynamics. However, in reality, it is the best solution to the issue of designing an aerodynamic road frame that offers the rigidity and feel of a conventional road bike.
In the same way, Factor Bikes also manufactures the fork and frame to work with its Black Inc. In addition, the disc rear wheel and three front wheels are integrated for the maximum greasy speed. For Factor, aerodynamics is considered the essential backbone of its work, not a second thought.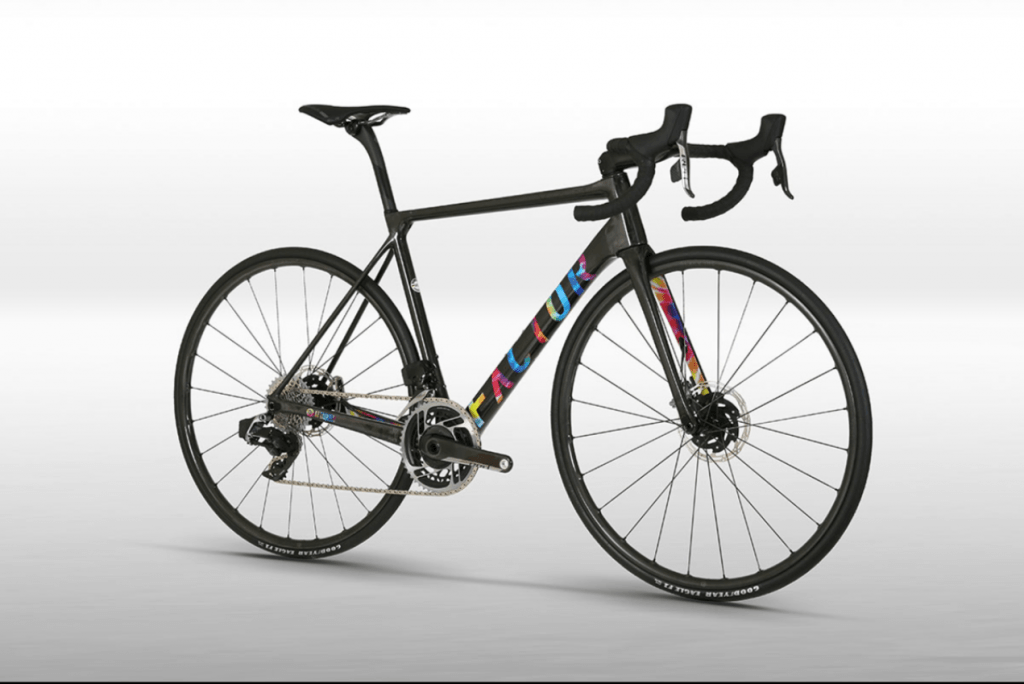 Performance Of Factor Bikes
Each Factor bicycle is carefully designed and engineered to offer the ultimate performance and exceptional riding quality. Besides, they are equipped with the most innovative technologies available on the market. You will not find any bikes of mid-range prices.
In addition, Factor Bikes pay more attention to the specific type of riding. Therefore, every and each Factor bike will deliver a particular feeling and performance, depending on the model you choose. Of course, there will be something called "intersection" between different models, and Factor knows that lots of you enjoy a variety of riding styles.
Factor Bike Categories
Factor focuses mainly on road bikes, aero road bikes, triathlon bikes, and gravel bikes. Each range includes other models. Below are the major Factor bike categories that are available to purchase:
Road Bikes
Aero Road Bikes
All-Road/Gravel Bikes
Triathlon/Time-Trial Bikes
Most Popular Factor Bikes
Besides complete bikes, Factor also provides the cycling market with high-quality frames and other accessories. However, their bikes are relatively popular among other products. And here are some of the most common models from this high-end bike brand:
Road Bikes: Factor Vostro Vam Sram Red AXS
Aero Road Bikes: Factor ONE
All-Road/Gravel Bikes: Factor Vista
Triathlon/Time-Trial Bikes: Factor Slick Disk
If you are looking for a quality road bike, Factor Bikes should definitely be on your radar. They offer some of the most popular and high-performing bicycles in the market such as the O2, ONE and VAM. Known for their exceptional design, engineering and aerodynamics, Factor Bikes is a great choice for serious cyclists.
Factor Bike Price Range
Every Factor bike is engineered under master craftsmanship, equipped with the best materials and components possible, innovative designs and technologies. Therefore, their models tend to be at high prices. However, they are really worth it because of the riding quality and experience it brings to you. So, let's take a look at the price range of Factor bikes.
Road Bikes: $2,700 – $10,099
Aero Road Bikes: $5,299 – $10,151.60
All-Road/Gravel Bikes: $2,700 – $7,685.15
Triathlon/Time-Trial Bikes: $6,299 – $9,999
Are Factor Bikes Any Good?
Since every Factor is highly engineered, you will feel an outstanding performance and extraordinary riding quality that it delivers. Moreover, their bikes offer a really different feeling, thanks to the integration of the most cutting-edge technologies available. Generally speaking, Factor bikes are a great option for different riding styles, and, of course, regardless of discipline.
Factor Vs. Pinarello
Factor Bike Review
From Road to Aero Road, Triathlon, and Gravel, Factor Bikes can provide you with a perfect bike that exactly matches your needs. Among various models available, the Ostro is considered an "everything" bike, a master of all ranges. It is exceptionally fast, super lightweight, and incredibly comfortable. It is born to win mountaineering, sprints, and cobbled classics. All in all, it is the supreme all-rounder since it doesn't compromise.
If you are the kind of racer who races regardless of parcours, then this Ostro bike will be the best companion that you have always been waiting for.
Every factor of the Ostro model is improved for the best aerodynamics possible, including the brand's pioneering Reversing Flow Energising Channel wide fork, the mid-chord aero profile tube shapes, and the aero cockpit with completely built-in cabling. As a result, Factor creates an ultra-light bike that is close to the One model and always ready for the fast road races.
Another great option for those who are looking for a super lightweight bike without any compromise is RAM. On the other hand, the O2 bike is suitable for everything on the road, from weekend trips to mountains, long-distance rides on flat trails, to road and crit races. It is best suited for cyclists who want a very lightweight and comfy all-round road bicycle for an amazing price.
Pros
Deliver incredible performance and riding quality
Integrated with the most cutting-edge technologies
Provide some of the top models in the cycling industry
Offer exceptionally fast, exciting, and different rides
Cons
Sometimes it might not be that smooth
Pinarello Bike Review
As lots of you might know, Pinarello bikes is a famous Italian bike manufacturer founded in 1952 by Giovanni Pinarello. The brand has been paying much attention and effort to manufacture high-end road bicycles since its foundation. Nevertheless, it still offers different models in most disciplines, such as city, track, mountain, and cyclocross bikes.
The Pinarello Dogma is considered the most high-end model among the race bike range and other models of the company. This bike is specially made from an asymmetrical geometry, making sure the bike has enough rigidity while flat tubes are manufactured for improved aerodynamic characteristics.
You can also find other flagship models at the pro level, such as Gan and Bolide. In addition to these premium bikes, Pinarello also provides beginning cyclists with other models that are built only for them. They are Noer and Razha, which are particularly designed with comfort in mind and enable the riders to ride further and for longer.
If you are looking for a perfect mountain bike, the Dogma XM is a great model to consider, while the Dogma XC, as its name implies, is a perfect choice for those who want a superior cross-country race bike. Both models are built with the same geometry as Pinarello's flagship road bikes. Nevertheless, some properties have been modified to make sure they fit certain riding styles and purposes.
Like Factor, Pinarello also provides the cycling market with other models of a variety of riding styles. For example, the Grevil+ models are great for aerodynamic sticklers, the Crossista+ is an ideal choice for cyclocross, and the hybrid cyclists will find the Mercurio the best companion.
Pros
Classic lugged, sturdy, and durable frame
Provide wonderful power transfer
Integrated with strong disc brakes
Equipped with large 28mm tires
Offer some premium road bicycles on the market
Cons
Shocks and vibrations should be improved
Factor Ostro

Generally speaking, the Factor Ostro model is a versatile bike. It is a perfect combination of the ONE'S aero performance, the O2 VAM's super-lightweight, and the Vista's ultimate comfort. No matter what types of terrains you ride on, this Ostro will provide you with an exciting riding experience.
If you are looking for an ultra-lightweight bicycle with no compromise, then the Factor Ostro is exactly what you need. Thanks to its super lightweight construction, fast, and incredibly comfortable feeling, the Ostro is an ideal machine to win any sprint, cobbled classics, mountain, and climb. The only word that can describe this model is an ultimate all-rounder because of its refusal of compromise.
Cyclists who love to race regardless of the parcours will find the Factor Ostro a dream bike that you have always been waiting for.
In fact, the Ostro is also a bicycle for the Factor's professional cyclists when the track is mixed as usual. Besides, they can easily ride on ultra-fast stages with the ONE model and can also reach for an O2 VAM on shark teeth stages. However, the Ostro offers them close to the best of every single model.
Furthermore, this bike is ready for the hardest paved Classics, like Paris-Roubaix, thanks to the great tire clearance of 32mm, where the average racing speed of 45 km/h emphasizes aero performance.
All things considered, the Factor Ostro is a bicycle born for Sep Vanmarcke on the cobblestones, André Greipel for sprintings, and Dan Martin in the mountains. What's more, they perform well on everything besides cobbles, flats, and mountains.
Factor VAM

The Factor VAM will be suitable for different types of riding, such as racing, mountainous road cycling, long rides, the Étape du Tour, or World Tour. It offers exceptional comfort no matter how hilly the path is. Cyclists who are looking for an ultra-light bicycle while keeping its stiffness will absolutely find this model a perfect match.
In general, the O2 VAM is nothing more than a turning point in bike design. It is an ultralight bike that is not to be outdone. In fact, there have been super-light bicycles in the past, but they always come with compensations, no matter if it is the performance of lightweight components or ride quality.
However, the Factor O2 VAM is built with technology that has never been seen before in the cycling industry, such as Boron-infused frame tubes and Nippon Graphite Pitch Fiber. This is to keep unsurpassed accuracy and power transmission that is featured for all Factor bicycles.
Even though the model is made for the mountains, it still performs well on other hilly terrains and long road rides. This is because of the excellent power transfer capability, compliant performance, and responsive handling. All these features allow the O2 VAM to deliver a wonderful riding experience in almost all road riding situations. Besides, the O2 VAM will be a perfect bike for road and crit racers.
Factor O2

It could be said that the Factor O2 is one of the most versatile models from the Factor brand. It was born to tackle everything on the road, from mountains to long-distance rides on flat and rolling trails, to crit and road races. Cyclists looking for a super-comfortable, all-round, and lightweight bicycle at an ideal price will definitely fall in love with this model.
Accordingly, the new Factor O2 is the most complete and possibly the best value road bike across the globe. The company takes advantage of the advanced geometry and technology of the innovative O2 VAM model to apply for this O2's frame. However, the carbon fiber layup has been modified to expand its capabilities even further, and that is easier to achieve than ever before.
For those who don't know, the first generation of )2 completed on the podium of the two most popular bicycle races, including Paris-Roubaix and Tour de France. Underscoring its versatility. And now, the brand has produced it even better. As a result, the all-new O2 model can surpass on the roughest cobblestones, the highest mountains, and on anything in between.
The layup's focus – another broad term for the placement and type of carbon fiber materials in the bike frame mold – is moved to more ultimate comfort and longer rides. In addition, the tire clearance is larger, up to 30mm, providing the riders with more choices for a smoother ride.
All in all, the Factor O2 offers incredibly compliant performance, precise and agile handling, and efficiency. This, as a result, makes it perfect for crit and road racers who want to conquer Gran Fondos, long road rides, and hilly and mountainous terrains.
Factor One

The Factor typically designs the One model for chain gangs, crits, road riding, and fast club rides. So if you are crit racers, powerhouses, speed freaks, or just a rider who wants to be different from the crowd, you may not want to miss out on this great bike.
You may have heard or known that the Factor One is the fastest aero road bike ever in the cycling industry. It really outperforms its competitor thanks to the completely cutting-edge design. The core of this fastest bike is the Twin Vane EVO downtube, controlling airflow from the front wheel more effectively than a traditional design. At the same time, it still offers great power transfer rigidity.
These qualities are reflected at the front, where the outer fork simultaneously sharpens steering response to new heights and enhances airflow. In addition, the saddle and fork legs have the same design. As is widely used on the Slick, the seat posts and seat-tube come in an airfoil shape. And all of these designs are to optimize aerodynamics, and a single purpose is to provide the rider with the fastest ride ever.
No matter if you want to win sprints, race and crit with fast paces, shred chain gangs, or simply get attention from the crowd, this Factor One will be a perfect model to opt for. It is great for trips to the mountains, Gran Fondos, long-distance rides, and triathlons.
Factor LS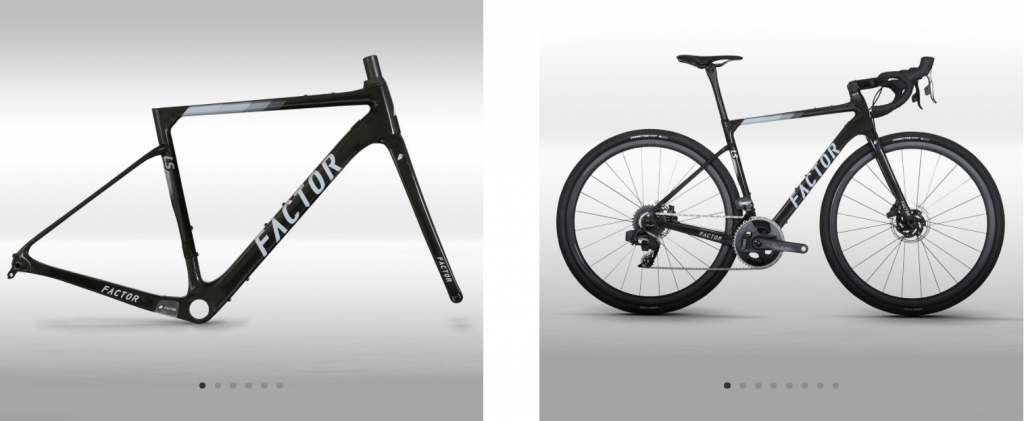 Gravel lovers will not want to miss out on this Factor LS. It was born to be ready for any gravel ride and event. This model will be a perfect match for riders who overcome rough terrains at near-racing speeds, gravel cyclists and racers who want to go faster without losing any feature.
With a super lightweight 950gram frame, optimum rigidity for gravel, and sharp race-focused control, the Factor LS is a true gravel racer without barriers.
The brand intentionally eliminated distracting properties and redundant materials when engineering this model. The LS is meticulously designed, focusing only on the core of gravel racing, which is grit and speed.
Clearly, the Factor LS is manufactured to conquer, no matter if it is soaring through the uncompromising Midwest rollers, traversing red clay, going through the infamous Flint Hills.
This model is optimized for tires from 40mm to 43mm. In addition, it is compatible with both 1x and 2x mechanical and electronic gear shifts.
In addition, the Factor LS features space enough for three water bottle holders, a top tube bento holder, and the possibility to attach a beautiful frame bag. What's more, the frame is equipped with hidden fender attachments, making it a perfect winter training bicycle for some riders.
Factor Slick

If you are time trialists and triathletes who are looking for the most aerodynamic bicycle to conquer any time trial and triathlon racing of flat and rolling terrain, don't forget to check out this perfect Factor Slick.
The model is typically produced to focus on only one thing – speed. It is integrated with everything that Factor understands about aerodynamics, such as Widestance seat stays and special and wind tunnel proven Twin Vane Evo downtube. As a result, it has become one of the best aero racers in the cycling industry.
However, being super fast is not just about gliding through the air. It is more about the overall efficiency of the bike's system. In other words, it should ensure that you are in the perfect riding position to get comfort, aerodynamics, and power on the bicycle while staying relaxed and fresh for the next run. As a result, the Slick is typically designed to be extensively adjustable.
As you might know, an optimized triathlon bicycle should be ultra-aerodynamic at a 180km payload. And since the Factor Slick is engineered with race in mind, it is equipped with an advanced seat-mounted Stora-Pak Carbon tube for gears, a direct-attached top tube pocket for food, and a BTA holder for your drinks.
If you're looking for a bike that is great for urban cycling, the Factor Slick is a great option. It's lightweight, fast, and perfect for all types of riding. Check out more details on the Factor Slick at Pure Cycles Bikes Short Brand Overview to learn more.
Factor Vista

It's no exaggeration to say that the Factor Vista can be ridden on almost everything, from grave rides and races to road rides and backroad adventures. No matter how the terrain, it still delivers exceptional comfort as the priority.
So if you are gravel riders and racers, or anyone who enjoys discovering the long-distance roads, back lanes, and those looking for maximum comfort without sacrificing speed will find this bike a perfect model.
Indeed, the Vista is really an all-road bicycle. No matter if it is broken-up back lanes, gravel terrains, or normal tarmac, the Factor Vista can do it all. When on the road, with its large slick tires, the Vista is an extremely comfortable buddy for the longest days in the seat. Put on the gravel tires and ride it into the rural areas, and you will find out its wild side. The Factor Vista is born to conquer all the trails as fast as you want.
It has been designed from the ground up for incredible ride comfort. Besides, it is equipped with a specific carbon finish, a special flat-backed safety post, and a compliant twist saddle. In addition, this model is integrated with the great power transfer of a road race bicycle. And there is no wonder it rose to first and second positions at the Gravel Worlds in 2019.
Conclusion
From the very beginning, Factor Bikes has been trusted by pros and has stood on the podium at the Ironmans, Paris Roubaix, Tour de France, and many more professional cycle races.
The brand was born with the commitment to speed, innovation, and high performance through cutting-edge engineering. When it comes to aerodynamics, leading performance, and aesthetic perfection, Factor Bikes refuses to compromise whatever it takes. That's the main reason making their bikes so popular among both pro and beginning riders around the world.