Pure Cycles are also called Pure Fix Bikes, launched by Californians Pure Cycles bikes are made for simplicity, affordability, and suitability, being the best choice for students needed or someone in need of getting around.
Pure Cycles are designed for men and women of all ages. Their bike models make a great impression due to their comfort, style, and ease of exploring the city.
Why don't you take a look at each model below to find how nice it is right now!
For more popular bicycle brands, you can read about the best bike brands in the world.
Overview of Pure Cycles Bikes Brand
In 2010, Pure Cycles was founded in Los Angeles, California, by Californian students Michael Fishman, Jordan Schau, Zachary Schau, and Austin Stoffers.
It was Pure Fix Cycles, and they focused on the fixed-wheel track bike design. This design was popular in the US after 2000. After that, they have grown to become the international supplier of premium quality and purpose construction bikes covering various styles.
Pure Cycles brand was the first to release the glow-in-the-dark bicycle.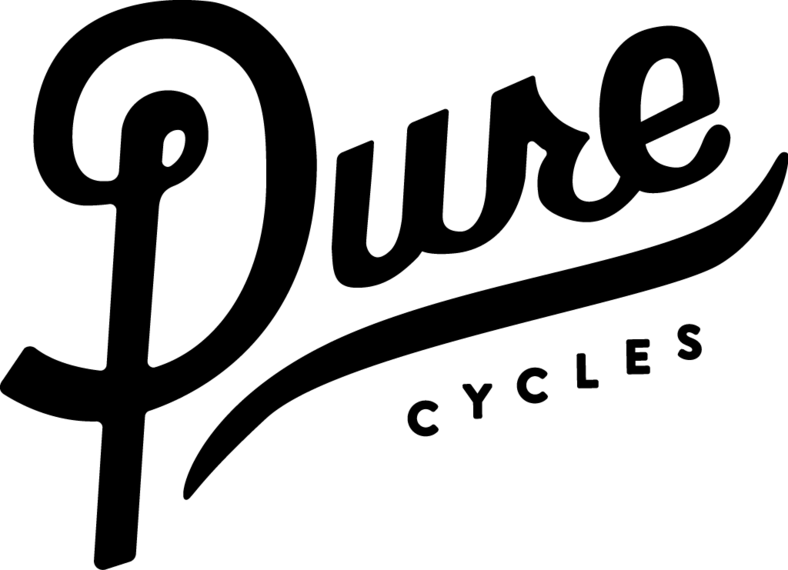 The company was sold to JBI.bike, and a family-owned, Florida-based bikes and components distributor with the bike division including Black-Ops and Sun Bicycles on April 20, 2020.
Their bikes ranges include:
Fixed gear/ single speed
Adventure
Commuter
Road
City
Pure Cycles Bike Ranges
They make various forms of city cycling from commuters, road bikes, coasters, fixies to E-bikes. The main types of bikes that they serve including:
However, they do not design any MTB or off-road bikes.
Most of their bikes are targeted at the student market, and they try to maintain the price under $500, although they offer two higher-quality road bikes from $1000 and $1500.
It's time for the most critical section. Let's take a look at the details!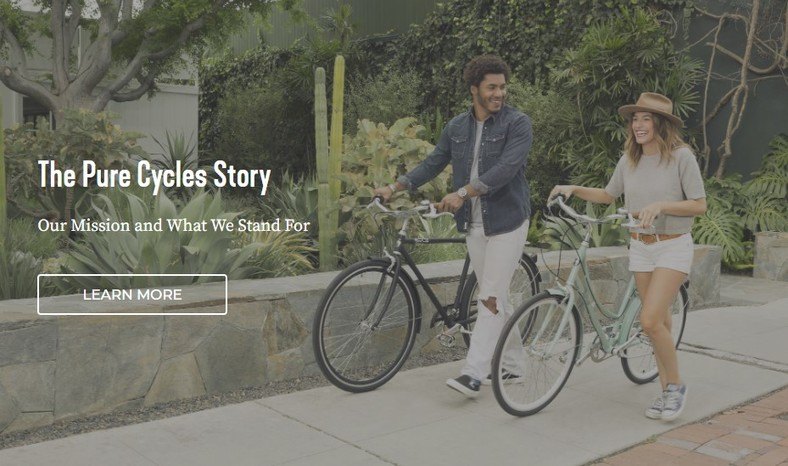 Most Popular Pure Cycles Bikes Models
Fixed gear/ Single Speed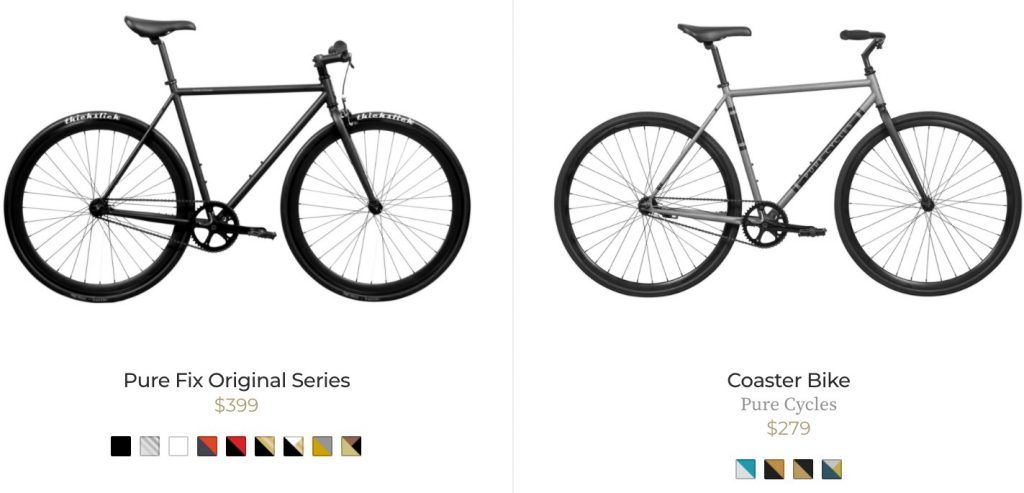 Pure Fix Original Series
Frame: Steel frame
Fork: Steel
Wheelset: 700c
Brake: Rear
Speeds: Single speed
Pure Fix Original series are the best sellers of this brand thanks to its style, simplicity, and speed, which is perfect for starting, getting back into biking after some years away, or you like to feel relaxed when riding.
This bike features a high quality and durable frame that lasts for a long time and is also available in various colors. Besides, this series bike comes with a rear brake. The accessories include handlebars, water bottle cages, saddles, and foot straps.
Toure Fix Original bike is fixed with minimal components; most beginners find it easy to start with. Its design is so simple, but it offers a superior ride, and you will be comfortable using it. This bike provides you all you need for a fixies bike at the best price.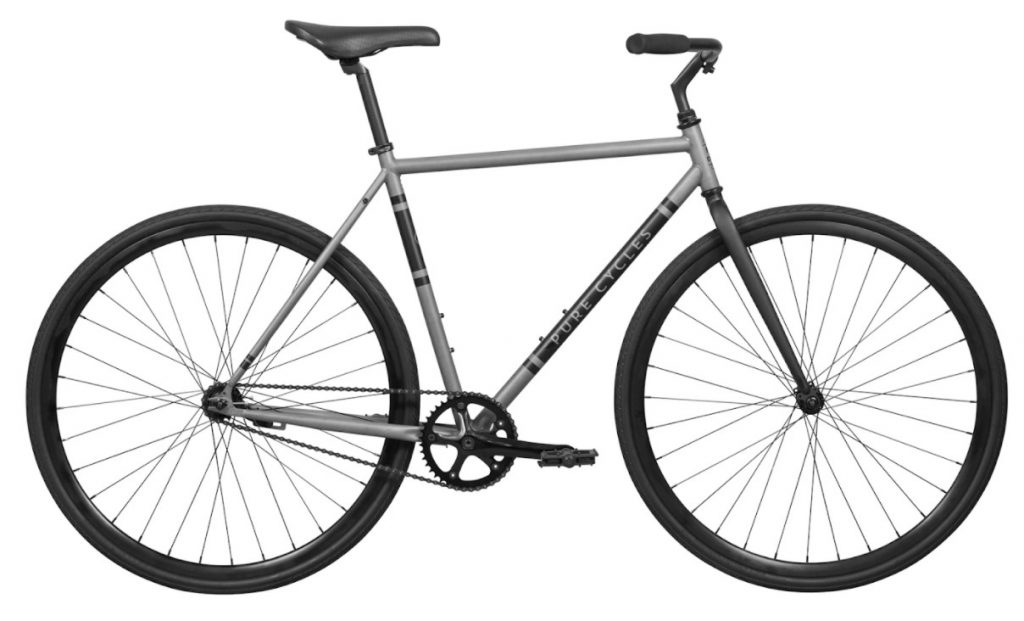 Coaster ($279)
Frame: Steel frame
Fork: High tensile Steel 1" threaded
Wheelset: 700c
Brake: Rear
Speeds: Single speed
Pedal: Nylon platform
Coasters also feature a simple design, one speed, no cables, and no levers. Besides, it has a hands-free coaster brake. Hence, you can quickly stop swept-back bars for a more comfortable, upright ride. In addition, its steel frame softens the road, so this bike is ideal for quick errands, slow rolls, or some late-night party rides.
Coasters feature a light and robust steel frame, which is much better than aluminum and supports to soften the road's vibrations. In addition, this bike has a sealed bottom bracket for exceedingly smooth spins. Moreover, its warranty will be activated with the advanced assembly from the local shop.
Adventure Bike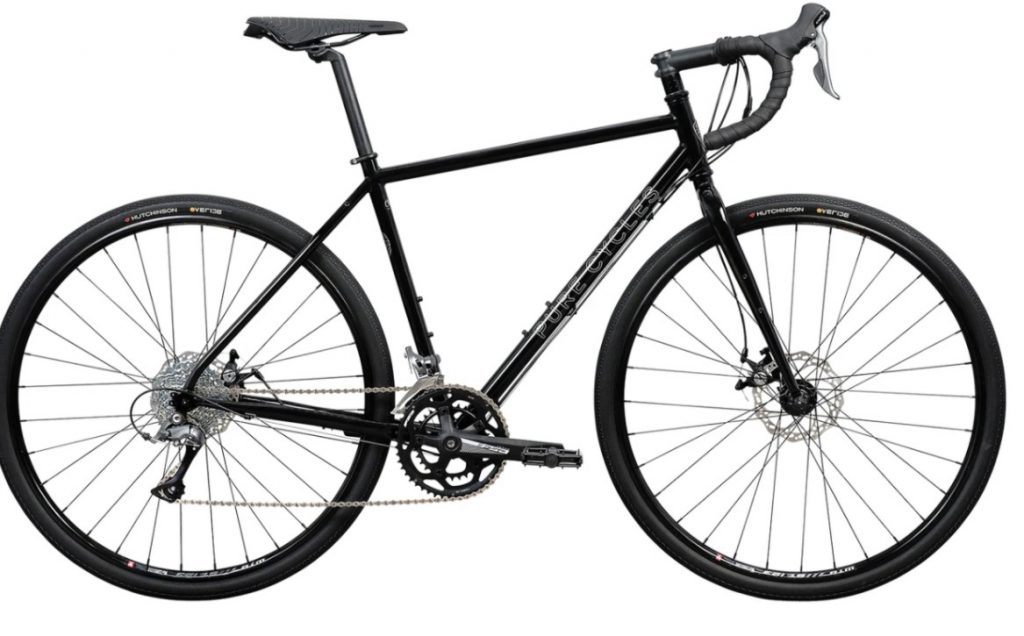 Large/ Carmichael ($899)
Frame: Steel frame
Fork: High tensile Steel 1" threaded
Wheelset: 700c
Brake: Rear
Speeds: Single speed
Pedal: Nylon platform
Thí bike offers full size from Small to XL with two colors available. Moreover, you will feel satisfied with their warranty of lifetime frame and fork. For this bike, you can swap rims and rock monster tires because it is 650B compatible. Moreover, its disc brakes offer unmatched stopping power.
This adventure series is feared to take you where you need to be and not where the roads take you. This single-speed bike is easy to maintain. The bike is made of steel which is a durable material. The Brake is responsive and well-liked. This bike runs relatively quietly.
Commuter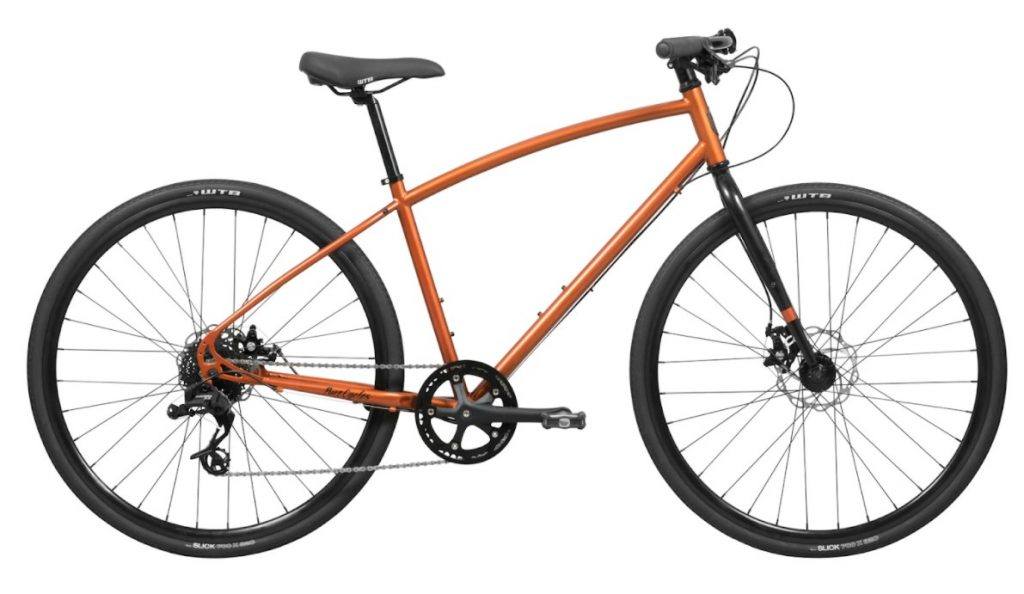 Urban Commuter ($499)
Frame: Steel frame
Wheelset: 700c
Brake: Disc
Speeds: 8 speed
Saddle: WTB extra padded
An urban commuter is perfect for going around the town, some groceries, or commuting to work. You can carry some small loads for deliveries, change of clothes, or collections with the mount points attached to a rack on the back. If you need to work out for weekends or visit nearby places, seeing the cities surrounding you, this comfortable commuter bikes will be a great choice.
You will be amazed by the lightweight steel frameset of this bike, and it is much stronger than the aluminum material and can absorb more vibration from the road. It has the eight-speed SRAM A1 drivetrain freewheels on the flats for better gears to roll the bills of San Francisco or LA. Its WTM Slick tries to provide the max road contact, and Tektro disc brakes support quick stopping strength.
It has a comfortable ride position which is easy to ride in the city. The online instructions of these bikes were straightforward to follow for even beginners. Moreover, it has a lifetime frame and fork warranty which reassures the owners. Its dual chain guard will keep the chain in place even through the roughest roads.
Road Bikes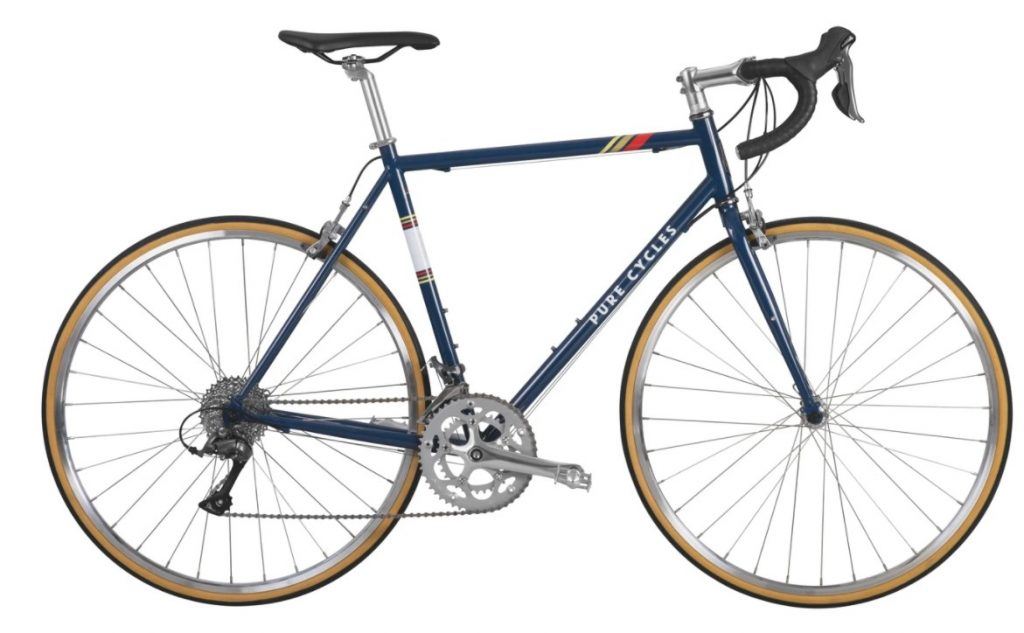 Drop Bar road – XS/Bonette/ 16 speed ($749)
Frame: Pure Cycle Cromo Road
Fork: Pure Cycles 1-⅛" Cromo Road
Wheelset: Pure cycles 17mm deep
Brake: Promax RC-469
Speeds: 16 speed
Pedal: 9/16" Low Alloy Retro
Like the classic road bikes, the drop bar features the geometry and engineering that make the bike worthy of any climb. The smooth road bikes is also great for learners, starters, thanks to its lightweight. The reason why it is light is that this bike is made of the finest quality steel materials.
The Drop bar road bike features the Chromoly mainframe and fork, which are lightweight and comfortable for riding. Its Drop bars provide you a lot more options for body and hand positioning. Moreover, thanks to its compact dual chainrings, it will be able to tackle challenging climbs.
Featuring the sunrise cassette and the Shimano derailleur, it can deliver 16 speeds. Especially for the smooth roll and excellent responsive handling, it has the Kenda Road tires. The rack and fender are compatible; hence, you can haul it and keep you dry.
City Bikes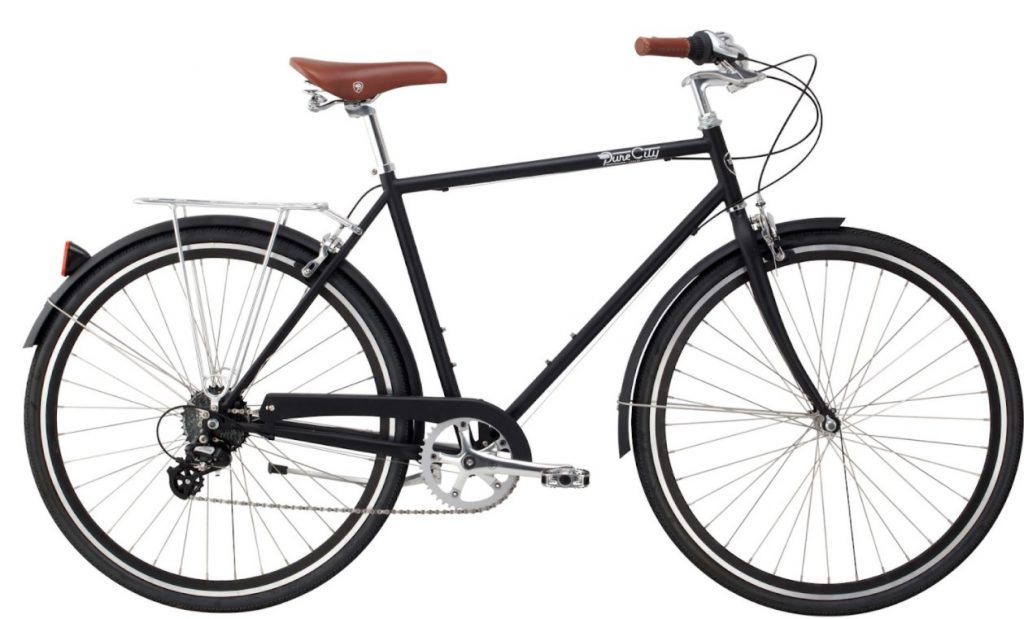 Pure City Classic – 8 speed/ 3 speed ($499)
Frame: High Ten steel
Fork: High Ten steel
Wheelset: 700c
Brake: Promax RC-469
Speeds:3 /8 speed
Pedal: Alloy City Platform 9/16"
The pure city is designed for city riders, and each selected component will deliver the best riding experience. You can choose between the Shimano Nexus hub three-speed or the external eight-speed cassette for which is suitable gearing for your style and your characters.
It is built with a super single high tensile steel frame and fork, upright geometry perfect for relaxed cruising. It has the front and rear alloy caliper brakes and the 3 pcs crankset. You will not consider oil running to your clothes with the chain guard protector.
Every bicycle features a versatile rear rack, rear, and front fenders, bell. Hence, you are always ready for any rides.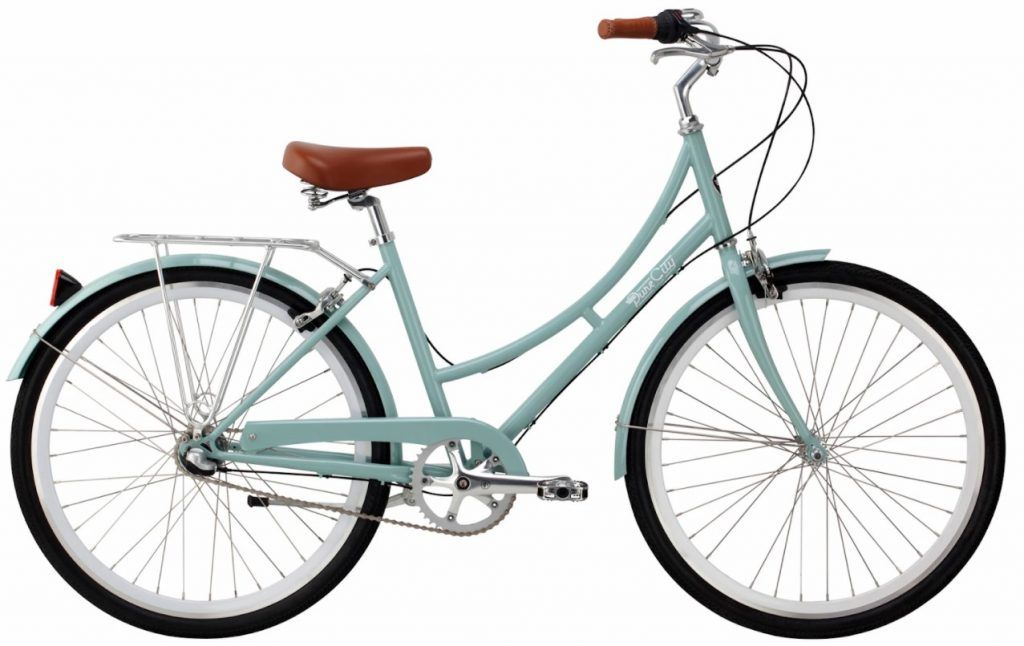 Pure City Step-Through – 3 Speed/ 8 Speed ($499)
Frame: High-tensile steel
Fork: High-tensile steel
Wheelset: 700c
Brake: Alloy dual pivot
Speeds: 3/ 8 speed
Pedal: 9/16" city platform
For the best riding experience, Pure Cycles already selected each component of the Classic step-through bikes. This convenient step-through bike features the classic vintage feel for cyclists with the penchant.
With its external 8-speed cassette, it offers the correct gears for your riding style. Furthermore, this bike comes with a versatile rear rack, front/rear fenders, and the bell. Hence, you are always ready for wherever. Moreover, the pure city is built with a solid and high tensile steel frame and fork with the upright geometry, which is perfect for relaxed city cruising.
This bike features a chain guard protector, which can keep oil from ruining your clothes. It is a handy feature. Mainly, Pure city features the 3omm deep-dish double-wall alloy rims, stainless steel spokes, and the front and rear alloy brake.
Assembles and Accessories
The bike from Pure Cycles is already assembled for 90%, and you need to install 10% remaining and then be ready for your ride. However, these things can be fixed, and you can do without any difficulty. The instruction guide is provided for the process, just read it well and present it to install. You also can customize it by adding the components you want. However, they are not available sometimes.
Pure Cycles sells a wide range of bikes, from racks, fenders, lights to clothing and saddlebags. The main parts and components are targeted at the style and simplicity more than the durability or toughness. They are ideal for mild city riding and will add some flair and functionality to your bikes.
You can find Pure Cycles bikes from some dealers in the LA area, in Santa Monica and Burbank, or Manhattan Beach. Besides, they are also available at some chain stores such as REI, Jax Bicycles, Bike Attack, or Incycles in LA. For online, REI and Amazon are the most prominent retailers.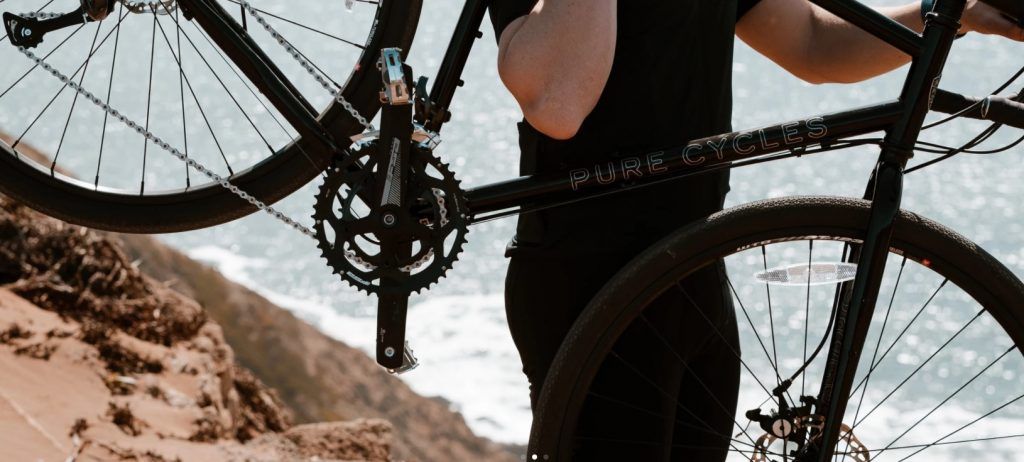 Pure Cycles Bikes Price Ranges
Most Pure bikes are affordable, even cheap. The most expensive bike is Grave Adventure Bikes from the category of Adventure bikes at $899. The second high price is Drop bar Road bikes at $749. At the price of $499, they offer two models of city bikes. Besides, you can find a commuter at a meager price of $279. How incredible!
Are Pure Cycles Bikes Any Good?
Overall, Pure Cycles bikes are excellent for what you pay. It will not be easy to find any bikes as good as this brand at that price. Moreover, all the components are selected to be suitable for light riding. Hence, do not expect a hard ride like other real robust bikes.
Pure Cycles vs. Mercier Kilo TT Pro Comparison
| | |
| --- | --- |
| | |
| Pure Cycles Premium | Mercier Kilo TT Pro |
At a price less than $500, which will be the best choice for you as a beginner of fixed gear bikes? Firstly, both of these models are made of Chromoly and feature the eyelets for fenders. However, you can use the full fenders in TT Kilo. On the other hand, you can only use full fenders on the Pure if you use the small 23 or 25C tires. The Pure can fit 32 or 35 C tires without fenders, while the Kilo TT can fit up to 28C.
The Pure bikes have the bottle mounts on both VC and down tube while only on the down tube in the Kilo TT. Both have the 1″ head tubes, but the Pure has a 1″ threaded headset than the TT Kilo with a 1″ threadless headset. Threadless is more convenient and performs slightly better. Whereas the threaded is more versatile, and it might look classier. I don't like the threaded set, as it needs to be retightened periodically while the threadless doesn't need that.
The Kilo Seatpost is at the non-standard size at 26.8mm instead of the 27.4mm standard size as the Pure Cycle. Both models are equipped with the lugged Forks. The Pure bikes have the pure fancy cycles stamped fork crown. I wouldn't say I like the saddle from Kilo TT, while the Pure's saddle makes me relaxed and comfortable.
In general, the Kilo TT will make you ride more aggressively; you can feel the power that you put through it. Whereas, Pure looks like it has more relaxed geometry than the Kilo at first glance. However, it has a more responsive front end with 52 -58 at trail compared to the Kilo 68MM of the trail. The lower the trail number, the more responsive it is. The sprinting of Pure is more comfortable for riding with the responsive front and handles.
For me, Pure is my preferred choice as I love to ride, relax and be comfortable. So let's take your time and pick up the best for you!