Kona bicycle company was established in 1988. The company produced all types of bikes over the years and nowadays, their product bikes range from road and gravel bikes to mountain bikes. Their bikes are made of different materials, such as aluminum, steel, carbon, and offer a wide range of prices that suit every rider, from beginners to advanced cyclists who are looking for the latest technology in all kinds of bikes.
In this article, I will give you an overview of the Kona bicycle company, the different types of bikes that Kona provides the market, and its price range. This way, you can easily compare some models of Kona bikes and other bicycle brands and choose which one is better for your needs and budget. Let's get rolling!

Part of Best Bike Brands.
History of Kona Bike Company
Kona Bicycle company was set up in 1988 by Jacob Heilbron and Dan Gerhard in Vancouver, BC. Now, the company is based in the Pacific Northwest and owned by Heilbron and Gerhard. Their offices are located in different nations in the world, with European distribution offices located in Geneva, Switzerland, and Canadian distribution offices located in Vancouver, while the world headquarters are in Ferndale, Washington.
In order to produce a series of custom steel hardtail bikes, Heilbron and Gerhard collaborate with mountain bike racer Joe Murray. Kona was known as the first bike brand to manufacture an entire range of mountain bike frames with a sloped tube design. Paul Brodie worked with TBG and seemed to be realizing the slope top tube design from an earlier collaboration with his enterprise and Rocky Mountain.
Since the Canadian headquarters are near Vancouver's famous North Shore mountains, it led to Kona developing the Freeride line of mountain bicycles in 1998, renowned for their durability and excellent ability to deal with exceptionally technical downhill trails.
Kona has continued to produce and develop a wide range of road bikes, dirt bikes, cyclocross bikes, along with an entire line of mountain bikes. Made of a variety of materials, such as aluminum, carbon fiber, steel, and titanium, Kona bikes have become very popular and are sold in more than 60 countries all over the world.
Where are Kona Bikes Made?
Kona Bicycle Company is 50% Canadian and 50% the US owned. This is an independent bike company that manufactures all kinds of bikes. Kona designs their bikes from scratch. But the main manufacturer of the bike company is located in Taiwan. All the bike frames, parts, and components are produced and assembled in factories in Taiwan. Nevertheless, the company visits its manufacturers every month while their bikes are being manufactured.
If you're curious about the origin of Kona Bikes, you might be interested in learning more about Bianchi Bikes, which are designed and manufactured in Italy. Both brands have a reputation for quality and innovation, and if owning an Italian-made bike is important to you, Bianchi might be a good alternative to consider.
The Technologies of Kona Bikes
One of the most innovative Kona bike technologies is the patented magic Link Active Geometry. This technology is considered one of the most intuitive and adaptive rear suspension systems ever created. It allows you to change the travel length, bike's geometry, and even suspension fork performance depending on the input of your body and terrain.
By utilizing both the primary air shock and the secondary shock of the coil, the Magic Link can provide a slightly fast, linear cross-country suspension fork that is perfect for climbing or pedaling uphill. What's more, it doesn't require you to click a switch or make any exterior adjustments. The Magic Link gives you a more progressive, obviously plush, and longer suspension travel. This design can specifically withstand heavy bumps and technical trails to help you feel much more comfortable.
Performance of Kona Bikes
In general, Kona bikes will bring the best performance when you are riding on bumpy roads. This is because of the excellent Magic Lin's secondary shock system. For example, when you pedal uphills, efficient pedal pressure will maintain the Magic Link's secondary shock from being affected. So, you just need to use the main shock. This, as a result, will offer excellent pedaling efficiency by creating a more relaxed shape and more linear, firmer suspension characteristics. This is just everything you will need when it comes to power transfer.
Tires grip the road, faster corners and larger bumps send the Magic Link's additional shock deeper into its suspension travel. The wheel traction to the trail will also be increased to help you conquer any harsh terrain.
Kona Bike Categories
Like many other bike brands, Kona provides riders with various types of bikes. They are diverse in models, styles, and prices so that you can easily choose a suitable bike for your needs. Let's see the bike categories of Kona.
Mountain Bikes
Hardtail
Fat Bikes
Dirt Jump
Gravel / Drop Bar
Urban Bikes
Electric Bikes
If you're looking for a specific type of bike, Kona Bikes offers a wide range of options from mountain bikes to road bikes. Check out their types of bikes guide for tips on how to choose the right one for you. With Kona Bikes, you can be confident that you're investing in a high-quality and reliable bicycle.
Most Popular Kona Bikes
If you are a fan of off-road and extreme mountain trails, you will need a great bike to conquer such harsh terrains. With a variety of models, from a hardtail, dirt jump, to fat bikes, etc. Kona offers different styles for each. Let's see some of the most popular Kona bikes available to purchase.
Mountain Bikes: Kona Process X DL
Hardtail: Kona Honzo
Fat Bikes: Kona WOO
Dirt Jump: Kona Shonky
Gravel / Drop Bar: Kona Libre CR/DL
Urban Bikes: Kona Dew Deluxe
Electric Bikes: Kona Remote 160 DL
Kona Bike Price Range
Generally speaking, Kona bikes offer a good price for almost all their bike models and styles. This is considered one of the huge advantages of Kona bicycles among other bike brands. Let's have a look at the price range of several Kona popular bike types.
Mountain Bikes: $1,449.00 – $5,199.00
Hardtail: $1,799.00 – $2,199.00
Fat Bikes: $1,799.00 – $2,199.00
Dirt Jump: $1,449.00
Gravel / Drop Bar: $1,899.00 – $3,799.00
Electric Bikes: $2,899.00 – $7,299.00
Are Kona Bikes Any Good?
When comparing Kona bikes with other bike brands in the world, it is not a huge company. However, it has its own iconic status. In particular, Kona bikes are best recognized as a "freeride" bicycle company, but have been manufacturing road bikes and dirt bikes since the beginning. Besides, the company's city bikes are one of the most practical, coolest choices among various models from different bike brands.
It could be said that Kona bikes are great for all types of riders with different levels and riding styles. Their bikes are made from different steel, aluminum, carbon fiber, and titanium. And Kona bike ranges are also various, including commuter, road, cyclo-cross, and mountain bikes.
Kona Vs. Trek
If you're deciding between Kona and Trek, both brands offer high-quality bikes, but Kona generally offers more versatility and durability while Trek tends to prioritize speed and performance. Check out our most popular bike brands article to compare and discover which brand aligns more with your cycling needs.
Design and Build
Generally speaking, Trek provides bikes with a more lightweight and glossy frame than Kona bike frames. This design will help you feel more comfortable and cushioning when riding on bumpy roads.
Parts
Kona bikes are equipped with Maxxis DHF tires for a sturdy and well-rounded feeling, while the Trek wheels are fitted with premium Bontrager tubes for excellent protection and puncture resistance.
When it's time for shoe repair, knowing the anatomy of a shoe can help you communicate with your shoe repair specialist more effectively. From the outsole to the insole, a basic understanding of the parts of a shoe can help you accurately describe the type of repairs needed.
Kona Bike Review
Kona bikes are famous for manufacturing a wide range of bikes, including cross-country, all-mountain, cyclocross, downhill, and road bikes.
Kona is best known for designing and producing the first freestyle bikes with three chains and a 5-inch of suspension travel and durable frames. This invention played a big role in helping the bike industry transition to longer cockpits and reduce gravity by using a sloping top tube.
This is a kind of bike with an aluminum frame for downhill. Typically, the spacious cockpit and short chainstays make it easy to handle all curves on the road.
Therefore, you need to be fully active while controlling the bike to maintain the bike's front wheel controls steady. Moving your body weight back and forth when the trail requires is considered the major factor that keeps your grip at each turn.
Pros
Offer plenty of room and standover clearance
Strong rear suspension
Long-lasting and sturdy construction
Cons
A little bit slow on climbs
Trek Bike Review
Trek also provides riders with various types of bikes, from mountain, triathlon, to road bikes. Their designs are also tailored for women with particular accessories.
You can find two options of Trek mountain bikes, which are 27.5'' or 29'' wide tires. Both models allow you to ride on different types of trails, and they can be a full suspension or hardtail.
No matter if you are in racing or long-distance riding, Trek road bikes will give you excellent performance in many situations. This is because the bike company produces different styles and models that are suitable for certain riding types.
You can find H1 or H2 type of bike geometry when looking for a Trek bike. Both these two designs offer a lower riding position yet comfortable enough to ride for an extended time.
Most Trek bikes have an H1 or H2 type of geometry that both provide a lower and longer riding position. Maintaining this form enables riders to go longer distances more bearably.
Pros
Excellent hydraulic lockout feature
Easy to access
Offer a wide range of gear
Inner cable routing
Cons
Paint is easily scratched when riding on gravel roads
Conclusion
Kona bikes provide a comfy frame that fits different riders and is also fun to ride. However, these bikes are better for casual ridings rather than racing because they are not really fast.
Trek bikes are equipped with bigger wheels, so they will be better to ride on rocky trails. They are also a little bit easier and more fun to ride than Kona bikes. The most outstanding feature of Trek bikes might be the great traction and comfort when it comes to long-distance rides.
If you're looking for a top-performing lightweight bike, it's worth checking out Look Cycle. Made in France, they are known for their carbon fiber bikes that provide both speed and comfort. Their unique elliptical chainrings significantly reduce energy loss, making them a great choice for serious riders. Check out full Look Cycle overview here on Hood MWR.
Kona Road/Gravel Bikes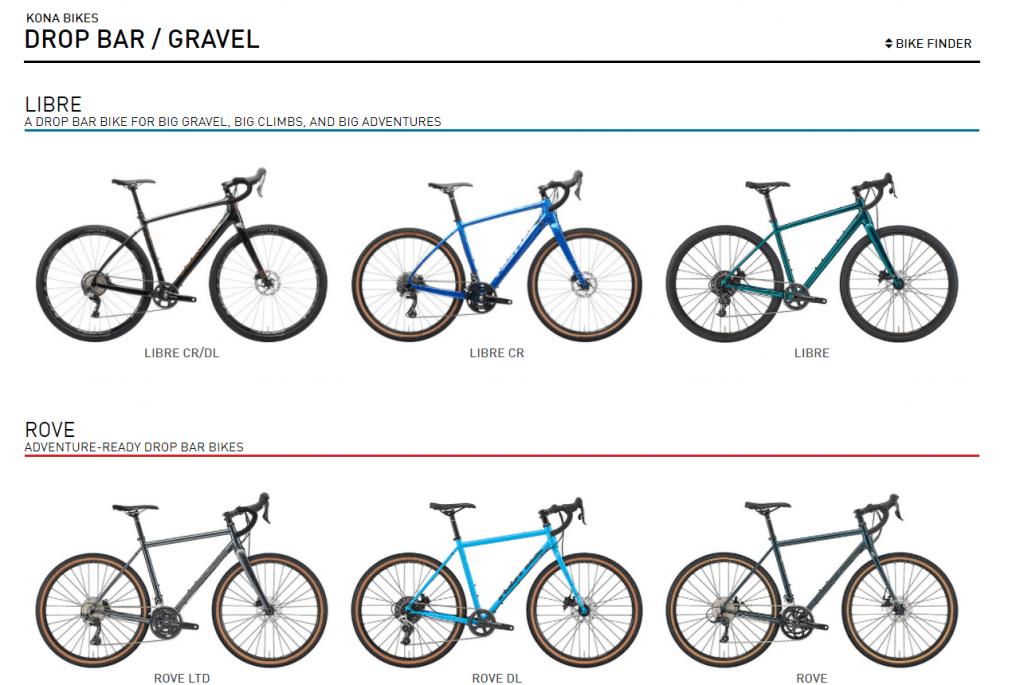 Most Kona road or gravel bikes are manufactured using carbon fiber as the main material. However, they use new carbon fiber in their new bicycle collection known as LIBRE. This new material is more lightweight, sturdy, and enduring since it is mainly used in spacecraft and airplanes.
The 650b and 700c wheels offer great tire clearance, optimizing wheel grip, and providing you with a lot of support and balance while exploring your beautiful surroundings. What's more, Kona road bikes are typically designed to provide riders with roomy storage with fenders and racks. In addition, the DEW range has been made to handle a wide variety of pavements. For more popular brands of road bikes, you can check out this related article about road bikes under $500.
Kona Mountain Bikes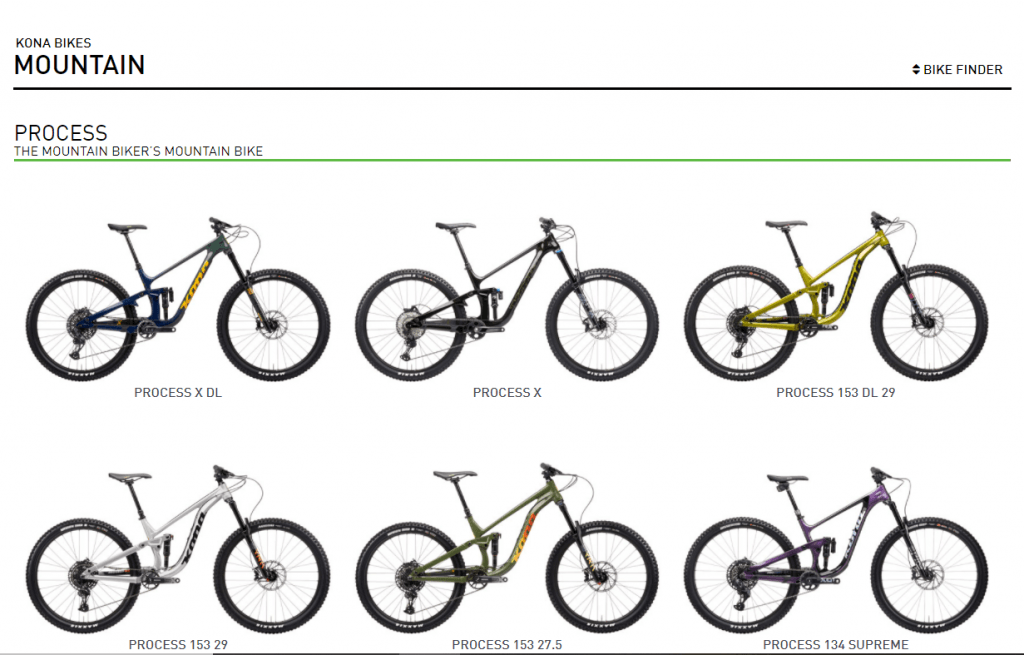 No matter if you are a serious mountain bike enthusiast or just a rider who wants to own a beginner mountain bike, the Kona mountain bike collection will not disappoint you. The bike company research and development team have explored and designed an excellent collection of different mountain bike types and models.
One of the most excellent things about Kona mountain bikes is the wide variety of purposes. For example, you can ride a Kona mountain bike to a local shop or explore different off-road terrains.
Kona Electric Bikes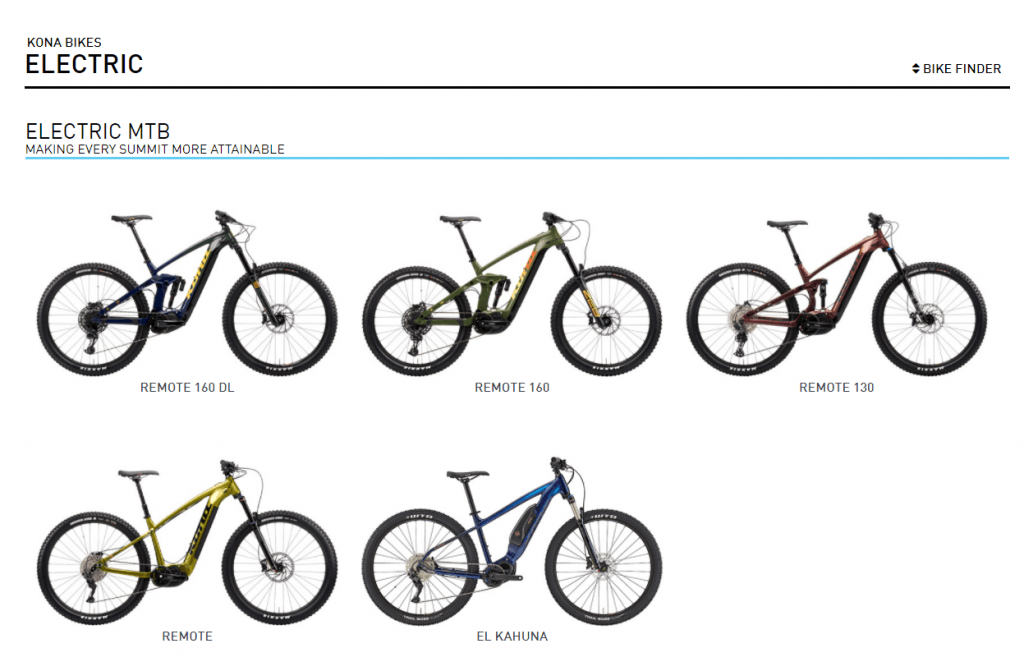 With the electric bike revolution, Kona Bicycle Company has made sure that they stay one step ahead of other bike brands. You can see that Kona e-bikes are typically designed with the most innovative technology, advanced processes, components, and materials.
One of the major advantages of having a Kona electric bike is that it helps you pedal uphill, go further, and get around much more easily.
The main benefit of owning affordable electric bikes is that they are designed to go uphill, go further, and get around easier. You will be able to find more exciting adventures with Kona's Bosch power pedals.
Conclusion
Even though Kona Bicycle Company is not one of the biggest bike companies in the world, it provides riders with a large range of bikes with various styles and models. The good-quality build and reasonable price makes Kona bikes popular among cyclists of all levels and riding styles.