If you are a bike riding enthusiast, you might have heard about Look Cycle at least one. It is a famous bike brand in racing history. Although the company started out as something entirely different, Look Cycle is now one of the most prestigious bike brands all over the world. The brand has still continued to modernize since they have launched the first clipless pedal. Moreover, the company has won numerous road races and medals with its great bicycles.
For those who don't know, almost all Cycle bikes are made of carbon fiber material. It seems to be a formula that they have been designing, customizing, and developing since the 1980s to offer the best models possible.
In this review, let's go through Cycle's history, its bike categories and price range, as well as the detail about the brand's products. So, let's get rolling!
Part of Best Bike Brands.
Overview of Look Cycle Company
As a top technological pioneer, Look Cycle has won the most medals in Summer Olympic Games' history and prides itself on providing federations and partner athletes with the best equipment and components in the market. In fact, the brand has gone through a long history to achieve such a great result.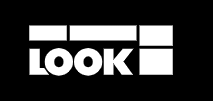 History of Look Cycle Company
Even though established in 1951 by Jean Beyl, it was not until 1984 that this French bike brand called Look Cycle today began to manufacture bike components.
In fact, Look Cycle initially started out their business as a ski-shoe and equipment designer. However, the breakthrough really came when they designed and developed their very first clipless pedal and created an innovative solution in safety and capability.
Two years later, in 1986, Look created their very first bike, the KG 86, constructed out of a carbon frame. This bike was used by Bernard Hinault and Greg lemon, the final race winner, in the Tour de France in 1986.
From that time, the Look Cycle has been in the lead of technological developments in the cycling industry. These include bicycle frame technologies and cleat and pedal standards. After selling the ski development business, the brand is now concentrated only on bike riding and is constantly looking for developments and improvements.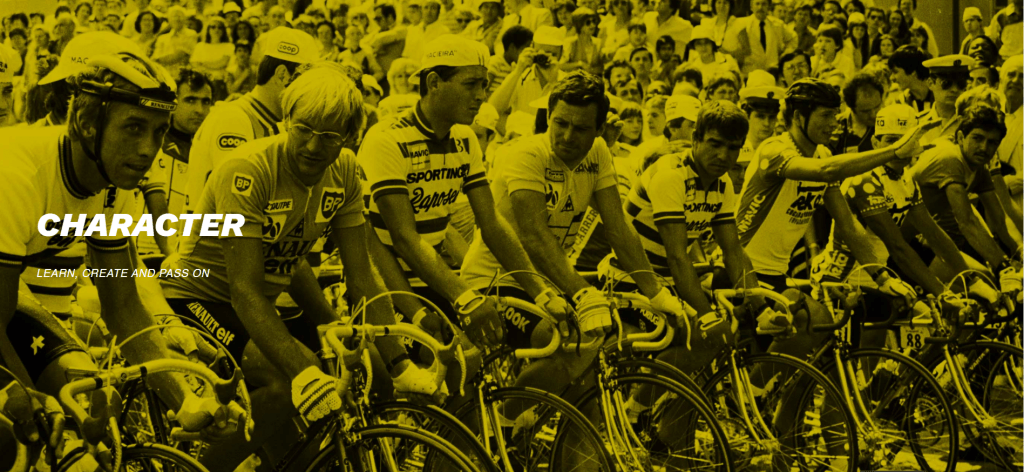 Where Are Look Bikes Made?
Look Cycle was initially a French sports equipment company located in Nevers. But now, the brand focuses on producing bike components. Most of their high-end bicycles and components are manufactured in Tunesia (Africa) and then delivered and painted in Nevers (France).
For those looking for a perfect blend of tradition and innovation in their cycling experience, Bianchi bikes is the answer. Bianchi bikes have a rich Italian heritage dating back to 1885 and is known for perfecting bike design and using cutting-edge materials. Visit Hood MWR's brief brand overview section to discover more about Bianchi bikes and their iconic celeste green color.
The Technologies of Look Bikes
As you might know, Look Cycle has become a well-known bike brand thanks to its innovative designs and technological developments. Therefore, it would be a miss if not to mention the company's technology. And the KEO Blade Carbon Ceramic Ti Yellow might be the most outstanding among various groundbreaking technologies.
The brand is always proud of itself for developing such cutting-edge technology. You know, only the highest performance technologies are behind iconic color tracks to praise Tadej Pogacar and the UEA Team Emirates' second win at the most well-known cycling race all over the world.
There are a lot of great things combined to produce such advanced technology, including carbon blade and body, titanium axle, and ceramic bearings. Moreover, it is produced in limited quantities in the brand's workshop. And this iconic version will be sure to be coveted by lots of riders around the world.
Here are some of the major features of the state-of-the-art KEO Blade Carbon Ceramic Ti Yellow:
Exceptionally lightweight
Offer the best surface-to-weight ratio for road pedals
Innovative blade technology for better shape and superior aerodynamics
Great ceramic bearings for outstanding performance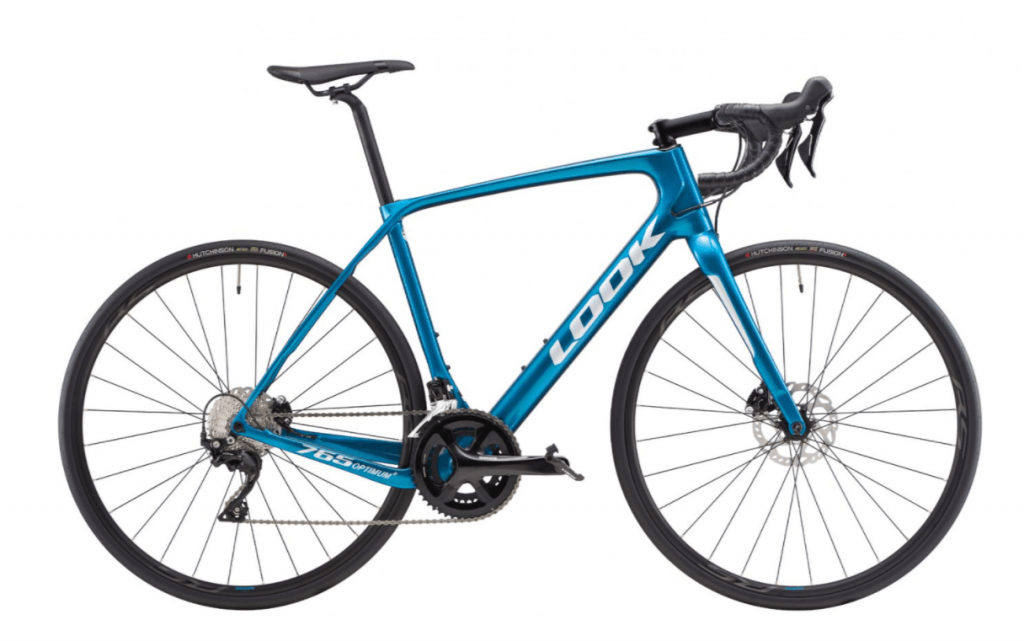 Performance of Look Bikes
Ever since Look Cycle entered the world of cycling, in an era where metal was considered the "king", the brand has chosen carbon as its major material for all of its bikes and frames. For more than 30 years, the company has developed, in its own factories, special knowledge in using carbon fiber and composite materials to create premium, high-performance bikes, and related products.
At Look Cycle, every engineer works very hard to reach a perfect fit between cyclists and bikes. This is to make sure that the power transmission is as close as 100% possible. In particular, the Look's engineering team has cooperated with riders to enhance every factor relating to the performance using a variety of ground-breaking methods.
For example, the T20 model offers half of the development needed to sustain top performance at the highest level from one Olympics to another one and next.
And almost all Look Cycle's bikes share two same great features, including stiffness and lightweight. This, as a result, will contribute to better performance, riding quality and experience.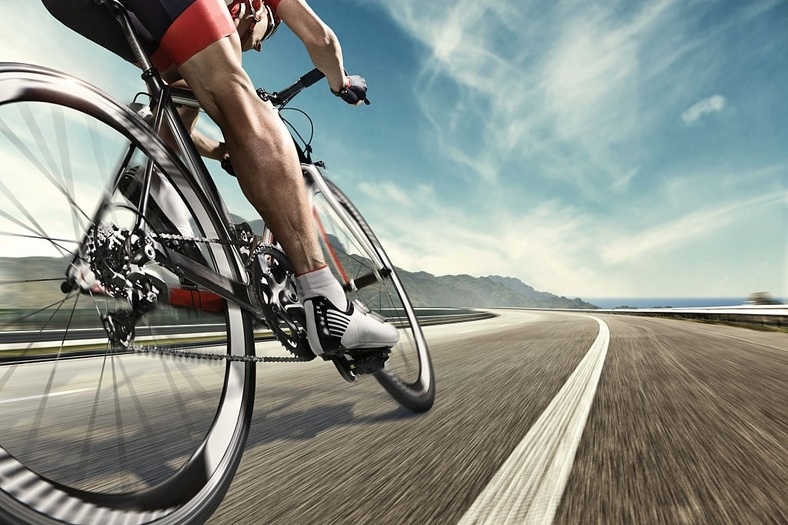 Look Bike Categories
As you might know, Look is considered the leader and inventor of the innovative automatic pedal. In addition, the brand is best well-known as a carbon bicycle manufacturer for different riding types, including road, track, gravel, triathlon, and electric bikes.
Looking for a specific type of bike within the Look brand? Check out Hood MWR's guide on 18 types of bikes to help you determine the best model for your needs. From road bikes to electric bikes and everything in between, this guide provides a detailed breakdown of each bike type.
Road Bikes
Track – Fixed Gear Bikes
Triathlon Bikes
If you're into Triathlon and searching for a high-performance bike, the Canyon Bikes brand overview is worth checking out on Hood MWR. Canyon offers a range of bikes that cater to triathletes of all levels from amateur to pro, and their products are known for their top-notch quality and innovative designs. Check out this brand to find your perfect triathlon bike.
Gravel Bikes
E-Bikes
If you're interested in getting an e-bike, check out QuietKat Bikes for a selection of high-quality electric bikes suitable for off-road adventures. Learn more about the brand's features and benefits at QuietKat Bikes Quick Brand Overview.
Most Popular Look Bikes
Many of you might know, Look is a great bike brands that produces incredible carbon road bikes. However, other bike ranges of the company are also relatively common among the riders all over the world. Here is the list of some of the most popular Look bikes:
Road Bikes: Look 795 Blade Rs Disc Chameleon Mat Glossy
Track – Fixed Gear Bikes: Look 875 Madison Rs Proteam Black Glossy
Triathlon Bikes: Look 795 Blade Disc Full Black Mat Glossy – Look Wheels
Gravel Bikes: Look 765 Gravel Rs Carbon Champagne Glossy
E-Bikes: Look E-765 Optimum Proteam Black Glossy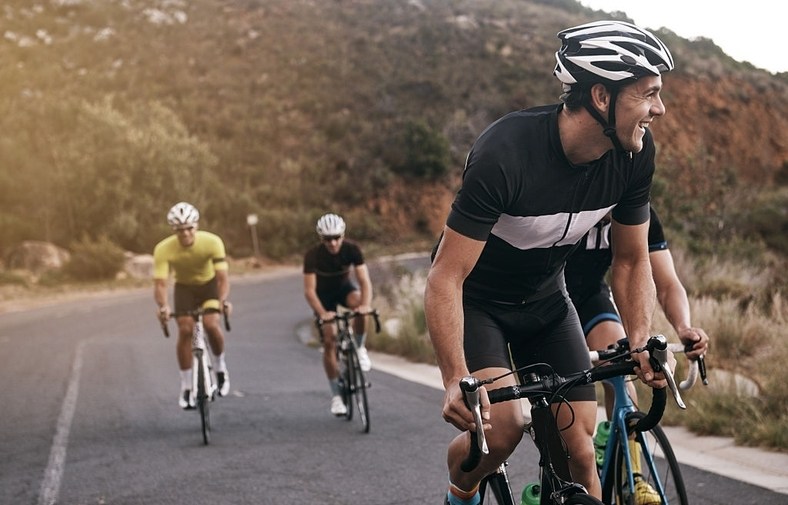 Look Bike Price Range
When you look at the Look bikes' price range, you might think it is expensive. However, when considering the build quality, components, materials, and technologies involved, you might want to rethink because they are worth every penny.
Road Bikes/Frames: $3,000 – $11,000
Track – Fixed Gear Bikes/Frames: $1,600 – $8,000
Triathlon Bikes/Frames: $4,000 – $11,000
Gravel Bikes/Frames: $3,000 – $7,000
E-Bikes/Frames: $6,200 – $7,000
Are Look Bikes Any Good?
In general, Look Cycle provides quite various bikes of different disciplines. Typically, their bikes are constructed out of superior carbon fiber frames, offering superb riding quality and build. Moreover, when it comes to the value you will get, Look bikes are really a worthy option to invest in since they are integrated with groundbreaking technologies and advanced components, but at a quite fair price.
Look Vs. Trek
Look Bike Review
At first sight, Look bikes are very nice and a great choice to ride in a wide range of surfaces and weather conditions. Typically, their bicycles offer great value materials, builds, and technologies compared to their prices.
As many of you might know, Look Cycle has been the leader in applying carbon fiber in manufacturing bike framesets longer than most bike brands out there. And it is that expertness that shows in their models' riding quality.
You can see that Look has used different grades of carbon fiber to build its framesets. And the way they are installed means, Look has made for a bike that is incredibly stiff when you drop the hammer. However, you will feel an exceptionally smooth feeling similar to that of a bike made of a titanium frame while riding their bikes, typically the "legendary" 795 models.
What's more, Look bicycles provide the riders with a perfect balance between comfort and rigidity. More importantly, they offer a fair price when considering the integrated components, materials, and technologies.
Pros
Offer incredible efficiency on most surfaces
Allow the rider to handle confidently through the corners
Come at a fair price considering built-in technologies and parts
Provide a great balance of smooth and performance
Cons
Not too many models to choose from
Trek Bike Review
It is true that both Trek and Look have made their own mark in the cycling industry as premium-quality bicycle brands. When it comes to the proof, you can see that every Trek bike is a flawless blend between carefully chosen parts and innovative technologies. As a result, these bikes will provide the rider with the best riding experience possible on different surfaces.
In particular, all Trek bicycles are designed with functionality and durability in mind. And these are also the two major factors in Trek's designing philosophy. So, if you are the kind of cyclist who pays more attention to our environment, Trek's eco-friendly models are sure to please.
Pros
Has a huge following of loyal fans
Provide a large array of bike models and types for various riding styles
Steadily renovated to improve cycling performance
Offer high-quality, eco-friendly models
Cons
Most models come at a high cost, yet truly worth it
If you're in the market for a new mountain bike, it can be tough to choose between Trek and Specialized. Check out this comprehensive Trek vs Specialized mountain bikes comparison guide to help make an informed decision based on your personal needs and preferences.
Verdict
In general, Trek bikes are a great choice for those who care about performance and the environment. Their road bikes are even among the best road bicycles when compared to other famous bike brands. When it comes to bike ranges, Trek seems to offer more models than Look. On the other hand, Look Cycle also offers some of the best bikes in the cycling market, typically when it comes to carbon road bikes.
Look Road Bikes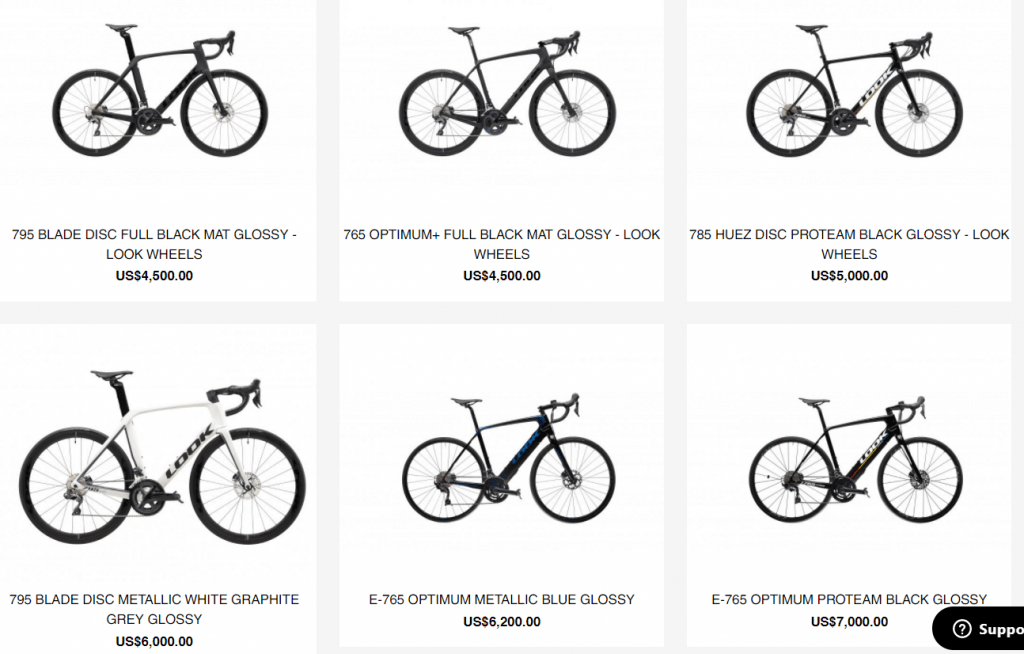 In fact, Look Cycles road bikes have a legendary status among various lightweight road bikes from other bicycle brands, as previous Tour de France winners. And this is also the category with the most models of Look. Below are some of the most popular Look Road Bikes available to purchase.
To find the perfect road bike to suit your style and needs, check out the comprehensive guide on the best bike brands. From Cipollini to Factor, this guide features some of the most trusted and popular bike brands in the industry. You can also refer to the road bike size charts to ensure you're selecting the appropriate size for your body.
795 Blade
The Look 795 Blade model is an incredibly lightweight aero road bicycle specially designed for racing. Since it is constructed out of fiber carbon, the frame weighs only 1 kg, saving more than 300g compared to the previous versions.
What's more, Look has updated their 2021 version models to ensure that they are compatible with larger tire clearances of up to 30mm. This is because the brand believes that it will make their bicycles more aerodynamic.
In addition, the company now equipped their 795 Blade road bikes with strong disc brakes for optimal stopping power regardless of weather conditions. There are different models available to purchase. Each comes at a different price, depending on the equipped components. For example, the version with the MSRP starts at $3,250 for the build with Shimano 105, but models built with SRAM Red eTap AXS will have the price up to $11,000.
785 Huez
If you are looking for a climbing-specific road bike, the Look 785 Huez is an absolutely perfect model to pick. The frame has an exceptional stiffness-to-weight rate because of Look's optimized inertia section improvement on each tube.
One of the main reasons making this 785 Huez model an ultra-lightweight road bike is because of the extremely high modulus carbon construction. However, the 2021 version has been eliminated from its rim-brake choices from Look's road lineup. Instead, the company equips all their 785 Huez models with disc brakes.
This model comes in several versions, and the price, of course, is various depending on the equipped components and parts. For instance, the MSRP version integrated with a Shimano 105 groupset costs around $3,000. However, the high-end version fitted with a Shimano Ultegra Di2 groupset comes at a higher price, around $7,200.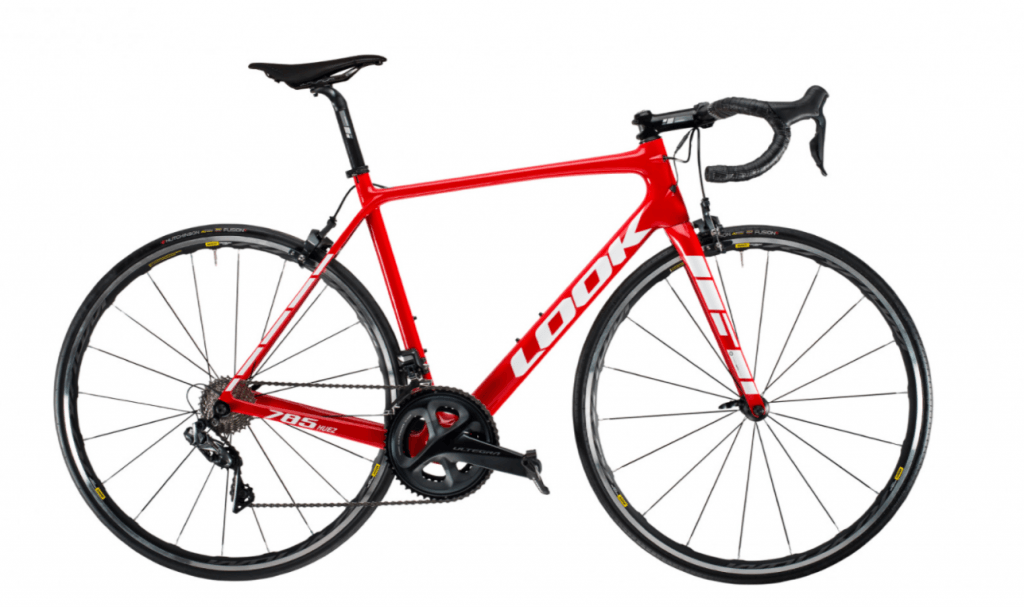 765 Optimum
In case you prefer an all-round road bike, then you can seriously consider the Look 765 Optimum. It is constructed out of a carbon frame, making it incredibly lightweight. As a result, this is a bike perfect for climbing. At the same time, its sharper tubes offer more aerodynamic capability.
The Look has positioned this 765 Optimum model as its comfy, endurance road bicycle. In other words, this bike will provide ultimate comfort for those who want a simple road bike and enjoy the art of bike riding instead of racing. Just like any other road model available, Look manufactures this bike offering only disc brake options.
The 765 Optimum is available in two versions. The glossy metallic blue coming with a Shimano 105 groupset and featuring an MSRP, costs $3,000. On the other hand, the matte black having an MSRP and integrated an advanced Shimano Ultegra groupset prices $4,500.
If you're looking to get the most out of your Look Cycle, using a calorie calculator can help you track your progress and make sure you're hitting your fitness goals. Check out this calorie calculator from Hood MWR to learn more about how to calculate and chart your dietary needs.
Look Track Bikes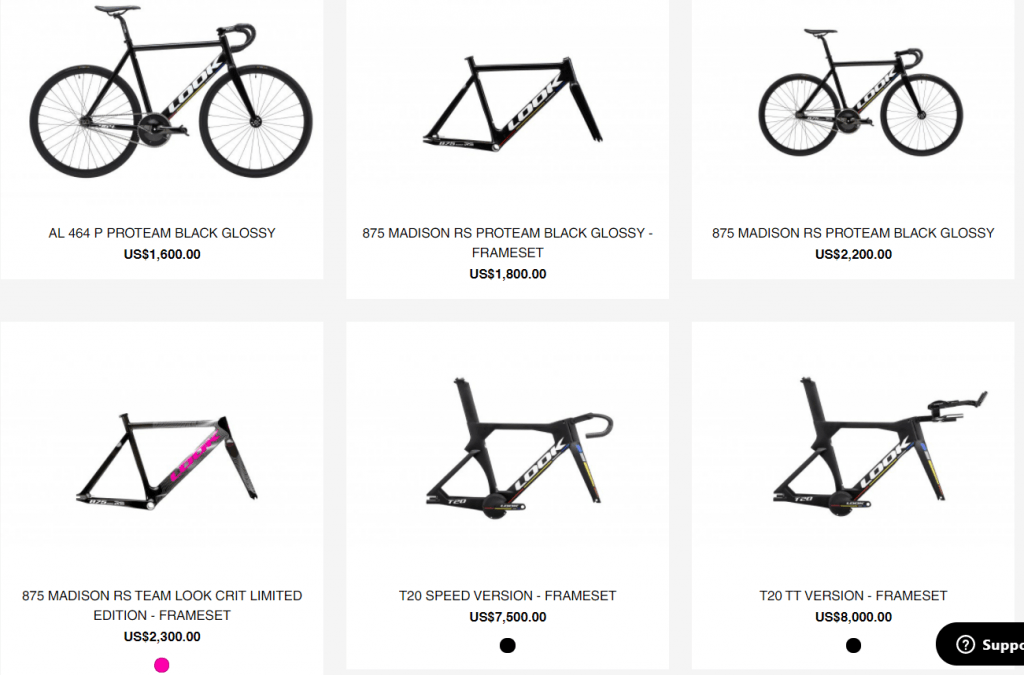 You might think that Look track bikes have not been in the business as long as the company's road bikes. However, the brand still offers a magnificent collection of champions of their track bicycles.
Currently, Look Cycle offers 4 models, including complete bikes and frames, in its track lineup.
T20
The T20 is Look's flagship track bike that has helped riders win 14 golds and 43 other medals ever since 1996. It is typically designed to become the fastest track bicycle in the speed and endurance areas.
In addition, the Look T20 is considered one of the most successful and highly aerodynamic track bikes. This model is available in two versions, TT and speed, to match and fit different riding needs. However, the Look T20 is currently only available to purchase as a frameset. In particular, the T20 Speed version starts at $7,500, while the TT version costs around $8,000.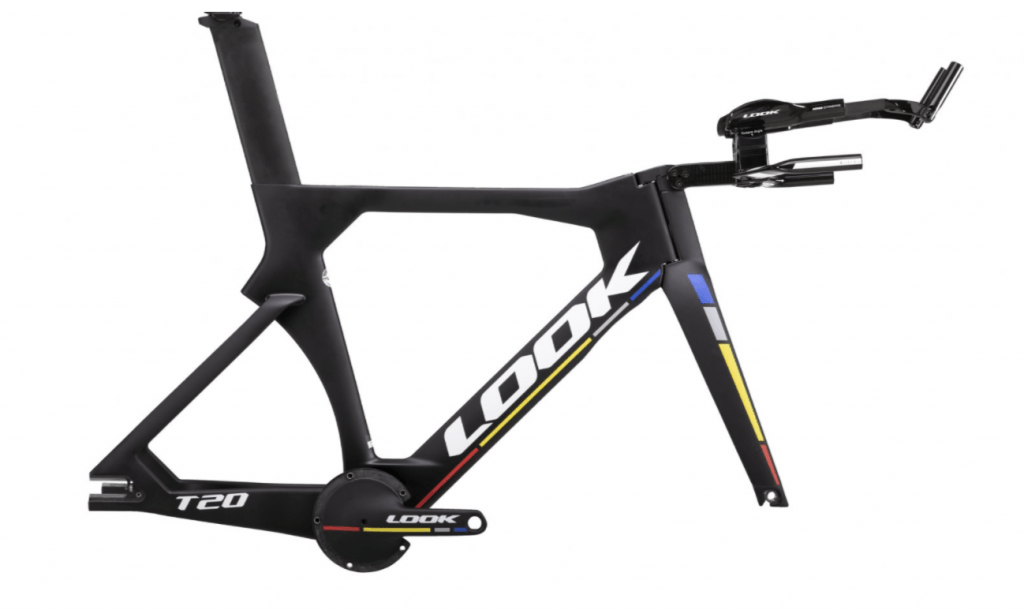 If you want to have a fun and unique cycling experience, check out T20 from Look Cycle! This bike is designed with a super-lightweight carbon frame and high-quality Shimano components, making it perfect for commuters or weekend riders who want to fly through their routes with ease.
R96
Another great fast bike from Look is the R96 model. The company constantly enhances and redesigns the carbon layer to best meet the needs of riders in the world of track cycling.
Look applies its innovative Seat mast technology in the saddle post for optimal frame rigidity and aerodynamic efficiency. As a result, this model will be more suitable for both speed and trial occasions. Moreover, you can purchase the specific frame for each event type at different prices. In particular, the speed frameset costs $8,500 while the TT frameset prices $9,000.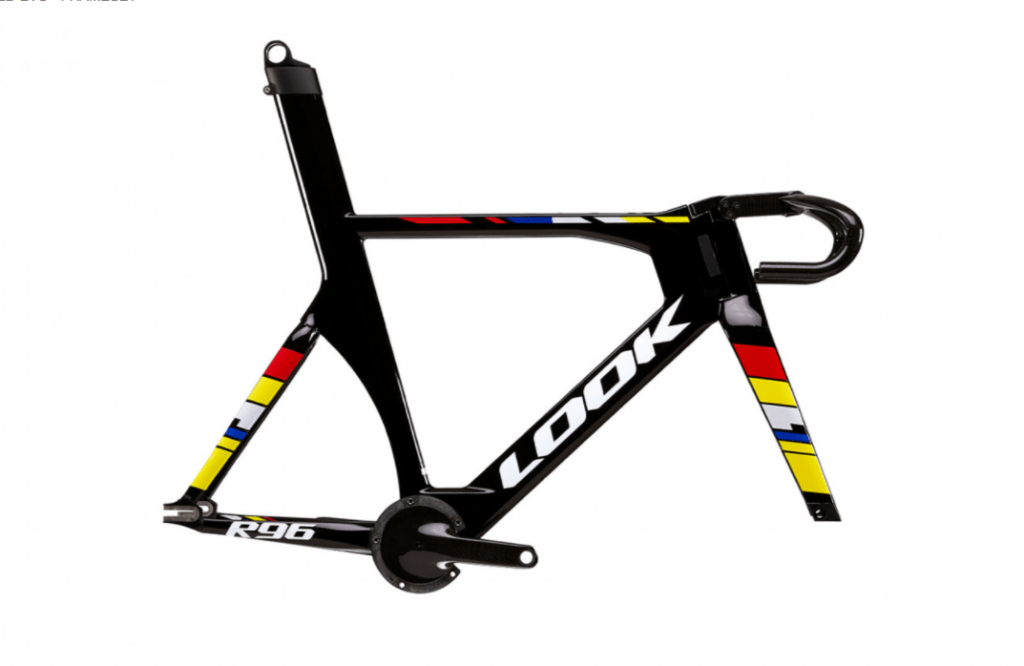 875 MADISON RS
This 875 Madison RS is a flexible fixed gear track bicycle developed by the French Cycling Federation. This model is a perfect option for Madison-style occasions and other fixed gear crit racing. Another interesting fact about this model is that it is the official bicycle of Team Look Criterium that competes in crits all over the world.
With such great features, you will get this bike at $2,220, including a Vision 1x50t crankset in 170mm.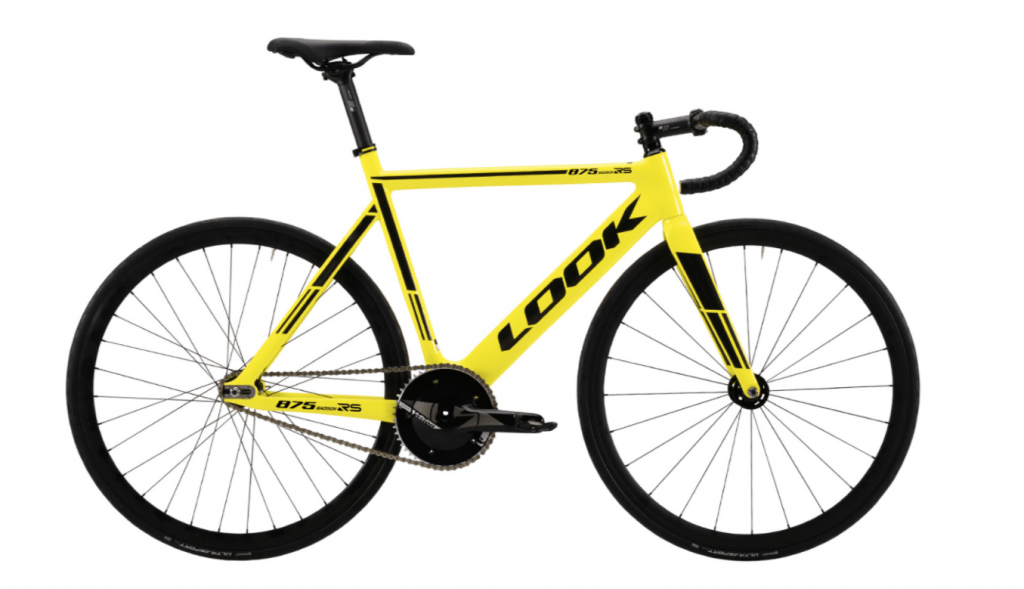 AL 464
If you have a tight budget, the AL 464 will be an ideal option for you. It is a perfect track bike for both fixed gear and track cycling purposes. It is like you are at home racing or simply cycling around your city's streets.
This model is available to purchase as a fully built bike or frameset only. It starts at $950 for the frameset option and $1,600 for the complete bike.
Look Triathlon Bikes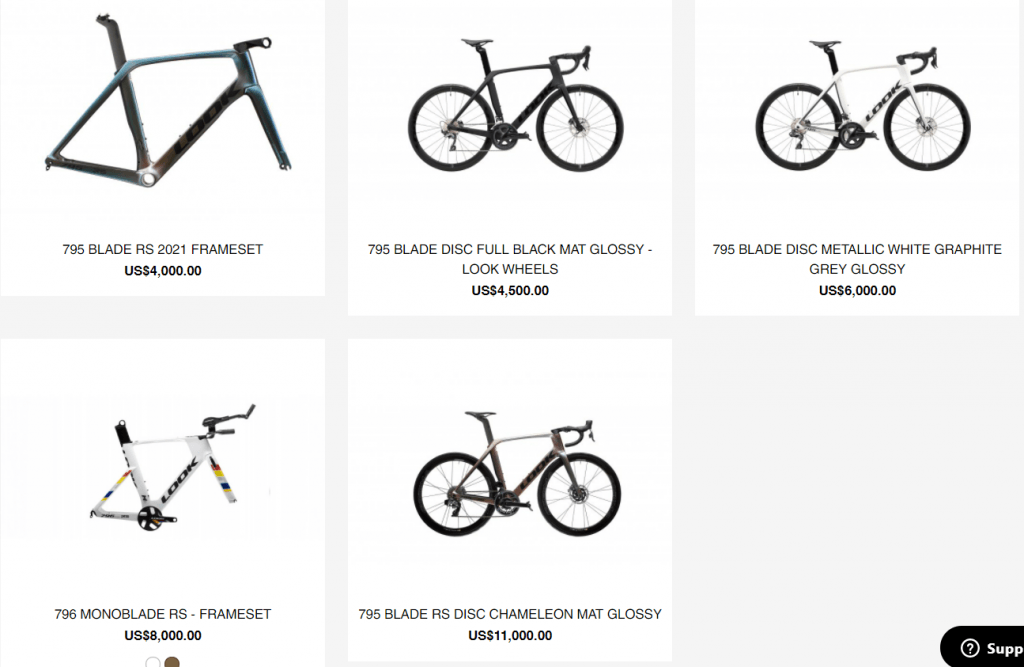 Any rider who loves to cycle, swim, and run will absolutely love this type of bike. Look's triathlon bike category is typically designed for a pace that is right for your performance. There are two major series in this triathlon range, 796 Monoblade Rs and 795 Blade.
796 Monoblade RS
As you might not know, this 796 Monoblade RS is the only triathlon bike that Look Cycle spent more than 30 years searching and developing for aerodynamic drag and optimal performance.
All the TT and triathlon-ready handlebars and aergo aerobar are produced by Look. However, this model is only available to purchase as a frameset with a cost of $8,000.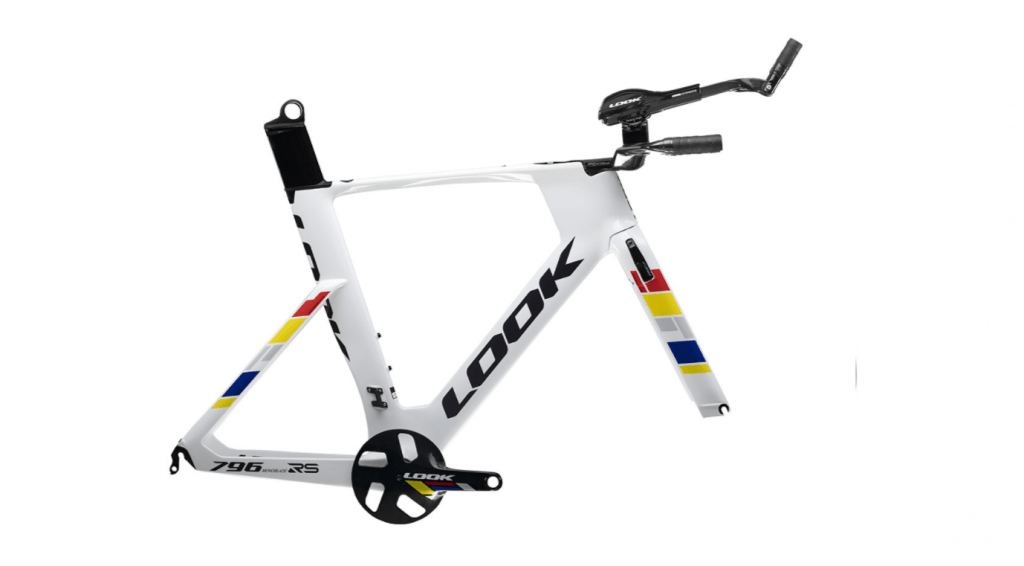 765 Blade
There are several models in the 765 Blade series, but the 795 Blade Rs Disc Chameleon Mat Glossy will bring a definitely different feeling. It is equipped with the latest SRAM RED eTAP 12-speed groupset, carbon Selle Italia saddle, the brand's ADH 1.2 Carbon cockpit, and WS Black Dx CORIMA disc wheels. The overall experience of this model is comfort and stiffness.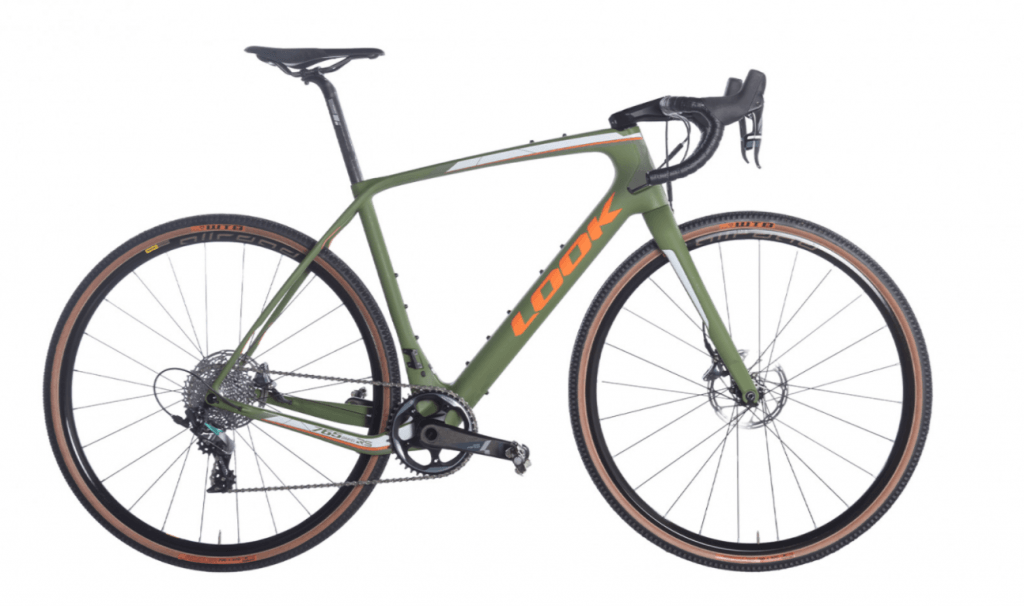 Look Gravel Bikes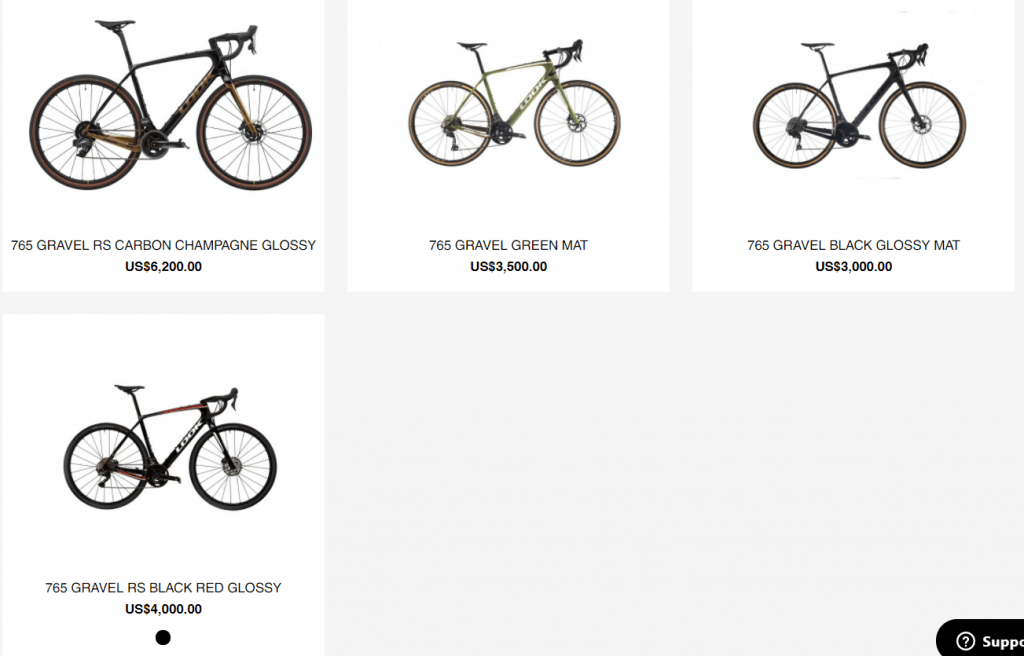 With the rise in gravel cycling popularity, Look has switched to gravel bike design by transferring their well-known carbon fiber know-how and improving wider tire clearances.
For gravel bike enthusiasts, BH Bikes should be on your radar. BH Bikes offer a range of gravel bikes that can tackle any terrain while delivering excellent performance. Check out the BH Bikes full brand overview to learn more about the technology and construction that goes into making these world-class bicycles.
765 Gravel
The way that Look Cycle embraces the new trend in gravel cycling is shown in its 765 Gravel model. The brand has applied their research and development of over 30 years to a new range of bike riding.
It is specially designed to help the rider outdo himself on both off-road and on-road, no matter if you are training, racing, or traveling.
The MSRP equipped with a Shimano 105 groupset cost around $3,000, while the RS carbon version fitted with an SRAM Force eTap groupset costs twice the price of the previous model, which is around $6,200.
Look E-Bikes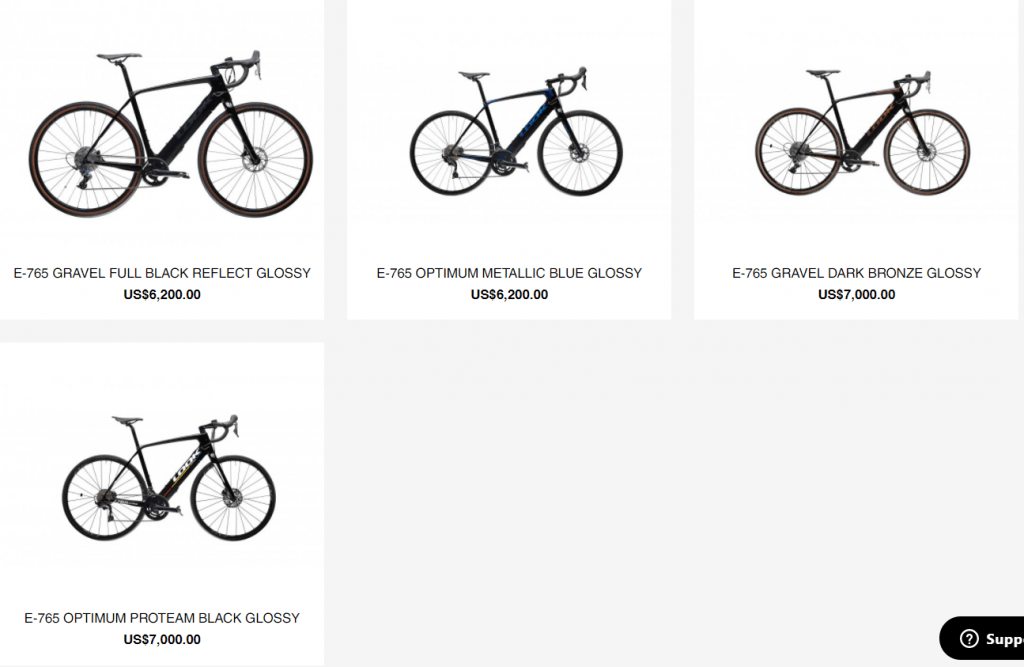 Look Electric Bikes inherit the best performance from the brand's normal bikes and turn them into vehicles with exceptional assistance. There are two models in this range, including E-765 Optimum and E-765 Gravel.
If you're on the hunt for an E-bike brand with a long-standing reputation for excellence, consider checking out Specialized Bikes. As one of the leading manufacturers in the world, their bikes are designed to provide high performance and top-of-the-line features. Learn more about this celebrated brand on Hood MWR.
E-765 Optimum
The Look E-765 Optimum is a kind of electric road bike equipped with a sophisticatedly built-in FAZUA motor. As a result, you can feel the same experience as riding your normal road bike, but it will offer a more leisurely pace.
These models are excellent for those who want to get the same riding experience as any other road rider but want or need a little bit of support when needed.
The metallic blue glossy version costs around $6,200. Besides the Shimano 105 groupset, it is fitted with a Fazua Evation motor, assisting with speeds up to 20mph. The same motor is equipped for the Proteam black glossy version, but it costs a bit more because of the high-end Shimano Ultegra groupset.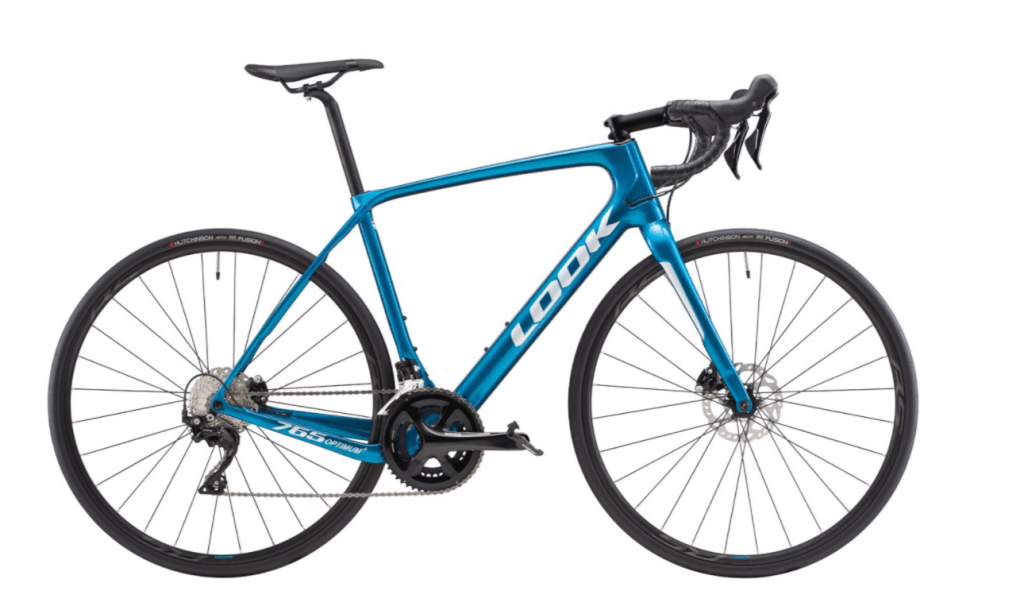 E-765 Gravel
If you want a gravel powerful electric bike, don't forget to check the Look E-765 Gravel. This model is typically built to reduce the gap between on-road and off-road. It allows cyclists to ride faster and further for a longer time.
Since the bike is equipped with a powerful Fazua Evation motor, it can support the rider with speeds of up to 20mph. Besides, it features wide tire clearances up to 40mm on 700c wheels.
There are two E-765 Gravel versions with different prices. The only difference between these two is the drivetrain. In particular, the model equipped with an SRAM Rival 1 drivetrain costs about $6,200, while the one fitted with an SRAM Force 1 drivetrain has a higher price, which is around $7,000.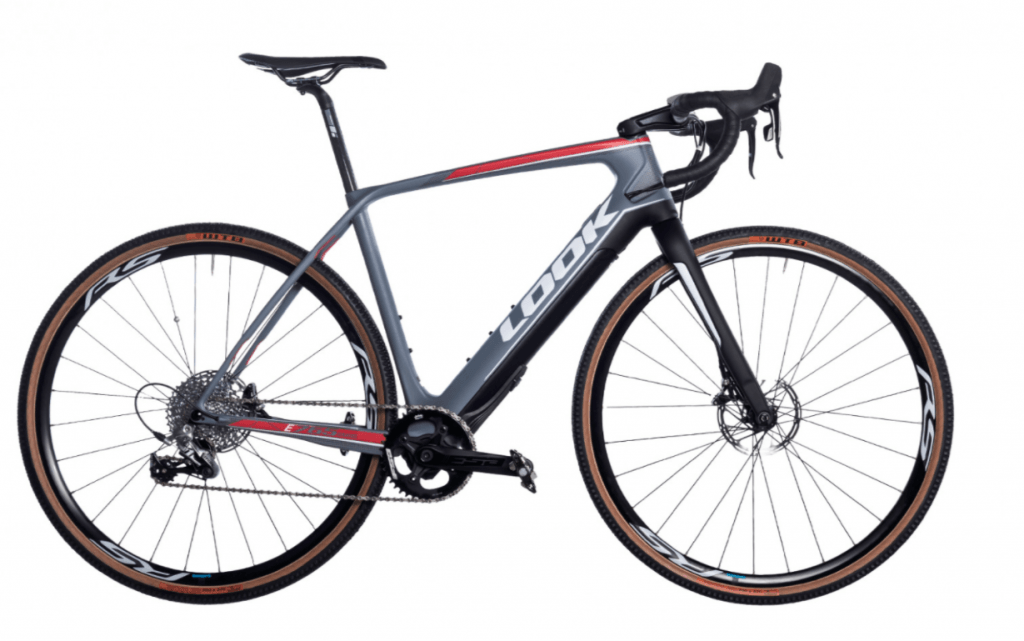 Conclusion
All things considered, Look Cycle offers great bikes that will last you for many years to come. Of course, it will make you the star of your local race track or cycling club. Their bikes are not only lightweight but also versatile. Typically, they are customized to fit various budgets.