Cannondale delivers the Quick series for recreational cycling, commuting, and handling all rough and mild off-road terrains. These bikes are lightweight and fast like other road bikes and have straight handlebars offering more comfortable rides.
Riders can encounter mild rough terrains like dirt roads or single-track forest lanes even though the Cannondale Quick 4 may not have the same strength and agility as a proper MTB. With the upgrade of disc brakes and puncture-proof Schwalbe tires, the high-end models can handle well in poor weather conditions. Additionally, Cannondale Quick 4 bikers seem a good option to hit the streets with rack mounts, reflective lights, and integrated kickstands.
Cannondale Quick 4 Overview
Cannondale Bicycle Corporation is an American brand, which has over 50 years of manufacturing various high-quality bicycles. The headquarter location is in Wilton, Connecticut, and factories are in China plus Taiwan. Instead of using steel or titanium for their products, the company equips their bikes with aluminate and carbon frames. It turns them into one of the leaders in cycle technology.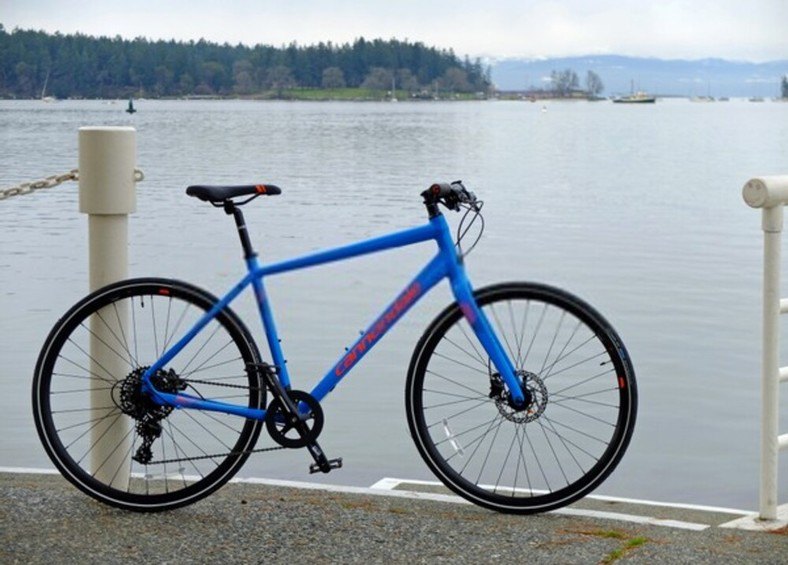 Performance
Beginner cyclists looking for a light off-road ride, daily commute, or fitness training with a stylish and versatile bike design, dependable vehicle components will find the Cannondale Quick 4 phenomenal. Additionally, mounts for racks and fenders plus plenty of reflective accents make this Quick perfect for recreational bikers and sporty enough for rougher rides to keep you healthy and fit.
The highlights of this Cannondale Quick 4 are its lightweight aluminum frame, reflective accents of 360°, the wide range of gearing with nine speeds, hydraulic disc brakes, and integrated connectivity with the app by Cannondale. In addition, the whole bike shape with bump-absorbing SAVE micro-suspension offers riders an upright riding position, delivering efficient speed and comfortable rides. In general, this bike allows decent speed and durability, quick control and is suitable for leisure rides.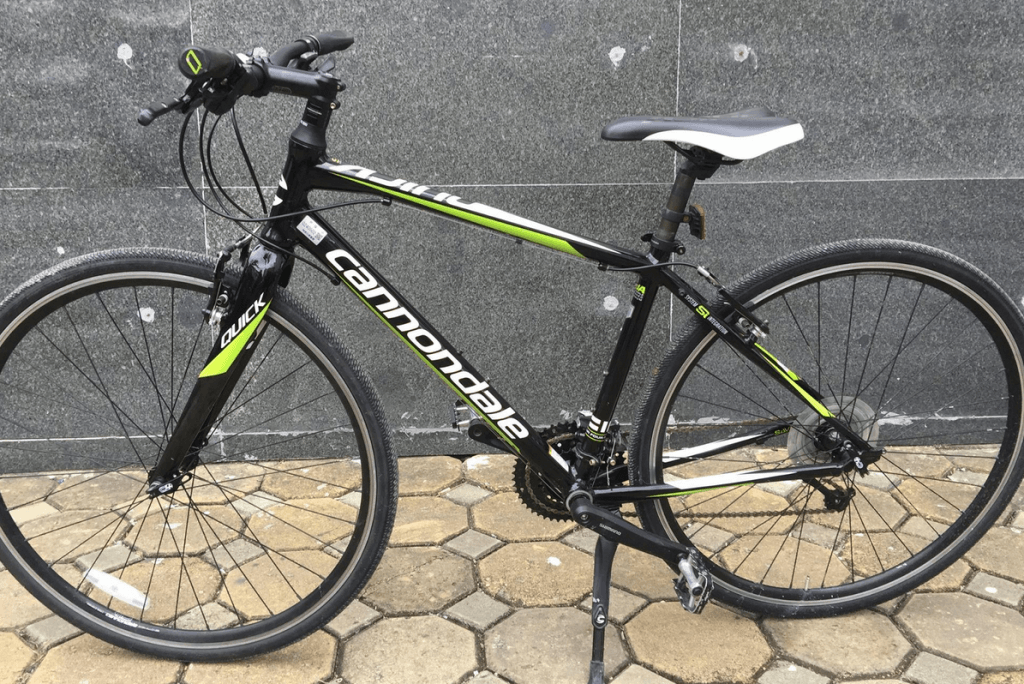 Specifications
Frame: SmartForm C3 Alloy, aluminum, Straightshot hidden cable routing, rack/fender mounts, tapered head tube, flat mount disc, and 360° reflectivity
Fork: Steel blades, OutFront offset, mid-blade mounts, flat mount disc, and 1-1/8-inch steerer
Handlebar: 6061 Alloy Double-butted, 640mm, 6° x 25mm rise, and 8° sweep
Saddle: Cannondale Fitness Ergo Double Density
Tire Size: 35 inches
Tires: 700 x 35c Schwalbe Spicer, reflective strip, and K-Guard
Wheel Size: 700c
Rear Derailleur: 9-speed microSHIFT Advent
Brakes: Tektro HD-R280 hydraulic disc, 160mm rotors
Grips: Ergo Fitness Dual Density by Cannondale, Lock-On
Seatpost: 6061 Alloy, 27.2 x 350mm
Stem: Alloy, Cannondale 3 with Intellimount and 31.8mm clamp
Weight: 11.6 kg
The pros:
The lightweight frame and integrated kickstand
Reflective elements increase security
The whole setting ensures control and security with decent speed or comfort.
The cons:
This bike seems expensive with not many alternatives.
Cannondale Quick 4 offers one color option.
To meet the weight standards mentioned in the Cannondale Quick 4 specifications, you may need to check out the Army Height and Weight Standards Charts for Men and Women available at Hood MWR. These charts provide an easy way to know if you are meeting the requirements.
Lightweight Bike Frame
Cannondale claims that the Quick bikes are the lightest vehicles in their class. The Quick 4 design features a SmartForm C3 aluminum frame, Straightshot hidden cable routing, and a tapered head tube. Its original weight is around 11.6 kg and may be changed if bikers customize it with any accessories. They offer compliance at the rear wheel that delivers a much smoother ride when cyclists encounter uneven road surfaces. Moreover, the bike has flat mount disc and rack/fender mounts. They are perfect for commuting in all weather conditions and even enjoying a light tour.
The bike fork is made of steel blades. Even though this material seems heavier than the carbon, it helps deliver the bikers a smooth ride due to the steel's inherent compliance characteristics. The 360° reflectivity on the Cannondale Quick 4 will improve visibility in low light conditions.
Drivetrain Groupset
Even though the Cannondale Quick 4 is not a mountain bike, it features the Tektro HD-R280 hydraulic disc brakes with 160mm rotors. This type of brake gives bikers consistent braking power in all weather conditions, and hydraulics are the most powerful kind. Additionally, these brakes are perfect for all-year-round city cycling.
When choosing a bike, one of the most critical factors to consider is the drivetrain groupset. It is responsible for how efficiently and smoothly you can shift gears. For high-quality drivetrain technology, check out the best bike brands list at Hood MWR to see top-performing brands in the market that offer excellent drivetrain groupset options.
Wheels
Cannondale equips all their bikes with 700c, and so does the Quick 4. Cyclists will find them the same on the other road bikes, which support delivering a fast, smooth, and efficient ride without losing much speed. In addition, the Cannondale Quick 4 is fitted with Schwalbe Spicer that has built-in puncture protection for trouble-free cycling. Reflective sidewalls on these tires improve the visibility on the night ride. Cyclists enjoy the extra comfort with a fitness saddle by Cannondale and ergonomic grips.
The Quick 4 also features the integrated wheel sensor by Cannondale which can connect to the company app. This is a product developed in partnership with Garmin, a well-known brand in modern GPS technology integrated with any mobile device. This tool will log all the rides automatically, then bikers can easily monitor their progress following their fitness goals. Furthermore, it will help riders with maintenance by letting them know every detail about their vehicles, and even reminding them when they have to tune-up.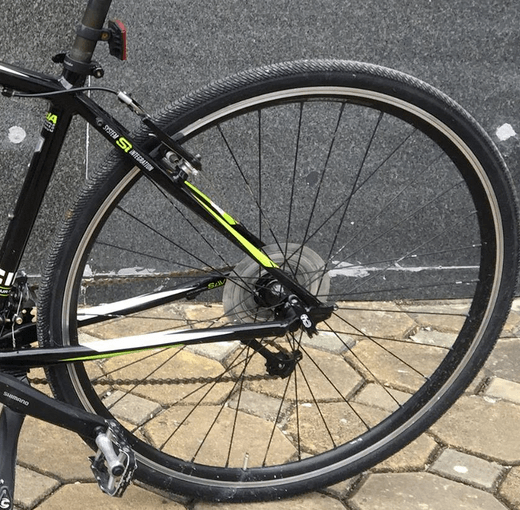 Sizes And Colors
The Cannondale Quick 4 offers five various frame sizes, from XS to 2XL, approximately with cyclists' height from 157 to 190 meters. Additionally, this type of bile has a limited color option with only two: the Graphite and Alpine, which riders may wish for more.
Related: Cannondale Caadx Review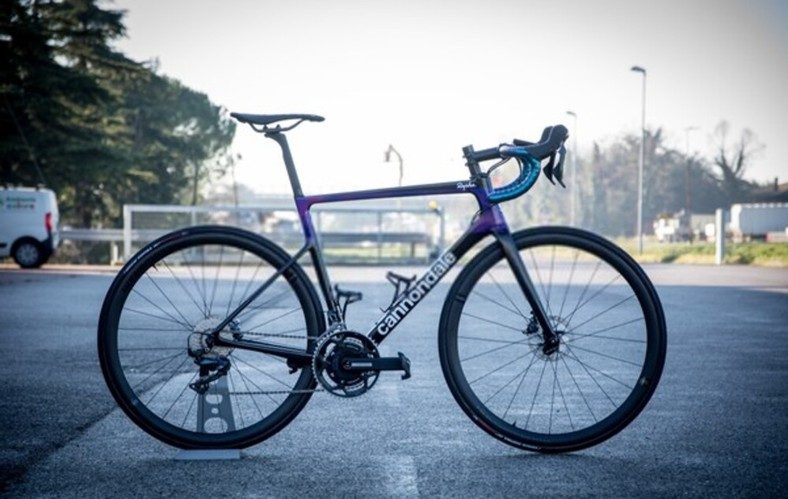 Make sure you're getting the right size for your Cannondale Quick 4 by referring to our men's t-shirt size chart. It is important to note that different brands may vary in sizing, so always double check before making a purchase. Additionally, if you're planning to match your Cannondale Quick 4 with clothes in your wardrobe, our color wheel guide may come in handy to create a coordinated look.
Price
With the price range of $880, Cannondale Quick 4 seems an expensive bike with not many upgrades from their previous model even though it also features full functions for the daily commutes or mild off-road rides.
Warranty
Like other bikes of Cannondale, the fourth model of Quick also has a clear but limited warranty policy. A lifetime warranty for the original owner will be applied for bike frames and forks. For all branded components, Cannondale offers a one-year warranty. Moreover, its paint and decal are guaranteed in a year from the original retail purchase. For any extra accessories, they will deliver various policies depending on each component.
When purchasing a Cannondale Quick 4, you can rest assured with their warranty. For more information on warranty details, refer to the Terms of Services.
A Comparison To Cannondale Quick CX 4
The Cannondale Quick CX 4, which costs USD550, seems to be reasonable for a casual ride. This type of bike offers a decent recreational bike for bikers having a tight budget. Even though the bike does not cost much, the Cannondale Quick CX 4 features a lightweight 6061-aluminum frame and a Tourney drivetrain by Shimano with medium quality 21 speeds. This component combines a triple front crank and a cassette with 7 speeds.
The 700c disc rims by Cannondale are covered in rather quality 40mm tires of Kenda Piedmont. These components are entry-level but delivering comfortable rides. If bikers ride the bike frequently on rough city roads, they might wish to have the upgrades slightly stronger. Differed from the Quick 4, the CX features mechanical disc brakes by Promax, which are adequate for leisure riding but do not offer the same instant response as the hydraulic ones do. Plus, the Quick CX 4 also offers the same five sizes and a color option as the non-CX version does.
A Comparison To Cannondale Quick CX 3
The third model of Cannondale Quick CX is one of the affordable hybrid bikes in the Quick lineup, which costs USD 825. All the bike components come mostly from Shimano. The highlights of this bike are the front suspension fork, a drivetrain with eight speeds, MT200 hydraulic disc brakes, and Shimano Altus rear derailleur.
The combination of the C2 alloy frame by SmartForm, internal cable routing plus rack and fender mounts makes this model ideal for daily commutes or recreational trips. In addition, the bike can help to encounter any minor bumps or absorb any vibration due to its NEX fork by SR Suntour that provides plush travel of 63 mm. Its saddle is Fitness Ergo Double Density by Cannondale. The bike offers a decent amount of traction in wet weather. Moreover, the Cannondale Quick CX 3 features five different frame sizes adapting all riders' heights from 157 to 190 meters. Additionally, there are two color options with slate black and gray.
If you're looking for alternative options and want to compare the Cannondale Quick 4 with a similar bike, check out our comprehensive brand overview of Ridley Bikes . You might also want to take a glance at Raleigh Bikes and its fantastic features in our full brand overview (https://www.hoodmwr.com/raleigh-bikes-brand/).
Conclusions
The Cannondale Quick 4 is an excellent choice for all types of urban road cycling, from joyfully commuting to mild fitness training due to its comfortable and lightweight geometry. This bike is also appropriate for riding out of the town for those who prefer the more upright cycling position of a straight handlebar. In addition, the bike delivers a decent speed and easy control. With their highlight specifications and functions, the Cannondale Quick 4 seems to be a great choice for first-time cycling purchasers.
Frequent Questions Of Cannondale Quick 4
When considering buying a bike, it can be overwhelming to navigate the different types available. Check out this helpful guide on types of bikes to help you make an informed decision. From road bikes to mountain bikes, this guide will break down the different features and benefits of each type.
What is the use of Cannondale Quick 4?
The Cannondale Quick 4 is a hybrid bike for recreational rides or daily commutes. We cannot consider this a mountain bike since the whole geometry just supports encountering mild off-road terrains.
Can riders do any jumps on Cannondale Quick 4?
Following the first question's reply, the bike is not suitable for riders to take on any jump or off-roading skills due to its entry-level components.
With the Cannondale Quick 4, riders can do small jumps or hop over obstacles on off-road terrain. However, the Cannondale Quick 4 is not specifically designed for jumps or stunts. If you are looking for a bike built for more intensive off-road riding, check out the Giant Talon 3 which is equipped with advanced features for more challenging terrains.
Can the cyclists add a child seat on Cannondale Quick 4?
The Cannondale Quick 4 can be added to a rear tire rack plus a child seat on this type of bike.
How much does a used Cannondale Quick 4?
A Cannondale Quick 4 bike features plenty of high-quality components at the price of USD880. If the bike owner keeps this bike insecure, some bidders may be ready to spend slightly more than half of the price. In general, the Cannondale Quick 4 delivers a great resale value.