Norco Bikes Company is the oldest and largest bike manufacturer in Canada. The company has a strong fan base all over the world. Currently, the bike brand offers nearly 150 different models, including gravel, urban, MTB, cyclocross, BMX, and kids bikes. Lots of people are wondering if Norco bikes are any good. Well, the answer will surprise you.
In this article, I will tell you more about the Norco bike brand, its history, performance, technologies, and a large lineup of various bikes.

Part of Best Bike Brands.
Overview of Norco Bikes Company
Canada is a large country that includes many different regions with different terrains and climates. It is these convenient conditions that inspire Norco Bikes to design and produce bikes that can thrive in various contexts and leave many riders satisfied.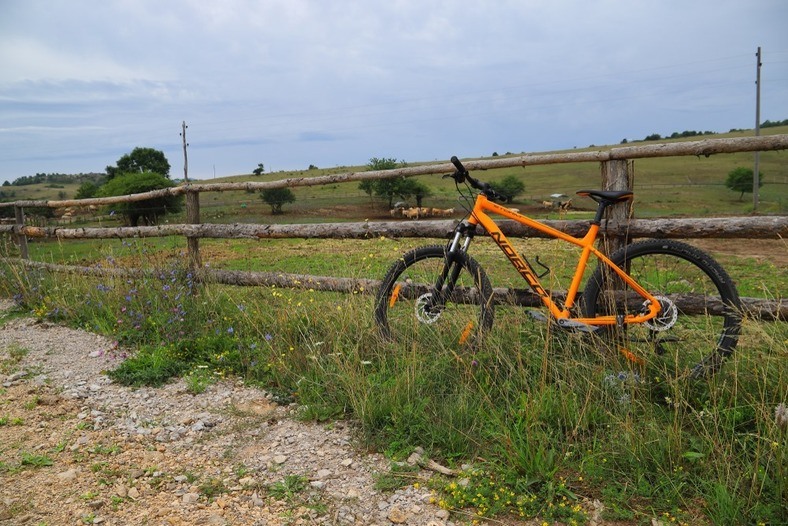 History of Norco Bikes Company
Norco is a very popular Candian bike brand that has existed for years. It was founded in 1964 in Port Coquitlam, British Columbia, and this is also the company's current headquarters.
In the face of difficulties, Norco's first bicycles were a great success, and the bike brand continued to grow stronger and stronger.
The interesting fact is that Norco Bikes was one of the initial bike manufacturers of 10-speed bicycles and played an important role in popularizing BMX bikes. Norco designed and produced their first full-suspension BMX bike in 1973. And 2 years later, their first 10-speed drop bar road bicycle appeared.
Norco was also one of the first mountain bike manufacturers on the North American market in 1984. And the most popular model at that time was the Norco front suspension Rampage, which was also the first front suspension mountain bike in North America.
In 1995, Norco started selling their bikes all over the world. And today, Norco offers nearly 150 models sold in every corner of the world.
Where are Norco Bikes Made?
All the Norco bikes are designed and produced in Port Coquitlam, British Columbia, Norco's headquarters. Nevertheless, Norco's frames and other components are engineered by top vendors, manufacturers all over the world. And the final assembly will be at your local retailer. Accordingly, high-end parts and frames are manufactured in Taiwan, and several cheaper components and frames can be made in some Asian countries.
If you're interested in other bike brands like Norco and their country of origin, you may want to check out Merida Bikes. Merida Bikes is a Taiwanese bicycle manufacturer that produces high-quality bikes that are perfect for both beginners and pros alike. Find out more about Merida Bikes by visiting Merida Bikes Full Brand Overview – Hood MWR.
The Technologies of Norco Bikes
Norco's suspension technology is considered one of the most innovative technologies of the company. As you may or may not know, Norco develops their full-suspension mountain bikes using specific layouts for certain series, based on the type of bikes. For instance, enduro and trail mountain bikes are very different. Hence, riders also need different features in mind when they are hitting the road and plowing the trails.
That is the reason why Norco decided to build the Horst Rocker Link, Horst Hanging Link, and the High Single Pivot. These are innovative suspension linkage technologies that are typically designed to offer the best handling, uphill and downhill experience. As I mentioned, different types of bikes, such as enduro, XC, trail, etc., will bring you a different feeling and experience.
Performance of Norco Bikes
For those who don't know, one of the easiest ways to build a bike frame is to create the geometry in one frame size. Next, just scale it so that it perfectly fits the reach of all the other dimensions. Nevertheless, it is not the best way to carry out.
Instead, Norco has tweaked both the reach and the back center of the length. This is to make sure that the weight is best distributed for all types of cyclists.
The most interesting thing about the gravity tune happens when both the front and back center of the bike increase or shrink to different dimensions. That time, you can handle and control the bike more easily. What's more, the predictable grip will increase.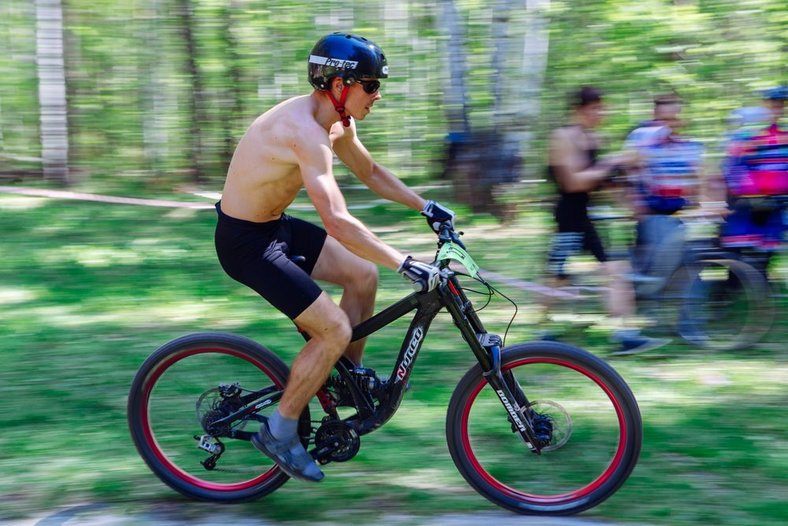 If you're looking for a high-performance bike, consider checking out Canyon Bikes. Known for their top-of-the-line road, mountain, and urban bikes, Canyon is a great option for cyclists who are serious about their sport. With innovative design and technology, Canyon bikes offer superior performance and quality that can take you to the next level.
Norco Bike Categories
Norco currently offers a large array of most popular types of bikes, from mountain to road, city, youth and kids bikes. Each bike range has a lot of other models and styles. Let's see what kind of bikes Norco offers:
Mountain Bikes
Downhill
Freeride
Enduro
All Mountain
Trail
Fat Bikes
XC Race
Cross Country
Dirt Jump
Road Bikes
Looking for the perfect road bike to suit your needs? Look no further than our comprehensive guide to the best bike brands of 2022. From Bianchi to Cinelli to Cipollini and more, we've got you covered with expert insights and detailed information on each brand's unique offerings. Plus, check out our road bike size charts to ensure the perfect fit for your height and frame.
City Bikes
Youth Bikes
All Mountain
Trail
Dirt Jump
Kids Bikes
Choosing the right size bike for your child is crucial. Check out this bike size chart for kids to ensure that you get the proper fit for your child and they have a comfortable and safe biking experience.
VLT e-Bikes
Most Popular Norco Bikes
With a wide array of bikes of all types and models that Corno offers, you can easily select a bicycle that fits your size, needs, and budget. Typically, besides popular bike categories, such as mountain, road, kids, Corno provides the market with a relatively large range of e-bikes. Let's see some of the most popular Norco bikes available on the market.
Cross Country Bikes: Norco Storm
XC Race Bikes: Norco Revolver HT
Trail Bikes: Norco Fluid HT
All Mountain Bikes: Norco Sight
Gravel Bikes: Norco Search XR
Urban Bikes: Norco Scene
Youth and Kid Bikes: Norco Rampage
e-Cross-country Bikes: Norco Charger VLT
For those interested in getting a Norco bike, it's worth checking out the 59 Best Bike Brands in 2022 to compare the most popular bikes on the market. Whether you're looking for a mountain bike or a road bike, this comprehensive list can help you make an informed decision before buying.
Norco Bike Price Range
Now, you know the most popular Norco bikes. It is great that you can choose a suitable type of bike to ride. If price is what makes you hesitate the most, let's see the price range of those popular models to see if they are affordable for all or for some.
Cross Country Bikes:
XC Race Bikes:
Trail Bikes:
All Mountain Bikes:
Gravel Bikes:
Urban Bikes:
Youth and Kid Bikes:
e-Cross-country Bikes:
Norco Vs. Trek
Norco Bike Review
Over the last two decades, the Norco bike brand has invented and developed some innovative technologies, typically in the field of mountain bike suspension. Norco first introduced the Advanced Ride Technology (ART) suspension system in 2011. It was known as an advanced version of the company's already popular Horst linkage system. In its line of carbon road bicycles, Norco applies several light frame-enhancing technologies, such as ArmorLite plastic and SmoothCore.
Pros
Excellent yet affordable full-suspension MTB bikes
Great design for down-country roads and trail cycling
Allow riders for good stability on different types of terrains
Cons
The dropper post might not be really sufficient for tall riders
Trek Bike Review
Trek also comes with a wide range of bikes for different riding levels. However, the most common type of Trek bikes should be mountain bikes. These models are designed with an innovative FOX 36 GRIP 2 damper that is exceptionally durable and sturdy. This offers a fun riding experience while allowing you to control your bike on every type of trail. Lightweight is also another good point of Trek MTB bikes.
Pros
Offer a wide variety of bike types and models
Great 140mm forks and 2.6-inch tires
The good rear suspension system
Groundbreaking F0X 36 fork
Cons
Bontrager stock post is not really great
BH Bikes are known for producing world-class bicycles that are built to perform. If you're someone who is serious about cycling and wants a bike that can keep up with your demands, then a BH Bike might be just what you need. Check out our quick brand overview to learn more about what makes BH Bikes stand out from the crowd.
Are Norco Bikes Any Good?
Yes, Norco manufactures premium, good-quality bicycles for riders of all types and tastes. It is the largest Canadian bike company that has existed for almost 60 years. So, you can be sure of their bike quality when compared to the most popular bike brands on the market.
Norco Mountain Bikes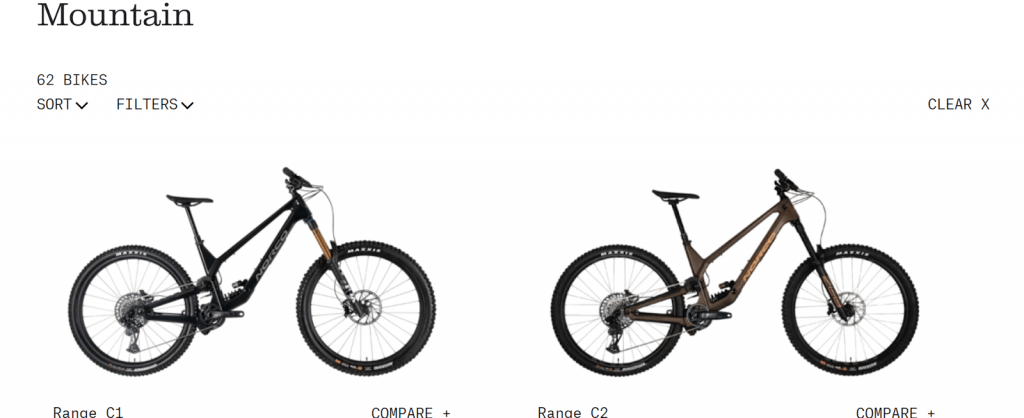 Mountain bikes are the most popular types of bikes among various models and styles that Norco manufactures. When it comes to mountain bikes, Norco is usually known as a true expert. The company provides over 120 different MTB models sorted into the following categories:
All Mountain
Cross Country
Downhill
Dirt Jump
Enduro
Fat
Trail
XC Race
Whether you are planning on aimlessly cycling around the woods and trails in your region or smashing descents and single tracks, you will easily find a model you want in Norco's bike range.
For beginners, you might feel overwhelmed by those plentiful options. But don't worry. Norco has a great system for organizing bikes and dividing their bike ranges.
For instance, high-quality mountain bikes will feature low numbers, while entry-level models will have high numbers. The top model is always represented by a '1'. In the same way, Norco always adds the letter A, C, or S to refer to the aluminum, carbon frame, or steel frames.
If what you are looking for is having some fun or recreational rides on the weekends, you can consider the Fluid, Revolver, or Storm series. These models are made from aluminum frames with good suspension and reliable components. Most importantly, they are affordable for beginning riders to invest in.
But if you take trails more seriously, some great options to consider are Aurum, Optic, or Sight. These lineups are Norco's mid-range and high-quality full-suspension bicycle collections, allowing you to pedal downhill and shred trails with confidence.
In addition, Norco provides a couple of fat bikes, usually known as Bigfoot. These models are or are not equipped with front suspension. But they are a great option for all-year or backpacking riding.
When it comes to mountain bikes, Norco has always been a well-known brand in the biking industry. However, if you are looking for other great mountain bike brands, check out Salsa Bikes. They offer a wide range of mountain bikes that cater to all levels of riders. From entry-level bikes to high-performance bikes, Salsa Bikes has everything to offer for those looking for quality bikes.
Norco Road Bikes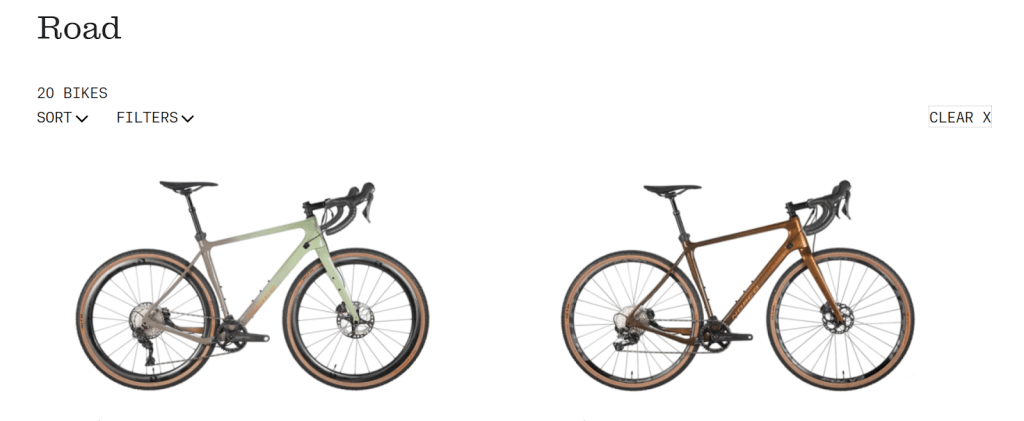 While you can see a subcategory on Norco's website named Road, it doesn't have any road bikes. As an alternative, you will find drop bar bikes that are geared for cyclocross, gravel, and all-road riding purposes. This isn't to say they can't handle pavement, but they are not really suitable for pure road riders.
In this subcategory, the greatest model might be Section bikes. These bicycles are considered to be closest and fit the road bike definition most. They are available in different frame materials, including carbon, steel, and aluminum frames, and come with 32mm tires.
Search models are perfect for gravel grinders. Like the Section bicycles, these models are also made from aluminum, steel, or carbon frames. Besides, they are designed to be compatible with either 700c or 650b wheels. You will be surprised that the Search XR A bike is even equipped with front suspension. If your purpose is to explore gravel, gravel racings, or bikepacking, this bike will be your best companion.
In general, Norco still retains its true nature to off-road bikes and even stays ahead of the game in terms of new road bikes riding trends.
Norco City Bikes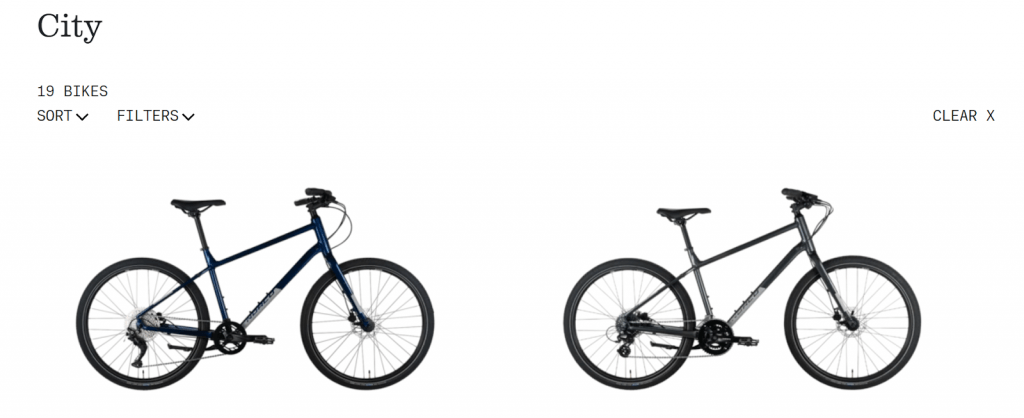 Besides gravel/cyclocross and mountain bikes that are designed for performance, Norco also designs and produces urban and hybrid bikes. These models are typically made for fitness riders, commuters, or anyone who doesn't like to go out with a bus on weekends.
Almost all of the Norco city bikes are entry-level and mid-range. Therefore, they usually come at a reasonable price. For instance, XFR models equipped with front suspension and wide tires are geared for fitness riders or anyone who wants to ride on mixed trails.
If you are the kind of pure hedonist, you will fall in love with the step-through models in the Scene series. They come in a modern and appealing appearance, smooth handlebars, and comfortable saddles and tires.
In terms of frame materials, you don't have many options because all of Norco's urban bicycles are made from aluminum frames. However, in relation to tire sizes, you will have a wide range of selection, including 650b, 700c, and 29''.
If all you need is a bike to ride daily on mixed terrains and in different types of weather, any model in Norco's urban series can absolutely do the job.
Norco Youth and Kids Bikes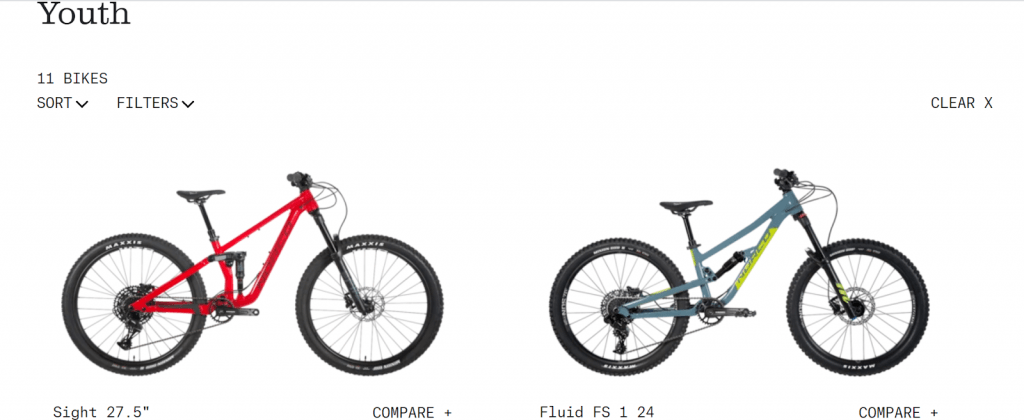 Norco also provides bikes for kid and young riders, besides their adult bikes. You can find a suitable bike for your child in the two categories, Kids and Youth bicycles, which are organized based on the wheel size.
Basically, the Youth models are scaled-down versions of adult bikes with 20-inch and 24-inch wheels. They include Check, Fluid, Rampage, and Storm models, which are relatively diverse for you to choose from. Hardtail and full-suspension bicycles are more suitable for school kids and teens. These bikes contain some fat-tire and dirt models.
The Kids selection includes bikes of 10'', 12'', 14'', and 16''. In this category, you can find balance and pedal models that are perfect for toddlers who start learning how to ride. These models are also great for kids who excel balancing on a two-wheel bike.
Almost all Norco's Kids bikes are designed with wide tires for better stability. They are also equipped with both front and rear brakes. Typically, all models are available in bright colors, ideal for both girls and boys.
Norco VLT E-Bikes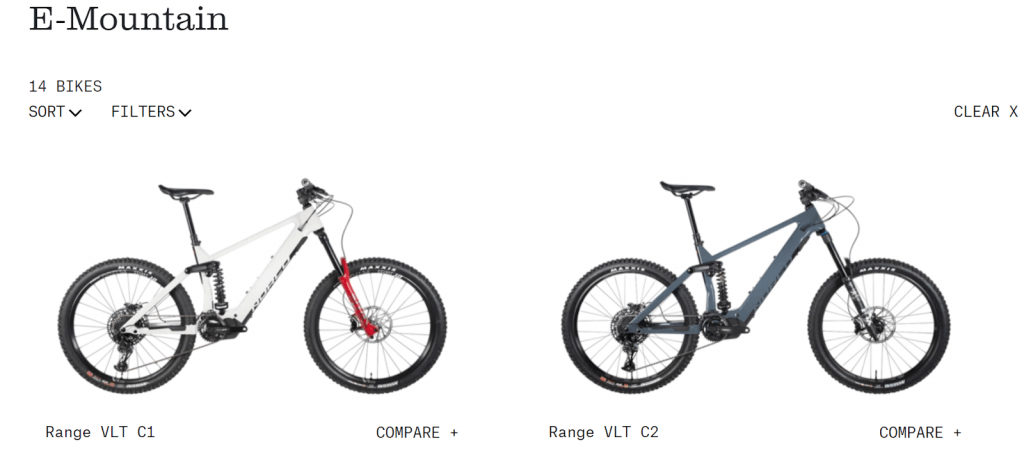 Electric bicycles have become more and more popular in recent years. Lots of cyclists often shy away from them as riding an electric bike is considered as "not professional enough" or even "cheating." However, this is not true anymore.
Whether you need some help because of old age, you are recovering from surgery, or you just don't want to spend lots of effort pedaling up hills, Norco offers a great selection of electric bikes for you.
Currently, there are some of Corno's e-bike series available to purchase, including Bigfoot, Charger, Fluid, Range, and Sight. Hence, you will get a wide range of trail, enduro, fat, and XC electric bikes to choose from.
These bikes are primarily equipped with Shimano STEPS motors and great-power batteries. Therefore, you don't need to boost the engine in order to go to the top of the descents all the time.
Besides electric mountain bikes, Norco also provides an electric urban bicycle, Scene VLT. This model is great for urban riders and commuters whose areas are windy or hilly, and they need a great way to go to work or pedal around the city without spending too much effort and sweat.
Conclusion
When it comes to designing and producing bikes, Norco has a really different method to approach. The company carefully chooses materials with a rigorous engineering procedure to ensure that their bikes fit all types of riders. What's more, Norco applies lots of groundbreaking technologies to improve the bike quality and riding experience.