Mountain biking is always a fun outdoor activity. Riding through rocky, bumpy, or even muddy trails gives you lots of excitement and experience. However, your bike will become dirty after those ridings. And it is necessary to clean and maintain it to ensure good performance and longevity. How to clean a mountain bike is not always an easy task, typically for those who are not from MTB bike backgrounds. So, follow these steps, and you can do it on your own.
Essential Items For Cleaning A Mountain Bike:
In order to clean your mountain bike deeply, you will need several items as follows:
Clean rags: You will need a lot of these for jobs involving oil, grease, and wax, as well as overall cleaning and drying.
Brushes: It is recommended to have several sizes and shapes of brushes to clean dirt at hard-to-reach corners that normal rising can't get things done. You can take advantage of your old toothbrushes.
Water: Of course, you will need water for washing off soap. But you have to be very careful when using it. When the water pressure is too high, it can damage some sensitive bearing systems on your mountain bike.
Soap/general cleaner: The diluted dish soap or pre-made bike washer will be necessary for cleaning the bike's frame.
Degreasing agents: You should choose degreasers that are typically made for bikes. Definitely avoid turpentine or kerosene. This kind of degreaser can clean gummy or sticky parts such as the bike chain. Besides, it's recommended to select a solvent that is friendly to you and the environment. And remember to discard all the solvents in the right way.
Bike Lube Oil: Correct lubrication of the chain will help prolong the life of your bike's drive system. But you have to make sure that you are using bike-specific chain lubricant for the best result.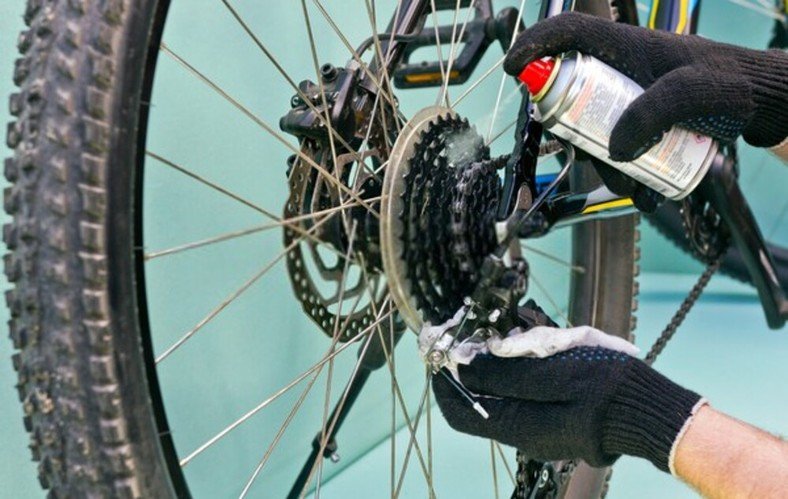 There are two common ways to lubricate your bike chain, including dry and wet. Wet lubricant is ideal for lubricating your bike chain when you're cycling in wet conditions. It holds onto the drivetrain and drifts less when it rains. That means dirt will stick to it too, so remember to wipe off excess lubricant.
Dry lubricating oil, on the other hand, works best in dry environments. Dirt is less likely to cling to dry lubricants, but dry lubricants will wash off easily if you're riding your bike in the rain.
Bike rack: A bike stand will allow you to place your bike at the most comfortable height while you're cleaning it. Besides, you can easily rotate the pedals or remove the wheels with the bike rack. This way, washing all the moving and difficult-to-access parts will become much easier.
What to Clean
You can clean some dirty parts on your mountain bike by carefully wiping them with a wet and clean rag. However, other hard-to-reach components require a more thorough brushing and relubrication.
Here are the parts you should clean and also the main steps to follow:
Clean your MTB bike frame
Clean and lubricate the bike chain
Lube the derailleur levers and bike's brake
Lube the derailleur/brake assemblies and cables
You will need to pay more attention to the bike drivetrain, including chainrings, rear wheel, rear chain and derailleur. So, watch the following instructional video to ensure you clean your drivetrain correctly.
Do's and Don'ts
Here are some tips you can use to get your mountain bike cleaner while it doesn't damage some parts.
Pros
Keep the dish sponges for the next few bike-cleaning duties
Use a clean rag to clean parts between the gears, chainrings, and other difficult-to-reach areas
Cons
Use an abrasive sponge to wash your bike frame
Put the rags and other tools in a bucket if you want to cover your bike's frame with drivetrain oil or grease
Use a high-pressure hose to clean your bike (Otherwise, it will be damaged because water might enter and debase your bike's bearing system)
How to Clean a Mountain Bike?
Cleaning your mountain bike will be easier and more effective if you follow these steps.
Step 1: Prepare the Cleaning Area
It seems to be foolish, but the first and most important thing to get your bike cleaned is to find an ideal washing area. Ideally, find a place with great drainage. You can take advantage of a sturdy bike rack to keep your MTB bike off the ground. By doing this, the dirt will not splash back onto the bike. If you think you will need a water-pressure hose, then you are wrong. It can loosen critical grease bearings and damage your suspension – this is not what you and all riders want!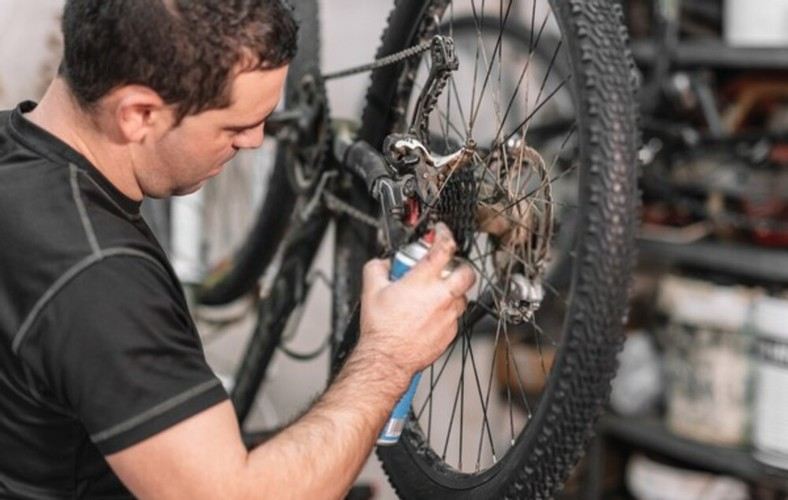 Step 2: Rinse and Foam
Place your bike on the rack and start washing it with cold water. It's better to clean the bike from top to bottom. This way, debris and dirt will be washed off more easily. Then use a brush to clean the frame. Make sure it is clean without grime or dirt; otherwise, it might scratch the frame. Apply washing detergent directly to that brush with warm water. Next, foam your entire bike starting from the front, facing down on the bike from above so you won't get water on the parts you've cleaned.
Step 3: Clean Drive train and Tires
Use a sturdy brush and warm water for this task. And apply a cleaning solution directly to the brush, then rub on the tires to eliminate dirt and debris between the tread and around the wheel rim and sidewall. Check for any damage like cuts, spikes, ỏ torn blocks as you move. After that, wash the cassette and drivetrain. Eliminate any stick, grass, or debris stuck between gears or wheels, then scrub it off with a hard brush and detergent.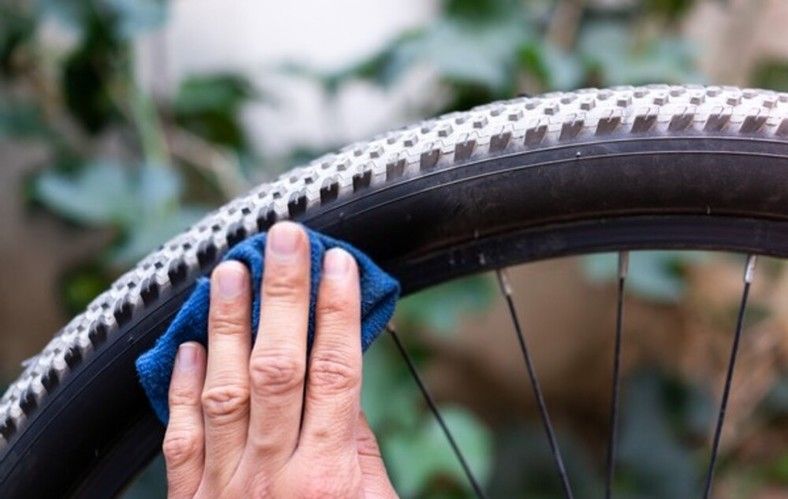 Tip: Do not use a degreasing agent for this job if the bike cassette is too thick and the soap won't get rid of it. And the only recommended way when using the degreaser is to eradicate the cassette from the bike's freehub body. This way, you can be assured that your drivetrain will be safe while being cleaned thoroughly.
Step 4: Rinse and Check again
Clean the bike with a hose or tender brush from top to bottom, checking for any damage to the frame, wheels, and other parts. Simultaneously, turn the pedal to let water flow freely through the links on your bike chain.
Step 5: Repeat above Steps
This step is not compulsory, but you might need to repeat the above process if your mountain bike is too dirty. You also might want to detach the wheels if your bike is awfully dirty. The chainrings and jockey wheels are two main areas you should concentrate on. This is because they might contain compressed debris and dirt.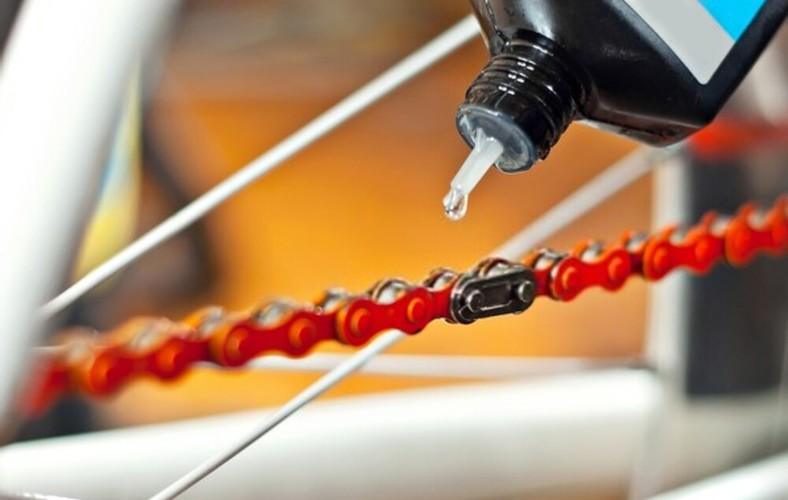 This is considered one of the most important things to do when cleaning your mountain bike. If your drivetrain is too dirty, it can lead to additional friction and wear. This, as a result, will affect your engine. In addition, don't forget to clean the suspension seals carefully because gravel getting stuck here can quickly result in very costly damage. Put the wheel to its position if removed.
Step 6: Rinse again
Wash the bike thoroughly again to make sure there is no soap left because this can lead to problems. This washing process of your mountain bike will be far better without a water-pressure hose because it can eliminate vital grease from the pivots, bearings, shaft, bottom bracket, shaft, joker wheel, etc. It's best to use a free-flowing washer or a soft brush with a bucket full of clean water.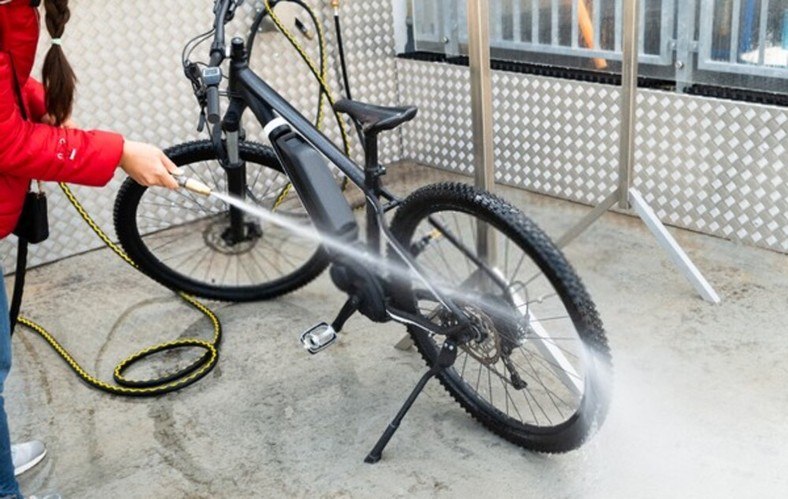 Step 7: Drying
Remove the bike from its holder or rack. Then place the bike entirely in the sun or dry place. It's better to put it in a warm place to allow water to accumulate and dry naturally. You can also use a lint-free towel to eliminate excess water.
Step 8: Polish
Detach the wheels and place your MTB bike back in the rack. Then use a soft microfiber towel to polish your bike frame using silicone polish. This will make it more difficult for the mud or dirt to stick to your bike when you are riding it in muddy or rainy weather. In addition, it reduces the load on your bike and makes it easier to move.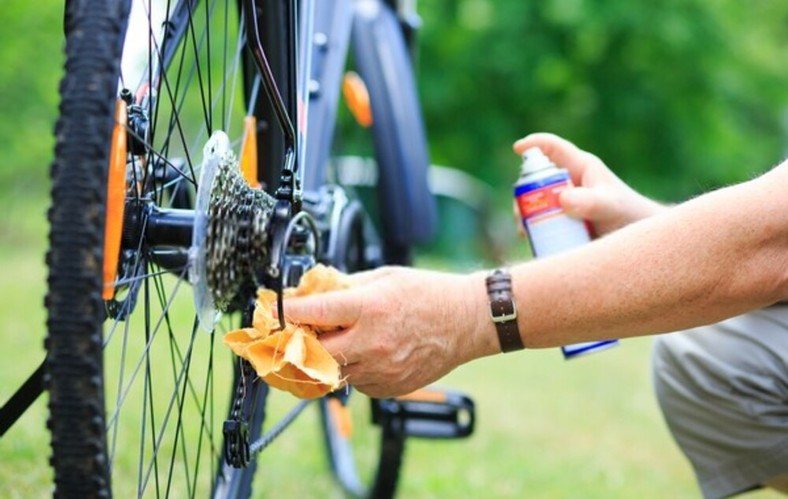 However, if you don't know if the trail where you are going to ride your bike is full of dust or not, it's better to avoid polishing the frame. This is because it can attract more dust to stick to the frame. Besides, remember to use a lint-free towel to polish, and don't spray the polish directly onto the bike. Otherwise, it can cause over-spraying on the rotors and pollute the bike's brake pads.
Rotate the fork and rear suspension through their stroke to remove any dirt out of the seals. Wipe off the dirt and then lubricate the stanchions with a specialized lubricant or apply disc oil.
Step 9: Storage
It is very crucial to lubricate the drive chain and wipe off any excess after your bike is dry. Coat the bearing surfaces with waterproof products to keep them safe from droplets left. Ideally, you can hang the front wheel of your bike up on a wall mount. Make sure you keep the calipers lower than the brake levers. By doing this, you can let the lubricant in the fork cling to the foam seals, offering instant smooth operation. This also allows water that is deposited in the cable or frame pockets to escape.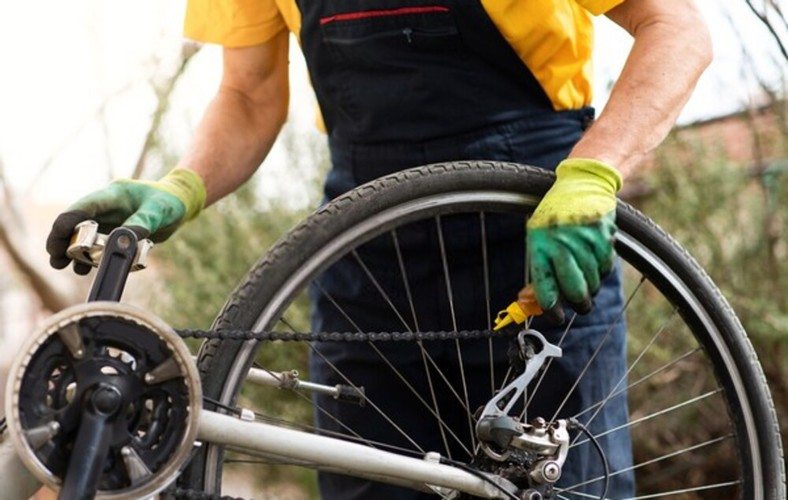 Frequently Asked Questions
Look at the following frequently asked questions and answers to understand more about cleaning a mountain bike.
Should I clean my mountain bike after every ride?
It is recommended to wash and re-lube your mountain bike after every one or two hard rides. If you ride your bike on muddy trails, you will need to clean it more thoroughly.
Is it OK to use WD40 on a mountain bike chain?
The answer is no. For those who don't know, WD40 is not really a lubricant because it is usually used as a solvent or rust dissolving agent. If not carefully, you can damage your bike chain. So, never use WD40 as lube oil to lubricate the bike chain.
Is it OK to use hose mountain bike cleaning?
If you usually ride your MTB bike through muddy areas, it is very crucial to clean it after each ride or every couple of weeks. And you can use a hose to wash away dirt. However, never use a high-pressure water hose because it can push water into the bearings and cause damage. Ideally, use a brush and a bucket of soapy water to clean your bike.
How often should I lube my MTB bike chain?
It is highly recommended to lubricate your drive chain at least once per month to ensure it functions well and also gives extra protection to the chain. The chain and drive chain are the two most extremely dirty parts. If not cleaned and lubed regularly, it will decrease its performance and lifespan.
Conclusion
So, that's all information and tips on how to clean a mountain bike. Make sure you read it carefully and apply the right method to keep your bike clean and properly protected. Thanks for reading. Don't forget to share your experience in washing and maintaining your MTB bike.