Infinity Cycle Works, situated in B.C, Canada, is a producer, retailer, and design house. Locating in Vancouver, one of the world's most bike-friendly cities, the manufacturer said that they do understand how vital it is for people to have a safe, dependable, and fun trip in their daily life. That's why it sells a wide variety of cycles including mountain bikes, electric bikes, and bikes for children. There's also a collection of Hybrid & City. Apart from bikes, customers can also buy accessories such as racks, helmets, and tools from Infinity.
Among various product lines offered by this bicycle seller, Infinity Boss 7 Speed 700c Bike is one of the most popular. It is even introduced in the "We Recommend" section on the official website of Infinity Cycle Works. There are 2 types in this product group. The female version is a comfort bike, while the men bike is a hybrid one. The model is now available at local Costco warehouses across the USA.
If you are looking for a mix between a mountain bike and a road one, which is also affordable, you must consider Infinity Boss Three Hybrid Bike! Such a hybrid bike is a little bit faster than a mountain cycle. But it's also not designed the same as a road bike. It's a little bit more comfortable than that.
Infinity Boss Three Hybrid Bike Review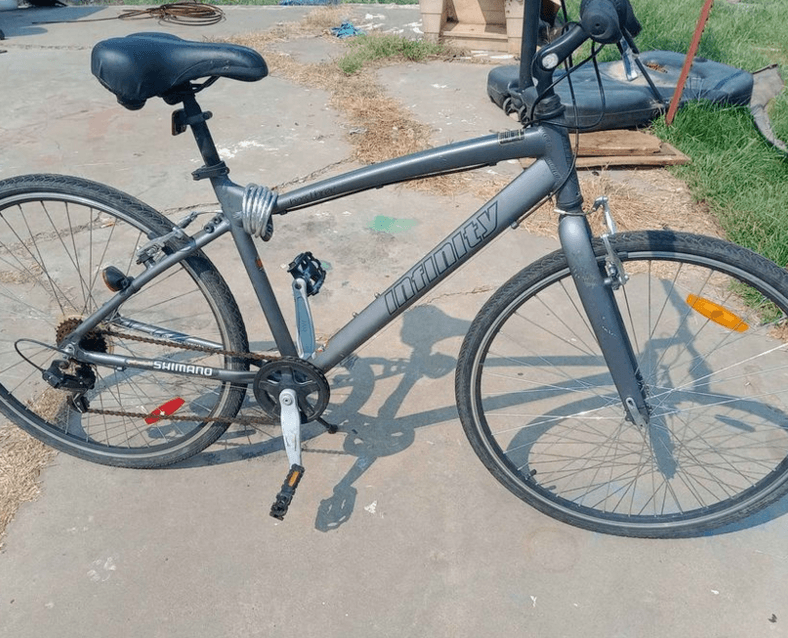 Please read more here: https://www.infinitycycleworks.com/product/boss-three-mens-7-speed/
Key Features
The bike features 7 gears, which means riders can enjoy riding over difficult terrain. The lower gears on Infinity Boss Three Hybrid Bike make pedaling easier, while the higher ratios allow for better downhill action. A 7-speed bike is superior to a 3-speed bike for various terrain riding.
Infinity Boss Three Hybrid Bike comes with a standard seating position, V-brake levers, and thick rims. These make it comfortable and fast to go on a ride with this bike. And these components can easily be replaced in case of any errors.
Product Specs
| | |
| --- | --- |
| Gears | 7 |
| Frame Material | Aluminum |
| Shifters | Shimano Revo Twist Shifter |
| Handle Bars | YL-811 Steel Type 620mm 30 Deg. |
| Rims | ZLA-021 700Cx1.5 13Gx36H A/V Double wall 1.7mm THICK with size decal, Black |
| Tires | Innova I2209 700 x 38c City Tire A/V Innova Tubes, Innova black factory logo |
| Front Fork | Mode 700c Rigid Blade |
| Rear Derailleur | Shimano 7-Speed Steel |
| Free Wheel | Infinity 7-Speed Steel |
| Brake Levers | Power V-Brake Resin/Alloy |
I bought this bike around 6 months ago. At the time, I was just a starter in cycling with quite a limited budget. I would like to give it a try, so my aim was a hybrid bike for both trails and mountains. I want something basic, cheap, and has a good-looking design! Infinity Boss Three Hybrid Bike was chosen thanks to its very reasonable price, hybrid functions, and modern design.
Very reasonable price
I had been searching for different bikes on Amazon, Costco, and even eBay. There were lots of bikes ranging from $100 to $1000, yet this impressed me due to its reasonable cost. It costs only around $200 yet still offers the basic functions of a mountain bike and a trail bike. I could hardly find any hybrid bike with similar offers and at a similar cost. The Schwinn bike costs more than $500. The decathlon model features only 6 gears at over $300. This Infinity Boss Three Hybrid was the best option: hybrid, 7-gears, reasonably-priced!
If you afford to spend higher budget like 500 bucks for a mountain bike, you can check out the list of top 18 perfect hybrid bikes under under $500 on the link.
Hybrid functions
According to information of specifications on Infinity's official site and customer's reviews on different forums and websites, this bike features enough basic functions. It has 7 speeds, which is capable of handling any terrain. It also provides comfort to riders, both on trails and on roads. Tires have pinned alloy rims and are of good quality so they can be used for different cycling experiences.
Modern design
The bike looks modern and neat thanks to its black aluminum frame. The seat is positioned nicely and the pedals are not too large, not too small. The brakes are standard glossy chrome V-brakes but instead of stamped steel arms, it comes with alloy arms. This makes the design of the bike look more state-of-the-art.
Pros
Quick Assembly: The bike comes with separate parts that require buyers to assemble on their own. However, among hundreds of feedback available on the Internet, there's no complaint about assembly. Usually, it just takes around 1 hour to finish the process and start riding right away!
Decent Warranty: When it comes to low-cost bikes, there's not much to expect about a warranty. However, Infinity Boss Three Hybrid Bike is an exception! Its frame and frameset are guaranteed for a lifetime period. The manufacturer also offers a 1-year warranty on complete cycles and a 2-year warranty on parts. This can be a selling point of the affordable brand.
Lightweight: The bike is lightweight due to its aluminum frame and other lightweight components. Therefore, it can be easily stored or transported.
Sturdy aluminum frame: Aluminum is the most popular bike frame material. This is because it is resistant to corrosion, relatively lightweight (just heavier than a carbon fiber frame). The strength ratio compared to the weight is also high, making the frame sturdy and strong. This frame can last for years.
Good terrain handling ability: This is thanks to the hybrid design and 7 speeds, which makes it capable of riding on trails, on a mountainous area, or just a fun ride in the neighborhood.
Easily replaced components: As the bike use mostly basic components like normal glossy chrome V-brakes, you can easily find a replacement from anywhere. The manufacturer does provide a replacement service, but if it takes time, you can just go to a nearby bike shop to replace it.
Cons
Easily out of stock: At first, I could not order this bike as it was no longer in stock. I contacted local Costco yet they said I would need to wait for a couple of weeks, so I had to go for online stores. Some customers say they face the same problem when ordering this model. However, online purchasing can help as there are more options.
Requires tune-up with assembly: The assembly process is easy to do, yet it does require some tune-up after that, said some buyers. This is because the instructions do not exactly match the real design. However, this tuning-up might not require much time.
Only one color available: Although the bike's design is modern, there is only one color option. This might be a drawback if the rider prefers blue, green, or any other tones.
Buying Guide for Infinity Boss Three Hybrid Bike
If you are looking for a hybrid bike that fits your height and size, you may be asking yourself whether a 24-inch bike is suitable for an adult rider. This article 24-inch Bike for What Size Person: Are They for Adults? provides a detailed guide on the different bike sizes and which size is suitable for an adult rider. This guide will help you find the perfect fit for your Infinity Boss Three Hybrid Bike.
Performance & Cost
As mentioned above, this bike is one of the most reasonable bikes available on Earth. The quality is not 5 stars, there is no doubt. Yet it's so unreasonable to expect a $1,000 worth cycle, paying just around $200. It has basic functions as a hybrid bike, a decent warranty, and fine durability. Therefore, it can be concluded that Infinity Boss Three Hybrid Bike is worth the cost!
Gearing
This bike comes with 7 gears. This is plenty for a bike since it has a functional structure that enables comfortable pedaling in the lower gear while also offering smooth travel on any landforms in the higher gear. The seven-speed bicycles are capable of traversing any terrain. It provides the maximum level of comfort to riders on any ride.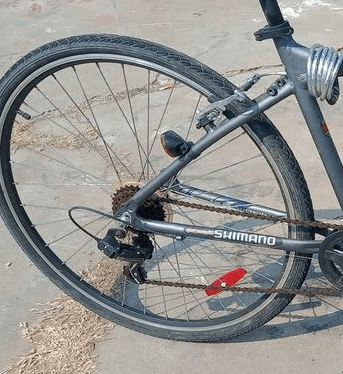 When it comes to the gearing of Infinity Boss Three Hybrid Bike, it offers smooth and easy shifting with its Shimano Tourney 21 speed drivetrain and a Shimano rear derailleur. Whether you're cycling uphill or downhill, this bike can provide an ideal gear for you.
Handlebar Shapes
As it is a hybrid bike, the handlebar shapes are not perfectly designed for any particular purpose. It is fine to use this YL-811 Steel Type 620mm 30 Deg Handlebar during riding in a mountainous area or on a road. However, some customers have complained that they wished the manufacturer would move the handlebar stem a little bit higher. This is because they prefer to ride in a more upright position on the street and the trails, but this handlebar is not comfortable enough.
Brakes
The brakes are normal glossy chrome V-brakes, but instead of stamped steel arms like other bicycles within the $200 price range, they employ alloy arms. That's what makes it more competitive than any other low-priced bike.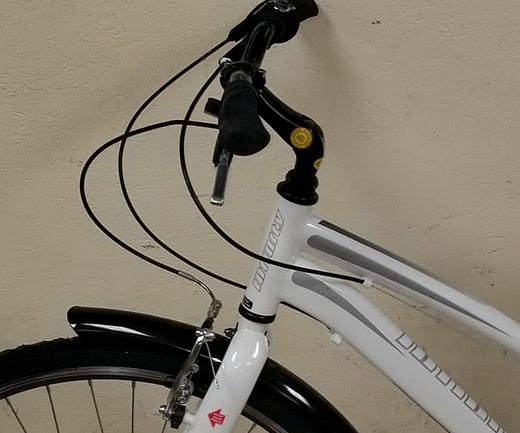 When riding a bike, safety should always be a top priority. You might want to check and replace your bike brake pads from time to time so that your bike's braking system won't fail you just when you need it the most.
Tires
Infinity Boss Three Hybrid Bike's tires are acceptable, similar to what you would be able to find at a Target Schwinn or a Richard's Diamondback hybrid.
Wheels
The wheels look presumably low-cost, but they have pinned alloy rims and appear to be of acceptable quality.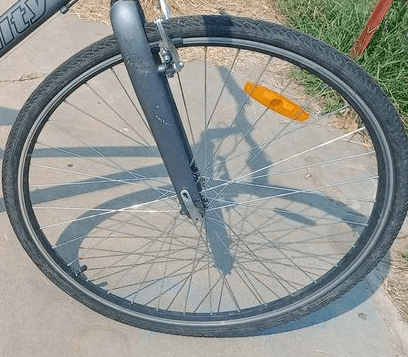 Ensure your infinity boss three hybrid bike's wheel size is correctly measured to fit your riding style. Follow these 4 easy steps to determine the right size for you.
Ability to handle the terrain
It rides quite well on both paved and unpaved terrain. On uneven ground like rocky areas or cracked pavement, the ride stiff a little bit. Because there are no shock absorbers on a hybrid bike, this is to be expected. Overall, this bike fulfills the needs of a suburban dweller. It can handle the terrain fairly well enough, but buyers should be aware that it's not fully functional for any specific kind. You should pay attention when riding this bike.
Bike Size and Fit
There are 7 sizes in total, ranging from 14.5 Inches to 23 – 23.5 Inches. The company also provides a full guide on how to choose the proper size based on leg length measurement in both centimeters and inches. For example, if your leg length is around 30 – 33 inches, you should go for a 21-inch hybrid cycle.
To ensure your Infinity Boss Three Hybrid Bike fits you like a glove, consult our bike size chart. It provides information on the right size of bike for people of all ages, heights, and body types. A properly fitted bike reduces the risk of injury and makes cycling more comfortable.
Manufacturer & warranty information
It's a good point that although there's not so much product information on its website, Infinity Cycle Works provides details about its warranty policy. They offer a two-year guarantee on all new Infinity bicycles and framesets to the original purchaser. Besides, a one-year warranty is provided on the entire bike as well as any suspension-related components.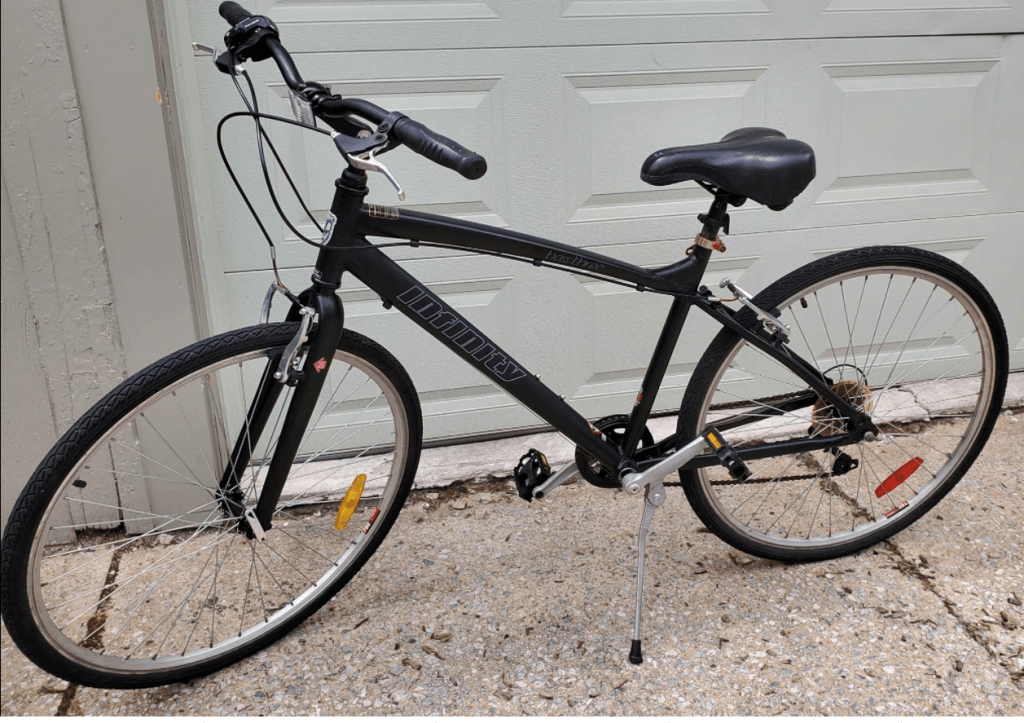 FAQs
Question 1: Is the Infinity Boss Three Hybrid Bike worth it?
It is not easy at all to find a hybrid bike in the $200 price range. Infinity Boss Three Hybrid Bike is a very reasonable one, and it also works well enough for many years to come. It can support riders both on trails and roads.
Question 2: How can I ask for a warranty from the manufacturer?
You can make a guarantee request if you are the original owner of Infinity bikes. In case of any arising problems relating to frames or components within the warranty period, you can contact the manufacturer via email at [email protected]. Or you can go to their website and fill in the warranty form, providing the bike model name and its serial number.
Question 3: Where can I find the serial number of my bike?
On the underside of the Bottom Bracket, look for your serial number. Invert your bike and check the frame between the pedals. This should work for all bikes made by Infinity Cycle Works.
Question 4: Is this Infinity Boss Three Hybrid bike foldable?
Unfortunately no. This bike is lightweight and can also easily be stored or transported. However, it can not be folded. If you want to take this along on your trip, putting it on the top of your car can be a good choice.
Question 5: Is there any recommendation on the perfect height of riders that would fit this bike?
The manufacturer introduces guidelines on size based on riders' leg length. However, it is also suggested by many experts and consumers that this model best fit those from 5'6′′ to 6'1′′ tall.
Question 6: In the case of a flat on the front wheel, which tube size should I replace?
Usually, it relies on the original model tire. It can be a 700c tire with a width of 35 or 38. You should be able to find the precise dimensions on your bike. The tubes come in a variety of sizes, which is convenient.