As many of you might know, Juliana is the sister company of another famous bike brand, Santa Cruz. Juliana specializes in producing high-end mountain bikes that are typically designed and refined for women. The company's major mission is to encourage more women to join in cycling and enjoy the best of mountain biking.
Nowadays, bicycles built especially for women are not uncommon. In fact, a lot of bike brands adjust their men's bikes to make them better suit female riders.
Nevertheless, Juliana Bicycles is much more than that. Instead of just "miniaturizing and coloring" its bicycles, Juliana creates bikes with specific geometry optimized for women's anatomy. What's more, the company tunes the suspension to ensure that it works well under more lightweight loads since female riders usually weigh 30 pounds less than male riders on average.
So, in this article, let's learn about Julinana's history of the establishment, the brand's technology that makes incredible bikes for women, and also some of the most popular models among different ranges.
For more good bike brands, please see this article about the most popular bicycles in the world.
Overview of Juliana Bike Company
Juliana builds superior, race-ready, high-end carbon mountain bikes. Typically, these bikes have been tested over and over again in different top-level races by some of the most successful female riders all over the world.

History of Juliana Bike Company
Back in 1999, Juliana "Juli" Furtado, one of the best mountain riders in history, established Juliana Bicycles.
As lots of you might know, the 1980s and 1990s were considered the "golden years of mountain biking". However, most bikes were often manufactured and sold to men. It was Juli's opening move that changed the situation by developing the very first mountain bike typically geared towards female riders in partnership with Santa Cruz.
Then, in 2013, Juliana completely merged with Santa Cruz as a sister company. However, both brands are currently located in Santa Cruz, California. And of course, they share manufacturing and Research and Development facilities overseas.
Even though almost all Juliana bikes reflect Santa Cruz's products, Juliana's models still feature several unique things. For example, they vary in size, saddles, suspension tuning, grips, and colors.
In addition, Juliana female bicycles also borrow innovative technologies from Santa Cruz. Therefore, you will find Juliana Bicycles boasting themselves with high-end carbon materials, light carbon rims, cutting-edge Virtual Pivot Point suspension.
Not only producing premium bikes for women, but Juliana also does a crucial job when it comes to authorizing the female mountain biking community by sponsoring athletes, ambassadors, adventures, and elite racing teams. Some of the most prominent names here are Anka Martin, Rachael Walker, Brooklyn Bell, Aneela McKenna, etc.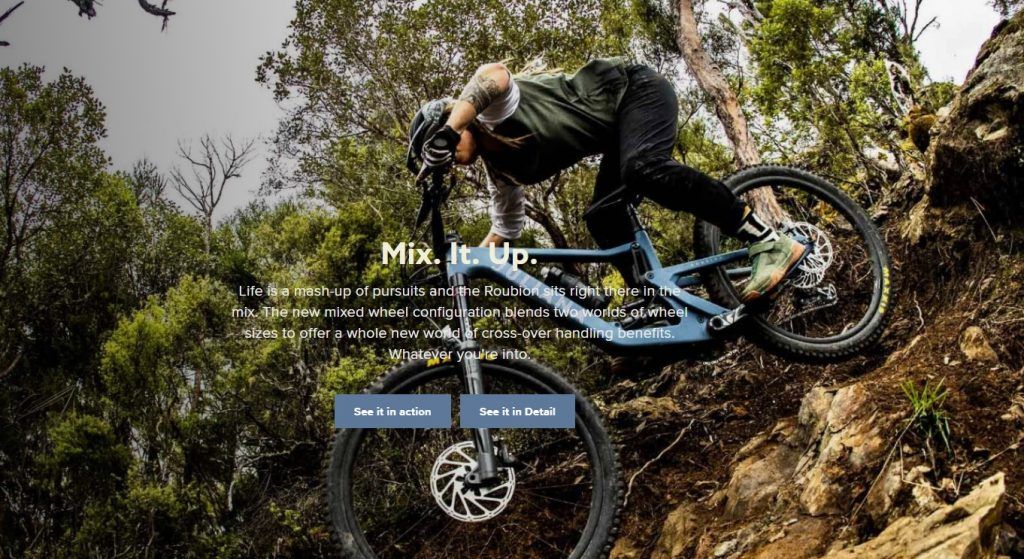 Where Are Juliana Bikes Made?
Lots of you might know that Santa Cruz is the parent company of Juliana. Both bike brands are currently based in Santa Cruz, California. They also use the same Research and Development and manufacturing facilities in foreign countries. Accordingly, the frame construction is done in Taiwan and China. However, all of their bikes are assembled in Santa Cruz and built based on customers' specifications before being delivered.
The Technologies of Juliana Bikes
When it comes to technology, Juliana is proud of cutting-edge technologies from Santa Cruz. In particular, the brand has adopted one of the most innovative technologies from its sister company, the Virtual Pivot Point suspension system for their bicycles.
The brand has used the Virtual Pivot Point since 2001. TBecause this suspension system is typically designed to be supported by manufacturers for a long time. Therefore, when you need to maintain your bike, there is nothing that makes you feel the system is outdated. What's more, the Virtual Pivot Point system can be optimized for specific riders to ensure the best riding experience.
For example, if you love to ride a shorter travel bicycle, such as a cross-country bike, you can also take advantage of the Virtual Pivot Point to ensure every watt gets delivered to the bicycle, instead of wasting energy on impacts.

Performance of Juliana Bikes
Nowadays, it is not uncommon to see various women-specific bikes. Actually, lots of bike brands in the world adjust their popular men's bikes to make them more suitable for women.
Having said that, Juliana Bicycles offers completely different models when compared to some other competitors. The company creates bikes with geometry that is improved to better suit female riders' anatomy instead of just "miniaturizing and coloring" its bikes. And this is one of the reasons making Juliana bicycles perform well on most trails.
In addition, the company adjusted the suspension system to make sure it performs well under more lightweight loads since male riders usually weigh 30 pounds more than female ones.
Another great thing about Juliana bikes is their proven performance. The brand produces high-performance, race-ready, and superior carbon mountain bicycles. Typically, these bikes have been all tested over and over again by different famous female riders over the world in various top-level races.
Juliana Bike Categories
Juliana Bicycles is one of the first pioneer bike brands, producing the very first mountain bike for female riders in the late 1990s. Since then, the brand has branched out its bike category to gravel range and other suspension mountain bicycles. It could be said that Juliana Bicycles is a quite expensive bike brand that manufactures high-end bikes that might be considered a long-lasting investment.
Here are the major Juliana bike ranges that you can find on the market.
Mountain Bikes
Gravel/Cyclocross Bikes
Furtado
Maverick
Joplin
Wilder
Roubion
Quincy

Most Popular Juliana Bikes
Juliana Bicycles is most well known for mountain bikes. However, there is currently a range of different bikes, such as gravel, cross country, and trail bikes. In addition, their high-end, race-ready models are tested by various successful female riders in high-level races before officially being launched. And here are some of the most popular models from Juliana Bicycles.
Juliana Furtado
Juliana Maverick
Juliana Joplin
Juliana Wilder
Juliana Roubion
Juliana Quincy
Juliana Bike Price Range
As you might know, Juliana produces high-end bicycles that are specific for women. In general, their mountain bikes cost between $3,000 and $9,000+, depending on the version and build quality. The cheapest bikes have an aluminum frame and mid-range components, while the most expensive models have a Carbon CC frame and are equipped with high-end components, such as SRAM groupsets. Juliana's bikes are expensive, but they are really worth it.
Juliana Furtado: $5,049 – $9,849
Juliana Maverick: $4,949 – $8,049
Juliana Joplin: $3,349 – $7,899
Juliana Wilder: $4,599 – $9,449
Juliana Roubion: $5,049 – $9,849
Juliana Quincy: $4,299 – $4,799
Are Juliana Bikes Any Good?
In fact, Juliana produces some of the best women-specific off-road bikes in the industry. So, it could be said that Juliana's bikes are very of great quality. The brand also offers different high-end carbon trail models that are specially made for serious amateur riding and pro competitions. All of their bikes are manufactured with women riders in mind and also tested and enhanced by some of the best female racers in the world.
Juliana Vs. Liv Bikes
Juliana Bike Review
Just similar to its big sister Santa Cruz, Juliana Bicycles only concentrates on manufacturing high-end bicycles for off-road riding. As a result, its lineup is relatively small, which includes only enduro, cross country, and trail full-suspension mountain bikes, as well as only one cyclocross and gravel model with 700c/650b wheels.
Juliana Bicycles currently provides the market with only six models in total, Furtado (27.5″), Joplin (29″), Maverick (29″), Quincy (700c/650b), Roubion (Mullet), and Wilder (29″).
Almost all of these bikes are made of lightweight carbon frames (except for some models coming with aluminum frames). They are also equipped with mid-range or premium components from famous brands, such as SRAM and Shimano. And the main purpose is to offer the best performance.
One of the most worth-noting features about Juliana bikes is that all full-suspension bicycles are integrated with a state-of-the-art Virtual Pivot Point suspension platform from Santa Cruz. This system has been used in those bikes since 2001 as it really works.
It is typically optimized to deliver the proper balance between trail-crushing power and pedaling capability. What's more, this suspension system can significantly remove power loss while you are riding. More importantly, it works with most ordinary shocks.
Another wonderful thing about Juliana bicycles is that the brand offers a lifetime warranty with their bikes and bearings. Accordingly, you can get free bearing replacements whenever you want.
The only thing to consider is that Juliana bikes are not really budget-friendly, with a price tag of up to $10,000, spending on the version and build. But, I have to say that they are actually worth it.
Pros
Equipped with cutting-edge suspension technologies
Deliver amazing riding experience on rough terrains
Offer some of the best mountain bikes in the industry
High-end components and premium build for durability
Cons
Not available in various disciplines
Liv Bike Review
Like Juliana, Liv bikes is very famous for producing great bikes solely made for women. However, Liv provides more bikes of different categories than Juliana, ranging from road to cross and gravel, mountain, electric bikes, and even kids bikes.
If Juliana specializes in high-end mountain bikes, Liv seems to be best well-known for aero road bikes, with the legendary Liv Enviliv Advanced Pro 2 Disc.
It is true that the Liv Enviliv Advanced Pro 2 Disc entirely beats any other models coming from the same aero range and won the Editor's Choice. What's more, it is even seen as the most prominent aero road bike for women that almost no model can be comparable.
You can see that Juliana mountain bikes are paired with a well-known, advanced Virtual Pivot Point suspension system, then Liv bikes are also equipped with a groundbreaking suspension fork and Advanced Grade Composite carbon frame.
This perfect blend makes Liv bikes incredible compliance, sturdiness, and lightweight. These are also exactly what you will feel when riding a Liv bike. In addition, it brings a very comfortable feeling after a long terrain.
Pros
Offer excellent maneuverability and handling
Bring an incredibly comfy feeling after a long ride
Aero road bikes are specially built for maximum speed
Provides more bike ranges than Juliana
Deliver powerful stopping in most conditions
Great climbing ability and very responsive
Cons
It might be a little bit cramped for riders with long bodies
Juliana Trail Bikes
Trail bicycles are really excellent all-around mountain bikes. They are equipped with a great suspension system to help you get through the hard things, allowing you to climb up hills without weighing you down like some heavier bicycles do.
There are three major models in the Juliana trail bike range, including Furtado, Maverick, and Roubion. Each model is integrated with a various amount of suspension travel and/or wheel and tire size. However, they are all versatile to ride on different trails.
Another great thing is that Juliana offers a mix of aluminum and carbon frame options. Therefore, you can get a higher chance of buying a model within your budget.
Juliana Furtado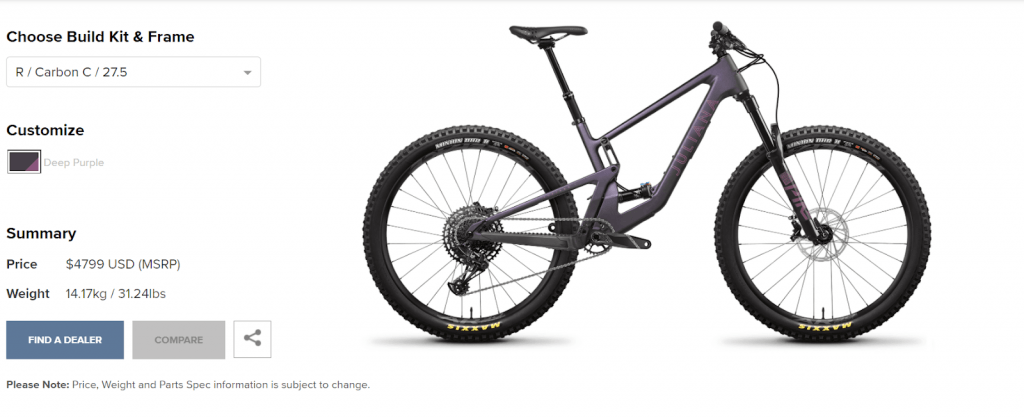 The Juliana Furtado, named after the founder of Juliana Bicycles, is a full-suspension bike designed for women and used for Trail and XC.
Equipped with 27.5-inch wheels and Carbon CC or Carbon C frame, Juliana Furtado is exceptionally agile and flexible on different trails. In addition, the model offers a great amount of suspension travel, 140mm at the front and 130mm at the rear. And this might be the reason why it is put into the Trail discipline.
If you fall in love with this incredible model, you can easily find it for sale globally directly from Juliana Bicycles' official website at authorized dealers.
Juliana Roubion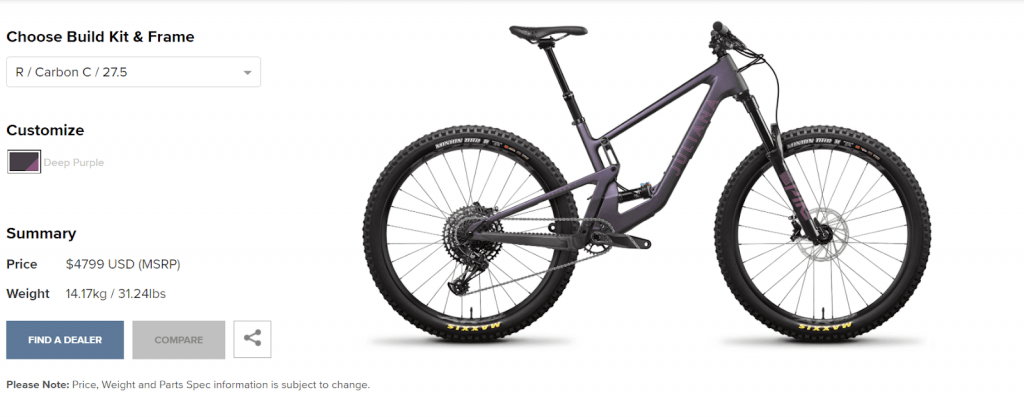 If you notice, almost every model at Juliana is named after a certain event, and this is true to the Juliana Roubion. This model gets its name based on a stage in the Trans-Provence race.
Hitting the definition of the Trail classification, the Juliana Roubion is equipped with 150 mm of rear travel and 160 mm front. Therefore, you can use the bike for various purposes, such as on an Enduro circuit like at the bike park or exploring the trail all day.
Equipped with 25.5-inch wheels, this model offers incredibly agile handling. What's more, it comes in two choices of carbon and aluminum frames, making it better suited to different budgets.
The brand uses the advanced Virtual Pivot Point suspension system from its sister company, Santa Cruz. Therefore, you will not need to maintain the bike regularly thanks to the reduction of the added linkages in the back triangle.
Juliana Maverick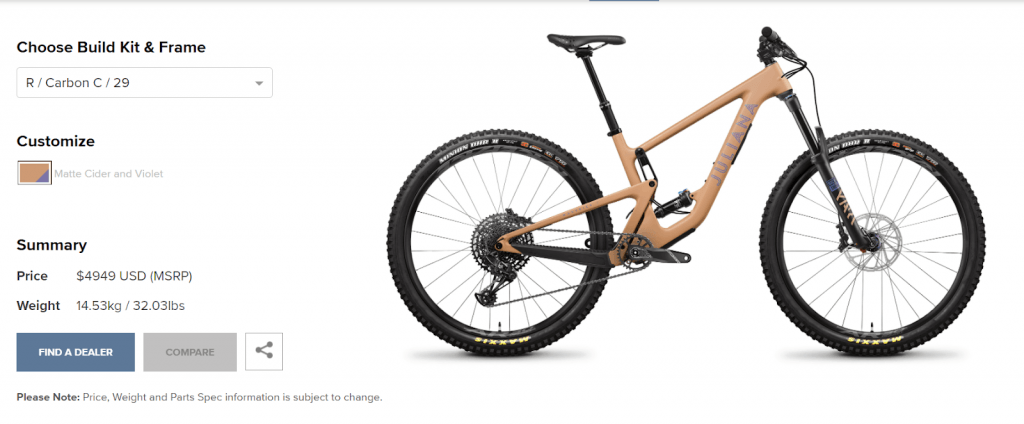 A great all-mountain/trail bike from Juliana Bicycle is the Juliana Maverick 29er. As its name suggests, the model is built on 29-inch wheels. It is also equipped with Santa Cruz's Virtual Pivot Point assisted suspension system with 140mm of rear travel and 150mm front.
This allows you to adjust the bumps of trails and get the most out of the power transfer to the pedals, leaving no waste. In addition, the system provides you with a more comfortable and smoother ride. At the same time, the 29″ wheels let you roll over big obstacles in your path more easily.
What's more, Juliana offers room in the bike's front triangle so that you can put your water bottle in. This is also because the brand recognizes that not everyone purchases a bike for racings. So, whether you are riding all day or an EWS rider, the Juliana Maverick will absolutely fit your riding styles and needs.
Juliana Cross-Country Bikes
As many of you might all know, Cross-country or XC bikes are typically made for speed. Of course, this also applies to Juliana's cross-country bikes. But the company offers only one model, the Joplin. It features 29-inch wheels and also includes space for a water bottle, even in the model of XS size. This shows exactly what Juliana has done in designing specific women's bikes with smaller riders in mind.
Juliana Joplin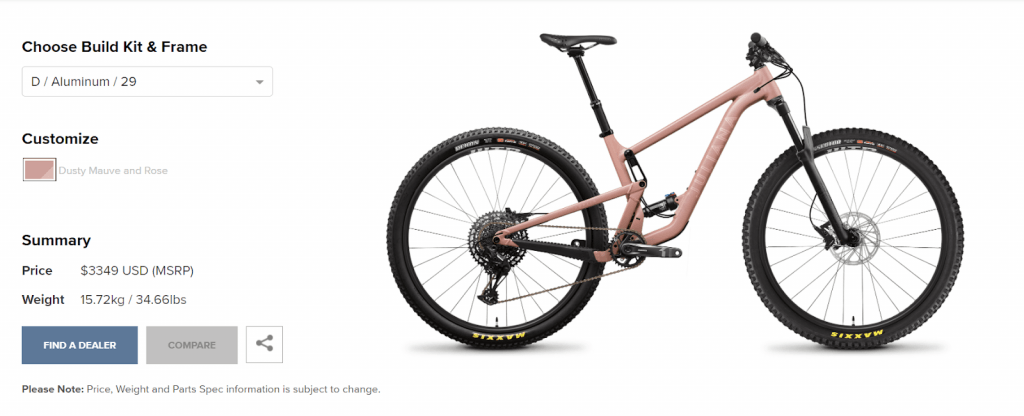 This model is equipped with 120mm of rear suspension travel and 1300m front. It is also assisted by Santa Cruz's Virtual Pivot Point suspension platform. This system will reduce collisions and eliminate wasted power by offering a flexible pedaling platform.
There are three options of the frame, including Aluminum compositions, Carbon CC, and Carbon C. Therefore, you can easily pick one model that suits your pocket. The large 29-inch wheels are perfect for fast-rolling races and technical trails and deal with big obstacles better than 27.5-inch wheels.
You can find Juliana Jolin for sale all over the world through the brand's approved retailers or directly from its website online. Read our latest guide about safety commuter bikes for women.
Juliana Gravel & Cyclocross Bikes
Gravel and cyclocross bikes are one of the most versatile mountain bikes. They can be used on different terrains, such as sand, mud, and grass. What's more, you can ride them on both off-road or on-road as a road bike. The distinct features of these bikes are the powerful disc brakes and large tires to handle obstacles off-road.
Like the cross-country range, Juliana offers only one model in this category, the Quincy. The brand has spent lots of time researching, developing, and designing the Quincy to make it the most versatile bike possible. As a result, it is not only comfortable but also performs well on various trails, making it fitting for a wider range of riders.
Juliana Quincy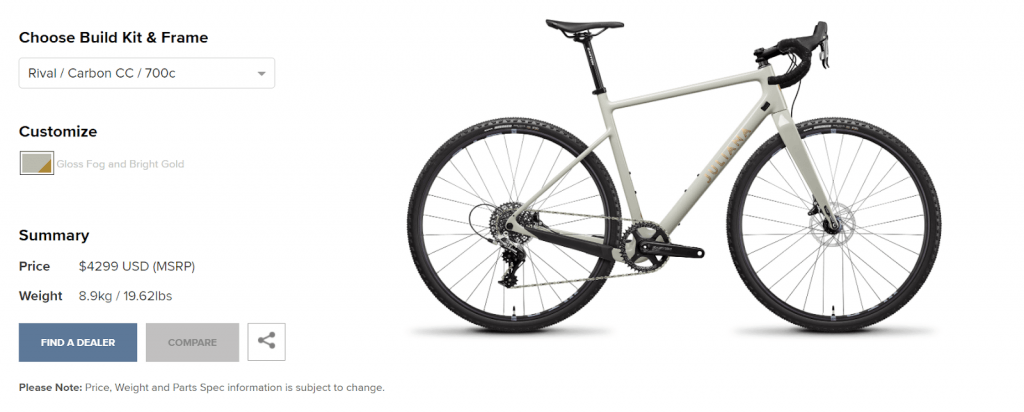 In more detail, the Juliana Quincy is equipped with powerful hydraulic disc brakes for optimal stopping power, regardless of weather conditions. This model also comes in two choices of wheel sizes, 650b and 700c. So, you can choose one size that fits your trail.
Another amazing thing demonstrating that Juliana makes bikes for women is the availability of narrower handlebars. Hence, they can accommodate the geometry of the bikes with smaller frames or adjust the bicycles to smaller riders who prefer more flexible control and handling.
Conclusion
Juliana Bicycles is a pioneering brand founded on a revolutionary idea in 1999, which was authorizing female riders and offering the right bikes and equipment for women racers so that they can make the most of the bike to reach their complete trail-riding potential.
Since Juliana aims at the high-end mountain bike segments, their bikes are not cheap. But if you don't mind the higher price tags and want to experience the real mountain biking feeling, groundbreaking Carbon CC frames, innovative Virtual Pivot Point suspension system, and astonishing designs, just go for it! You will definitely be pleased.