Welcome to the mystical world of Elden Ring, where powerful magic and mythical creatures are commonplace. Among the many fascinating characters that inhabit this realm are 15 enchanting women who capture the imagination with their beauty, strength, and magical abilities. From fierce warriors to cunning sorceresses, these women play a pivotal role in the story of Elden Ring, and their presence adds depth and complexity to the game's lore. In this article, we'll take a closer look at these captivating characters and explore what makes them so compelling.
Ranni – The Witch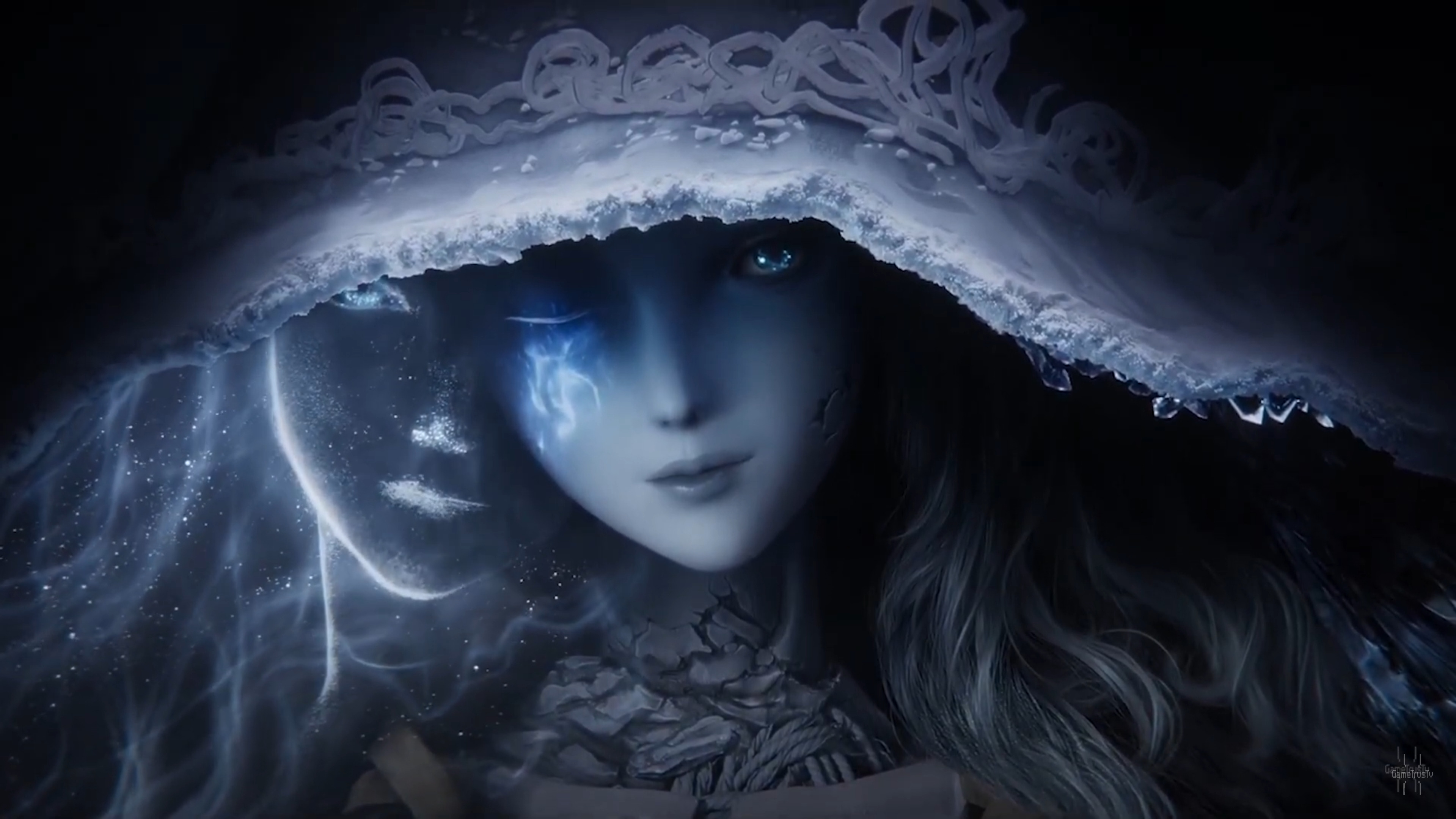 Ranni the Witch is a mysterious ghostly woman seemingly inhabiting a body of a doll with four arms. She is in fact one of the demigods, and is one of the main characters in Elden Ring. Originally known as Lunar Princess Ranni, she was the daughter of Radagon, a champion of the Golden Order, and Queen Rennala, head of both the Carian Royal Family and the Academy of Raya Lucaria.
Ranni is a witch who possesses a mystical power to call forth a spectral steed named Torrent. She is described as being wise and untrusting, likely due to the fact that she has had to navigate a world full of liars and cheats. She is also cunning, having stolen a fragment of the Rune of Death and used it to forge the godslaying black knives. Ranni appears to be a bit of an enigma, as she sometimes comes across as being guarded and reluctant to share information with others. However, she is also capable of being quite friendly, as demonstrated by her willingness to allow the Tarnished to enter her service and join her in the search for the hidden treasure of Nokron. Overall, Ranni seems to be a complex and intriguing character with a range of different facets to her personality.
Malenia – Goddess of Rot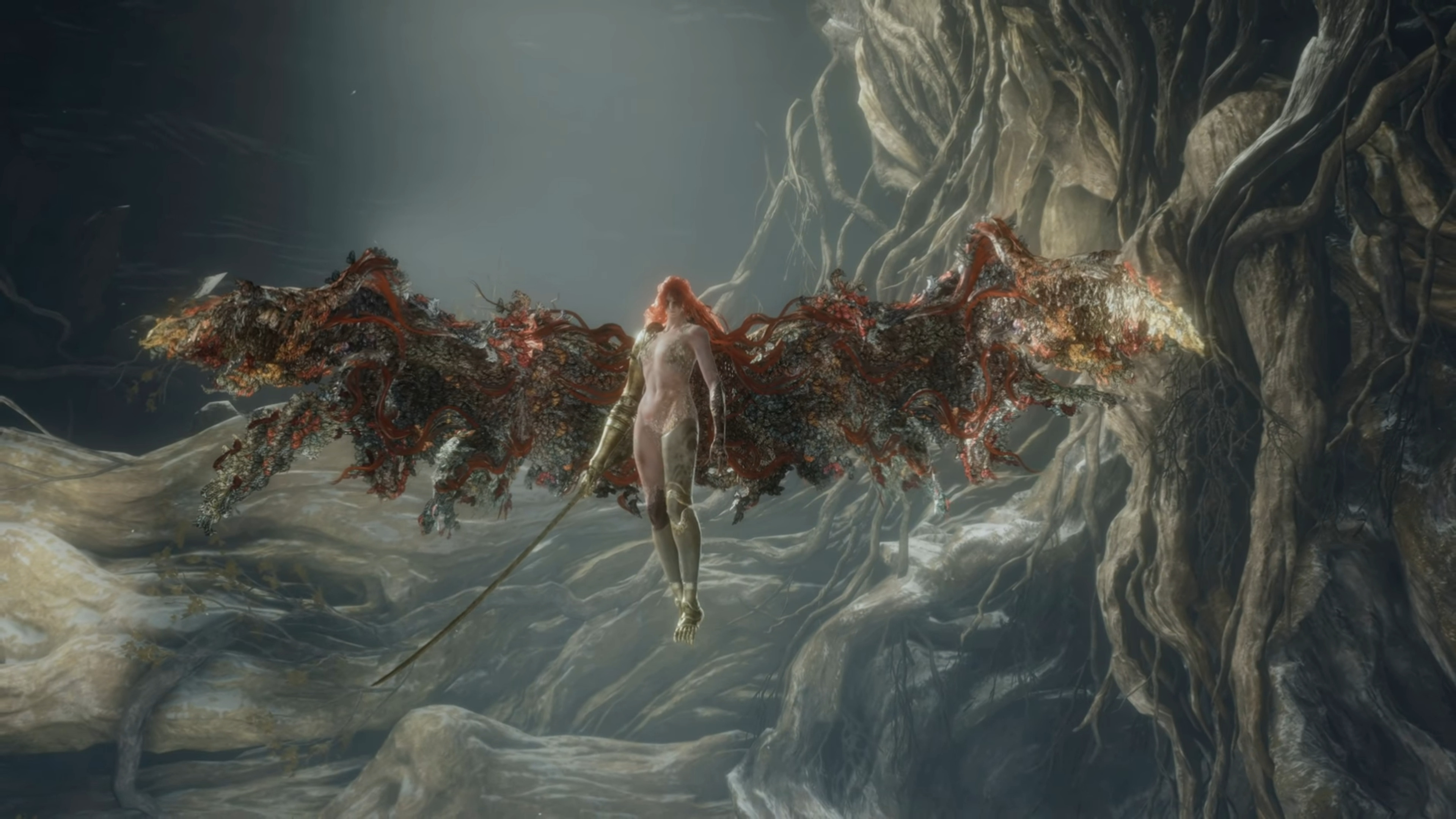 | | |
| --- | --- |
| Where | Elphael, Brace of the Haligtree |
| Drop | 480,000 Runes, Malenia's Great Rune, Remembrance of the Rot Goddess |
| Health | 33,251 |
| Strong on | Poison, Rot and Holy |
| Weak on | Fire, Frostbite, Hemorrhage |
Malenia, Blade of Miquella and Malenia, Goddess of Rot is a two-phase demigod boss in Elden Ring. She's the twin of Miquella, the most powerful of the Empyreans, and gained renown for her legendary battle against Starscourge Radahn during the Shattering, in which she unleashed the power of the Scarlet Rot and reduced Caelid to ruins.
Malenia was a powerful and skilled warrior, possessing immense strength, speed, and dexterity. Her fighting style was heavily reliant on her dual-wielding technique, wielding a pair of curved swords that she could channel with dark energy. She could also use her golden prosthetic limbs to deliver devastating blows, and her wings made of butterflies gave her the ability to fly and attack from above.
Malenia's most notable ability was her use of the Scarlet Rot, which she could harness to increase her power and heal her wounds. This came at a cost, however, as the rot also slowly consumed her body, causing cracks to appear and spreading to anyone she came into contact with. She also had the power to summon a swarm of butterflies that would attack her enemies, and could create a deadly shockwave by slamming her swords into the ground.
Boss Fight As an optional boss fight in Elden Ring, Malenia would be encountered in a hidden area accessible only through a difficult path. Upon reaching her, players would engage in a high-intensity battle with the Blade of Miquella, who would utilize all of her abilities to defeat the player.
Players would need to avoid Malenia's deadly attacks, which could deal significant damage and inflict the Scarlet Rot status effect. To win the fight, players would need to carefully time their dodges and attacks, exploiting Malenia's weaknesses to bring her down.
Upon defeating Malenia, players would receive a powerful weapon imbued with the essence of the Blade of Miquella, as well as a unique item that would allow them to access a hidden area containing rare loot and powerful enemies.
Melina – Maiden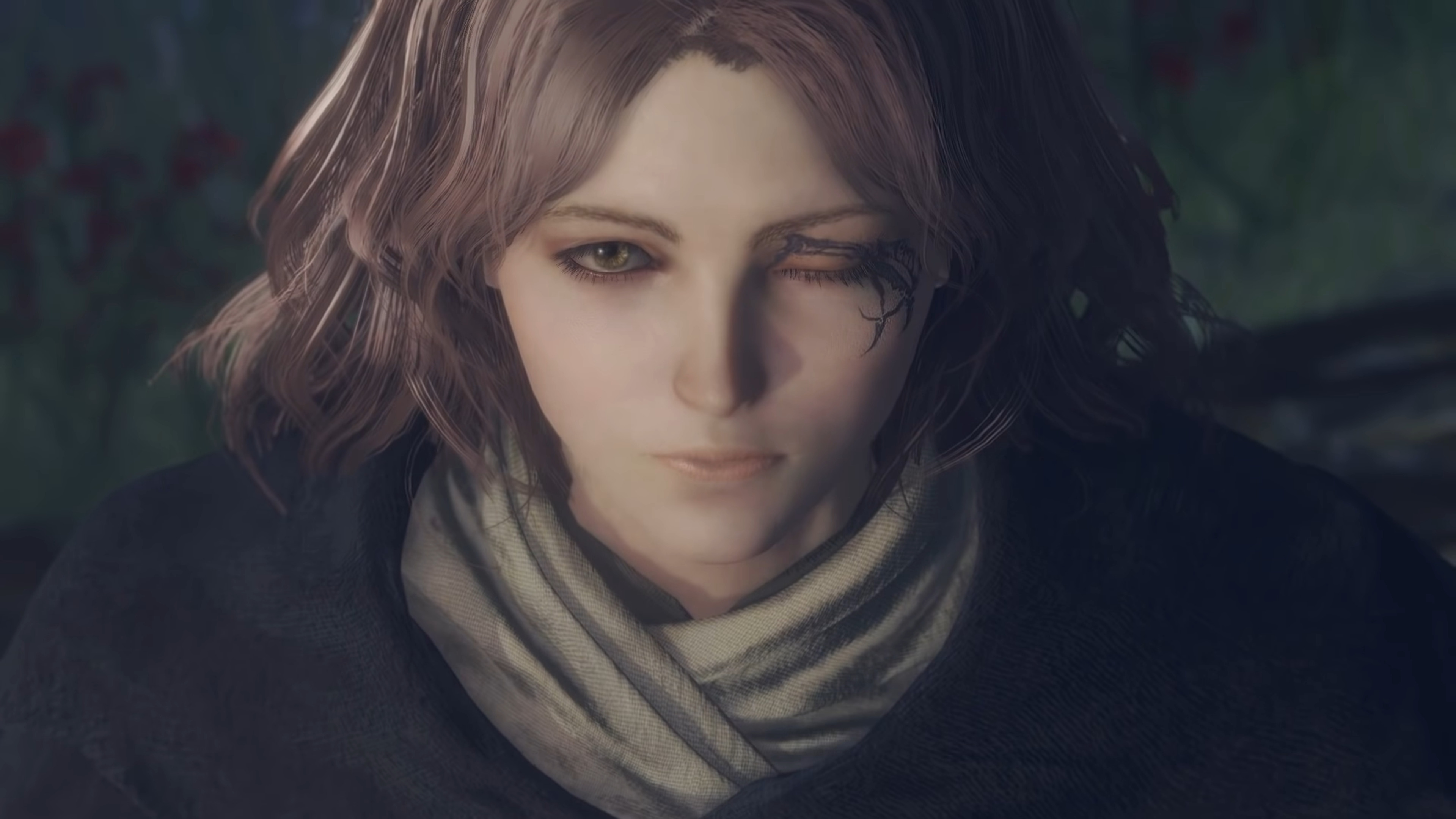 Melina is an NPC in Elden Ring who acts as a guide to the player throughout the game's narrative. She is a mysterious young lady seen in an opening cutscene with Torrent, the Spirit Steed, and first met at the beginning of the Tarnished's journey. Melina wears a black robe and approaches players while they are resting at different Sites of Grace. She offers guidance throughout the game, grants blessings, and provides quests.
Melina is searching for her purpose given to her by her mother inside the Erdtree long ago, as she is burned and bodyless. She offers spoken echoes of Queen Marika's words at different sites of grace, which provide guidance and insight into the lore of the game. Melina also talks about Boc, the seamster, and his sadness at missing his mother.
Rennala – Queen of The Full Moon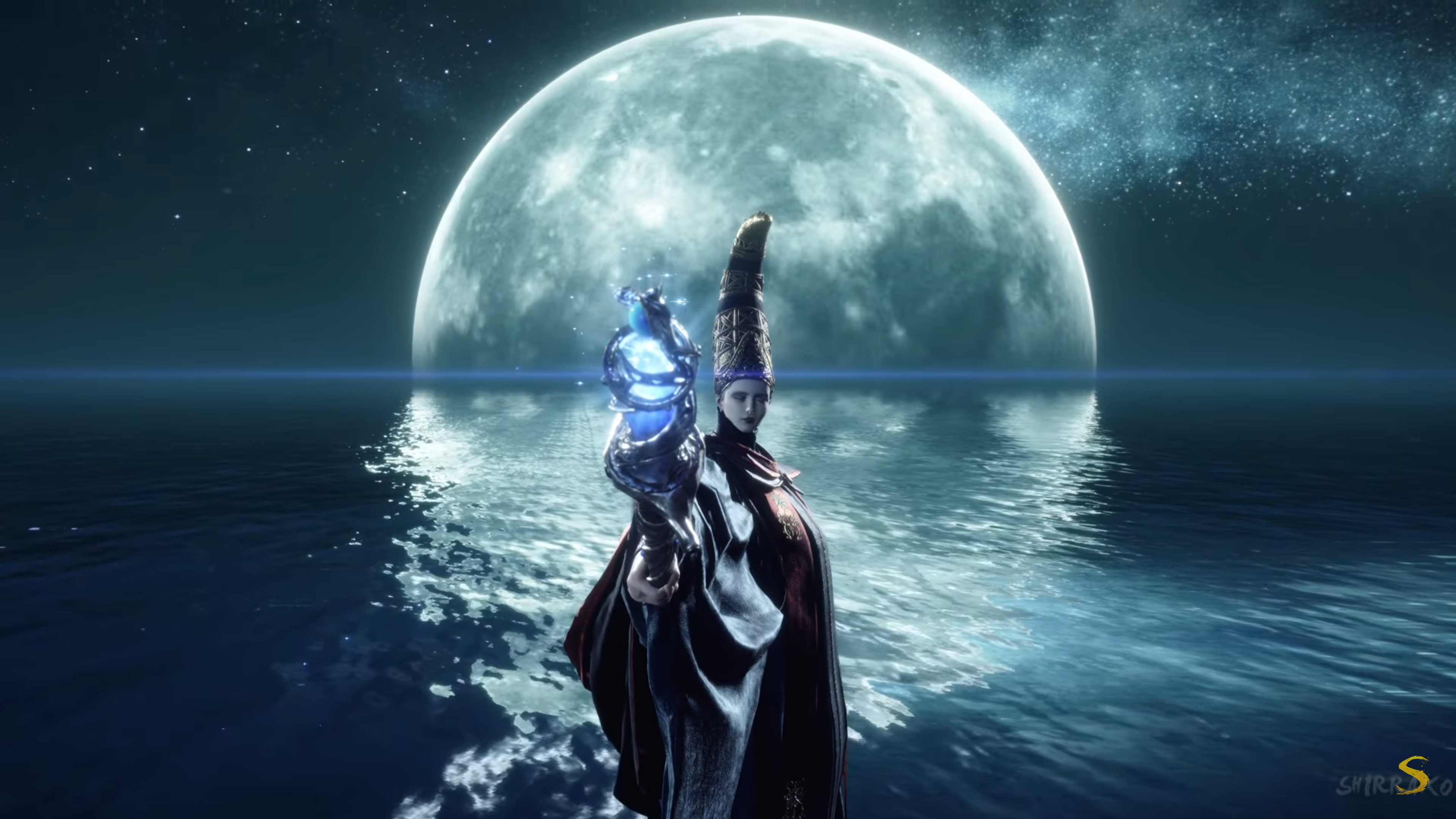 Rennala was a Lunar Queen, head of the Carian Royal Family, and the governor of the Academy of Raya Lucaria, which is located in the mist-laden lands of Liurnia. Though Rennala herself was no demigod, she possessed one of the Great Runes, which was gifted to her by her beloved Radagon in the form of an amber egg. She is a powerful sorceress and an optional boss in Elden Ring. Upon defeat, she will drop 40,000 runes and the Remembrance of the Full Moon.
She was a prominent figure in the world of the game and played a key role in its history. It is interesting that she was both a Lunar Queen and a governor of the Academy of Raya Lucaria, which suggests that she was both a political and educational leader. Her possession of one of the Great Runes, gifted to her by her husband Radagon, also highlights her importance and power. However, her tragic downfall at the hands of her own students and subsequent descent into madness and the grim art of reincarnation adds a layer of complexity to her character. It is also intriguing that she is the only boss that can be interacted with as an NPC later in the game, allowing players to change their appearance or reallocate their stats using her Rebirth magic.
Sorceress Sellen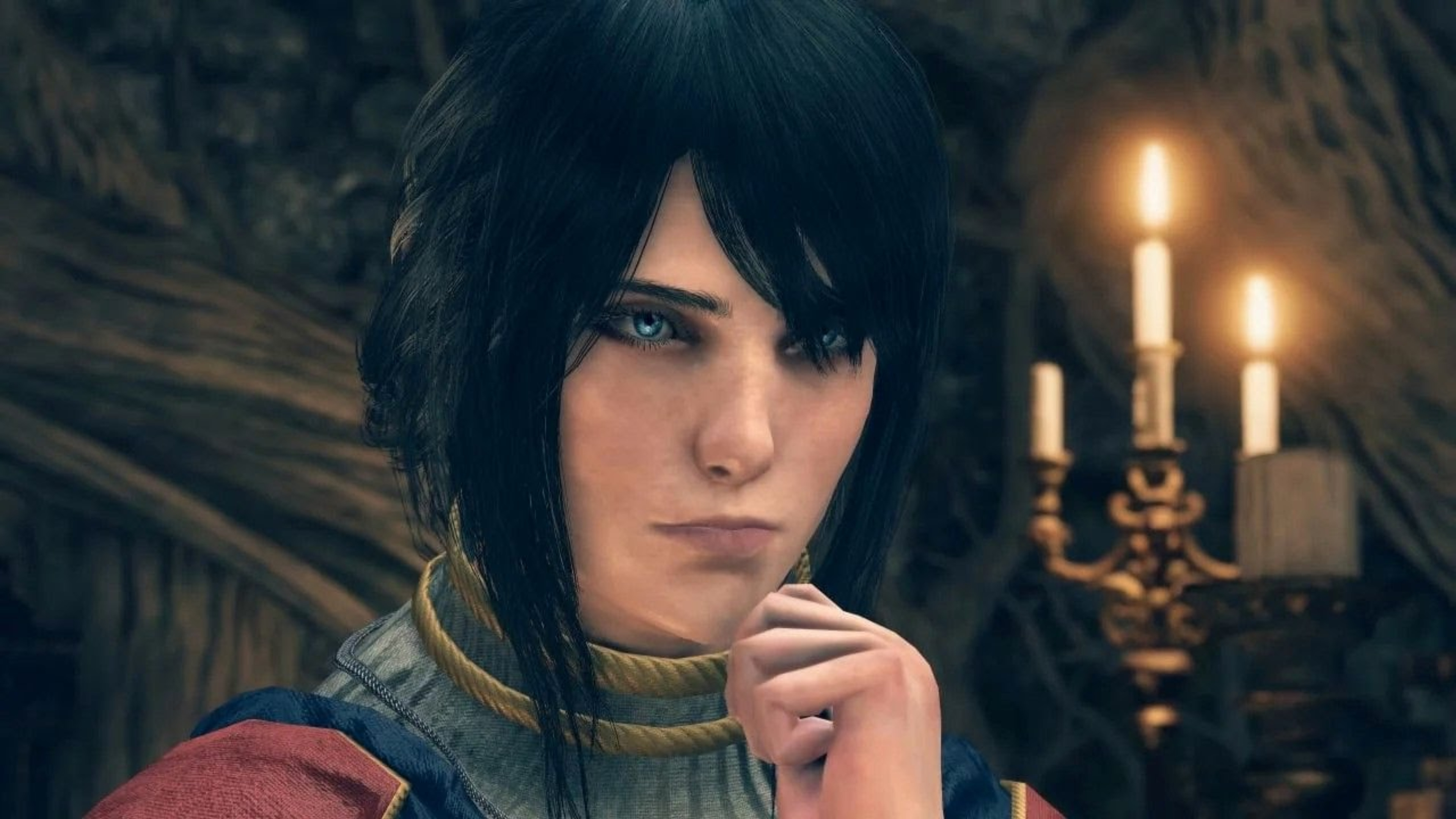 Sorceress Sellen is an NPC in Elden Ring. She can be found inside the Waypoint Ruins, far east from where you first arrive in Limgrave. She can teach you Sorceries and is a merchant. If you accept to be her student, Sellen will become a merchant that teaches Spells. Throughout her quest, Tarnished can find her in multiple locations, and she will lead them to her real body when they finally earn her trust.
Sorceress Sellen seems to have an interesting questline in Elden Ring. It involves finding and defeating various enemies, discovering illusions and hidden areas, and ultimately making a choice that will determine her fate and the rewards the player will receive.
Her stock includes various powerful items such as Glintstone Pebble, Glintstone Stars, Glintstone Arc, Crystal Barrage, Scholar's Armament, and Scholar's Shield. These items can be purchased using Runes, a currency in Elden Ring.
Her quest begins by finding the glintstone sorcerer Azur at the Hermit Village on Mt. Gelmir. From there, the player needs to find the sorcerer Lusat in the Sellia Hideaway cave and eliminate Starscourge Radahn to get to the next step of the quest.
Sellen reveals that the version of her in the Waypoint Ruins is an illusion, and her real body is being held in the Witchbane Ruins, Weeping Peninsula. The player needs to free her from there to proceed with the quest. Once Sellen is freed and given a new body, the player needs to choose between helping her against Witch-Hunter Jerren or killing her together with Jerren.
Assisting Sellen rewards the player with Jerren's armor set, a Glintstone Kris, and a new spell called Shard Spiral. On the other hand, killing Sellen with Jerren grants the player Sellen's Bell Bearing, the Witch's Glintstone Crown, and an Ancient Dragon Smithing Stone.
If the player chooses to kill Jerren and Sellen takes Rennala's place in the library, Sellen will eventually turn into a semi-responsive School of Graven Mages/Arcane Sphere of Faces, and will still sell spells in this state. Next to sphere-Sellen will be the Witch's Glintstone Crown.
Queen Marika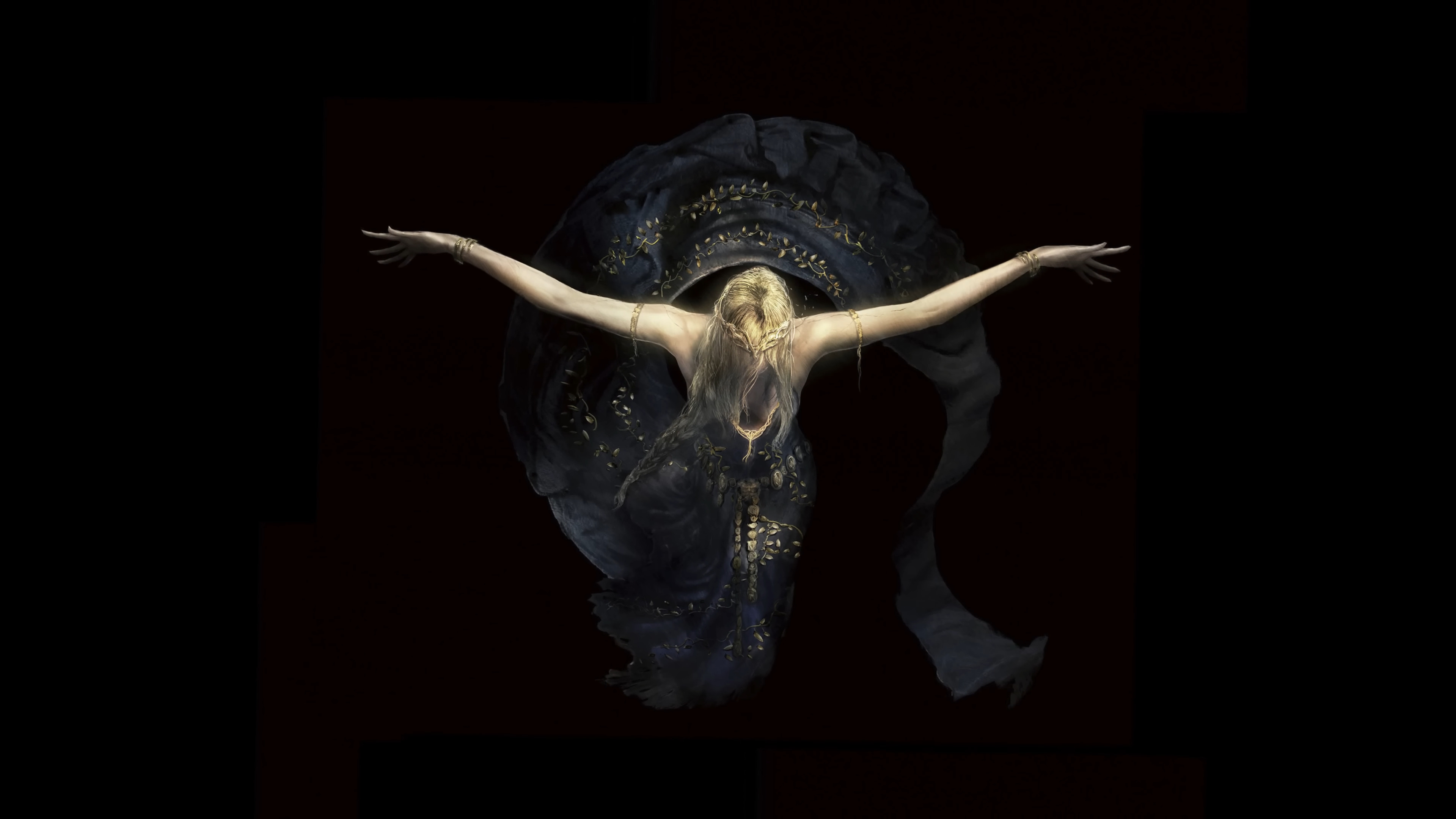 Hi! Queen Marika is a background character in Elden Ring. Queen Marika the Eternal is the current ruler of the Lands Between, and the one who shattered the Elden Ring. She has many powerful Demigod offspring, who seek the Elden Ring's remaining power. Much is speculated about her role in Elden Ring, but little is known for sure.
Radagon and Marika revealed to the Tarnished that the Elden Ring could be reformed with the power of the Great Runes. However, the Great Runes were in the possession of their demigod children, who had become locked in an endless war for dominance over the Lands Between.
The Tarnished set out on a quest to retrieve the Great Runes and reform the Elden Ring. They journeyed through different realms and defeated powerful enemies to collect the Great Runes. Meanwhile, Marika and Radagon worked to keep the Elden Beast and the Greater Will at bay, who sought to prevent the Elden Ring's restoration.
Eventually, the Tarnished were able to collect all the Great Runes and bring them to Marika and Radagon. Together, they reformed the Elden Ring and brought an end to the endless conflict between their demigod children.
With the Elden Ring restored, Marika returned to her place as the divine sovereign of the Lands Between, and her demigod children pledged their loyalty to her. The Tarnished, having fulfilled their destiny, left the Lands Between, but their actions would be remembered as the ones who saved the world from eternal war and darkness.
Millicent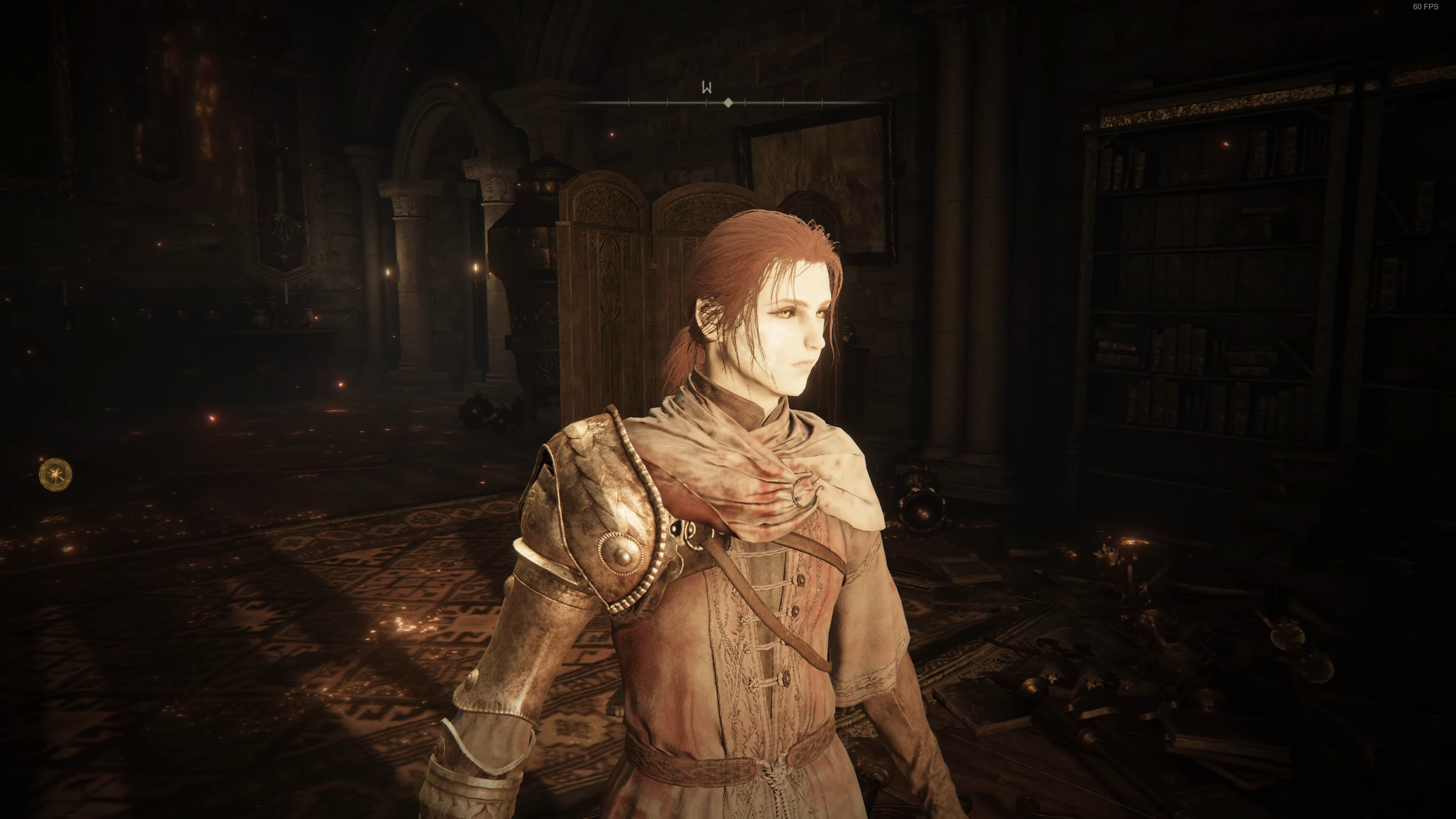 Millicent is an NPC in Elden Ring who has a quest line that players can complete in order to gain some valuable items. She is a young woman who has an incurable case of Scarlet Rot. Players are sent on a journey by Gowry, another NPC in the game, to help cure Millicent of her Scarlet Rot. Progress through her questline in order to unlock her as an NPC Summon Cooperator during specific boss battles. Millicent can also be encountered as an NPC Invader. She will invade the player in the Swamp of Aeonia at all times of the day. She has light armor and appears to use a Shamshir, but with the Waterfowl Dance skill, the same as Malenia.
Fia – deathbed companion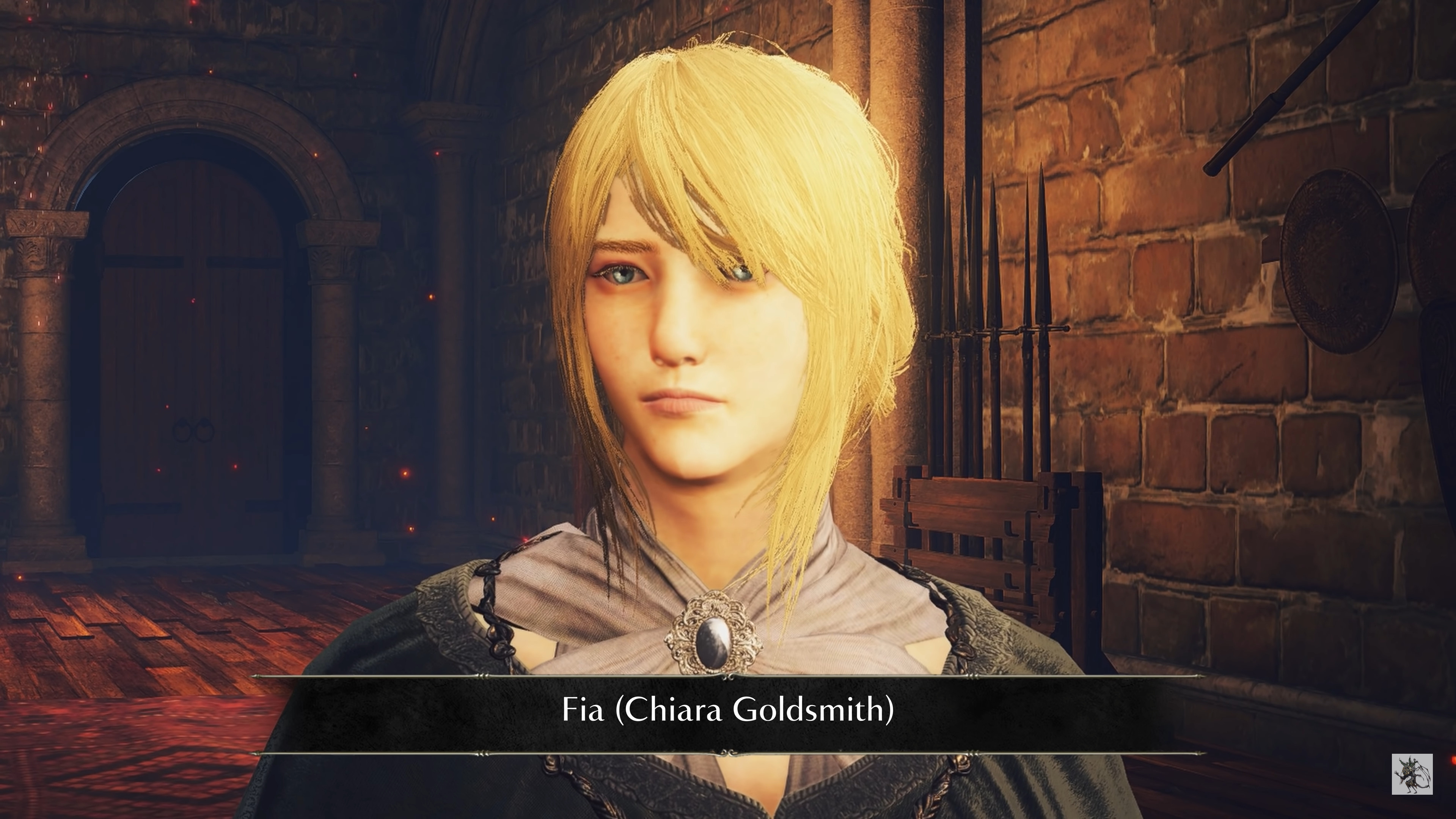 Fia is a character in the video game Elden Ring. She is also known as the Deathbed Companion, because she has the ability to receive the warmth and vigor from champions and use it to revive an exalted noble. She is involved in a long and complex questline that can lead to one of the game's endings. She is also connected to Godwyn, the Prince of Death, and Those Who Live in Death, a group of demigods who were killed by the Golden Order.
Roderika – Spirit Tuner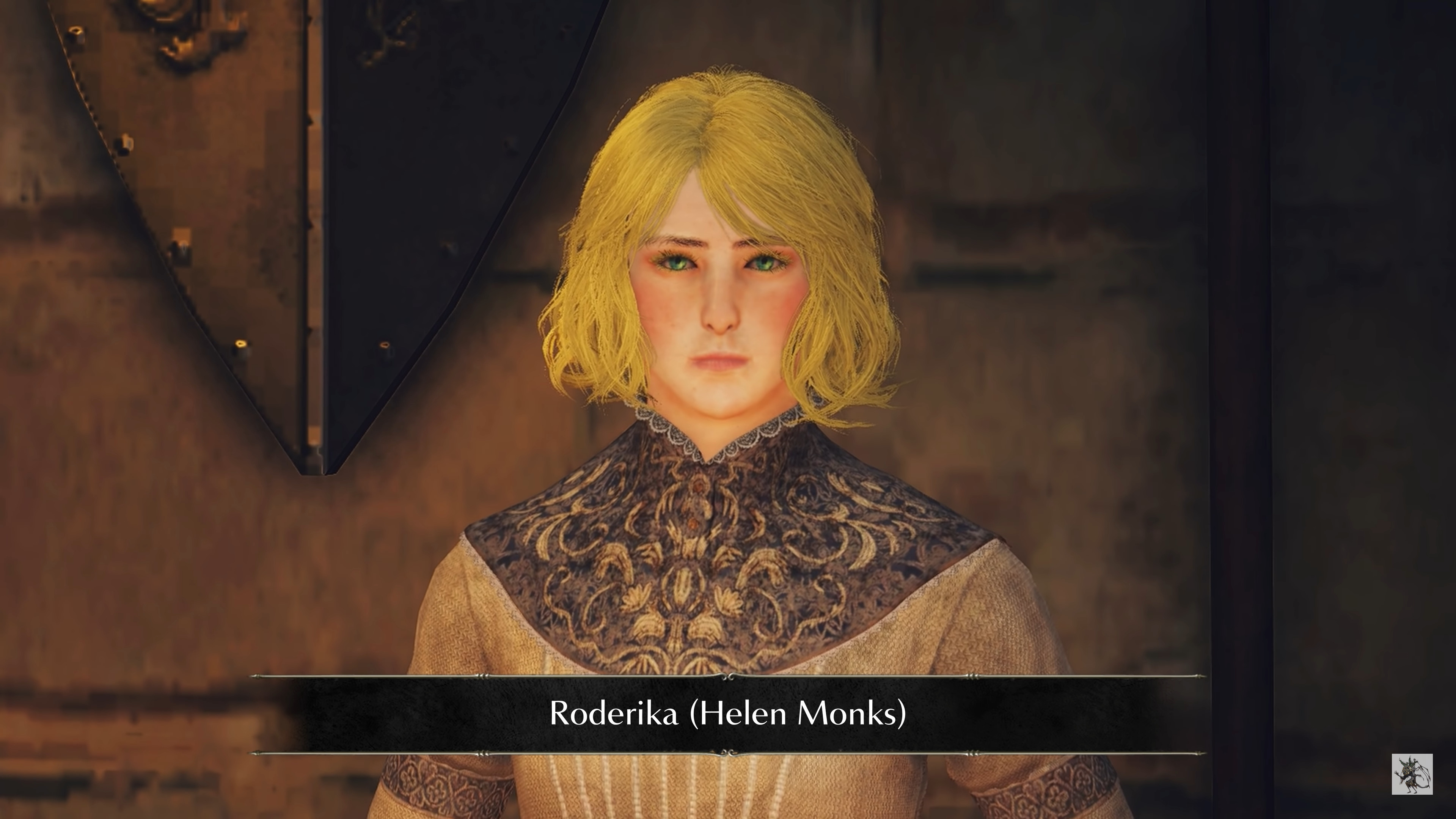 Roderika is a spirit tuner and a merchant in Elden Ring. She has the ability to communicate with the spirits of the land and is sought after by many who wish to harness her powers. Despite her abilities, Roderika has suffered great loss and trauma, as evidenced by her heartbroken demeanor and the harrowing tales she shares with those who speak to her. As a result, she is a somewhat solitary figure, preferring the company of spirits to that of humans. Nevertheless, she is willing to aid those who earn her trust and is known to reward those who assist her on her quest for answers and closure.
Rya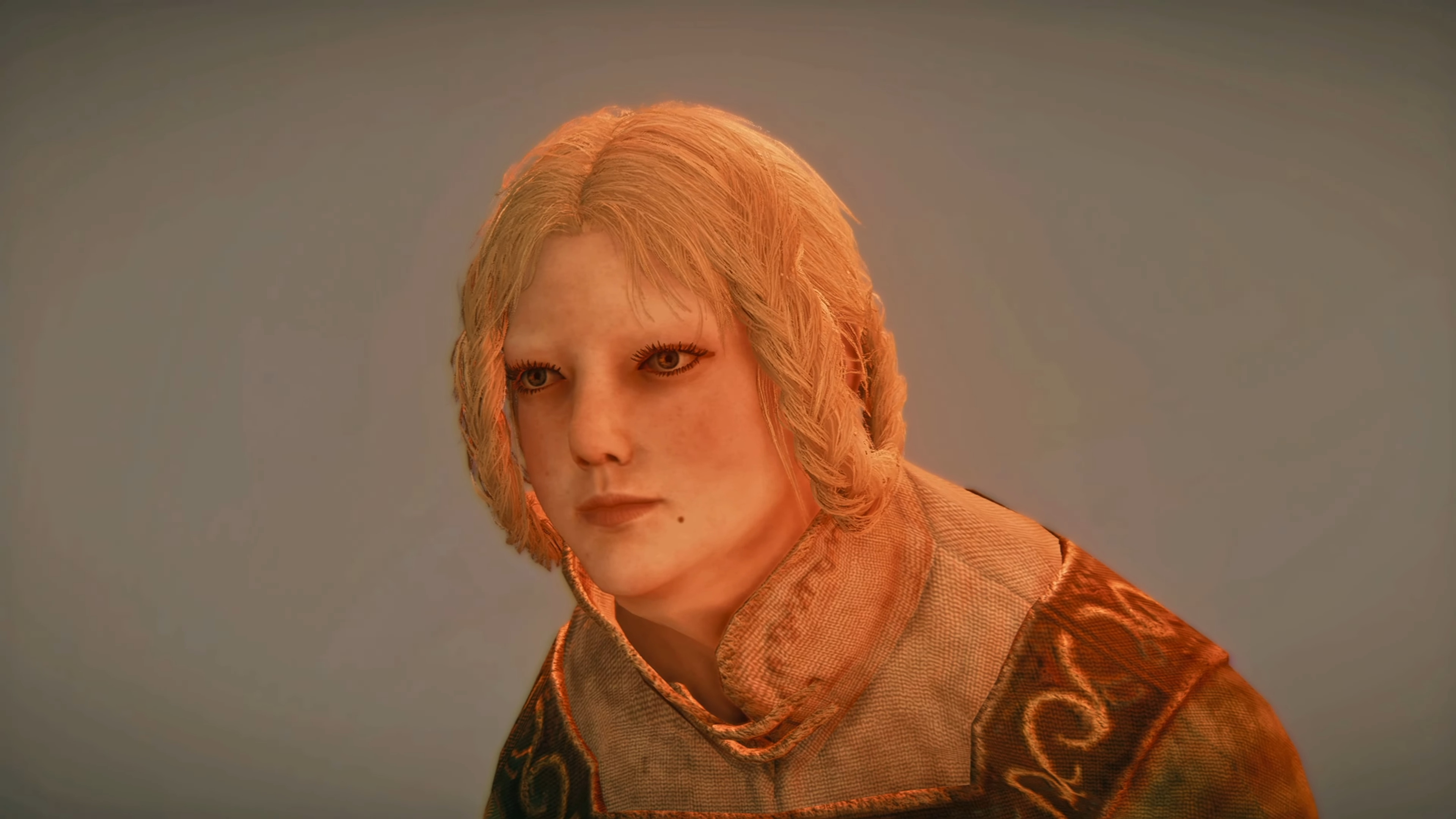 Rya is an NPC in the video game Elden Ring, who acts as a scout for the Volcano Manor and is the adopted daughter of Tanith. Her questline involves retrieving a stolen necklace, joining Volcano Manor, and completing assassination contracts. She is a key character in the game's storyline and has specific requirements for players to progress through her questline. Rya has the ability to transform into a snake which is her real form.
Irina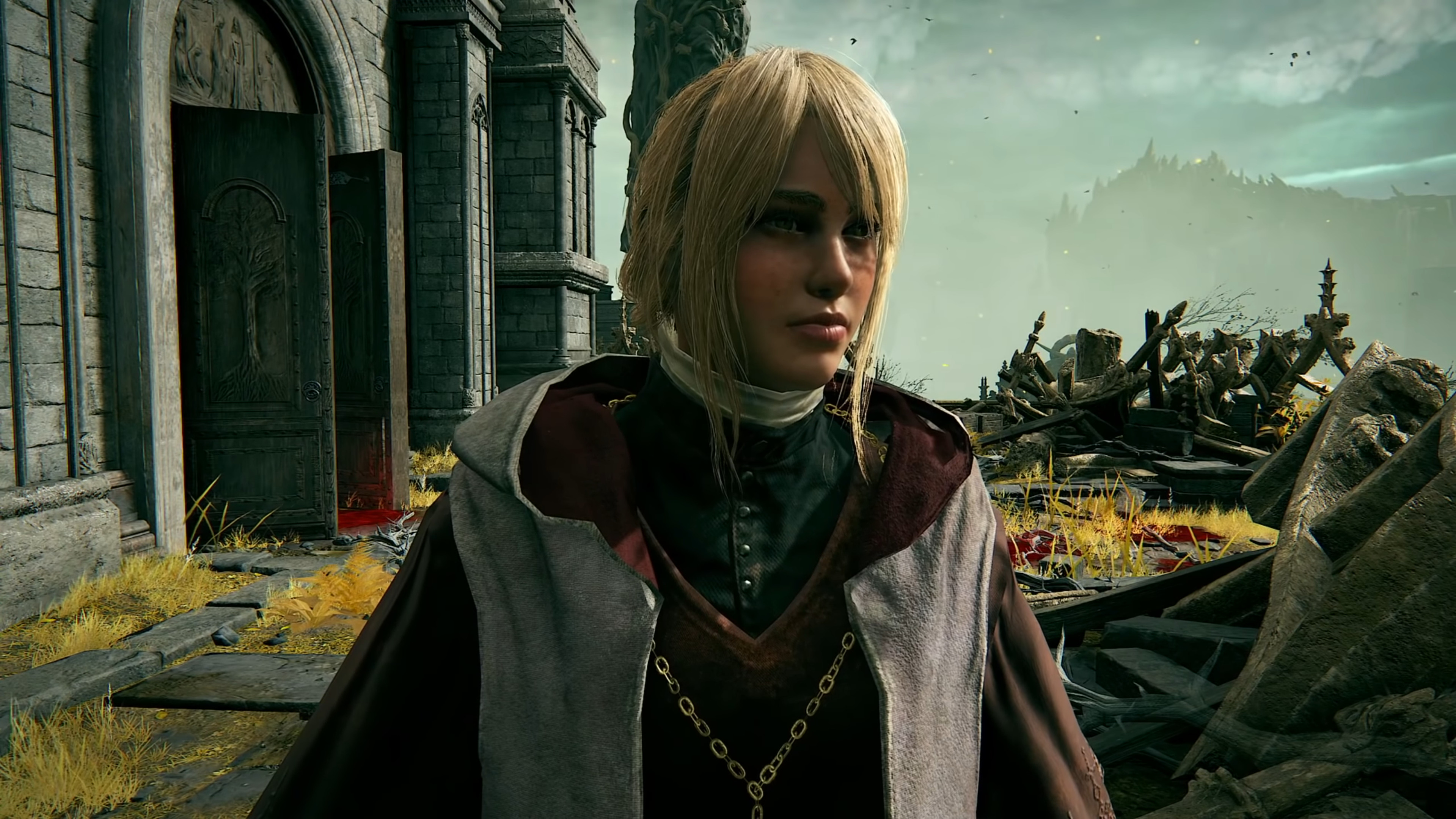 Irina is an NPC in the video game Elden Ring. She is a blind character wearing a ribbon over her eyes and a dirty, blood-stained dress. Irina can be found just beyond the Bridge of Sacrifice on the Weeping Peninsula Side, where she warns the player about a rebellion in Castle Morne and asks them to deliver a letter to her father, who is the commander of the castle forces. Completing her quest involves delivering the letter, retrieving a stolen sword, and defeating an invader named Edgar the Revenger.
Latenna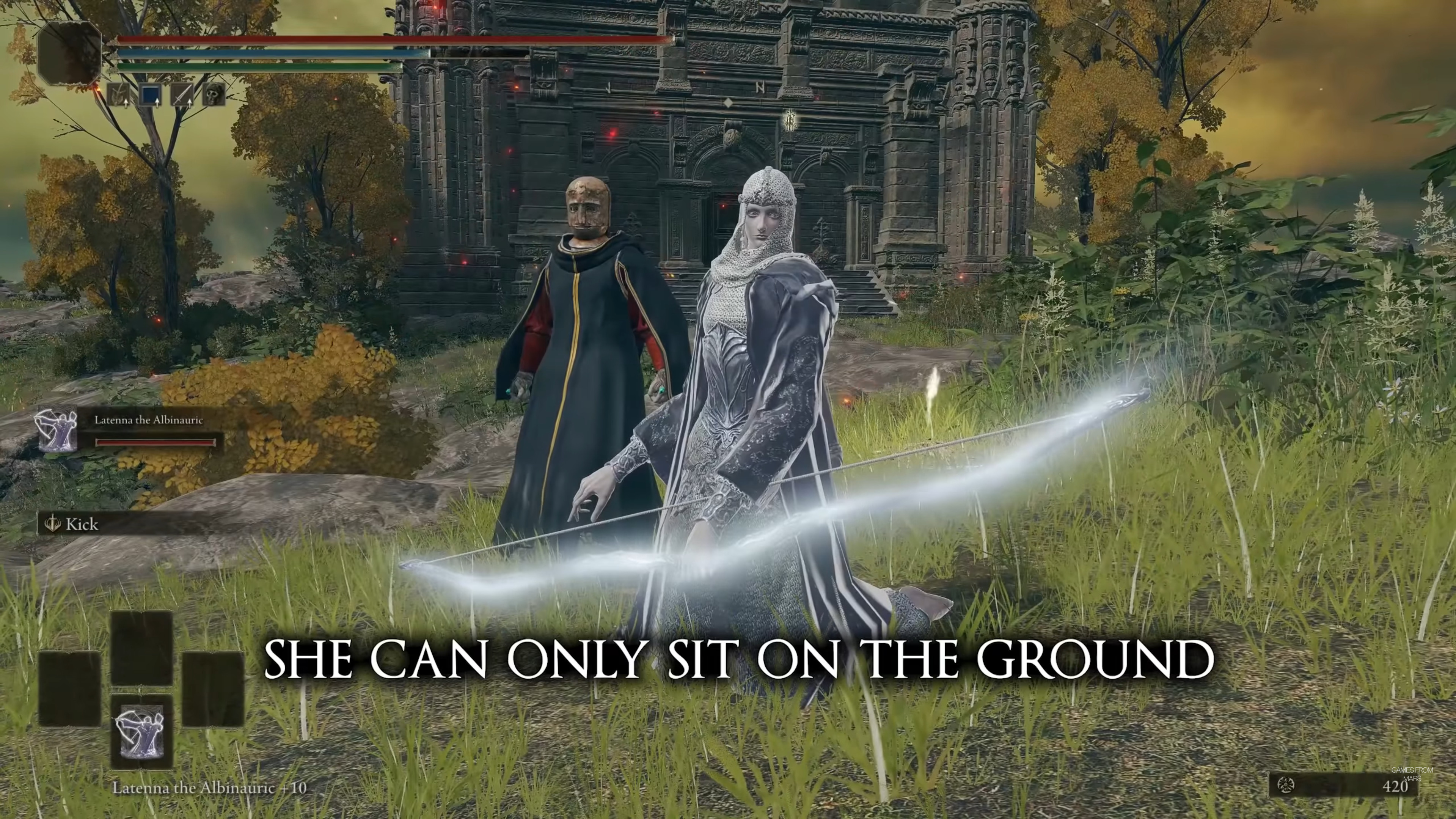 Latenna is an NPC in Elden Ring who can be found in front of the Slumbering Wolf's Shack in Liurnia of the Lakes after completing the Lakeside Crystal Cave dungeon. She willingly becomes a Spirit to join the player, becoming Latenna the Albinauric, and her questline revolves around Albus, another NPC found in the Village of the Albinaurics. Players must give Latenna the Haligtree Secret Medallion (Right) to progress her questline and take her to the land of Miquella's Haligtree. Latenna will reward players with a Somber Ancient Dragon Smithing Stone upon summoning her at the Apostate Derelict.
Hyetta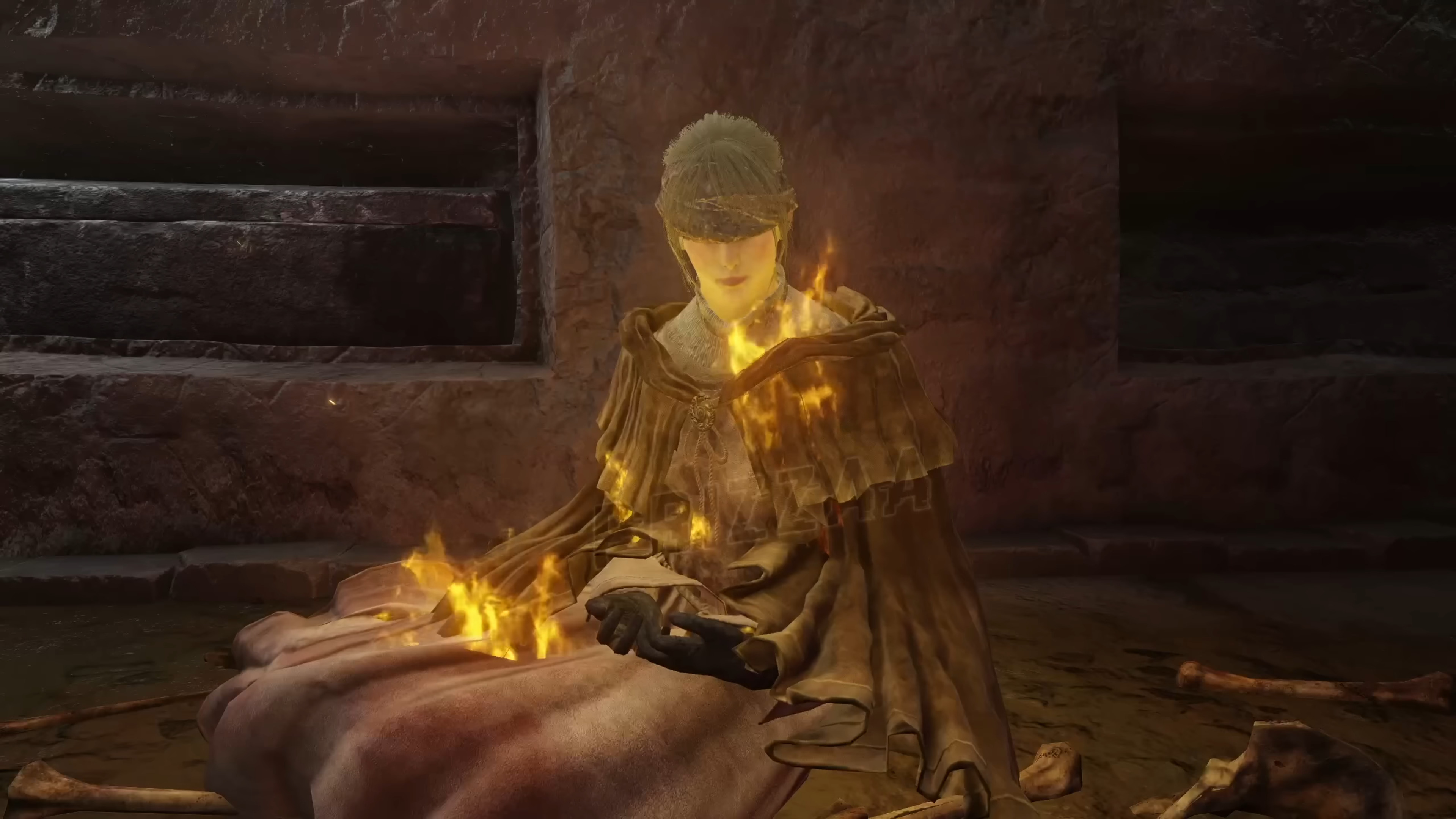 Hyetta is a blind woman who roams the Lands Between, seeking the "distant light" and hoping to become a Finger Maiden upon reaching it. Players can encounter her at different locations as they progress through her questline. She asks for Shabriri Grapes and later, a Fingerprint Grape, in exchange for rewards or information. The questline concludes at Frenzied Flame Proscription, where players can obtain the Frenzied Flame Seal and five Frenzyflame Stones. Upon learning the true nature of the Shabriri Grapes, she gets nauseous and gags but assures the player that she will be alright.
Tanith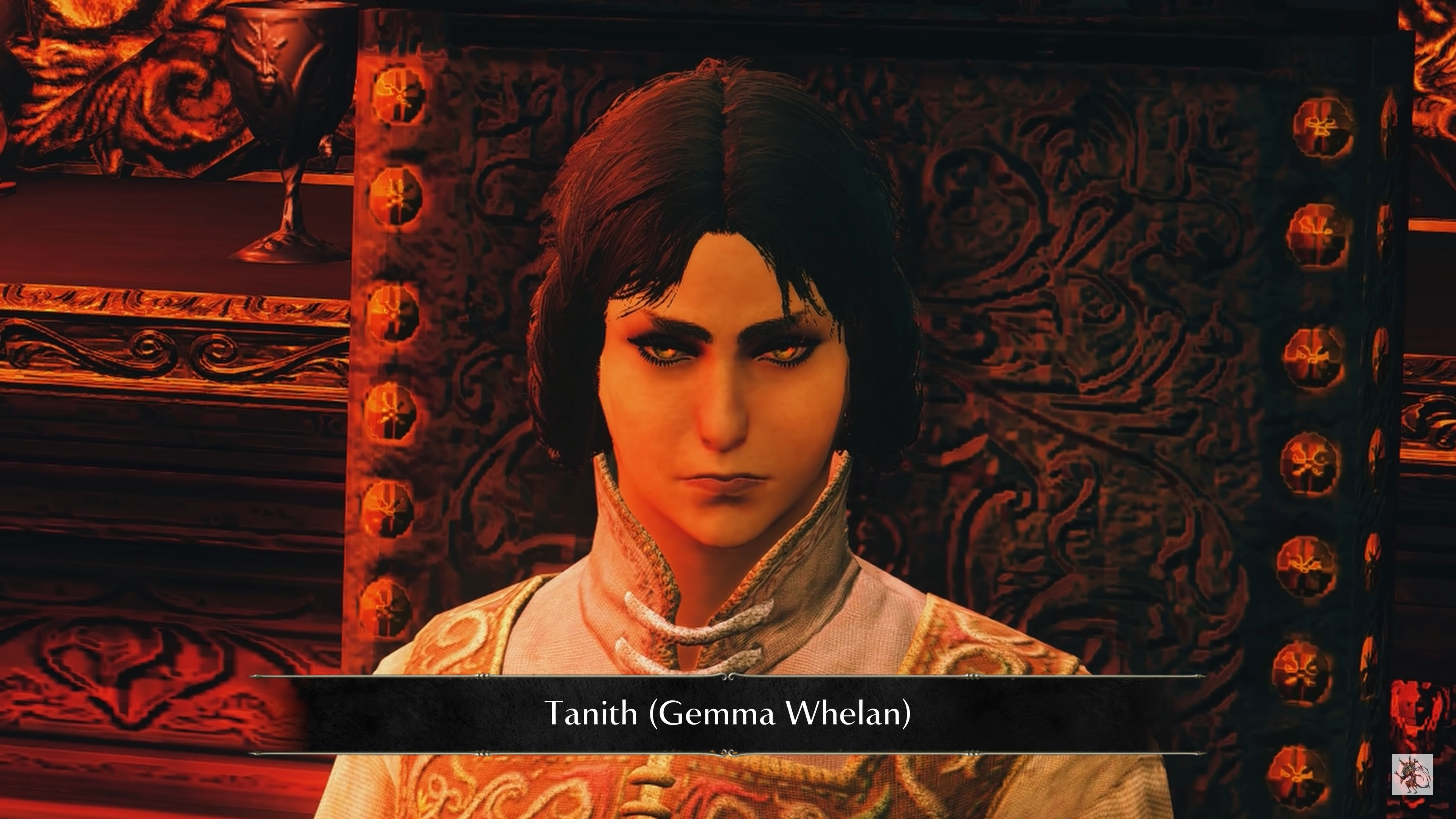 Tanith is a NPC in Elden Ring who is the head of the Volcano Manor. She asks players to join forces against the Fingers and gives them missions to complete. If you successfully complete her questline, you will be rewarded with unique items such as the Magma Shot and Serpentbone Blade. Tanith can also be killed, causing her knight to invade you and drop special items. Despite her intimidating demeanor, some players have found her to be an interesting and intriguing character.
Nepheli Loux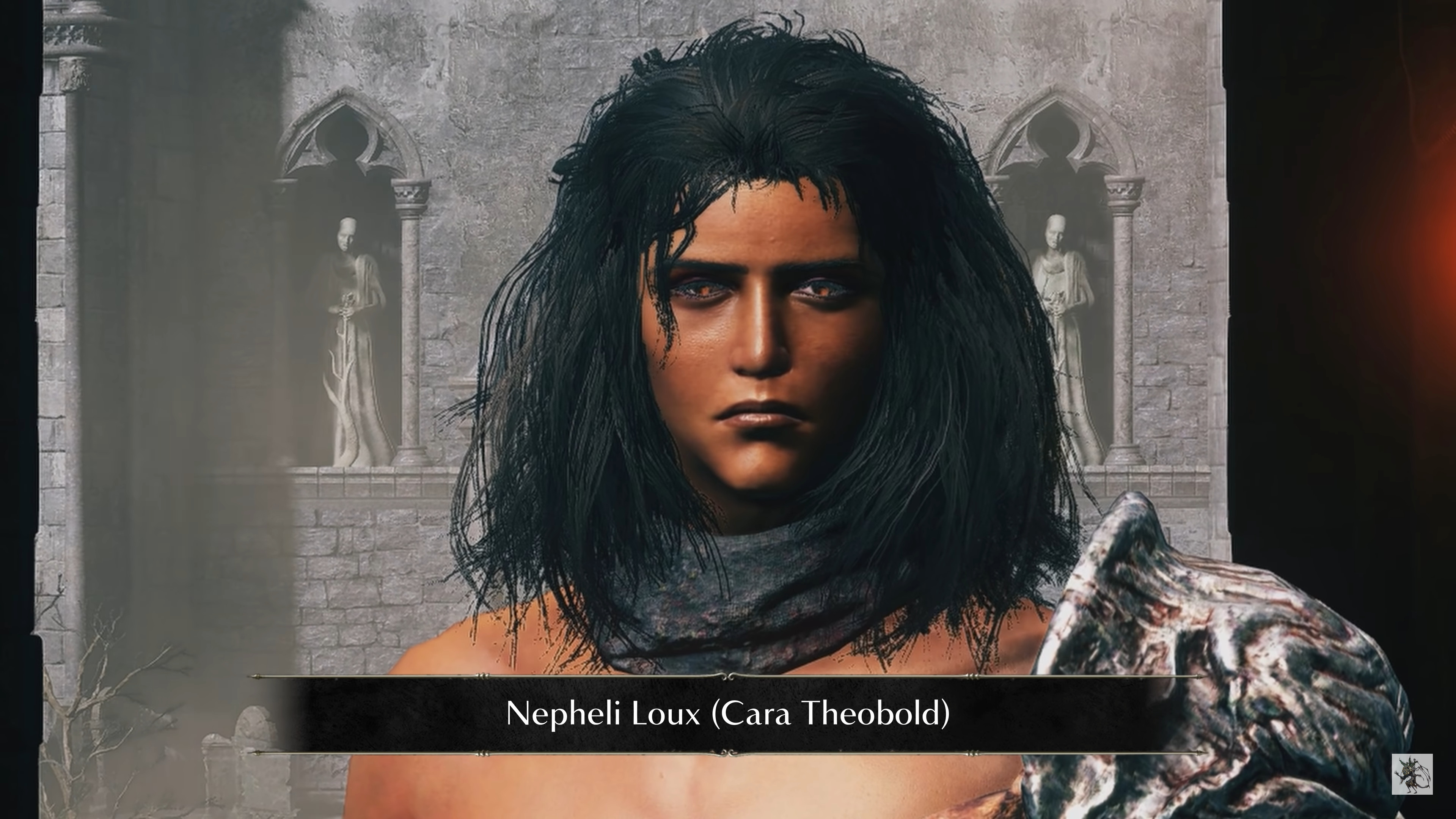 Nepheli Loux, a warrior and fellow tarnished in Elden Ring. She was ordered by her adoptive father Gideon Ofnir to kill and dethrone Godrick. Nepheli can help the player in the battle against Godrick the Grafted if summoned, and her summoning sign is golden and located just outside the boss fog. The text also describes her location throughout the game and her questline. Her questline includes "Her Father's Orders" and "Seluvis's Potion," where the player needs to complete certain tasks to progress. It is essential to avoid failing the quest by finishing Nepheli's dialogue and defeating Omenkiller at the Village of the Albinaurics before speaking to Melina at the Forge of Giants site of grace.