Kettlebells can provide a high-intensity workout for your upper body. If you're looking to build muscle, these 8 kettlebell exercises will put you on the fast track to an improved physique.
Weight training has never been easier with these kettlebell exercises that focus on your upper body – you'll be able to work for all the major muscle groups in your arms, shoulders, back, chest and core. Kettlebells are perfect for strength and conditioning workouts. They're more than just a simple weight; they're versatile machines that can help you train just about any muscle group safely and efficiently.
Whether you're looking to build muscle or sports-specific power, these exercises are guaranteed to give you an intense workout and transform your upper body in no time.
What is Kettlebell?
A kettlebell is a cast-iron weight that comes in different weights. It has a handle that you can hold on to and use for different kettlebell exercises. A 5-pound kettlebell is considered light while a 20-pound kettlebell is heavy.
With this weight, you can perform many of the exercises on this list. You can also use kettlebells for your home fitness routine if you want to work out at home.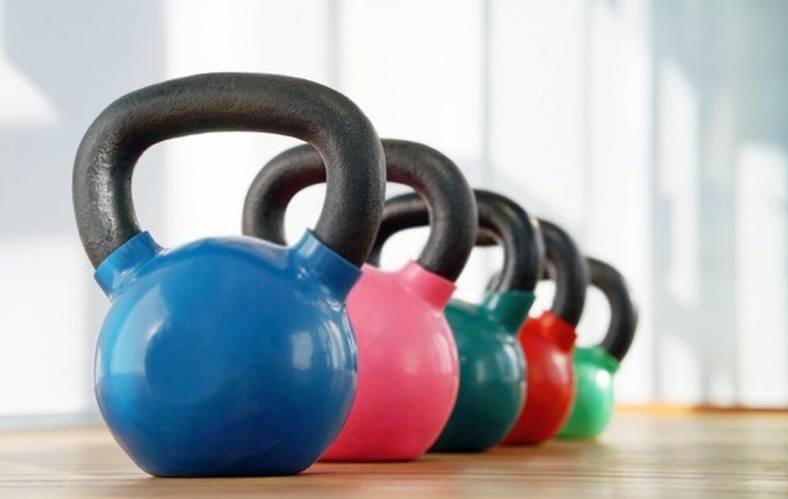 Kettlebell Training Benefits
Many people consider them to be superior to traditional free weights because they offer numerous benefits:
One of the best things about kettlebells is that they are versatile, allowing you to work your upper body, core, lower body, and more. This workout also provides you with many other health benefits, including increased muscle, mass decreased body fat, reduced injury risk, increased agility, flexibility improved balance and coordination, enhanced sports performance. Plus, you can work out at your own pace and according to what works best for you.
No matter what type of training regimen you choose, using kettlebells will help you achieve your fitness goals and achieve a better physique.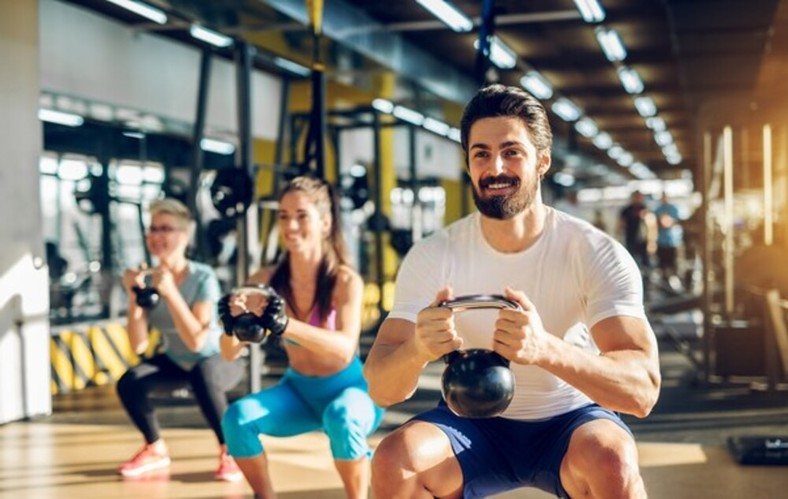 Incorporating kettlebell training into your workout routine can provide various benefits, such as increased strength, endurance, and flexibility. If you're looking for more exercises to enhance your strength and prevent back injuries, check out these landmine exercises, which target your upper body and core muscles while minimizing stress on your spine.
8 Best Kettlebell Exercises for Your Upper Body
You could spend your time doing crunches and obliques, but the kettlebell might be the better option. Kettlebells are amazing for strengthening your arms, chest, abs, back, and hips. Here are 8 of our favorites to do at home or in the gym.
Kettlebell Halo
Halo is the best exercise for your deltoids or your shoulder muscles. It can help build strength and promote blood circulation leading to a very visible set of shoulders.
Stand with your feet shoulder-width apart. Hold the kettlebell in front of you at eye level. Lift the kettlebell above your head with one hand. You can either do it with your left or right hand. Then with your other hand, pull the kettlebell back through the arm created in step 1 using a circular motion. Make sure your hand does not come in contact with your head. Now reverse the motion to go back to step 1.
Double Kettlebell Overhead Press
This exercise engages the chest, shoulders, biceps, and triceps. This is a great way to work all of your upper body muscles while you work on your core strength.
With one kettlebell in each hand, stand with your feet shoulder-width apart. Keep your back straight and chest up, but lean forward slightly. Press both bells straight over your head, then release them to the starting position. Repeat for 20 to 30 reps. You can also do this exercise with one kettlebell at a time if you find it too difficult to do with two at once.
Half Kneeling One Arm Kettlebell Press
This is a great exercise for strengthening your muscles. This exercise involves pressing away from the ground to the opposite arm with the kettlebell. Using one arm enables you to perform this exercise without placing unnecessary stress on both arms or shoulders. It also develops power and helps improve speed, acceleration, and kinematics.
To perform this exercise first kneel onto one leg with your feet planted firmly into the ground (keep lower back flat). Now use your other leg to support the weight of the kettlebell as you lower it down to the outside of your same-side hand. Grab ahold of a kettlebell with one arm and from the starting position press it out away from your body until your arm is fully extended. Now slowly bring it back towards your body before returning to the starting position.
Kettlebell Renegade Row
The kettlebell renegade row is similar to the pull-up, but it works heavier weights, which is why it's considered a more advanced move.
Start with a plank pose. Hold the kettlebell with two hands, one on each side. Keeping your back flat, extend your arm up to create a "T" shape. Lower the kettlebell back down slowly and repeat for 10 reps on each arm. If you need an alternate, do inverted rows or inverted rows with a resistance band.
Kettlebell Horn Curls
This exercise targets your forearms, which are involved in gripping objects. It also strengthens your biceps and back muscles.
Hold a kettlebell with both hands, gripping the sides of the handle—not the middle of it. Your arms should be hanging loosely at your sides. Without moving your upper arm, curl the kettlebell upwards by bending only at your elbow for 3 seconds while you breathe out. Then slowly lower it for another 3 seconds while breathing in. Repeat for 20 to 30 reps.
Kettlebell Swing
Doing the kettlebell swing strengthens your abdominal muscles, which are responsible for stabilizing your spine. It also tones your shoulders, arms, and back.
Holding a kettlebell in both hands, swing it between your legs and then overhead. Use the momentum from the weight to propel you forward to create a powerful swinging motion. Land with your knees slightly bent and make sure you keep your back flat when breathing out. Repeat for 20 to 30 reps.
To get the most out of your kettlebell swing, it's essential to strengthen your core. Incorporate exercises like Serratus Anterior strength workouts into your routine to support proper form and prevent injury. These exercises also help you engage deeper core muscles and improve overall stability during the swing.
Kettlebell Upright Rows
The upper back is a tough muscle to tone since it rarely ever gets exercised. The kettlebell upright row will help lift and firm your back. Doing the exercise also means you're strengthening your biceps and shoulders, while improving on posture.
Stand with your feet hip-width apart. Tilt your head back, lift the kettlebell upwards, and use your shoulder muscles to pull it up. Bend at the elbow after the kettlebell reaches the top position and tuck it back down to your side. Breathe out as you slowly lower down to complete one rep. Repeat for 15 reps.
Kettlebell Skull Crusher
This exercise targets your upper back and core. It adds muscle mass to the area and tones the torso.
Lie on your back with knees straightened and heel on the floor. Hold a kettlebell overhead with both hands. Lower it behind your head so that you feel a slight stretch in your chest area. Then push it back up to start position, squeezing your shoulder blades together when you do so. Repeat for 8 to 10 reps.
Kettlebells are great for weight loss, building lean muscle in the lower body, and for an all-around toned physique. What many people don't know is that they also have benefits when used for upper body exercises- specifically the shoulder area. Many of these exercises are done using a single arm with a weight on top of your shoulders, which forces isolation of the "working" muscles to build strength in the arms and shoulders.
FAQs
How to Use Kettlebell?
Kettlebells are very easy to learn how to use. Unlike dumbbells, kettlebell exercises do not require any special technique beyond using a very light grip and holding the bells with a neutral wrist position.
Do Kettlebells help in weight loss?
The kettlebells can be used as a great tool for weight loss, especially if you put it under an intense burnout program.
Can I Use Kettlebells for Both Strength and Burnout?
Fortunately, yes. You can use the kettlebell to achieve strength and burnout easily. To achieve strength you can lift heavier weight, loading your muscles with heavyweight overloading them through overloading grip and attachment points on the handle. For burnout exercise, you can do bodyweight exercises.
Is Kettlebell Training Safe?
Kettlebells are very safe to use. However, there are some precautions you have to take if you want to use this tool for training. First of all, you have to be aware of your limitations. Start with light weights and increase the weight as your strength improves. If you feel pain or discomfort during your exercise session, stop immediately and consult a doctor.
What is the Weight I should Start with?
The best way to determine the weight you should start with is to test your strength. The weight should be such that you can do 1-3 sets of 5-8 repetitions and feel fatigued and soreness in muscles (this is called workout to failure). It means that each set of kettlebell exercises for each exercise you do should be about the maximum number of muscle reps you can do before muscle fatigue sets in.
Which is the Best Kettlebell for Beginners?
There are several kettlebells on the market, you can choose an appropriate one based on your fitness level which will suit your needs. The more expensive bells are heavier and dense while some of the cheaper ones are made out of cheaper materials, some of these bells have very cheap plastic handles while others have more sturdy steel handles. Both have their advantages and disadvantages.
What if I cannot lift the Kettlebell?
If you cannot lift the kettlebell, then grip it in both hands and do the exercise. Try to do as many repetitions as you can with the same kettlebell before switching to another kettlebell.