Do you wonder if the healthy weight calculator can help you identify ideal body measures for keeping in shape? Click here for more information.
The Healthy Weight Calculator (HWC) is designed to give people an estimate of their age- and gender-specific BMI. The HWC is not designed to change behavior or provide specific recommendations. It was created for people who would like an approximate idea of their weight status, but do not want to be given a diagnosis or see their weight history. Users can also find out how much they should weigh based on their height and what weight they should set as their goal for healthy living.
There are many benefits to maintaining a healthy weight. This calculator can help you see your progress! What's your BMI?
Healthy Weight Calculator
The healthy weight calculator is created to show you a healthy body weight range inferred from a person's height. In that way, the result is named BMI (Body Mass Index) with the unit of weight(kg)/height2. Initially, It is created to serve in the medical field as a quick indicator of possible health conditions. Many people use it to identify their ideal body weight for a fit and healthy body shape when it becomes popular.
To get your BMI, either uses one of our BMI calculators or use the tables below:
Calculating your lean body mass is a great way to evaluate your fitness progress and get a better understanding of how much body fat you're carrying. Use the lean body mass calculator to get charts and measurements for men and women. This calculator can help you determine your overall fitness goals and monitor your progress over time.
How To Define A Healthy Weight
Having a healthy weight is many people's desire, so this part will help you define it. You may worry about being overwhelmed with tons of information, but your understanding will be here.
Adults
In general, if an adult aged 18 or older with a BMI falls between 18.5 and 25 kg/m2, he or she is supposed to have a healthy weight or achieve IBW (ideal body weight). The World Health Organization (WHO) certified that healthy BMI range for both females and males. As a result, the BMI out of that range can inform you of health problems such as obesity, diabetes, heart disease, etc.
In detail, several experts are applying different formulas for calculating IBW through their developments and findings, as shown in the following table. However, the Devine Formula is widely considered a universal determinant of IBW.
| | | |
| --- | --- | --- |
| Formulas | Male | Female |
| G. J. Hamwi Formula (1964) | 48.0 kg + 2.7 kg per inch over 5 feet | 45.5 kg + 2.2 kg per inch over 5 feet |
| B. J. Devine Formula (1974) | 50.0 kg + 2.3 kg per inch over 5 feet | 45.5 kg + 2.3 kg per inch over 5 feet |
| J. D. Robinson Formula (1983) | 52 kg + 1.9 kg per inch over | 49 kg + 1.7 kg per inch over 5 feet |
| D. R. Miller Formula (1983) | 56.2 kg + 1.41 kg per inch over 5 feet | 53.1 kg + 1.36 kg per inch over 5 feet |
If you have ever wondered about the meaning of shoe size letters, such as 3Y, 7Y, or 10C, look no further. Hood MWR has a guide to shoe size letter meanings, which can help you determine the right shoe size for your child or even yourself. This article breaks down standard shoe size conventions and what each letter corresponds to.
Children
Those who are aged two or under 18 as children or teens will follow BMI charts conducted by the CDC (Centers for Disease Control and Prevention). In that way, the CDC suggests that the children should keep between the 5th and 85th percentile depending on their age.
Affecting factors
IBW formulas were actually invented to estimate dosages for medical use. It helps medicinal experts to identify the metabolism of certain medicines more than the ideal total body weight. Because there are several affecting factors, IBW is not a perfect measure but just for a bit of reference. In other words, you can combine the below factors with IBW to know whether you have a healthy weight or not.
Age
While the ages of 14-15 for girls and 16-17 are more and more growing their physical health, the growth after those ages can stop. They can have to accept the limitations of height as a natural process. However, lean muscle mass decreases, and it is easier to accumulate excess body fat when they age more. Anyway, they may improve by applying suitable exercises and diets.
Gender
In general, males weigh more than females though they have a lower percentage of body fat. For this or that reason, the male body has a higher and heavier muscle mass than fat. Besides, women have lower bone density. When it comes to height, males seem to be taller than females.
Body Frame Size
Body frame size can affect your shape, while IBW only offers an ideal weight based on a certain height. It is divided into small, medium, or large boned status and identified by the circumference of a person's wrist in relation to their height.
Gender
Height
Small boned
Medium boned
Large boned
(Wrist sizes)



Females
Under 5'2″
Less than 5.5″
5.5″ to 5.75″
Over 5.75″
Between 5'2″ and 5′ 5″
Less than 6″
6″ to 6.25″
Over 6.25″
Over 5′ 5″
Less than 6.25″
6.25″ to 6.5″
Over 6.5″
Males
Over 5′ 5″
5.5″ to 6.5″
6.5″ to 7.5″
Over 7.5″
Your body weight and height are often associated with each other. However, there is no conclusive evidence that suggests body weight affects height. Factors that can affect a person's height include age, genetics, nutrition, and physical activities. To learn more about how these factors affect your height, check out the average height for 16-year-old boys and girls article on Hoodmwr.
Understanding Weight Ranges
The result from a healthy weight calculator may contribute to pointing out your health problems. They can be classed as underweight, overweight, and obese based on their BMI. These weight categories can alert you to keeping a healthy weight because of their harmful effects.
Underweight
A person who is calculated for BMI under 18.5, supposed to be underweight. There are some reasons for that condition, including lack of food, genetics, drug uses,metabolic issues, or illness. Being underweight may be one of the symptoms related to disease or disorder such as hyperthyroidism, cancer, or tuberculosis.
Besides, you may suffer from low levels of stamina, bad immune system, energy levels, osteoporosis if you weigh at that point. Consequently, you may be suspensible to infection. Some people may become malnourished due to low absorb of good quality food rather than too much exercise or other possible reasons. Pregnant women can be underweight as a result of eating disorders or possible complications.
If you are underweight, it is important to make changes to your diet and lifestyle to reach a healthy weight. Check out this article on is it better to be underweight or overweight to get a better understanding of how your weight affects your overall health. Taking care of your body is the best thing you can do!
Overweight
Consuming too many calories in food can lead to being overweight, with BMI supposed to fall between 25 to 30. Moreover, some factors are causing that condition, such as alcohol addiction, a genetic predisposition, disorders in eating, a inactive lifestyle, poor habitual exercise and a inactive lifestyle, bad nutrition, and anxiety.
In comparison to obesity, some findings point that being fat causes a lower fatality rate. While people were not sure about that, it is a fact that overweight people can suffer from an raised risk of diabetes, heart illness, and cancer.
Obese
If people have IBM over 30, they may be obese. a lack of activity, unnecessary food consumption, and genetic sensitivity can cause obesity. In some rare cases, being obese is effected primarily by genes, hormonal imbalances due to endocrine disorders, medications, or mental disorders.
You can control your lifestyle and diet to prevent obesity while personal factors are hard to change. Being obese can lead to cardiovascular diseases like heart illness and stroke as well as hypertension, type 2 diabetes, musculoskeletal disorders including osteoarthritis, and some cancers.
Besides, people feel depressed about being obese for unattractive appearance or inconvenience in daily activities with a big-sized body.
Being obese can affect your overall health, including causing leg pain. If you're experiencing leg pain, it's essential to understand the underlying conditions that may be causing it. Read more about leg pain and obesity and learn about the consequences of carrying extra weight on your legs.
How To Maintain A Balanced & Healthy Weight
People must desire to maintain a healthy weight for good shape and comfort. If you unluckily suffer above weight categories, there are some ways for you to prevent or reduce. Because being underweight, overweight, obese can cause different health complications, managing them means solving problems such as bad food intake, excessive exercise, and possible mental disorders.
Those who are underweight should consider improving calorie intake. With that in mind, consuming nutrient foods such as lean protein sources,whole grains, green vegetables, and nuts and seeds can assist them to achieve healthy weight.
Plus, doing exercises like weight lifting can raise muscle mass for more weight.
If mental disorders (anorexia, bulimia nervosa) cause you to be underweight, You can solve the psychological problems by consulting experts if serious.
In contrast, being overweight or obese can be prevented by limiting the consumption of calorie-dense meals, sugars, and total fats. Instead of consuming too much of those foods, the WHO recommends eating more fruits, vegetables, whole grains, legumes, and nuts.
Besides, engaging in regular physical activities about 60 minutes per day for children and 150 minutes per week for adults is helpful for your health. While there are so many appealing advertisements for unhealthy foods, people need educating to acknowledge their harm, particularly to children and teenagers.
Limitations Of The Healthy Weight Calculator
As a matter of fact, the healthy weight calculator is not perfect and has several limitations. It is applied to a range of people, so the result may not be accurate for every single individual. If you consider affecting factors such as age, gender, frame size, then IBM is not ideal for identifying a healthy weight.
The BMI can tell you if you're gaining too much weight, but it cannot tell if you're carrying too much fat. Also, it can not show the difference between excess fat, muscle, or bone. As a result, adults and athletes with more muscles may be opposed to being overweight or obese. When they get older, they lose muscle to a healthy weight. Pregnant women can not apply for IBM because they will carry more weight than normal people.
While the Healthy Weight Calculator from Hood MWR offers a quick estimate of a healthy weight, it is important to note that this tool has its limitations. For a more accurate measurement, you can try using the BMI Calculator or the Body Fat Calculator. These tools can help you determine your body mass index and body fat percentage respectively, both of which are important factors when assessing your overall health and fitness.
What should my weight be based on my height and age?
Most adults in the United States are overweight or obese, with at least one risk factor for cardiovascular disease, type 2 diabetes, hypertension, dyslipidemia, or another syndrome related to obesity. Healthy weight is defined as a body mass index (BMI) of 18.5 to 24.9 kg/m2) while obesity begins with BMIs of 30 kg/m2). BMI is calculated by taking weight in kilograms and dividing it by height in meters squared – this gives you a measure of body fatness that reflects the proportion of lean mass to fat mass without other complicating factors like age or gender.)
Method 1: Body mass index (BMI)
The body mass index (BMI) is a straightforward technique to determine if you are a healthy weight for your height. It compares your weight and height to determine your position on the weight-height index. BMI is determined by multiplying your weight by your squared height by 100:
BMI = Weight (kg) / Height2 (meter)
100 x BMI= Your estimated body mass index
Increased values in this equation suggest health problems such as heart disease, osteoarthritis, and depression. The precise formula is available in a scientific calculator or in a research paper discussing the advantages of utilizing BMI as a tool for population-based obesity prevalence data.
The National Institutes of Health reports:
A BMI less than 18.5 indicates that an individual is underweight.
A BMI of 18.5 to 24.9 is considered optimal.
Between 25 to 29.9 is considered overweight.
Obesity is defined as a BMI more than 30.
Body Mass Index (BMI) calculator
To get your BMI, either use one of our BMI calculators or use the tables below:
Charts for Determining Weight and Height
The below weight and height chart utilizes BMI statistics from the National Institutes of Health to estimate an individual's ideal weight for their height.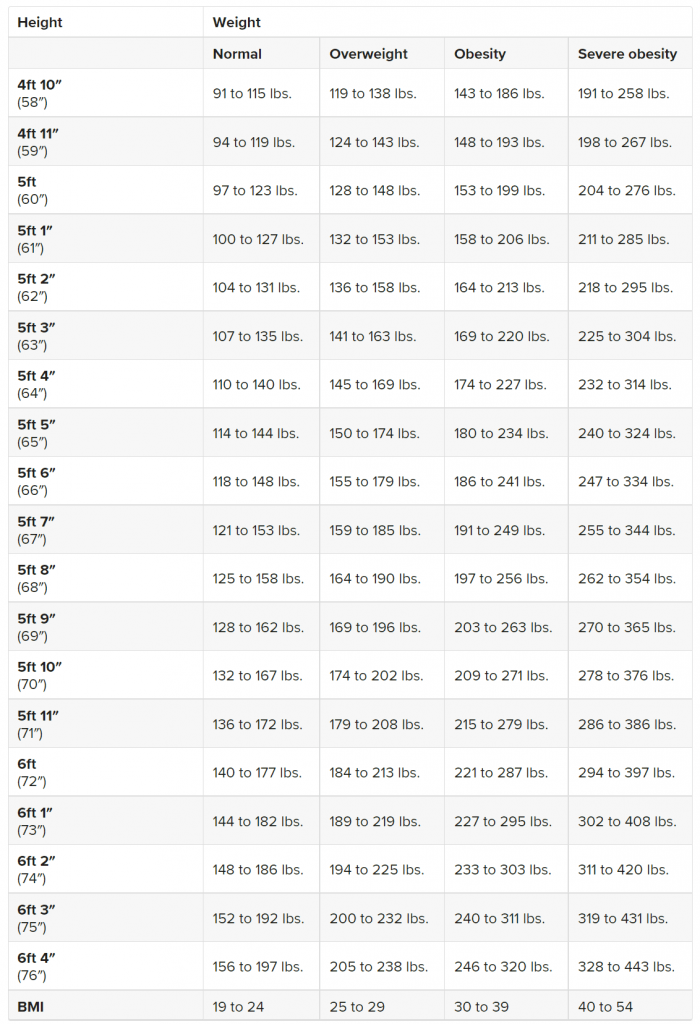 What exactly is the issue with BMI?
BMI is computed using an adult's height and weight to determine a person's body fat percentage. A BMI of 25-27 indicates that an individual has a healthy level of body fat. This is not true for children and teenagers, who are still growing.
BMI for children can also be misleading if they are still growing or have recently completed a growth spurt, as it will indicate that they are overweight, even if their height is within the normal range for their age group. For instance, a 17-year-old who stands 5 feet 11.5 inches tall and weighs 175 pounds has a BMI of 28.7, which is considered obese. In comparison, a 19-year-old who is 6 feet and 0.5 inches tall and weighs 165 pounds has a BMI of 24.4, which is considered overweight. Both are believed to be of significantly different heights, weights, and ages, although their BMIs are the same.
If you're still not convinced, a study published in the American Journal of Clinical Nutrition demonstrates that a BMI can be erroneous for children as young as two years old. The scientists used dual-energy X-ray absorptiometry (DEXA) scans to examine the association between BMI and body fat % in over 1,000 youngsters. They discovered that up to 42% of children had body fat percentages that differed from those calculated using their BMIs. In certain situations, overweight children were discovered to have low body fat levels, whilst some children of normal weight were discovered to have high body fat levels.
To summarize, BMI is an inexact method for calculating body fat in children and adolescents, and so should not be used for your child.
Method 2: Waist-to-hip ratio (WHR)
The waist-to-hip ratio is a straightforward method for determining the body's fat distribution. It indicates if your weight increase is concentrated in your trunk or upper body or in your hips and lower body. Measure around the waist, just above the hip bones, and then around the hips.
Measure your waist-to-hip ratio
Divide the waist circumference by the hip circumference. For instance, if you are a male with a 33-inch (84-centimeter) waist and 40-inch (102-centimeter) hips, split 33/40 = 0.8 to determine your WHR. If you are a woman with a waist of 28 inches (71 cm) and hips of 39 inches (99 cm), divide 28/39 by 0.74 to obtain a WHR of 0.74. The optimum ratio is 0.8 for males and 0.7 for women; anything greater than this is considered excessive abdominal fat.
WHR is based on the observation that abdominal fat is more closely connected with health hazards than fat in other regions of the body such as the hips or thighs (see Bruce et al., 2000).
When calculating your waist-to-hip ratio, it's essential to measure your waist correctly. Check out our guide on how to measure your waist and take the most precise measurement possible to get an accurate ratio. This measurement will allow you to determine your risk of health conditions, such as cardiovascular disease and type 2 diabetes.
Waist-to-hip ratio chart

Disease Risk Related to Obesity Chart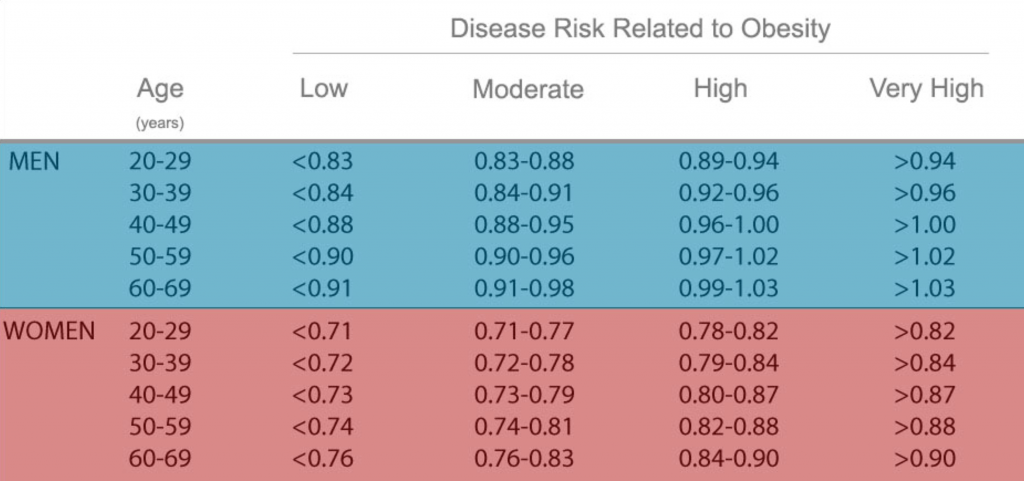 Knowing your body mass index (BMI) is an essential step towards controlling your weight, which is directly related to various diseases such as hypertension, diabetes and heart diseases. Use the BMI Calculator from Hood MWR to measure your body fat based on your height and weight, and get an indication of whether you need to lose weight, gain weight, or maintain your current weight to avoid risk factors.
Method 3: Waist-to-height ratio
The waist-to-height ratio is a measurement used to determine if your waist size is larger compared to your height. For example, if you are a girl who has a waist of 40 inches but stands exactly 4 feet (122 cm) tall, it means your waist is about 4 times as big compared to your height.
Measure your Waist-to-height ratio
Measure around the smallest part of the belly button (the umbilicus) and divide it by the height or height if you are not sure about it. The value obtained should be at least 0.8 for women and 0.8 for men. Those with higher values are considered wide (women above 1.0), whereas those with lower values are considered skinny (men below 0.7).
This ratio is recommended by many scientists and doctors and is considered a better way than waist circumference since height takes into account the length of the lower body. For example, a man who is 6 feet tall (183 cm) but has a waist size of 40 inches (102 cm) is still considered too wide even if he has a very athletic build. In that case, his WHR or BMI will be normal because of his height, but he still has too much fat around the abdomen area.
This method doesn't take into account fat under the skin, which can make you look bigger, even though you have a healthy weight for your height.
Waist-to-height ratio chart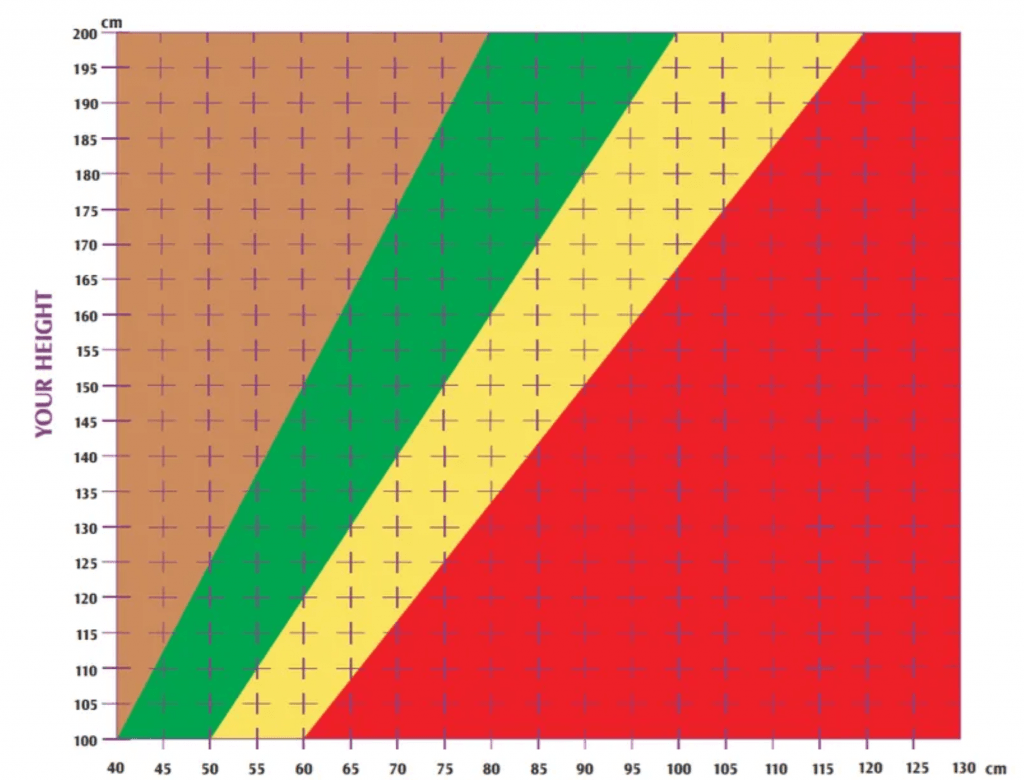 An important aspect of determining your ideal weight is by calculating your waist to height ratio. The ideal weight calculator section provides such charts for height ratio calculation and gives an insight into what your waist-to-height ratios mean. By maintaining a healthy waist-to-height ratio, you can reduce the risk of various health issues related to obesity.
FAQ
How much should I weigh for my age and height?
Based on your height, you can identify a healthy weight by the healthy weight calculator known as IBM. In that way, IBM under 18.5 alerts you to be underweight while you may be overweight with IBM between 25 to 30. Those people who have IBM above 30 tend to be obese. However, this way is just a reference but keeping your lifestyle good is necessary.
What is the ideal weight calculator?
The healthy weight calculator is created to show you a healthy body weight range inferred from a person's height. In that way, the result is named BMI (Body Mass Index) with the unit of weight(kg)/height2. Originally, It is created to serve in the medical field as a quick indicator of possible health conditions.
How do you calculate a healthy weight range?
There are three weight ranges based on your IBM. If it is under 18.5, it falls within the underweight range. If it is from 18.5 to 24.9, it points out the normal or Healthy Weight range. If your BMI is from 25.0 to 30, it falls within the overweight range. If your BMI is above 30, it falls within the obese range.
How can I lose weight naturally?
You can apply lots of ways to lose weight naturally. First of all, you should reduce processed foods or those which have much sugar and fat. Instead of that, increase the consumption of vegetables, fruits, and unsweetened drinks. Doing more exercises may be one of the most useful ways to keep you fit and achieve a healthy weight.
How do I know if I am overweight?
Based on your IBM, you can know if you are overweight. With that in mind, IBM from 25 to 30 is classed in that condition. The healthy weight calculator may not be perfectly accurate because there are some affecting factors such as age, gender, frame size that you should consider.
What should my BMI be?
For most adults, an ideal BMI falls in the 18.5 to 24.9 range. Children or young people aged from 2 to 18 is different; the BMI is affected by factors such as age, gender, the development of height, and weight.