Let's use the BMI calculator to check and control your body mass (BMI) index, and then you would find out if you are in a healthy weight range!
In the BMI calculator, you will see "Metric Units," which is for the International System of Units, "Other Units" is to convert the units into US or Metric units. Now let's see some more detail about the BMI calculator!
Body Mass Index (BMI) Calculator
Here is the BMI calculator. This is useful for people who want to know their body mass index or need to calculate BMI for children. If you are not sure what your BMI is, you can use this calculator to find out! If you are interested in knowing more about the BMI system, be sure to read this article too!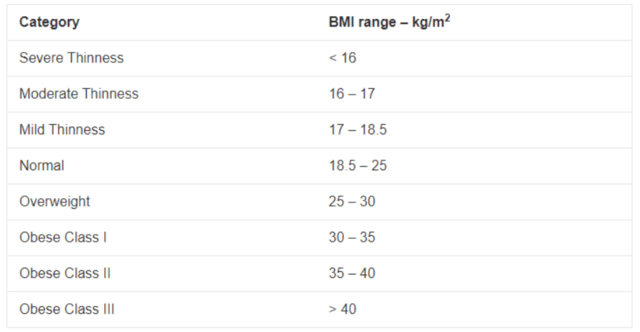 What is Body Mass Index – BMI?
BMI – Body Mass Index is the measurement of fatness based on a person's weight and height to quantify tissue mass. The BMI calculation method is used widely as the standard index for indicating if a person's weight is matched with their height or not. Thus, BMI is utilized for assigning if a person is underweight, average weight and overweight, or even obese depended on the age or area.
Overweight and underweight can bring significant health effects, so although BMI is not the best measure of a healthy person. BMI calculator is a helpful indicator to know if you need to process any other activities. If you want to see the different categories, you can check the below table based on the calculator's BMI.
According to National Center for Health Statistics,
BMI- being less than 18.5 kg/m² will be underweight
BMI – from 18.5 to 24.9 kg/m² are healthy
BMI- from 25 to 30 kg/m² (Someone with a BMI belonging to this range will have a high risk of type II diabetes, cardiovascular, and hypertension.
BMI- From 30kg/m² or greater will be obesity and those with this high BMI or more will be at a higher risk of diseases.
BMI- from 40kg/m² or greater will be in extreme obesity

BMI Table and Chart for Adult
Indeed, you will find what you want correctly from the World Health Organization's recommendation. It is also based on BMI values for adults. When you are 18 or over, you can use it.
| | |
| --- | --- |
| Category | BMI range – kg/m2 |
| Severe Thinness | < 16 |
| Moderate Thinness | 16 – 17 |
| Mild Thinness | 17 – 18.5 |
| Normal | 18.5 – 25 |
| Overweight | 25 – 30 |
| Obese Class I | 30 – 35 |
| Obese Class II | 35 – 40 |
| Obese Class III | > 40 |
In general, for most people, the following rule applies:
When your BMI is under 18.5, it is within the underweight range, which might not be ideal for health.
If your BMI is between 18.5 – 24.9, you are in the healthy weight category. You should maintain that index and do not put on weight even if you get older.
In case your BMI is between 25 – 29.9, you are in the overweight range, which is not suitable for your health. Losing a small amount of weight to make it as the healthy range would be what you need to do at this time.
Over 30 is within obese categories, which are not suitable for health.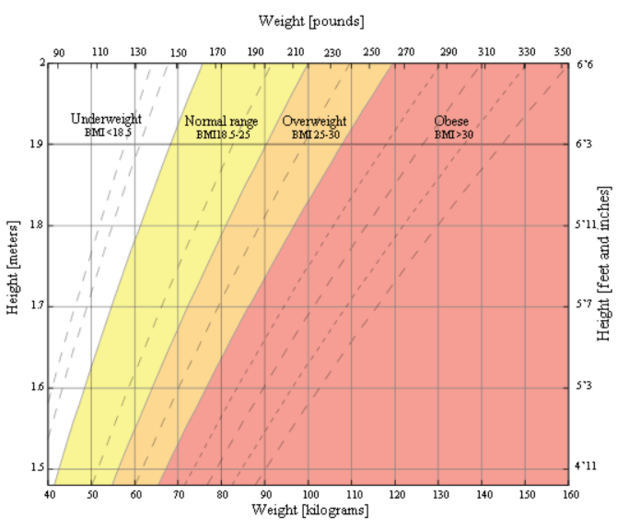 BMI for Children and Teenagers From 2 to 20
CDC suggested BMI categorization for children and teenagers from 2-20 years old.
| | |
| --- | --- |
| Category | Percentile Range |
| Underweight | <5% |
| Healthy weight | 5% – 85% |
| At the risk of overweight | 85% – 95% |
| Overweight | >95% |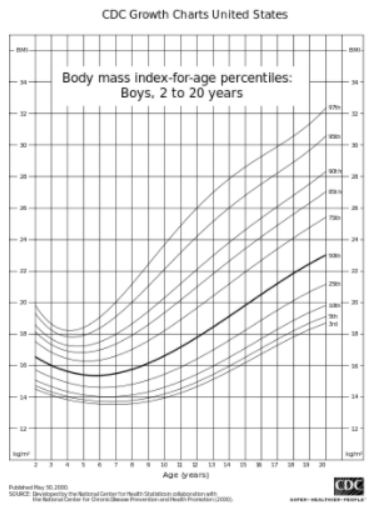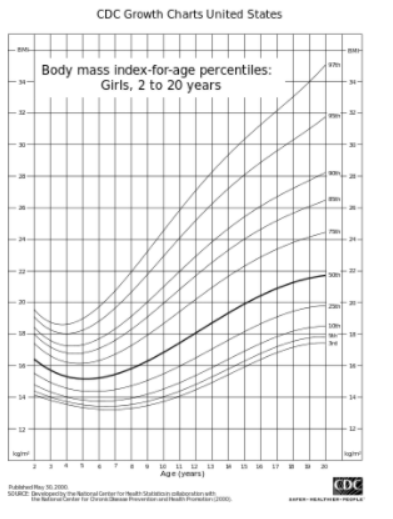 BMI calculator is calculated similarly as adults but compared to particular values for other children of the same age. BMI is compared against the percentiles for kids and teens of the same sex and age. As a study in Britain, it is indicated that females at the age of 12-16 will have a higher BMI than boys of the same age by 1 kg/m1 on average.
If you have a child or teenager between the ages of 2 to 20 and want to know their healthy weight range, check out this average height and weight chart for teen boys and girls. It can give you an idea of what weight range is appropriate for your child's height and age based on BMI.
Special Cases
BMI for Pregnant Women
Normally, body mass index will not apply to pregnant
BMI for Muscular
If you are muscular, your level of body fat might be lower than BMI predicted. However, it will happen to those who do high levels of workout, much more than average.
BMI for Asian
Asian people tend to accumulate intra-abdominal fat deep inside the stomach rather than under the skin, at a lower BMI than Caucasian people. That means their health risks will increase at lower BMI since the intra abdominal fat is connected to heart disease development and type 2 diabetes. It is recommended that some Asian groups should concern overweight if their BMI is from 22-25 and obese with a BMI of 26-31.
BMI for Olders
BMI might not be the correct reflector of body fat since muscle mass will drop, and body fat will rise in the older adults.
What is a BMI Calculator?
BMI calculator is the formula for measuring body fat based on health and weight, which applies to adults and children. Nowadays, there are so many types of webs, tools allowing you to enter your weight and height using the standard measures, and by some simple procedure, you can get a BMI index quickly.
BMI Formula – How to Calculate The Body Mass Index
You might be curious about how to calculate the body mass index. Hence, I will show you the equation used for calculating BMI. It is in the International System of Units (SI) and the US customary system USC using the 5'10", 160-pound individual. Let check the example below:
SI, Metric Units:
BMI = Mass (kg)/ height2
For example, Your weight is 72.57 kg and your height is 1.78m then your BMI = 72,57/1.782 = 22.9 Kg/m2
USC units:
BMI = 703 x Mass (lbs)/ height2 (in)
For example: Your weight is 160 lbs and your height is 70 inches then your BMI = 730 x 160/702 = 22.96kg/m2
What is the Ponderal Index (PI)?
If you are concerned about the differences between PI and BMI, This section is for you. PI is similar to BMI because these indexes measure leanness or corpulence based on weight and height. However, there is a huge difference between them: the cubing rather than squaring of height in the formula. BMI is an excellent tool for large populations, but it is not very reliable for the leanness of fatness in individuals.
While PI is more reliable for use with very short or tall individuals. BMI records uncharacteristic high or low body fat levels for someone on the extreme ends of the height and weight spectrum. Let's see the example below of the PI formula for an individual using USC:
SI metric units:
PI= mass (kg)/height3 (m) = 72.57/1.783 = 12.87 kg/m3
USC Units:
PI = height (in)/∛mass (lbs) = 70/ ∛160 = 12.89 in/∛lbs
Being Overweight Risks
There are a number of severe diseases and health problems if you are overweight. I would let you know some of the popular risks from being overweight according to the Centers for Disease Control and Prevention – CDC:
High blood pressure
High levels of LDL cholesterol – bad cholesterol
Low level of HDL cholesterol (good cholesterol in moderation and high levels of triglycerides)
Type II diabetes
Coronary heart disease
Stroke
Gallbladder disease
Low life quality
Mental illnesses (anxiety, clinical depression, and so on)
Body pains
Difficulty with some physical functions
Sleep apnea
Breathing problems
Osteoarthritis (the joint disease caused by the breakdown of joint cartilage)
You can see those risks from the above list; some negative and some cases are fatally associated with being overweight. In general, we should try to keep the BMI calculator index below 25kg/m2. It is ideal to consult the doctor to decide if you need to make some changes to your lifestyle to be healthier.
Being Underweight Problems
Being underweight also causes many health issues.
Potential complications
Growth issues, specifically in teenagers and children
Possible reproductive issues for females because of hormonal imbalances which disrupt the menstrual cycle. Significantly, the underweight women will face a higher chance of miscarriage in the first trimester
Decrease immune function
Osteoporosis causing bone weakness and increasing the breaking bone risks
In many cases, being underweight is a sign of an underlying condition and disease like anorexia nervosa. You should meet a doctor if you are thinking you are getting a problem with underweight.
If you are dealing with being underweight, it can pose health problems and affect your self-esteem. Check out this article about is it better to be underweight or overweight? It can provide a comparison to help you determine a healthy weight range for your body type.
BMI Limitations
BMI is used widely as a helpful indicator for healthy body weight control. However, it also comes with several limitations. Due to the various range of body types and distribution of muscle, fat, bone mass, BMI calculator should be along with the other measurements rather than being the sole method for determining healthy body weight
For adults:
BMI can not be 100% correct since it measures excess body weight rather than excess body fat. It is influenced by factors such as muscle, mass, ethnicity, sex, age, body fat, and activity levels.
For instance, an older person is a healthy weight but inactive in daily life might come with significant amounts of excess body fat even if he is not heavy. It would be unhealthy, while younger people with higher muscle composition of the same BMI can be considered healthy.
For athletes, specifically, bodybuilders considered overweight because of the muscle being heavier than fat, he may be healthy for his body composition. According to CDC:
Old adults will tend to have more body fat than young adults with the similar BMI
Women Tend to have more body fat than men with the same BMI
Muscular people and highly trained athletes will have higher BMIs because of large muscle mass.
Children and adolescents
The same with adults, these factors also affect the efficacy of BMI for children and adolescents. Besides, the height and level of sexual maturation also affect the BMI and body fat of children. BMI is an excellent indicator of excess body fat of obese children than it is for overweight children. In thin kids, the difference in BMI can be because of fat-free mass.
Applications of BMI
BMI is used as the means of correlation between groups related to mass and serves as the vague means of estimating adiposity. The BMI is appropriate for recognizing trends within overweight persons' sedentary as there is a small margin of error. It is also helpful for data regarding obesity and other conditions.
BMI is regarded as the tool for measuring if sedentary individuals are overweight, obese or underweight. Besides, in some countries, legislation has been introduced banning unsafe fashion models with BMI below 18.
To effectively manage your body weight, it's important to know how many calories you need to consume in a day. Consider using a calorie calculator to help you determine your daily caloric needs, depending on your age, gender, height, weight, and level of physical activity. By balancing your calorie intake with your physical activity level through diet and exercise, you can achieve and maintain a healthy BMI.
Alternative Calculation of Weight-Related Health Risks
Suppose you want a more accurate calculation, or a BMI calculator can not reflect correctly when you are overweight or obese. In that case, you can measure your abdominal circumference, waist height, or waist-hip, which will provide you with a more realistic result.
How to measure your waist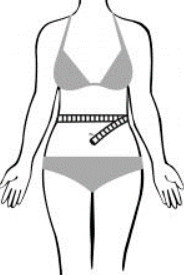 Step 1: Find your top of hip hone and bottom of ribs
Step 2: Breath out naturally
Step 3: Put the tape measure at the narrowest position between these points and wrap it around your waist. Then you can see and read your waist measurement.
Remember that you should measure your waist circumference halfway from the bottom of the ribcage to the top of hip bones, with the tape parallel to the ground. You should breathe out when you are measuring.
| | |
| --- | --- |
| Men | Women |
| Increase health risk -≥94 cm (37ins)High health risk -≥102cm (40ins) | Increase health risk -≥80 cm(31.5ins)High health risk -≥88cm (34ins) |
To determine your waist measurement, wrap a measuring tape around your natural waistline, which is located above your belly button and below your rib cage. For a more detailed guide, check out this article on how to measure your waist. It's an essential step when calculating your BMI, dress size, and pants size conversion.
Waist to hip ratio
For measuring your waist to hip ratio, you should measure your waist circumference and your hip size at the hips' widest part then divide your abdominal circumference by hip measuring to give the ratio.
| | |
| --- | --- |
| Women | Men |
| Greater than 0.85 will along with more than average risk | more than 1.00 will be more dangerous than the average risk |
Waist to height ratio
Firstly, measure your waist circumference and divide it by your height. Both measurements should either be in the metric (cm) or imperial (inches)
If you're looking to determine your overall health, you may want to measure your waist to height ratio. This is a simple calculation that can help you identify if you have an unhealthy amount of abdominal fat. For guidance on what your waist to height ratio should be, check out the Ideal Weight Calculator on Hood MWR. This tool lets you enter your height and weight to determine a healthy range for your body.
Advantages of Maintaining a Healthy Weight Index
Decrease the risk of joint and muscle pains
Reduce the risk of heart disease and cancers
Fewer blood triglycerides, risk of type II diabetes and blood glucose
Reduce the burden on the circulatory system and heart
Improve your sleep patterns, regulation of bodily fluids, and your blood pres
How to Maintain a Healthy BMI Index?
Many factors affect a person's weight, such as environment, genetics, metabolism, behavior, and habits. How to keep your healthy weight index?
Balancing energy is very important to stay within a healthy weight range. The amount of calories and energy you get from eating is balanced with the energy you use for digesting, being active, and breathing.
A similar amount of energy in and out over time will be equivalent with weight stays the same.
More energy in than out => weight gain
More energy out than in => weight loss
Thus, to keep your healthy weight, your energy in and out does not need to be balanced precisely daily. It is the balance overtime that supports you to keep a healthy weight. If you follow the below line, you can keep your BMI at a healthy rate.
Physical activities
Regular physical exercises are crucial for good health, and it is also essential if you are trying to lose weight and stay healthy index.
If you are losing weight, physical activities will increase the calories your body uses for energy. The burning of calories through activities, reducing calories when eating, creates the calorie deficit, resulting in losing weight.
Help to maintain your weight.
Reduce high blood pressure, type 2 diabetes, heart attack, some cancers, and stroke
Decrease arthritis pain, the risk for osteoporosis and falls
Reduce depression and anxiety symptoms
If you want to stay your weight, you can work for up to 150 minutes of average-intensity aerobic workouts. In case you want to lose weight, you need a high amount of physical activity if you do not adjust your diet and reduce the calories you are eating.
Some activities will be suitable for you to keep in shape:
Running & jogging
Swimming
Cycling fast and uphill
Doing workouts
Using skipping rope
Playing sport
Martial art
Decrease Screen Time
If you are working in the environment of sitting for a long time in front of screens, you are more likely to be obese. Thus, you should set up a reasonable time limit on spending to watch TV, playing games, using computers, tablets, phones. Besides, you should think about the time for doing exercises every day and sleep enough time.
Gardening, walking, karate, swimming, or bowling will be great to enjoy at least four to five times/ week.
Healthy Diet
Five servings of veggies and fruits/ day are essential, including all need and healthy minerals and vitamins. Besides, fruits and veggies are packed with fiber, which means they will fill you up, and when you are filled up on fruits and veggies, you will be less likely to overeat. Hence, you can be at low risk of being overweight.
Eating breakfast everyday plays a role as a kickstart for your metabolism, burning calories and giving more energy to work for all day long. If you do not eat breakfast regularly, you will feel hungry and eat more later on. Hence, you get more calories than you would have if you ate breakfast. Someone who skips breakfast will have a higher BMI than ordinary people.
Eat enough three meals every day and one to two planned snacks.
Drink at least 8 cups of water or low calorie or calorie-free fluids during a day. Calories in sweetened teas or sodas will add up fast yet do not fill you up.
For keeping you from hurting between meals, you can eat some small amounts of healthy fat such as seeds, nuts, or olives and protein, carbohydrates for each meal.
Eating the food will have little or no nutritional value.
Keep an eye on portion distortion.
A large portion pile will give more calories which can lead to weight gaining. Sugary beverages such as juice drinks, sports drinks, or sodas will be empty calories that contribute to obesity. Hence you should choose the smaller portions and go for water or low-fat milk instead of beverages.
To check whether your current body weight falls in the healthy BMI range, use the Healthy Weight Calculator provided by Hood MWR. This will give you an idea of how much you need to lose or gain to achieve a BMI that is considered healthy. Maintaining a healthy BMI can lead to positive health outcomes like lower risk of chronic diseases, better heart health, and more energy.
FAQs
What is the best BMI for females?
From 18.5 – 24 is normal and healthy for most women. Although healthcare professionals can use BMI as the screening tool, they use it to assign the body fat levels or health status. It would help if you remembered that health is more than body weight or body composition.
What should I do if I am worried about my BMI?
If you find your BMI is out of the healthy range, you should talk to your family doctor before you want to make some large changes to your diet or activity. However, it would be best if you also made a slight change from now on.
If your BMI is over the ideal weight, you should lose a few pounds for starting, and then you can improve your health to support you avoid the risk of cancer and other diseases. If your BMI is indicated as more minuscule than the ideal index, you should gain some weight for better health.
Why is the BMI calculator inaccurate?
BMI is not a correct predictor of health as it does not account for the body fat % or distribution. Besides, BMI can not correctly predict different faces and demographics as it was created with the data from only the Europeans.
How to use the BMI calculator?
It is so simple to calculate your BMI, follow the below steps:
Enter your weight and select the units
Then enter your height in inches or meter
Press calculate button
If you want to calculate again, press the recalculate button.
How to lower my Body mass index?
You should eat fewer calories than you burn, but do not get overwhelmed. You can start by lowering your calories by 500 / day. It can result in a pound of weight loss weekly. Don't forget to remind yourself that do not eat in front of the TV.
Is it possible to lose 10kg/ month?
Consistency is very crucial while trying to lose weight. With a sound and science diet, appropriate activities, you totally can lose up to 10 kg/ month.
The above information is all I have known. Hopefully, it will help for a general overview, even if it might not apply to anybody. Hence, don't forget to get more information on the BMI calculator and control your weight well!.