At first glance, vintage bikes that have been abandoned for a long time appear to be badly damaged. However, these deteriorations are sometimes less serious than they appear. The first thing to do is to take stock of the general condition of the bike. Important repairs may also be necessary afterward. Here's how to do it.
1. Disassemble the bike: It is ideal to disassemble a vintage bicycle whose general poor condition is clear at first glance. In this way, the problems will be better localized and it will be easier to judge what needs to be done.
2. Stripping the paint: Stripping paint from a vintage bicycle is a fairly straightforward process. But it can be time-consuming and laborious. To do this, the use of a chemical stripper or sandpaper will be necessary. However, it is possible not to touch the original paintwork if it is still in excellent condition.
3. Take care of the rust: When renovating a vintage bicycle, it is likely to come across several rust spots: Usually, this rust is only superficial. We can remove it with detergent, scrubbing it with a wire brush. Rather stubborn traces of rust can also be removed by soaking the part in petroleum before scrubbing it with a wire brush. If the rust is very severe, it is better to replace the part.
4. Check the condition of the tires: On an old bicycle, when the tires should be replaced, even after checking. Indeed, the latter are often worn and smooth. Over time, older tires also often dry out and can crack.
5. Estimate the condition of parts: After complete disassembly of the bike, it is essential to assess the state of wear of these different parts. If some are still recoverable, you just have to clean them and read our latest guide about how to clean a mountain bike. For those which are too worn or deteriorated, it will be necessary to replace them.
6. Replace the brake pads: The brakes require special attention. On older bikes, brake pads are often available with rubber materials that break down quickly. If they have become thin enough, it is best to replace them. If the brake cables show signs of rust, it is also necessary to replace them.
7. Switch to lubrication: Once the cleaning is done, it is advisable to lubricate all the elements that require it.
8. Switch to painting: Once the frame and other metal parts are primed, it will be necessary to paint using spray paint specially designed for bicycles. An additional coat of varnish will protect everything.
9. Replace the bar tape: The bar tape on an old bicycle is never in excellent condition. Do not forget to replace it to have a better grip on the handlebars. In addition, this replacement also makes it possible to give a facelift to the machine.
10. Reassemble the bike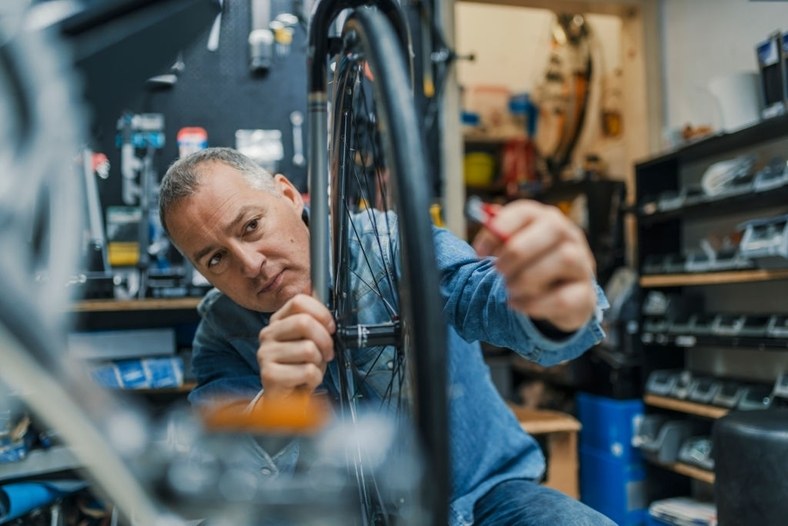 Vintage Bike Restoration
Here is the list of tools to use for restoring a bike:
A tire changer that will lift and remove the tires from the rims;
A repair kit for the inner tube if it has a hole;
A chain wear indicator;
A chain tool that will allow it to be dismantled and reassembled;
A crank extractor which will allow the cranks to be detached from the pedals;
A spoke wrench to tighten the nuts at the spokes to tighten or contract them;
Flat or elbow wrenches of various sizes to loosen various nuts;
A cone wrench which will allow the hub to be adjusted;
A cutter that can be useful for ducts and cable brakes and derailleur;
A rubber mallet;
A pump.
To operate comfortably and to reach all the parts more easily, it is preferable to suspend the bicycle on a workshop stand.
The renovation of a vintage bike is a classic in bike restoration. So your good road bike can turn into a trendy bike with a few keystrokes. The advantage of this type of bike is that the manufacturer reduced the mechanics to the strict minimum to avoid any problem.
Then, without transforming his bike into a high quality single-speed or fixed gear, vintage is back in fashion. So, what better way to get rid of an old bike than to give it back some value? Before reselling your bike, you just need to rework a few parts to give it a second youth.
The renovation of vintage bikes also meets the fashion criteria of Do-It-Yourself. Repairing an old bike also means challenging yourself. Remember to exchange advice when entering a community. And yes! Because more people are passionate about renovating old bikes than you might think.
For step-by-step instructions, please click to this video.
How to Restore a Bike
The simplest and fastest renovation is certainly refurbishment. We are content to clean, thoroughly overhaul and repair the vintage bike so that it runs like clockwork. In its juice, it means that the paint is original and that it may be slightly damaged or tarnished. Here, the chrome bike renovation is not necessarily useful and the latter can be left bitten.
In short, it is still normal but your bike is old. It is also effective against bike theft. For a guaranteed vintage effect, a cool saddle bike will help you keep that old bike look by restoring comfort.
Restoring Old Bicycles
We are talking about the original renovation with a restoration to its factory condition. We often redid the paint like the original. We can also redo the chrome bike renovation. You can replace damaged parts with identical or even vintage models.
It is an extensive and expensive bicycle renovation. The bicycle finds its first youth! Sometimes, the tires remain the part whose age has harmful effects. Obviously, the more this part is protected, the less the rubber will crack. Some tires are still better suited when starting an original renovation.
A vintage bike requires a tire category according to your tastes and the original brand of the frame. If we look back on the appearance of your old bike, it will keep its cachet by paying attention to the handlebars. Then, the protection must be changed by a new hanger tape, stylized as. A final popular accessory for racing bike renovations. A simple vintage headlight directly gives style to your bike. A practical and modern luggage rack contrasts it.
Bicycle Restoration Tips
Carry out your old bike renovation yourself
If on an IKEA piece of furniture, there is a manual. The renovation of a vintage bike leaves you free to your imagination. YouTubers have done many video tutorials to support you in your renovation. In particular, you can use the Tutorial videos of Encyclo.
Doing a bike restoration on your means you have to equip yourself. As the bike is available up to ten elements of different sizes, including small screws for some models. It is necessary to choose a fixed location for dismantling and assembling the bike.
Repair stands come for this reason. Thus, you do not risk losing the parts during the restoration. You can also write all the dismantling steps in a small notebook so you forget nothing. You will then perform the reverse operation once the repair is complete.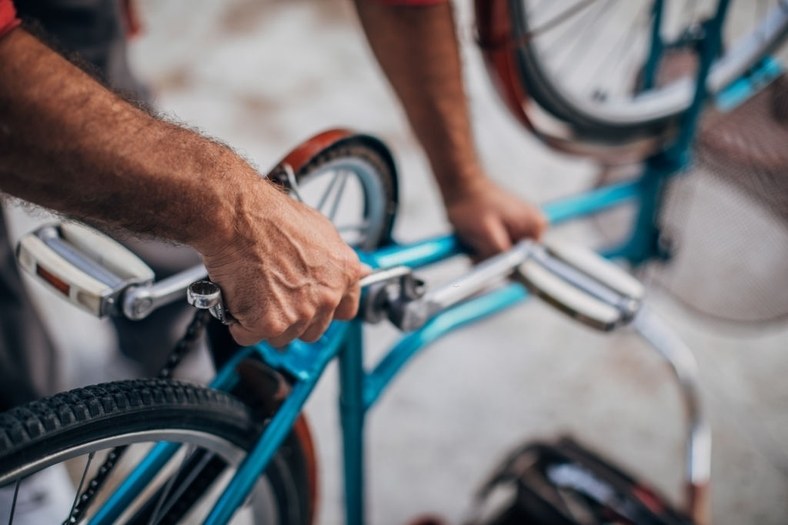 Take care of the renovation of your old bike
If you are not too comfortable with bike mechanics, surrounding yourself with connoisseurs may be the solution. Many associations or even bicycle workshops offer help for bicycle renovation. Often as a collective where precious advice, bike parts, and tools are exchanged.
Support can also be financial. The bicycle boost is an aid for bicycle renovation. Created at the end of the first confinement, it allows supporting up to $50 for the repair of a bicycle. A valid help within the network of repairers referenced on their platform.
Renovation to modernize a bicycle
It is possible to renovate an old bike and modernize it to suit your needs. Do you want to fit modern wheels or a current transmission on a bike from the 70s or 80s? It is possible! Beware of the different standards between your bike and the current equipment. The standards of headsets or bottom brackets, for example, have changed in recent years.
When modernizing a bike, they often keep the frame and the fork, then replace the rest. Mixing old bikes with modern equipment is a great way to combine functionality with practicality. Unlike an original renovation, we see that the chrome handlebars give this modern aspect to the bike. The trend is towards a clean style for this renovation.
How much does it cost to renovate an old bicycle?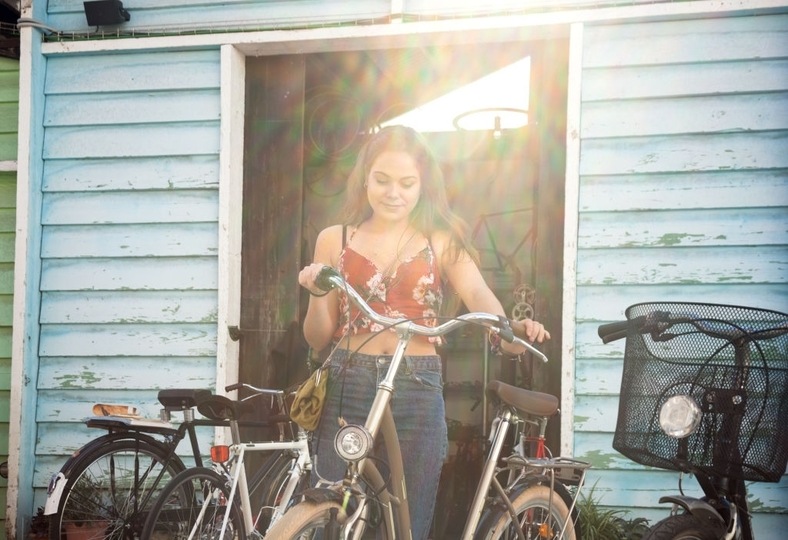 A simple repair of the bike to working order will inevitably be less expensive than a modernized renovation or an original renovation. However, several aspects come into play in the cost of your bike renovation.
As with every object, it links the cost of your old bike renovation to the value of your spare parts. You can also restore your bike by finding a bike in the trash, on applications like "Geev" or "LeBonCoin", by buying at garage sales, or even on merchant sites like LeCyclo.com.
The renovation of an old bicycle may require specific and rare parts. The cost of them is considerable. It is better to set aside a large budget for the original renovation. The modernized renovation combines old rooms with new ones. It wants to be less onerous on this criterion. As a result, the model of the bike also influences the price. The restoration of young racing bikes will inevitably be more accessible in terms of parts.