Weight loss can be challenging for many people but is also one of the most rewarding. Your general health and well-being can be significantly improved by noticing a decrease in the number on the scale and increasing body confidence. However, it can sometimes be difficult to stay motivated during the weight loss process. That's why hearing from others who have successfully lost weight can be inspiring.
In this article, we will share 30 weight loss success stories from real people who have made significant lifestyle changes to achieve their weight loss goals. These stories will not only inspire and motivate you, but they will also provide you with valuable insights and tips on how to overcome obstacles and make lasting changes for a healthier life.
1. Kevin Gendreau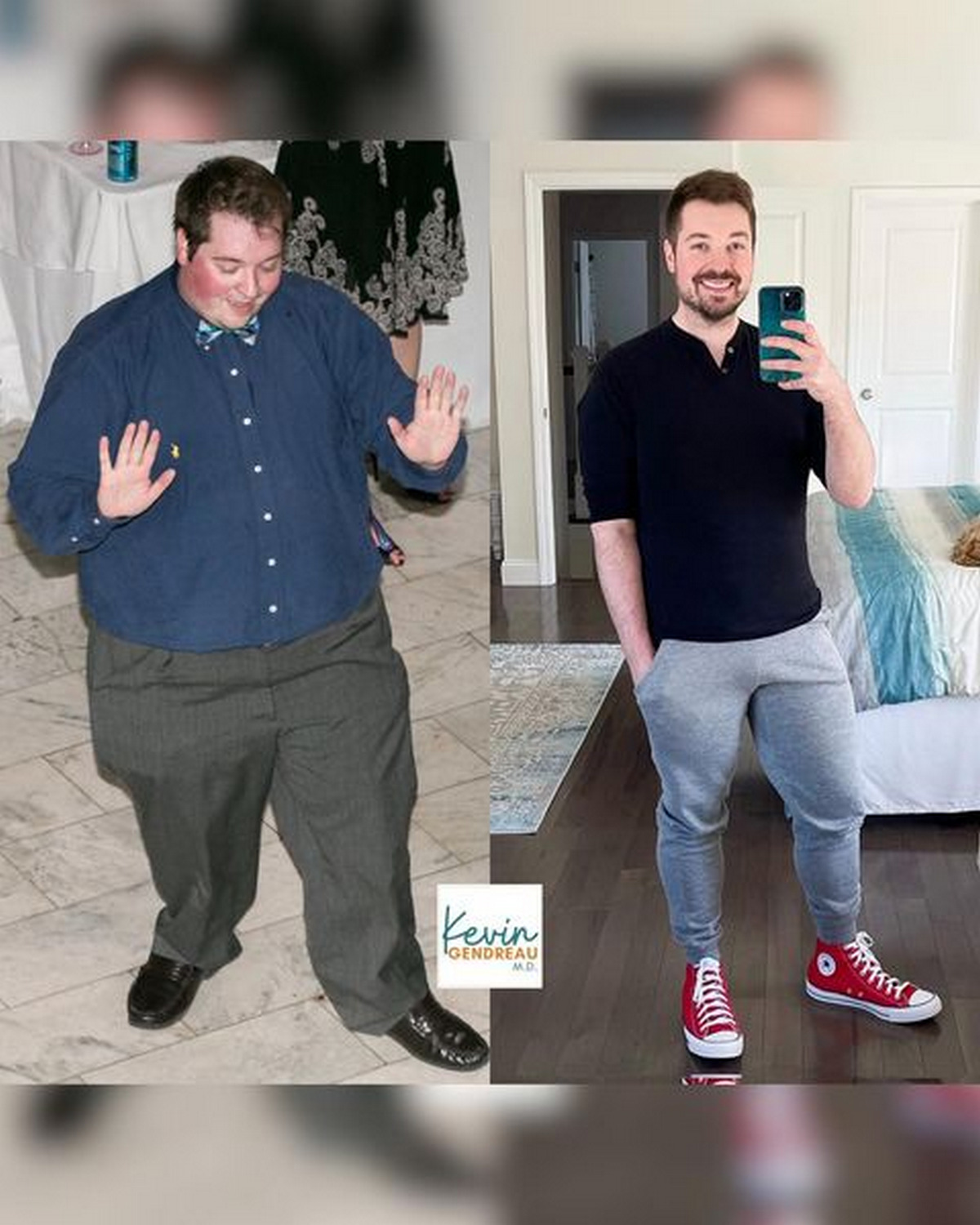 A food addiction plagued Kevin Gendreau for over ten years, causing him to reach a maximum weight of 306 pounds. Gendreau had a number of health problems as a result of his bad eating habits, including fatty liver disease, high cholesterol, high blood pressure, and sleep apnea. He was aware that his eating habits were the cause of his health issues, but he found it difficult to make changes.
In 2016, when his sister was diagnosed with terminal cancer, Gendreau realized the importance of prioritizing his physical health. He recognized that what he did to himself was a choice, unlike his sister's illness. This realization was a turning point, prompting him to cut out all junk food and adopt a diet rich in fruits, vegetables, nuts, & protein. Through this approach, Gendreau lost 125 pounds over 18 months.
2. Joan MacDonald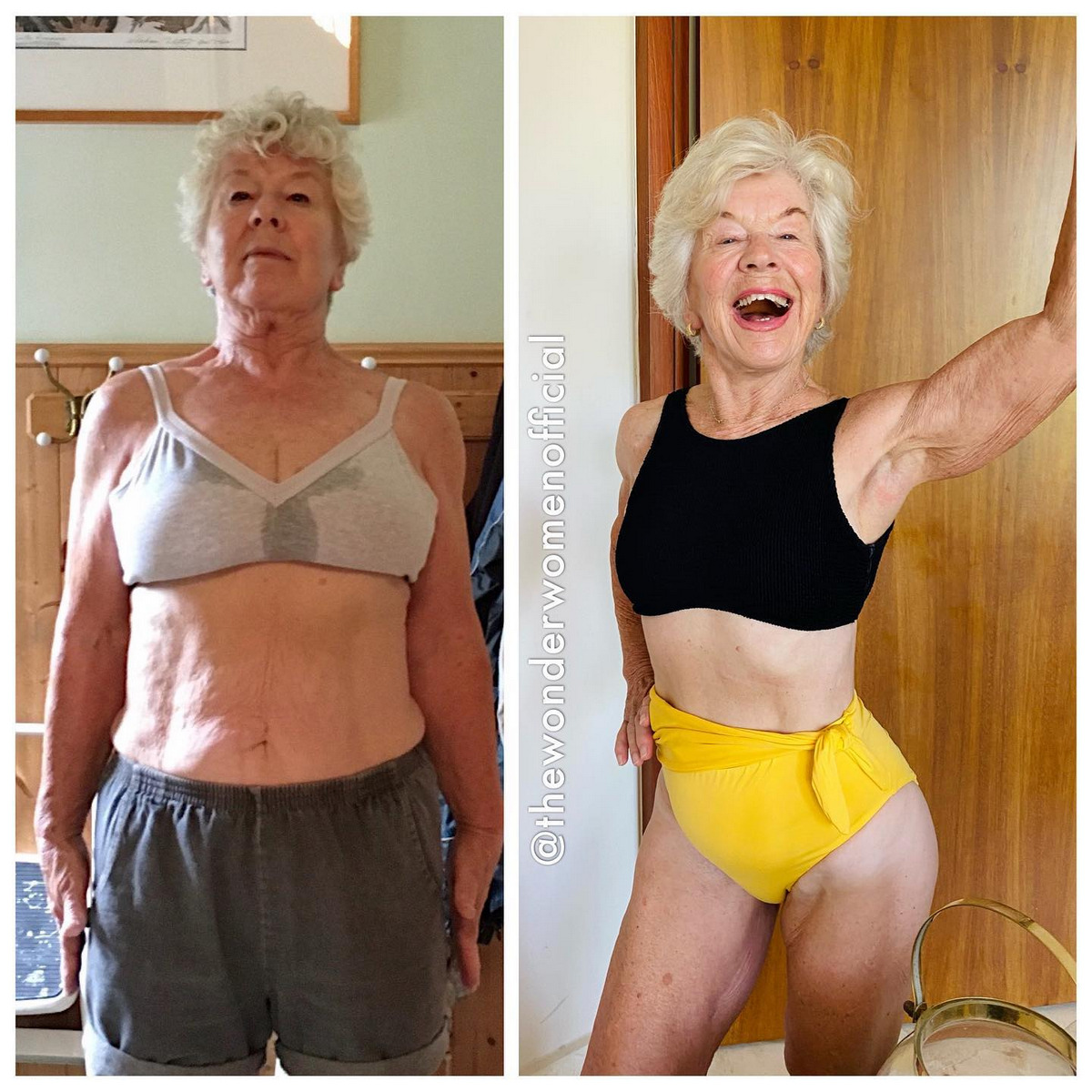 Don't believe it's impossible to transform your body after turning 50? Think again. Joan MacDonald, a 76-year-old woman, became an internet sensation after revealing her remarkable physical transformation.
Fearing for her health, MacDonald's daughter taught her mother how to track her meals and exercise using an iPhone app. This tracking tool encouraged MacDonald to consume more protein and healthy fats while hitting the gym four or five times weekly. By implementing these significant lifestyle changes, MacDonald lost 55 pounds in one year and gained significant muscle. She now assists others in achieving their fitness goals, regardless of age.
3. Amber Neale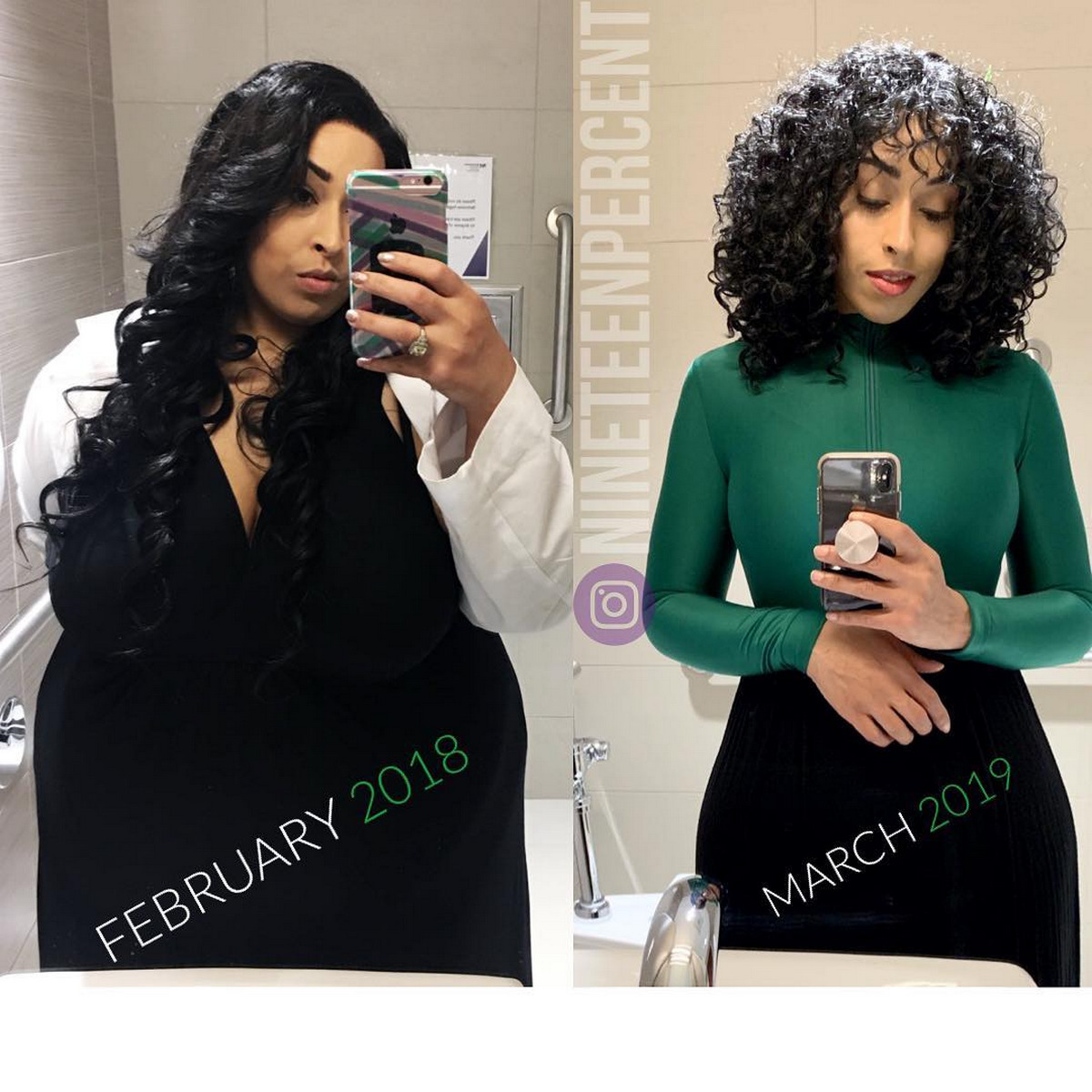 Amber Neale spent most of her young adulthood in a cycle of weight loss through various diets, then gaining it all back. Neale's unhealthy relationship with food led her to seek help from a mental health specialist in January 2017, when she reached her second-heaviest weight of 325 pounds.
According to an interview with Women's Health in April 2019, Neale realized that she needed assistance when she found herself living through the same dreary routine daily, with food being her sole solace.
After receiving treatment for her anxiety, depression, and binge-eating disorder, Neale could eliminate fast food from her diet, reduce her portion sizes, and exercise for 45 minutes daily. Over two years, she lost 190 pounds. Today, Neale takes things "one meal, or one moment, at a time."
4. Joey Morganelli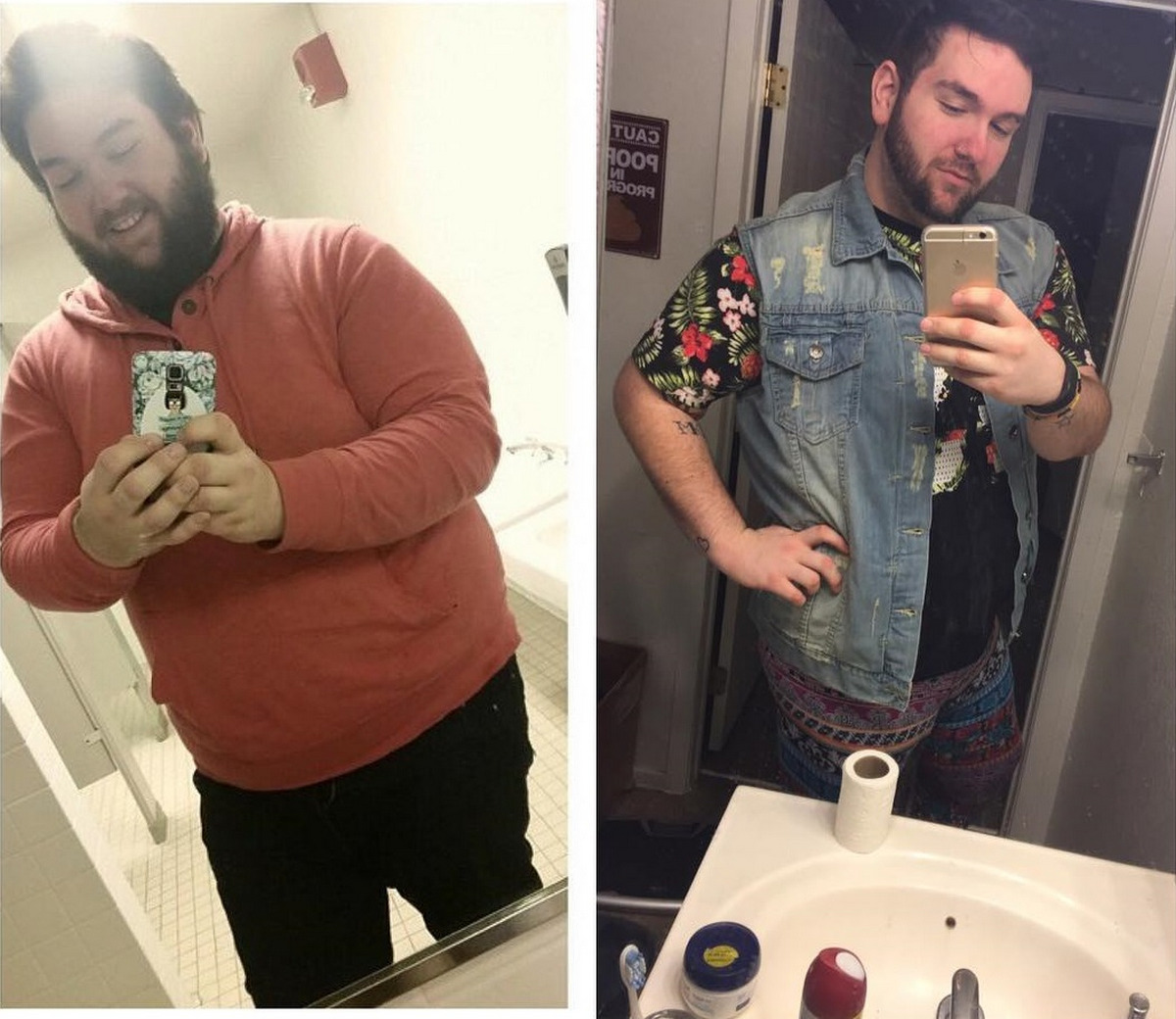 Joey Morganelli's story is one of tragedy and perseverance. At 16, he witnessed his father die from a heart attack three years after his mother died of cancer. Overwhelmed with grief, Morganelli turned to food for comfort, and by the time he graduated high school, he weighed 400 pounds.
Fortunately, some people in Morganelli's life cared about his health and well-being. During his first year of college, his microbiology professor expressed concerns about his health and recommended the documentary Fat, Sick and Nearly Dead. The film made a profound impact on Morganelli, and he gradually began to replace fast food with nutritious, home-cooked meals. He eventually committed to a vegan diet, and by mid-2018, he had lost 150 pounds.
5. Jelly Devote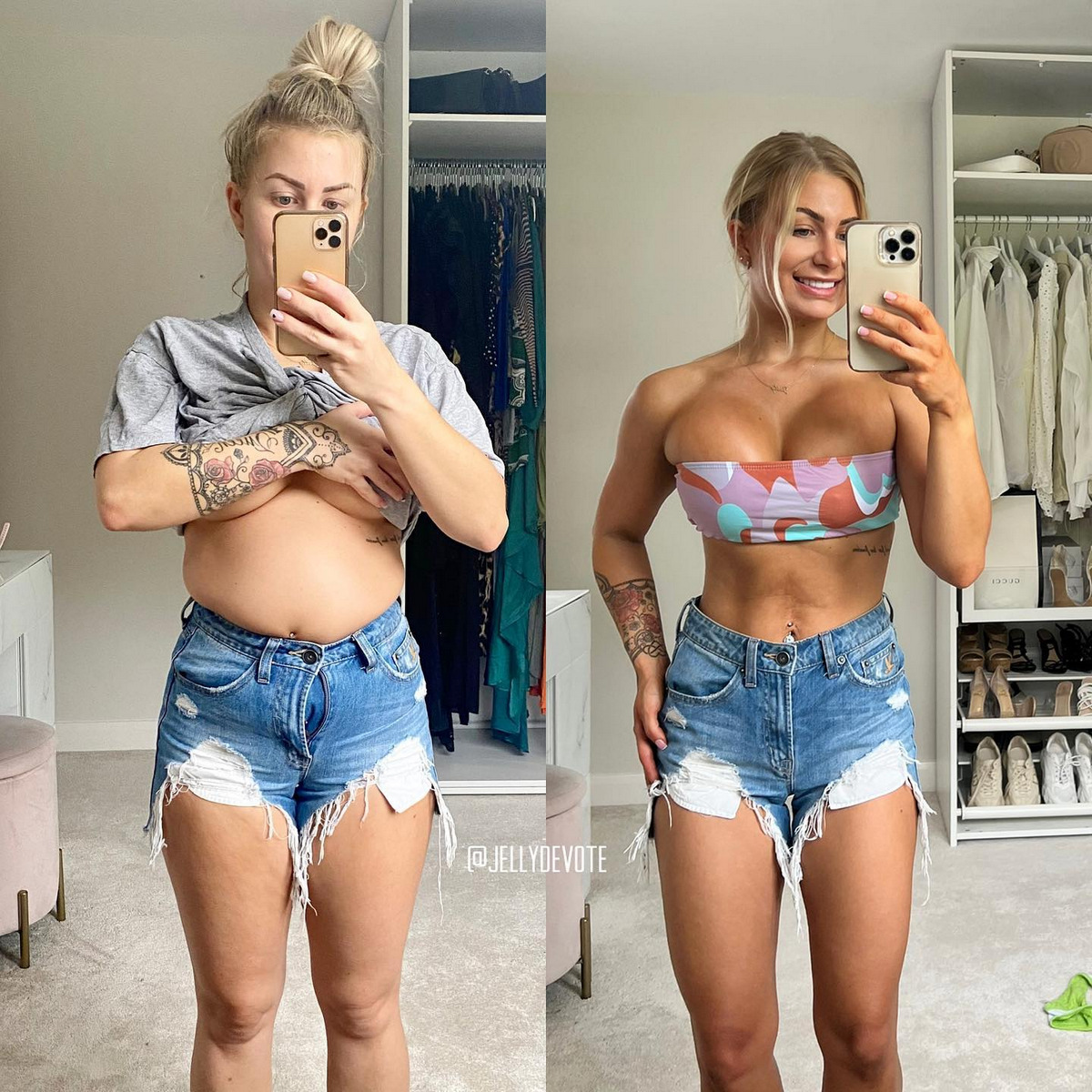 Alcohol is widely known to contain many calories and little nutritional value, hindering weight loss and other health goals. Yet, a post by Instagram influencer Jelly Devote that went viral demonstrated how switching from excessive alcohol usage to increased water consumption might help with weight loss.
In the post, Devote shared a photo of herself at 21 during her college partying days, where she drank beer and cider excessively. At 27, Devote exercises regularly, drinks moderately, and feels like she's aging in reverse. In a post on Instagram in February, Jelly Devote expressed how much she has changed and how much better she feels physically and emotionally.
6. Mary Jane O'Toole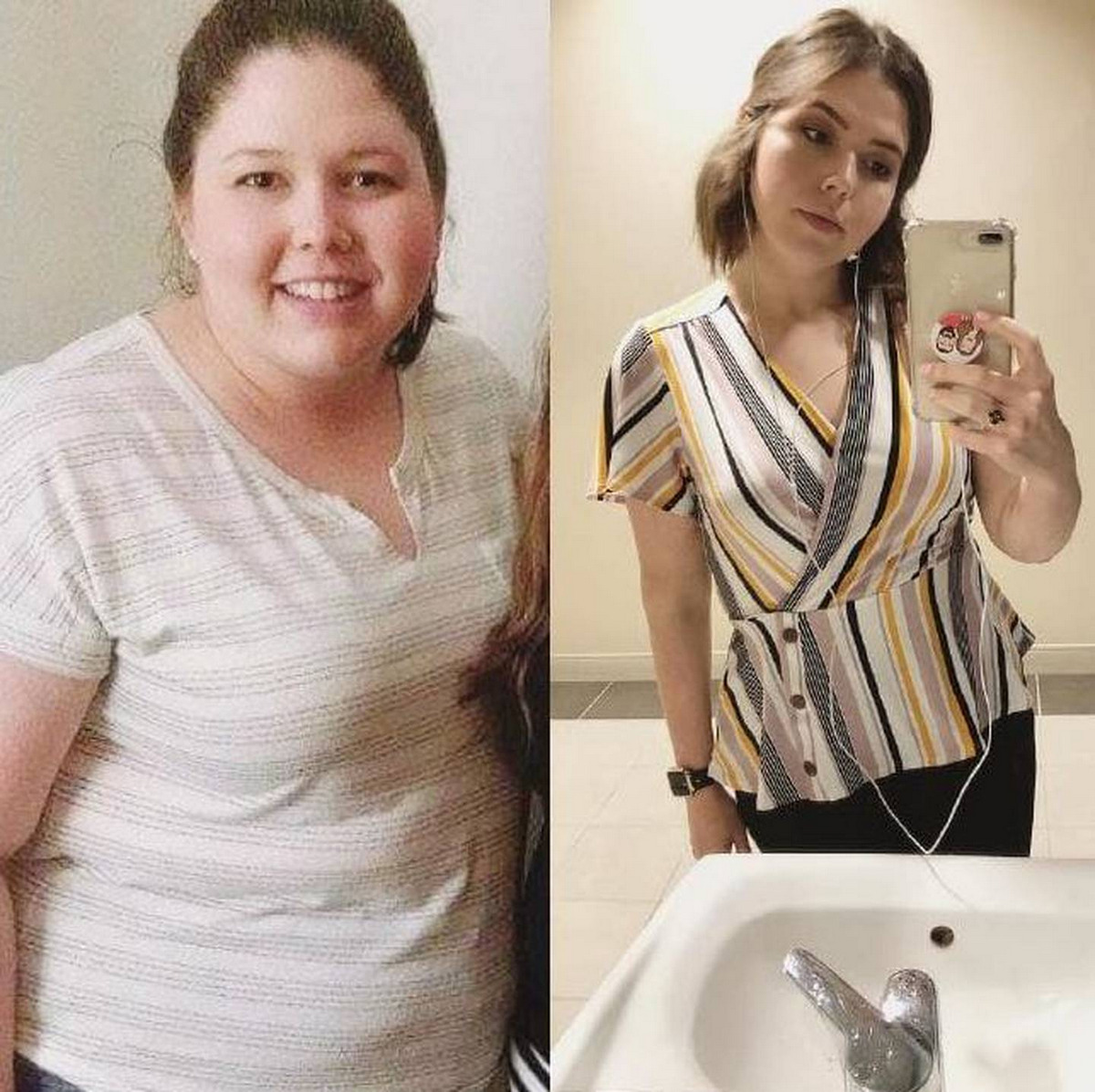 Mary Jane O'Toole became engaged to her longtime boyfriend in 2016 and was thrilled, except that she weighed 281 pounds and was worried about finding a wedding dress. O'Toole didn't want to purchase a plus-size dress because they were more expensive than regular ones, leaving her feeling like she was paying a "fat tax" for being larger.
After seeing photos of themselves on a trip to Disney World, O'Toole, and her fiancé decided to lose weight together and began using the LoseIt! app to track their calorie intake. Over the first year, O'Toole lost 75 pounds and an additional 25 pounds once they incorporated exercise into their routine. She had shed a total of 135 pounds by the time her wedding day came around earlier this year, and she was able to wear the dress of her dreams.
7. Hunter Croteau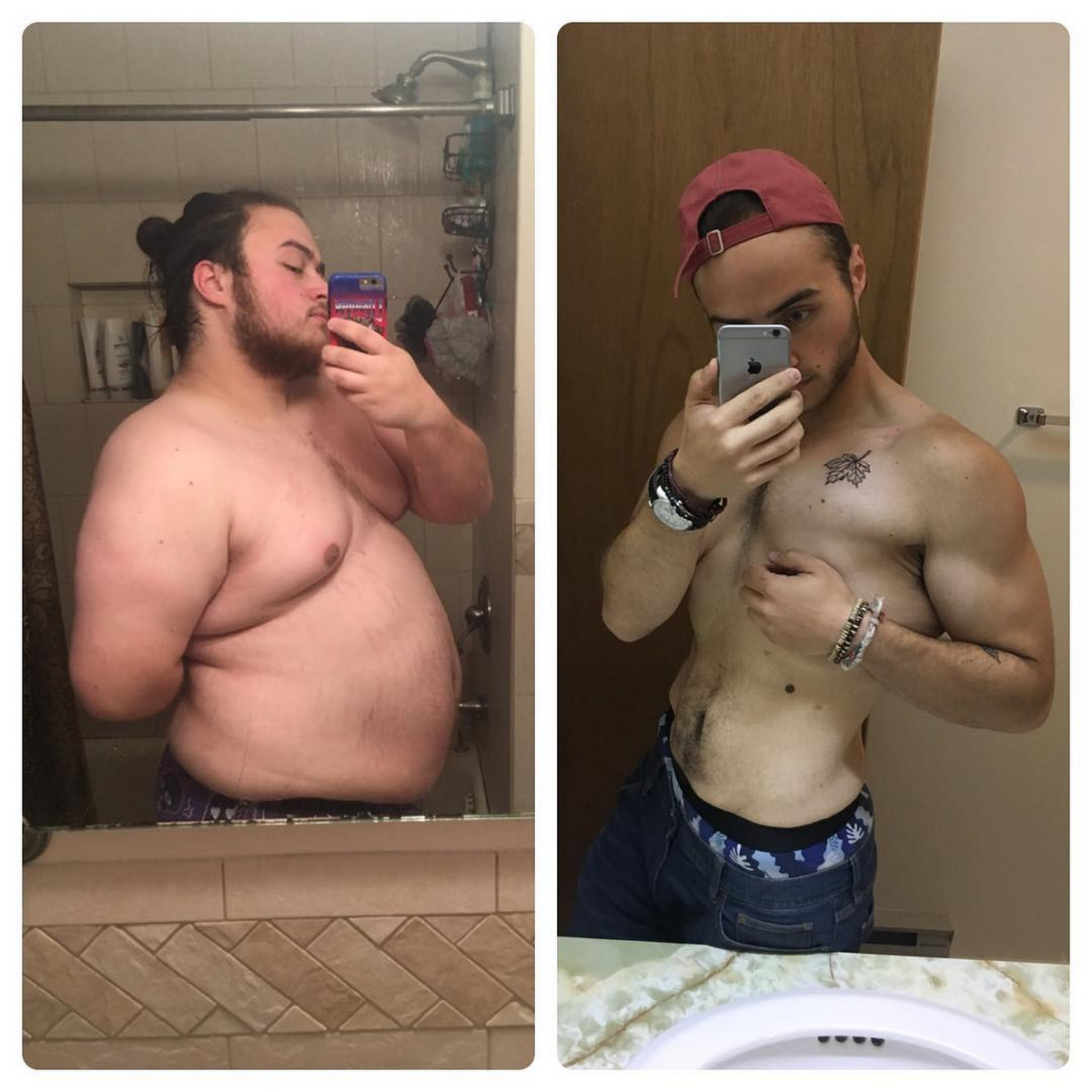 Hunter Croteau discovered he weighed 367 pounds when the scale at his home could not measure his weight. After graduating from high school, he began a healthy diet with the support of his family, but he struggled to stick with it and fell off the wagon. Feeling helpless, he spoke to his doctor, who suggested he have a sleeve gastrectomy, a surgery that removes 80 percent of the stomach to limit food consumption.
Following the surgery, Croteau started going to the gym and became fascinated by the science of fitness. With portion control and a consistent workout routine, Croteau lost 175 pounds in 8 months and is studying to become a certified personal trainer. Although he acknowledges the surgery was worthwhile, Croteau attributes his success to his love for exercise, which has helped him to maintain his weight loss and stay in shape.
8. Stacy Blair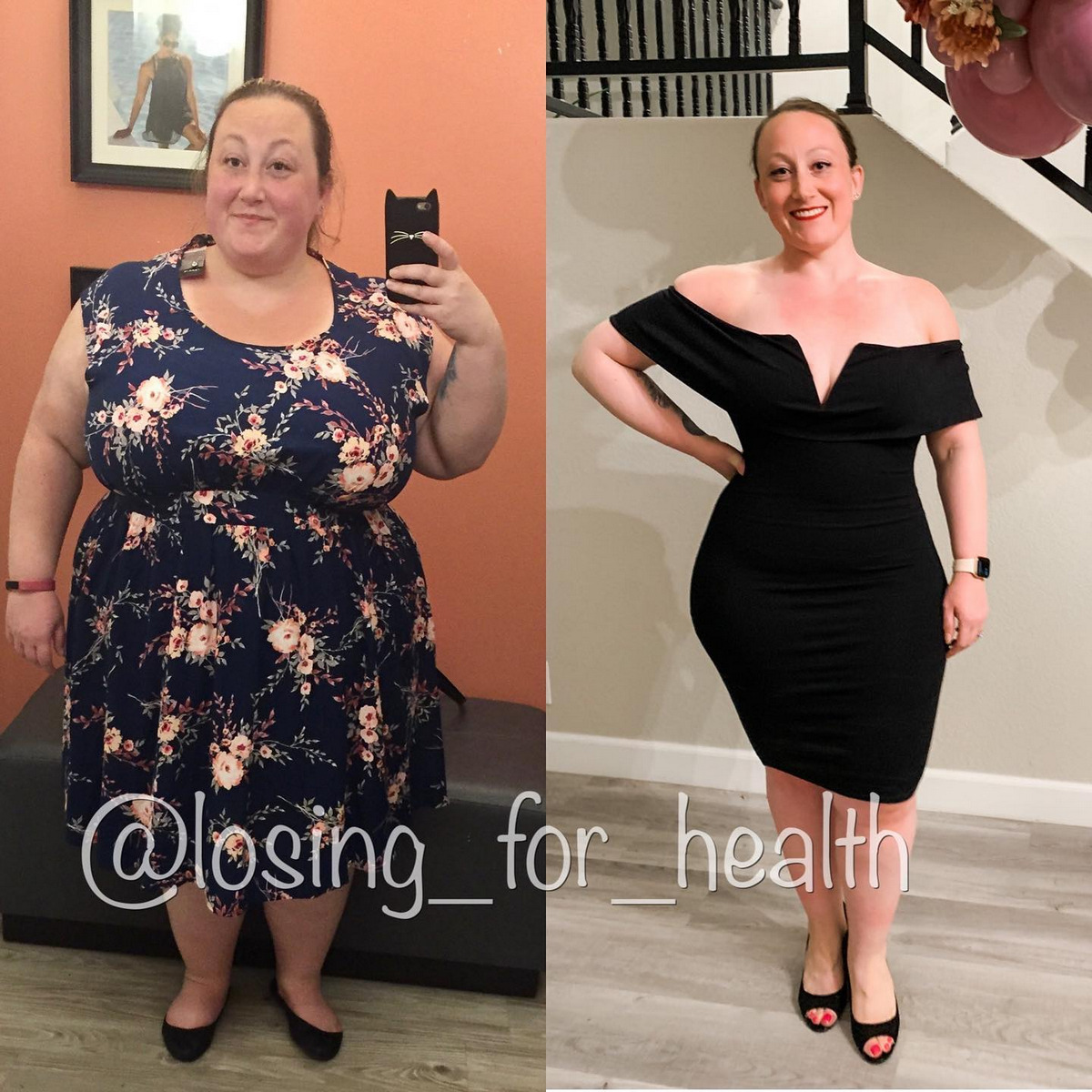 At 28, Stacy Blair started experiencing health issues caused by her weight. She was taking medication for high blood pressure, her asthma was worsening, and standing or walking for more than five minutes without pain was difficult. Blair shared with Women's Health in October that, for the first time, she was motivated to lose weight for personal wellness and health reasons rather than for aesthetic purposes. This shift in mindset changed everything.
Blair was determined to participate actively in her brothers' lives, become a mother one day, move without pain, and live life to the fullest. She began by tracking her daily calorie intake and meals, which led to her adopting a keto diet. In just 17 months, Blair lost 220 pounds through her dedication to her health.
Blair believes that losing weight isn't just about shedding the pounds but about gaining a new life.
9. Alyssa Greene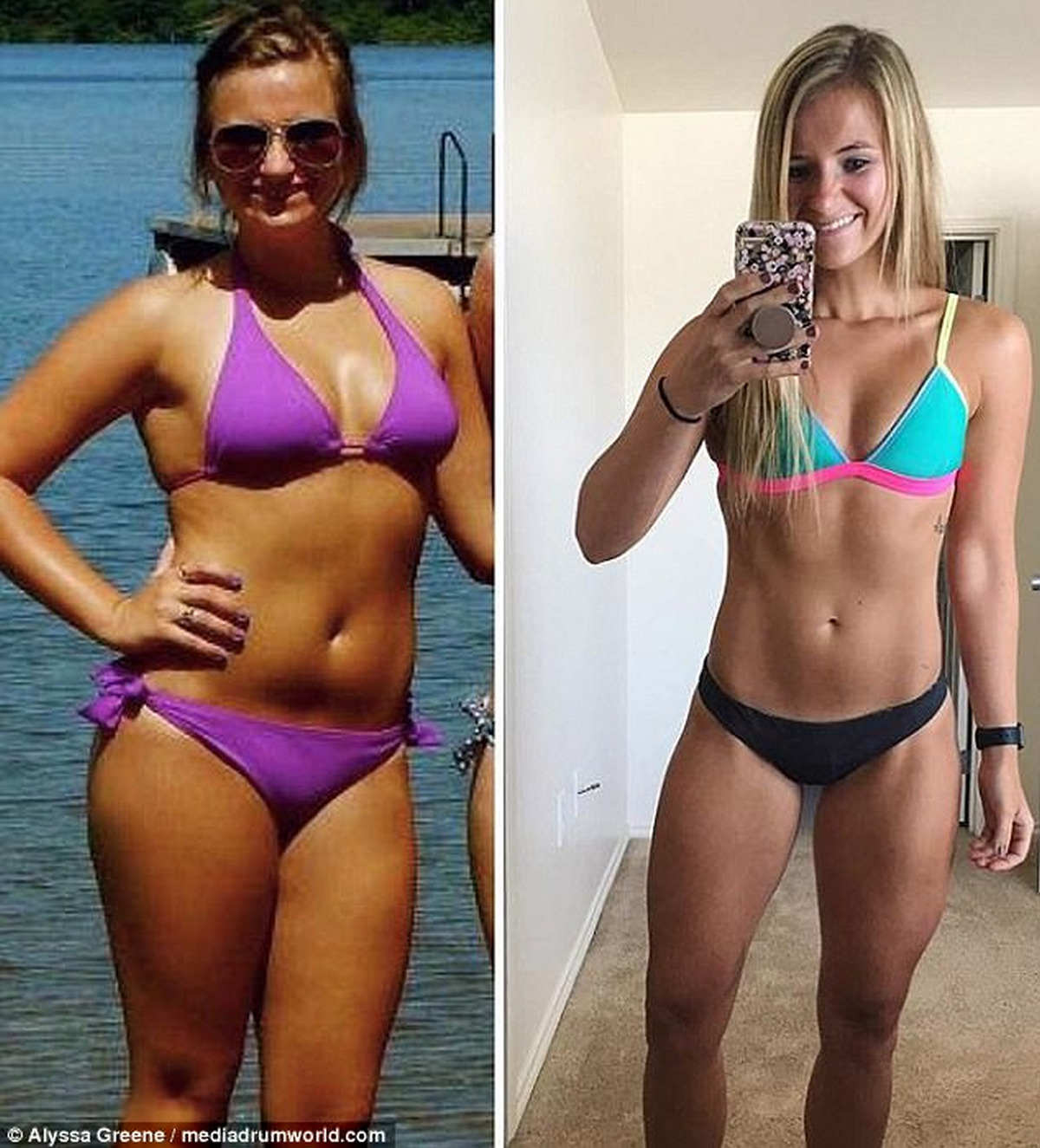 Her secret to success? Exercising alongside her five-stone golden retriever in a routine of dog squatting fitness.
Alyssa Greene struggled with an unhealthy body image due to the stress of starting college, late nights, and excessive drinking. Despite exercising, she paid little attention to her overall health and diet until she realized a change was necessary over two and a half years; Greene self-educated on nutrition and learned how to eat to achieve her desired results.
Her efforts paid off as she lost 25 pounds and now relies on self-discipline as her primary motivator. According to Greene, lifestyle changes require discipline, regardless of external factors like family, friends, or significant others. Ultimately, it comes down to how much a person wants to change their lifestyle.
10. Jared Sklar
Jared Sklar was an active sports enthusiast in childhood but gained significant weight, reaching 285 pounds, after indulging in late-night snacking with his girlfriend, Samantha MacDonald. One day, looking at the fridge full of pizza boxes from different restaurants, Sklar realized the need for a lifestyle change.
Sklar and MacDonald followed an intermittent fasting regime, consuming their meals between noon and 8 p.m. This routine significantly boosted their energy levels and motivated them to exercise more. The duo hit the gym six days a week for 45 minutes of indoor cycling, supporting each other and pushing their limits.
MacDonald lost 12 pounds and highlighted the mental health benefits of exercising, while Sklar lost an impressive 95 pounds in seven months.
11. Tanisha Commodore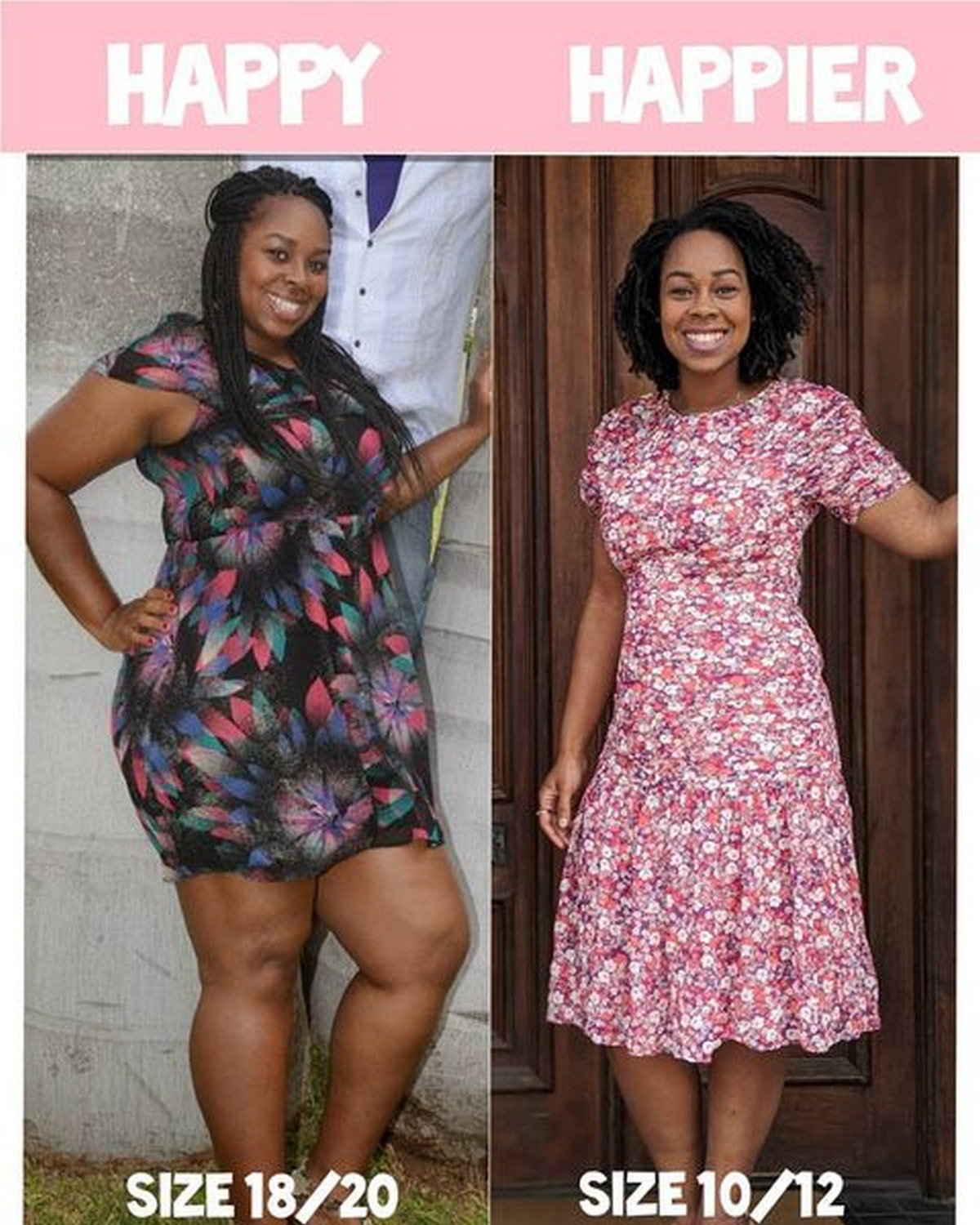 Tanisha Commodore has tried several weight loss methods, including various workout programs and plans such as WW and Medifast. Despite her efforts, she remained unsuccessful and even considered weight-loss surgery in Mexico. However, a recommendation from a friend led her to experiment with the keto diet, which resulted in instant progress. Commodore shed 80 pounds over the course of eight months, and she has maintained her weight loss ever since.
Commodore uses her social media presence to share her weight reduction story on Instagram and to inspire and inform people who want to try the keto diet. She emphasizes the importance of patience and self-love, saying, "You didn't put it on overnight, so don't expect to lose it overnight."
12. Maggie Fierro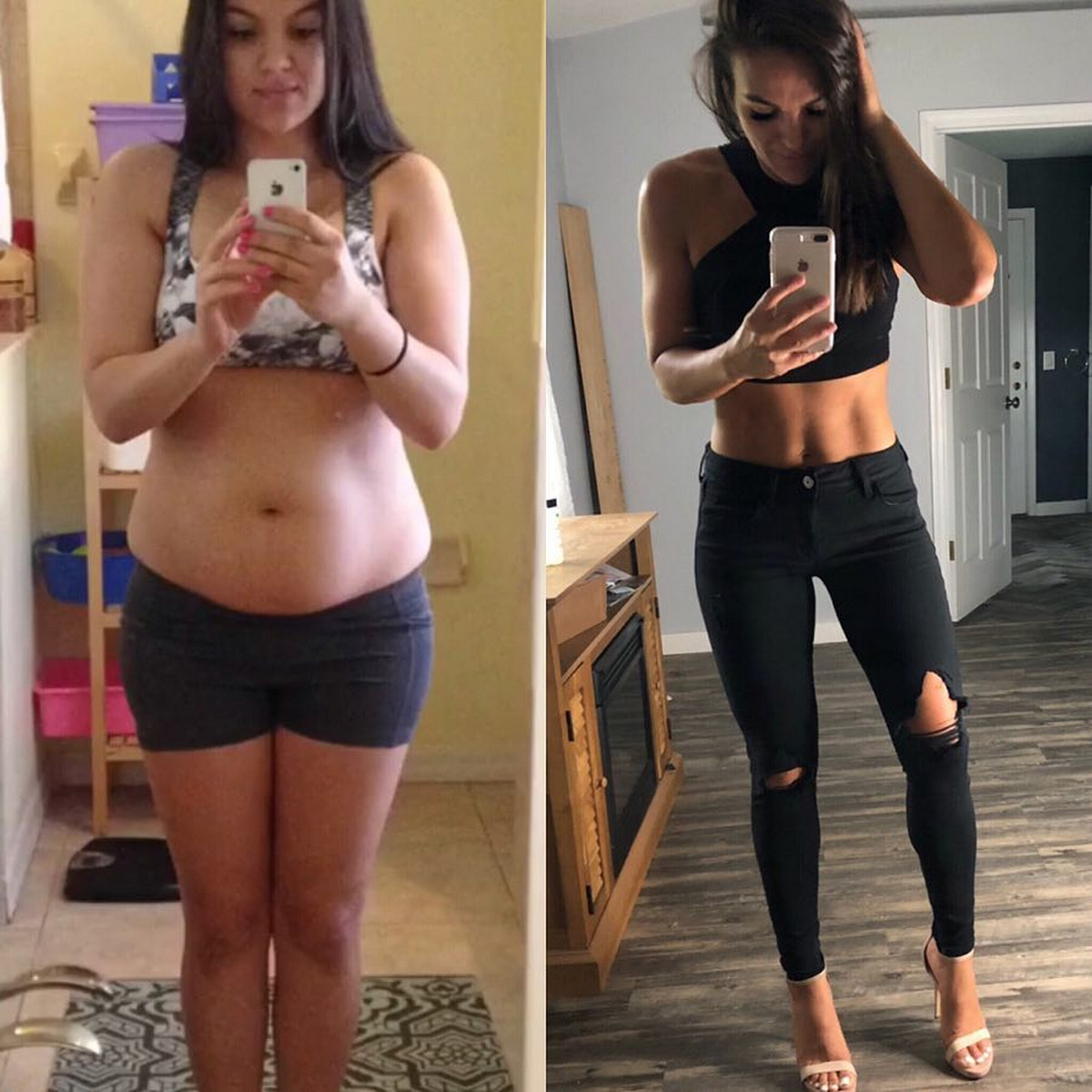 Maggie Fierro, a fitness blogger, experienced a disconnection from her body after giving birth to her third child. She was hesitant to look at herself in the mirror four months later. To address this issue, she opted for Kayla Itsines BBG (Bikini Body Guide) program to initiate her weight-loss journey.
Fierro found it convenient to exercise at home, and adhering to a disciplined, healthy diet helped her discover a sustainable lifestyle change that suited her needs. Fierro credits the BBG community for her success and acknowledges their support as instrumental in achieving her fitness goals.
13. Jennifer Riviera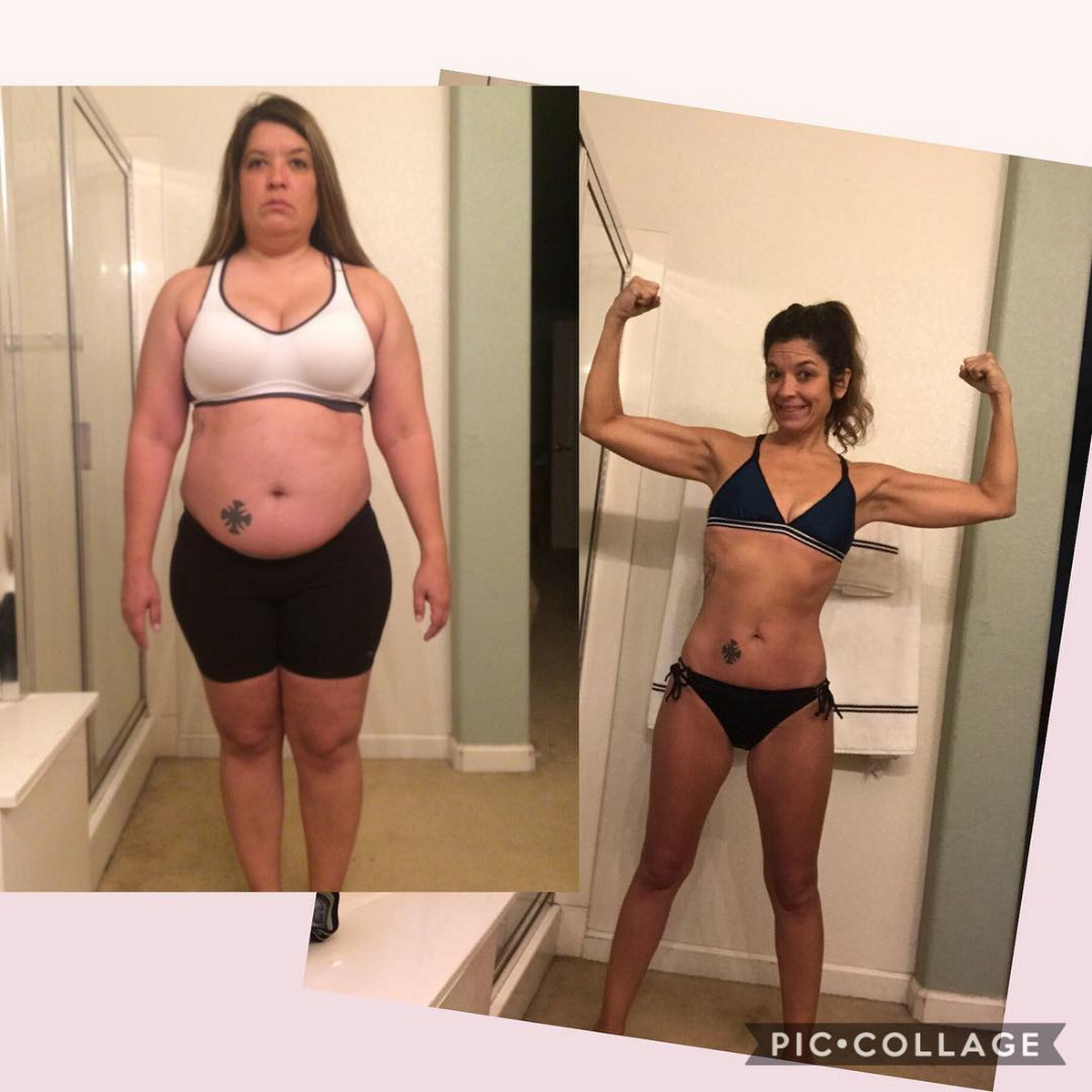 Jennifer Riviera's weight had ballooned to almost 200 pounds, which left her drained and unable to play with her 13-year-old son. The extra weight also took a toll on her marriage, and her husband struggled to love her because she stopped loving herself. Riviera told People in August.
Riviera's self-care took a backseat; she turned too fast food into a way of life. Two years ago, she came across a friend's post about her weight loss journey, which inspired her to take action. The friend recommended Isagenix, a brand that offers dietary supplements like meal replacement shakes.
Riviera embraced the shakes, and after shedding 85 pounds, she has become a full-time health and wellness coach who loves practicing yoga. She still drinks at least one Isagenix shake daily, which she credits for her transformation. Above all, Riviera now has the energy to spend quality time playing with her son.
14. Cookie Miller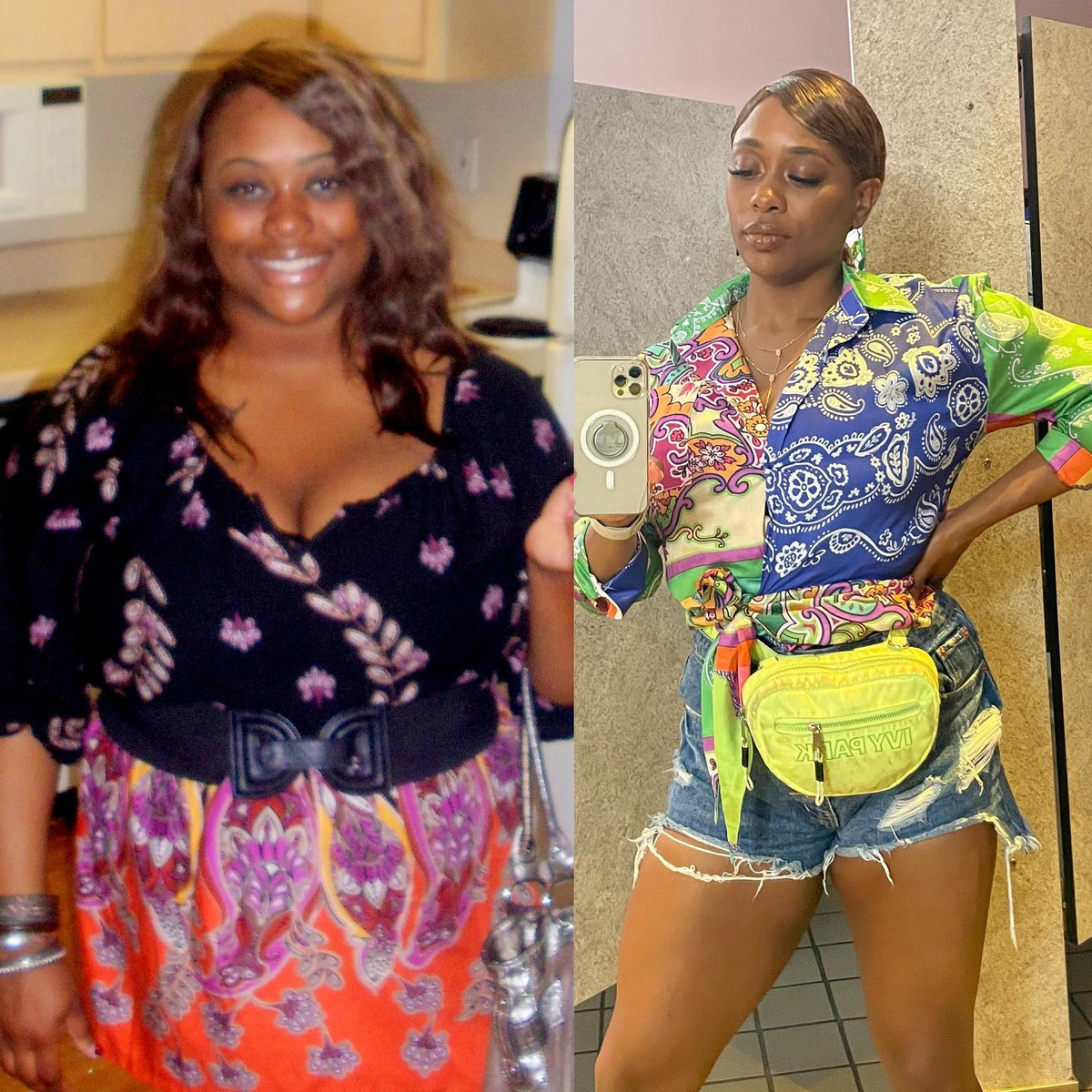 Despite being a certified personal trainer, Cookie Miller battled weight issues for years, weighing 230 pounds and being diagnosed with acanthosis nigricans, a skin condition caused by being overweight, which results in dark patches in the armpits, groin, and neck. She then realized that she had to prioritize her health. Miller adhered to a strict exercise and diet plan for 18 months and lost 100 pounds.
Sharing progress photos with her Instagram followers helped her remain accountable. She posted her first before-and-after photo on Instagram after a year of her fitness journey and hasn't looked back since then. It has been instrumental in her accountability toward achieving her fitness goals.
15. DeAndré Upshaw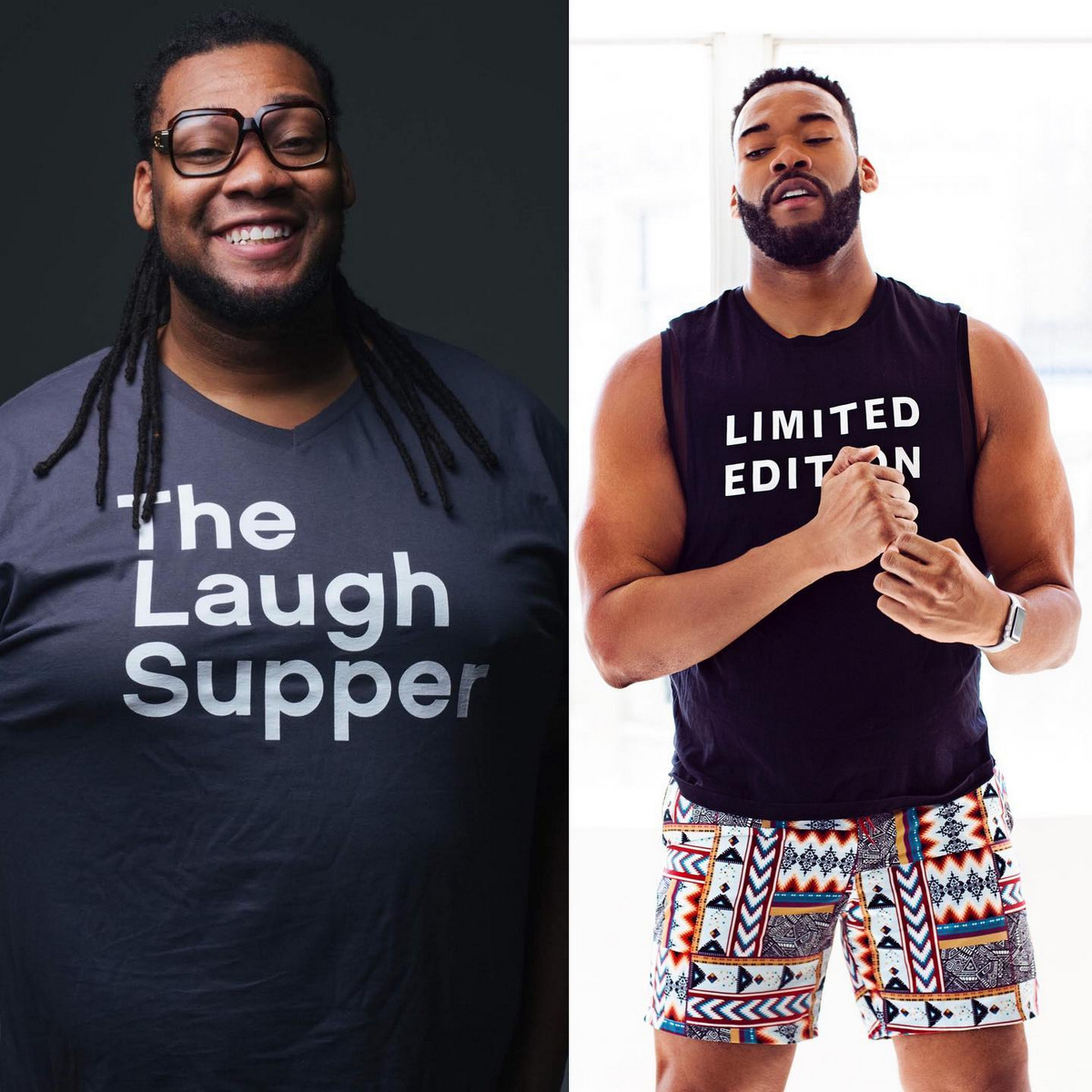 DeAndré Upshaw, weighing 400 pounds, enjoyed being the center of attention and had no issue with his body image. However, he was aware of the potential health risks associated with his weight. Upshaw ditched fad diets and, instead, began counting calories to manage his weight.
In an interview with Men's Health in January, Upshaw claimed that he lost 150 pounds in a year due to his precise calorie counting approach, walking at least 10,000 steps daily using a Fitbit, and avoiding escalators and elevators. Upshaw intends to inspire others to follow in his footsteps by emphasizing the rewarding but challenging journey of weight loss. He views his journey as a culmination of losing one pound 150 times.
16. Vanessa Flores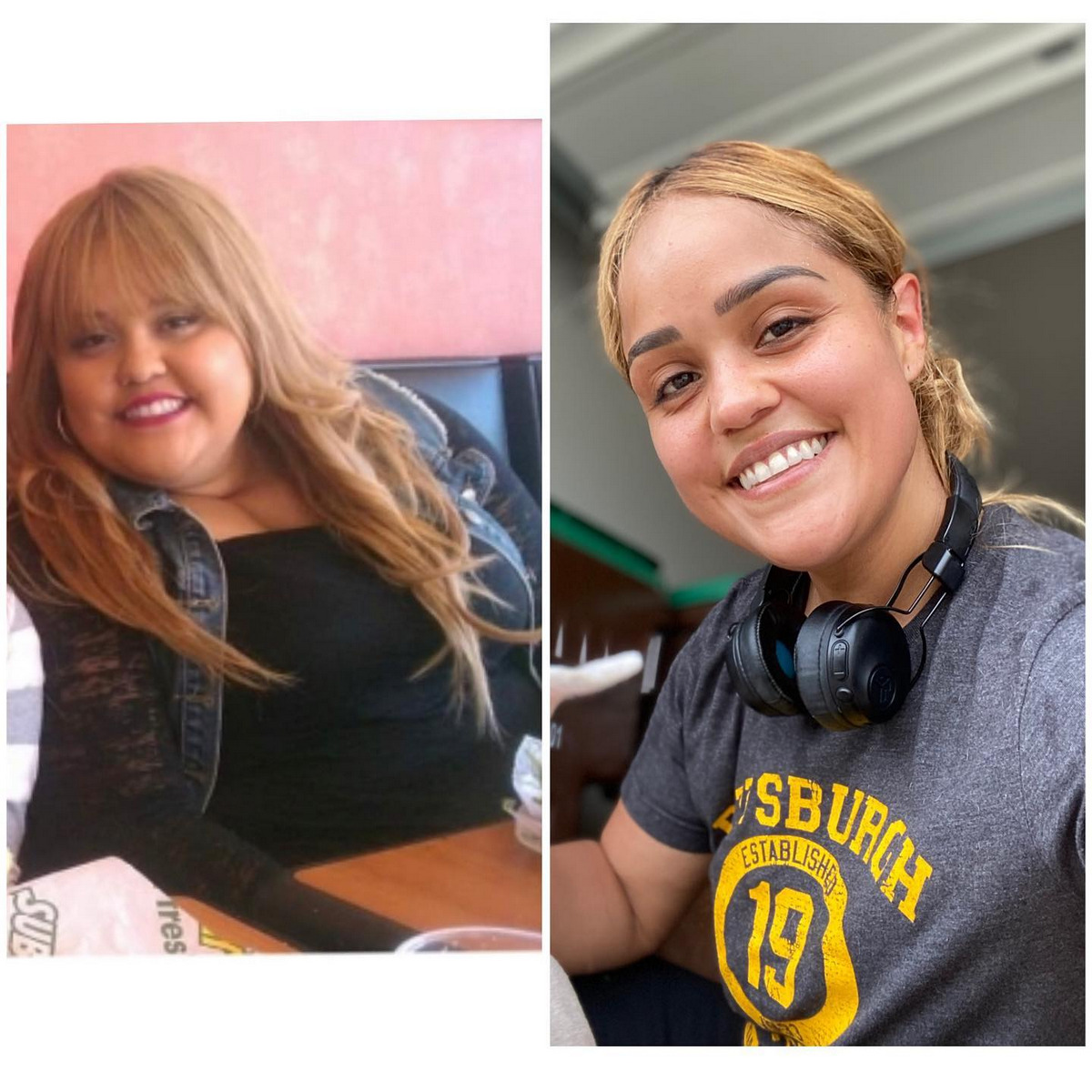 Vanessa Flores struggled with weight issues throughout her childhood and teenage years. Despite trying out several fad diets, she could not achieve lasting results. A vegan diet helped her shed 60 pounds but she found it challenging to sustain. However, her fortunes changed when she adopted a low-carb diet that allowed her to consume more carbs on workout days.
This lifestyle change in 2013 has since transformed her life, leading to a loss of 135 pounds, and she is still making progress. In a recent interview with Women's Health, Vanessa acknowledged that she initially embarked on her weight loss journey to impress others but has since realized the importance of shedding weight for her health and well-being.
17. Irvy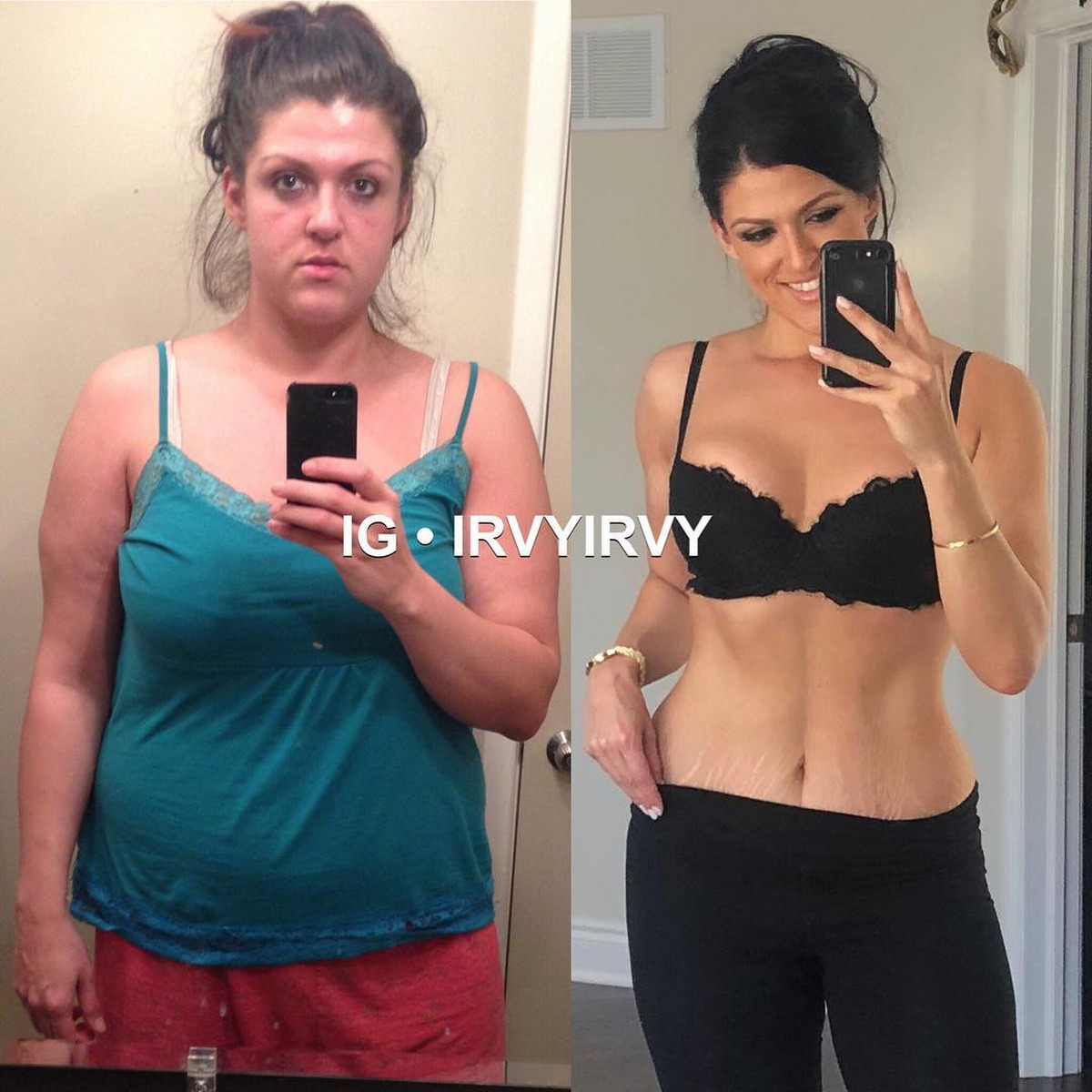 Fitness blogger Irvy reached her peak weight of 310 pounds after battling weight fluctuations for several years. In 2015, she finally committed to transforming her life for good. However, she discovered that making long-lasting lifestyle changes required inner motivation. "You have to be self-driven and do it for yourself and your reasons," she emphasizes.
Irvy hits the gym six times a week and plans her meals to support her weight loss journey. These changes have helped her shed an impressive 132 pounds and become healthier and more confident.
18. Erica Lugo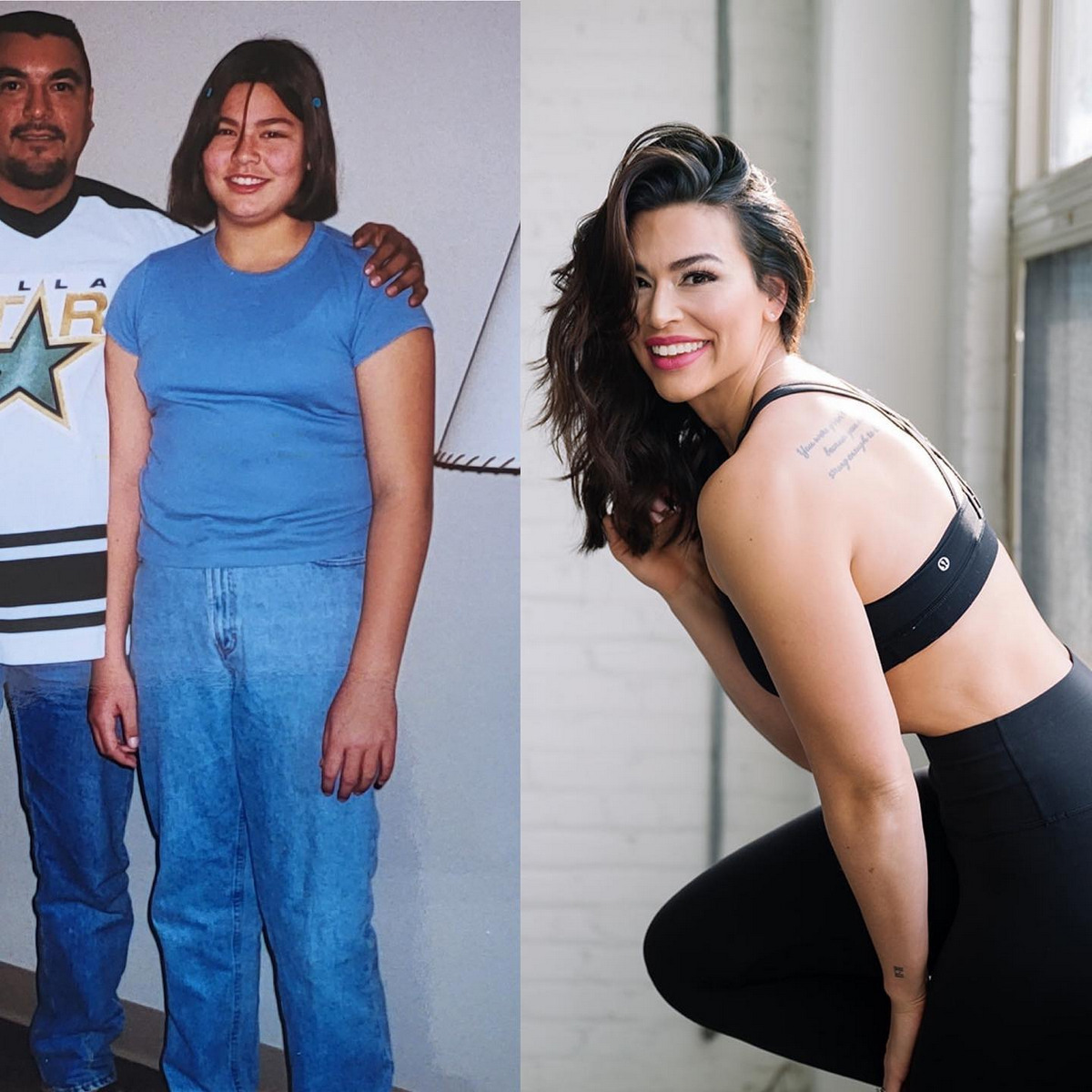 Erica Lugo understood that she had several responsibilities to fulfill as a mother. However, at 322 pounds, she struggled to keep up with them, including playing with her son, due to a lack of energy. She realized it was time to lose weight and adopted a simple plan. Erica joined Planet Fitness and focused on reducing her calorie intake while increasing her physical activity.
Within a year, Erica lost 122 pounds, although it took her two additional years to achieve her 150-pound weight loss goal. Today, Erica is a fitness trainer and wellness coach, helping others begin their fitness journeys with the same fundamental approach that worked for her. She featured as a trainer in Season 18 of The Biggest Loser, inspiring many others with her story.
19. Desiree Alexis-Kae Mize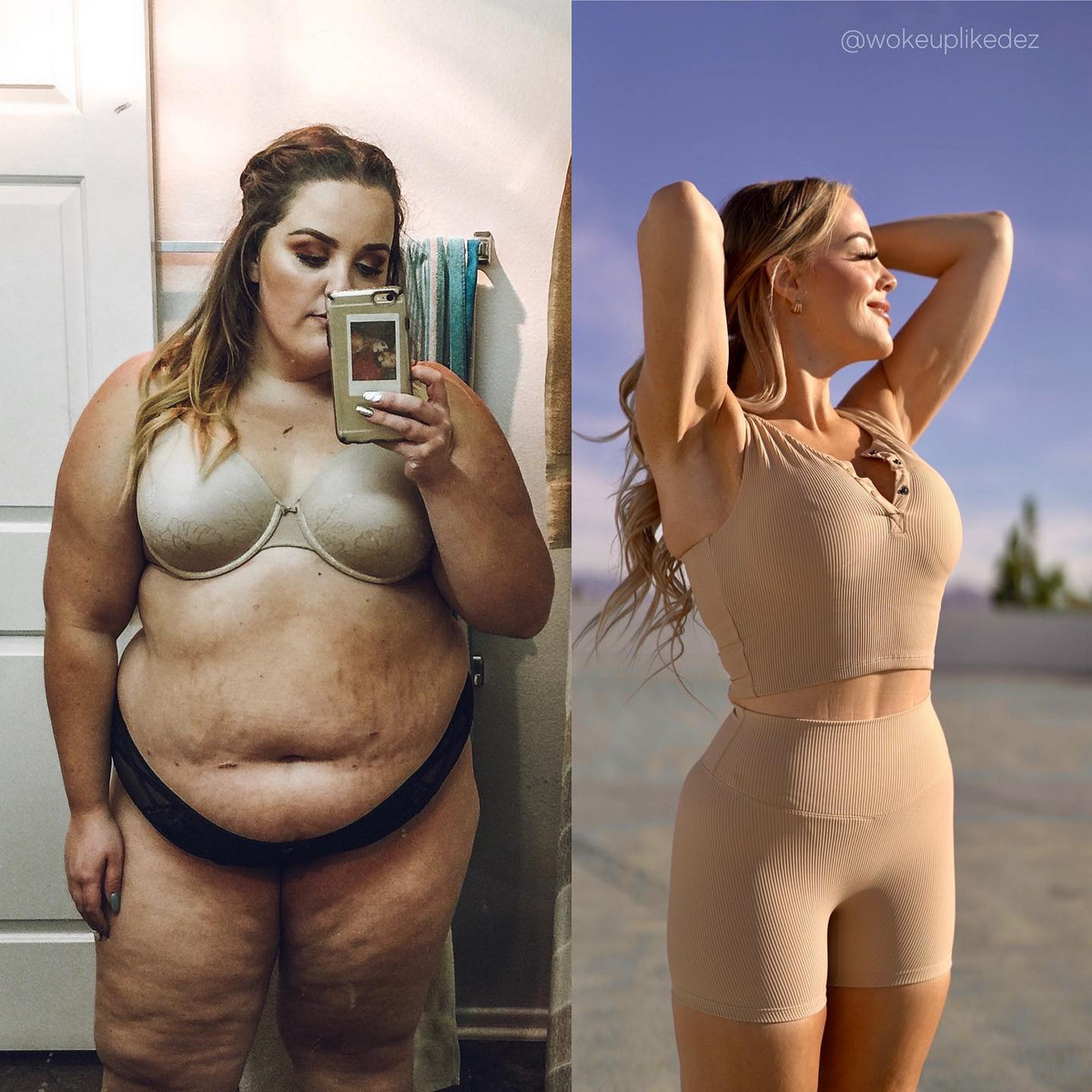 Desiree Alexis-Kae Mize was diagnosed with hypothyroidism at the age of eight, a condition that affects around three million Americans and causes symptoms such as a slow metabolism. Despite being active and losing weight, she found it difficult to maintain and eventually reached a weight of 260 pounds by age 21.
Her doctor suggested gastric bypass surgery to reduce the size of her stomach and make portion control easier. Initially, Mize was hesitant to pursue this option, but after hearing inspiring stories of successful surgeries, she decided to proceed.
She recognized that the surgery would not be a quick fix and that weight loss would still require discipline. Mize has since lost 150 pounds through surgery, exercise, and a healthy diet.
20. Alice Fields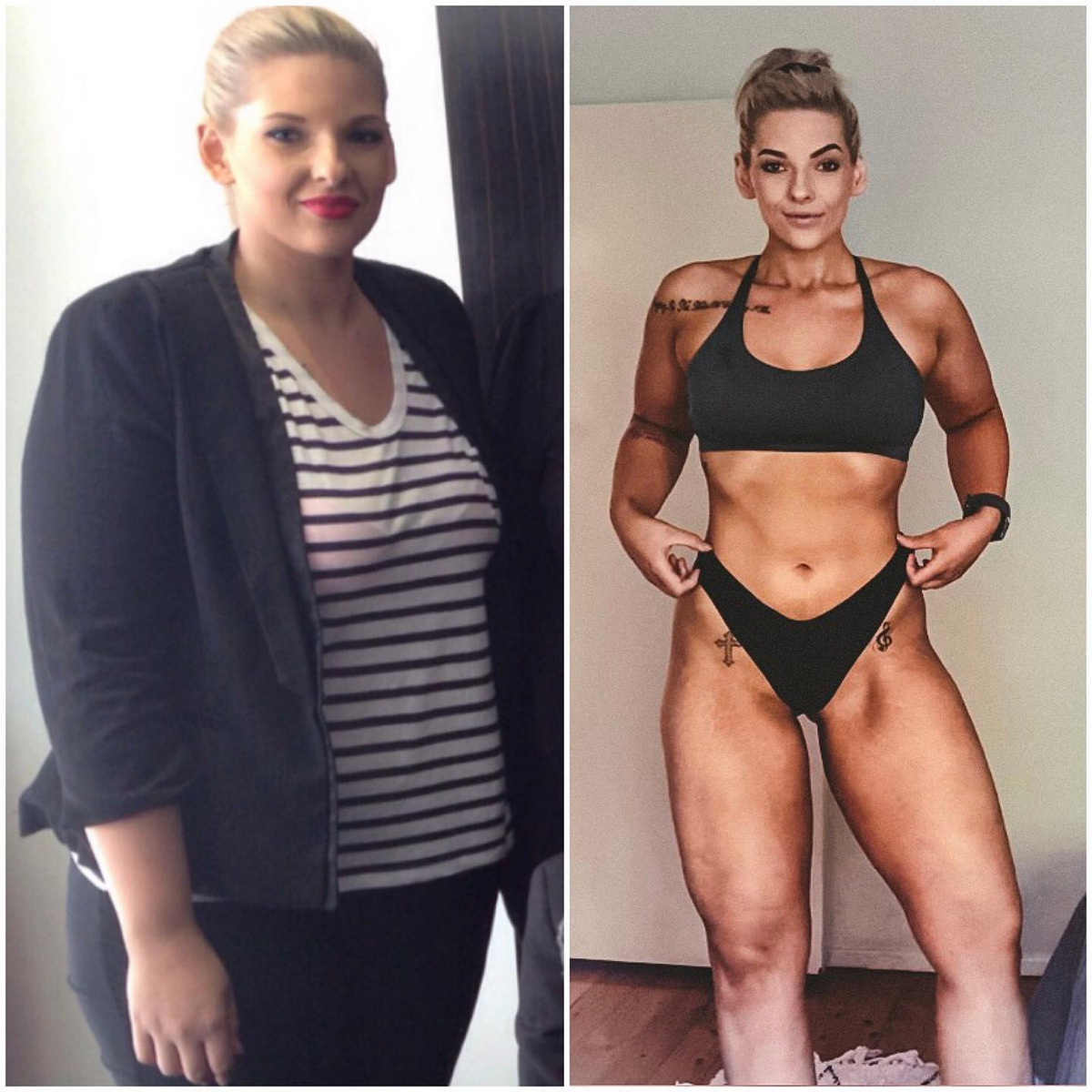 For years, Alice Fields focused on cardio and adhered to a strict eating plan, but she didn't achieve the desired results despite her efforts. However, she began to see progress after switching to powerlifting and adopting a more wholesome diet. Fields realized that the numbers on the scale were not as important as how she felt.
Initially, she believed that relying solely on weights would make her bulky, but she soon discovered that building muscle was essential for burning fat efficiently. Additionally, the added muscle mass gave her the toned physique she desired, a goal for many women.
21. Kassidy Riekens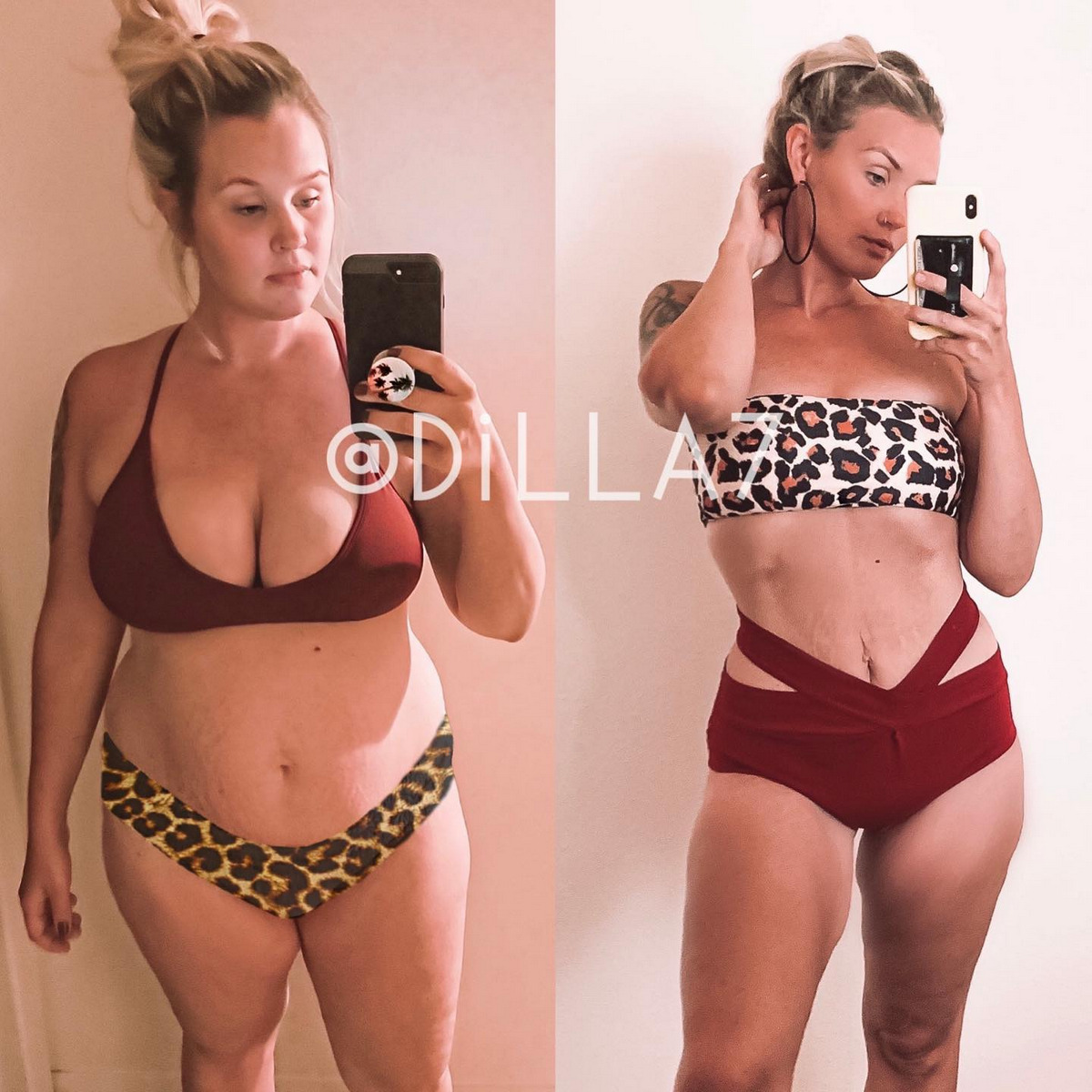 When Kassidy Riekens was 25, she weighed 260 pounds and struggled with low self-esteem. She knew that she needed to address her unhealthy habits to regain control of her life. Riekens incorporated cardio into her workout routine three to five times a week and received support from her loved ones, which helped her stay motivated.
She gradually learned the value of moderation and discovered innovative ways to maintain her motivation, including taking progress pictures. Through this process, she realized that the "old" version of herself inspired and motivated her transformation. Riekens emphasizes the significance of documenting one's journey and reflecting on how far one has come in achieving their goals.
22. Quantel Thomas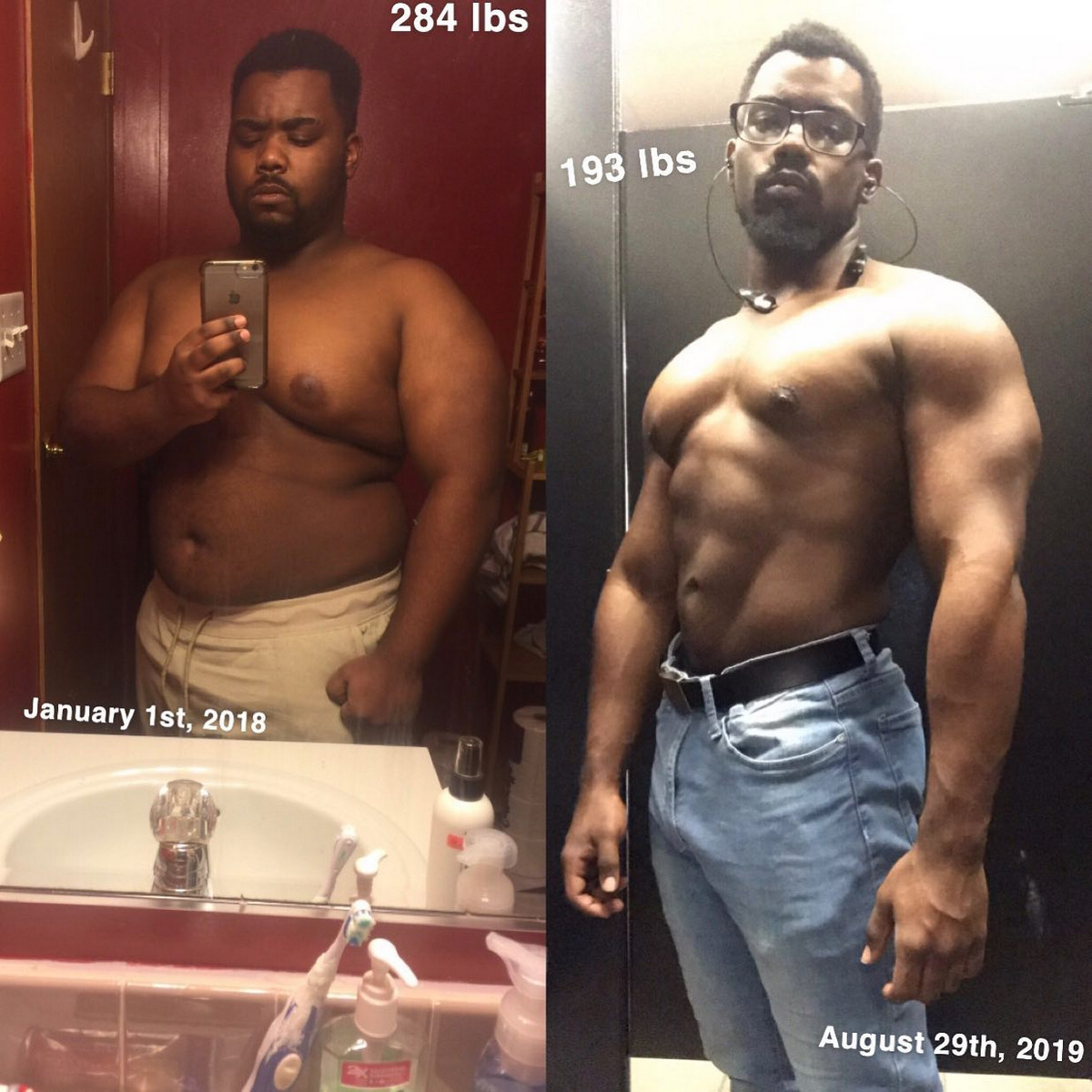 Many people make a New Year's resolution to lose weight and get in shape, but Quantel Thomas went beyond mere intention. Despite struggling with weight problems since childhood and weighing 300 pounds at age 18, he embarked on a new routine in 2017 that involved hitting the gym six days a week. This dedication paid off, as he shed an impressive 180 pounds in ten months.
Today, Thomas weighs 204 pounds and is committed to fitness, bodybuilding, and strength training. He can bench press 285 pounds and deadlift up to 475 pounds, and perhaps more importantly, he has achieved a deep sense of self-love and self-acceptance. In an interview with Men's Health, Thomas described this as the "true, ultimate milestone."
23. Katie Bolden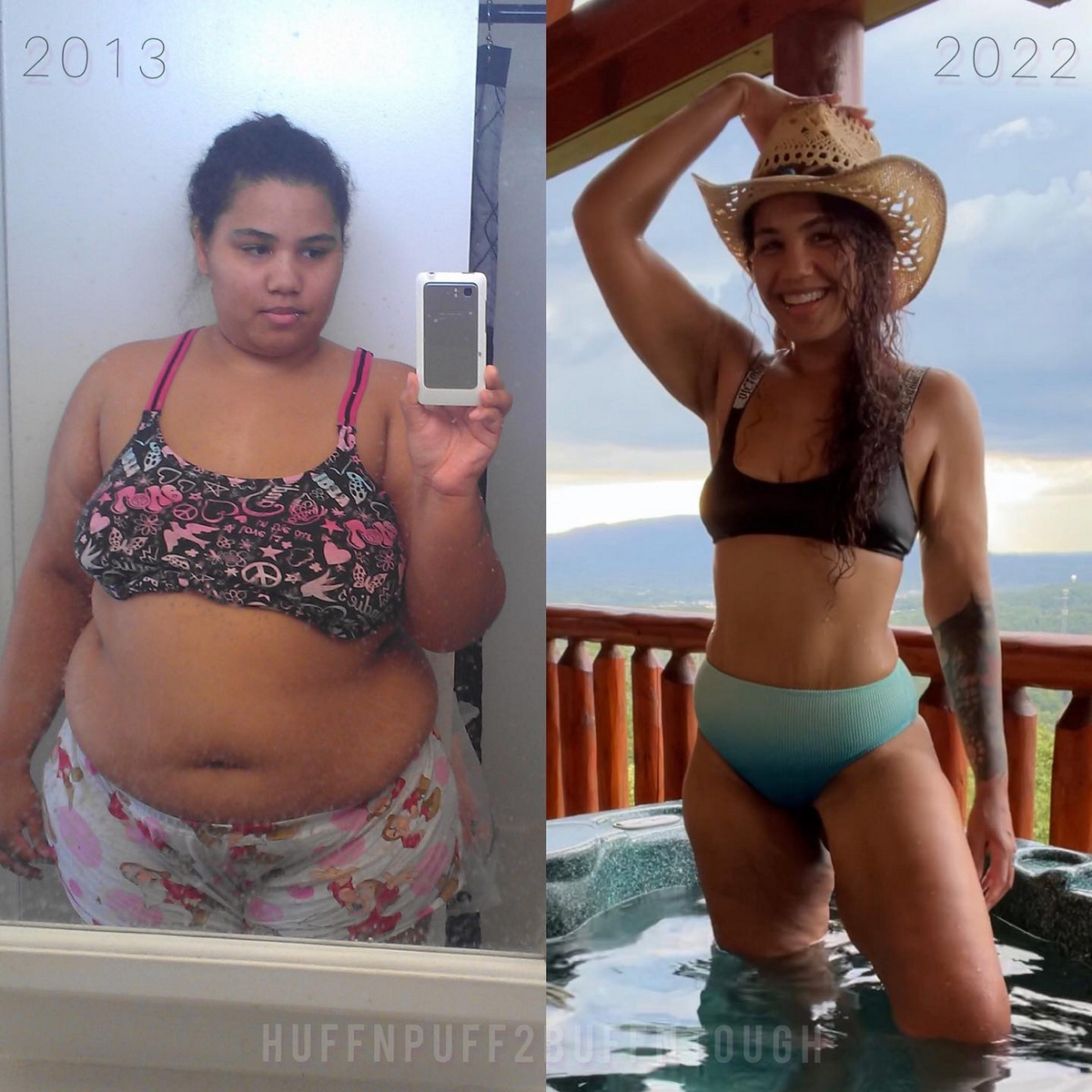 Even after being given the diagnosis with the polycystic ovarian syndrome (PCOS) in 2010, Katie Bolden found it difficult to reduce weight despite attempting many diets and exercise regimens. It was not until she faced partial blindness and an early diagnosis of multiple sclerosis that she realized the need to reevaluate her lifestyle.
Bolden began using the MyFitnessPal app to track her nutrition intake and made healthier eating choices. She also started with swimming and hiking and later progressed to running and lifting weights. Over three and a half years, she lost 150 pounds and credited her family for motivating her to lose weight.
24. Randi Vasquez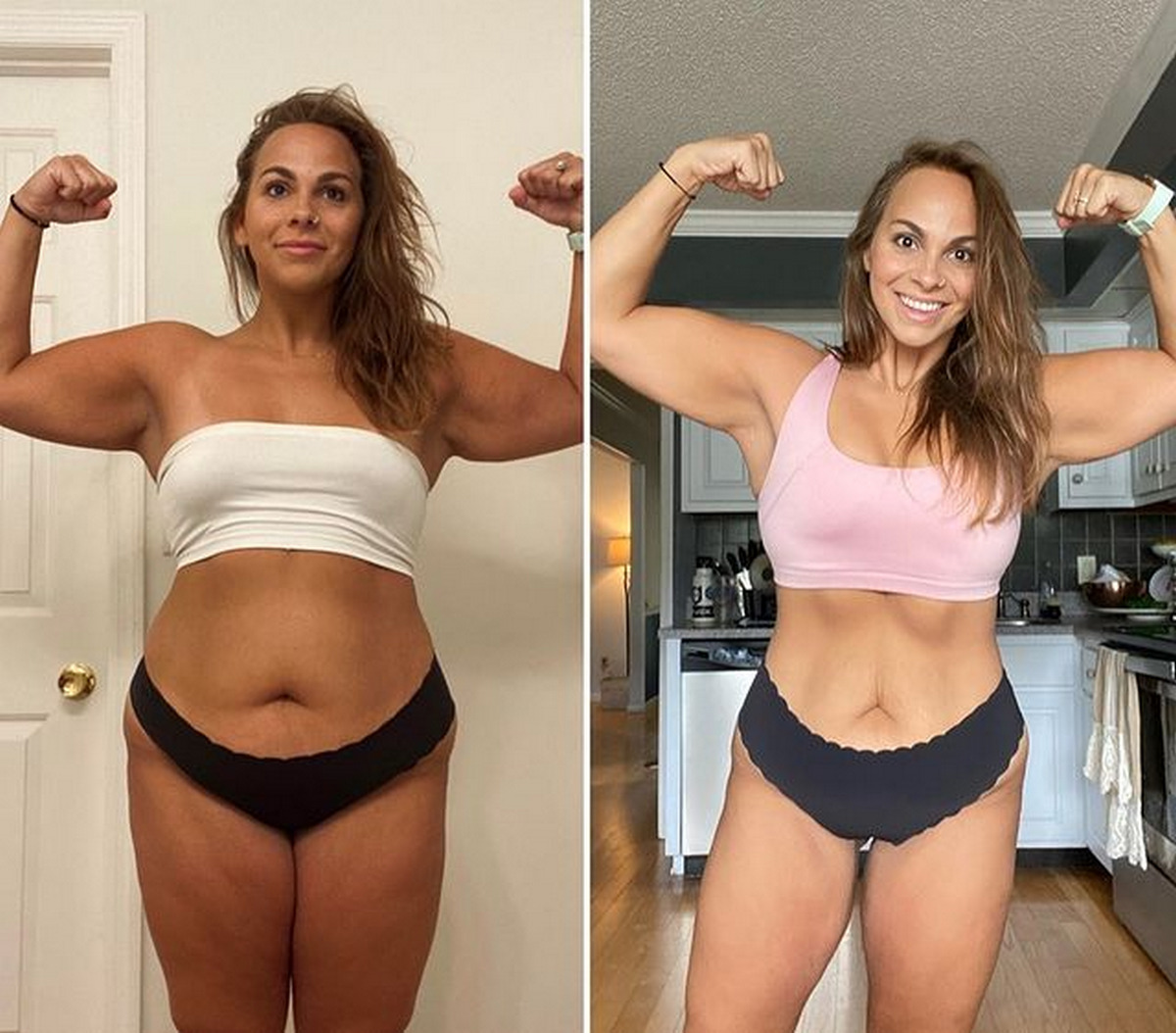 Randi Vasquez had struggled with her weight for some time, but it wasn't until 2014, after emerging from a "post-grad slump," that she saw the impact of her boozy brunches and weekend indulgences, which had brought her weight to 240 pounds.
Then, a friend recommended Kayla Itsines' Bikini Body Guide program, and from her first 28-minute workout, Vasquez was hooked. Despite the challenge, she noticed positive changes in her body and mindset, which kept her motivated. For the first time, she truly believed in herself and her ability to achieve her weight loss goals. Vasquez's fitness regimen inspired her to eat healthier and adopt the Whole 30 diet whenever needed to regain her balance.
Vasquez has lost an incredible 80 pounds and now boasts over 70,000 Instagram followers.
25. Misty Mitchell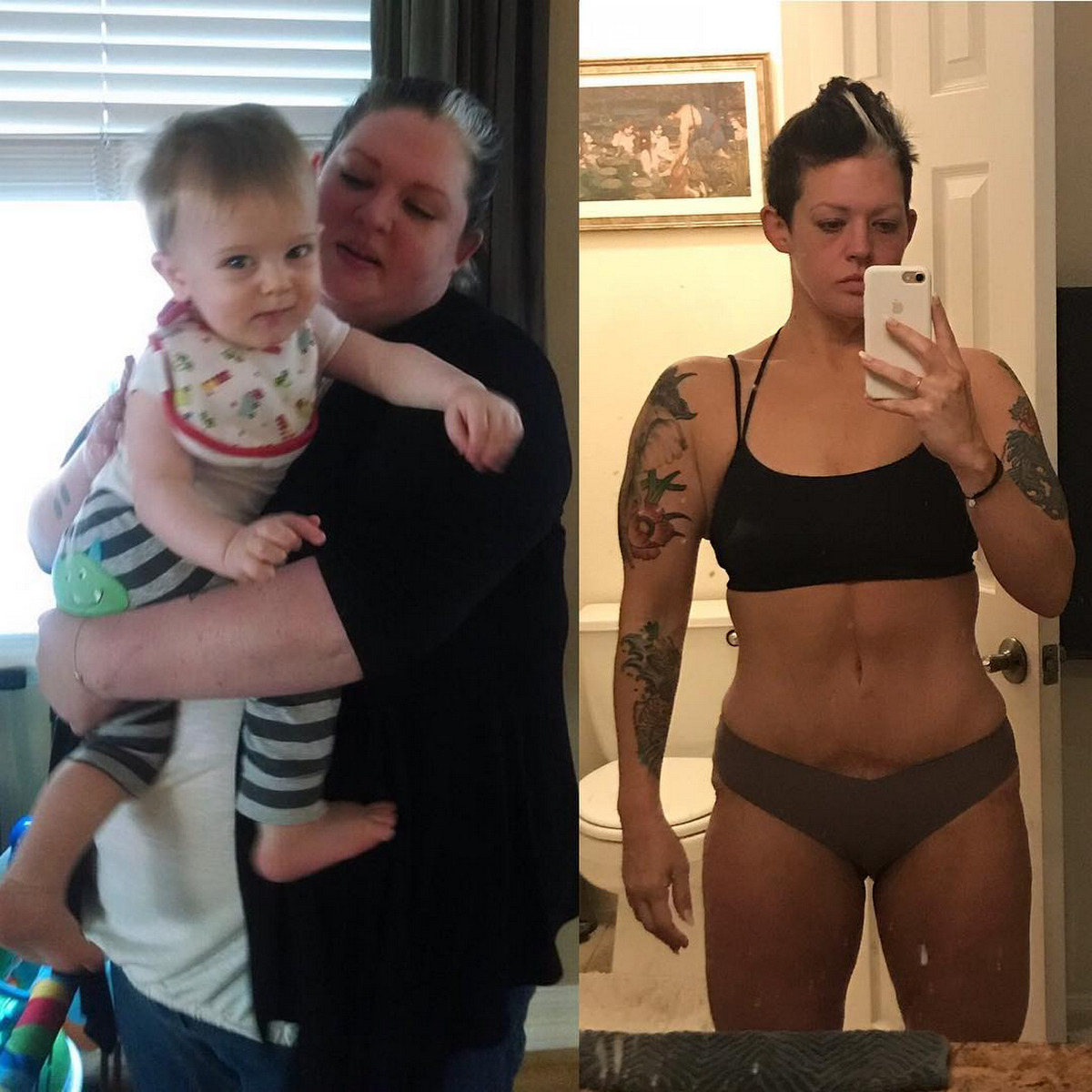 Misty Mitchell's life worsened when she suffered from a herniated disk in her lower back. She lost her job and home and resorted to heavy drinking. One day, she realized the toll her lifestyle was taking on her health after stepping on the scale and weighing almost 300 pounds.
She admitted to being an alcoholic and smoker on her website. Feeling dissatisfied with her life, she decided to change everything. Mitchell quit drinking overnight and replaced junk food with healthier options like fish and vegetables. She found the motivation to continue on her path by documenting her weight loss journey on Instagram. In just over a year, she lost an impressive 137 pounds and achieved a healthy weight of 159.
26. Jeremiah Peterson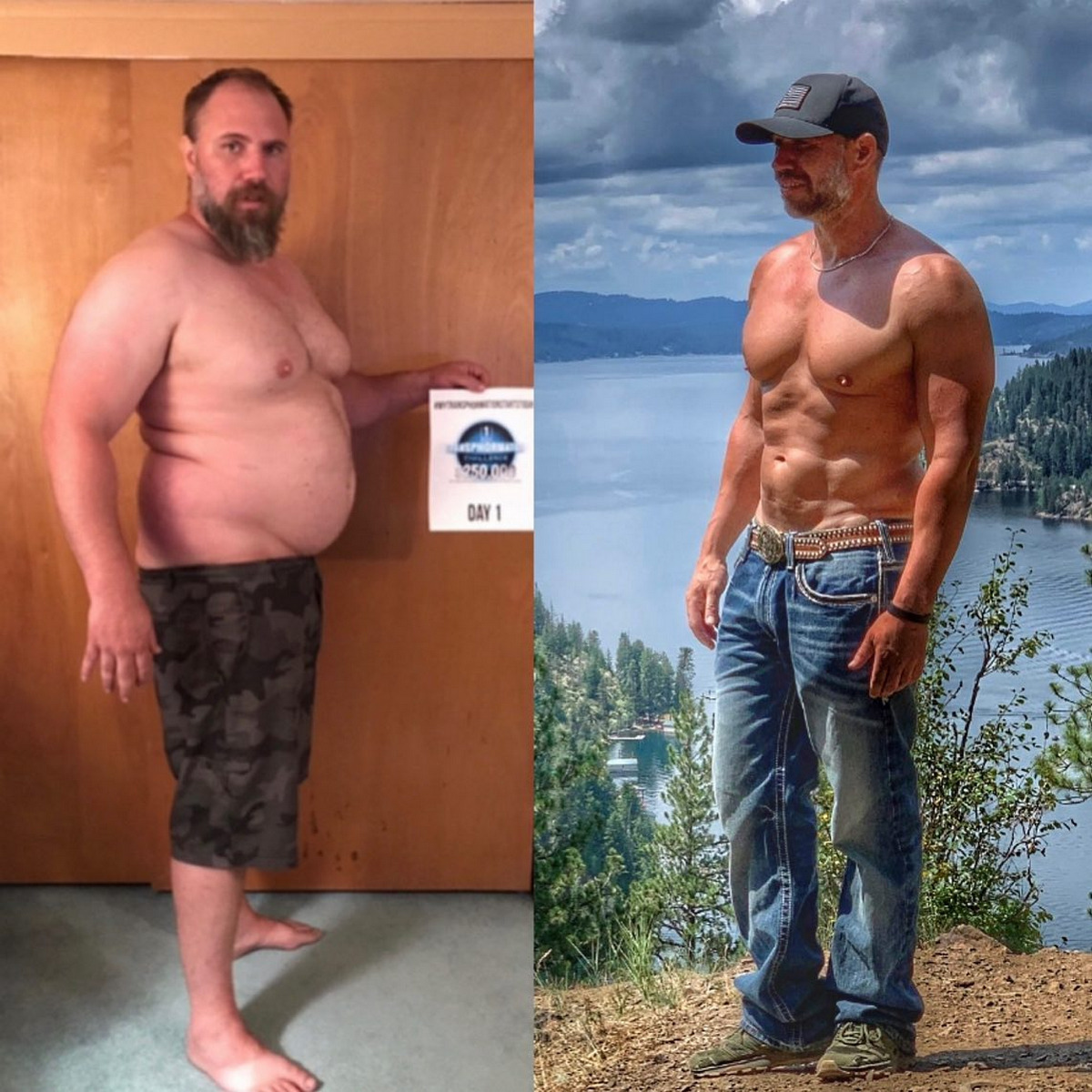 In 2017, Jeremiah Peterson realized during a family hiking trip that he couldn't keep up with his young children. He received a wake-up call from this and experienced a life-changing insight. Peterson's days were consumed by running an antique store with his wife, and his evenings were spent drinking beer. At 290 pounds, he decided it was time to make a change.
Peterson started the keto diet, cut out all alcohol, and began hiking in the great outdoors. Once he was in better shape, he resumed weightlifting, and his transformation garnered over 113,000 Instagram followers. His newfound fitness means he can now easily keep up with his children. Recently, Peterson wrote on Instagram that achieving your dreams isn't always easy, requiring digging deep and never giving up.
27. Rebecca Grafton Bardwell
Rebecca Grafton Bardwell had struggled with being overweight throughout her life. However, she decided to make a permanent change. Over two years, she learned how to portion her food and exercise at a gym without worrying about what others thought of her. The result was a remarkable 100-pound weight loss that made her feel healthier and happier.
According to Grafton Bardwell, there is no magic formula for losing weight. The key is to eat healthily and exercise regularly. Although the process may not be quick, consistency is key to achieving success in weight loss.
28. Rachel Saintfort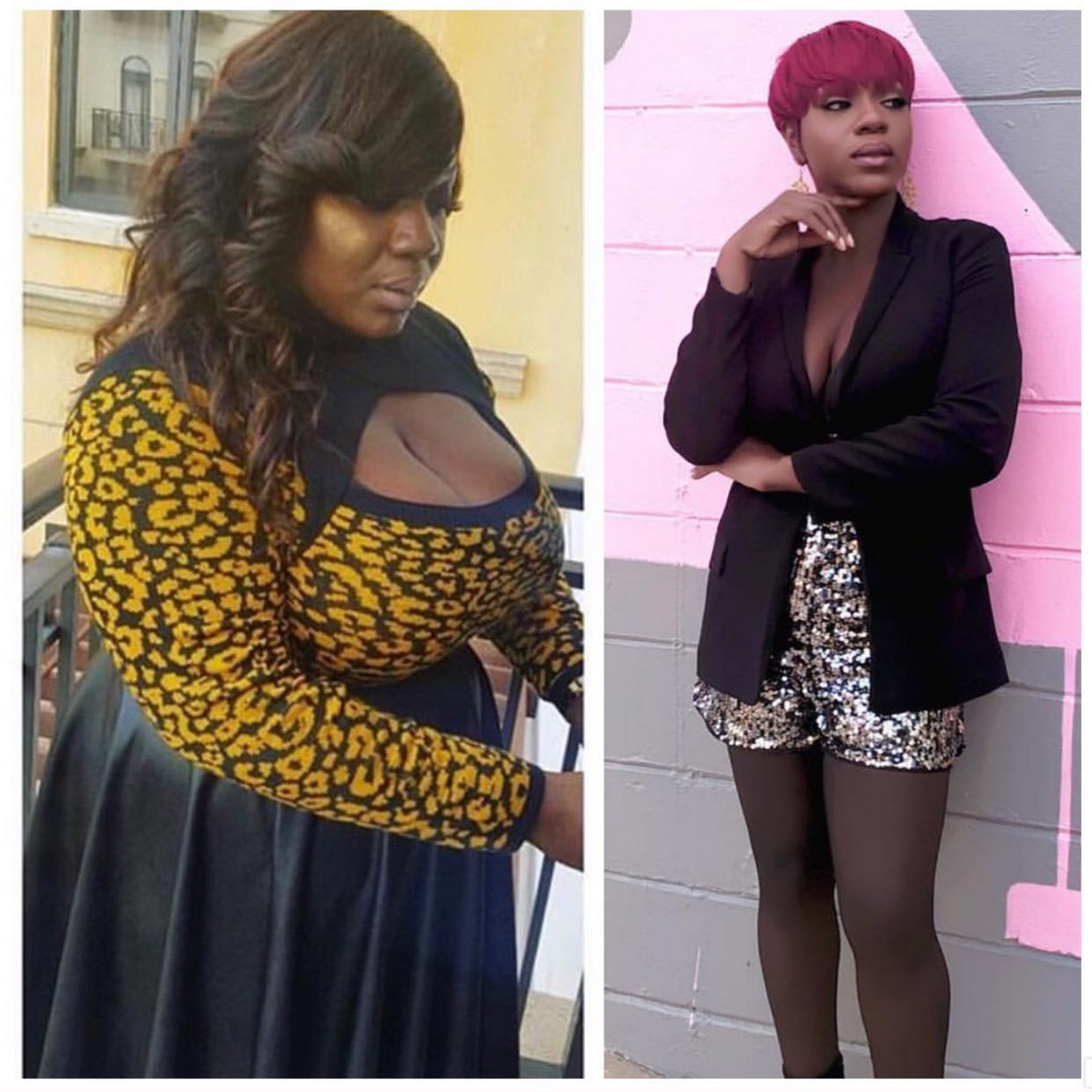 Rachel Saintfort's weight had reached 200 lbs. in high school, but she was still confident, as she recounted to People magazine. However, after giving birth to her daughter in 2007, Saintfort's weight increased to 291 lbs. She attempted dieting but failed to make lasting changes until her daughter turned ten.
One of her classmates called Saintfort "fat," Seeing her daughter's sadness made her realize that her unhealthy choices affected her daughter's life. This incident motivated her to make significant changes in her lifestyle. She eliminated fast food and soda and started walking daily, covering three miles around the lake in her town. Rachel Saintfort succeeded in losing a total of 121 pounds by removing fast food and soft drinks from her diet.
29. Jen Wagner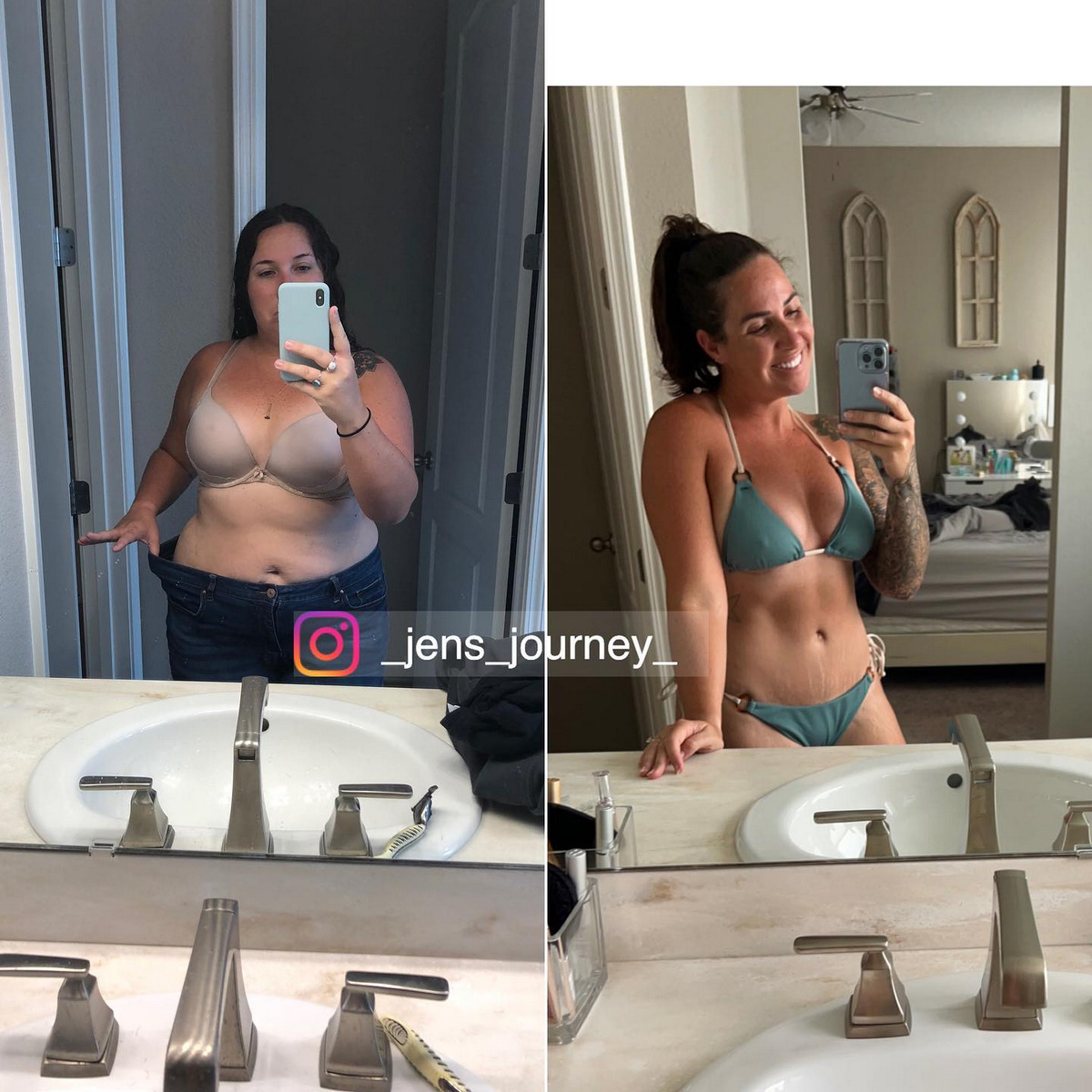 Once an athletic individual, Jen Wagner gained 100 pounds after getting married and reached her highest weight of 240 pounds in 2017. This change in her physical appearance left her feeling like a stranger in her own body. She expressed that she didn't recognize her reflection and felt disgusted when seeing photos of herself.
She began with her diet, following the keto and low-carb diets, and now tracks her calorie intake using MyFitnessPal while also practicing intermittent fasting. Rather than joining a gym, Jen prefers to exercise through various enjoyable activities such as playing tennis, swimming, walking with hand weights, jumping on trampolines with her daughter, and even doing yard work.
She shares her journey on Instagram and has received numerous compliments from her followers on her physical transformation. However, the most significant change for her is that she finally feels like the person she had longed to be while overweight. Her ultimate goal is to lose the 100 pounds she gained after marriage.
30. Brianna Bernard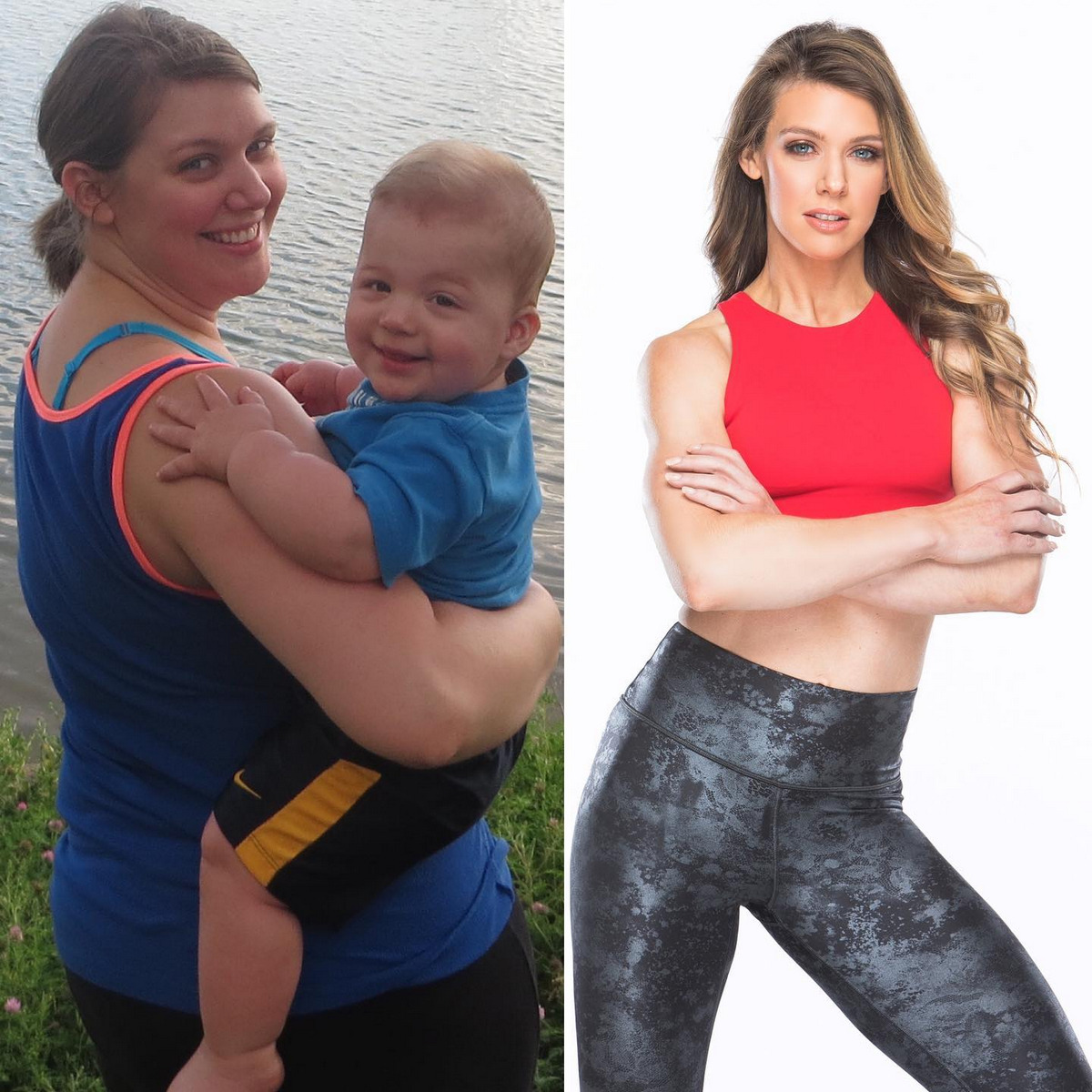 After giving birth to her first child, Brianna Bernard weighed 245 pounds and gained 70 pounds during her pregnancy. Despite thinking she could shed the weight quickly, she struggled to do so even after a year. Brianna confided to People magazine that she no longer felt like herself, consumed by the demands of being a stay-at-home mom and neglecting her own self-care needs.
Brianna started training at the gym, dedicating two to three weekly sessions to weightlifting, plyometrics, and boxing while revamping her diet. After a year of hard work, she lost an impressive 107 pounds and even started competing in powerlifting competitions. Brianna now feels like there is nothing she can't do, confident that if she can lose 100 pounds, she can accomplish anything.