How do you have the complete trip to France? France is famous for being a trendy country, especially the French city of Paris, known as the "Fashion Capital." Therefore, when traveling to France, you should dress beautifully.
It is no coincidence that Paris is considered a city with an international fashion style with a distinct mark. The attraction of the Paris ladies is the elegant, sophisticated but no less luxurious and trendy style.
This has become the ideal model that many fashionistas in the world pursue. If you are going to have a trip to the French fashion capital and don't know what to wear when traveling to Paris, don't miss these useful beauty tips!
Parisian Attire: Capturing Timeless Style
When it comes to fashion, Paris is renowned for its effortless elegance and chic sense of style. Understanding the general Parisian attire will enable you to seamlessly blend in with the locals and embrace the city's fashion-forward culture. Here are some key points to keep in mind while planning your wardrobe:
Classic Basics: Invest in timeless wardrobe staples such as a well-fitted blazer, tailored trousers, a little black dress, and a quality pair of jeans. These versatile pieces can be effortlessly mixed and matched to create stylish outfits for various occasions.
Neutral Color Palette: Opt for a neutral color palette with shades like black, white, beige, and navy. These colors exude sophistication and provide a solid foundation for creating chic ensembles. You can add pops of color through accessories like scarves or statement jewelry.
Quality Fabrics: Choose high-quality fabrics that drape well and withstand the test of time. Look for materials like cotton, silk, wool, and cashmere. Investing in quality pieces ensures longevity and a polished appearance.
Paris Travel Tips: Ensuring a Smooth Journey
In addition to curating a fashionable wardrobe, it's crucial to take certain travel precautions to ensure a safe and hassle-free trip to Paris. Consider the following tips:
Safety Awareness: While Paris is generally a safe city, it's important to remain vigilant, especially in crowded tourist areas. Keep an eye on your belongings, beware of pickpockets, and avoid displaying expensive items openly.
Cultural Etiquette: Familiarize yourself with basic French etiquette and customs to show respect for the local culture. Learning a few common phrases in French, such as greetings and polite expressions, can go a long way in fostering positive interactions.
Seasonal Considerations: Take into account the weather conditions during your visit to Paris. Pack appropriate clothing and accessories to ensure comfort and adaptability to changing temperatures. Checking weather forecasts before your trip will help you make informed decision.
The Best Time to Visit Paris
Determining the best time to visit Paris depends on your personal preferences and what you hope to experience during your trip. Each season in Paris offers unique charms, and understanding the weather, crowd levels, and seasonal events can help you make an informed decision.
Spring (March to May):
Mild temperatures, blooming flowers, and longer days characterize spring in Paris.
The city comes alive with outdoor cafes, picnics in parks, and cultural events.
Popular attractions may be less crowded compared to peak summer months.
Summer (June to August):
Summer in Paris brings warm temperatures and a vibrant atmosphere.
The city is bustling with tourists, especially during July and August.
Take advantage of extended daylight hours and enjoy outdoor festivals, concerts, and open-air activities.
Autumn (September to November):
Autumn in Paris showcases beautiful foliage and moderate temperatures.
The crowds thin out compared to summer, making it a great time to explore attractions.
Experience the charm of Parisian cafes and indulge in seasonal culinary delights.
Winter (December to February):
Paris in winter offers a magical ambiance with festive decorations and holiday markets.
The weather can be chilly, but it's a great time to explore museums and indoor attractions.
You can also enjoy ice skating and warm up with hot chocolate at cozy cafes.
Dressing in Paris
When it comes to dressing in Paris, it's all about embracing a tailored, chic, and conservative style with a hint of edge. The Parisian fashion scene is renowned for its sophistication and effortless elegance. Here are some key points to keep in mind when curating your Parisian wardrobe:
Tailored and Chic: Opt for well-fitted clothing that exudes a polished and put-together look. Tailoring is key to achieving the Parisian aesthetic. Invest in tailored blazers, trousers, and dresses that flatter your silhouette and give you a refined appearance.
Conservative with an Edge: While Parisians appreciate fashion-forward looks, they tend to lean towards a more conservative approach. Balance your outfits by incorporating classic pieces with a touch of modernity or edginess. This can be achieved through statement accessories, unique patterns, or unexpected color combinations.
Avoiding Touristy Items: To truly blend in with the locals, it's best to steer clear of obvious touristy items. Avoid clichéd souvenirs, oversized logos, and loud prints. Instead, focus on presentable and timeless clothing that reflects your personal style while respecting the Parisian fashion sensibilities.
Popular Shoes for Paris:
Footwear plays a crucial role in completing your Parisian ensemble. Comfort and style go hand in hand when selecting shoes for exploring the city streets. Here are some popular shoe options among Parisians:
Ballet Flats: A quintessential Parisian staple, ballet flats offer both comfort and elegance. They are versatile and can be paired with dresses, skirts, or tailored pants for a sophisticated look. Opt for high-quality materials like leather for durability.
Ankle Boots: Ankle boots are perfect for the transitional seasons and can add a touch of effortless cool to your outfits. Choose a comfortable heel height and versatile color, such as black or brown, that complements your wardrobe.
Sneakers: Parisians have embraced the sneaker trend wholeheartedly. Opt for stylish and comfortable sneakers that can be paired with jeans, dresses, or skirts for a modern and casual look. Stick to classic colors like white, black, or neutral tones for easy pairing.
What to Wear in Paris
To make packing easier and more efficient, it's advisable to create a capsule travel wardrobe that can fit into a carry-on suitcase. A capsule wardrobe consists of versatile pieces that can be mixed and matched to create various outfits. Opt for neutral colors as your base and add pops of color with accessories or statement pieces. This way, you'll have a range of outfits without overpacking.
While Paris is known for its fashion-forward reputation, practicality should be prioritized over high fashion. Choose clothing that allows you to move freely and comfortably, especially if you plan on exploring the city by foot. Opt for well-fitting jeans or trousers, lightweight tops or blouses, and layers that can easily be added or removed depending on the weather.
1. Autumn Blue Checkered Dress, Orange Hat, Wide White Belt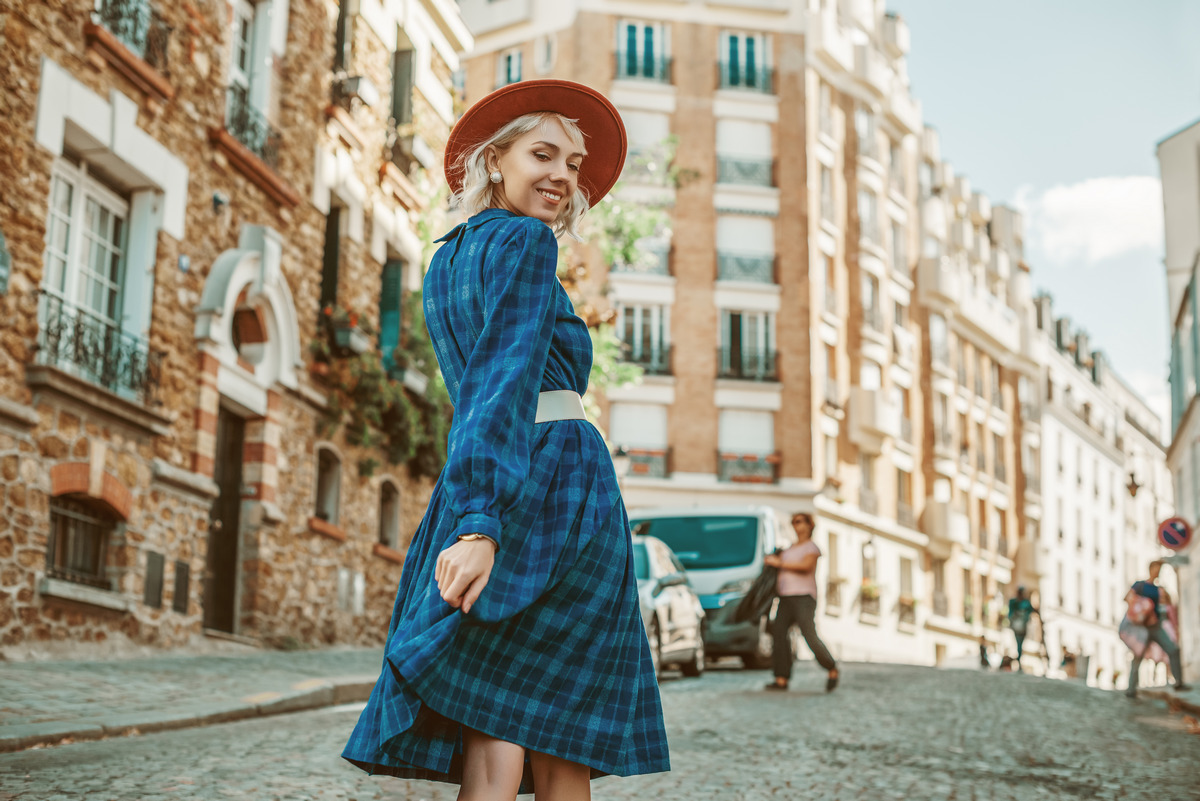 A checked print dress is considered a symbol of luxury. France's weather is similar to other European countries, divided into four seasons. The outfit is suitable for each season and creates its charm. So choosing the right outfits for each season is not an easy task. The way you dress is not only attractive, but it also creates your personality. A trip to France with the right clothes will make your travel journey more meaningful.
2. Pink T-shirt, Straight Leg Jeans & Sneakers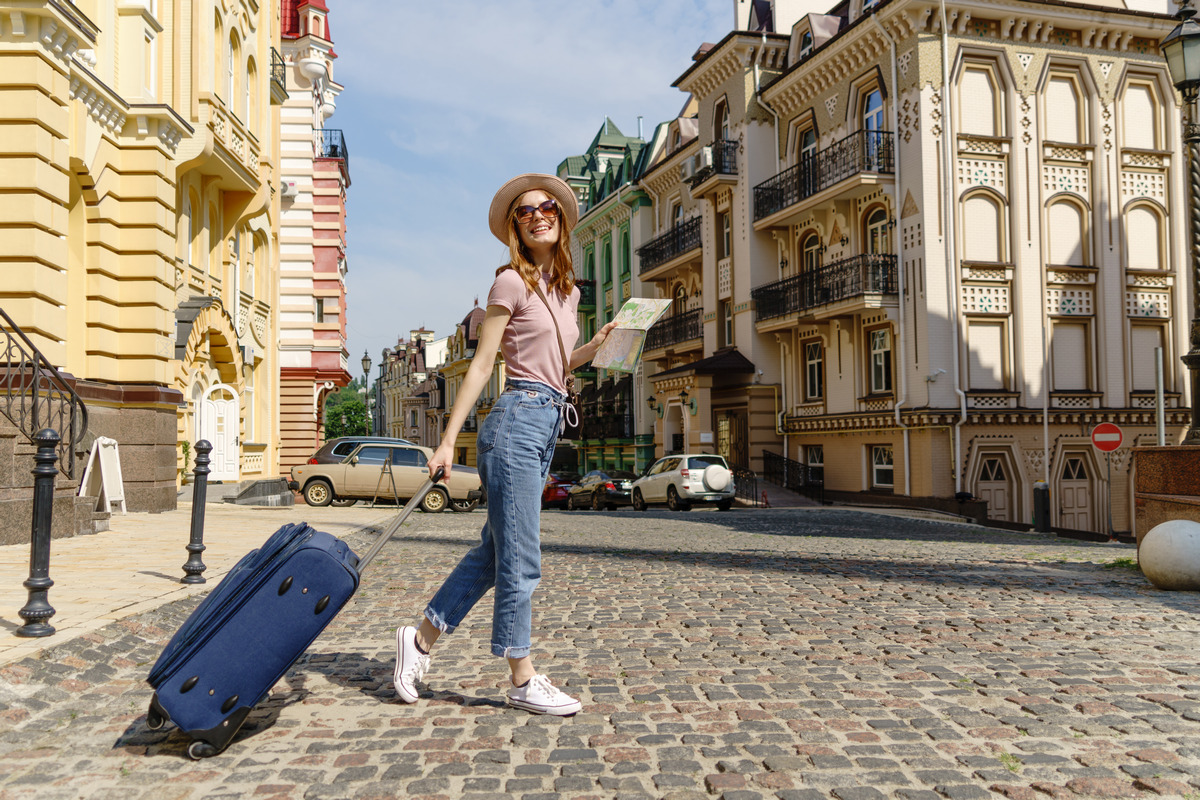 Coming to Paris, visitors will be overwhelmed by the dreamy, lyrical space, just strolling through the streets, accidentally passing by boys and girls in well-coordinated outfits. Economical and eye-catching. Check out the following things that will help visitors become muses: pink t-shirt, straight-leg jeans, and sneakers. Jeans and t-shirts are consistently regarded as a trend that never goes out of style and is constantly adored by ladies.
3. Denim Jacket, T-shirt & Jeans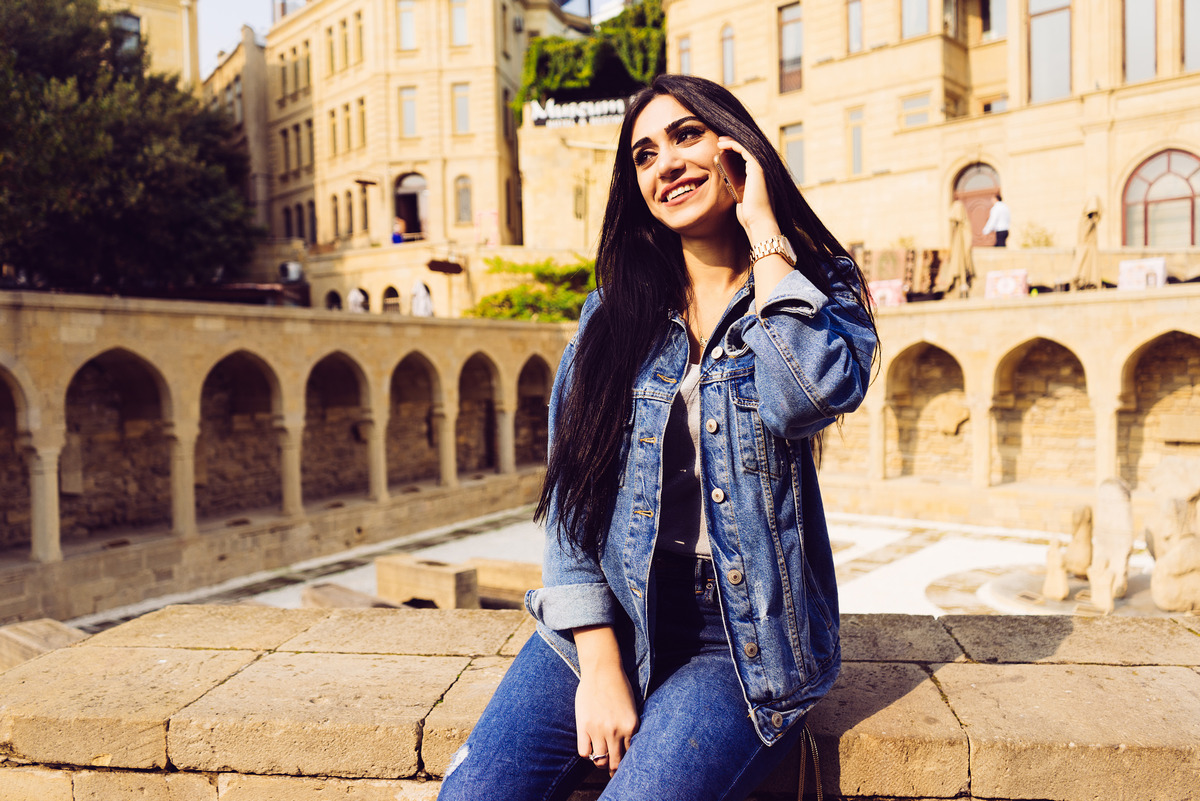 Most French girls follow this principle when choosing their outfits. They don't like overly fussy details on their clothes. The recessed block details or distinctive textiles make their clothes stand out. More specifically, have you seen what a denim jacket is? Usually, denim is used as a jacket more than normal shirts because, with the thick fabric, it will be great to keep the body warm. Not only that, but these beautiful coats also show a dusty personality style that today's young people love so much.
4. Yellow Blazer, Striped T-shirt, Red Belt & Jeans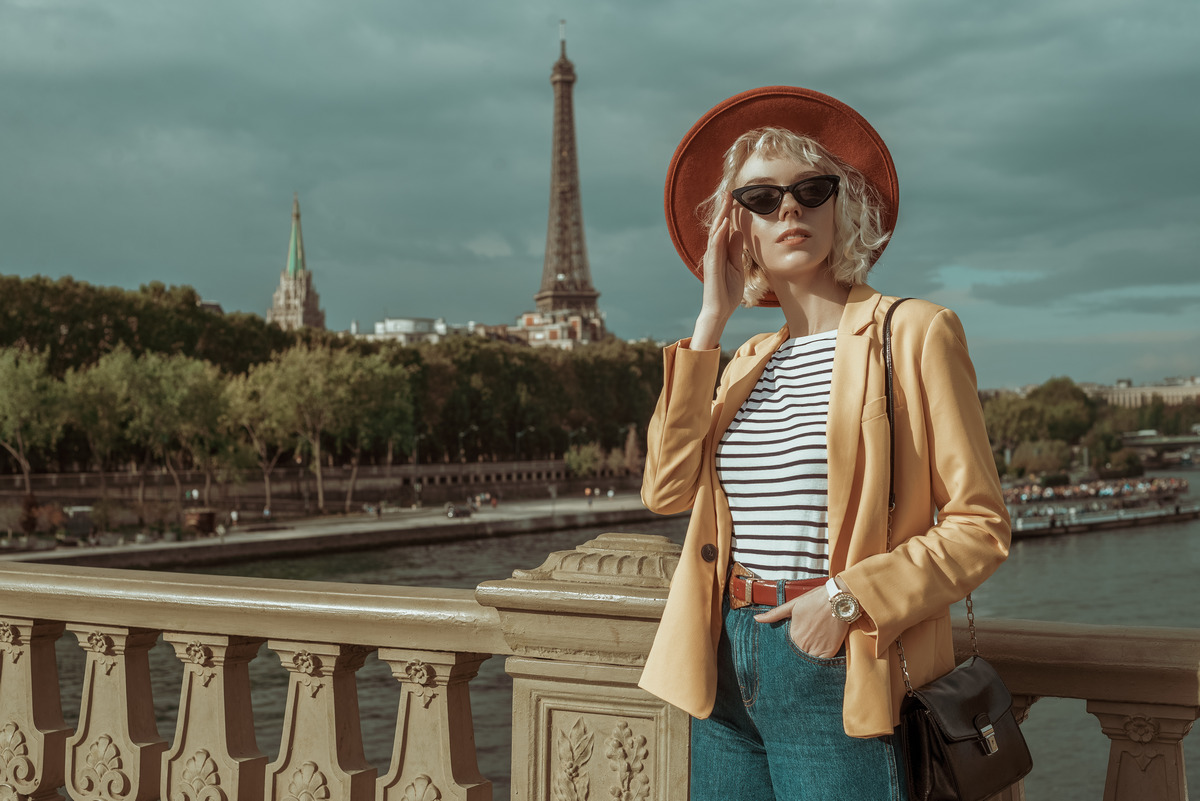 What to wear to Paris in spring and autumn? This is the golden time to travel in Paris because the weather is quite beautiful and the scenery of Paris is extremely romantic. All of creating a picture of Paris that is very poetic but no less modern. This 2-season outfit is also quite easy to choose because the weather is cool and pleasant. You can easily combine a blazer with a t-shirt and jeans in 2 shades of red and yellow.
5. White Summer Sundress & Black Hats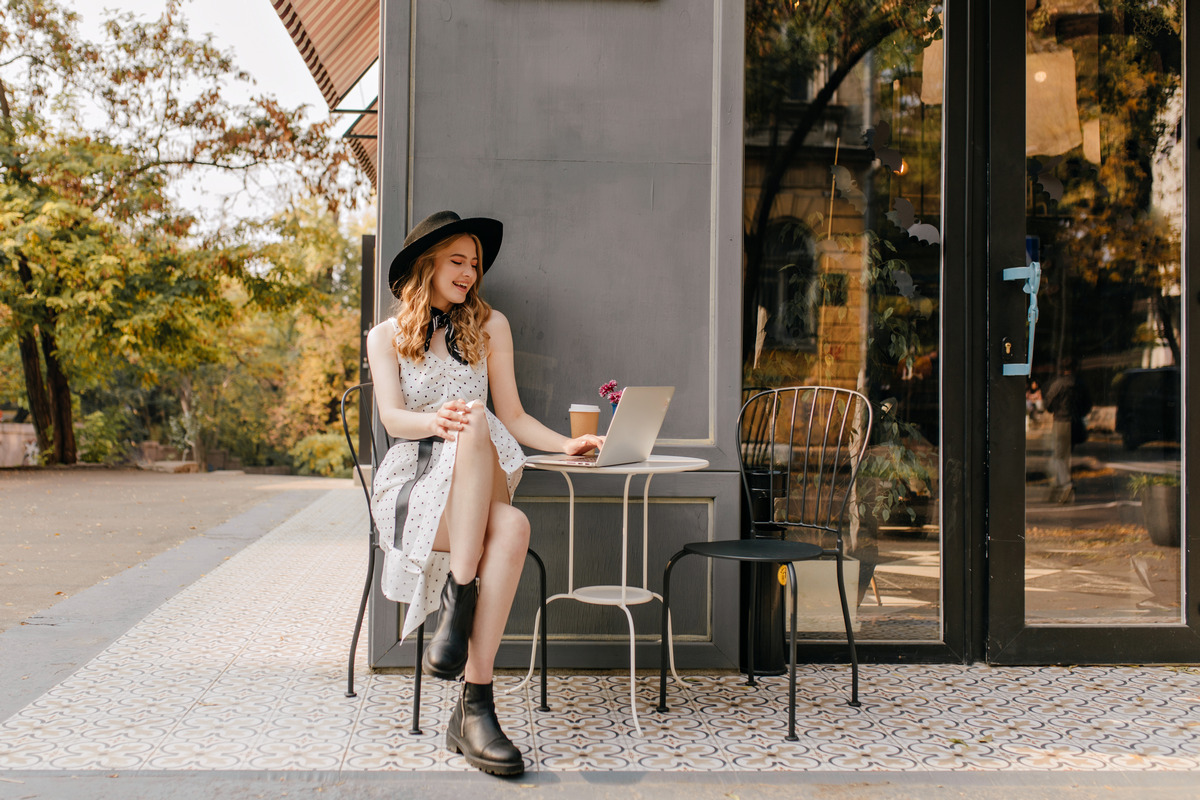 It is no coincidence that Paris is considered a city with an international fashion style with a distinct mark. The attraction of the Paris ladies is the elegant, sophisticated but no less luxurious and fashionable style. This has become the ideal model that many fashionistas in the world pursue. To make a statement in front of the audience, select a soft, white summer sundress in a classic style and pair it with a chic black hat.
6. Yellow Sweater, Shawl & Skinny Jeans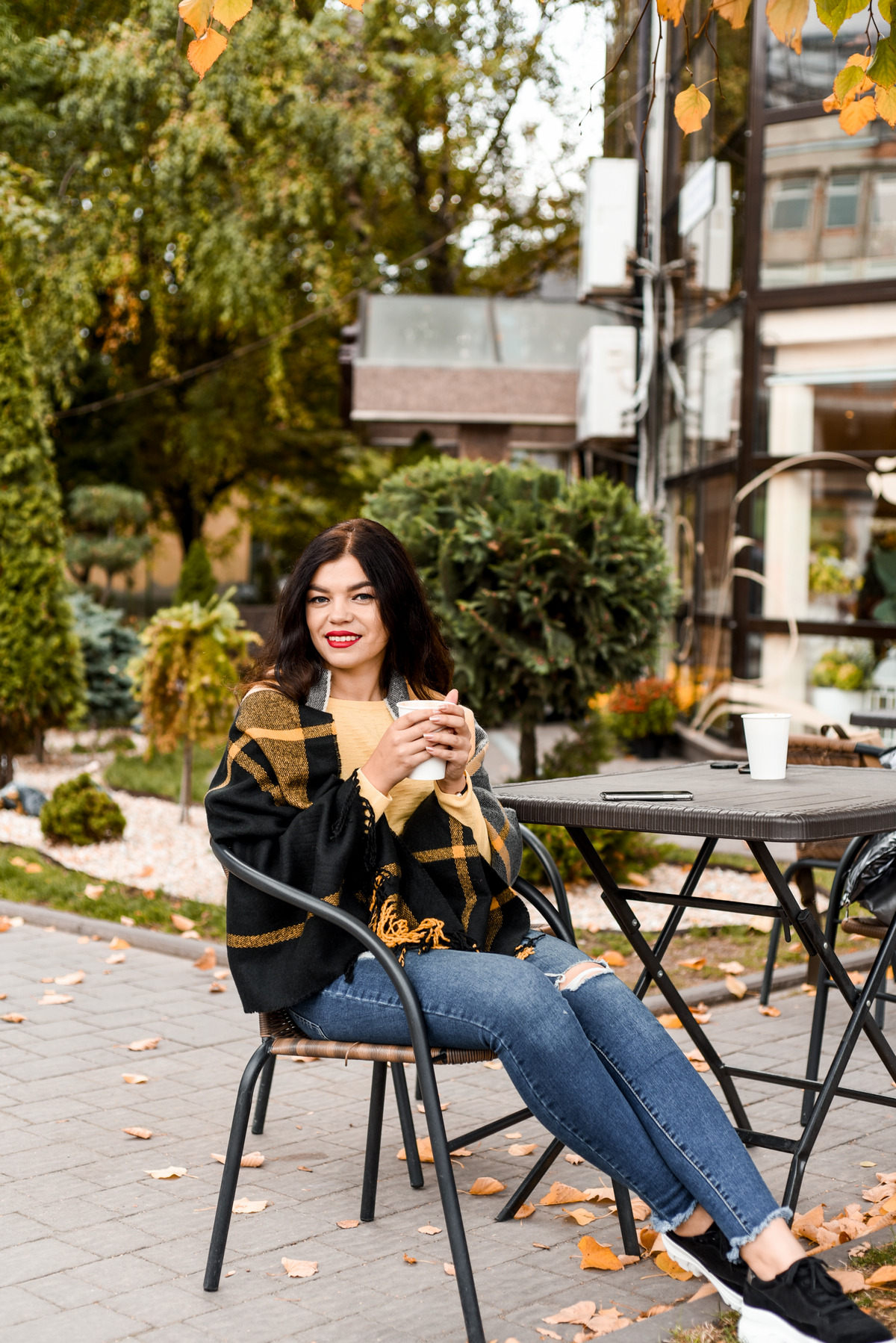 In France, stylish, sleek, and neutral hues are the norm for attire. Bring dark skinny jeans, a neutral plaid shawl, and comfortable yet fashionable walking shoes. Pair dark skinny jeans with a simple yellow, elegant sweater. Clothing appropriate to the climate is always a concern for everyone. The additional accessories should be brought along; they will make you stand out from the throng.
7. Faux Fur Coat, Sweater, Leggings & Boots In Black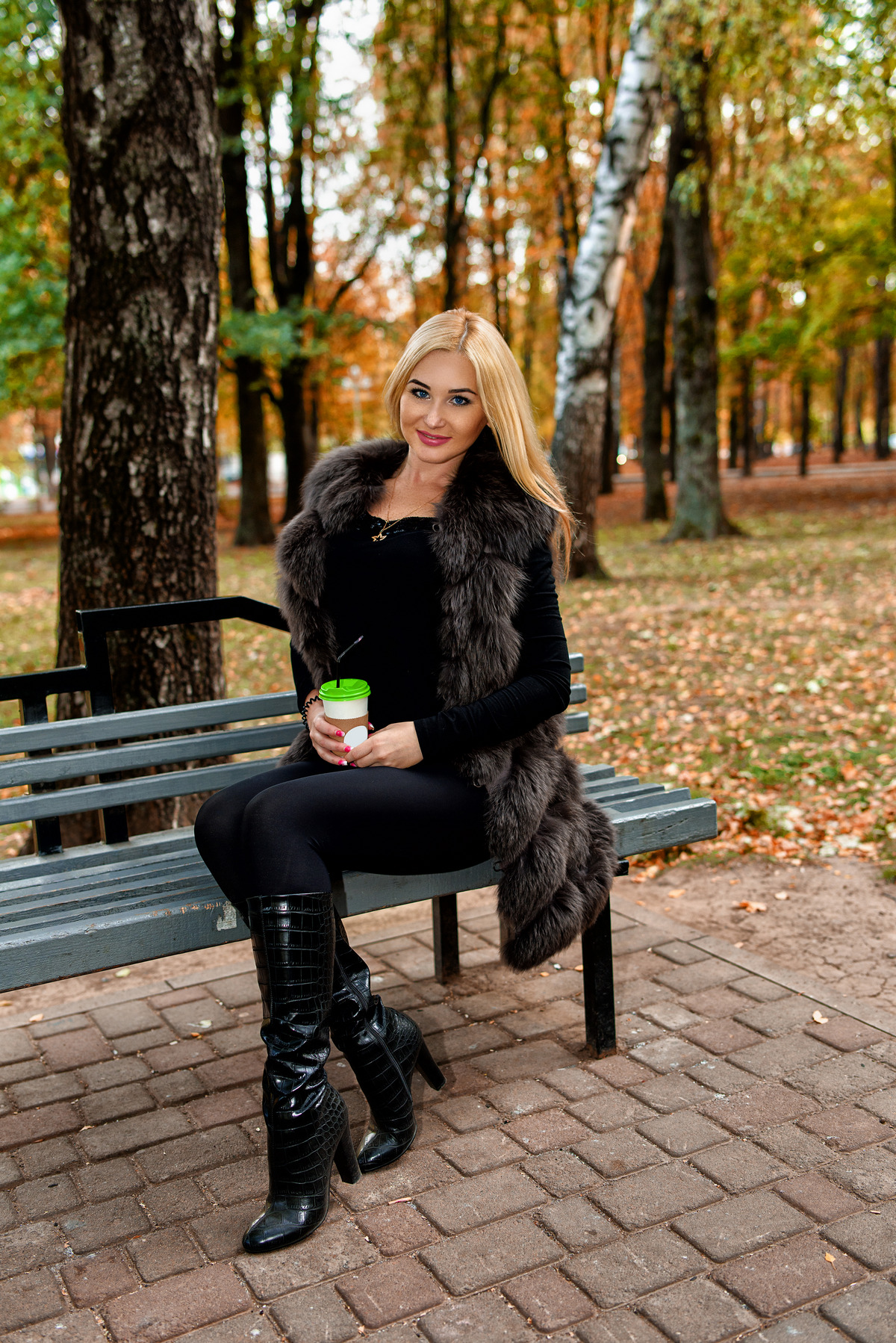 Although wearing all black may appear monotonous, French women have several black ensembles in their closets. No matter how many changes, and countless fluctuations in the flow of history, no other color can take the throne, especially black tones. A little bit of magic and mystery, power, and black color have conquered even the most personality girls. You can wear black at any time, age, and for almost any event.
8. Mini Shirt Dress & Black Belt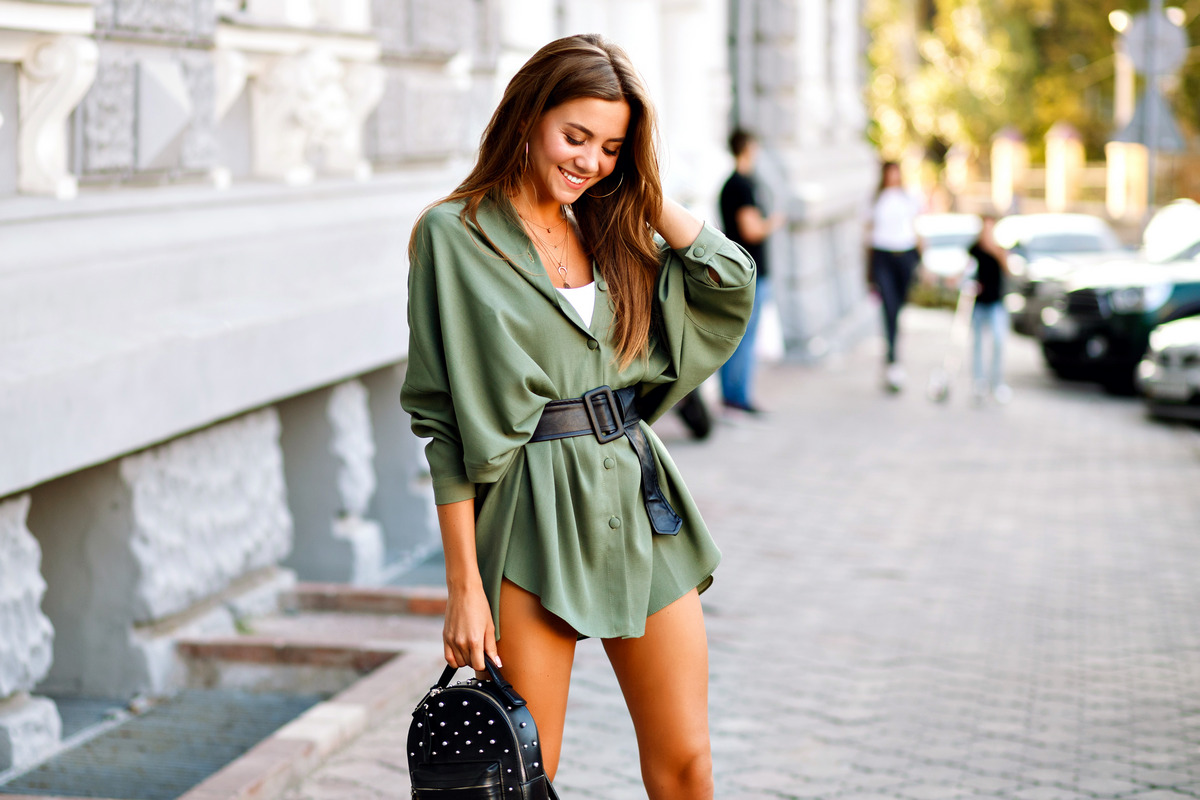 France is famous for its ancient and romantic beauty. So even if you don't have a good camera, you can easily get countless virtual photos. How to dress to travel to France to both adapt to the weather and take photos for a lifetime is a matter of interest to many people. With simple items like a blue mini shirt-dress and black belt, you can easily create shimmering photos in the dreamlike scenery of Paris.
9. Blue Maxi Wrap Dress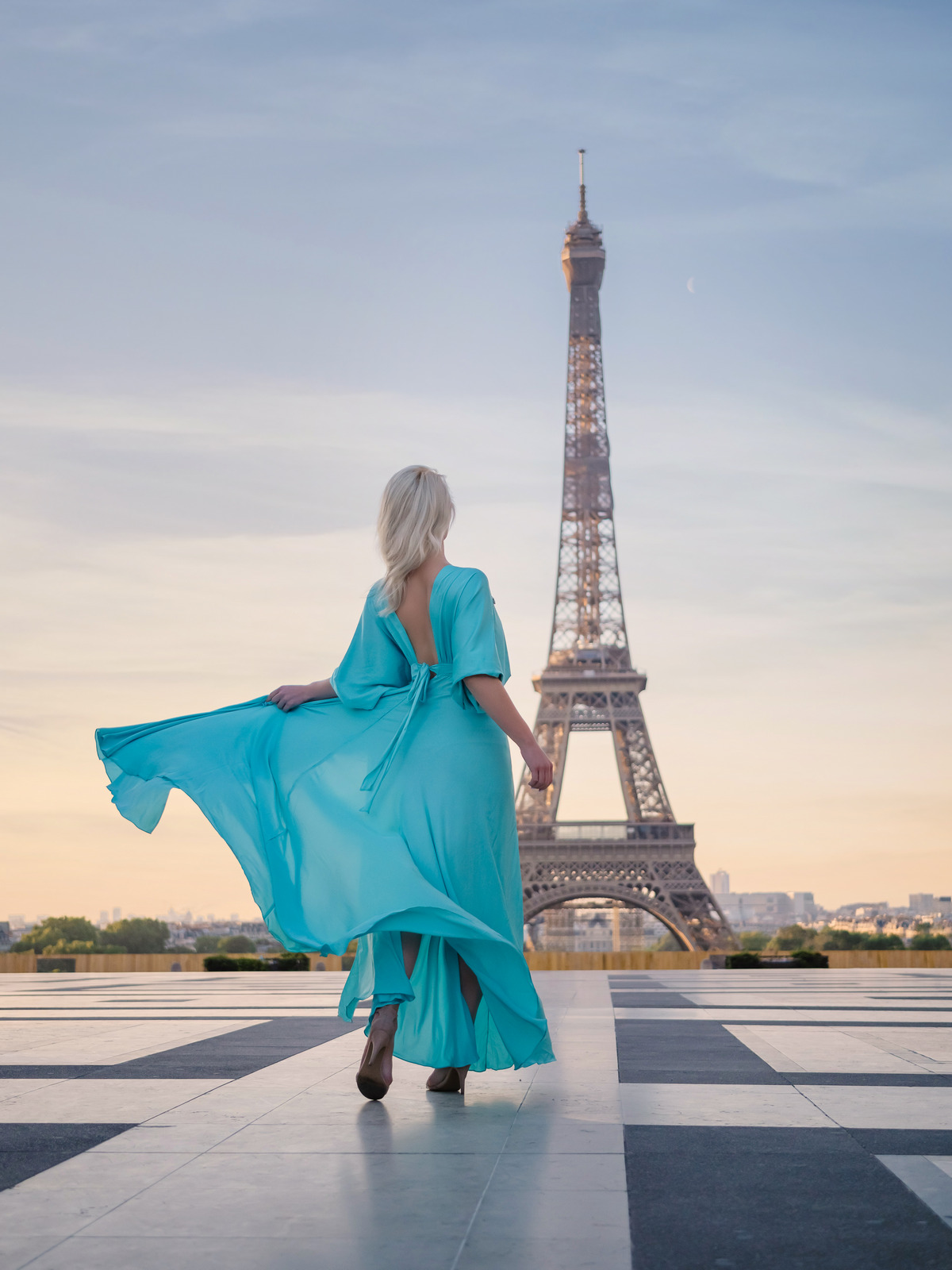 A maxi dress with a flowing length can be easily combined to create various styles while helping to cover any flaws on the legs. This is an extremely easy item for all body shapes. You need to find the right design, fit your figure, and know how to match it with the rest of your outfit. The models of maxi dresses are more and more diversely designed, accompanied by many personalities. Let's create a shimmering photo in Paris.
10. Oversized Blazer & Polka Dot Midi Dress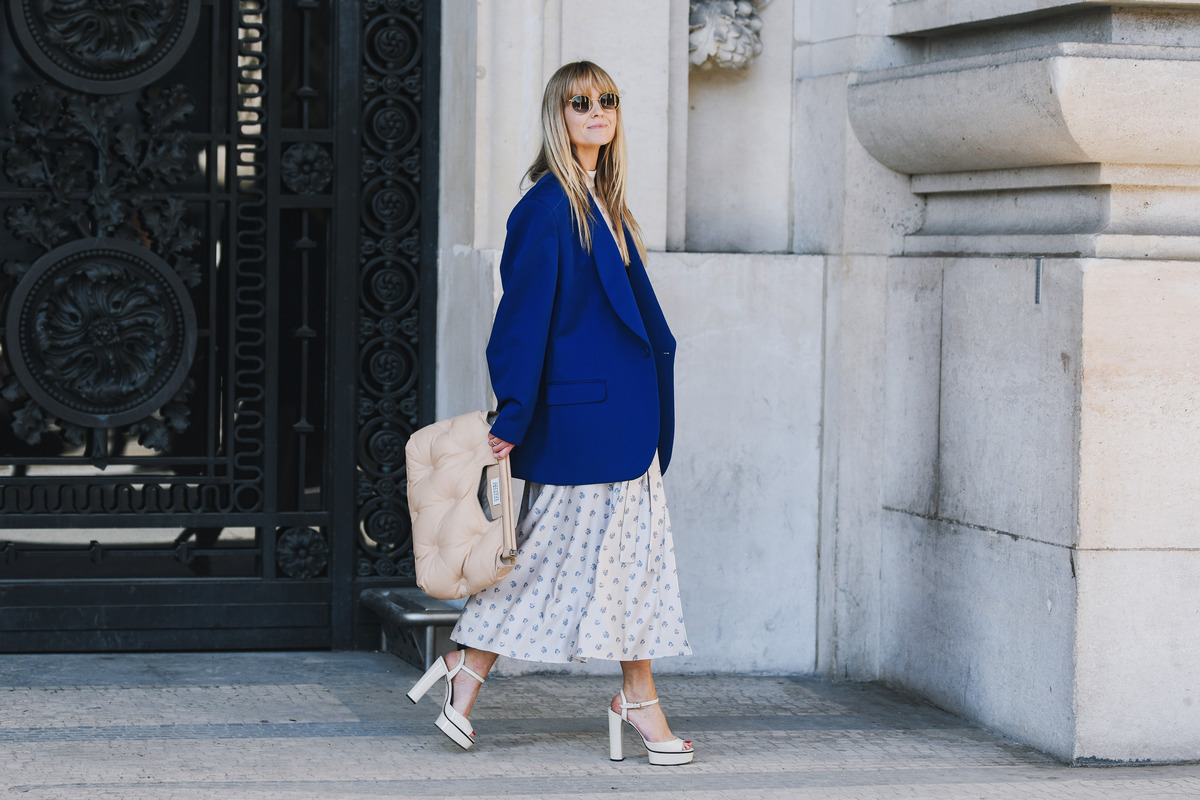 Your clothing will look better if you wear a blazer casually over your shoulder. Paris females prefer wearing bright colors like stripes, red, yellow, and navy blue to accentuate their beauty and sophistication. A beautiful bra top, a youthful pair of canvas shorts, or a feminine midi dress are a few items you can pair with a blazer. Visitors now have the solution to the question of what to dress in Paris when paired with personalized accessories.
11. White Jumpsuits & Sneakers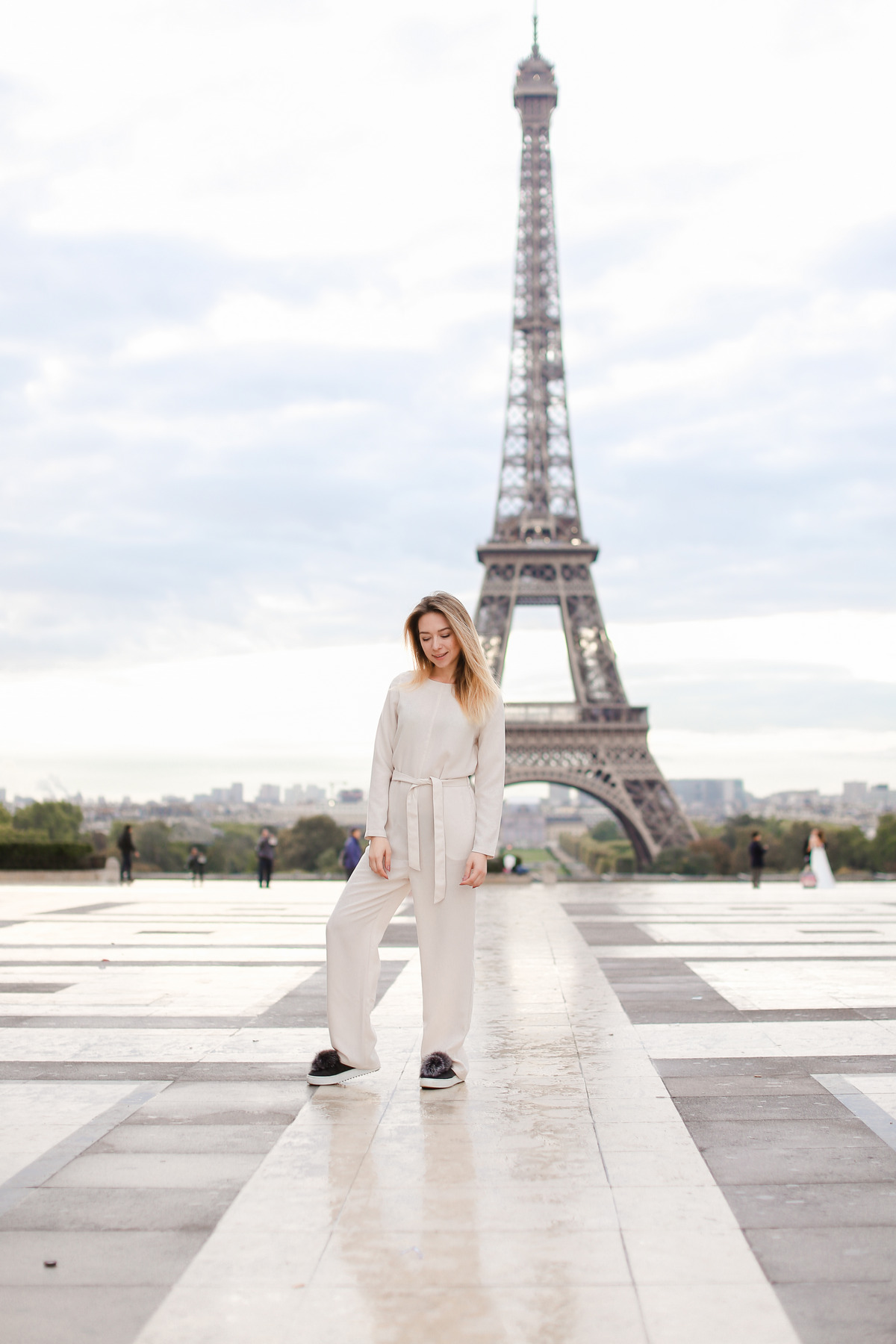 Linen overalls give you a comfortable feeling and a simple look and contribute to making your wardrobe more fashionable. You can wear a jumpsuit, walk on the streets of Paris or sit in a cafe to enjoy a cup of coffee. In addition to rustic colors like cream, white, and green, you should also try bright and eye-catching colors like orange or saffron. Don't forget a comfortable pair of sneakers to complete this look.
12. Oversized Fur Top & Pleated Skirts In Green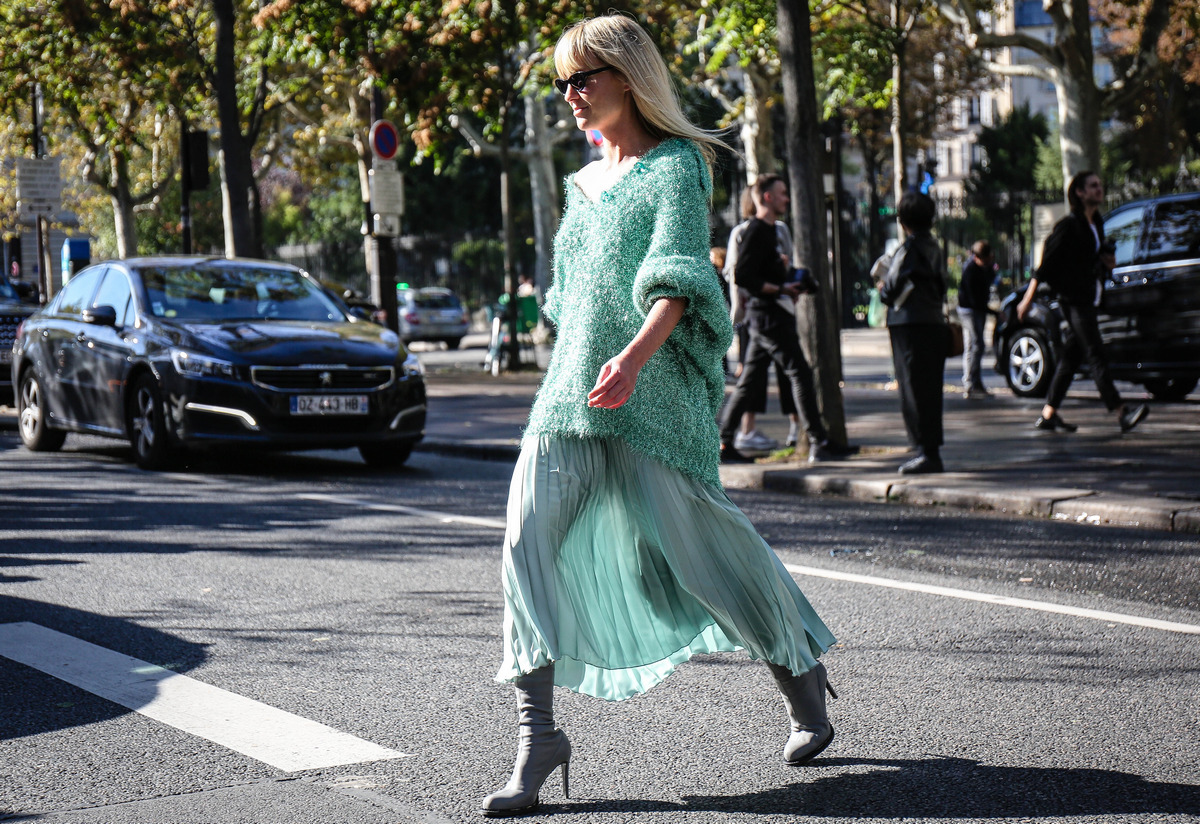 Green is considered a picky color because of its contrast with skin color. Although "difficult to please," this color still has a strong attraction and is an endless source of inspiration for big and small fashion houses worldwide. Green is always a color that brings a new source of positive energy, helping to soothe the soul. This also explains the frequent appearance of this color on fashion catwalks recently. A green outfit will make you stand out in romantic Paris city.
13. Red Ruffle Vintage Dress & Green Blazer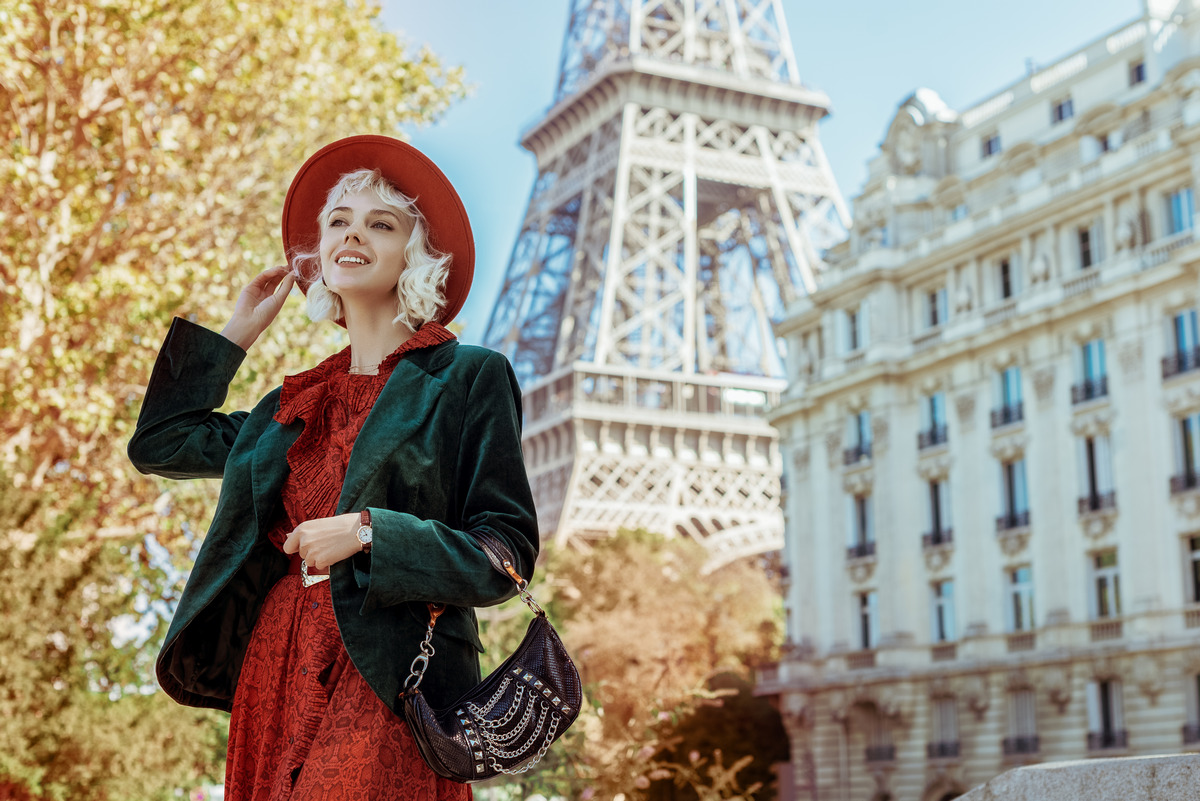 It is not natural that France is known as the world's fashion capital. This is the starting place for typical fashion trends, the cradle of many fashion trends. Unlike America's hot, modern beauty, the classic look of England, French fashion brings a sweet, gentle, elegant beauty. The combination of red and green colors seems dominant, but it brings a harmonious beauty to the autumn colors of the streets of Paris.
14. Plaid Suit Set & Blue High Heel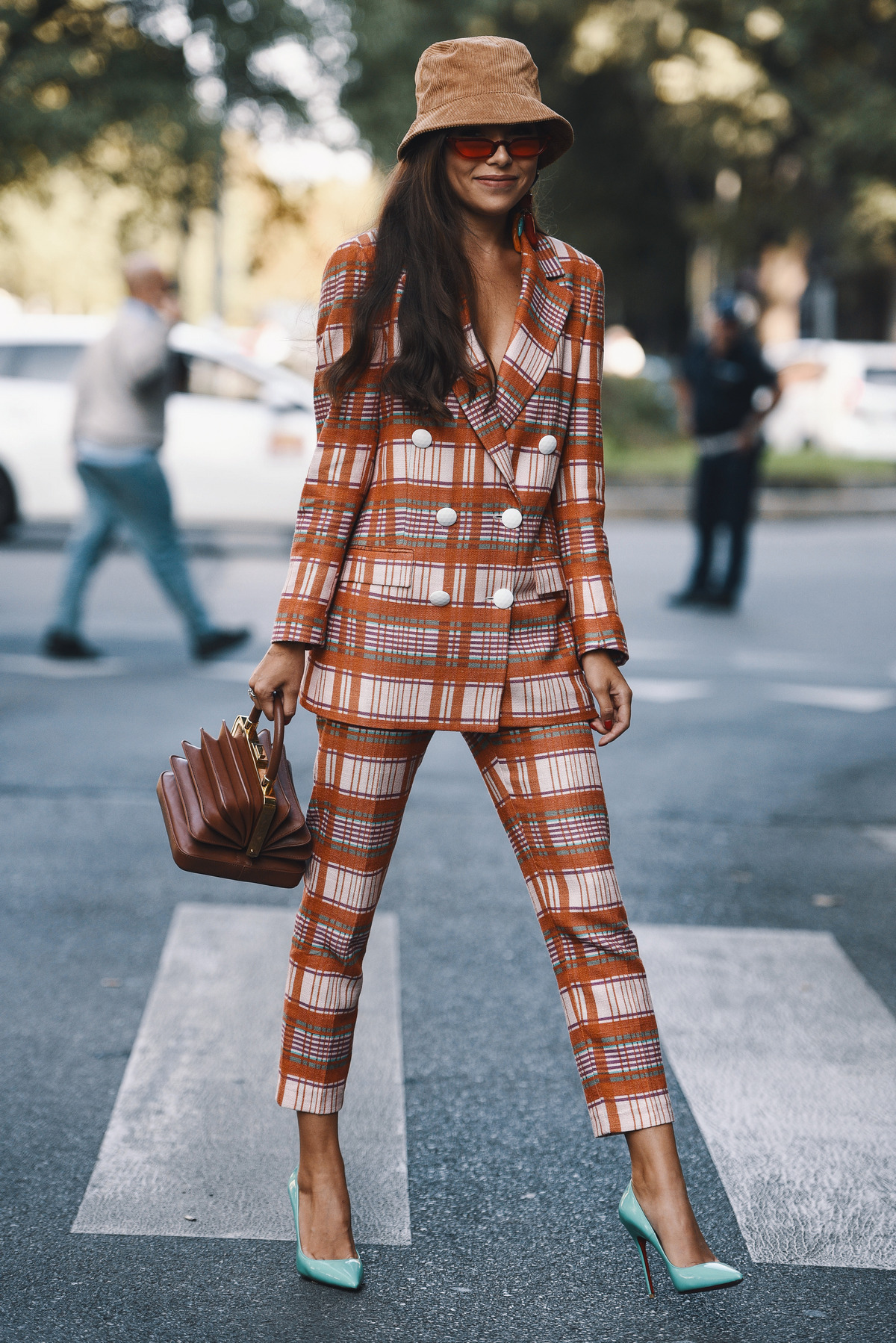 No need to be fussy or flashy; the fashionable ladies from the "capital of light" Paris always know how to conquer each other with a sophisticated and elegant aesthetic. By applying "timeless" designs and understanding the choice of colors and details, French women create fashion "symphonies" that harmonize classic inspiration with modern touches, both neat and fresh, without being too rigid. This plaid suit set is a prime example.
15. White Shirt, Mom Jeans & Ankle Boots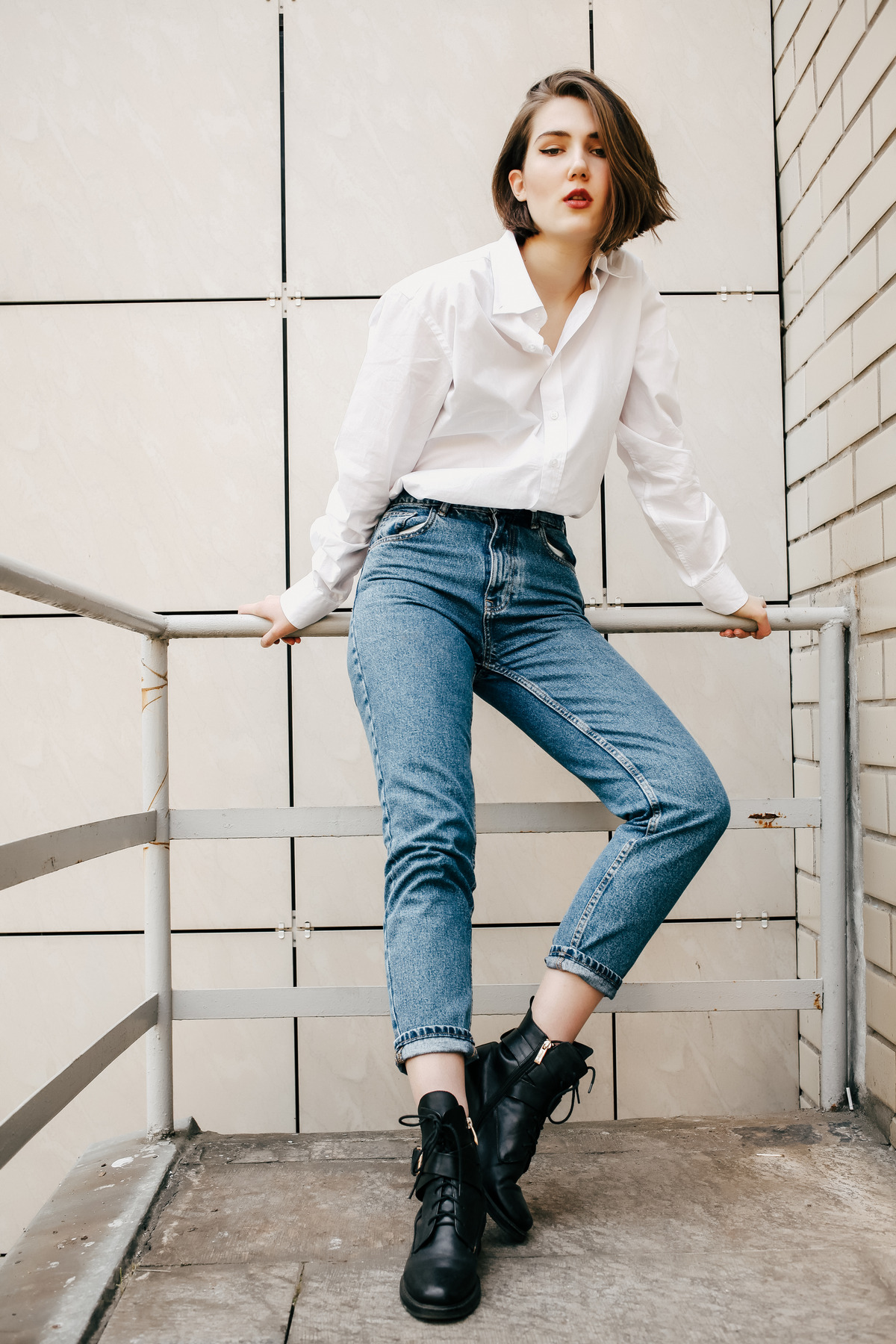 In the wardrobe of a French lady, it is impossible without the presence of shirts with high-quality materials and seams. Women in Paris will not hesitate to invest in the best quality white shirt design as an item that can be worn in any situation and is still elegant. Combined with mom jeans, from the dignified office to the days on the street with friends, they wear this shirt everywhere with trendy and not boring mixes.
16. Retro Floral Dress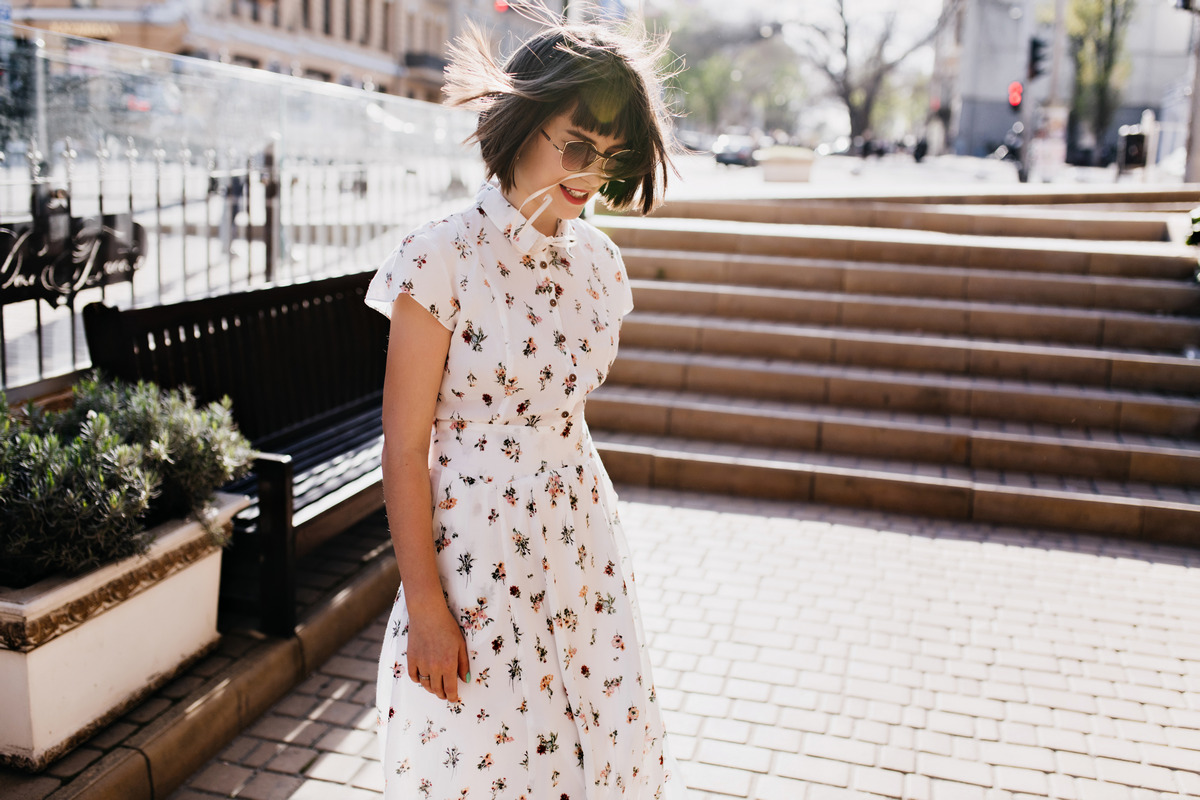 This is considered the "soul" of the summer fashion mixes because of its soft, feminine beauty mixed with a special nostalgia. For floral dresses, the French women's association often chooses designs with a waistline or body-hugging garments with puffy sleeves to enhance their attractive slim figure. The delicate lace-up sandals or slingback are always the first choice to combine with the floral dress of the ladies from the "light capital."
17. Red Beret, Turtleneck, Oversized Pink Blazer, Checkered Skirt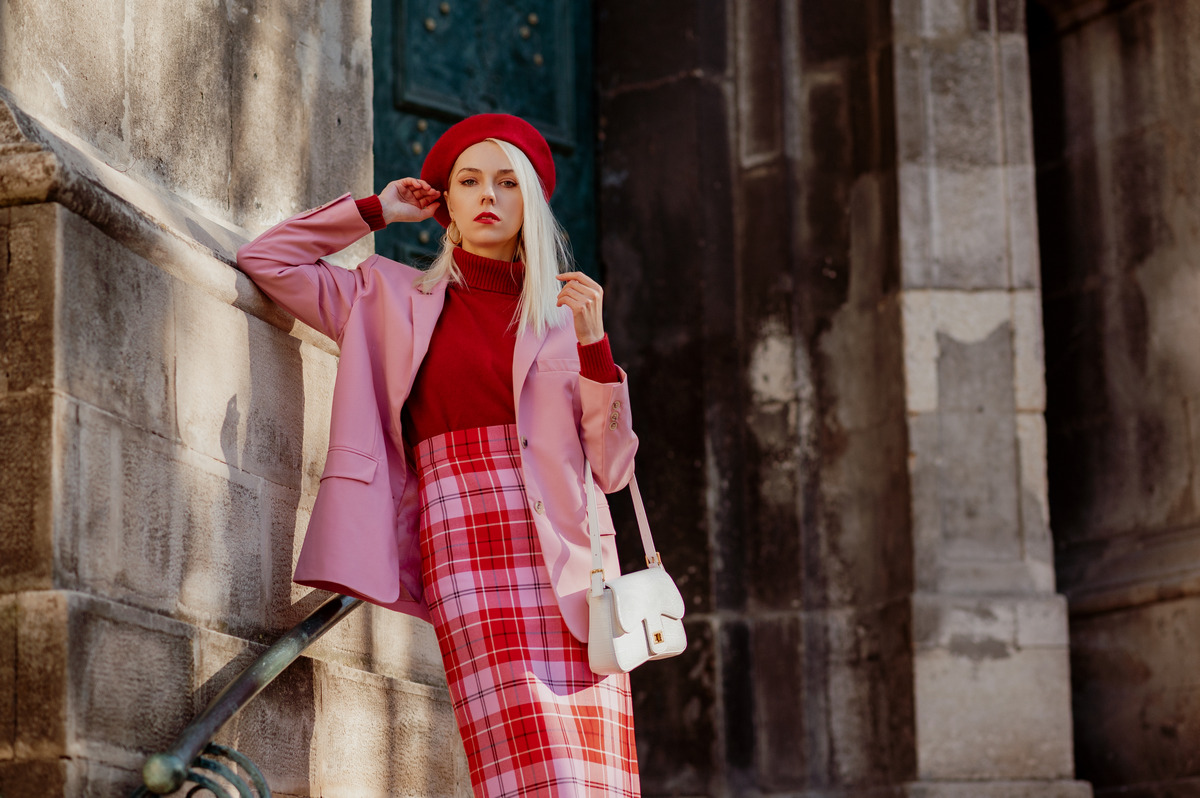 Living in a country famous for fashion can't make French girls fascinated and follow the latest fashion trends. Instead of buying too many trendy items, they spend a large amount of money to invest in items that will last for a long time. An oversized blazer is one of the investments the French women's association spends "strongly." In their basic capsule wardrobe, it is impossible not to miss blazers with streamlined designs and skilled tailoring techniques.
18. Dark Green Slip Dress & Blazer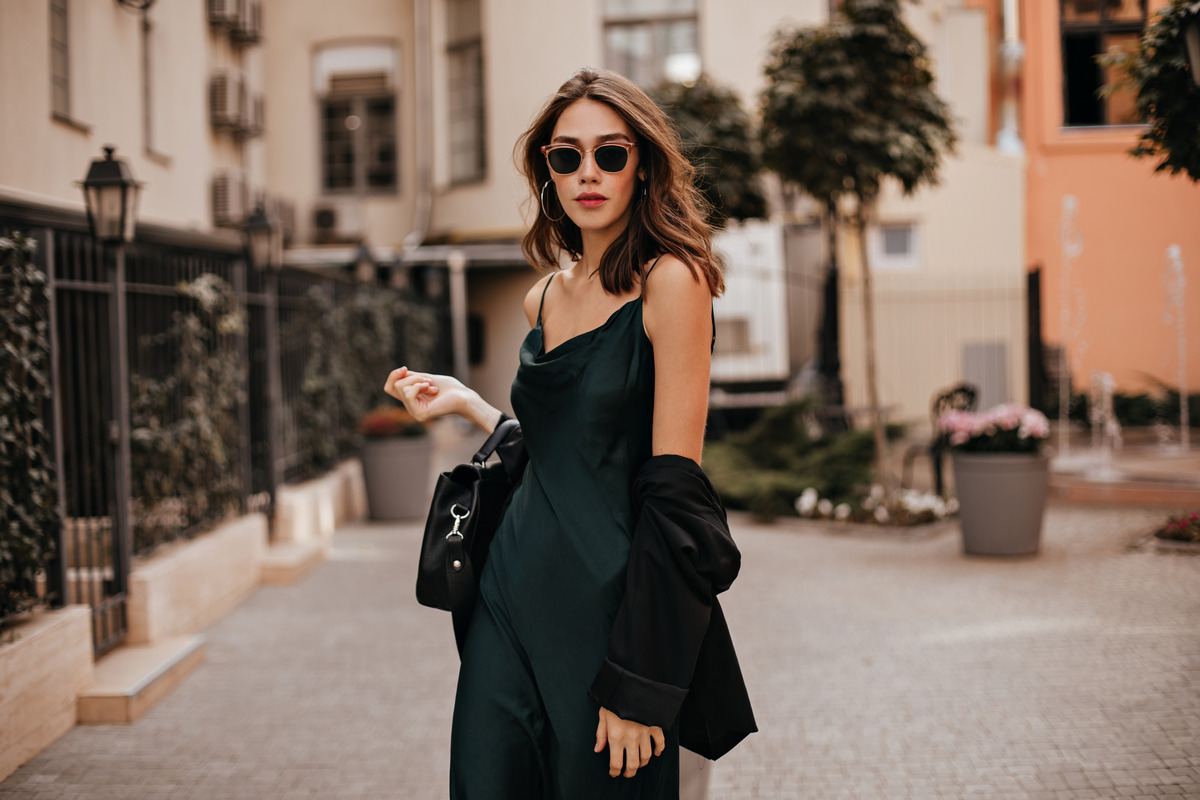 Besides the flower dress, the slip dress design from silk is also an indispensable item of the French girls' association. The two-piece dresses from high-quality silk fabric are so soft, hugging the body and exalting the seductive curves. Their slip dress designs are often plain color with calf lengths to create grace in every step. In addition to the basic way of wearing, you can completely learn from the Paris ladies how to mix & match a glamorous slip dress with an oversized blazer or layer with a shirt inside.
20. Beige Coat, Beret, Brown Scarf, Pleated Skirt & Green Turtleneck
The minimalism and flatness of turtlenecks make it easy to combine them with all the other jackets in your wardrobe. There's nothing more classic than a slim turtleneck sweater. French fashion is a harmonious combination of colors, bringing a unique French character to create a vibe for the viewer. The French always love colors like beige, white, black, etc.; basic colors are the first choice of French style, combining basic colors but not bringing boredom.
21. Red Beret & White Cardigan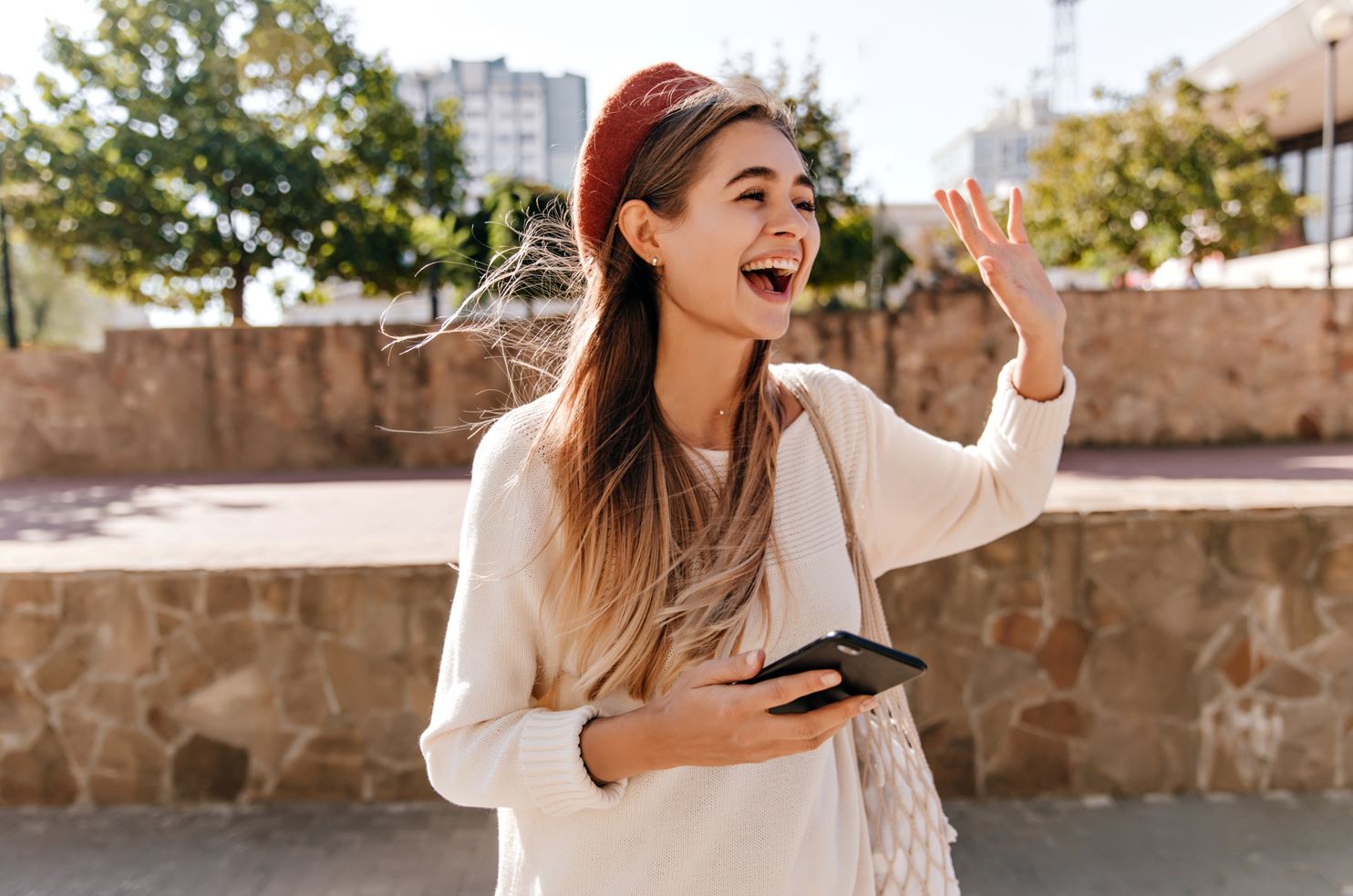 Cardigan is the perfect item to keep you warm this fall. Paris girls love to wear them over a T-shirt or camisole, and they also pair them with a blazer or trench coat for winter. A high-quality fabric that may be worn throughout several seasons, like merino wool, cashmere, angora wool, or mohair wool, is advised. Finally, choose neutral colors like white, gray, navy, black, or green to easily combine the cardigan with other outfits.
22. Breton T-shirt, Beret & Tulle Skirt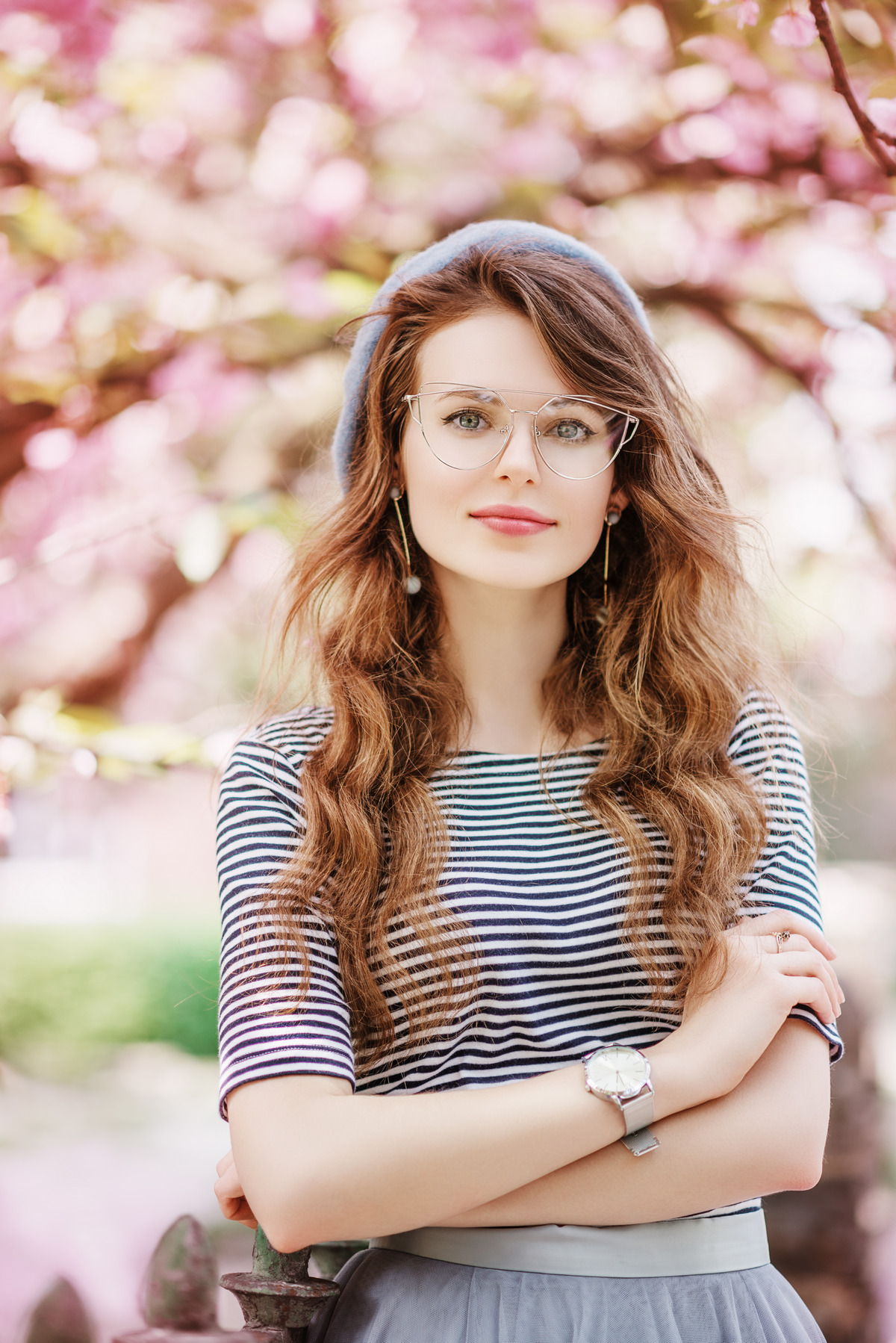 The Breton Plaid T-shirt is an indispensable image of Parisian Chic. It all started when St. James' Breton plaid t-shirt became the official French navy uniform in 1858. By 1913, Coco Chanel had paved the way for the shirt to come closer to women and help them become an icon found in every Parisian's wardrobe. You can pair this top with jeans, a tulle skirt, a beret, boots, or ankle boots.
23. Multilayer Outfits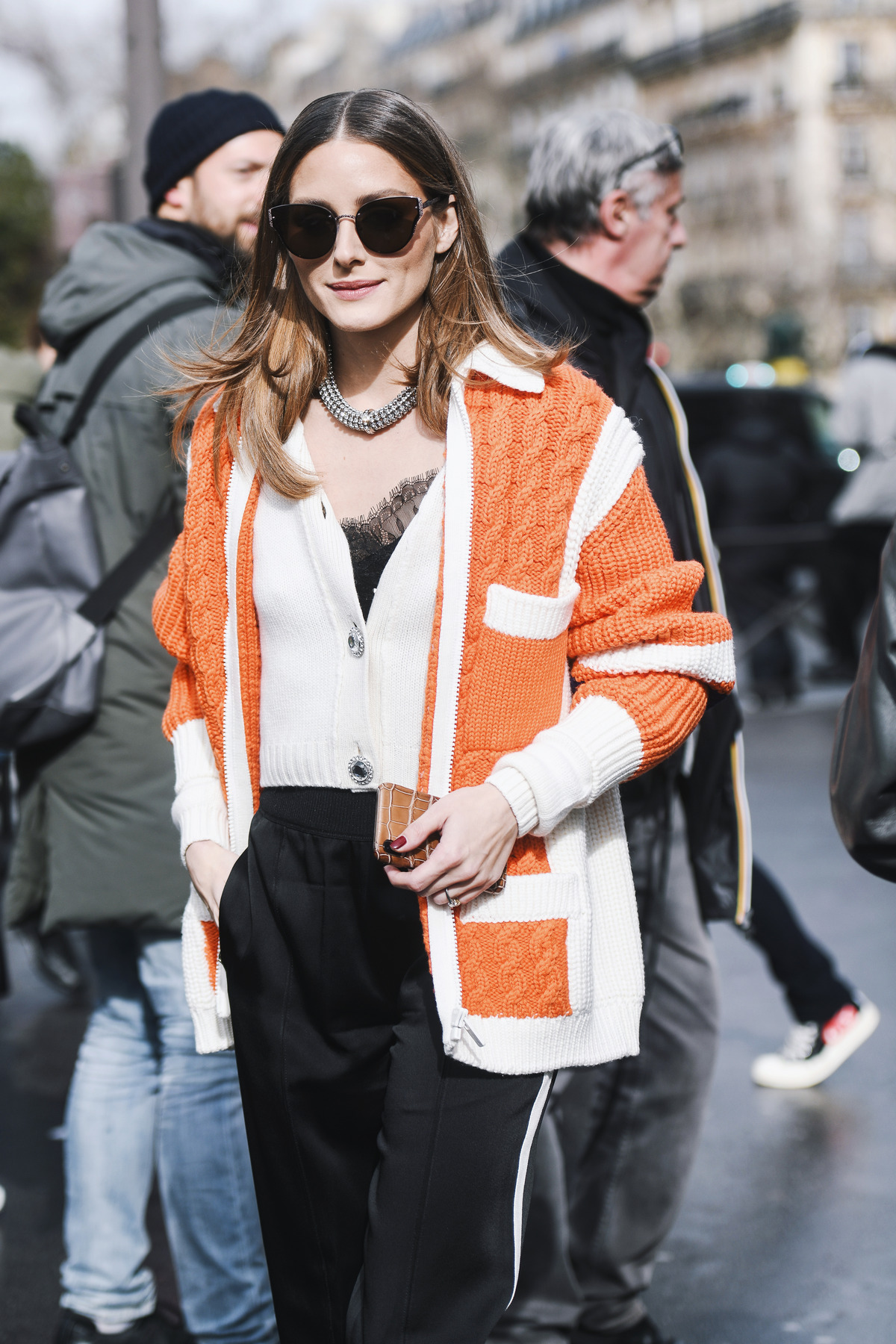 The French have pushed the principle of Layering to a new level when the different layers of clothing textures seem to be merged into one. The French know how to combine pieces of clothing so that it is still very simple without creating a feeling of heaviness and fatigue for the viewer. The layering principle is that you should only combine up to 3 layers of clothes for a suit; the suits should have the same color tone and offset each other, and the light and dark areas should be carefully prepared.
24. Trench Coat, Hoodie, Culottes & Sneakers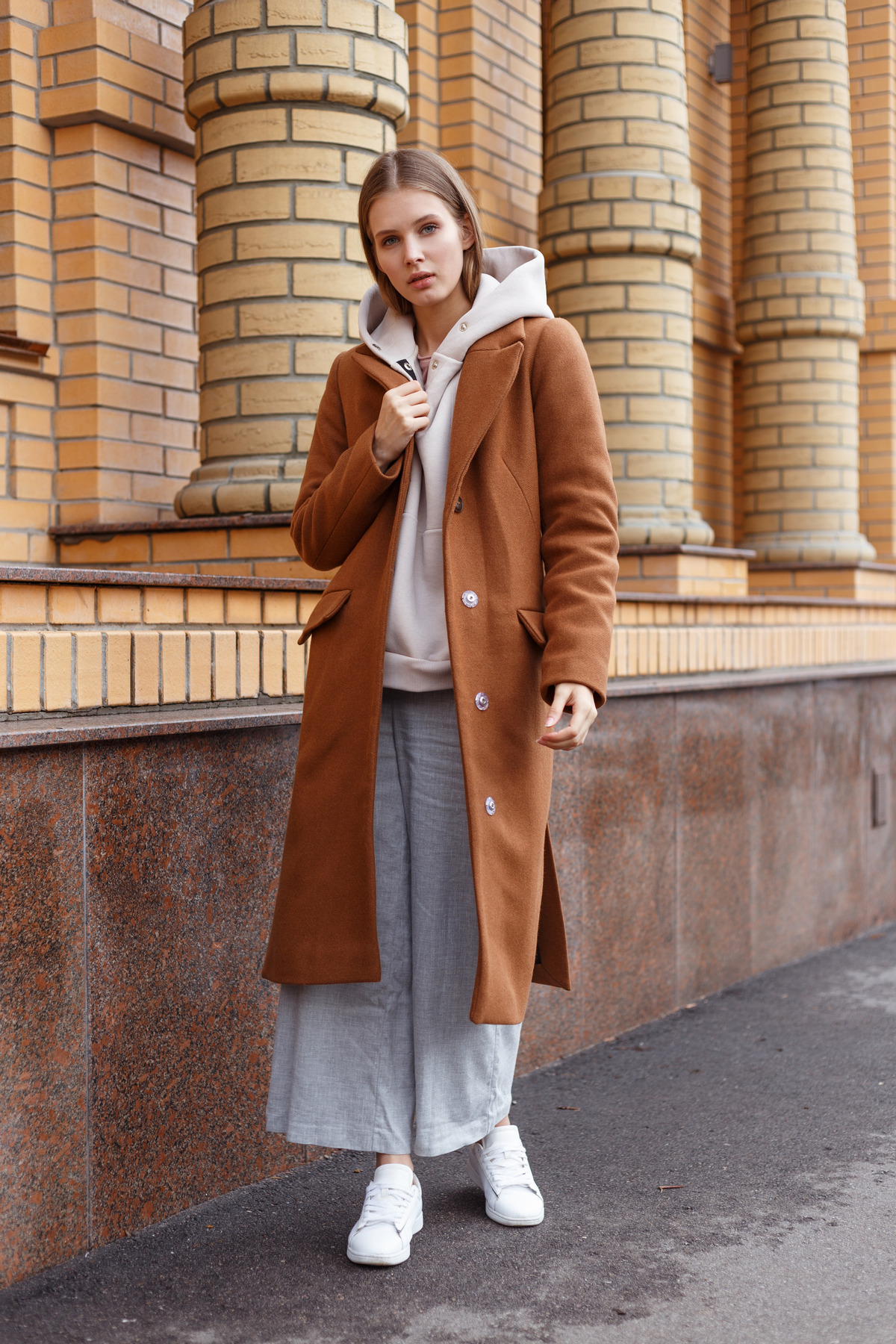 If you want to transform into a Paris girl, a trench coat is what you need to have. This is the perfect jacket for the changing seasons, especially for today's rainy days. This shirt style has a good windproof and rainproof material and is easy to coordinate with basic items. A trench coat will keep you warm all season long and add a chic touch to any outfit. Pair with hoodies, culottes & sneakers; now you're ready!
25. Fur Coat, Knitted Sweater, Wide Belt, Peated Zebra Print Skirt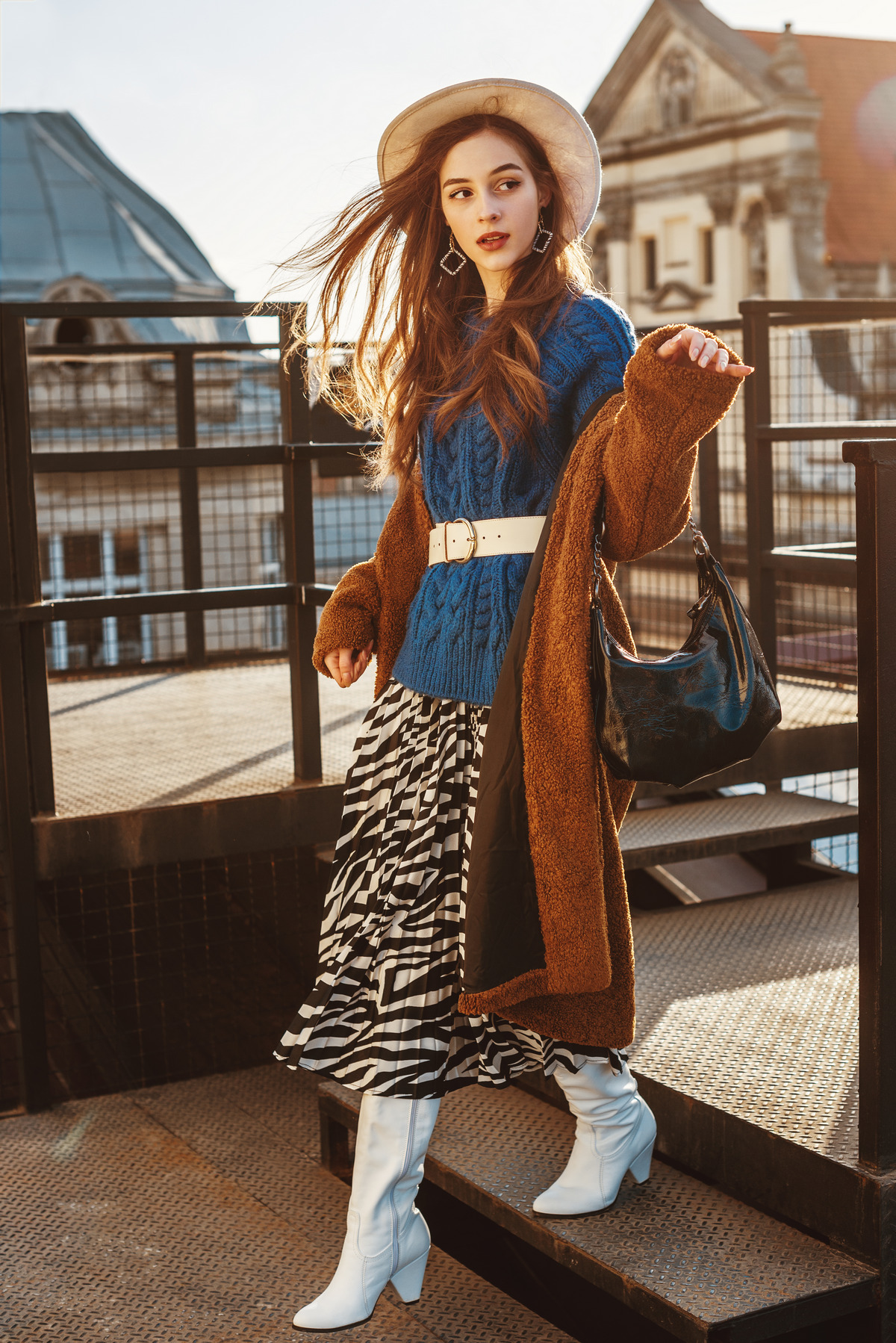 The principle of balance is applied from the color combination to the shape and length of the outfit. If you are wearing a shirt with a striking color or pattern, the accessories should be minimal to give the viewer a sense of light. Mainly the Paris girl uses neutral colors such as beige, white, black, brown, gray, etc., to apply to the suit; hot and prominent tones will be the highlights of accessories such as towels and textures on the shirt. Their skirts are usually not too long to avoid the situation of a bunch of shoes; the right length is given at the ankle.
26. Outfit With Accessories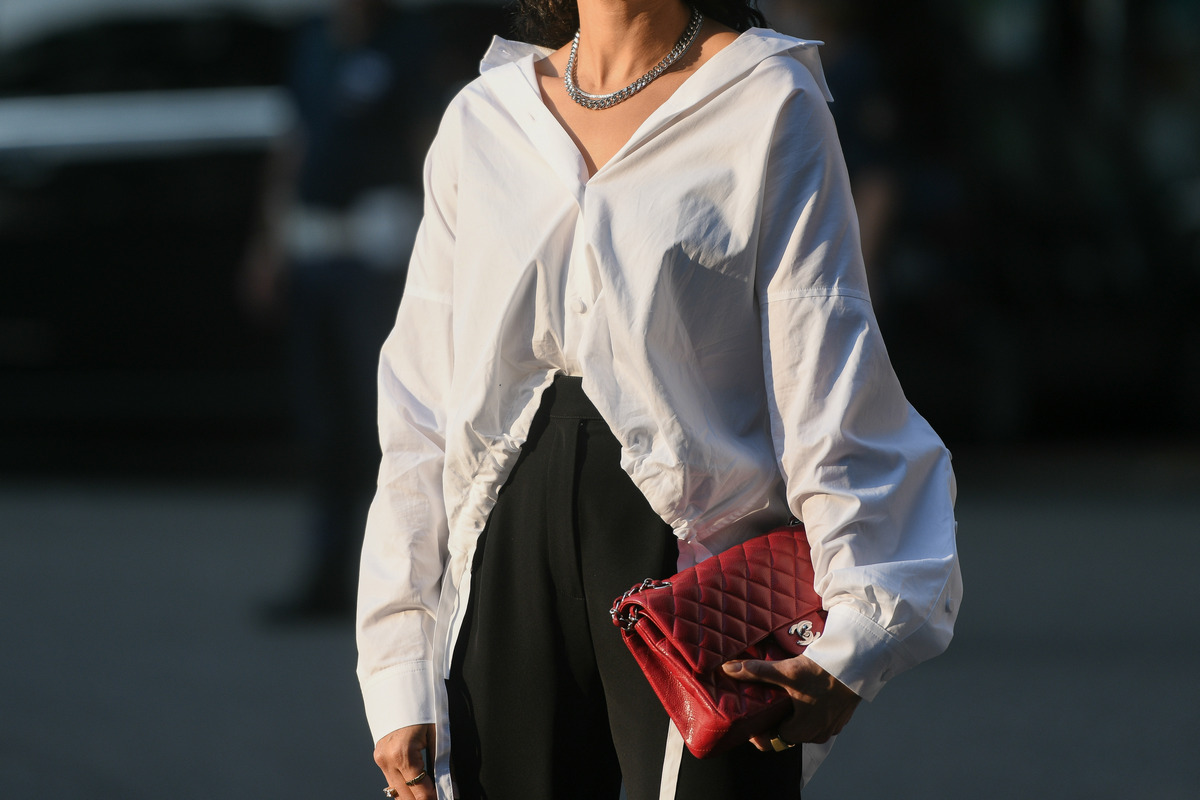 Parisian Chic is the branded style of Parisian girls, simple but sophisticated, stylish but romantic. For the ladies of Paris, accessories and jewelry are an integral part of the outfit. However, they do not overdo accessories but lean towards basic accessories to create accents for the outfit. Some accessories you can prepare for the perfect set are scarves, bags, sunglasses, belts, hats, or a lovely pair of earrings.
27. Tank Top & High Waist Jeans In White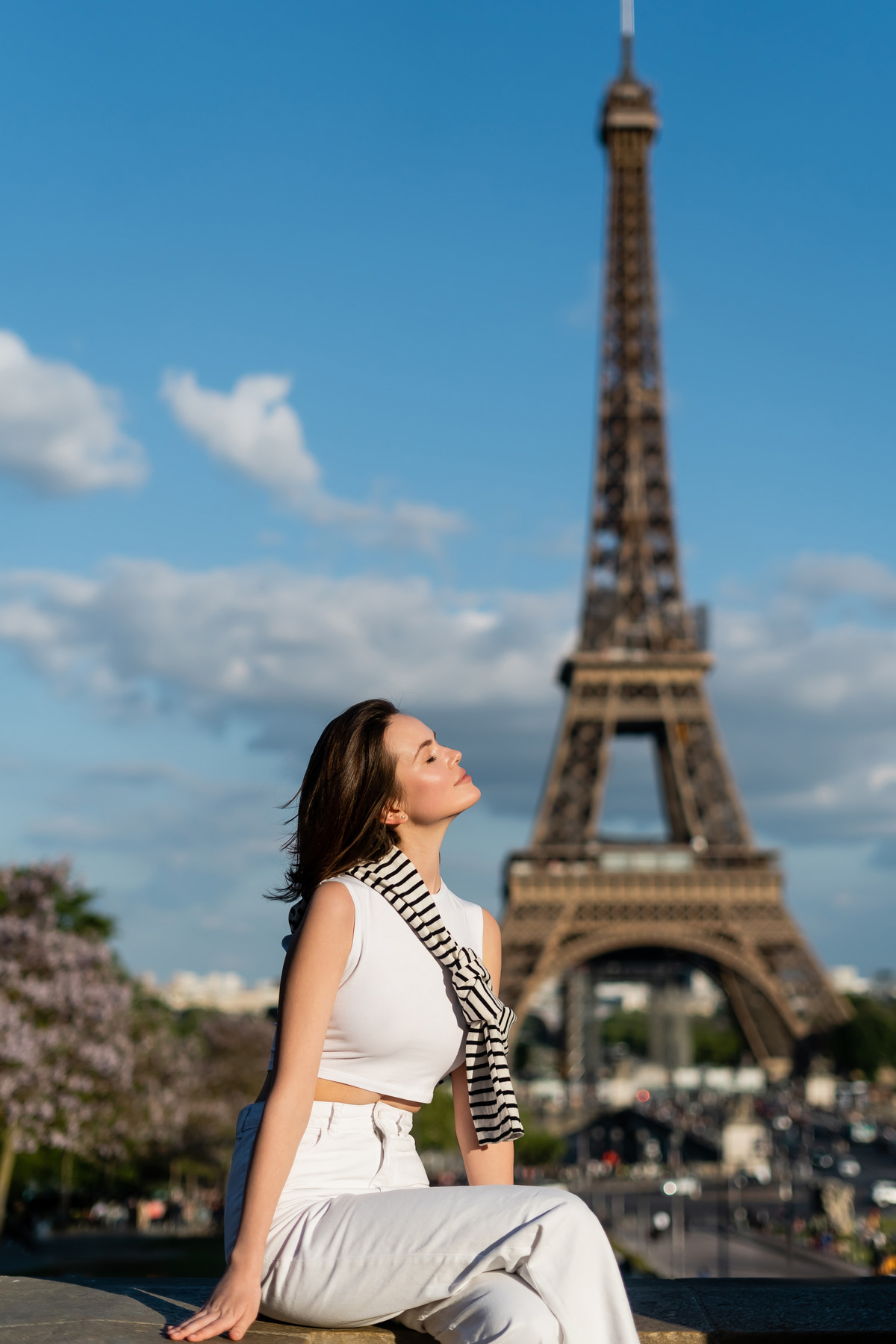 High-waisted jeans are one of the "must-have items" in the Parisian girls' wardrobe. And one reason these silhouettes are so popular is that they suit most people. Indeed, the high waistline accentuates the waist, while the wider cuts help balance the hips and help elongate the legs. You can pair your jeans with a Tank Top, a blazer, and a classic pair of loafers for a standard French girl outfit. A small note is that you should not choose too personal jeans.
28. Oversized Down Jacket, Knitted Sweater & Flared Jeans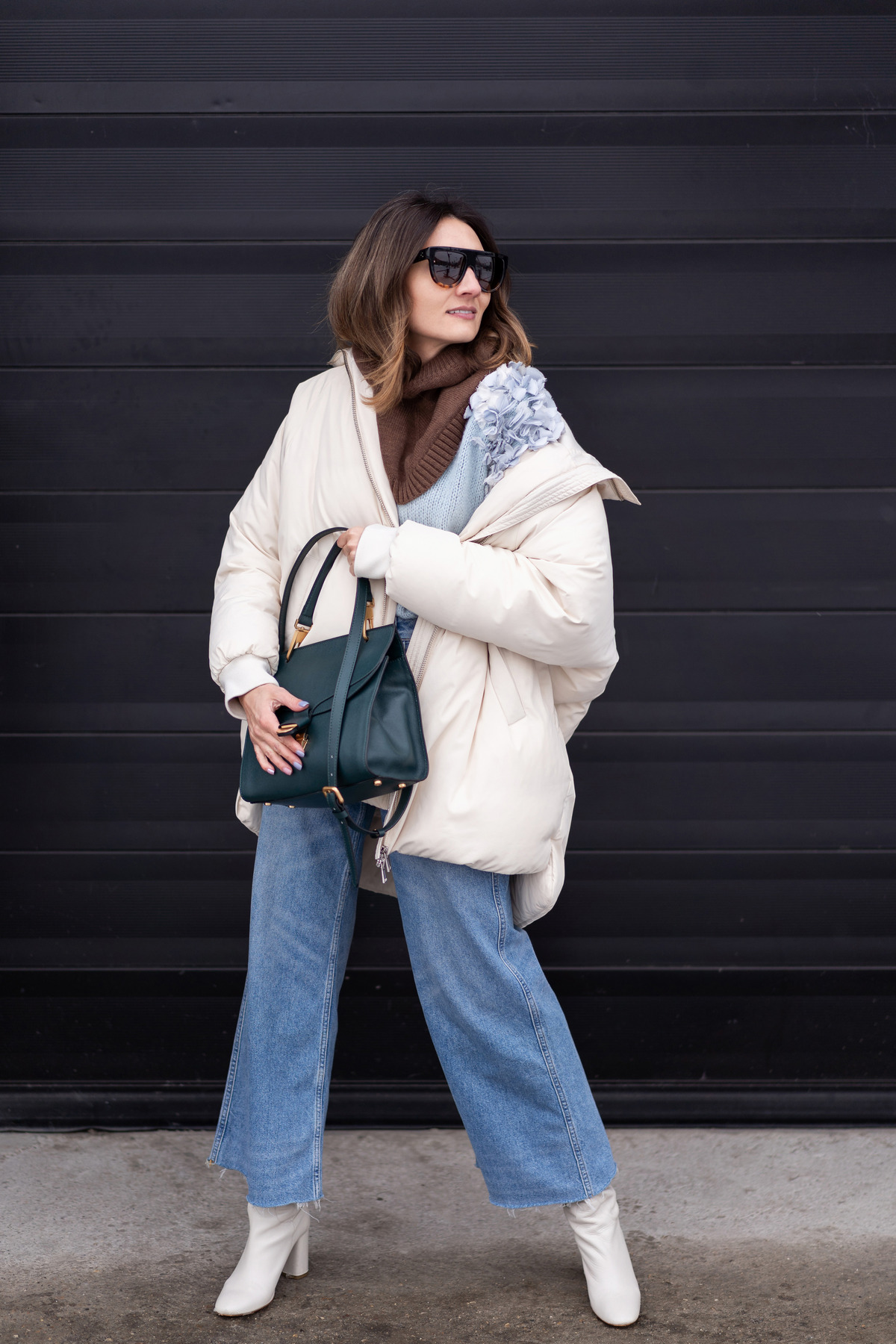 The weather in France is unpredictable. The temperature in each region is different. Therefore, you should learn about the weather in the area where you will prepare appropriate clothing. Winter in Paris is very cold, so if you have a trip during this time, prepare enough clothes to keep your body warm. Choosing thick coats and body-warming sweaters will be an indispensable choice for you. Bring accompanying tools such as wool hats, woolen towels or gloves, and warm socks to protect the body.
29. Brown Leather Beret, Turtleneck, Checkered Blazer & Beige Pants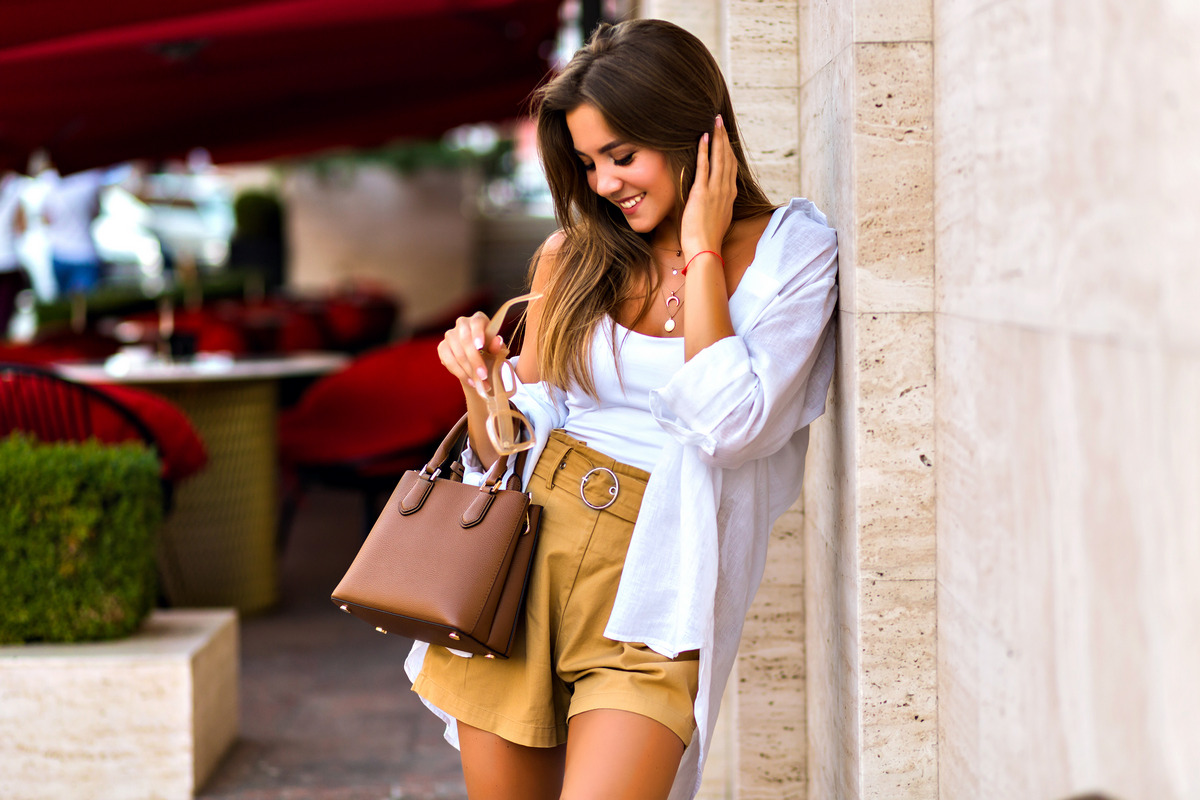 Paris is known as the home of Haute Couture. Therefore, the women in Paris dress very stylishly and fashionably. They love vintage-styled outfits combined with red lipstick. To look comfortable when traveling to France, you should prepare young, dynamic, and comfortable casual clothes. You should also bring some jewelry, sparkly accessories, or scarves to go with any outfit. When visiting restaurants, you should wear casual, simple clothes.
30. Beige Trench Coat, Polka Dot Skirt & White Sneakers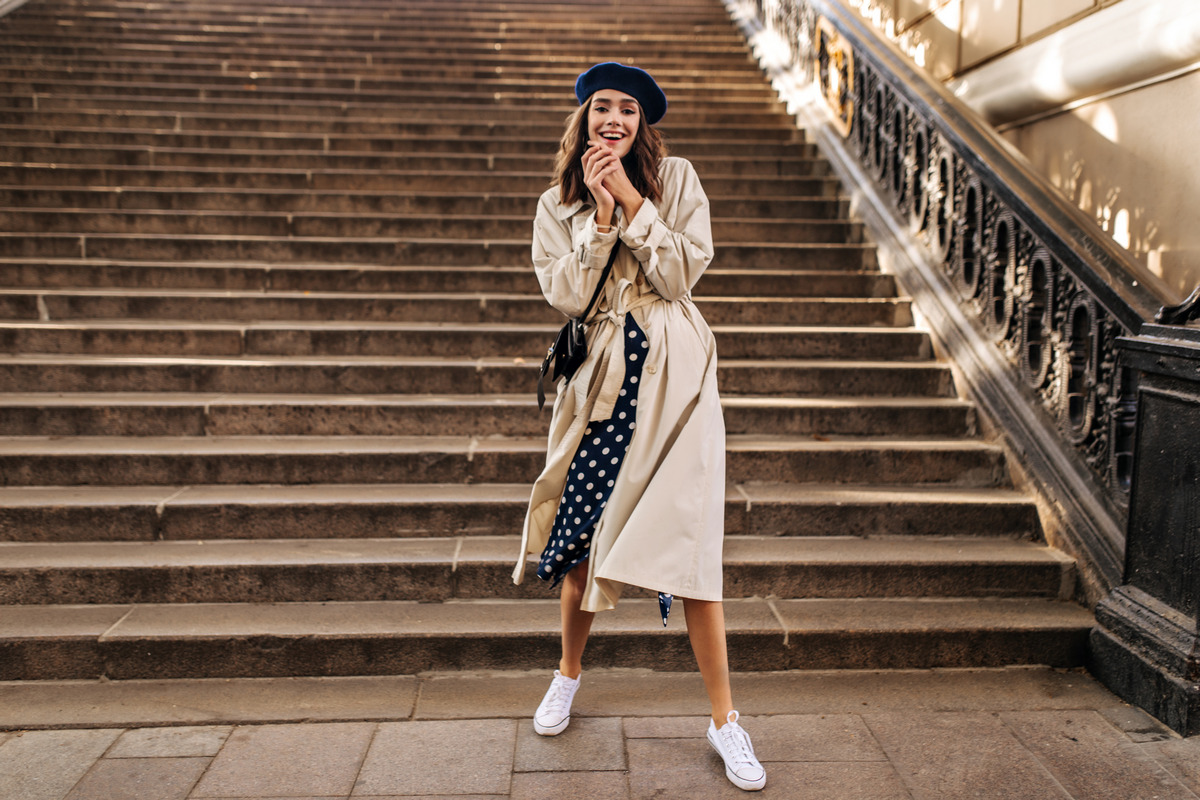 Without question, walking is the greatest way to explore Paris. You'll want to stroll around the world-famous Champs-Elysee, to the cinemas, cafes, and fashion boutiques. Therefore, we advise you to bring comfortable shoes for walking during the day and high heels for going out at night. When visiting restaurants, leave comfortable shoes behind. This is the perfect time to wear stylish shoes.
31. Blazer, Tshirt & Jeans In Black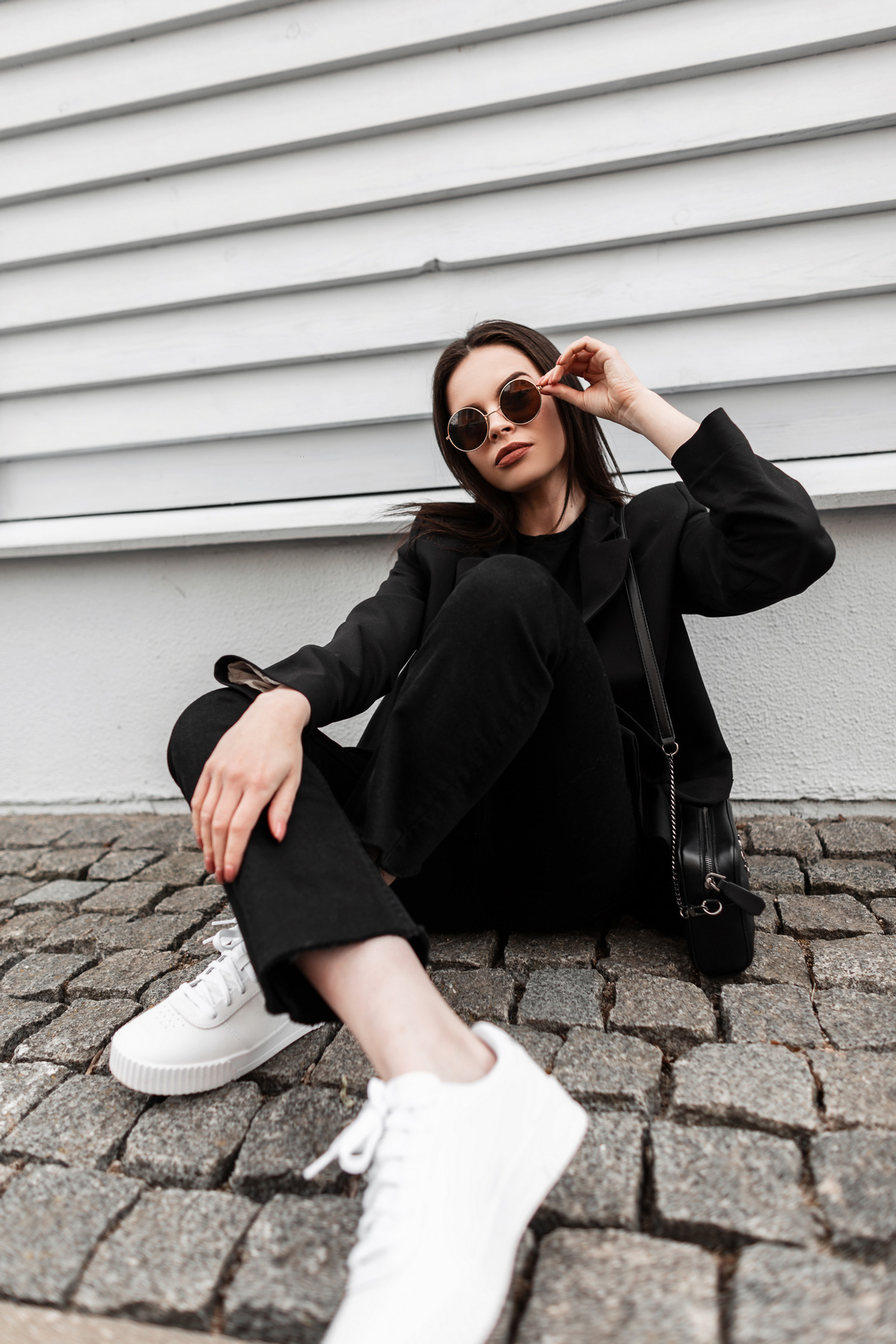 Select sartorial attire to complement the French way of dressing. In this hexagonal nation, black is a common color. Therefore, you should choose black clothes when traveling to France. If visiting the city's outskirts, like the countryside or the beach, you should wear comfortable, practical clothes but still be stylish and smart. Wear basic, classy tops with dark, elegant jeans.
32. White Boots, Leopard Skirt & Pistachio Hood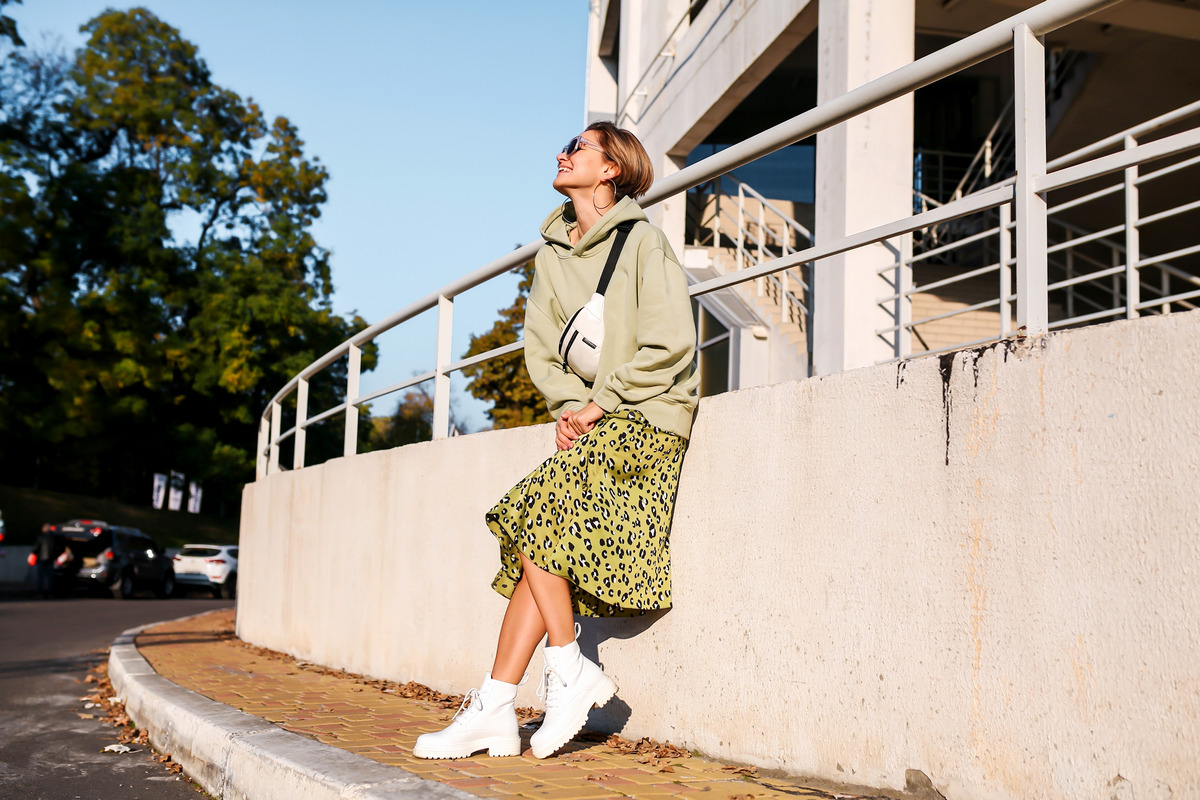 Each country has its own culture and characteristics. Each note will be very important so that you do not have to be surprised during your trip when you arrive in France. French women do not wear shoes that are too high; moving quickly will be quite inconvenient. Moreover, in France, there are many roads in tourist areas with gravel, so it will be very inconvenient. Should prepare sports shoes or ankle boots; they will help you move more easily.
33. Black Leather Jacket & White Lace Dress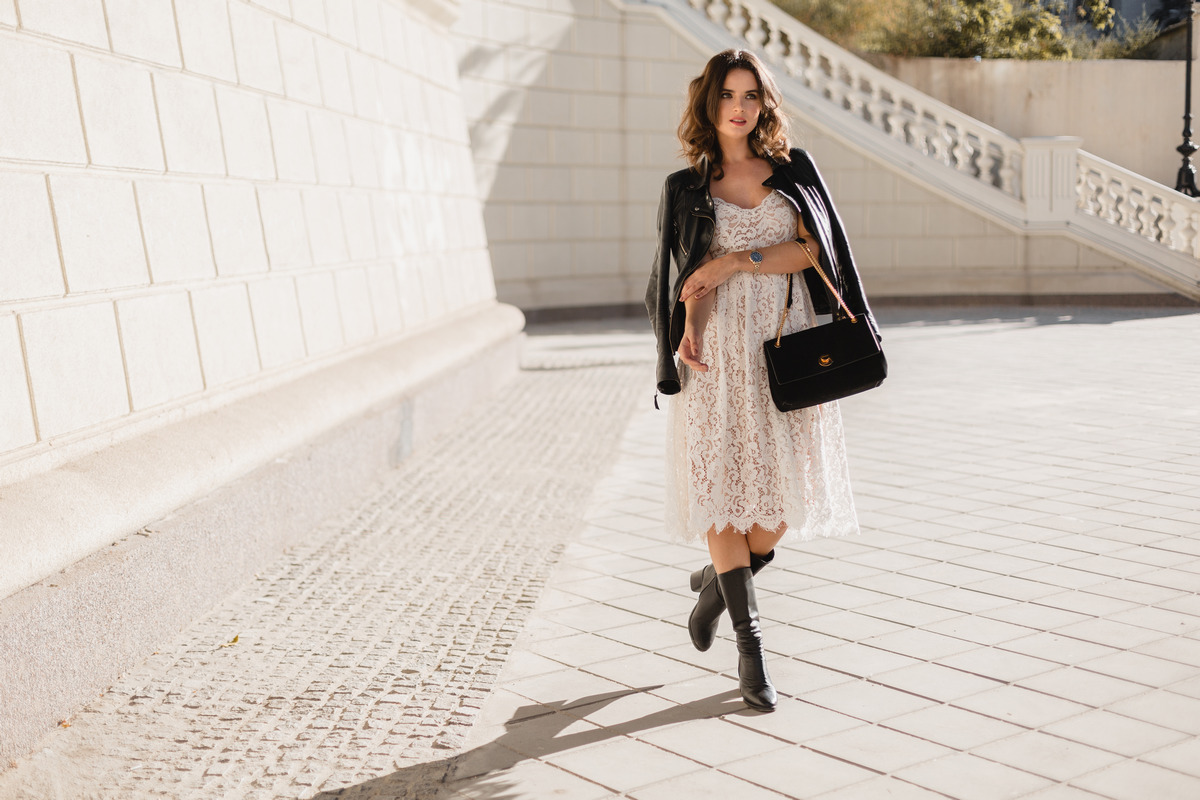 The weather in France, especially in Paris, is like a clumsy, hard-to-please girl. You will never be able to tell when the sun will return, a storm is coming, or it will rain all day. Therefore, the choice of clothing is very important to not be attacked by the weather. French women love leather jackets, denim jackets are also slowly taking over, and classic coats are everywhere. It will help you resist cold winds during the fall and spring when the weather is unpredictable.
34. Shirt Jacket, Camisole & High Waist Short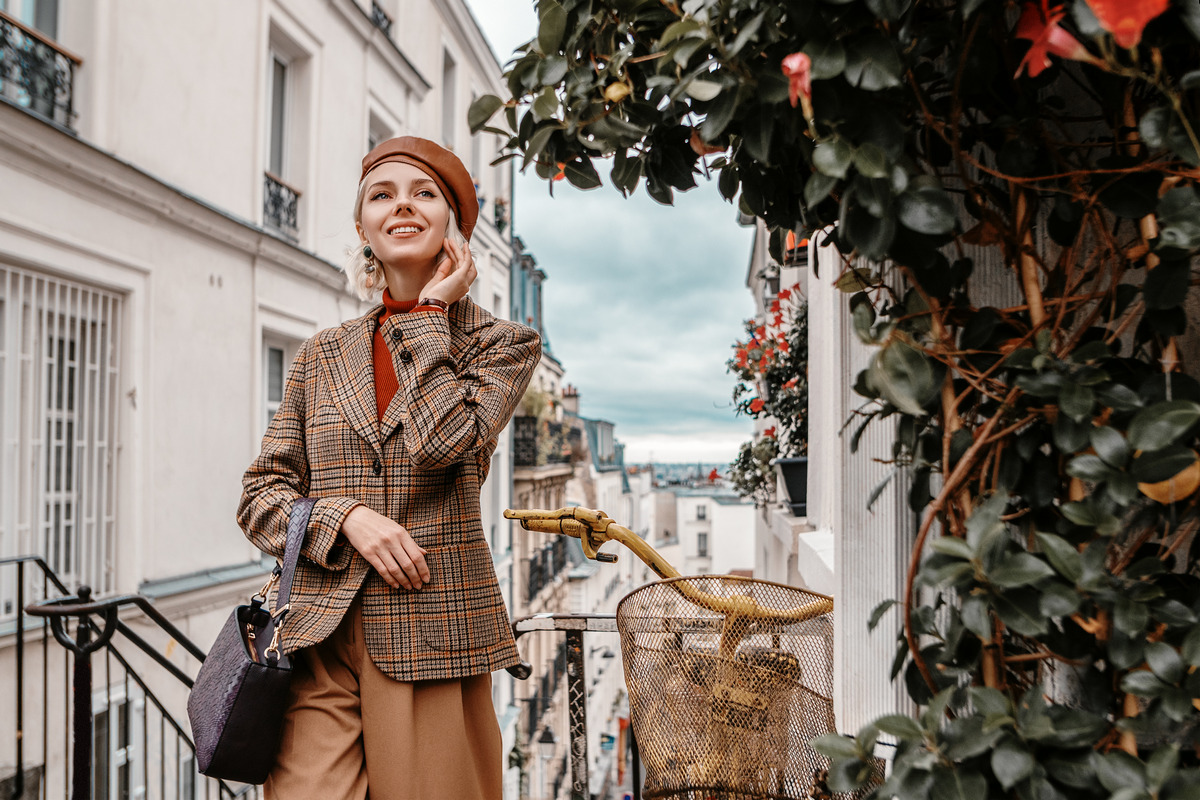 In Paris, one can easily distinguish the residents here from other visitors. While other arrivals often wear skirts, high heels, gym clothes, and sneakers, Parisians never do. They'll save the dress at home for a special occasion, packing their sportswear neatly in a gym bag. Instead, they choose a stylish pair of shorts with good materials for themselves. They want to have a comfortable and active day.
35. Bohemian Style Outfits & Sandals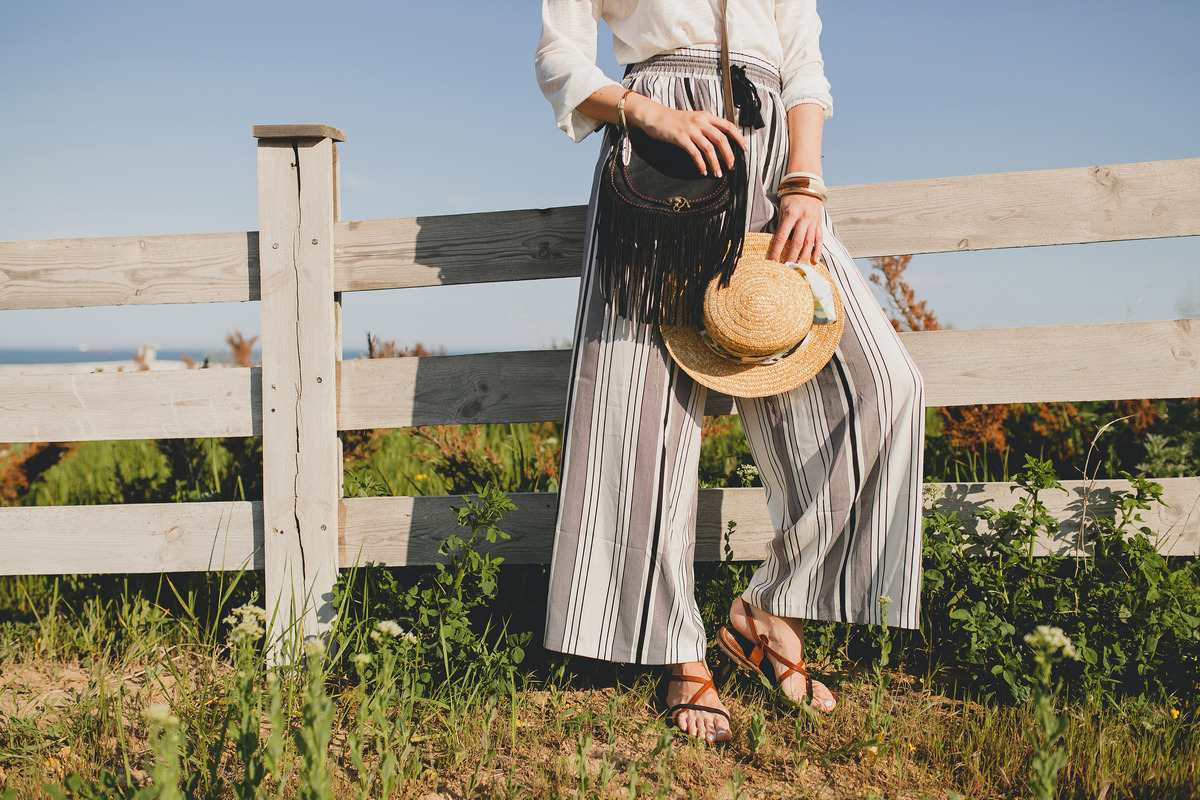 The French inherently consider simplicity; elaborate and cumbersome costumes are not the French's taste; the costumes are simple but not monotonous. Many people think a pair of high heels will create a French style, but very few French women choose them for special occasions. Sandals are a close friend of romantic French "muses." The sandals will help them a lot in moving all day.
The Best Accommodations in Paris
When it comes to accommodations in Paris, you have a wide range of options to choose from, catering to different budgets, preferences, and travel styles. Whether you're seeking luxury, boutique charm, or budget-friendly options, Paris has something for everyone. Here are some of the best accommodations in the city:
Luxury Hotels: Experience the epitome of elegance and luxury in Paris by staying at renowned five-star hotels such as the Ritz Paris, Le Meurice, or the Four Seasons Hotel George V. These establishments offer impeccable service, exquisite rooms, and amenities like spa facilities and gourmet dining.
Boutique Hotels: For a more intimate and unique experience, consider boutique hotels that showcase Parisian charm and character. Hotels like Hotel Providence, Hotel de Nell, and Hotel Saint-Marc offer stylish rooms, personalized service, and a cozy atmosphere.
Apartment Rentals: If you prefer more space and the convenience of a home-away-from-home, renting an apartment in Paris can be an excellent option. Websites like Airbnb, HomeAway, and Paris Perfect offer a wide selection of apartments in various neighborhoods, allowing you to immerse yourself in local life.
Budget-Friendly Options: Travelers on a tighter budget can find affordable accommodations in Paris as well. Hostels such as Generator Paris or St. Christopher's Inn offer shared or private rooms at reasonable prices, while budget hotels like Ibis or HotelF1 provide comfortable and cost-effective stays.
Charming Bed and Breakfasts: For a more intimate and personalized experience, consider staying at a bed and breakfast. These establishments offer cozy rooms, homemade breakfast, and the chance to interact with friendly hosts. Le Village Montmartre, La Villa Paris, and Le Clos des Marronniers are popular choices.
The Best Way to Get to Paris
Paris is a well-connected city, and there are several convenient ways to reach it from various locations. The best way to get to Paris depends on your preferences, budget, and proximity to the city. Here are some popular options:
By Air: If you're coming from a distant location or another continent, flying to Paris is often the most efficient and time-saving option. Paris is served by two major airports: Charles de Gaulle Airport (CDG) and Orly Airport (ORY). These airports have extensive international and domestic flight connections, making it easy to find suitable flights from major cities worldwide.
By Train: If you're already in Europe or nearby countries, traveling to Paris by train can be a scenic and enjoyable experience. The city is well-connected to the European rail network, and the high-speed trains, such as the Eurostar from London, Thalys from Brussels, or TGV from various French cities, offer comfortable and efficient transportation options.
By Car: Driving to Paris is an option if you prefer the flexibility and independence of having your own vehicle. However, keep in mind that traffic in Paris can be congested, and parking can be challenging and expensive. If you choose to drive, plan your route and check for any driving restrictions or requirements, such as emission zones and toll roads.
By Bus: Bus travel has become increasingly popular for budget-conscious travelers. Companies like FlixBus and Eurolines offer affordable bus services to Paris from various European cities. While the journey may take longer compared to other modes of transportation, it can be a cost-effective option.
By Ferry: If you're traveling from the United Kingdom, taking a ferry to Paris can be an alternative to flying or taking the train. Several ferry companies operate routes between the UK and France, with arrival points in close proximity to Paris.
Things to Do in Paris
Paris, the City of Light, is renowned for its rich history, iconic landmarks, and vibrant culture. With an array of attractions and activities to choose from, here are some top recommendations for things to do in Paris:
Visit Iconic Landmarks: No visit to Paris is complete without exploring its iconic landmarks. Marvel at the elegance of the Eiffel Tower, explore the grandeur of the Louvre Museum, and wander through the charming streets of Montmartre. Don't forget to admire the beauty of Notre-Dame Cathedral and take a leisurely stroll along the Seine River.
Immerse in Art and Culture: Paris is a treasure trove of art and culture. Spend time exploring world-class museums like the Louvre, Musée d'Orsay, and Centre Pompidou. Discover artistic masterpieces, from the Mona Lisa to Monet's Water Lilies. Catch a ballet or opera performance at the Opéra Garnier or enjoy a play at one of the city's many theaters.
Indulge in Culinary Delights: Paris is a haven for food lovers. Sample delicious French cuisine at charming cafes, bistros, and Michelin-starred restaurants. Treat yourself to mouthwatering pastries, such as croissants and macarons, and savor local specialties like escargots and coq au vin. Don't forget to pair your meals with exquisite French wines.
Explore Neighborhoods: Paris is a city of diverse neighborhoods, each with its own distinct character. Take a leisurely stroll in the artistic enclave of Montmartre, browse the trendy boutiques in Le Marais, or soak up the bohemian atmosphere of Saint-Germain-des-Prés. Explore the Latin Quarter's historic streets or experience the vibrant nightlife in the Bastille district.
Enjoy Gardens and Parks: Escape the bustling city and unwind in Paris's beautiful gardens and parks. Visit the enchanting gardens of the Palace of Versailles, stroll through the romantic Luxembourg Gardens, or have a picnic in the picturesque Tuileries Garden. The charming Canal Saint-Martin area is also perfect for a relaxing walk along the water.
Shop in Style: Paris is a fashion capital, offering a plethora of shopping opportunities. Explore the luxurious designer boutiques on Avenue Montaigne or browse the trendy shops in the Marais district. Visit the famous department stores Galeries Lafayette and Le Bon Marché for a unique shopping experience.
Experience Nightlife: Paris comes alive at night with a vibrant nightlife scene. Enjoy live music at jazz clubs, sip cocktails at chic rooftop bars, or dance the night away at trendy nightclubs. The Pigalle district is known for its lively cabarets, including the iconic Moulin Rouge.
Best Sites in Paris to Feel
Paris is a city filled with iconic landmarks and attractions that showcase its rich history and cultural heritage. Here are some of the best sites in Paris that you should not miss:
Eiffel Tower: A symbol of Paris and one of the most recognizable landmarks in the world, the Eiffel Tower offers breathtaking views of the city from its observation decks. Climb to the top or enjoy a picnic in the surrounding Champ de Mars park.
Louvre Museum: As the largest art museum in the world, the Louvre is home to thousands of priceless artworks, including the renowned Mona Lisa. Explore its vast collection, admire the stunning architecture, and immerse yourself in centuries of artistic treasures.
Notre-Dame Cathedral: A masterpiece of Gothic architecture, Notre-Dame Cathedral is an iconic Parisian landmark. Marvel at its intricate façade, intricate stained glass windows, and climb to the top for panoramic views of the city.
Montmartre: This charming neighborhood is known for its bohemian atmosphere and artistic history. Visit the Sacré-Cœur Basilica, explore the picturesque streets, and enjoy the vibrant ambiance of the Place du Tertre, where artists display their work.
Champs-Élysées: The world-famous Champs-Élysées is a bustling avenue lined with shops, cafes, and theaters. Take a leisurely stroll, visit luxury boutiques, and enjoy the lively atmosphere. Don't forget to reach the grand Arc de Triomphe at the western end.
Palace of Versailles: Located just outside Paris, the Palace of Versailles is a magnificent royal residence with opulent gardens. Explore the stunning palace interiors, stroll through the beautifully landscaped gardens, and marvel at the Hall of Mirrors.
Sainte-Chapelle: Known for its breathtaking stained glass windows, Sainte-Chapelle is a hidden gem in the heart of Paris. Admire the intricate craftsmanship and the vibrant colors that illuminate the chapel's interior.