The best way to alleviate stress is by exploring and sightseeing in new places. Cummins Creek Wilderness is one of the best choices for you.
CUMMINS CREEK WILDERNESS: Natural Labyrinth
Cummins Creek Wilderness is a wildland that is over 9000 acres in area. It has a lot of amazing things for people to explore and get excited about. One of which is the most majestic route to get through the place: the Cummins Ridge Trail. This trail separates the forest and the mountain.
In order to see some of the oldest and tallest pines that are ever recorded in the data book, you need to choose a different route. A side route that starts not far from the foot of the mountain will get you to the forest and the famous Cummins Creek Trail the fastest, but it will take you quite an amount of sweat and determination.
The Beautiful Landscape
But do not worry; there are a gigantic Sitka Spruce and muddy ground and gorgeous elk trails down this path, which will be worth your effort. On the other hand, the main routes for conventional tourists or campers that are mentioned below are not heavily related to the wilderness.
They will take you more time to get through the area, but I bet you will enjoy the moment walking on this path. Probably there are only plants to see on this route. Still, they are all precious species such as evergreen conifer plants in the pine family, Douglas-fir, malicious but beautiful in appearance, Western Hemlock.
And of course the tall, coniferous, evergreen trees that can reach to 100 meters in height as well as having a trunk diameter that can be up to 5 meters wide, Sitka Spruce. There are more magnificent old trees waiting for you when you follow the main paths, such as the Gwynn Creek Trail.
Cummins Creek Wilderness Trail Trips
The beginning of the trip
First of all, is the FR 1050 Trail that will lead you to the plant bed of unique western hemlock. Also, there is also Sitka spruce woodland having canopies of salal, spike fern, and rare evergreen huckleberries. You have to get your shoes a little bit wet to cross a mini stream.
After that, you can see on the right side there are paths to the Cummins Creek Wilderness camping area. Walking along these paths, after about 400 yards, you will get to the newly discovered area of Cummins Creek: the Wilderness Trail Junction.
Next up is the oldest trail that is also surrounded by old ferns. At this point, you are in the Cummins Creek Wilderness despite the fact that there are no signs to show you that on this route. Go down on the path, past a small stream, you will be at the junction.
If you choose to follow the small trail, you will be led to Cummins Creek. After that, before you will be able to reach the lowest land. Or, if you follow a path on the left, you will return to the junction where you begin. This returning route also has a lot of interesting scenes.
The pure nature
Hikers or tourists can observe enormous spike ferns and also can climb over fallen trees. This looks like a bad route, but in fact, when you have already passed these fallen spruces, the route will be better and is very beautiful with flowers on the sides. Where the creek braids at a gravel bar, pass the Three Guardians, a group of gigantic Sitka Spruce closely lined up.
Near the end of this path, you will have to go through a swampy land and now. It could be a little bit dirty for your shoes but will give you a feeling of challenge. The junction is now visible. The large Cummins Creek Wilderness Trail Junction is now on your right side.
The middle of the trip
At the junction, following the small trail: Cummins Creek Trail, you will go further into the forest, There are many streams here, and the land is also getting higher because you are getting near to the mountain. On the way, there is a lot of old Sitka Spruce and western hemlock.
On the left side, across a small creek, you will see that there is no more Spruce in this area because Douglas-fir has taken over. Get back to the path, go further ahead, you will face the Cummins Creek Loop Trail West Junction.
If you take the left path at the West Junction, you will be led to the Cummins Creek Loop Trail East Junction. On this steep trail, you will face a lot of roots. The further you go on this route, the more gentle it is. You can also see a lot of old Douglas-firs growing high to the sky, higher than in other places.
Underneath these trees are spike ferns. On the lowest stage, there are Oregon grape trees as well as red huckleberry, and evergreen huckleberry. On the side of the mountain is an up and down trail covered under tall hemlocks and massive Douglas-firs.
There are also western red-cedars on the way. After you get through the shady path, you can see a green grassy valley that has an open view to Cummins Ridge.
The majestic jungle
At the East Junction, when you go left, there will be a rocky path waiting for you. Cummins Basin Viewpoint is on the other side of this hard route. If you decide to go right, this path will lead you to the back of Cummins Basin Viewpoint. It will give you a better sight of scenery under the Cummins Creek valley.
From this point of view, you can see the ocean. There is almost nothing to see if you go further because of thick growing Douglas-firs.
Let's get back to the main path and enter the stone trail on the right. This trail prolongs the old Cummins Creek Trail, which will guide you to the area of a wood exploiting. Go around small hills and pass salmonberry bushes to get to another large junction: the Cooks Ridge Trail Junction.
There is one route that can lead you directly to the Cooks Ridge Trailhead. Firstly, you turn left at the junction to follow a path that is gradually ascending in slope. Then, you will be on the ridge crest. After that, you will enter an appealing secondary forest to the south of the ridge.
Just enjoy the beauty of the forest, the fresh air as much as you want before moving on. The moment you face a giant hemlock is the moment you arrive at another junction: the Gwynn Creek Trail Junction.
The ending of the trip
Because we are going in a loop, taking a left at the junction is obvious. Once again, you will see the Douglas-fir forest mixing with western hemlocks underneath as well as some huge cedars in the middle. On the way back to where you begin the journey, you will have to pass many small streams.
Just like the beginning of the trip, after the stream, there is another forest. This time is a tremendous group of Douglas-firs, and standing between them is gigantic Sitka Spruces. You will have to get through a lot of Douglas-firs to get to the Gwynn Creek. When you are at the exit of the forest, there are big spruces replacing the Douglas-firs at the coast.
After that you will face a board that marks the borderline of Neptune State Park. When you pass the sign and go into a coastal defense of huge Salal trees in order to reach the final junction of the journey, the Gwynn Creek Trail Junction.
Take another left to have a clearer sight of Gwynn Creek. Walking a few hundred meters to pass a green path to get to the highway. Then overcome another mini slope covered in Salal trees and Sitka spruce. Then finally, you return to the beginning route, the FR 1050, and exit the old Cummins Creek Trailhead of Oregon Coast.
And that is it, your trip has finished. You can now drive home and keep those beautiful scenes in your mind and remember them whenever you feel tired of your daily life.
Is the trip worthy?
The arduous walks or trekking through the forest on the roads will bring you many new experiences when you are part of the green and extremely mysterious nature.
Above all, after a series of days of studying, working under stress, and sometimes being stuck, going to the jungle will definitely be a decision that you should take because it will not disappoint you.
Urban noisy places, roads covered with dust, skyscrapers, towering skyscrapers as well as cold and boring concrete walls have made you bored. Temporarily leave everything behind, take a deep breath in the forest, you will feel like being revived.
The experience and long lasting memories
First, you will be in a completely different environment, surrounded by green trees only. Occasionally, you will see birds chirping or a few butterflies fluttering around the fresh flowers.
In addition, by discovering, experiencing firsthand and joining the journey with other people, the group will help you learn many things from your companions, expand, connect relationships as well as improve your ability to communicate for those who are shy and quiet.
Of course, your knowledge of biology and the natural world will also increase dramatically after your trekking. Get into the forest, you will find peace in your soul and think that you are lost.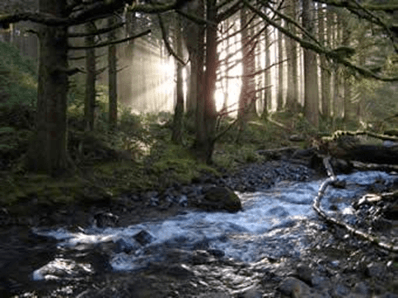 The Benefits You Will Gain
You can also get rid of the fear inside you. Most people will have a feeling of being overwhelmed by the force of nature. They usually say that their first trip to the forest was arduous, hard, and challenging, like what their friends told them.
They had to cross the Cummins Creek Trail or when they had to orient using the Cummins Creek map in order to reach the high mountains. They also do not know the feeling of exhaustion, each breath also hurts in their chest from fatigue, exhaustion after hours of walking in the woods.
But they understand the feeling of blissful joy to discover themself, find themself being more mature because they have eliminated the fear inherent in their mind.
Maybe those who have never gone to the forest have vague fears about creatures belonging to the jungle, such as worms, leeches, snakes. The worst is mosquitoes, of course. If you add the muddy road after each rain, the journey will become more arduous and challenging.
The personal feelings after the trip
This is a sharing of a girl who has successfully conquered the Cummins Creek Wilderness. Before entering the forest, I was very afraid of facing forest leeches. So, my companion put some unique chemical on my shoes and the hem of my pants to keep the leeches away. Yet they still follow the movement of water, getting into my boots a few times. It was only when I returned to the Station and washed the muddy soil that I discovered that I had been bitten by a leech.
The leech bites softly, does not feel pain, so I ceased to be scared and treated an edge like a mosquito bite. However, when I think of a leech that curls up like a ball because it is full of blood, I still shiver a little.
But most of all, that trip taught me that there is no fear that cannot be overcome. Afraid of forest roads, dirty, leeches, afraid of not keeping up with the group, afraid of not having enough strength, and so on.
If I kept listing out my fears, I would never be able to carry out my plan. With just such a short trip, I have seen a lot of wonderful things hidden in the jungle.
What do you need to prepare before hiking in Cummins Creek Wilderness?
When going to the jungle, you should wear loose, comfortable clothes. If traveling in the summer, you should choose a T-shirt inside and a long-sleeved jacket outside to avoid being scratched by forest hemp ropes, and avoiding colds due to sweating or experiencing forest breeze.
In addition, you should also equip a waterproof backpack and have a waist strap for easy portability. A pair of soft canvas shoes, or non-slip rubber shoes, and a hat at the duckweed are also essential.
Also, there are indispensable items in the forest tour that you must bring. They are knives, axes, tents, sleeping bags, flashlights, raincoats, cameras, lighters…And important food and medical items such as: canned food, first aid kit, medical medicine, insect repellent.
What supporting things to put in your pocket before conquering the well-known Cummins Creek Wilderness?
Those tools you bring when hiking are not everyday tools that we carry with us at all times unless you own a good multitool. Multitools often shine in such situations when you have some particular need. Simultaneously, the multitool also helps you to do some ordinary things without having to mess around to find the standard tool.
Furthermore, in an odd situation such as going to the forests or climbing mountains, such a tool is absolutely necessary. However, finding the right multitool can be difficult. There are too many choices in the current market, from too many brands, with too many price ranges that you should consider carefully.
What should you do when getting lost in the forest?
If you are unfortunately lost, being calm is important to remember to avoid making the situation worse. Then you should find trails or follow the flowing water to return and down. In addition, you can make a fire to create smoke, or make a sound so that everyone can easily find it.
If you get lost while you have nothing to eat or drink, you can eat wild fruits (those you are sure are not poisonous), drink dew from the leaves and absolutely do not eat strange and colorful mushrooms.
What to do when facing dangerous situations?
Forest tourism always contains many unpredictable accidents, requiring you and your teammates to stay calm to find a way to handle it. In which, the case of falling into the trap of wild animals, encountering explosives or loggers… are often the top threats.
You should stay away from the loggers' camps and camps and only talk socially a few sentences and then go if you encounter them. On the other hand, when camping near rivers and streams, you should be careful about bathing, washing and should not go to the top of the falls. If it rains, you have to hurry up and move up to prevent sudden floods.
Conclusion
For those who have experience in the Cummins Creek Wilderness, the forests are like friends that must meet a couple of times a year so that you can not forget them. It is suitable for people that have never given a chance to explore the old forests
A trip through this camping area is both an opportunity to learn and experience the vast nature. Forget about the usual routines, between you and the jungle, only curiosity and a strange sense of peace exist.