Are you a hiking enthusiast and looking for an exciting area for your group? If the answer is yes, it is high time for you to have a glance at the Trapper Creek Wilderness in this article!
Trapper Creek Wilderness is an ideal place for those being into hiking and outdoor activities. There are many trails and campgrounds for hikers as well as campers to explore. Besides, it is not difficult to find pleasant things to do in Trapper Creek.
Be ready to figure out your itinerary right now, so you can discover the best attractions in Trapper Creek with unique trips. Let's start to check them out!
Key Takeaways
With its forested mountains, gorgeous river, and stunning waterfalls, Trapper Creek Wilderness is a fantastic place for camping and trekking aficionados.
The wilderness is located in southwest Washington, near the town of Carson, and is easily accessible by car.
Trapper Creek Wilderness has a variety of paths ranging from easy to tough, providing something for hikers of all skill levels.
The Trapper Creek Trail is a popular wilderness walk that offers spectacular views of the creek and surrounding woodland.
Another famous hike is the Observation Peak Trail, which offers amazing views of the surrounding mountains and valleys.
Hikers can also attempt the Trapper Creek and Observation Peak Loop, a strenuous hike with over 3,000 feet of elevation increase.
Camping is permitted in the wilderness, and various campsites are provided for guests. Visitors should be advised that there are no amenities and that they must bring all of their supplies with them.
Visitors should also be warned that the weather in Trapper Creek Wilderness is variable, with rain and snow likely all year.
Hikers and campers should bring proper gear, such as strong hiking boots, warm clothing, and rain gear.
Finally, visitors to Trapper Creek Wilderness should be mindful of the natural environment and observe Leave No Trace principles to help conserve the wilderness for future generations.
Trapper Creek Wilderness – General Descriptions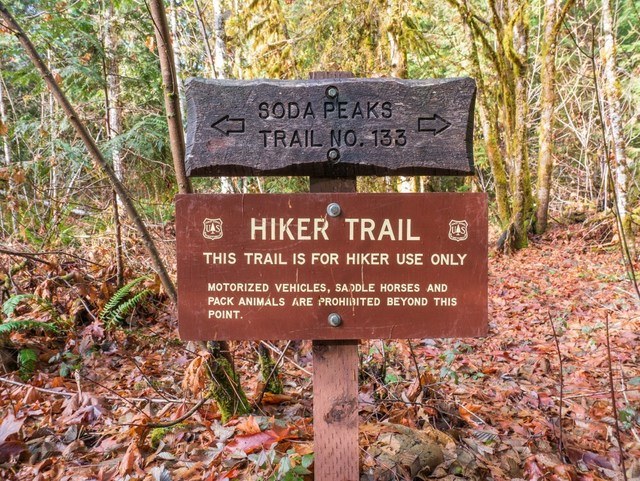 The Trapper Creek Wilderness is a low-elevation old forest in southern Washington, particularly in the Gifford Pinchot National Forest. It comprises 2,416 ha, so it covers nearly the whole Trapper Creek drainage.
In terms of the wildlife, Trapper Creek Wilderness possesses waterfalls and streams diverse among the steep. Thanks to its plentiful Douglas-fir forests, a wide range of wildlife habitat live here.
In other words, when traveling this place, you can observe blacktail deer, black bear, spotted owls, goshawks, or pileated woodpeckers. Occasionally, bobcat, pine marten, or cougar also appear.
Generally, the Wilderness is a beautiful place for those who enjoy hiking, natural viewing, camping, and horse riding. This is necessary information about the Trapper Creek Wilderness overview for you to consider before moving to the direction part.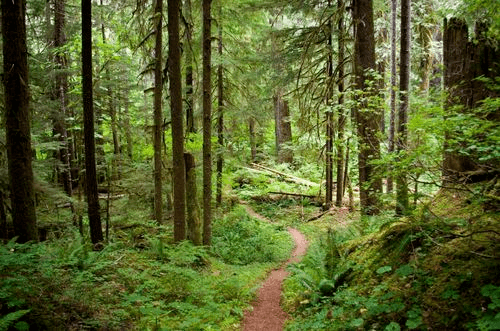 One of the trails in Trapper Creek Wilderness
As you may know, there is a 24-mile-trail allows you to access to the Wilderness. However, half of them are primitive and challenging to follow. So, what is the Trapper Creek Wilderness direction? Let's go to the following part.
Directions and Maps
Directions
You can follow the northern Wind River Road for approximately 13.5 miles from Carson, WA. Then, you turn left on Mineral Springs Road (Forest Road 3065). If you want to go to Trapper Creek Trailhead, you must take your first right on the Forest Road 5401.
Here is some information for the trailheads/ trails accessing Trapper Creek Wilderness
Trailhead: Big Hollow (trail #158 Big Hollow)
Trailhead: Observation Peak (trail #132 Observation Peak)
Trailhead: Soda Peaks (trail #133 Soda Peaks Lake)
Trailhead: Trapper Creek (trail #192.1 & #192.2 Trapper Creek sections)
Maps
Visitors should use the paper and digital maps/ online maps. In fact, the online maps will help you to plan or prepare in all your hiking experience. At the same time, the paper maps ensure to orient your skills. Besides, carrying digital maps is an excellent idea by equipping it on your handheld GPS tool.
For online maps, you can use the Interactive Map of Google Earth (Washington Wilderness). About paper maps, Topo will be the right choice. Furthermore, you can go to the website of Wilderness to find maps as well as other critical information.
Trapper Creek Wilderness Loop Hike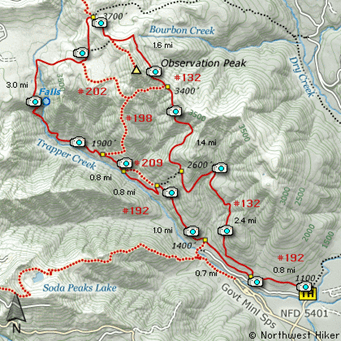 Detailed Map of the Trapper Creek Wilderness Loop Hike
Length: 13.3 miles
Season: at the end of spring through fall
Elevation Change: 2600′
Difficulty: Difficult
This compassing hike starts at the trail on Forest Road 5401. This trail is quite level, but when you reach the junction of trail #132, your climb will be steadier. By following this trail, you come to the Observation Peak's backside. Here, you rejoin the trail #192.
At approximately 2.5 miles, you will begin to go hiking through some open areas where allow you to enjoy an excellent view of the Trapper Creek valley and Soda Peaks.
After reaching about 3.5 miles, you will see the junction of trail #198. Then, you turn right and keep on the trail #132. This trail leads to the Observation Peak's top, which is also known as the junction of the trail #132A.
About half a mile, you go to a junction of trail #192, which is the similar trail that you started your hike on. This trail will be up to a small hill and down into the Trapper Creek Valley. Afterward, the trail becomes steeper.
On the way to the Trapper Creek Valley, you come to a place in which you can leave the trail for a few feet and have a beautiful view of waterfalls on the Trapper Creek.
There is an alternate route, which is the trail #192A. You can reach it after another mile. As this trail reconnects with the original trail, you will get back to a similar area. Once you crosse the Trapper Creek, you walk among the Old Growth forest providing you with impressive specimens.
Nearby Attractions in Trapper Creek Wilderness
Government Mineral Springs Campground
The Government Mineral Springs is a historic and small forested campground. It lies at the edge of Trapper Creek Wilderness. This place was developed in 1937 by the Civilian Conservation Corps.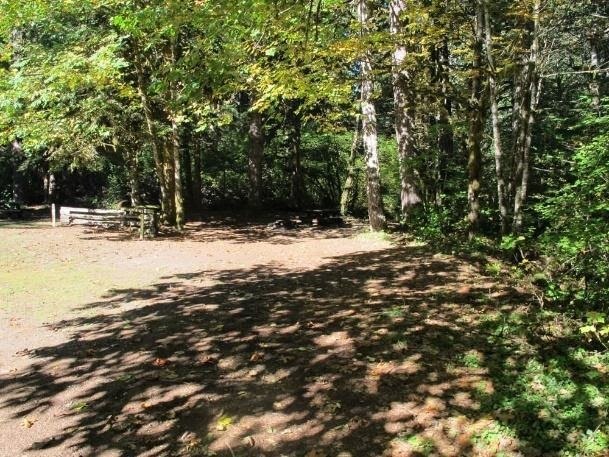 The campground is large enough for many campers
The campsites are located under the big trees, so they provide you with wild surroundings and an excellent base for the best outdoor recreation. There are some activities that you and your family may be interested in.
Camping: there are five available primitive campsites
Hiking: national forest landmarks and some trails are waiting for you to discover.
Water Sports: whitewater rafting and fishing in the Wind River is excellent.
Snow Sports: you can access the nearby Sno-Parks, snowmobile trails, and cross-country ski trails.
Direction
To go to the campground, you drive about 15 miles from northern Carson, Washington, on Highway 30. From there, you go to the Forest Route 3065 before turning left. Finally, you go approximately 1 mile to reach the campground.
Amenities & Essentials
No picnic tables
Pets allowed
Toilet available
Campsite Area
Adams Fork Campground
This is another place for you to go camping. It is a scenic area following a fork of the Cispus River. This 22-site-campground is ideal and desirable for those who want to get closer to Mother Nature.
Furthermore, there are lots of comfortable camping amenities such as camping tables, toilets, or potable water. However, you have to pay a fee to use the picnic tables.
Trout fishing: this activity is popular in the Cispus River.
Horseback riding, Mountain Biking, and ATVs: there is an extensive network of trails in this area.
Layser Cave: a significant cave that you should visit on your drive.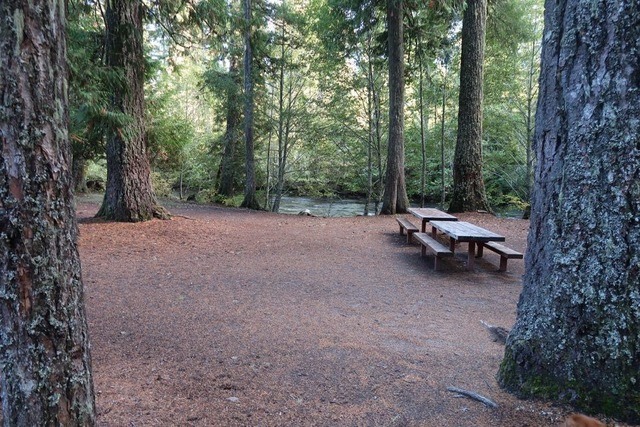 Another recommended campground for everyone
Direction
It takes you about 50 minutes to drive from the junction of Highway 12 and Interstate 5 to Adams Fork Campground. You go straight to the East on Highway 12 until you come to the Randle town. From here, you keep heading south on Highway 131 for a mile and veer left onto the Forest Road 23 (Cispus Road).
You go for 20 miles before turning left and merging onto Forest Road 21. On this road, you drive about 5 miles and veer right until you see a junction with Forest Road 56. Finally, you will find the campground's entrance at 200 feet.
Amenities & Essentials
Pets allowed
Campfires allowed
Potable water available
Toilet available
Campsite area
16 sites
Six guests maximum per site
Bring your own camping equipment
Park at listing
Mt. Adams Horse Camp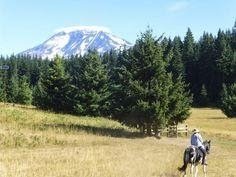 Interesting horse camp
This campground is a pleasant and well-developed horse camp. It is located on the base of Mount Adams. There is an excellent combination of open and shady sites. Besides, it has space for the biggest horse trailers.
A lot of trails loop cover around this campground and offer multiple terrains for all riding types. You can use the vault toilet here, but it has no potable water. Therefore, you should stock some tanks of water.
In case you want to observe the panoramic view of the mountain, there is a field opened free, which is next to this campground. Driving is not the only way that allows you to access the Mt. Adams Wilderness. You also access to the campground through the 20-mile-trail system.
Direction
You can go to Mt. Adams Road from Trout Lake, WA, by going to the north until you see the intersection with Forest Road 23. After that, you turn right and keep driving for about 1 mile before turning left onto Forest Road 80.
You keep going on to the intersection with road 031 at the horse camp's sign. Finally, turn left and continue driving when you see the entrance of the campsite on your right.
Amenities and Essentials
Pets allowed
Toilet available
No picnic tables
Camping sites
22 sites
Bring your own camping equipment
Equestrian
Many guests per site
In general, if you are finding a camping experience for you and your family, these Trapper Creek Wilderness camping locations are best suitable. Besides, you should prepare some water before leaving as the toilets in some locations here have no water.
Activities to Explore in Trapper Creek Wilderness
If you have a plan to travel to Trapper Creek, you should not ignore the Trapper Creek Wilderness things to do. It comes with a detailed list of unmissable activities. Besides, it facilitates your planning process and gives you an unforgettable holiday.
Tri-River Area Jet Boat Fishing Trip
This activity is a guided fishing tour by jet boat in the tri-river area. When participating in this fishing activity, you will be provided with a fishing rod, chest waders, tackle, boots, hip waders, and the life preserver.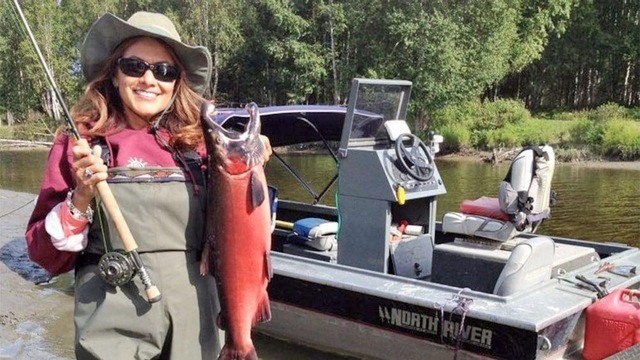 Fishing is always enjoyable
Before booking this activity, you have to achieve the fishing license offered by the Alaska Department of Fish and Game. It is easy to get these licenses as they are in sporting goods stores. Besides, you can go to a group of 4 but remember that this activity is not suitable for children aged 13 downward.
During the fishing trip, you have a guide to provide knowledge of the rivers or the fish. So, you can find the ideal spot to cast your line with the fish finders here. The breakfast and lunch meal also are included.
Highlights
Opportunity to explore the Alaskan wildlife and waters
Safe and comfortable jet boat to enjoy a pleasant time
Easy access to places which are difficult to reach and teem with salmon
Enjoyment of beautiful atmosphere in the country surrounding Talkeetna
Location
Tri-River Area
Talkeetna, Chulitna, and Susitna
Rivers Alaska 99676
Walk-In Fishing in Wilderness Streams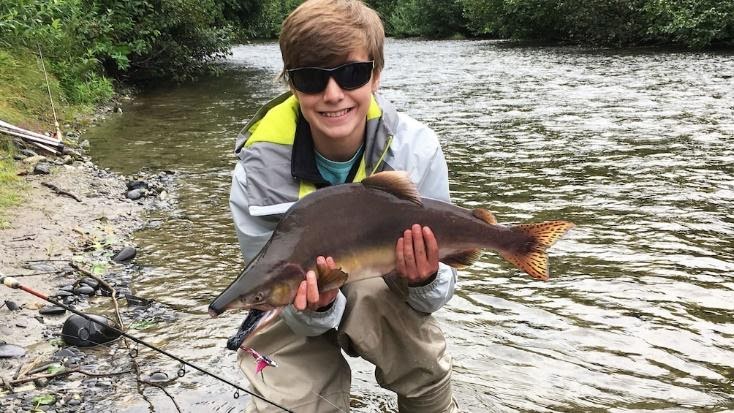 Hand fishing will be an unforgettable experience
This is another type of fishing trip. However, in this activity, you will step into the waters in the Talkeetna's Wilderness and catch the fish in the Alaskan streams. In other words, you will hold a fly rod with fast-moving waters around, giving you a spectacular and relaxing session with nature.
There are guides going with you, so make sure to tell them your preferred catch. Then, they can choose the best spot for you. To be more specific, your guides can lead you to another area which is far from the other fishers' areas. It will be easier for you to hand fish, and you can enjoy the quiet spot as well.
When you are catching the fish, the guides share some useful tips for you to hone your skills. What's more? You can enjoy a lunch meal in the middle of the wildlife, hear the river's sound, and immerse yourself entirely in the beautiful nature.
Highlights
Peaceful and serene chance to enjoy outdoor activity
Selection of custom site to find your catch
Fly-fishing adventure for those of all levels
Hassle-free getaway and unforgettable lifetime memories
Location
Talkeetna Alaska 99676
Dry Land Dog Sledding
This tour seems fun but educational as well. Here, you will encounter and get along with your dog team. Besides, you also get used to the musher lingo and lifestyle. Your confidence and newfound knowledge will be sufficient for you to be willing to overcome the trails.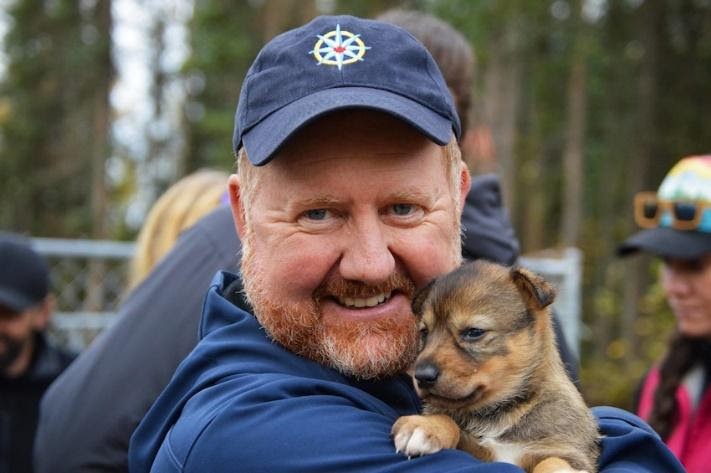 Meeting and hugging adorable dogs
An Alaskan Huskies team with a wheeled dog cart will be shared for two guests. The expedition lasts for about 40 minutes. Before you start, your guide will instruct you on how to go into the groomed trails for dog sledding in the boreal forest of Talkeetna.
In your first-half ride, you and your dog team will go through the birch trees and enjoy the beautiful autumn colors. Try to focus and hear the call of the local wildlife. Then, you will reach a forest's opening, which is an enchanting backdrop for you to take photos with your canine athletes.
Furthermore, it is also an opportunity for you to take fresh air. During the rest of the journey, you will visit some replica versions of the official Iditarod checkpoints. Also, there are other highlights that you can see until you come across the Finish Line.
You can feel secure of this sledding trip as the guides will lead and follow you. They ensure your safety, comfort, and quality during your experience.
Highlights
Opportunity to explore dog sledding – the official sport of Alaska
Opportunity to learn about running your dog team
Exciting ride and visit to the Dallas Seavey
Greet and meet the furry and adorable canine athletes
Location
Talkeetna Alaska 99676
Guidelines for Your Hike
Plan and Prepare
Factors to think about when planning your trip
List some expectations for your trip
Identify the ability and skills of participants on the trip
Find more information about the place you plan to visit (maps, literature, land managers)
Pick clothing like hot weather hiking pants, jacket, sunglasses and equipment for safety and comfort
Choose activities that match your skills, abilities, and goals
Other factors to consider
Terrain
Weather
Restrictions/regulations
Group size
Food consumption and hiking speed of your group
You should prepare for light snacks and one-pot meals as they do not require many cooking utensils. The food should be removed from its package and put in sealable bags.
Travel and Choose Campsite on Durable Surfaces
Surface durability
Some highly durable surfaces are rock, gravel, and sand. Several people tend to choose vegetation, but their resistance somehow varies. For example, dry grasses are resistant enough to trample, while wet meadows are not.
Selecting a suitable campsite
This seems to be the most crucial aspect. By and large, you should avoid camping near trails and water. Your campsite should not be easily visible to other campers. Also, camping 200 feet away from the water is a must as it enables routes to access wildlife.
Proper Waste Disposal
As you may know, human waste can lead to water pollution. Therefore, you should pay attention to disposing of your waste correctly. Usually, people will bury their waste as it seems to be the most effective method to avoid pollution.
Besides, it is recommended to use the produced pack-out system that is sanitary and easy to use for hiking use. There are some other types of waste that cannot be mentioned entirely in this section.
For more information, you can visit the website of Trapper Creek Wilderness and ask the land management agencies for the advice of particular rules.
In terms of toilet paper, you should use the white, plain, and non-perfumed brands. And they should be disposed accurately as well. To be more specific, they had to be put into plastic bags, packed out, or buried thoroughly in a cat hole.
Don't Damage the Campsite
Minimize campsite alterations
You must not dig trenches to make tents, tables, chairs.
You should leave the legally constructed facilities in place.
Avoid destroying live plants and trees
You do not hammer nails into trees to hang things
Carving is also unacceptable
Removing natural objects is illegal
Reduce Campfire Impact
To lessen the impact of fire, you should keep the fire in the ring. Try to keep the fire as small as you can and just burn it for the time you need to use. Furthermore, you should not build a fire near the rock outcrops. For putting out fires, use water instead of dirt.
Respect Wildlife
It is better when you observe wildlife from a distance as they will not be scared to flee. Additionally, you should obey some rules of feeding animals or travel quietly. Specifically, do not get close, touch, or pick up animals.
Keep in mind that you are visiting their home, so be polite and careful. In case you see sick or wounded animals, you are not allowed to carry or take care of them. Instead, notify the game warden. In general, you should ask for more information before approaching the animals.
Consider Other Visitors
As many visitors flock to enjoy outdoor activities, you should avoid uncontrolled pets or excessive noise.
FAQs
u003cstrongu003eWhat Type of Clothes Should I Bring?u003c/strongu003e
It depends on when you go to Trapper Creek Wilderness. If you come here in spring, you can wear a long-sleeved shirt, pants, a pair of waterproof boots, or comfortable walking shoes. You also should bring a light jacket or windbreaker. u003cbru003eu003cbru003eBut for summer, you should wear a short-sleeved shirt, shorts, and walking shoes. In fall, you ought to prepare a warm hat, gloves, fiberfill vest, or wool sweater. In case you go hiking in winter, you can bring the same clothes as in fall but with a winter coat, long underwear, and insulated boots.
u003cstrongu003eWhat Is the Average Temperature in The Trapper Creek Wilderness?u003c/strongu003e
As you can guess, the temperature varies among seasons and months. The warmest temperature falls from May to August. While the coldest one is between December to February.
u003cstrongu003eIs Hunting Allowed in Trapper Creek Wilderness?u003c/strongu003e
Frankly, the u003cstrongu003eTrapper Creek Wilderness huntingu003c/strongu003e seems legal. Some visitors said that they could hunt for deer and elk, but animals generally are tough to hunt. 
Which trail has the most elevation gain in Trapper Creek Wilderness?
u003ca href=u0022https://www.alltrails.com/parks/us/washington/trapper-creek-wildernessu0022u003eAllTrails.comu003c/au003e, the Trapper Creek and Observation Peak Loop boasts the most elevation gain in Trapper Creek Wilderness with 3,809 ft of total ascent.
How many trails are in Trapper Creek Wilderness?
There are 6 trails in Trapper Creek Wilderness. Trapper Creek Trail, Observation Peak Trail, Trapper Peak Trail, Trapper Creek and Observation Peak Loop, Trapper Creek to Bear Gap Trail,Trapper Creek to Little Joe Lake Trail.
Final Words
Briefly, Trapper Creek Wilderness is appropriate for many purposes, such as hiking, camping, fishing, or others. You and your family will experience enjoyment when choosing this place for the weekends.
The mentioned attractions are just some suggestions, so you can find out more by visiting the official website. Hopefully, this article helps you to find the right place to rewind and chill with much less effort.