Deadstock shoes are models that are brand-new, unboxed, and have never been worn. They are sold by resellers or at reselling platforms.
If you are new to the world of sneakers or shoes, the chances are high that you might be confused by the slang that is commonly used in the sneaker community. Whether you are just starting browsing Instagram, Facebook groups, eBay, etc., you have probably come across the word "deadstock" being used a lot. So, what is deadstock shoes mean?
Deadstock is usually shortened as DS, which has given rise to several other variants of the word, such as NDS (near-deadstock), UNDS (undeadstock), and VNDS (very-near-deadstock).
In short, deadstock shoes are the ones that are entirely brand-new, in the box, and have never been worn. The term is widely used by sellers on various resale platforms as an easy and quick way to describe the shoes' condition.
It should be noted that the word "deadstock" was used to describe sold-out shoes in the past. Nevertheless, this meaning is now unnecessary because it has been replaced by the definition of "brand-new" instead.
There are more things to discover about deadstock shoes. So, keep reading to get into the world of deadstock sneakers.
What Do Deadstock Shoes Mean?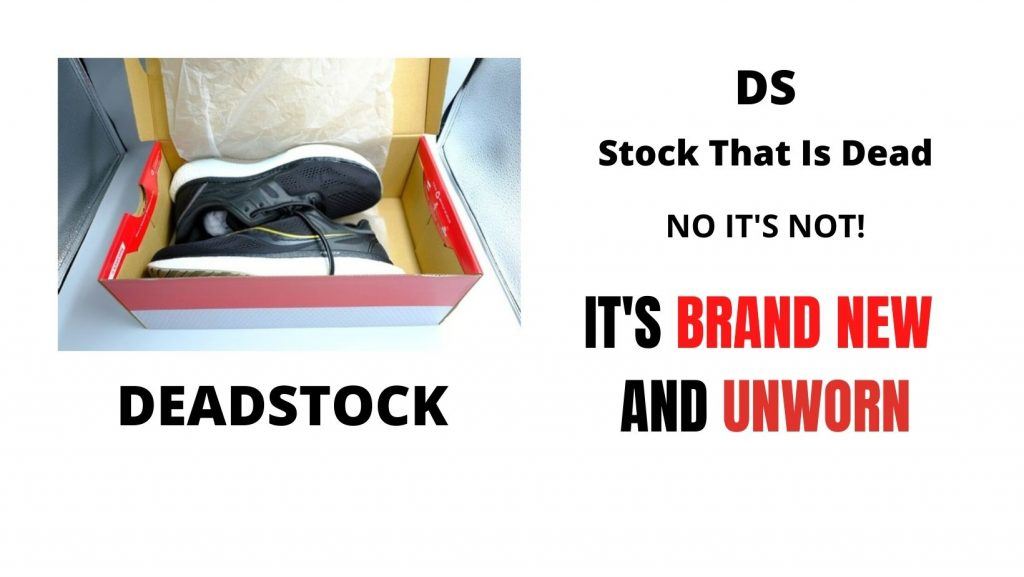 There is actually nothing special about "deadstock". It is simply a word that lots of sneakerheads want to emphasize that it is brand-new and fresh-box. Many people assume that including all of the original packaging will be involved in this description. The inclusion might be special-edition accessories, alternative shoelaces, or even initial stickers.
In fact, the word deadstock primarily had a completely different meaning than what is widely used today. In the beginning, the term deadstock was used by retailers instead of resellers. It meant new but unsold stock. In a nutshell, it was "dead stock" or "dead inventory" that couldn't be sold.
After that, deadstock was used within the sneaker industry to describe "new second-hand" stock and items that were released a little while ago but were still kept in the original box. Today, however, the word "deadstock" is commonly used when selling newly released sneakers and can still sometimes be sold online or in stores.
Why Is Deadstock So Important These Days?
If you have been in the sneaker community for a while, you will know that deadstock shoes are considered a very crucial part of sneaker culture. So, whether people might think about it or not, it can not be denied that the shoe reselling industry is larger than ever before.
This applies to not only deadstock shoes but also other deadstock items. You can find a lot of big websites in this reselling industry, such as StockX, eBay, Laced, KLEKT, etc. Besides, many people just don't want to purchase second-hand, used, or even just tried-on shoes. Therefore, deadstock shoes.
If you want to get a pair of deadstock shoes in pristine condition, you can always buy them, typically from retailers. However, these shoes usually come at a higher price tag. This is why lots of resellers tend to keep their shoes in the box so that they can make more money when they want to resell them.
This type of sale is certainly suitable for many people, typically those who are completely new to the world of sneakers.
A lot of sneaker enthusiasts in the world have various collections of deadstock sneakers that span from the '80s and '90s, which now fetch sky-high prices. However, it should be pointed out here that deadstock shoes from long ago might not be wearable even when they are brand-new. It might be that the soles simply haven't been manufactured for that long and might end up breaking after many wears.
Where Can I Buy Deadstock Shoes?
It is probably that you should directly call a retailer if you are looking to purchase a pair of deadstock shoes. This is because all deadstock sneakers originate from retailers. But if you have checked all common sources and still can't find any pair you want, then there are two options for you. The first choice is to look for private sellers, and the other one is to search on reliable reselling platforms, such as StockX, eBay, Laced, KLEKT, etc.
Of course, both choices have their own pros and cons. For instance, private sellers usually offer lower prices, but it will come with a risk. Reselling platforms, on the other hand, come at a higher price tag, but they are completely legit, safer, and provide you with a better retailer-like experience.
If you start purchasing a pair of deadstock shoes from the secondary market, always ensure that you do some research before deciding to make a purchase.
You can also join famous sneaker communities to learn from their experience. Members here are very nice and happy to help you out without your questions.
Conclusion
What are deadstock shoes, actually? Well, deadstock (usually known as DS"), is a term relating to brand-new, unboxed shoes, and that have never been worn. You can easily find these deadstock sneakers on different reselling platforms, such as eBay, StockX, etc.
Besides, purchasing deadstock shoes from private sellers can give a more affordable price, but it might come with a risk. So, in the end, the final decision is yours. Just make sure to ask the retailer or reseller about the shoes' conditions before making a purchase.