The primary purpose of work boots is to wear at construction sites, factories, garages, etc. And you know, these places are one of the main factors making your boots more fragile. And after wearing work boots for some time, they will get dirt, stains, etc. If you don't wash and maintain them properly, you might have to say goodbye to them soon. That is why you should know how to clean work boots so that they can last for a more extended period.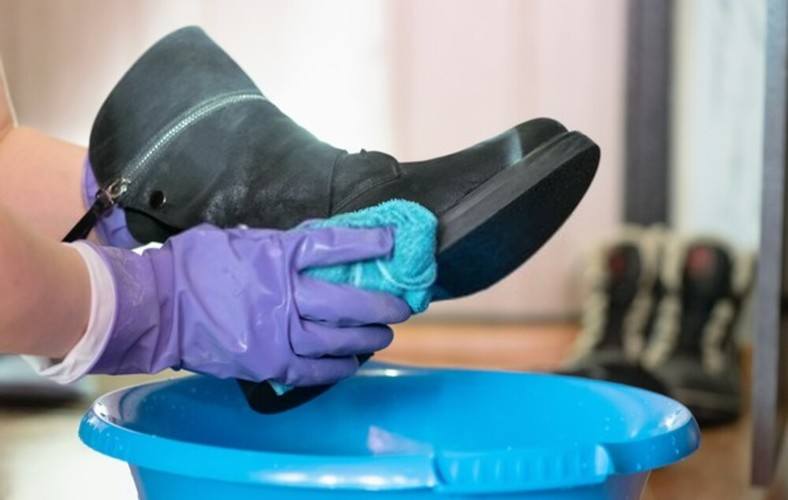 In fact, cleaning and conditioning work boots are very easy. It just takes you a bit longer. However, you should also know well about your boots in order to wash them correctly and avoid damage to them. In this article, I will give you an ultimate guide and some expert tips on how to clean work boots effectively, even with household items.
Without any further ado, let's get rolling.
Types of your Work Boots
First and foremost, it is very important to know your types of safety work boots. In other words, you need to know what materials your shoes are made of. You will use different processes to clean different sorts of work boots.
As you can see, almost all available work boots are made of leather. However, different brands or shoemakers use different types of leather. So, this post gives you tips on how to clean leather work boots.
Let's look at the two most popular types of leather used to make work boots.
Grain leather work boots
I know many of you heard about grain leather. Nevertheless, grain leather work boots include two other types that are top grain leather and full-grain leather. So what exactly are these types.
Full-grain leather work boots:
As the name implies, full-grain leather boots are a kind of footwear that has a top layer made of leather. However, this layer is unpolished to hide flaws at all. You can find some of these types of work boots from Timberland Pro, Harley Davidson Bosworth, AdTec, etc. (See also: how to clean timberland pro work boots)
Top grain leather work boots:
Some people might confuse between full-grain leather and top-grain leather because they look relatively similar at first sight. Having said that, if you notice, you can easily tell them apart. The top layer of top grain leather work boots is already dressed to conceal blemishes. And since most top grain leather boots are sanded, they seem to be weaker than full-grain leather boots. They will also be cheaper.
Suede or nubuck work boots
The second common type of work boots is usually made of nubuck or suede. Nevertheless, you hardly find a pair of work boots that are made of 100% suede. Even though you can completely clean these boots the same way as you wash grain leather ones, it is still necessary to know how to clean them.
The only main difference in cleaning these two types of leather boots is time. Nubuck doesn't require reconditioning. All you need is water and soap. In other words, it is faster and easier to clean suede work boots than clean leather ones.
Essential Items for Cleaning Your Work Boots
After knowing your types of work boots, you will now need to prepare some items to start cleaning yours. They include:
Water and mild soap
One soft and stiff bristle brushes
Dry towel
Vinegar
Lemon juice
Mink oil
Tartar cream
Rubbing alcohol
A large basin
Talcum powder
A blunt stick
Polish
You will need to clean the laces separately. If your work boots are pull-on or slip-on types, you don't need to remove laces. Besides, you should take off the insoles, put them aside, and clean them later.
If you need to dry your work boots quickly after washing them, check out these 10 ways to dry wet work boots fast. From using a hairdryer to stuffing them with newspaper, these methods will help you to have your boots dry and ready to wear in no time.
Get the dry sludge out of your work boots
If your work boots get muddy, allow them to dry entirely. This is because dry mud is very straightforward to get off leather work boots. Once they dry, you just need to hit them against each other, and mud will come off. Nevertheless, if the workwear is somewhat fabric or suede, mud might be extremely sticky. You will have to spend more time dealing with it.
On the other hand, getting mud off the outsoles will require more time and energy because it tends to compress over time. In other words, the outsoles of work boots usually have treads, and some even offer deep treads. And since it will carry your body weight, mud will stick to the soles deeper and make it harder to remove it.
There are different ways to get the mud off the soles. You can use some tools available at your home, such as a small stick or blunt screwdriver. On the contrary to the leather upper, you soak the soles in a shallow pot and let the mud be soaked, and it will automatically fall out of the grooves.
Clean the soles of your work boots
There are two most common types of work boots' soles, including synthetic and rubber. You can use water and normal kitchen soap to clean both types.
To ensure your soles are entirely free of dirt, you might want to use an extra hard brush to scrub them. You also need to cleanse the areas between the treads to make sure there are no gravels or small stones stuck in between.
Note: Air dry the soles after finishing the cleaning procedure. This process might take a little bit longer, but you should not use a hair dryer or heat to dry them because high temperatures can result in warping.
Remove water stains off your work boots
One of the most frequent things you have to face at your job site is spills. And in this case, your work boots will be the first casualty. As such, you also need to learn how to clean stains out of your work boots.
Remember the items I mentioned above on the second step? It's time to use them. You will need lemon and tartar cream to eliminate large dark stains. Just apply the blend to the stain, let it stay for a couple of minutes, then rinse it off.
If the stain is still stubborn, then you can use rubbing alcohol to eliminate it. Just use a very small amount of the alcohol, pour it into a dry towel and rub it over the stubborn stains. If you don't have rubbing alcohol available, you can use white vinegar instead.
If they are small stains, you might want to use water to remove them instead of vinegar or rubbing alcohol. They will come off very quickly if they are just water stains.
Clean grease and oil stains
If you work in a car or motorbike garage, you will need to understand the cleaning procedure or at least some tips on how to remove oil and grease stains from your work boots. It is not difficult at all. All you need is time.
You will need some kinds of absorbent powder like talcum. Sprinkle this powder on the grease and oil stain areas and let it sit for a few hours. After that, use a soft brush to eliminate the powder. You will notice that the stain has come off already.
Clean the inside of your work boots
Work boots come in a unique protective design. Therefore, it is extremely crucial to know how to clean the inside of the boots. For sure, there will be some smell, typically after long days on your feet. When your feet are sweaty, it can even create an environment for bacteria and mildew to bloom. So, below are two easy and effective ways to clean the work boot insides.
Eliminate odor
If you want to remove the stench, treat it first. Take the insoles out of the work boots. You can either wash them in the washing machine or by hand, and air dry them.
After that, add some baking soda to a pair of socks, then put each sock in its shoes. Make sure you fasten the socks at the open end. Leave your boots overnight or for more than a few hours. When you take your socks off, there is no more stink. After that, you can start cleaning your boots with soap and water.
Cleaning the inside with soap
The second way to clean the inside of your work boots is to immerse them in a basin of water. It is best to use a soft shampoo. You should put a few drops on the shoe in each warm-up, fill a quarter with cold water and start wiping off with a dry towel. If you don't have gentle or baby shampoo, replace it with organic dish soap, which also gives the same result.
Once you have cleaned the soap inside the boot, pour out the dirty water and pour clean, cold water over the boot to rinse them entirely. If necessary, do this a few times to make sure soap is no longer in the boots. Then air dry your boots by hanging them in a sunny or windy place.
Note: Hot water is considered bad for leather. Besides, hot air or heat from hair dryers is not a good way to dry leather. That's why you should wash your work boots with cold water and air dry them.
Condition your leather work boots
Conditioning is the last stage to make your work boots last longer after the cleaning process. However, if your boots are made of nubuck or suede, you don't need to condition them. This step only applies to leather work boots. It is very simple. Just a piece of towel and mink oil is enough. Simply apply the oil on the external side of your boots and let it dry naturally.
The next step is to polish your work boots, which helps them look shinier. You should use suggested polish for your certain type of work boots. Use a soft brush and a clean piece of cloth to apply the polish.
If you have a waterproof sprayer, you can use it to spray on your boots carefully. This can make your workwear even more water-tight.
The following video will help you know how to clean work boots correctly.
How to clean leather work boots with household items
In this part, I will provide you with some tips on how to cleanse your leather work boots as easily as pie using your household items. The process is very simple, and you might have all these things available in your house. Just use one of these methods, and your work boots will become cleaner and even last longer. Okay, let's go.
Try using baking soda to clean up your leather work boots with ease. Baking soda not just helps in reducing any stinky odors in the boots, but it can also work as a mild abrasive to help remove any dirt and grime build-up. For more information on how to clean shoes with baking soda, check out this article.
1. Dish Soap
Yes, this is not a joke. You can use dish soap to clean your leather work boots regularly without worrying about damage. This is because leather is not as vulnerable to water as other materials used to make work boots. Therefore, you can use the water and dish soap solution to make your favorite work boots cleaner.
Dish soap solution might not dispel the stubborn grime that has accumulated over the years on the boots. Hence, make sure you wipe away any dirt on your shoes using a dry towel before applying the dish soap solution. Before going on to the next step, you need to remove the shoelaces and keep them aside.
Dip a clean cloth in the dish soap solution and use it to wipe the external surfaces of the boots. After that, use another cloth soaked in water to wash off the soap remains on the work boots. Now, grab some paper towels or a dry clean towel to dry all the boots. And there you go. Your work boots look much cleaner. Such a fast, easy, and cheap way to do it.
2. Baking soda
A soap solution is a quick and effective way to clean dirt and mud off your boots. However, if they have oil stains on the surface, this mix might not get the job done. But don't worry. You can use baking soda with clean water and a piece of towel.
Once you have everything, sprinkle the baking soda power on the oil stains. Then, soak the towel in plain water and use that damp cloth to gently rub the stains. Remember to be very gentle when rubbing your boots; otherwise, you end up damaging your precious leather work boots.
Once you're done, leave your work boots overnight with the baking soda on the oil spots. This way, the soda mix can absorb the grunge. Wipe it away with a piece of dry towel the following morning, and you will notice that your work boots look as new and clean as you first purchased them.
If your work boots have a lingering odor, try using baking soda to absorb the smell. Simply sprinkle baking soda inside your boots and let it sit overnight. In the morning, remove the excess powder with a vacuum or brush. This natural remedy is effective and affordable, making it an excellent option for those looking to freshen up their work boots.
3. Vaseline or Toothpaste
Scuff marks or scratches are another annoying problem when having a leather pair of work boots. And all these scrape marks make your boots look old, even when it is new. But there is no need to worry because you don't even need lots of cleaning products to remove those pesky scratches.
Toothpaste or vaseline is a very good item you can use to deal with this problem. Just take either of them and apply some to the scratches on the work boots. Next, evenly spread the paste in the marks. According to my experience, paper towels are great for this job. You can use them to scrub the scrapes off your leather boots. And that's it!
4. Hair Conditioners
If you spend lots of time and effort on your hair care, why don't you do that with your leather work boots? In fact, hair conditioners are a good way for leather footwear care. They often have excellent hair removal or waxing properties, in addition to being an incredible moisturizer. It will definitely keep your work boots in good condition.
All you need to do is dab a little bit of hair conditioner on the leather and polish it again with a clean piece of cloth. Besides, you don't need to use high-quality conditioners. According to my experience, cheap hair conditioners can get the job done just fine. In fact, I think that the cheap one might contain a higher amount of wax content than the expensive ones.
5. Olive Oil
I think that olive oil is always available in every kitchen. That's why it is one of my favorite tips for cleaning leather work boots. You may not like to have olive oil in your food, but when it comes to cleaning leatherwear in general, it turns out an effective item. In fact, lots of people consider olive oil a better polish than high-quality leather conditioners you find in shoe stores.
The procedure is also very simple. Just pour some virgin olive oil onto a paper towel and start polishing your leather work boots immediately. Now, you will need a little patience to get the job done. Rub the leather surface evenly until you see all the olive oil is absorbed by it. Once you're done, your work boots will look gorgeous.
For an all-natural way to condition and shine your work boots, consider using olive oil. Check out our guide on how to polish boots in 15 minutes for more tips on keeping your boots in top condition.
6. Vinegar
Salt stains are one of the most difficult things to get out of your leather work boots. But that doesn't mean there is no way to deal with it because I have found that vinegar can get the job done just fine.
The first step is to add a teaspoon of vinegar to a cup of water. Then soak a paper towel into the mixture and dab it over the salt spots with that damp cloth. After that, use a dry paper towel to wipe away the dampness. But remember always to dilute the vinegar with water first before you use it.
7. Talcum Powder
In my experience, removing grease on leather work boots is not the same as getting oil spots off the boots. And baking soda doesn't seem to be effective in this case. Therefore, you will need another alternative, and I have found that talcum powder can get the job done just fine.
If you don't know if you have talcum powder available in your house, you can use baby powders, which are usually made from talcum powder. Look at the back of the baby powder bottle to see if talcum is included in the ingredients.
Once you get it, pour a little bit of talcum powder right over the grease stains. As you might know, talcum is a natural absorbent, and it will "eat" grease crazily. To get the best result, leave the powder to sit for at least one hour on the leather boots.
Then, use a soft brush to cleanse the stains. Cornstarch is also a good way to deal with grease on leather boots. However, it will take you a very long time to get the job done. That's why talcum powder is always my priority for treating greasy problems.
After washing your work boots, apply a light dusting of talcum powder to the inside of the boots. This will help to absorb any excess moisture and sweat, preventing odors from forming. Check out these cleaning tips to keep your work boots in top condition.
Frequently Asked Questions
Cleaning work boots is not always an easy task, especially for beginners. One of the reasons is that different work boots are made of different materials. This results in you having a variety of ways to clean them. This part covers some of the most popularly asked questions about how to clean work boots. Let's have a look.
How often should I oil my work boots?
If your goal is to moisturize your leather work boots and you plan to wipe away excess oil after 1 hour, you can spread mink oil once every 2 weeks. However, if you want to give your boots a wax layer or coating using mink oil, it is best to apply no more than two times a year.
Why do my leather work boots crack?
One of the main reasons causing a crack in leather work boots is due to drying out. Since leather is a type of porous material, and when outdoor elements such as dirt, grease, or oil seep into the leather's pores. This, as a result, causes your leather boots to dry out. Then it will irritate the dye and texture of your footwear. In the end, your work boots will be discolored and cracked. The best way to prevent this from happening is to keep your boots clean and conditioned correctly.
How do I protect my leather work boots?
One of the most simple and effective ways to protect your leather boots is to clean them regularly, condition them properly. You should also keep your boots indoors instead of outdoors because direct exposure to the sun, rain, and other elements can make them wear out faster. In case your work boots are constantly exposed to dampness, you can apply a leather water-repellent product to protect them from moisture. Just remember to give your boots lots of time to dry out before you spread waterproofing products or conditioner so that the dampness won't get trapped in the leather.
What can I use to clean leather work boots?
There are different ways to clean leather work boots, but the easiest one is to use specialized soap for leather work boots. Or you can use saddle soap that also gets the job done just fine. Besides, you should wash the insoles separately. After two or three months, remove them from your shoes and hand wash them using a mild shampoo or put them in the washing machine.
How do I clean my smelly work boots?
To deal with stinky work boots, you can use baking soda. Just sprinkle the powder inside your boots and leave it to stay overnight. Make sure you shake your boots before pouring the powder on. If you don't have baking soda available at home, fabric softeners or Dryel sheets are also a good alternative. Similar to the baking soda, simply spray or put them inside the boots overnight to remove odor.
How do I clean leather boots naturally?
The best natural way to clean your leather work boots is using a mixture of dish soap and water. First, sink a clean, soft towel into the solution, squeeze it and wipe away the outer surface of the leather boots. After that, wash the boots with clean water and delicately cleanse the soapy solution from your boots.
Can I use coconut oil to clean leather work boots?
You can completely use coconut oil to clean your leather work boots. Make sure to use the liquid form of the oil to have the best results. Also, don't forget to clean all the dirt on the surface of the boot before conditioning it. Once the oil has been completely absorbed on the leather, use a clean and dry piece of towel to wipe away excess oil.
Conclusion
Those are some good ways to clean your work boots. You can use any method, but make sure to use a specific one for a certain material or spot. For example, you can't use the same leather boot cleaning method to clean suede or nubuck boots. Otherwise, it can damage your boots. Here are some bonus tips to make your work boot cleaning process easier and more effective.
Pro tips:
Always remember to dry out your work boots entirely after you finish washing them.
Condition your work boots after washing will make them look shinier and even last longer.
That's all for how to clean work boots. Thank you for your time, and don't forget to share this article if you found it useful.