How should boots fit? Choosing the correct size of boots is more difficult than choosing a perfect-fitting pair of sports shoes or flip-flops.
In this article, we will take an exact breakdown of how should boots fit in order to help you step confidently and comfortably on your favorite footwear.
Key Takeaways
Measure your feet regularly to ensure you're wearing the right size.
Consider the shape of your feet when selecting a boot style.
Look for boots with adjustable features such as laces, straps or buckles for a better fit.
Take into account the thickness of your socks when trying on boots.
Ensure the boots fit snugly around the ankle to prevent rubbing and blisters.
Check the boots' heel and sole for proper support and traction.
Try on boots at the end of the day when your feet are most swollen.
Walk around in the boots to ensure they're comfortable and fit well.
Consult with a professional if you have any foot conditions or concerns.
Don't compromise on fit for style or cost, investing in properly fitting boots will pay off in the long run.
What Health Consequences People May Have If Wearing the Wrong Size of Boots?
Your Boot Size Is Too Big.
Your Boot Size Is Too Small
How Should Boots Fit?
The Width
The Heel
Flex Point
The Arch
The Toe Room
The Socks
The Arch Support
How Should Boots Fit?
From the above section, you all know what may happen if wearing work boots that are too tight or too loose. So here it is. We will bring you a list of main features that you need to put under consideration when choosing new boots to make sure you're getting the perfect fitting pair.
When it comes to work boots, a good fit is crucial. Check out our guide on how pull-on work boots should fit for 9 simple tips to ensure your boots are comfortable and offer optimal support for your feet and ankles throughout the workday. Wear the right size and get the fit right to avoid discomfort and other workplace hazards.
The Width
We highly recommend you not try on the new boots in the morning, afternoon or evening will be better.
Of course, there is a reason why we say it. Your foot width is always wider after a long day of standing, walking, and running due to swelling up. So if you try on boots in the morning, your new boots will be small, whereas your foot will be much closer to the largest size of boots.
Normally, there are six widths of boots, from B (the extra narrow size) to EEE (the triple wide size). However, most manufacturers mainly sell boots in the D width (regular) and the E width (wide) range. If you need a larger range of widths, but it doesn't mean that there no larger range of width for you. It's just a little bit hard to find because it is not popular. (Related: How to measure foot width)
Here is the men's boot size chart. let take a look.
Size
Length
Width size
B or C (Narrow)
D (Medium)
EE or EEE (Wide)
13
11 11/16
4
4 6/16
4 12/16
14
12
4 2/16
4 8/16
4 14/16
15
12 5/16
4 4/16
4 10/16
4 14/16
16
12 5/16
4 6/16
4 12/16
5 12/16
17
13
4 8/16
4 14/16
5 4/16
18
13 5/16
4 10/16
5
5 6/16
19
13 11/16
4 12/16
5 2/16
5 8/16
20
14
4 14/16
5 4/16
5 10/16
Again, when finding new boots, remember not to try them on in the morning. Your foot width in the morning is always smaller, so if you try boots on, you may feel pins-and-needles when wearing them all day.
Key takeaway: If you are too busy and have to try on new boots in the morning, wearing a pair of thick socks to add an extra layer to make sure your boots will not be too tight when your feet are swelling.
The Heel
Mostly, when choosing the high, mid and low heel shoes like the pole dancing stripper shoes, on some first tries, the heel of your boots will have a little slippage. Don't worry, it totally ok if as long as the heel only moves a quarter or a half-inch. If the slippage is larger, you should choose a smaller pair. 
Break-in time is what a new pair of boots always have. During this period, the leather and the insole will shape follow your foot. Little by little, you will find that your boots that are a quarter or half-inch of the heel slippage will fit perfectly on your foot just several weeks later.
And if after this shaping time of your boots, the heel still has not snugged up to the foot, a grip for heel-fitting can be a solution for your problem. You should try to break the boots in before using a grip. May the feeling of uncomfortable is just because the leather is too stiff.
Flex Point
Flex point is the vital factor that you should carefully out under consideration when buying new boots. When finding a new pair of boots, try them on and walk around in a short distance and check where the boots naturally bend. This is called flex point.
This natural bend and where the foot flexes should be lined up together.
Cheap boots are not improperly tested usually flex in the middle or near the boot's toe cap. This problem may result in a lot of health problems that we mentioned. Lacking suitable support and extra rubbing will definitely make you feel uncomfortable when wearing and make your foot hurt.
Nowadays, many manufacturers use stiff leather to make boots that do not support much flex. To see where your boot flexes, it might take more time. But don't worry. Your boots will sure fit your feet after a period of time wearing on.
Key takeaway: You can also check your boots' flex point by noting the boots' widest part, where your feet might get wider, and your boots should get widen, too.
The "flex point" of your boots is the area where the sole bends while you walk. A properly fitting boot should have its flex point placed where your foot naturally bends, which is usually near the ball of your foot. Make sure to choose a boot with a flex point that provides maximum comfort. Check out our article on the most popular work boots brands in 2023 to find the right work boots for you with the right flex point placement.
The Arch Support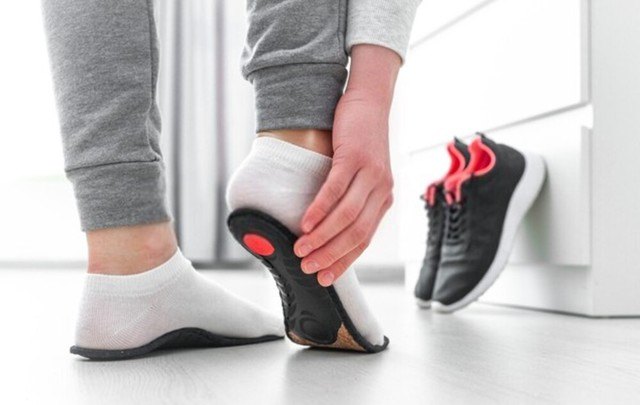 As Dr. Chloe Tillman, an expert of alternative medicine and Chiropractor, says, most people do not need to use outer arch support. That is great news because most boots do not have fixed arch support.
Yet, if you are one of those who has flat feet, plantar fasciitis problem, or any other problem that needs arch support shoes, you should carefully consider the boot size again. Chances are, your boots need to be larger than the normal foot size that allows you to add extra arch support. 
To figure out the perfect size of boots that fits an insole, you need to take your boots to the shoe store for their professional checking.
There have some slim orthotics that help your boot perfectly fit your foot. And you will never have any slipping problems again.
Another thing you should remember is not to change the size of your boots if you're planning on adding orthotics. Just use the normal size that you always wear. There should always have enough room to accommodate orthotics in the boot.
The Toe Room
Imagine you are trying on new boots. So, what will you check first to know whether this pair of boots are fit for your feet?
Most people will use their thumb to press down on the boots in the toe room to check it. But they don't know that this is not an effective method to determine if this pair is perfectly fit.
So how to consider fit boots for your feet? It is just so simple. When finding a new pair of boots, you only need to check the toe room. The boots that perfectly fit your feet will likely have an inch for toe-box. However, it's not mean that having more room will also mean you need a smaller size.
The heel and the width of boots are not less important to determine an excellent fitting pair of boots.
But remember that not choose the pair of boots that have toe-box room smaller than an inch. This pair will surely tight-fitting on your foot. And as we said, wearing too tight-fitting boots will cause some health problems, and hammertoe is one of them. This may sound like useful assets. In fact, they tremendously hurt your foot.
Pro tip: Remember that your toes will not be too far from the toe cap of your boots; otherwise, the toe caps cannot protect your toes if any objects are fell on them.
The Socks
The socks that you wear inside the boots can also be an important factor supporting the comfort and fitting of your boots.
If you are wearing thick socks, you can change the effective size of your boots by half-inch. So, if you wear thick socks on your first try on new boots, you may feel quite looser if you are wearing thin socks later.
So if you can't stand the cold weather or need extra protection and often wear wool socks, you should get a little larger size that can fit perfectly when you are wearing these socks. Although your boots may be looser in the summer when you wear thin cotton socks, your feet usually swell due to the heat. May this will not cause any problems.
Yet, it's still better than getting a small sock that only fits thin socks. Because if you choose the pair that only fit your thin cotton socks, then when the winter comes, it will be more difficult for you to get on your boots with thick socks inside.
Therefore, when choosing a new pair of boots, you should try them on when wearing thick socks to determine whether the new boots fit your feet. The health issues causing by wearing loose boots are also lesser than wearing too tight-fitting ones.
The Arch Support
We mentioned this in the arch section, but here will be more specific for those who have a flat foot. But for those who don't know whether they have a flat feet, is there any way for them to know? Yes, of course!
To make sure if you have a normal foot or flat feet, get your foot wet and then step on the dry concrete or paper. If on the paper you can see your entire footprint, it means that you have a flat feet. And you need to put more love on your flat feet by taking care of them using special orthotics and insoles.
Remember that using an additional insole will have a direct impact on your boot's fit. So, for those who need major support, you should choose a half larger size than the normal size you always use; Otherwise, if you just need a little bit of support from the insole, there are many slim orthotics on the market for you to choose. If so, just use the foot size that you normally use.
Do you know how to add an insole to your boots? Watch this video and follow their instruction on how to add an insole into an adult pair of boots.
Understanding the anatomy of a shoe can help you better understand how it should fit. When it comes to the toe room, make sure there is enough space for your toes to wiggle and move, but not so much that your foot is sliding around. Use this Shoe Terminology guide to get familiar with all the parts of a shoe and how they can affect the fit.
How Should Work Boots Fit and Comfortable?
A pair of comfortable work boots is an important part of a working uniform that supports flexibility when you work and protecting your feet. Getting the correct size of boots will give you the best working experience; otherwise, that may obstruct your work and result in many health issues later on. Therefore, instead of taking risks for your health, getting a perfect-fit pair of boots would be better.
Here is what you should do when buying new comfortable work boots to make sure you can get yourself the right size.
Wearing socks: it is highly recommended to wear socks because socks help improve circulation, reduce bulk, and allow feet to breathe.
Try both boots on: you should try both boots on at the same time to make sure there is nothing restricting your feet from moving freely.
When wearing boots: you should try hopping, standing in a high place, walking, and sprinting to check whether these boots are comfortable and fit.
While walking:
Should not let your heel rub to the back and come out of your boots.
Keep your toes from sliding forward or hitting the boots' end.
Your foot's sides should not be hurt and put under pressure.
Check the ankle support of your boots: slowly roll and move your ankle, then stand on your feet' sides. You will know how your boots could support your ankle.
Carefully check the interior stitching, the tongue, or any other things inside your boots that might cause digging into your feet.
Pull your foot out of the boot to check whether it has red spots. It means that the boots still have some things rubbing on your feet. This step will help you reduce later issues.
Heel lock lacing your boots: This will help secure your feet and prevent blisters. Furthermore, this lacing pattern also helps relieve pressure on your foot and provides proper support for your ankle.
What Health Consequences People May Have If Wearing the Wrong Size of Boots?
Wearing the wrong size of boots not only makes you feel uncomfortable and annoying but also can result in some health consequences. Therefore, if you already get a new pair of boots but it's quite small or quite big, and you are confused about if to return the shop and exchange another pair, spend some minutes reading the section below.
Wearing boots that are too big or small can lead to various health problems, including back pain, knee pain, ankle distress, blisters, and more. Make sure to choose the right size and fit to avoid these problems. To learn more about how work boots can cause back pain, read this article.
Your Boot Size Is Too Big.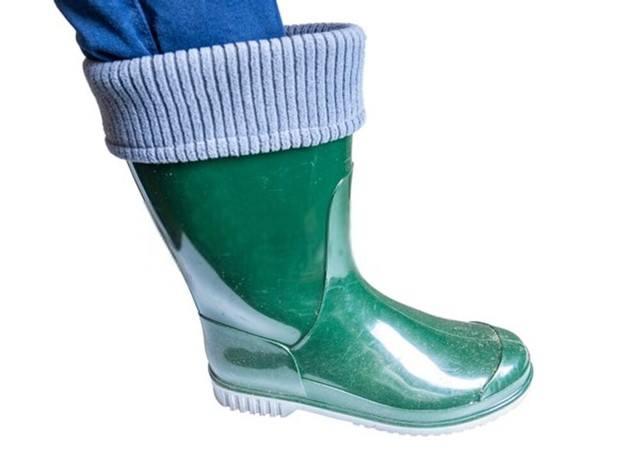 You know your rubber boots are too big when your feet easy to be slid in them. As a doctor from the UK said, wearing a too-big pair of boots can cause some pain in the short term. And if you do not take care of it, it may balloon into larger issues later on. 
Firstly, a loose pair of boots can cause pads of the hardened dead skin. We can call it foot corns. Foot corns are formed by consistent pressure and rubbing. Corns may become more difficult to remove completely because they might attach to softer and deeper tissue. This can be painful also.
If when you walk, your feet move around, chances you are repeatedly rubbing your discreet area on your feet to the boots. That actually can cause corns. If you do not take care of it, these corns can become permanent fixtures.
Secondly, large boots might also lead to Achilles tendonitis or ankle ligaments issues. They are serious health issues for the long-term and require intervention from doctors.
Your Boot Size Is Too Small.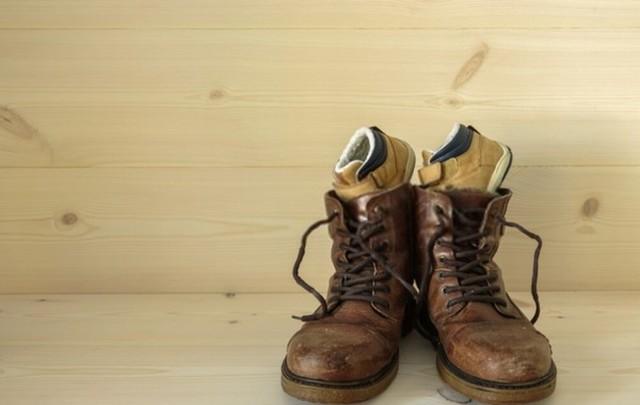 You all know that wearing a large pair of boots can lead to some health issues. Small boots will be the same; they also can have havoc on your feet. Besides causing uncomfortable due to tendonitis and corns, ingrown toenails are also resulted from wearing tight-fitting boots. Ingrown toenails are really unsightly and painful.
When wearing small jumping shoes, your toes may be jammed up, which is the condition for microorganisms to develop because swelling problems create the best condition for bacterial to enter. 
In addition, tight-fitting boots squeeze your feet that will not really allow air circulation, which can cause an athlete's foot – an uncomfortable problem and really difficult to cure.
If you feel like there numbness on your foot after several hours of wearing your pair of boots, it's mean that your boots are too tight, and it's better to upsize your boots.
FAQs
How can I know if my boots are smaller than my feet?
You can know whether your boots are fit or too small by checking the toe box. If your toes cannot face straight forward and they seem to be overlapped each other or crammed together, your boots should be too tight for your feet. The perfect fit boot size will give your toes enough space to straight forward and there is space between these toes.
Should I get boots that are snug?
Yes, of course! Your entire feet should be close-fitting to your boots except for the heel. It is better if your heel has a little slip in your new boots. The slippage at the heel will soon disappear as long as you have broken in your boots.
Does any problem happen to my foot if I wear a little smaller size of boots?
As we mentioned at the beginning of this article, wearing a small boot size can lead to many health problems such as ingrown toenails, tendonitis, and corns. These issues will surely cause pain on your feet after several hours of wearing. Then, you can no longer be able to stand on your feet because of the pain.
Does it take too long for my new boots to break-in?
Normally, it takes from 80 hours to 100 hours for a new pair of boots to become comfortable to wear. But do not force yourself to wear them continuously to make them break-in. This might cause foot pain and other serious health problems. You should change into another pair after about two to three hours of wearing the new pair.
Can I use a cobbler to make my leather boots smaller?
If you are thinking of using a cobbler to shrink your leather, you would better throw this idea over your head. Instead, you can make your new boots more fit with your feet by adding support insoles, tongue pads, or wearing thick socks. Stretching cow leather boots to make them wider is possible; otherwise, stretching cordovan will make your boots easy to be damaged.
Can I make my boots shrink by getting them wet?
Although it is not the best way to make your boot size smaller, you can make your boots wet to adjust their size, you need to shrink them as soon as possible. You first need to make your boots wet. Then wear them continuously until they dry. Remember to wear socks together to protect your foot from rubbing with the leather of your boots. Your boots will shrink follow your feet' shape as soon as they dry.
Does the size of boots relate to human height?
The boot size and the height of males are relatively proportional, especially when they overcome puberty. Most tall men will actually have a larger foot than ones that are short or have an average-height. However, this will not always correct because the size of feet may be affected by men's age, weight, and activity level. The older men get, the larger their feet might be.
Verdict
In short, boots wearing is unlike wearing other types of shoes. It requires more careful of users to make the correct choice for the boot size. If not, your new boots may be looser or tighter, and any of them always lead to serious health problems.
Therefore, don't check out any new boots if you have not read this article and if you do not know how should boots fit. All the features that we mentioned are surely important for you to choose the right boot size.