If you have an old pair of boots but do not know how to polish boots, you should read this article. You will be provided with detailed steps and useful tips to shine your boots and maintain their shining mirror look. Do not hesitate anymore! Let's discover them right now!
How to Polish Boots Quickly?
Clean off the dirt
You can bang the boots together to get rid of mud or dirt at the bottom or to the sides. Another way is to use dirty socks, old shirts, or a towel and run them over to stray dirt.
Apply the polish
Wrap a microfiber polishing cloth over your fingers tightly before gathering up a polish layer. Apply the polish to each part of your boots at a time and rub it in small circles.
Buff the polish
In this step, you use the horsehair brush to create some even strokes across your boots. Five or six swipes are sufficient for evenly spreading the polish.
Shine your boots
Wet a clean microfiber towel with water and apply it to shine your boots. After 10-15 small circles for each boot's part, you will get a considerable shine.
A note for the shining phase is that you should not soak your microfiber towel as it will not give you any results. It is better to start with a moderate amount, add more water to the towel, and repeat rubbing the damp towel in small circles.
Furthermore, it is advisable to shine your durable work boots every other day at least. Daily gloss helps protect the boots when you use them every day and get them dirty or wet. So, a nightly routine sounds favorable. Besides, it would help if you chose a pair of boots that will not reflect light in public.
Different Methods to Shine the Boots
Method 1: Shine boots with a lighter
This method is commonly used by military personnel as the lighter can help the polish seep into the leather easily. Accordingly, your shoes will become mirror-shining.
Necessary items
A lighter
Hot water in a container
A piece of sponge
A piece of cloth
A toothbrush
A plastic sheets
A thick and thin piece of nylon stockings
A shoe cleaning brush
Shoe polish
The process
You place the newspaper on the ground and remove the shoelaces. Try to brush debris and dirt off with a brush. Then, you use a wet cloth to wipe the shoes.
Use the lighter to heat the shoe polish to make it liquid. Subsequently, you apply the melted polish layer on your boot's surface gently in a circular motion. To avoid stains, you should use the toothbrush and just apply it around the shoe's sides.
At the same time, use the sponge to spread the polish layer on the sole and other leather parts, but the top part as your trousers may get in contact with it. Then, leave it for 10-15 minutes.
At this step, try to clean excess polish with a shoe cleaning brush. You should not scrub too hard in case of scratching the material.
Now, let's brighten your boots! Rub the thick nylon stocking against the polish to spread it evenly all around the boots. Do like that 2-3 times with brute force.
Repeat the previous step with the thin nylon stocking and with medium force.
Eventually, squeeze the shine sponge to rub the entire shoe gently. It will be much brighter if you do two layers.
Method 2: The intensive shining for leather boots
It would be better if you polish, buff, and shine your black work boots regularly, as it is good for your boots' longevity and looks. While the steps are straightforward and you will receive long-lasting results, why don't you give it a try?
Necessary items
Wax polish
Some soft cloths
Cream polish
A polishing brush
A water spray bottle
The process
Firstly, you should clean all the dirt off your shoes.
Secondly, you apply a layer of cream polish to the shoe with a swirling motion. After coating, leave it a few minutes to dry. This step is to condition the leather and seal up the pores.
Thirdly, spray a light mist of water on a soft cloth and buff the cream polish. Afterward, you leave it dry.
Next, apply the wax polish. There are two types of wax polish, including standard and gloss. So, you can choose one according to your preference.
Wet another soft cloth, wrap it around your finger, and get a little bit of polish. Remember to apply it in the circular motion without resistance. When you notice any, spritz the cloth with water, dab it in the polish and begin again.
The toe cap and the heel should be polished in this step. Excess polish might crack the areas where the boots flex. It does not mean that you should skip these areas, just pay less attention to them.
Repeat applying the wax polish from 3 to 5 times until you see the shine. That is the time when you get closer to the mirror shine. The newer your boots are, the more you need to apply the wax.
Finally, apply one more layer of wax polish without water to the cloth once you see a good shine on the heel and the toe cap. Use a clean, soft cloth to buff vigorously, which helps to melt the top polish layer with friction. By doing that, you will get the mirror shine that is coveted.
Bonus tips for good result
Some people do not use water but rubbing alcohol, and they say it gives greater results.
T-shirts can be excellent cloth materials, and so are cloth diapers.
The wet cloth plays a role in stopping the fine polish coats that stick to the cloth and encouraging the polish to stick to the leather.
Do not stop building up many thin wax layers until there is an utterly smooth surface on your safety boots if you want the glossy shine.
You should only apply the heavy layer of polish the first time. You do not use too much polish if you want to shine your boots for the following times. The heavy polish coats might dissolve the built-up base.
In case the leather boots absorbed the salty slush of winter, you can mix warm water with some white vinegar and dab a cloth into it to get rid of stains before shining.
It will help if you apply water and stain protectors daily as your leather boots can be protected from the elements.
If your shoes' leather is scuffed and dried out, you should use a type of shoe conditioner to bring them back to good condition.
After shining your boots, you can also deodorize them with reusable deodorizing spray or balls. Otherwise, coffee grounds or baking soda will be another good option. If you choose the coffee grounds as a deodorizer, you should ensure that they are utterly dry. If not, they might result in more funky foot smells.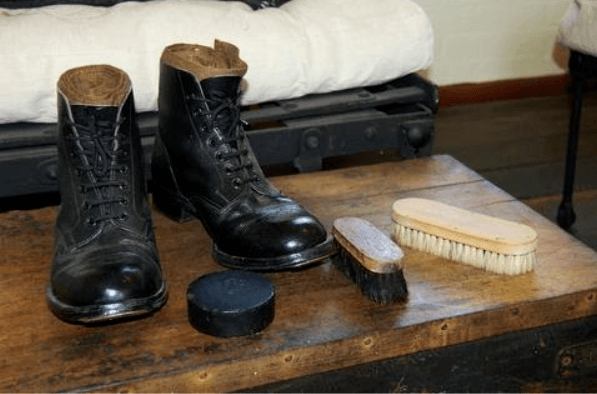 To begin with, you place a coffee filter onto your boot's bottom and pour the spent coffee grounds into it. After that, leave them for about 1-2 days.
How to Maintain the Mirror Shine?
What creates the mirror shine?
It is crucial to understand what the process of mirror shine aims so you can adjust your technique to having good results. Leather is an uneven surface that is full of pores and pits, although it might seem smooth under the naked eyes. This unevenness creates the leather grain, which can make up unclear reflections in different light directions.
Hard waxes can give your boots a smoother layer as it fills in the pits over the leather grain. When adding more hard wax, the shoe's surface becomes smoother while the reflections clearer, creating a glossy look and shininess impression. Your leather boots can be mirror shining if a sufficient amount of wax is added to fill all the pits up.
Moreover, the wax can make up a perfectly smooth layer using the soft cotton rag instead of the stiff bristle brush. Normally, the wax polishes often contain a little solvent such as turpentine to keep its content mold-able. Plus, the wax comes soft out of the tin so that you cannot create a mirror shine just in one layer.
From that point, you know that you have to apply several layers of wax as the base to fill the grain of the leather. After each layer, you have to leave the boot dry and harden. And last comes with some thin wax polish topcoats to create a smooth mirror surface.
Some tips for maintaining your mirror shine
It is notoriously challenging to maintain the mirror shine as it is immensely delicate. There are several tips to make your mirror shine long-lasting.
Make use of the specialty wax as the hard waxes' concentration is much higher so that the mirror shines produced durable and harder.
Stay away from the sun as much as possible as heat can soften and easily scratch the wax.
After every wear, you should use a mild cleaner such as saddle soap to clean off the topmost polish layer where dirt and dust have stuck. Instead, you replace it with a thin layer of water shine and refinish the mirror layer.
How to Select the Best Products for The Mirror Shine?
Polishing cloth
You use the polishing cloth to shape the wax in a reflective and smooth finish. Therefore, the material of the cloth is important in clarifying the shine.
Choose a finely soft woven cotton or its variants like flannel. You should not use knits and coarser weaves, including denim, canvas, and twill.
Choose cloths without stray or raised fibers as these might leave lint.
Use cloths made from organic fibers. Normally, this is the main material of cotton. Besides, you should not use synthetic fiber such as microfiber. Although the polymeric chemical structure is soft to touch, it is indeed hard and can scratch soft organic materials, including leather.
Thin cloths should be used to control and gauge pressure more easily.
Furthermore, old shirts are an excellent source for the best polishing cloths as they are made of 100% cotton. Plus, they are smooth, thin and their fibers are long enough not to break off or leave lint.
Buffing brush
A great buffing brush plays a crucial part in cleaning dirt and buffing base coats fast. Besides, it will not damage the leather or remove any polish.
Choose the buffing brush designed with natural bristles. The natural bristles are sufficiently soft, so they will not remove polish or scratch leather when producing enough heat to buff. The horsehair brush seems to be a good example in this case.
Ensure taking advantage of the buffing brush with a high density of bristle for more effective buffing and cleaning.
You should also consider the buffing brushes having slightly curved handles as they can accommodate you with the natural brushing motion.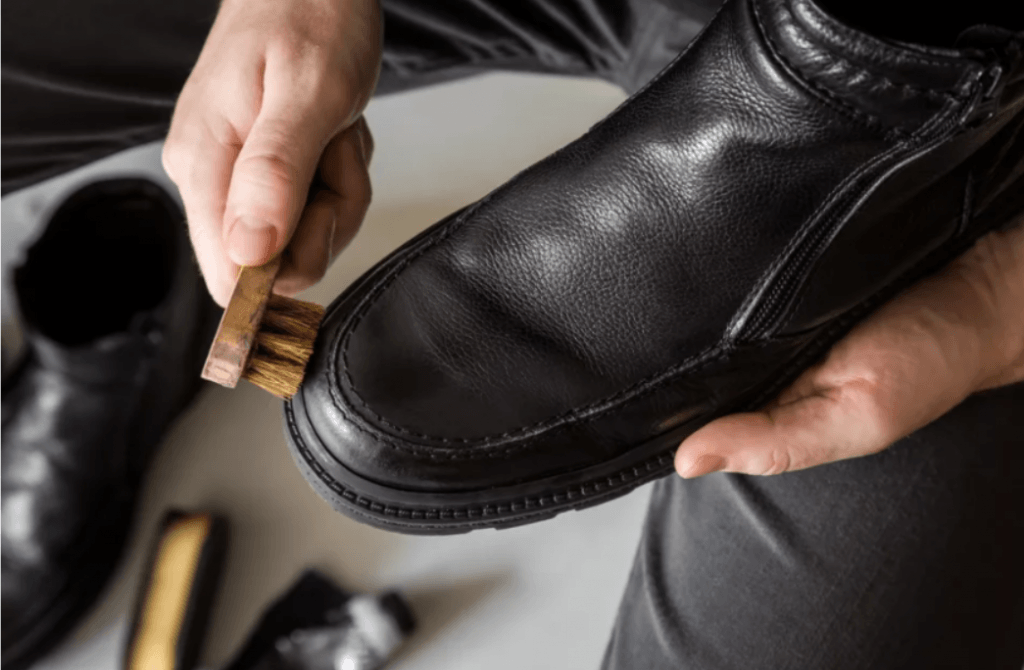 Wax shoe polish
The wax shoe polish is the most important in deciding how fast you can make up the mirror shine and its durability. It is the main substance creating the reflective and smooth mirror layer over the toe caps.
Firstly, it is better to choose the wax shoe polish that has an incredibly high wax-to-solvent ratio. These types of waxes are drier and harder, which helps you to mold into thick layers more easily. From that, you can level the leather surfaces' unevenness. The mirror shines created longer-lasting; that is why they serve as the specialty wax polishes to mirror shine.
Secondly, if you want to keep the original color of your boots, you should employ neutral wax. Since there is much wax polish on the top, pigments existing in the colored polish will add up and darken the mirror-shined area slightly.
Thirdly, you should invest in high-quality wax polish using natural agents. Several conventional brands of wax polish use resins, synthetic solvents, petroleum-based waxes, and silicones that are immensely drying to leather.
Leather cleaner
Cleaning the leather boots is crucial, and you should do that often if you want to keep your any types of work boots in good maintenance. So, how about the leather conditioner? What are the differences between leather cleaner and leather conditioner? Let's have a quick look at the following comparison chart to find out!
| | | |
| --- | --- | --- |
| Features | Leather Cleaner | Leather Conditioner |
| Remove grime and dirt? | Yes | No |
| Add/Replace oils | No | Yes |
| Prevent water penetration | No | Yes |
As you can see, a leather cleaner's main role is to remove dirt, grease, crumbs, and stains from leather, while the conditioner helps to remain flexible and block water from seeping in.
Strong leather cleaner
This type is called the leather stripper, dissolving all polish layers on top to remove dirt. Besides, it allows you to construct clear and clean foundation layers so that the mirror will not look cloudy.
You should choose the leather stripper removing the polish layers and impurities.
Ensure that the leather stripper you use will not contain harmful ingredients to leather.
Check the leather cleaner on a less visible part of your boots, like inside your heel, to ensure that it will not clean off the original finish.
Mild leather cleaner
Contrary to the strong leather cleaner, the mild leather cleaner only can remove the topmost layers that stick up dirt and dust. It stops the trapped impurities under a new wax polish layer, making the mirror shine dirty-looking. Additionally, this is helpful when wax polish layers have been added to keep the mirror shine.
When selecting the mild leather cleaner, you also should not choose the product that contains harmful ingredients to leather. Besides, it needs to be easy to control because you might not want to remove too much wax polish you built up previously.
Dauber brush
The dauber brush comprises a spatula-style handle and a horsehair bristles head. It is a useful tool to apply some products like cream polishes, conditioning creams, etc., without making your hands dirty. In mirror shining, it helps to apply the wax polish base coats evenly and quickly.
Selecting the dauber brush is relatively similar to the buffing brush. More specifically, you should opt for natural horsehair bristles with a high density of bristles. These features help to apply polish more evenly. Moreover, it will be better if you use a separate dauber brush for each polish color. If you use the same brush for multiple colors, the polish colors will be cross-contaminated, and there will be streaks on your polished boots.
Shoe trees
Shoe trees provide support for leather boots from the inside part. You will get a solid platform to polish into the leather. Some people can choose to stuff their boots with newspapers, but the shoe trees help to prolong your leather boots' lifespan drastically.
You should select the shoe trees whose shapes are similar to your feet as they will fit your shoes more closely. They help to construct a better platform to mirror shine while keeping your boots in a proper shape.
Choose shoe trees having spring-loaded components to adjust automatically to fit numerous shoe shapes well. When the shoe trees can fit your boots, you have great support to apply polish and increase the leather upper part.
Do not purchase plastic shoe trees. The plastic ones will not absorb moisture but increase the lining rot risk and prevent the shoe interior's ventilation.
By contrast, the shoe trees made from unvarnished wood will absorb moisture from your feet' sweat having seeped into the boot lining. From that, they can prevent the lining rot.
To save your pocket, you should not select the products with the ball at the end of the spring rod. It is used for the heel, but it presses too much on a small spot, making the heel area to be distorted quickly. It will be wiser to choose the shoe trees having fully articulated heels.
FAQs
Can I make my boots shine without polish?
You can use some unusual remedies instead of the polish, such as banana peel, vinegar, vegetable and olive oil, and petroleum jelly. You have to rub the peel's interior part over the boots and wipe them clean afterward for the banana peel. With other substances, you just need to use a clean cloth to dab it into these substances and rub it over your boots.
Can Vaseline be used for leather boots?
Vaseline is a type of petroleum jelly so that you can use it comfortably for your leather boots. The Vaseline helps to soften the leather and prevents it from cracking simultaneously. Additionally, it works well on patent leather, leather shoes, bags, or other items. However, you should not use it for rawhide leather.
Is olive oil ok for leather?
Olive oil is good for several kinds of leather except for finer leathers or other delicate things. It is considered a substitute for neatsfoot oil, and it will not darken the leather as the neatsfoot does.
What should I put on leather boots to be water-resistant?
There are some kinds of waterproofing treatments, including spray, wax, and cream. Each type requires a separate application, so you should find some information about them before using them.
Can I replace the soft cloth with the cotton balls?
Yes, you can, as the cotton balls are so soft. If you want to use the cotton ball, you just deep it into some water, then squeeze out the excess moisture. Do not keep it dripping. After that, you use the damp cotton to get some polish as the usual step you do with the cloth.
How can I shine my soft leather boots?
You can use baking soda in this case. Wet a clean cloth slightly and dip it into a small bowl of baking soda. After that, you rub the scuffs until they disappear. Before letting your boots dry, you should wipe the excess baking soda. Finally, you buff your boots a little bit to give them some shine.
The Bottom Line
After reading this article, you now have a deep understanding of how to polish boots. You will need a cloth, a buffing brush, some water, and shoe polish. Hopefully, you find this article useful, and you will have mirror shining boots soon.