Rubber boots are a popular item with everyone. This is because they are durable, comfortable, and water-resistant. However, that doesn't mean they never break or fail. What would you do if there was a hole in your boot or your rubber boot cracked? What do you do if your rubber boots seem too cramped for your feet?
Please don't rush to throw them away! There are many ways to fix these errors. Read the article below, and you will know how to repair rubber boots effectively!
How To Fix A Hole In Rubber Boots?
You don't need to worry when your rubber boots have holes because you can completely repair them with easy-to-find items and a little time. In addition, depending on the size of the holes, you can use different repair methods.
When your rubber boots have holes, it is vital to repair them asap. Don't worry; resoling rubber boots at home is possible with the right materials. Check out this boot repair method and fix your rubber boots like a pro.
Method 1: Fix Small Holes In Your Rubber Boots
What you will need:
A cloth
Rubber cement
Adhesive patches
Glue
Applicator
How to use them:
Step 1: The first thing you need to do is cleaning your rubber boots carefully. Adhesives and glues can be significantly reduced if you use them on dirty surfaces. Use a damp cloth to wipe the rubber boot surface. Then let your boots dry before starting the next steps.
Step 2: When your rubber boots are completely dry, apply rubber cement into the holes in your boots by using the applicator.
Step 3: Take the adhesive patch and add glue to this patch to make it last longer. Wait for 5 minutes.
Step 4: Apply the prepared adhesive patch on the hole. Then, press down on the patch as hard as possible to make sure it adheres to the rubber boot surface. Then, press the corners of the sticker to make it stick more firmly.
Step 5: Leave your rubber boots dry for 10 minutes.
Method 2: Fix The Large Holes
What you will need:
A piece of rubber that has the same color as the boots
Sewing needle
Nylon threads
Adhesive
How to use them:
Step 1: Clean your rubber boots with a wet rag. Let them dry completely.
Step 2: Measure the size of the hole in the boot, then cut the rubber piece of the same color so that the rubber piece is slightly larger than the hole.
Step 3: Apply adhesive on the rubber piece and stick it above the hole. Then, press down on the rubber piece as hard as possible to ensure it adheres to the rubber boot surface.
Step 4: For extra durability, use a needle and sewing thread to sew the rubber hole. Once you finish sewing, your rubber boots are ready to use!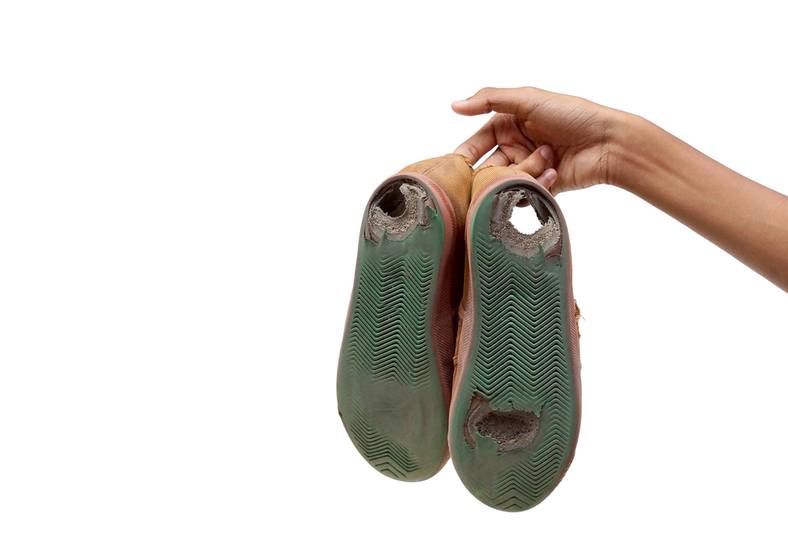 How To Fix Cracked Rubber Boots?
What you will need:
Sandpaper
Applicator
Cloth
Duct tape
Shoo goo adhesive
How to use them:
Step 1: Mix soap with water to create a cleaning solution.
Step 2: Use a cloth to absorb the cleaning solution and wipe it on the surface of the rubber boots. You should clean the cracking area carefully and thoroughly. After cleaning, leave your boots to dry completely.
Step 3: Use sandpaper to rub on the cracked area. It would be best to rub too hard as this can damage your rubber boot or make the crack worse. Instead, rub until the surface of the boot is rough. This step will help the glue work more effectively and last longer.
Step 4: To avoid the glue spreading to another area, use duct tape and cover the surrounding areas so that there is about a 5-inch gap around the cracked area.
Step 5: Apply Shoo goo adhesive to the crack and the 5-inch area around the damage. Leave your boots dry overnight.
Step 6: Remove duct tape and use sandpaper to smoothen the repaired part.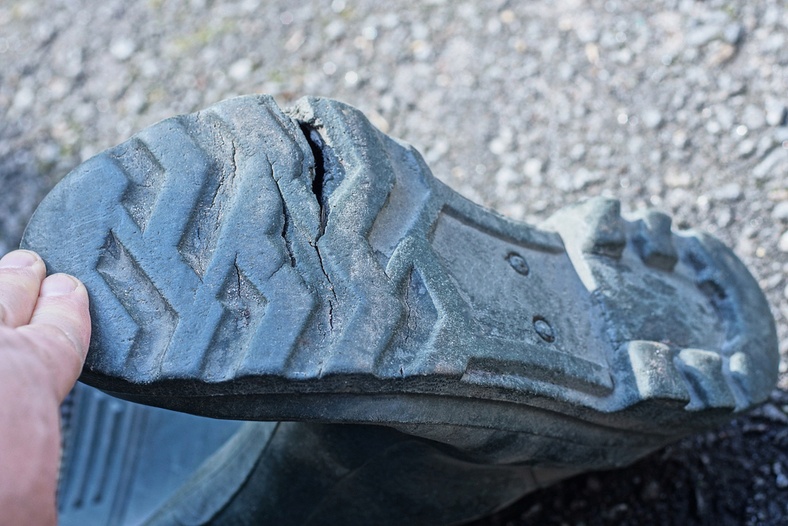 If you're dealing with cracked rubber boots, check out our guide on how to repair cracked leather boots. While focused on leather, many of the techniques discussed can be adapted to fix cracks in rubber boots as well. With a little bit of effort, you can salvage your favorite pair of boots and extend their lifespan.
How To Stretch Rubber Boots?
Method 1: Freezing Your Rubber Boots
What you will need:
Two sealable plastic bags
Water
A freezer
Some pieces of newspaper
How to use them:
Step 1: Prepare 1-gallon zip bags. Fill the bags with water so that the water takes up 1/4 of the bag's volume. Do not overfill the water as it can be challenging to get the bags inside the boots. Also, make sure the bags are leak-free.
Step 2: Now, you need to get all the air out. Then, close the bag tightly by squeezing the zip. To check if these bags are tightly closed, turn them upside down. If no water leaks out, you can proceed to the next step.
Step 3: Put these bags into your rubber boots. Roll the bag to fit the boot, then tuck it into the boot as close to the toe as possible.
Step 4: Place your rubber boots in the freezer for at least 8 hours or overnight. During this time, the water in the zip bags will expand and stretch the boots. Then, take the boots out and let them defrost for about 5-10 minutes.
Step 5: Remove the ice packs from the rubber boots. It would be best if you took them out gently to avoid scratching the boots. If ice packs get stuck in your boots, wait another 2-3 minutes and remove them instead of yanking them out forcefully.
Step 6: Now, try on the rubber boots. If they fit well, tuck a rag or newspaper inside the boot to keep the stretch. If they are still not extensive enough, you can repeat the steps to achieve the desired result.
Method 2: Heating Your Rubber Boots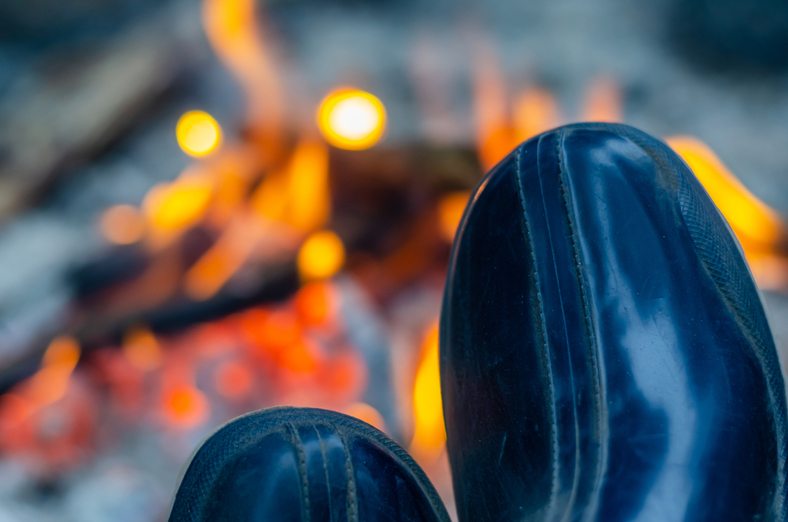 What you will need:
How to use them:
Step 1: Put on a pair of thick socks and slip your feet into rubber boots. If you don't have thick socks, you can wear multiple layers of thin socks.
Step 2: Use a dryer to heat the rubber boots. Turn on the dryer on high heat, then dry the surface of the boots. You should keep the dryer 15-20cm away from the surface of the boots to avoid melting the rubber or damaging the boots. Dry the entire surface of the boot and focus on tight areas like the heel and toe.
Note: You should not dry your rubber boots too long at a time. Instead, divide the drying time into 5-10 minutes each time.
Step 3: While drying your boots, move your toes and flex your feet so the rubber can stretch better.
Step 4: When you feel the boots are more snug and comfortable, put them on and walk until the rubber is no longer warm. Now, your rubber boots are stretched.
Method 3: Using A Boot Stretcher
What you will need:
How to use them:
Step 1: Place a boot stretcher inside the rubber boot. Push it inward until it reaches the toe of your boot.
Step 2: To stretch the material, turn the handle clockwise. Rotate about 5-6 times until you feel the hold stiffen and difficult to rotate. You should not rotate the handle too quickly, and too much as this may cause the rubber to tear.
Step 3: Do the same with your second rubber boot. Note that you should rotate the handles an equal number of times on both occasions to stretch to the same size.
Step 4: Now, place your boots on a flat surface and leave the stretcher inside the boots for at least 8 hours or overnight.
Step 5: To remove the stretcher from the boot, turn the handle counterclockwise. Take them out gently so as not to scratch the boots. Then, try on the boots to check the fit. If you're satisfied, tuck newspaper into the boot to keep its form.
FAQs
Can you fix leaky rubber boots?
Yes, you can do that easily with some adhesives. With small leaks on your rubber boots, an adhesive could repair them quickly and flawlessly. I recommend using silicone adhesive since they will offer the best result on your rubber boots.
What is the best glue for rubber soles?
The best rubber shoe glue I know is Urethane. This adhesive is robust and virtually unaffected by temperature. As a result, they will help your boots last longer in the winter. This product is also perfectly water-resistant.
Should rubber boots be tight or loose?
A pair of tight rubber boots is probably better than a loose one. Boots that are too loose can be dangerous when your feet are not stable, especially when walking on rough terrain. However, that doesn't mean you should choose boots that are too tight. Fit should always come first!
How can I stretch my boots fast?
You could apply any hydrating skin lotion to the inside of your rubber boots. Then, use a dryer and dry the inside of your boots for about 2 minutes. After that, put cedar shoe trees into your boots and leave them overnight.