You should expect to spend around $40 to $150 for a full-sole service and $30 to $70 for a half-sole service. Repairing boots' soles at home may save you some money, depending on the condition and tools you need for the repair. Generally, you might end up spending from $8 for minor tears to $100 for more severe sole damages.
Total Costs to Resole Boots at Home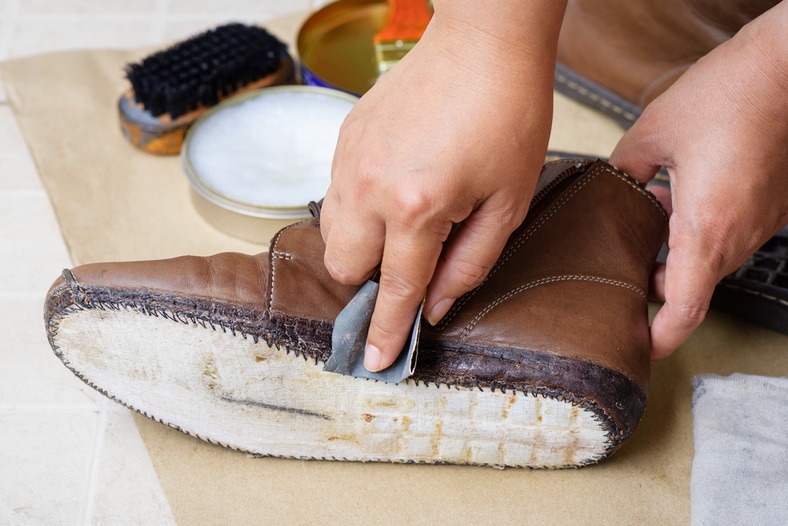 For minor tears, you can simply glue the soles with specialized shoe glues. Shoe glue costs less than $8, making it a far more cost-effective alternative than purchasing new boots.
If only your boots' heels become damaged, you can replace only the heels. A high-heeled shoe's heel will cost anything from $10 to $40 to repair, depending on the shoe's material (rubber, leather, etc.).
Soles' prices alone can vary significantly from under $10 to under $60 depending on quality, materials, and brands. A sole protector would usually cost you at least $15 or more, but there are some less expensive alternatives.
Shoe repair kits are also available on the market. They are a ready-to-use package of tools that you can simply assemble or use to resole your boots. It is, however, worth noticing that those kits are not personalized to your boots, which means that the kits may lack certain parts to fix your boots. They are priced roughly $30 depending on the number and quality of tools they provide.
With a hammer on hand, you can safely resole your boots at home for as cheap as $8 or as expensive as $100. Repairing boots should be straightforward and only require time and craftwork. Keep in mind that you may worsen your boots' condition, such as more scratches, tears, having glue in wrong positions, or failing to align soles with the upper parts. It may cost you even more to fix the mistakes than the original costs.
It's time to resole your boots!
Think of your boots' soles as your car's tires. When your tires show vital structural wear and tear, they need to be replaced immediately for your ultimate safety. The same concept applies to your boots' soles.
The easiest way to determine a shoe resole is by paying attention to the level of protection of your boots. If you spot water or moisture coming into your perfect work boots through the sole, it's time to give your boots some thorough fix. When the former sole begins to reveal signs of distress, fraying, and is clearly coming apart, it's time to schedule a boot resole.
You may wonder how much destruction of your boots' sole requires immediate attention. The wear on two essential areas of the entire sole: the welting and the tread, determines when to resole work boots.
The way the sole is fixed to the bottom of the boot is termed welting. Work boots of the excellent standard are double-welted, with an outer sole stitched to a midsole and then to the remainder of the shoe. This two-layer stitching ensures a waterproof seal around the sole as well as a durable structure that can withstand further wear. The tread is the area on the bottom of the boot that provides the necessary stability and traction.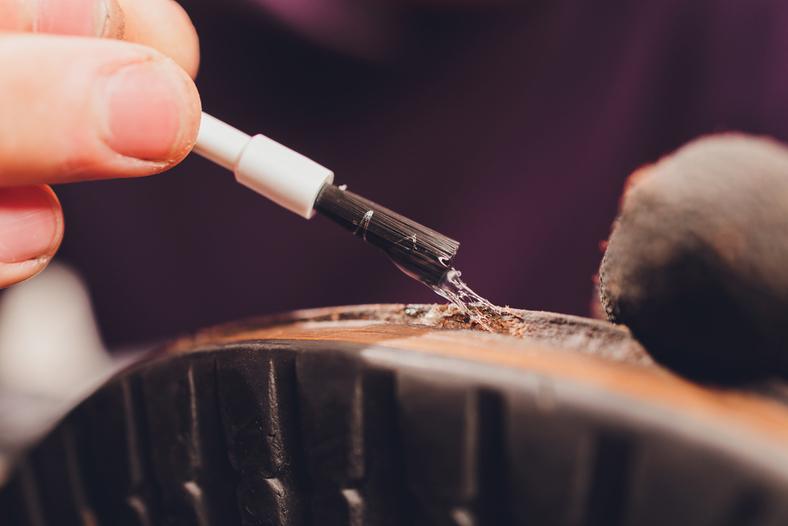 Whether it is worth it to resole boots
This is a big question to answer. Considering the condition of your boots, the resole costs, the costs of purchasing new equivalently high-quality boots, and personal preferences, you can find yourself a proper answer.
Here is a rule of thumb: It's not worth replacing a pair of boots if the upper portion dries out or tears. However, if the uppers are in good condition, the bottoms can still be repaired, extending the lifespan of your boots.
Resoling your work boots is generally less expensive than buying a brand-new excellent pair if you own premium work boots costing hundreds of dollars. Boots repair will prolong the life of your boots for a fraction of the price of replacement. Plus, work boots from a reputable manufacturer can be rebuilt multiple times with no problems, ensuring a long service life.
Furthermore, you may have grown affection toward your boots. Whether they are a birthday present from your parents or your significant other, or the first boots you ever purchased with your own savings, you may have developed an attachment with your boots and don't want to part from them. It is totally fine to feel that way. Sometimes, your torn boots are worth more than their monetary value because of your personal preferences and memories with them. In that case, restoring the condition of your boots is appropriate.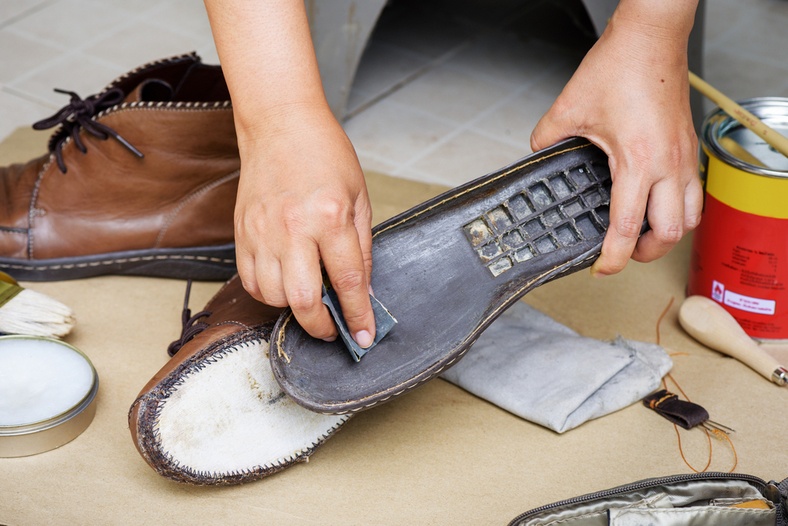 The cost of resoling your boots
If your boots show holes, tears, spongy bottoms, or lose traction when you walk under the rain and snow, it is the prime time to resole them. The expenses of repairing the soles depend on the quality and types of materials (leathers, rubber, or a combination of both). Superior leather soles tend to be on the high-end price compare to rubber or combination types. However, the premium materials, durability, classic appearance, and texture are often worth the high cost.
Other factors contributing to the cost are the number of labor hours if the task is done by professionals, the types of boots (regular or work boots). Notably, the degree of soles' damages accounts for a big part of the cost. Understandably, if your soles only show a minor tear, the labor cost and materials used to repair it will be hugely reduced. On the other hand, severely ruined soles may need a replacement, requiring more labor time, expertise, and materials.
Overall, if you have a professional to resole your boots, prices can vary by location and store. For a half sole, prices range from $30 to $70, and for an entire sole, prices range from $40 to roughly $150.
Some common types of boots soles
Leather soles: Leather soles in a cool white leather sneakers are the most formal of all the boot sole styles. They're a popular choice for dress boots because they provide substantial comfortability and fitness. Leather soles come in three varieties, Single leather soles, Double leather soles, and Triple leather soles.
Rubber soles: Rubber soles of the rubber boots are the most popular alternative to leather soles and can be used in all styles of footwear. Rubber soles are long-lasting, abrasion-resistant, and water-resistant. Nevertheless, they are prone to crack over time and tend to look chunkier than leather soles.
Combination soles: A leather sole with attached rubber pieces in the heel and forepart distinguishes combination soles, which differ by boot brand and size. They are a compromising option if you cannot decide between leather or rubber soles.
Dainite soles: This type is very suitable for dress boots. The Harboro Rubber Co. in England produces Dainite soles exclusively. Dainite soles are known for their low profile and recessed circular lugs. Because of the recessed lugs, the sole has a much lower profile than most lugged sole alternatives.
Commando soles: A commando sole is distinguished by its massive protruding lugs, which offer excellent grip and traction. Commando soles are very bulky and can result in a clunkier boot shape, in addition to contributing a lot of visual weight to a boot's profile.
Ridgeway soles: Ridgeway soles are lighter than commando soles, but they are heavier and have a higher profile than the Dainite boot soles. Overall, they are a fantastic option for you to replace old damaged soles.
Cork Nitrile soles: Cork and rubber combine to create cork nitrile soles. This mix results in a compact and lightweight sole that is excellent slip-resistant.
Wedge soles are known for their spongy feel and lack of a fixed heel. They, however, do not offer enough grip for hiking boots, but they are good enough for work boots and read more the different of hiking boots vs work book.
Crepe soles: Rubber crepe soles have a distinct "zigzag" pattern on the outsole. They are only suitable for casual boots because they do not offer sufficient traction for work or outdoor sports. The plus side is the affordability, and accessibility crepe soles offer.
FAQs
Is it safe to wear worn boots?
The answer is undoubtedly no. Shin splints, Achilles tendonitis, knee problems, and plantar fasciitis, a frequent condition of heel pain, may also be caused by a lack of support and cushioning. The risk of twisting an ankle grows as the footwear's soles become uneven because of wear and tear. Stress fractures can be exacerbated by old shoes in serious situations.
How much time does the boot resole take?
Depending on the stores you go to for boot repair, how busy they are at the time, and the conditions of your boots, the amount of time spent on boot resole can vary. Please expect three to four weeks for your recrafted shoes to arrive.
Can I resole old boots?
You can resole any boots as long as the upper parts are in good condition. The rule of thumb is to compare the cost of your boot resole and the price of a brand-new pair of boots so that you can determine if the resole is worthwhile. If the boots mean so much to you because of the attachment and memories you have with them, you can certainly repair them despite the higher costs.
What is the optimal number of times you can resole your boots?
Most producers have a cap on how many times their boots can be resoled, typically two to three times. However, if your boots are already in decent shape, you might get them repaired at a different cobbler for more time.
How do you tip a boot repair?
Conventionally, shoe repair does not require any tip. It means that you don't have to pay extra for your boot resole since you are not obliged by social norms. However, if you make special requests or your boots are quite challenging to repair, you may add a tip out of courtesy.
Are there still cobblers?
The majority of modern cobblers own their own shoe repair shops. Cobblers have existed for about as long as shoes have. Few cobblers nowadays still work as shoemakers. That being said, traditionally, the two occupations have remained distinct.
What is the best type of soles?
Leather outsoles are generally the most preferable because they have a lot of advantages: they're absorbent, versatile, easy to break in, sound fantastic when walking. Most importantly, they're elastic, so they conform to your foot over time. People feel them very cozy in that respect.
What are Vibram soles?
Vibram is an outsole maker that makes soles for both work boots and outdoor boots. They are distributed all around the world. Although they may not always be the greatest of all time, they are the benchmark against which all others are measured.
How long do Vibram soles last?
Any product's longevity ranges from person to person, based on how often you use it, in what situations, and under what circumstances. On the other hand, Vibram soles are praised for their toughness, and some users have claimed that they have lasted for up to 15 years.
How can I tell if I overpronate?
Examine the bottoms of your shoes for signs of wear and tear to determine whether or not you overpronate. There's a fair chance you overpronate if the majority of the distress is on the inward sole between the ball of the foot and on the big toe.
Conclusion
If saving your beloved boots is your priority because they carry unforgettable memories or are very high-end work shoes, you can choose boot resole over a new purchase. You may end up paying more for your boots repair, but the monetary values may not be as worth it as your attachment to your boots.
It is estimated that boots resole done by professionals can cost you $30 to $150 depending on types of sole damage, sole materials, a number of labor hours, stores, and other factors. Resoling boots at home is a straightforward but time-consuming process. It requires you meticulous skills, detail orientation, and essential tools, such as shoe glue, hammers, new soles, and so on.
It is highly recommended that you plan 2 to 3 weeks ahead for your boots resole so that you can have your boots back for work or some special occasions.