If you have to work in a hazardous environment where there is a high risk of getting injured, it is necessary to wear safety shoes. Besides, if you need to wear them all day, either just stand or walk, you need to make sure your safety shoes comfortably fit your feet to prevent fatigue and other potential foot problems. That's why safety shoe sizing and fitting are always important factors to consider before choosing your suitable pair of safety footwear.
Therefore, in this post, I will give you some useful tips on how to measure your size when choosing affordable safety work boots and how to know if your shoes perfectly fit your feet. Since the fit can also affect how secure your safety shoes are, I will also cover what to consider when looking for a good pair of safety shoes. Let's dig into it!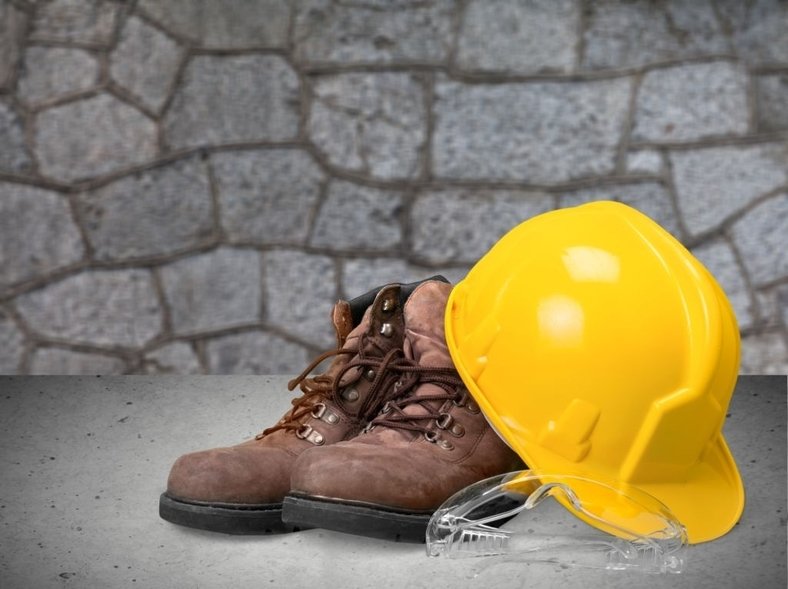 What Size of Safety Shoes Should I Buy?
Different people have different sizes of feet. Therefore, no safety shoes have the same size. In other words, there are no "one size fits all" types of safety shoes.
One crucial thing you need to keep in mind is that it is completely normal that your feet will swell a little bit at the end of the day. Taking this into account, it is recommended to add a little bit extra room for your feet to breathe and feel more comfortable when wearing them.
In case you have to work in cold weather outdoors, it is necessary to get a pair of safety shoes with extra insulation. The insulated lining will keep your feet from freezing. Just make sure it is roomy enough; otherwise, the added layers can irritate your skin.
Just like other types of work boots, it is best if you can try on your new safety shoes before deciding which one to buy. Since they are not a cheap deal, and you might want a pair that lasts for an extended period. In addition, remember to wear the socks that you usually wear when trying on your new shoes. By doing this, you can better know how comfortable the shoes are for you to wear them all day.
As I mentioned above, you should try on your new safety shoes at the end of the day as your feet tend to swell slightly at that time. This way, you can decrease the possibility that the shoes you want to buy are too narrow.
In general, safety shoes tend to be produced a little bit more spacious than most other types of footwear in terms of sizing. Of course, this also depends on different styles and models. Hence, you might not need to go up a half or one size as other normal shoes. Just keep in mind to never assume your size to accommodate your socks. This might become too tight for you.
Safety Shoes Size Chart
In this part, I will give you a safety shoe size chart for both women and men. This way, you can easily know what size your feet are in different units.
Women's Safety Shoes Size Chart
The following table gives you the safety shoe size conversion chart for women. That chart contains foot measurements in centimeters and inches for the US, the UK, and EU. Let's have a look to see what size is suitable for you.
| | | | | |
| --- | --- | --- | --- | --- |
| US Women | EU | UK | Length (inches) | Length (cm) |
| 3 | 32.5 | 2 | 8 | 20.3 |
| 3.5 | 33 | 2.5 | 8 ⅛ | 20.6 |
| 4 | 33.5 | 3 | 8 ⅜ | 21.0 |
| 4.5 | 34 | 3.5 | 8 ½ | 21.6 |
| 5 | 34.5 | 4 | 8 ⅝ | 22 |
| 5.5 | 35.5 | 4.5 | 8 ⅞ | 22.5 |
| 6 | 36.5 | 5 | 9 | 22.9 |
| 6.5 | 37 | 5.5 | 9 ⅛ | 23.2 |
| 7 | 37.5 | 6 | 9 ⅜ | 23.7 |
| 7.5 | 38 | 6.5 | 9 ½ | 24.1 |
| 8 | 38.5 | 7 | 9 ⅝ | 24.5 |
| 8.5 | 39 | 7.5 | 9 ⅞ | 25.0 |
| 9 | 39.5 | 8 | 10 | 25.4 |
| 9.5 | 40 | 8.5 | 10 ⅛ | 25.7 |
| 10 | 41 | 9 | 10 ⅜ | 26.3 |
| 10.5 | 42 | 9.5 | 10 ½ | 26.7 |
When it comes to safety shoes, finding the right size is crucial. If you have wide feet, check out this wide shoe size chart for both men's and women's shoes to ensure a comfortable and secure fit while on the job. This chart includes sizes for a variety of brands and styles.
Men's Safety Shoes Size Chart
Below is the detailed safety shoe size chart for men. It includes the international standard sizes for the US, the UK, and EU measured in both inches and centimeters and see also wide shoe size charts.
| | | | | |
| --- | --- | --- | --- | --- |
| US Men | EU | UK | Length (inches) | Length (cm) |
| 6 | 38 | 5.5 | 9 ½ | 24.1 |
| 6.5 | 38.5 | 6 | 9 ⅝ | 24.5 |
| 7 | 39 | 6.5 | 9 ⅞ | 25.0 |
| 7.5 | 39.5 | 7 | 10 | 25.4 |
| 8 | 40 | 7.5 | 10 ⅛ | 25.7 |
| 8.5 | 41 | 8 | 10 ⅜ | 26.3 |
| 9 | 42 | 9 | 10 ½ | 26.7 |
| 9.5 | 42.5 | 9.5 | 10 ⅝ | 27.0 |
| 10 | 43 | 10 | 10 ⅞ | 27.5 |
| 10.5 | 43 | 10 | 11 | 28.0 |
| 11 | 44 | 10.5 | 11 ¼ | 28.7 |
| 11.5 | 45 | 11 | 11 ⅜ | 29.5 |
| 12 | 46 | 11.5 | 11 ⅞ | 30.1 |
| 13 | 47 | 12.5 | 12 ¼ | 31.0 |
| 13.5 | 48 | 13 | 12 ¾ | 31.6 |
How To Fit Safety Shoes
When it comes to safety shoes, you might think of protection first. Yes, that's right, but not enough! Comfort is always another important factor to consider besides safety since you will spend most of your day wearing your shoes. In this regard, getting the perfect and comfortable fit is extremely crucial.
But how safety shoes should fit. In general, safety shoes should fit just like normal shoes do. So, a pair of safety shoes with excellent insoles will support not only your arch but also your heel and the ball of your feet. This way, you don't need to spend lots of force on every step, reducing fatigue significantly.
What's more, movement can lead to friction if you choose the wrong size. This can result in blisters and sore feet, which is absolutely not something you want when spending all day wearing such a pair of shoes.
When it comes to fitting, lace-up safety shoes will be better than comfortable slip-on work boots. This is because shoelaces allow you to adjust them to get the most comfortable feeling. What's more, when you want to wear thicker socks due to cold weather, you can easily alter the shoelaces for the best fit.
Just be sure not to tighten your shoes because it can lead to circulation problems and also decrease the amount of air getting in and out of your shoes. This can result in excess sweating just because your feet can't breathe correctly. And you might end up getting your shoes smelly.
If you feel a little bit of slipping when putting your feet on the shoes, this might be a sign of being slightly large. In this case, a supportive insole can help a lot. It not only minimizes movement but also offers extra comfort.
Another big difference between normal shoes and safety shoes is the reinforced toe cap. This factor plays a vital role in how your safety shoes will fit. If your shoes are too small or too big, the protective toe cap might not cover the right area of your toes, as well as not sit properly. This can result in irritation and lessen the amount of safeguarding they offer.
Safety Shoes Comfort
I have discussed the fit and protection that you need to consider when buying safety shoes. Another important thing to keep in mind is comfort. It's good to get the right protection for your feet when working under harsh conditions. However, it is far better to get the proper protection, fit, and comfort. This is even more crucial for those who have foot problems, such as metatarsalgia, painful feet, plantar fasciitis, etc.
Usually, new safety shoes are a little bit sturdy, stiff, and don't provide much flex for your feet to move at first. Having said that, they can be pulled out and softened a bit. I would always recommend breaking in your new safety shoes before continuing to wear them for an extended period. You can try wearing them indoors for a few hours with a pair of thick socks that will make them much more squishy. Another great way to soften and stretch your new safety shoes is to heat them with a hair dryer.
Besides, you should make sure your socks are made from comfortable, natural materials to ensure all-day comfort when wearing safety shoes. It is recommended to opt for socks made from wool or cotton rather than man-made materials. This is because the previous materials are better at absorbing sweat and moisture, reducing sweaty feet, preventing bad smells, and keeping your feet fresh and cool.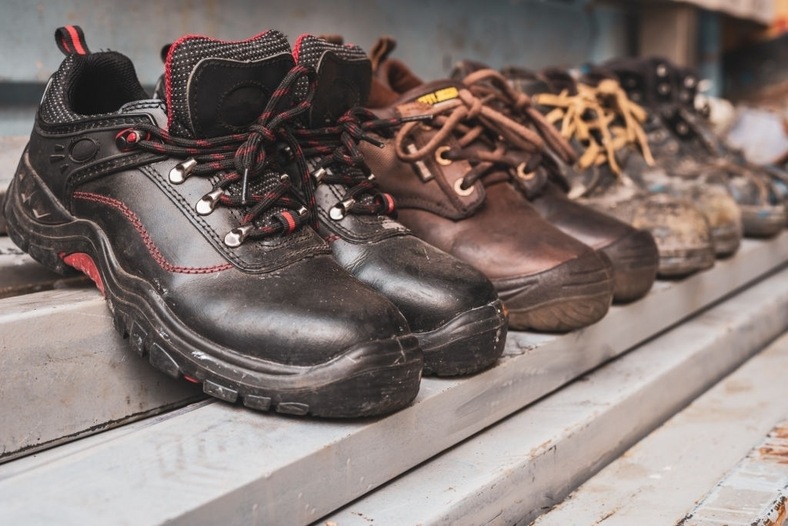 How to Measure Safety Shoes When Buying Online
When you decide to buy a new pair of safety shoes, never count on your normal shoe size. The dimensions and sizes of safety shoes will be relatively different from casual shoes due to their protective properties.
But, just like other types of footwear, you can start with measuring your feet. Let's take a look at the following steps to know how to measure safety shoes when buying online.
Calculate your feet dimensions in the afternoon
Stand upright while measuring
Wear your regularly worn socks
Measure both feet with their exact sizes
Drawing the shape of your feet using a pen or pencil
Measure your foot length from heel to toe
Use a pen or measuring tape to calculate your width fitting
Decide your feet size using the conversion size charts above
How To Try On Safety Shoes Or Safety Boots?
If the previous part gives you instructions on measuring your feet when you have to buy safety shoes online, here, you will find detailed steps on finding your safety shoe size when trying them on at a local store.
Entirely lace up your safety shoes
Walk around in your new safety shoes to feel and test the comfort
Make sure that your feet and your shoes flex at the same position
Be careful if you don't feel anything at the protective toe cap in the bending area
Your arch and the shoe arch should be in perfect alignment
You need to feel well supported at the heel area
There should be enough traction in the heel cup
Be sure your toes don't touch the end (enough toe room)
We've compiled a list of top 17 most durable composite toe boots to have some ideas for your upcoming one.
Tips: Try on your new safety shoes on a hard floor or carpet to make sure they give you a perfect fit. This also keeps the outsoles clean in case you want to exchange another pair.
Ensure that you have enough room in the toe box to freely wiggle your toes, and try to stand up and walk around in the shoes to ensure proper fit. Consider the steel toe boots stretching tricks if your shoes are slightly tight to alleviate pressure, discomfort or hotspots around the front of your foot.
Conclusion
Safety footwear or shoes have become really important these days, typically for those who work in extreme working conditions. Therefore, safety shoe sizing and fitting are always crucial to keep in mind before selecting any pair. They not only ensure your safety but also make you feel more comfortable and supported when you have to get them on your feet all day long.