The average weight of a 5-year-old child is a question that many parents are concerned about today. This article will help you answer questions to understand your child's current situation.
Not growing as fast as in the first years of life, the height and weight of 5-year-old children grow slowly and steadily over the years. The average 5-year-old can gain 2.2 – 4.4 pounds.
There is no need to monitor the baby's weight every month, like in the newborn period. With 5-year-olds, parents can monitor their children's weight every year or every six months to understand their current development.
Monitoring the weight of 5-year-old children helps parents quickly detect signs of abnormal health in their children. Such as problems of malnutrition or overweight, rickets, etc., to take timely measures to handle them.
This article gives you the average weight of a 5-year-old and the factors influencing their weight. Let's take a look.
What Are the Average weight for Five year olds?
The average weight for 5-year-old boys is 40.8 lbs, and the average for 5-year-old girls is 39.7 lbs. The table below shows the weight distribution as a percentage of the 5-year-old population.
Current unit = pounds. View this page in kilograms.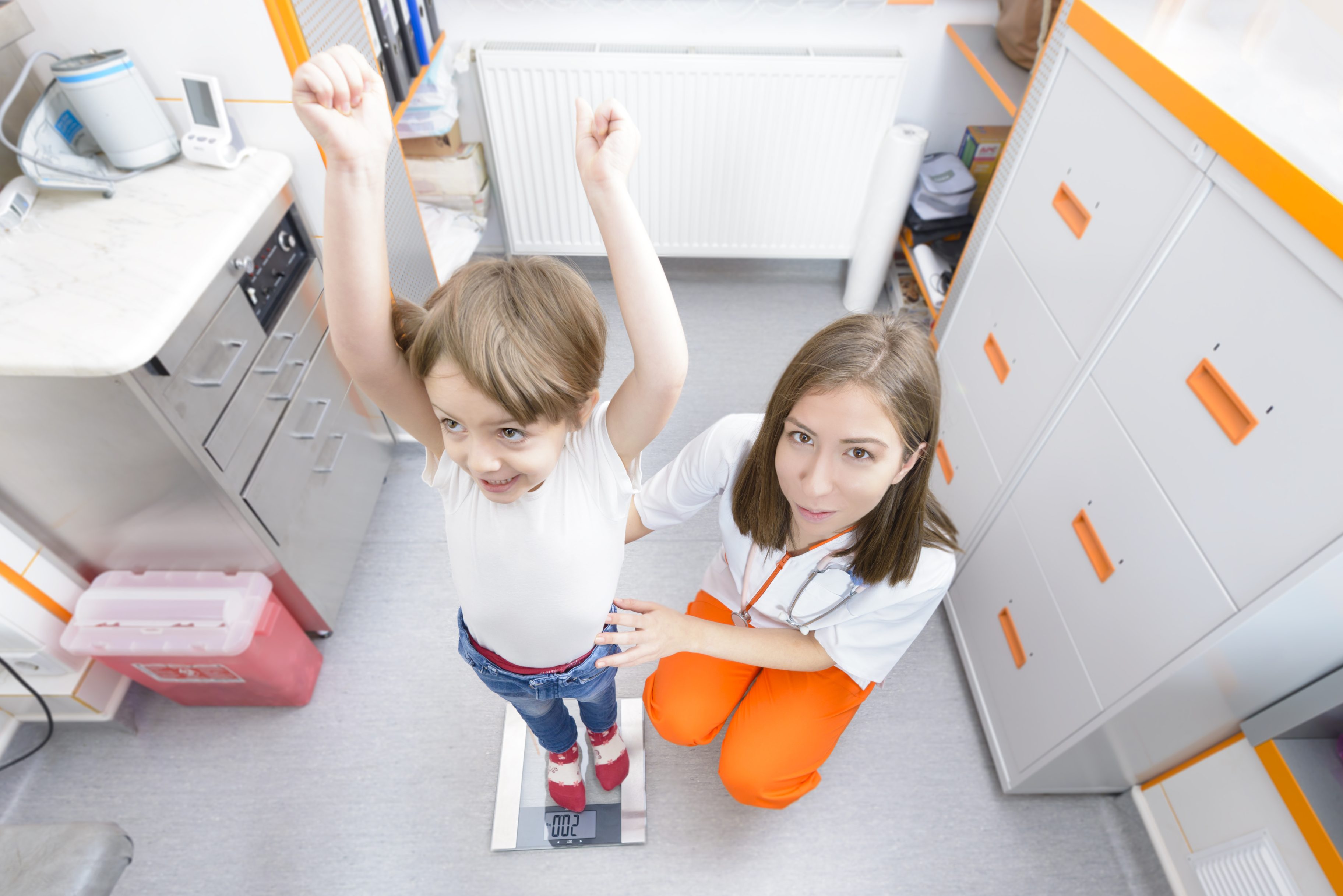 5-year-old girls under 32 lbs or over 49 lbs and 5-year-old boys weighing under 34 lbs or over 49 lbs may want to consult a professional. Children whose weight falls outside the 5th or 85th percentile should seek professional advice to determine if further evaluation is needed.
Body Weight Percentile Chart for Five Year Old Boys
| | | |
| --- | --- | --- |
| Percentile | Weight (Ibs) | Weight (kg) |
| 3rd | 32.8 lbs | 14.9 kg |
| 5th | 33.6 lbs | 15.2 kg |
| 10th | 34.9 lbs | 15.8 kg |
| 25th | 37.5 lbs | 17 kg |
| 50th | 40.8 lbs | 18.5 kg |
| 75th | 44.7 lbs | 20.3 kg |
| 90th | 48.9 lbs | 22.2 kg |
| 95th | 51.8 lbs | 23.5 kg |
| 97th | 53.9 lbs | 24.4 kg |
Body Weight Percentile Chart for Five Year Old Girls
| | | |
| --- | --- | --- |
| Percentile | Weight (Ibs) | Weight (kg) |
| 3rd | 31.6 lbs | 14.3 kg |
| 5th | 32.4 lbs | 14.7 kg |
| 10th | 33.8 lbs | 15.3 kg |
| 25th | 36.3 lbs | 16.5 kg |
| 50th | 39.7 lbs | 18 kg |
| 75th | 44 lbs | 20 kg |
| 90th | 48.8 lbs | 22.1 kg |
| 95th | 52.4 lbs | 23.8 kg |
| 97th | 55 lbs | 24.9 kg |
If you're wondering what is the average weight for 7-year-old boys and girls, check out our growth chart. Understanding where your child falls on the chart can help you determine if they are within a healthy weight range or if adjustments need to be made in their diet and exercise routine.
What factors can affect a child's weight?
1. Genetics
According to experts, based on the child's weight monitoring table, genetics determine about 23% of a child's development. Because from the very beginning, the fetus receives signals from its parents, and according to that gene, it begins to develop gradually.
Therefore, when the baby is born, the ratio of weight factors will depend more or less on the parents. If you want your baby to develop better, it must be adequately cared for and provided with adequate nutrients.
2. Nutrient regimen every day
Daily care and nutrition are decisive factors for a child's development. Children need to be regularly monitored and supplemented. Let's supplement with vitamins and calcium to help your baby develop mentally and physically comprehensively.
To achieve and maintain a healthy weight, it's essential to follow a balanced diet. Understanding how many calories your body needs can help you manage your weight. Check out the calorie calculator on Hood MWR to calculate your daily caloric needs based on your age, height, weight, and activity level.
3. Surrounding environment
That is also one of the factors that have a significant impact on the development of children. It is necessary to ensure that the surrounding is a new environment, without too much noise, dust, pollution, etc.
4. Physical training
Physical exercise is a method that is both good for a child's development and ensures a healthy baby. For children who are slightly overweight, this is an effective method to regain their weight.
If you are a senior and looking for functional exercises, then you should check out our article on 11 Functional Exercises for Seniors to Improve Strength. These exercises can help you build your muscles, increase endurance, and improve flexibility.
5. Care and love from parents
In the opinion of health researchers, the development of children also depends mainly on the care process of their parents. The closeness of parents will bring children psychological and spiritual comfort—which helps them to develop well mentally and physically.
How to Support A 5-Year-Old's Growth
Like other ages, to help children develop and maintain their reasonable weight, parents should pay special attention to nutrition and sleep. Besides, let's encourage children to move and exercise more.
At the age of 5, children should reach an average weight of around 40 pounds. If you're concerned about your child's growth and development, it's important to monitor their weight in relation to their height and age. Check out this average weight for 6-year-old boys and girls to get an idea of what to expect in the coming year.
1. Complete nutrition
5-year-old children also need to be fully supplemented with nutrients from the entire groups of substances: starch, protein, fat, vitamins, and minerals in 3 main meals. At the same time, parents can supplement their children's nutrition with 2-3 snacks in a day with other nutritious foods such as fruits, yogurt, fresh milk, bread, etc.
2. Protect your 5-year-old baby's sleep
The ideal time for babies to sleep at this stage is about 10-12 hours. Without enough sleep, five-year-olds will be in a bad mood and be irritable or unhappy during the day.
To help children have a good night's sleep, parents should limit the appearance of electronic devices in the baby's room. These devices not only make it difficult for babies to sleep, but many studies also show that electronic devices cause obesity in children.
3. Games for brain and physical development
Children have independent thinking, thinking, and forming their personalities at age five. Children also know how to read, pronounce words clearly and love movement games.
Encourage children to participate in healthy activities such as running over obstacles, cycling, skateboarding, etc. Games that require high thinking such as lego, hide and seek. Modeling games for cars, houses, etc., are also very suitable for 5-year-old children to develop their brains.
Healthy balanced diet for five-year-olds
Proper and moderate nutrition is essential for your child's health. Three balanced meals a day include lean meats, fruits, and vegetables. Low-fat dairy products can prevent your 5-year-old from developing health conditions like osteoporosis later in life.
Besides, encourage your children to be active to avoid being overweight or obese. According to Baylor College of Medicine, the average 5-year-old needs about 40 calories per pound of body weight. Always consult your pediatrician before changing your diet.
Breakfast is the most important meal of the day. Eating healthy balanced meals helps manage weight, maintain lower blood cholesterol levels, and experience fewer upset stomachs. Protein is essential in building, functioning, and maintaining your muscles and body tissues. Meats are a good source of protein, iron, and B vitamins—your 5-year-old needs 3 to 4 oz. meat daily.
In addition, fruits and vegetables are rich sources of vitamins, minerals, and fiber and are low in calories. A healthy balanced diet will provide a 5-year-old with adequate vitamins and minerals. Adding fruit like bananas to your child's breakfast is an excellent way to start the day. The average 5-year-old needs five servings of fruit and vegetables a day.
To maintain a healthy balanced diet for your five-year-old, it is important to consider their weight range. According to Hood MWR, the average weight for a 6-year-old boy is around 45 pounds and for a 6-year-old girl is around 44 pounds. Ensuring your child follows a balanced diet can help them regulate their weight and stay healthy.
How to help my five-year-old lose weight
Childhood obesity has become one of the top health concerns in the United States. A diet high in fat and sugar, genetics, overeating, and a sedentary lifestyle can contribute to overweight children. You can help your children lose weight and start a healthy life by promoting daily activity and better food choices now.
Limit your child's daily calorie intake. Moderately active 5-year-olds, male or female, need 1,400 to 1,600 calories per day. Daily calorie needs to increase or decrease, depending on whether your child is active or passive.
Besides, provide your child with various healthy food options for each meal and snack. Encourage your child to eat slowly and tell you when hunger is satisfied. Limit sedentary behaviors. Encourage exercise and active hobbies.
Final Thoughts
The average weight for 5-year-old boys is 40.8 lbs, and the average for 5-year-old girls is 39.7 lbs, respectively. Parents, teachers, and guardians can help children maintain a healthy weight by helping them develop healthy eating habits and limit calorie-rich temptations. You can also keep your kids physically active, reduce screen time, and get enough sleep.
Hopefully, the above information has helped parents get answers and understand more about how to take care of a 5-year-old child.