Do you need to clean your new Birkenstock after a few days of wearing them? Do you want to know how to take care of your Birkenstocks well? Check it out right now in my article.
Birkenstock is a brand having well-known footwear products that are popularly used in the world. Like other footwear, they need to be cleaned regularly to preserve their good-looking appearance. So, how to wash Birkenstocks? What should be prepared to clean them well without causing any damage for them? In the following parts, you can check three cleaning ways for three types of Birkenstocks. You will also find useful information for washing them, cleaning the footbed part, or information on the cleaner and care kit for Birkenstocks.
We've compiled a list of the top 18 most comfortable flip flops for women to have some ideas for your upcoming one.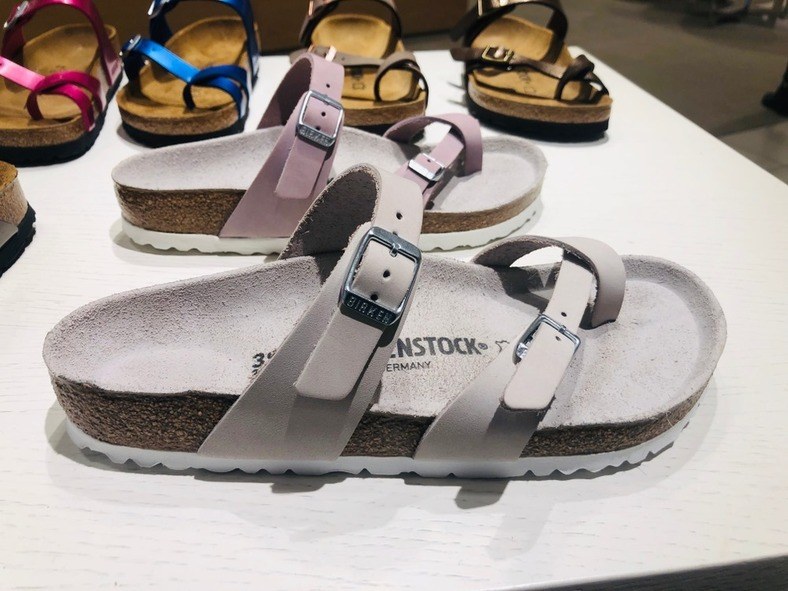 Best Ways to Clean Birkenstocks
Suede Birkenstocks
What will you need to clean Suede Birkenstocks?
To clean the suede Birkenstocks, you should prepare the following items:
A suede brush
A suede eraser
White vinegar
A soft cloth
How to clean Suede Birkenstocks?
You can follow the steps below for making your Birkenstocks clean:
Step 1: Slightly brush your Birkenstock with the suede brush to remove excess dirt or grime.
Step 2: Use your suede eraser to clean scruffs or stains. It helps to remove the in-depth marks. You can flexibly switch between the suede eraser and the suede brush to sweep out the dirt.
Step 3: Next, white vinegar will help you with the deepest stains. Rub a small amount of vinegar onto the soft cloth prepared, then gently rub the cloth onto the stain. You can repeat the process if you need; however, please do not scrub the shoes as this can damage them. Related simple cleaning methods to clean white mesh shoes.
Leather Birkenstocks
What will you need to clean Leather Birkenstocks?
You should prepare the following things for performing the process of cleaning your Leather Birkenstocks:
Two soft cloths
Leather cleaner or saddle soap
Water
How to clean Leather Birkenstocks?
The process should be performed as follows:
Step 1: Make the two cloths dampened (avoiding soaking them wet). Put a small amount of leather cleaner onto one cloth or rub it on the surface of saddle soap to make a lather.
Step 2: Use the circular motion to rub the cloth at step 1 over the stain. If there is any excess solution, use a clean cloth to wipe it out.
Step 3: Allow your Birkenstocks to dry before moving with any further repairs on them.
Synthetic Birkenstocks
What will you need to clean Synthetic Birkenstocks?
The following will be needed for washing your Synthetic Birkenstocks:
How to clean Synthetic Birkenstocks?
Several Birkenstocks are made with polyurethane, which can be a little more simple to clean in comparison to other ones created from leather and suede. The cleaning steps will be as follows:
Step 1: Use the brush to remove dirt and grime from your Birkenstocks. You can use a stiff bristle brush in this step.
Step 2: Dampen the cloth and then rub onto the soap for making lather, then use such a cloth to rub on the stains to remove them.
Step 3: Let your Birkenstocks be dry by laying them out in a dry area. Please note to avoid direct sunlight.
How to Clean Birkenstock Sandals Footbed
Necessary items
The footbed is the part that needs to be clean most, as it is easier to become smelly quickly. For cleaning this part, you need to prepare:
A suede brush
Two soft cloths
Baking soda
A small bowl
Water
How to clean Birkenstock Sandals:
You can perform the following guidance step by step:
Step 1: Use the suede brush to wipe the dirt out from the footbed.
Step 2: Put two parts of water and one part of baking soda in a small bowl, then mix them to create a paste.
Step 3: Put a small part of one cloth into the paste and then scrub it into the footbed in a circular motion. Make the other cloth damp and wipe out any excess solution by it.
Step 4: Let your Birkenstocks be dry before moving on with another round of cleaning.
You can check the top list of 15 sandals for plantar fasciitis.
Birkenstock Cleaner
To make convenient for customers of their products, Birkenstocks created its cleaner and refresher spray. They recommend using the spray every three to four weeks to clean your Birkenstocks as well as protect them well. It is very simple to use; you apply the cleaner and refresher spray onto the footbed and use the bristle brush to clean it. The process is easy but effective and helps you to save time a lot.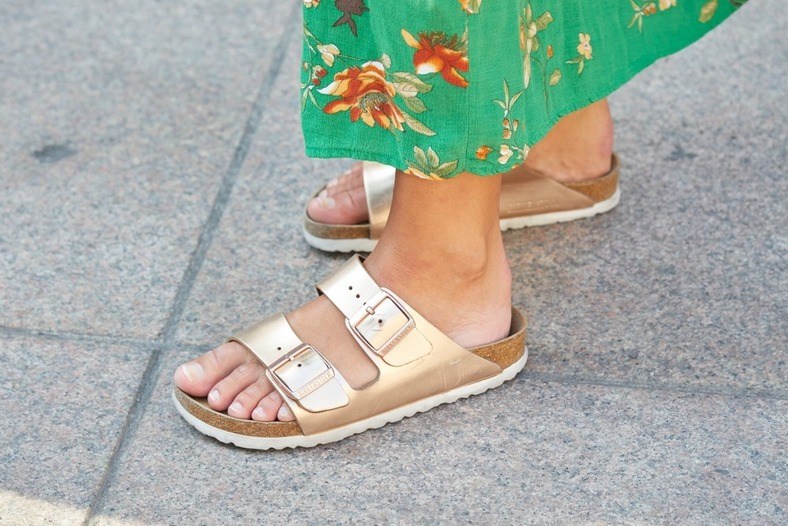 Birkenstock Care Kit
It consists of everything you need to take care of your Birkenstocks. The care kit consists of the cleaning brush, cleaner and refresher spray, cork sealer, and water and stain repellent spray.
The cork sealer will be used to protect the cork soles and prevent them from drying out. You can apply the sealer after around 10-15 times of wearing your Birkenstocks. It helps to extend the longevity of your Birkenstocks.
The cleaner and refresher spray together with the cleaning brush will help you to clean your Birkenstocks easier and better. Besides, the water and stain repellent spray protect your Birkenstocks from water or stains. Make sure to remove the excess dirt before applying the repellent spray on your Birkenstocks. You can use the spray every one or two months to protect your Birkenstocks well.
Frequently Asked Questions
The frequently asked questions regarding how to clean Birkenstocks below may provide you with a number of useful information to help you to take care of your Birkenstocks better. So, check it out.
How do you clean smelly Birkenstocks?
Baking soda can help to wipe the smell out. You can sprinkle a little baking soda on the footbed and let it be there for a few hours or overnight. After that, use a soft cloth to clean the excess baking soda on the Birkenstocks.
How long should Birkenstocks last?
It depends on the frequency of wearing them. They can last for a decade or at least several years.
Do Birkenstocks get smelly?
Yes, if you wear them a lot. The Birkenstocks can be smelly when being exposed to bare feet and sweat all the time or wearing for a long time without cleaning. Thus, you should clean your Birkenstocks regularly and follow the right ways of cleaning.
Is the Birkenstock cleaning kit worth it?
Yes, it is. The Birkenstock kit is highly recommended for those who wish to extend the longevity of their Birkenstocks. It supports a lot for your sandals and also helps you to save time in the cleaning part.
Can you wash Birkenstocks in the washing machine?
You should never put your Birkenstocks in the washing machine, as the machine will have a big force on these sandals, which can ruin them. On the contrary, you should gently wash them by following the above-mentioned cleaning guidance.
How do you remove toe stains from Birkenstocks?
You can mix the water with baking soda according to the ratio of 2:1 and create a paste-like mixture. Then scrub the paste slightly on the footbed with a brush. You can also add more baking soda if your mixture is watery.