Cleaning cowboy boots might not be an easy task as you will have to consider many factors. For example, if you use the wrong detergent, your boots may end up damaged. However, you can still accomplish this difficult task if you follow the correct process step by step and use a suitable cleaning method.
There is a whole range of boot care products on the market, ranging from simple polish to heavy-duty conditioners and more. At the same time, there are a ton of articles online about how to clean cowboy boots. It can be confusing and difficult to decide which method to use. However, we're here to help you decide with this quick guide to cleaning your boots.
How To Clean The Outside Of Muddy Cowboy Boots?
There is no doubt that mud is the most common and stubborn stain on cowboy boots. To wash muddy cowboy boots, you should follow these steps below:
To clean the outside of muddy cowboy boots, check out these 2 Ways To Clean Muddy Shoes Quickly that also work for cowboy boots. You can either use a mixture of dish soap and water or baking soda and vinegar. Follow the instructions in the article to get those boots looking brand new again.
Step 1: Spray Warm Water On The Mud Stains
This step is an excellent preparation to clean your muddy boots. It will make the mud stain easier for you to wipe off.
You could use a spray bottle and directly spray warm water on the mud stain with sticky wet mud. However, you should use a soft brush to sweep it with a dry mud stain before pouring water on it.
Step 2: Wipe Off The Mud
Use a damp rag to wipe the mud stains. If the rag becomes too dirty after one or two wipes, you should wash it before wiping again. Then, repeat the process until the surface of the boots is relatively clean.
For more popular cowboy boots, you check out this related article about high-quality cowboy boots for women here.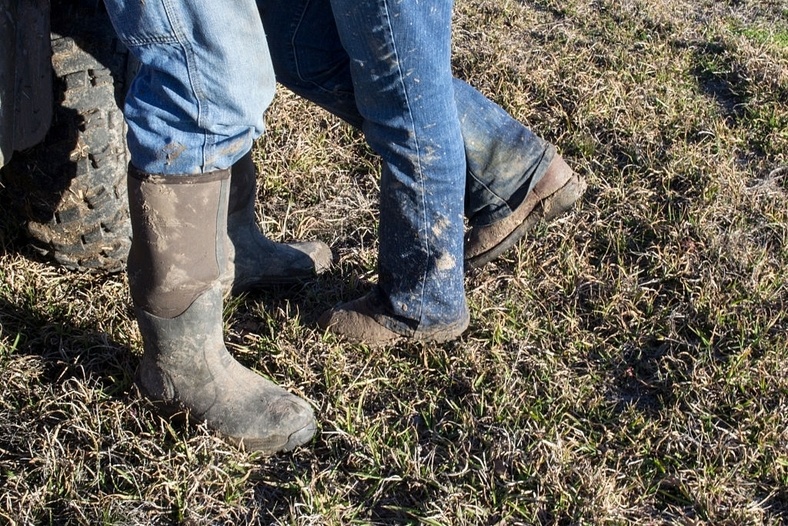 Step 3: Clean More Carefully
Now, you should focus on the hard-to-clean areas of the cowboy boots. Even if you feel your boots are clean, mud stains may still be "hiding." Continue using your rag and carefully wipe each seam on the boots.
If the stains are stubborn, you could use a toothbrush to remove them instead of rubbing them rudely.
Step 4: Clean Your Cowboy Boots With Saddle Soap
For double cleansing, you could use saddle soap and a soft brush to scrub your leather cowboy boots. Firstly, wet your brush and apply the saddle soap. Then, gently rub this brush on your boots.
Step 5: Remove The Saddle Soap
You should not pull water directly on your cowboy boots in this step, especially if they are not waterproof. Instead, it would be best if you used a dry and well-absorbent rag to wipe the soap off the surface of the boots.
Wipe until your boots are completely dry. It would help not to let the leather get wet because it can become an ideal environment for mold to grow.
Step 6: Maintain Your Boots With A Conditioner
As soon as you finish the cleaning process, maintenance for your cowboy boots is necessary. Conditioner products can better protect your boots against stains like mud. In addition, you should go to some conditioners that could waterproof your cowboy boots, like mink oil.
How To Clean The Outside Of Moldy Cowboy Boots?
A pair of cowboy boots that are not worn often, are not exposed to the sun, or are simply stored in a humid place will be very susceptible to mold attack. So what can you do to clean moldy boots and prevent mold from returning? Follow the steps below to get the answer:
You could use many different methods to clean the mold on your cowboy boots. Here are some that you could follow:
Using leather cleaner: This method is the most common one. All you need to do is apply leather cleaner into a soft brush and then scrub the surface and every corner of the boots.
Using vinegar: If you don't have leather cleaner, you could use vinegar as an ideal alternative. Mix vinegar and warm water with a ratio of 1:1. Then, you could use a rag or a toothbrush to apply this mixture to your boots. Finally, rub over the mold until your boots are clean.
Using tea tree oil: Apply tea tree oil directly into the mold stains. After that, use a dry rag to wipe the mold. You do not need to rinse with water.
Using medical alcohol: Medical alcohol is an effective disinfectant that can kill mold instantly. However, you need to be careful when using medical alcohol since high concentrations of alcohol can cause stains on the surface of the boots. To clean moldy boots, you can use 70% medical alcohol. First, dilute alcohol with water in a ratio of 1:2. Then, use a rag to absorb the solution and wipe the surface of the boot.
Using baking soda: Baking soda is a perfect disinfectant. It can help you clean mold stains easily and prevent the formation of mold. To use this method, mix baking soda with water in a ratio of 1:2. Then, apply the mixture evenly on the boots. Next, use a towel to wipe the surface of the boot, carefully wiping the mold spots.
Note: When removing mold stains, always wear a mask to avoid inhaling the mold filaments.
After cleaning, don't forget to apply conditioner to your boots and dry them in sunlight to protect your cowboy boots.
How To Clean The Inside Of Cowboy Boots?
Cleaning the inside of boots will be a bit harder than handling the outside. As a result, many people even never clean the inside of their boots.
However, you should definitely clean the inside of your boots for many reasons. First, cleaning the inside of the boots will remove unpleasant odors caused by mold, foot disease, or dirt. Besides, this will also help prolong the lifespan of your cowboy boots.
If you don't know how to clean the inside of cowboy boots, follow the steps below:
If you need to repair your cowboy boots, check out this step-by-step guide to learn how to resole them at home. It's a cost-effective method that can save you money while extending the lifespan of your beloved boots.
Step 1: Clean The Insoles
Firstly, you need to remove the insole.
Then, wash the insole fist with a soft toothbrush.
Next, moisten the insole with warm water.
Apply foam or soap to the insole and scrub it with a toothbrush until it's clean.
If the insoles are made of leather, you will need a leather cleaner to clean them. The process is similar to washing the fabric insole mentioned above. However, you will need to replace the foam with a leather cleaner.
Step 2: Clean The Linings
To start the cleaning process, unzip your cowboy boots.
Use a soft brush to clean the dirt inside your cowboy boots.
After that, use a vacuum cleaner to suck out all the dirt.
Next, use a water spray to moisten the inside of the boot. Remember that you should not let your boots get too wet.
Take some fabric cleaner on the brush and scrub the inside of the boots.
Once the cleaning is complete, use a clean rag to soak up the fabric cleaner inside the shoe. Make sure your shoes are spotless after this step. Do not rinse with water.
The last step, use a boot tree to absorb moisture inside your cowboy boots or use the dryer to make your boots completely dry.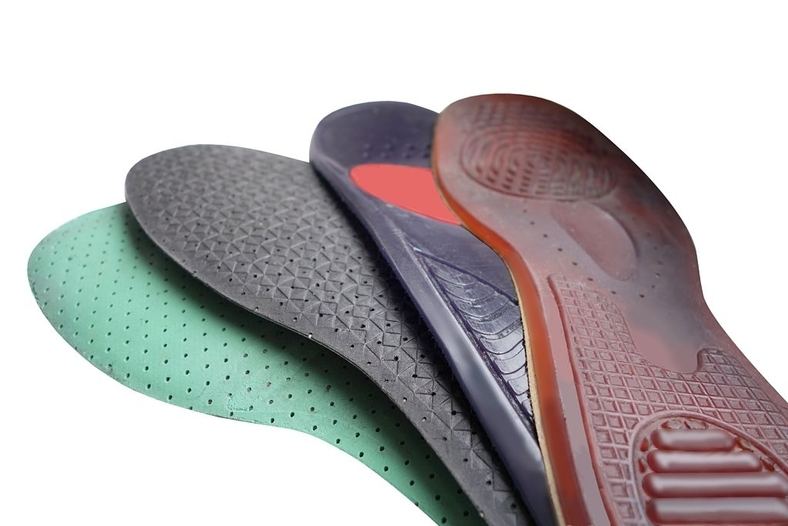 Do the same process with the leather linings. However, instead of using fabric cleaner, you need to use leather cleaner.
Tips for Cleaning Cowboy Boots Without Ruining Them
If you love your cowboy or western boots and don't want to replace them but they look like they need a good cleaning, you're in luck. We've compiled a list of some simple steps that will help you give your boots a new life.
Find out what kind of leather your boots are made of.
Make sure to use the right product for the type of leather you have on your boots.
Use a soft brush or cloth to buff the boots after they are cleaned.
Finish by spraying them with a protective lotion that prevents water spots and protects against color change, etc.
Use a conditioner after you have conditioned the boots.
Finish by putting them in their storage box at least once a week.
Do not let your boots sit out overnight, unless they are clean and dry. This will cause them to become mildewed and ruined.
Wrap them in an old towel and put them under your seat or another place out of direct sunlight.
If you live in a place where they get a lot of rain (such as the west coast), let them dry out outside, then put them in their storage box at least once a week. This will prevent water-related problems such as mold and mildew.
If you live in a dry climate, clean them once a month and let them dry out for 48 hours.
Yes, cleaning boots does require effort and patience! But if you get into the habit of cleaning them, then it won't be all that much effort to do it every 2 weeks or so.
For stubborn stains on your cowboy boots, head over to our guide for removing shoe polish from leather. You'll find simple and easy-to-follow tips to remove even the toughest stains without damaging the leather material.
FAQs
Is it OK to get cowboy boots wet?
Water might cause some damages to your cowboy boots, especially if your pair is made of leather. Thus, when your boots get wet, you should air-dry them or simply place them in a dry area.
When it comes to cowboy boots, getting them wet occasionally is not something to worry about. But if they become soaked, there are ways to dry them fast to prevent damage to the leather material. Make sure to avoid heating them up too fast, as it can cause warping and cracking in the leather.
Can you clean cowboy boots with soap and water?
Yes, you can. However, it would be best if you kept in mind some rules to prevent unfortunate damage. For instance, you need to keep your boots dry during the whole process. In addition, you should dilute soap with water to clean your cowboy boot more easily.
How do you get mold off cowboy boots?
While mold is a stubborn stain, you can still remove it from your cowboy boots with the right methods. I recommend using rubbing alcohol and warm water to wipe the mold off. Mix warm water with rubbing alcohol at a ratio of 1:1, then use a rag to wipe the areas with the appearance of mold.
If you have leather shoes with mold growth, you can follow these simple steps to clean them before the mold spreads further. However, always spot-check a small, inconspicuous area first before treating the entire shoe.
How do you keep leather boots from getting moldy?
The best way to prevent mold on leather cowboy boots is to keep them dry. It would be best if you left the boots in a high and airy position, where the sun shines in is the most ideal. If your boots get wet, dry them immediately with the dryer.
How often should I clean my cowboy boots?
The answer depends on how often you wear your cowboy boots. For example, if you wear them often, you should clean them at least every three months. For those who only wear cowboy boots on special occasions, cleaning them every six months makes sense.
It is recommended to clean your cowboy boots after every use to maintain their quality and reduce the need for deep cleaning. For daily cleaning, you can wipe off dirt and dust from your boots using a soft brush or cloth. This 15-minute boots polishing article provides easy and quick hacks to keep your boots shiny and looking great.
What is the best leather cleaner?
There is a wide range of leather cleaner products on the market with different qualities and prices. I recommend using products from famous brands like Leather Honey, Lexol, Chemical Guys, and Carfidant.
Is Vaseline good for leather boots?
Yes, Vaseline is an excellent product for leather boots. The petroleum jelly ingredient in Vaseline could soften the leather boots and avoid cracking. In addition, if you want to waterproof your boots, Vaseline will be the best way to go.