Mud stains on shoes can be a nuisance when you try to get rid of them completely. However, if you use strong detergents, your sneakers are also very easily damaged. That is why you need to know what are the best methods to clean muddy shoes.
For those who are looking for a step-by-step guide on how to clean muddy shoes, the following article is for you. I will show you two effective and easy-to-apply methods to make your shoes clean again. Let's start!
See also: The Best Rubber Boots.
Method 1: Clean Your Muddy Shoes By Hand
The best way to get the mud off your shoes is by washing them by hand. It might take a little longer, but you will be satisfied with the result. You can clean every corner of your shoes.
Follow the steps below to clean your muddy shoes by hand: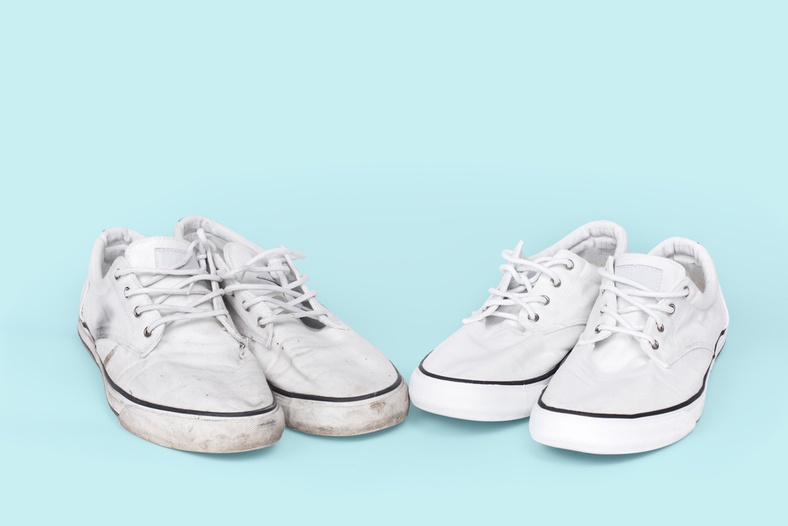 Step 1: Leave The Mud To Dry
One of the biggest mistakes when cleaning muddy shoes is washing them when they are still wet. That will make the mud more profound into the fabric, and you might get a pair of shoes with permanent stains.
As such, the first and essential step you need to do is let the mud dry. You can use a fan to make it dry quicker. Do not air-dry your shoes overnight since it is more time-consuming but less effective.
In addition, you should place your shoes in a high place with some newspapers below them. This way will prevent mud from spreading to the floor.
Step 2: Remove The Dried Mud
In this step, you will need a brush. Use a brush to scrub the clumps of mud to remove them. You can also bang the shoes on the floor to let the dried mud fall off. Try to remove as much mud as possible.
After that, you should use a smaller, softer brush like a toothbrush to remove any remaining mud stains in the crevices of the shoe's surface. Finally, take a dry towel to wipe the dirt off the shoes.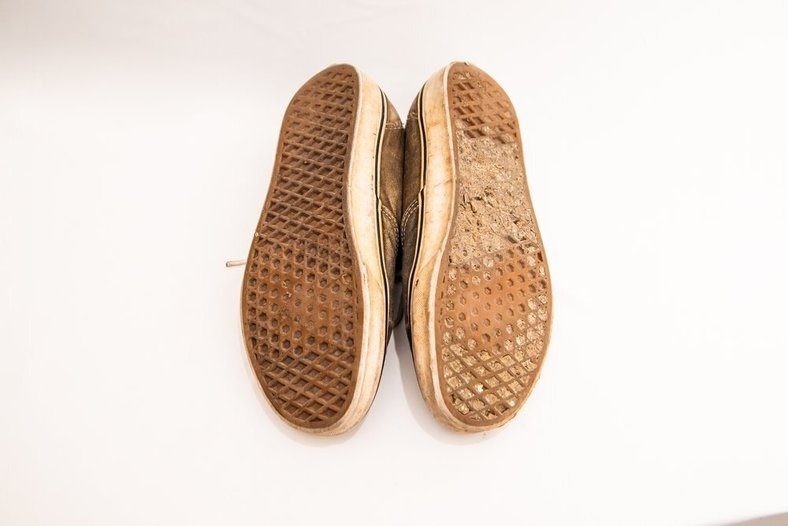 Step 3: Prepare Cleaning Solution And Your Shoes
To wash muddy shoes, I recommend using laundry detergent. To make an effective cleaning solution, you need to mix warm water and a small amount of laundry detergent in a bucket.
Before starting, you should remove the shoelaces to make the cleaning easier. Then, open your shoes wider and check inside them. If you see any mud stains inside your shoes, you need to scrub them immediately.
Step 4: Washing Your Shoes
Now, apply the cleaning solution to your shoes and use a toothbrush to scrub them. You should clean carefully in areas with a lot of mud stains. do not forget to wash the shoelaces too.
After cleaning the outside of the shoes, you should also scrub inside them. Rinse the shoes with water until there are no soap bubbles left. Then you just have to take them out to dry.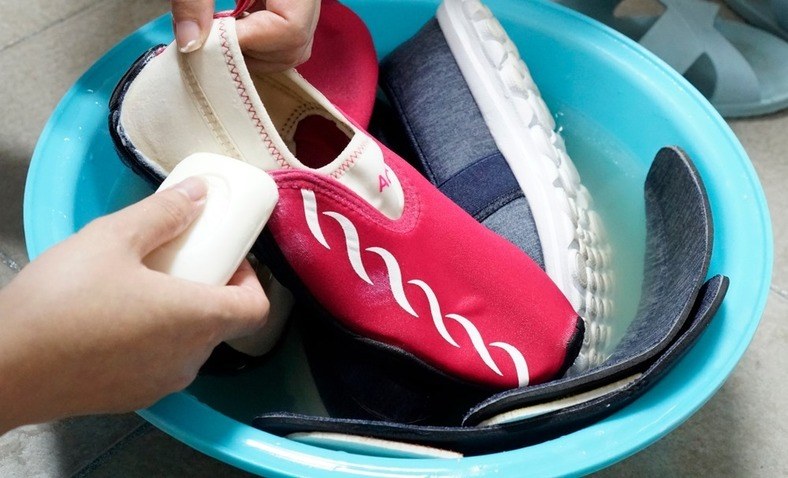 Method 2: Clean Your Muddy Shoes In The Washing Machine
If you do not have time to wash your shoes by hand, you can put them into the washing machine. This method is also practical and easy to use. Here are some steps you should follow to have a fresh pair of shoes:
Step 1: Apply Baking Soda
Before placing your shoes into the washing machine, sprinkle a thin layer of baking soda on your shoes' surface will be ideal preparation. Baking soda will help you remove stubborn stains more easily.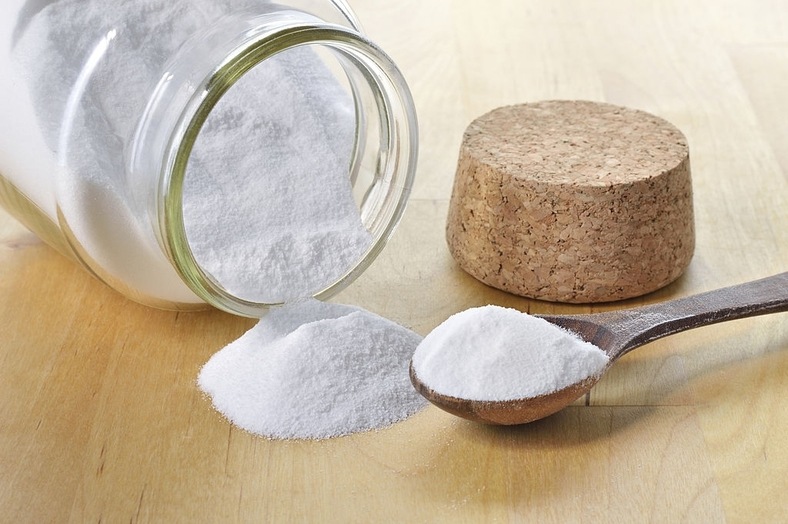 Step 2: Remove The Shoelaces
As I said above, removing laces is necessary. After taking shoelaces off, you can put them in a wash bag and place them in the washer with your shoes.
Related: How To Clean White Shoelaces?
Step 3: Throw Your Shoes Into The Washing Machine
After wiping the dried mud on the shoes, you need to put them into the washer with some towels. You should use from 4 to 6 towels to ensure your shoes will not bang against the washer.
Step 4: Run The Cycle
Now you need to add some cold water and liquid detergent into the washing machine and run the washing cycle. Again, you should choose the washing program with a slow spin speed to avoid damage to your shoes.
Step 5: Dry Your Shoes
You should air dry your shoes instead of using a dryer.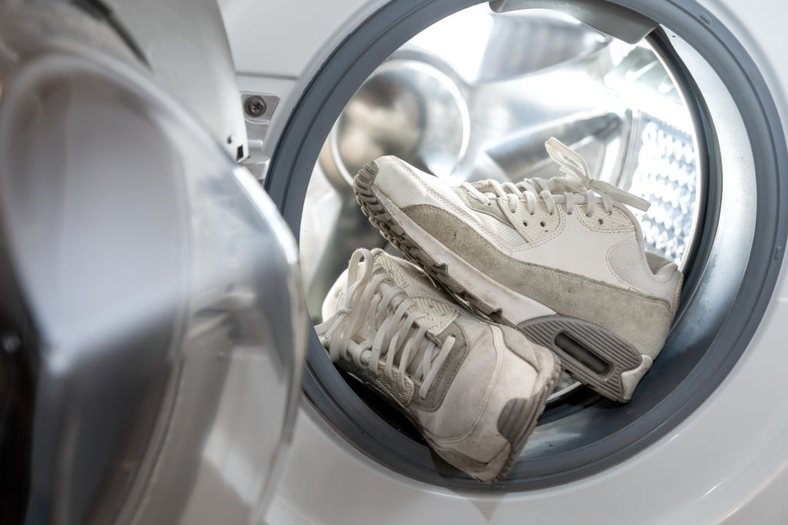 FAQs
How do you get the mud off your shoes?
You can get rid of mud from your shoes by using a brush and a mild washing solution. If you need to clean the whole shoe, start with a particular part like shoelaces, soles.
How do you clean mud off trainers?
Firstly, you need to clean dried mud on shoes with some pieces of dry paper. Then, pour warm water and a small amount of mild detergent into the bucket. After that, you can soak the shoes in the bucket for about 15 minutes to make it easier to remove the mud.
How do you get dried mud out of white shoes?
To clean mud on white shoes, the best way you can follow is using baking soda:
You need to mix water, baking soda, and hydrogen peroxide to make a paste.
Apply the mixture directly to the mud stain.
Use a soft brush to scrub the stain until the shoe is clean.
Can I wash muddy shoes in the washing machine?
Yes, you can. However, you should remove dried mud on shoes before putting them into the washing machine if you do not want your washer to be a mess. Then, add some towels and liquid detergent to the washing machine. Finally, start the wash process and wait for 30 to 40 minutes.