Fungal infections are a fairly common skin problem. Although it is not too dangerous, it makes infected people feel extremely uncomfortable and embarrassed. To treat foot fungus or toenail fungus, you need to be patient because it is a long process.
Besides drug treatment, it is also important to disinfect your items, including your shoes. Shoes are the ideal habitats for foot fungus. So cleaning and disinfecting shoes is key to keeping foot fungus from getting worse.
The article below covers all you need to know about getting rid of foot fungus from shoes. Keep reading!
How To Remove Fungus From Shoes
Getting foot fungus out of your shoes will be straightforward if you apply suitable and effective methods. You can use some familiar ingredients and solutions to remove fungus from shoes. Here they are:
To prevent the spread of fungal infections, it's important to disinfect your shoes regularly. Check out these ways to disinfect shoes from athlete's foot, which utilize affordable and effective methods like using Lysol spray or tea tree oil. By taking proper care of your shoes, you can keep your feet healthy and avoid infecting others.
Method 1: Using Antifungal Laundry Detergent Or Bleach
There is a wide range of efficient antifungal laundry detergents on the market. These products not only remove the smell of your shoes but also disinfect the fungal spores.
Or you can use bleach to wash your infected shoes. This substance is considered a powerful disinfectant that can kill fungal spores in your shoes quickly. However, it would be best if you did not use bleach regularly as it can damage your shoes.
The process is simple. You just throw your shoes in the washing machine along with warm water and antifungal laundry detergent.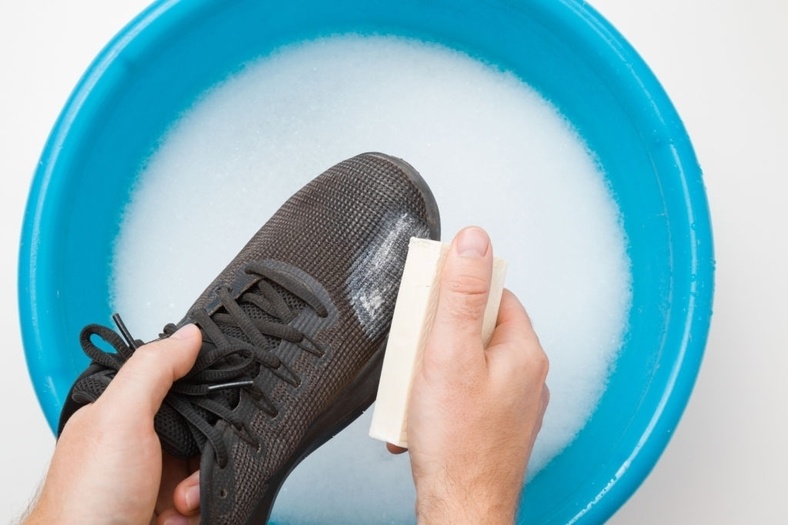 Method 2: Using Antibacterial Spray
If you treat your foot fungus with an antifungal spray, you can take advantage of this product to get rid of foot fungus from your shoes. Antibacterial sprays on the market can kill fungi inside the boots and the odors in a short time!
There are two ways to use an antifungal spray to remove foot fungus. The first one is to spray directly into your shoes before wearing them. Secondly, you can spray the antibacterial solution on rags or paper tissues. Then, put them into your shoes and leave overnight.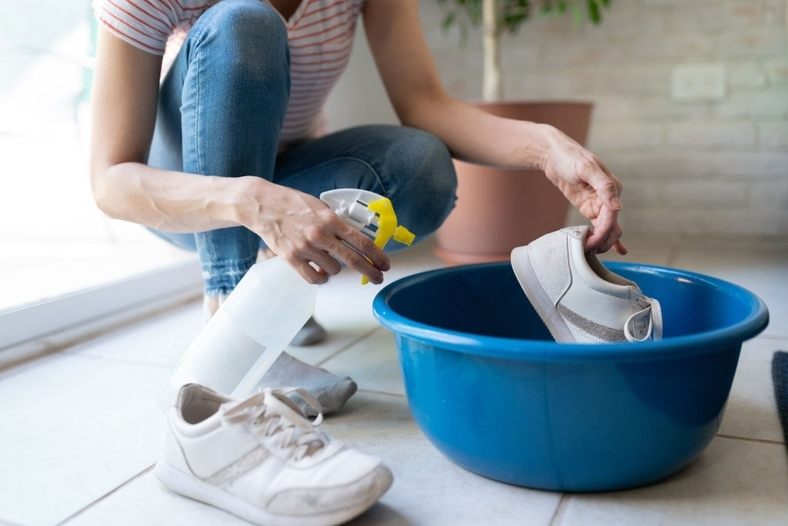 Method 3: Using Baking Soda And Vinegar
Using baking soda and vinegar is an easy way to slow down fungi and bacteria's activities. With these familiar ingredients in your kitchen, you can keep your shoes fresh and clear!
You can sprinkle baking soda into your shoes to decrease the smell and the growth of foot fungus. To use vinegar, you will need a spray bottle.
Pour the vinegar-water solution into a spray bottle and spray this solution into your shoes. This product will reduce the activity of fungus.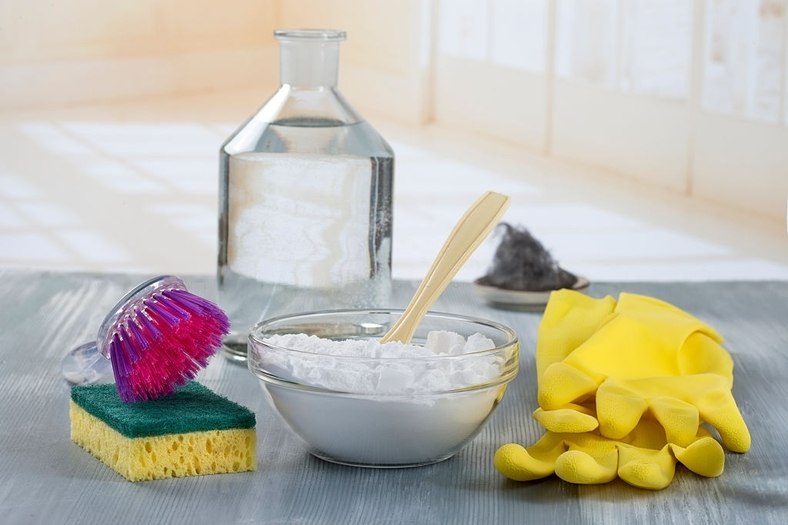 To use baking soda as a cleaning agent, check out our helpful guide 4 Ways To Clean Shoes With Baking Soda that will provide you with easy and effective cleaning methods to try at home. With baking soda's natural absorption properties, it can quickly get rid of bad odors and stains.
Method 4: Using UV Shoe Sanitizers
UV shoe sanitizers are indeed fungi-killers. These small machines disinfect odors from your shoes and get rid of foot fungus from your shoes at once.
You just need to put shoe sanitizer into your shoes in 25-30 minutes. Then, UV rays will kill fungal spores.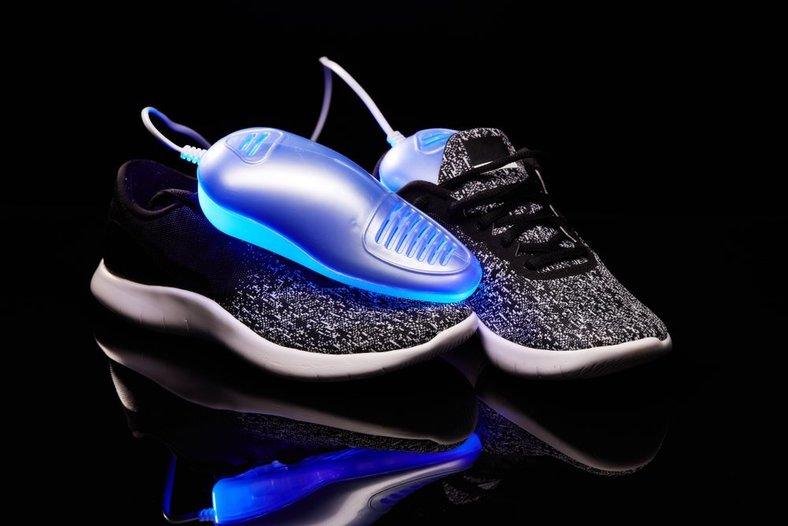 Tips For Preventing Toenail Fungus
Even though shoe disinfection is essential, foot fungus will continually develop if you do not have good hygiene habits. Here are some measures to help you prevent toenail fungus.
To prevent toenail fungus, it's important to keep your feet dry and clean. Consider investing in moisture-wicking socks or foot powders and avoid wearing shoes that are too tight or made of non-breathable material. Check out these tips for keeping feet from sweating in work boots to help prevent fungal growth and promote healthy feet.
Tip 1: Cleaning Your Shoes Regularly
Make sure your shoes are always clean. Smelly and wet shoes is an ideal environment for bacteria and fungi to grow and thrive. Therefore, you need to wash your shoes periodically.
Airing your shoes in the sunlight is also a great way to keep them away from foot fungus and bacteria. See also how to clean white mesh shoes via this guide.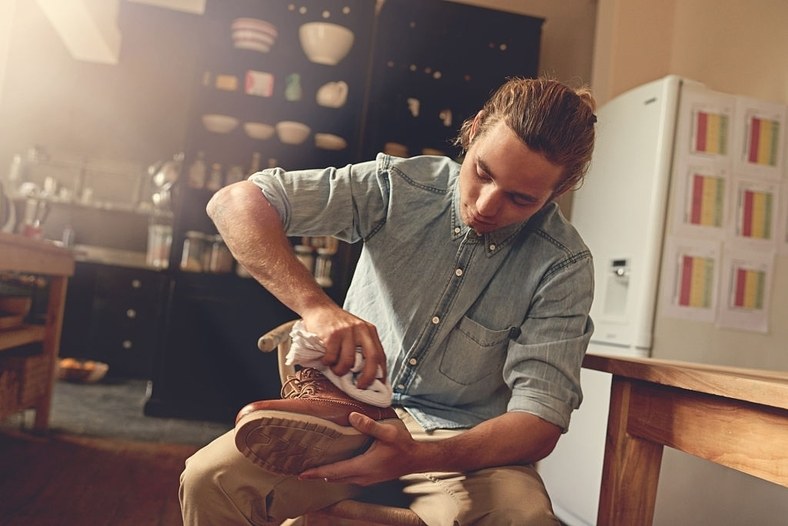 Tip 2: Cut Your Toenails Regularly And Correctly
Dirt in your toenails allows bacteria and fungi to grow. It would be best if you trimmed your toenails at least once a month. Besides, when cutting toenails, you should be careful. Make sure toenail clippers are disinfected.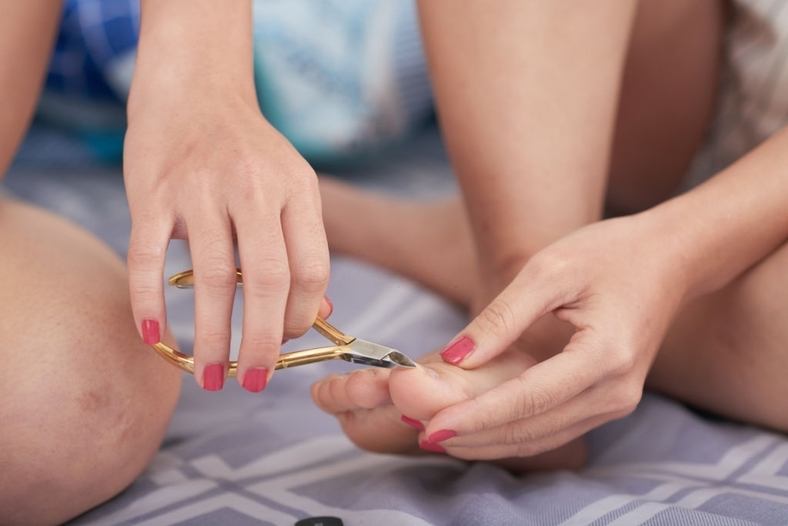 Tip 3: Don't Walk Barefoot In Public Areas
The fungus can be spread from person to person. For example, if a dead skin of a person infected with toenail fungus goes barefoot in a sauna, the fungus will have a chance to multiply there. When you walk barefoot in that area, you get infected. Therefore, to protect yourself and others, you should wear shoes, sandals, or socks when in crowded places.
Tip 4: Have Alternative Shoes
If you only have one pair of shoes that you wear repeatedly, your risk of getting a fungal infection is higher. You should have at least two pairs of shoes and wear them alternately.
Along with closed shoes, you can wear breathable shoes. Let your feet breathe is an effective way to avoid foot fungus.
Fortunately, you can solve this problem in almost all cases if you get the right shoes for standing all day.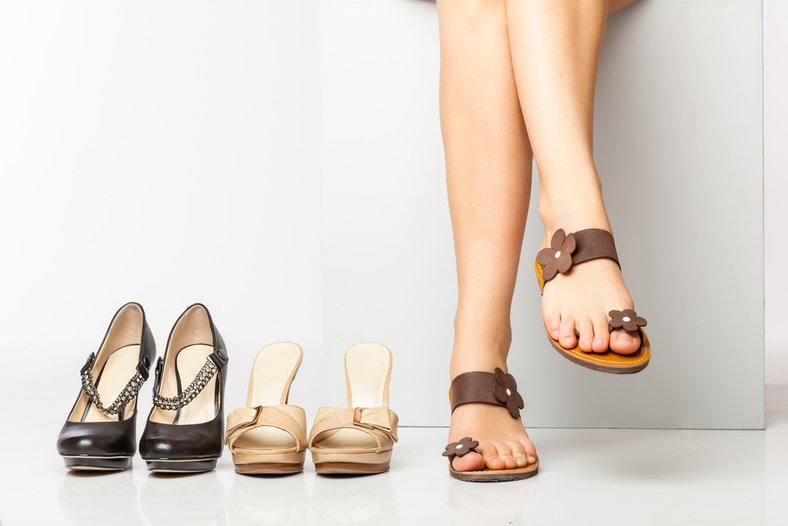 Don't let foot fungus thrive in your shoes. Having an extra pair of shoes to wear on alternate days can help prevent the growth and spread of fungal infections. Learn more about how to make shoes non-slip with these 10 hacks to keep your feet safe and comfortable.
FAQs
How long can foot fungus live in shoes?
Toenail fungus spores have a reasonably long life cycle. Therefore, their removal is not an easy thing. When you have a toenail fungus infection, they can stay in your shoes for one to two years. Not only that, but they can also live anywhere there are dead skin cells such as towels, bedsheets, blankets.
Fungus lives at least for six weeks in shoes. My shoes are already old, but they still had some fungus on them. Mushrooms are the only fungi that can't live in shoes. This has very little to do with whether or not your shoes are clean or not. All of the fungus that you see on your shoes is dead, because it died from environmental conditions such as high temperature and sunlight. Wearing new shoe insoles can help keep out the fungus as well as reduce odor and bacteria.
Do I need to throw away my shoes if I have toenail fungus?
Throwing away your infected shoes might be the best way to prevent foot fungus from coming back. However, if you do not use fungus treatment and avoid bad habits such as wearing dirty shoes and walking barefoot, you cannot get rid of toenail fungus.
Does vinegar kill fungus in shoes?
White vinegar can only prevent the growth and proliferation of fungal spores but cannot destroy them. You can pour white vinegar or diluted white vinegar into a spray bottle, then spray the solution on your shoes when you're not wearing them to slow fungal growth.
What kills shoe fungus?
You can kill foot fungus in your shoes by using fungicide sprays like Lysol. Spray this solution on tissue papers and place them inside the infected shoes. Then you leave it overnight, and Lysol will destroy the fungus in the shoes.
Is it OK to get a pedicure if you have toenail fungus?
No, it isn't. When you have toenail fungus, you must avoid pedicures in anyways. Toenail fungus can be spread from person to person. Therefore, if you get a pedicure while you're infected, you'll infect others. Or, more likely, the pedicure salon could be the place where you have a fungal toenail infection.
Why does foot fungus keep coming back?
Many reasons can make foot fungus develop. If you walk barefoot on wet surfaces, you are most likely to get foot fungus. Besides, other factors such as tight or dirty shoes, other skin diseases, poor blood circulation, a weakened immune system can also cause foot fungus.
Can I cut off my toenail fungus?
It would be best if you cut off your infected toenail. However, these toenails are difficult to cut since the fungus will thicken and harden the stratum corneum on these toenails. Thus, regular toenail clippers might not cut them off.
How did I get toenail fungus?
Toenail fungus can get into your toenails in many ways. If you come into contact with contaminated surfaces or an infected toenail, you will become infected. In addition, old and brittle toenails will create conditions for toenail fungus to grow and multiply.
How contagious is toenail fungus?
Toenail fungus can spread when you come into direct contact with it. In addition, if you come into contact with surfaces or objects that are contaminated with toenail fungus, you will most likely become infected.