The Roscoe 8 by Trek is a fascinating hardtail bike that can handle all terrains in any weather conditions. At an affordable price, it offers the same great range of features and modifications as other luxury MTBs, from a stylish and lightweight design, high control, responsive stopping power, and a decent speed.
Trek is one of the largest bike brands and has been trading for approximately 50 years. Started in a warehouse in Wisconsin, this company has evolved into a massive manufacturer of mountain bikes across the world. Furthermore, one of their effective marketing solutions is sponsorship for plenty of individuals and biking teams to spread out their brand awareness over the years. The company offers a wide range of bikes, from mountain bikes to city commuters, and they have recently stepped into the electric bicycle market.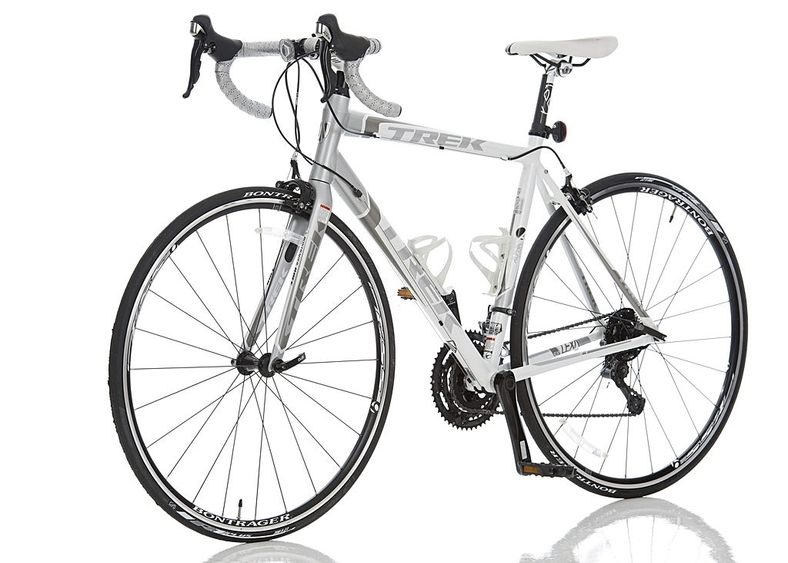 Performance
The Roscoe 8 by Trek seems to be a dream vehicle for all riders on rough terrains. A reason for this comes from its lightweight frameset allowing bikers to have a large number of levels and control over the bike like speeding up, stopping, turning, slowing down, and so on. Besides, the bike suspension creates comfortable rides on bumpy trails. Plus, drivetrain components ensure that riders not only can speed up quickly but also shift with ease.
Its aluminum frame seems a bit heavier than the bike set made from carbon. The overall weight of this bike with tubes is about 14.5 kg. In the old days, aluminum bikes had a reputation for being versatile. The techniques have come a long way, and these vehicles perform very well compared to their carbon counterparts.
Even though Roscoe 8 features many highlight modifications, it might not be ideal for long rides because riders may hit their maximum speed a bit faster than they might expect. In general, this type of bike is a great choice.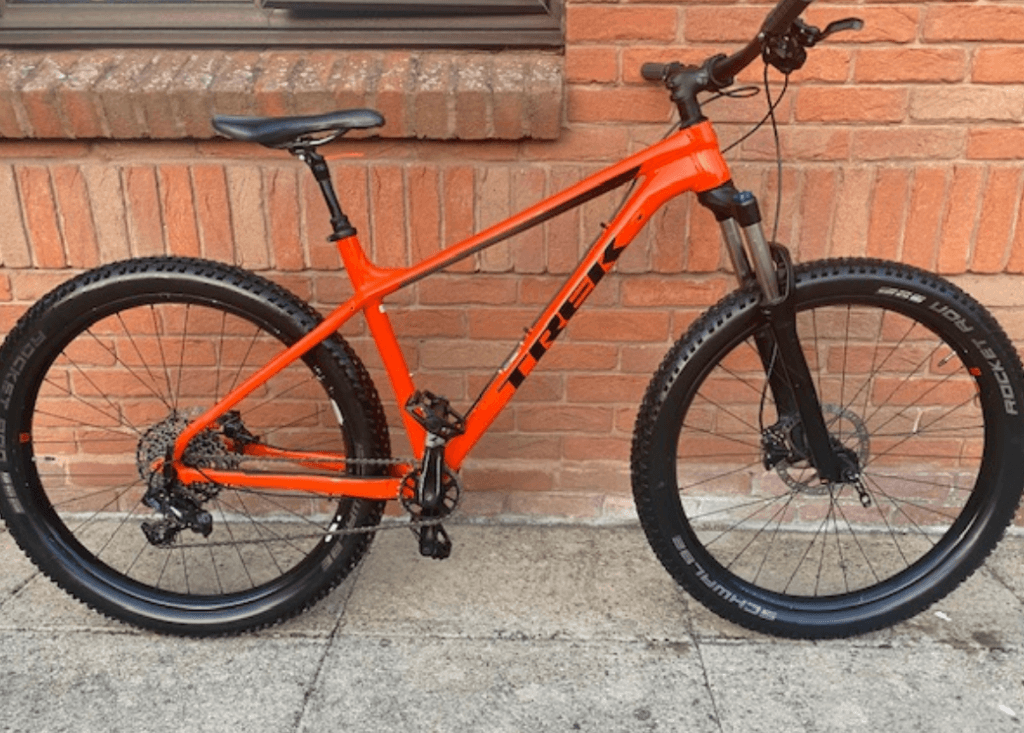 Read more here: https://www.trekbikes.com/us/en_US/bikes/mountain-bikes/trail-mountain-bikes/roscoe/roscoe-8/p/28487/
Specifications
Frame material: Alpha Gold Aluminum
Bike weight with tube: 14.55 kg
Wheels: Tubeless Maxxis Rekon with 27.5×2.80 inch, 60 TPI
Brakes: Shimano hydraulic disc with MT500 caliper and MT501 lever
Drivetrain: SRAM 12-speed NX Eagle
Saddle: Bontrager Arvada with 138 mm in width, steel rails
The Plus And Minus Of A Trek Roscoe 8
Pros:
A mountain bike with strong and durable performance for taking off-road
An excellent hardtail bike offering comfortable rides across different rough terrains and weather conditions
Responsive hydraulic disc brakes with high control and traction
Affordable price with high value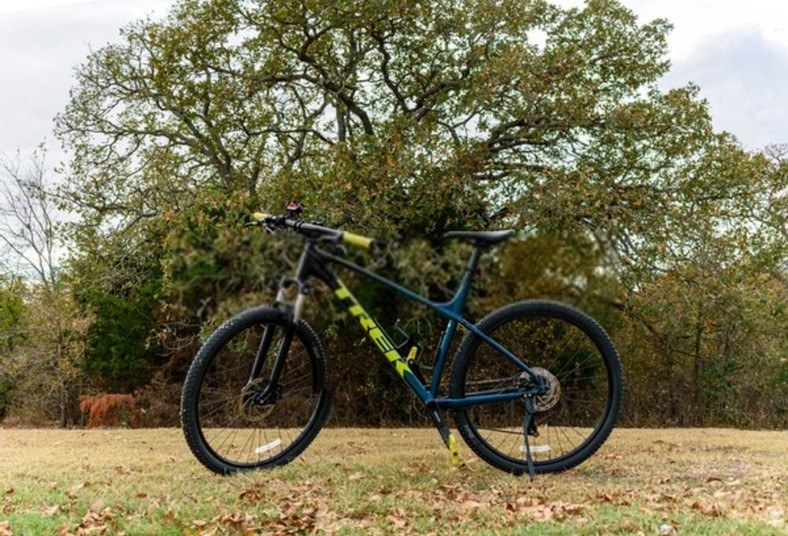 Cons:
Drivetrain needs fine-tuning for the better performance
The aluminum frame might not exceed several riders' expectation
Lightweight And Quality Design
Trek equips the whole strong frame of Trek Roscoe 8 Alpha Gold Aluminum. Plenty of people prefer this extra bit of weight to a carbon one. The Roscoe 8 uses an SRAM NX Eagle 12-speed drivetrain providing a wide gearing range for climbing.
The Trek Roscoe 8 comes in with other special modifications such as an Arvada saddle with 133 mm in width by Bontrager, an upgraded 35 Gold fork with 120mm plus a lockout by RockShox, confidence-inspiring 27.5+ wheels belong with flat tires. All of them deliver cyclists a comfortable ride. In addition, a dropper seat post for room to get low on corners, descents, and jumps. A tapered head tube offers you more precise and confident control, while Boost 141 rear hub spacing gives you shorter chainstays for agiler handling outback.
Additionally, the Roscoe 8 features the air spring fork. Riders can easily adjust the air pressure to fit their weight and enjoy better performance than the bike with coil springs.
Cyclists can also experience a smooth ride and gearing shifts on both their daily commute and all terrains. However, they cannot reach the same speed in an urban area as other bikes. There are reports that riders should fine-tune the drivetrain components to encounter the best performance.
Another highlight of this bike is that it has no rear suspension and relies on a front one. Bike suspensions mean to handle rough topography and generally create a tougher frameset than some other bikes. The lack of the rear one reduces the overall weight of the bike. Bikers easily take control of this mountain bike, and the design enhances durability. The Roscoe 8 tends to reach speeds quicker and often costs a bit less than other MTBs.
Furthermore, Trek usually offers plenty of sizes that fit well with different riders' heights. Specifically, Roscoe 8 features seven sizes from XS to 2XL, which better match the height from 137 to 203 centimeters. In addition, the bike design is cool and stylish with two options of colors. The Dark Aquatic is a red matte back plus a marigold fade, while the Metallic Gunmetal is a lighter grey. However, it seems a limited color choice to many riders.
In general, the Roscoe 8 by Trek can be considered as all bikers' favorites whose hobbies are enjoying mountain biking, rough trail riding, and city commuting.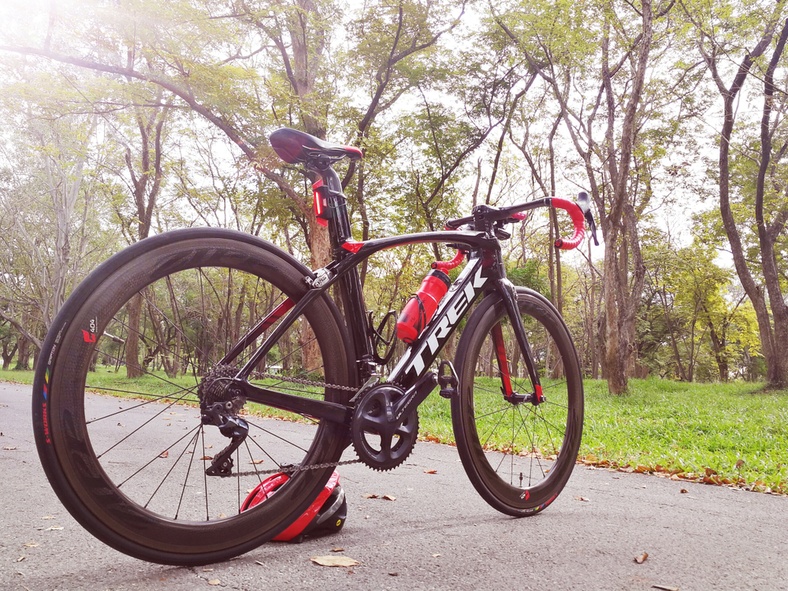 Wheels
The Trek Roscoe 8 features 27.5-inch tires by Maxxis. These plus-size tires support a lot with grip and booster cushion those uneven terrains while riders are on their rides. Their traction helps cyclists "stick" on the surfaces, then increase their confidence when encountering tricky trails. In addition, these tires are tubeless, which means riders can run with lower pressure and enhance contact with the surface, and aid performance. A big bonus for these tires is that they are less susceptible to flats when out on the trail.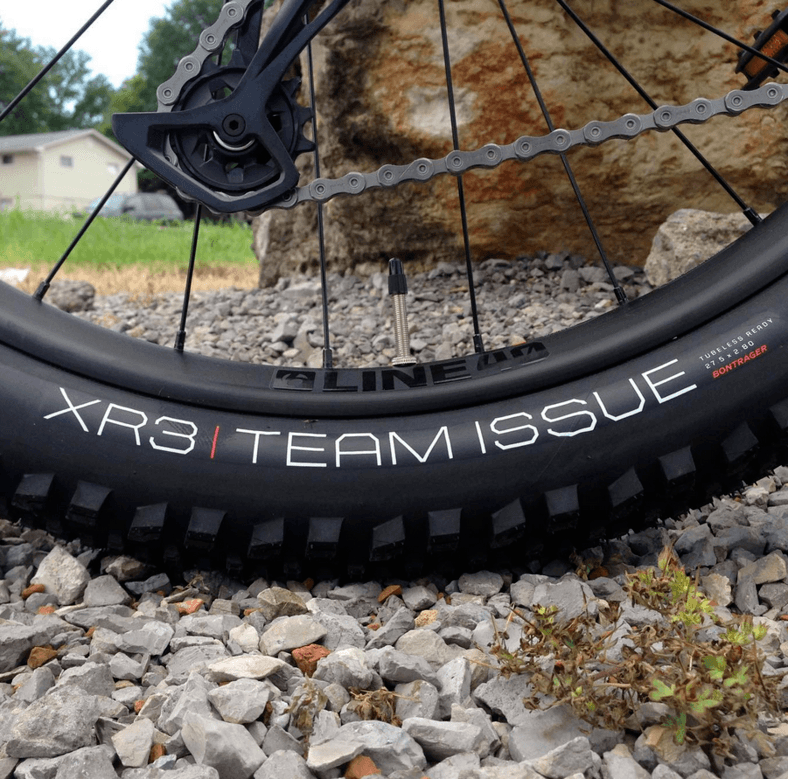 Brakes
The Roscoe 8 by Trek comes in with a lightweight aluminum frameset with a brake hose routing and internal shift cable. It takes the responsibility of keeping the bike cables safe and dressing on it a glossy look plus an ample gearing range. These hydraulic components provide pretty good braking power and seem responsive that delivers a great deal of control. Therefore, riders always have wonderful gadgets such as a suspension fork and powerful MT200 hydraulic disc brakes by Shimano that encounter all the bumps plus rough topography.
Price
With the affordable price range of mountain bikes, the Trek Roscoe 8 seems to exceed most people's expectations of a luxury hardtail bike and fascinating performance. Its price is around USD1,880 for a bicycle. It looks a little steeper than some other MTBs, but it delivers the better act. If riders can afford a Roscoe 8, they will get a superior bicycle to plenty of other cheaper models or even at the same price range.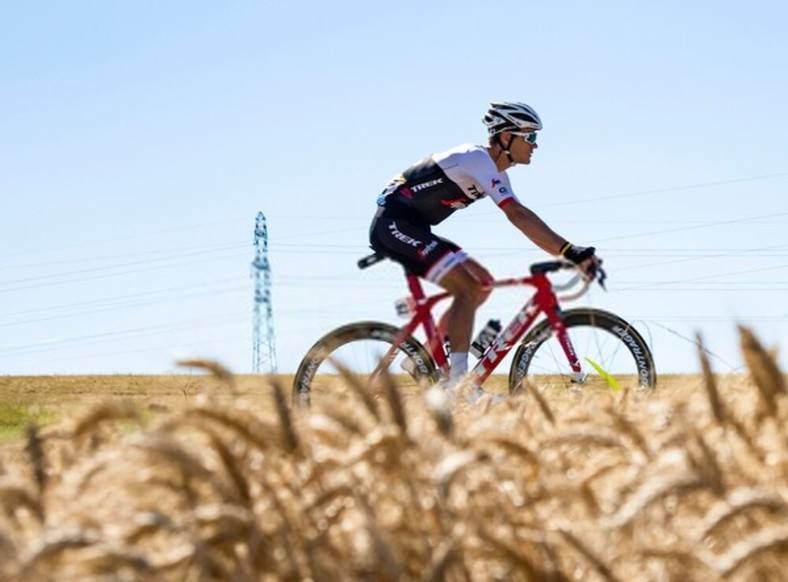 Warranty
Trek often offers a lifetime warranty for this lineup frameset and a one to four-year guarantee on other parts for the original owner. If cyclists purchase extra accessories, they will have different policies depending on each component.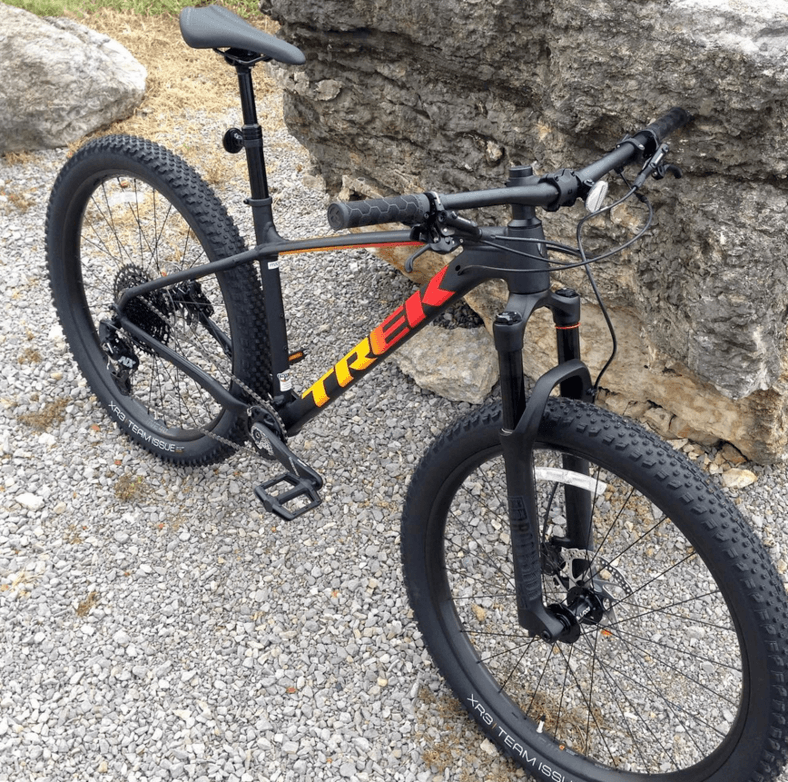 What Are The Differences Between Trek Roscoe 8 With The Other Models Like Roscoe 6 And 7?
Trek Roscoe 6
The Roscoe 6 is a beginner mountain bike. It features hydro disc brakes, Schwalbe tires, Alex rims, plus a Deore drivetrain. This bike seems to be the most affordable Roscoe by Trek.
As usual, Trek applies the same frame made of Alpha Gold aluminum on Roscoe 6. This bike also features great wide tires by Schwalbe Rocket Ron and cassette. There is no surprise with the quality since Trek equips this mountain bike with the Deore groupset and the MT200 hydraulic disc brakes by Shimano. Moreover, the Roscoe 6 also has suspensions with lockout, dropper seat post, and internal cable routing. It is not a bike that is designed for intense downhill rides. Therefore, bikers have to get some struggles here. Nevertheless, the dropper seat post seems to be appropriate on the steeper declines.
How about the price? A Roscoe 6 costs further cheaper than the eighth model at USD1,050 each. But 'you will get what you pay for'. The Roscoe 8 has much higher performance, and it is worth every penny you spend.
Generally, the Trek Roscoe 6 is very versatile and handles well on a bumpy dirt path, cutting hard into corners without any wobble or slip. if riders have a limited budget, they can consider this type of bike since it also delivers many high-quality components. However, it cannot be compared to the Roscoe 8 because of its luxurious setting.
Trek Roscoe 7
The Roscoe 7 does not cost more expensive than the Roscoe 6 does. At a difference of USD210, riders cannot expect a massive upgrade. In addition, a big add-on of an SRAM Eagle drivetrain and air-sprung suspension by RockShox in the front seems worthy to every penny. Compared to the Roscoe 8, it is almost USD500 cheaper. Additionally, the eighth model is a set of components with much higher quality than the Roscoe 7.
The Trek Roscoe 7 features a lightweight aluminum frame delivering a total weight of 14.8kg, an average number for a hardtail bike. Besides the SX Eagle drivetrain with 21 speeds, another great addition to this type of bike is the Truvative Powerspline bottom bracket. In addition, the components which give this bike a smooth and noiseless downhill ride, even on steep descents, are Judy SL air-sprung forks by RockShox. With the help of wide tubeless tires by Maxxis Rekon, the Trek Roscoe 7 provides excellent traction. Serious bikers may consider customizing the basic saddle, grips, and nylon pedals, otherwise, the Roscoe 7 is a top-quality bike.
Frequent Questions About The Trek Roscoe 8
How much does a Trek Roscoe 8 weigh?
This bike with a tube weighs 14.55 kg because it features a lightweight aluminum frame and no rear suspension. Also, the Roscoe 8 has the lowest weight compared to the sixth and seventh models.
How well can a Trek Roscoe 8 adapt to all terrains?
Trek Roscoe 8 offers a comfortable ride in different topography, from forest, mountains, gravel to city commute.
How about the warranty for a Trek Roscoe 8?
Trek usually guarantees lifetime protection for the frameset and a one and four-year warranty for other components for the original owner.
Can we consider the Trek Roscoe 8 as a gravel bike?
No, this type of bike is hardtail instead of gravel.
Can bikers do tabletop jumps on the Trek Roscoe 8?
Absolutely yes. This is one of the luxurious mountain bikes that experienced riders can show their technical skills on all terrains from the forest, mountains to even paved roads in any weather conditions. However, in the urban environment, the bike may not reach the speed as quickly as bikers' expectations.
Can cyclists add a child seat on Trek Roscoe 8?
Sure, you can add a rear tire rack, as well as a child seat on this type of bike.
Is the second-hand Trek Roscoe 8 worthy?
Trek bikes seem to have good resale value. Depending on how riders take care of their vehicles, the bike may have a higher resale value if its aluminum setting is still sleeky. Some purchasers are willing to buy the used Roscoe 8 at nearly higher than $900.
How many sizes are the Trek Roscoe 8 available?
The Roscoe 8 offers seven different sizes from XS to 2XL, which best fits the riders from 137 to 203 centimeters in height. Additionally, the bike design comes in two attractive color options, Dark Aquatic and Metallic Gunmetal, even though some people may find this type of limited bike colors.
Conclusions
Roscoe 8 by Trek seems to be a fascinating MTB that offers riders the ability to tackle various terrains or encounter on and off the trails. Additionally, it is a versatile mountain bike at an affordable price range that can handle anything riders throw at it, even though it is not as adaptable as several other MTBs on the same market. This kind of mountain bike performs well when off the trail. Its control and traction come in responsive stopping power that works great across different surfaces. Riders will get comfort on various uneven and even pathways while the frameset is long-lasting. Besides, its drivetrain is a component that needs a little fine adjusting. Cyclists can reach the high speed quicker on regular surfaces if they have this part fine-tuned. However, in general, it delivers good performance in most situations.