What do you do when a new pair of fashionable canvas shoes that seem to fit well on your feet create blisters or discomfort when walking? Will you throw them away or find a way to fix them?
If you intend to repair your small canvas shoes, the following article will be a helpful guide. In fact, you can use many simple ways to loosen your canvas shoes.
Method 1: Using Heat To Stretch Canvas Shoes
One of the most efficient methods to loosen a pair of tight canvas shoes is applying heat. High temperature can expand the fibers of the fabric, thereby making your shoes wider. You can use different heat sources to stretch canvas shoes. Here are detailed instructions for each:
Using steam
You will need some tools to use this method, including a large pot, water, and oven mitts.
First of all, you need to protect your hand from hot water with oven mitts.
Boil a pot of hot water. When the steam comes out, keep your shoes over the steam for about 5 to 10 minutes. The high heat emitted by the steam will effectively stretch your canvas shoes.
Then, put on your shoes and try a few steps. If you have not achieved the desired stretch, repeat the process.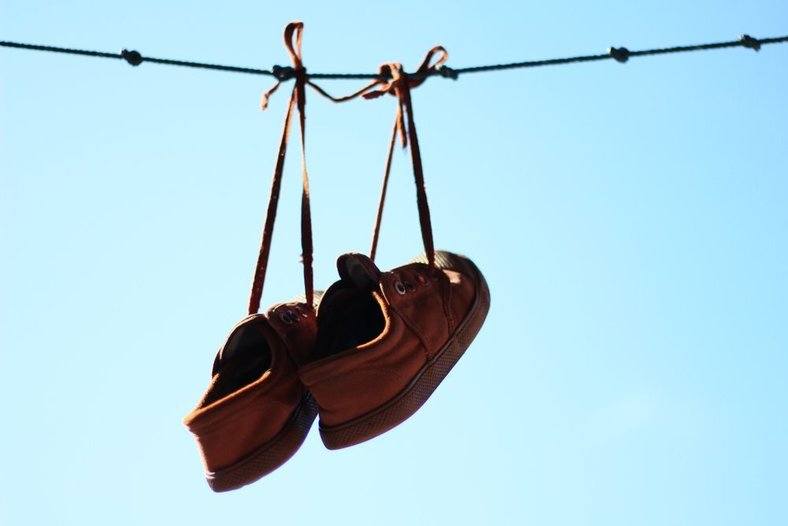 You can use steam not only to stretch canvas shoes but also cowboy boots. Check out our article on how to stretch cowboy boots to learn more stretching methods.
Using microwave
If you need to loosen your tight canvas shoes in a hurry, using the microwave is the best way to go.
Firstly, you should remove the shoelaces before putting the shoes in the microwave if you do not want the shoelaces to stretch somehow.
Place your fabric shoes into the microwave and set the temperature at a high level. Then, leave them for 30 seconds. It would be best if you did not put your shoes in the microwave too long since high heat can destroy the fabric.
After that, take the shoes out of the microwave and put them on. You don't need to worry about your boots burning your feet because the shoes are just warm at this point. Next, try walking around on your shoes to stretch them.
If your shoes are still a little tight, you can repeat the above process to gain a perfect stretch.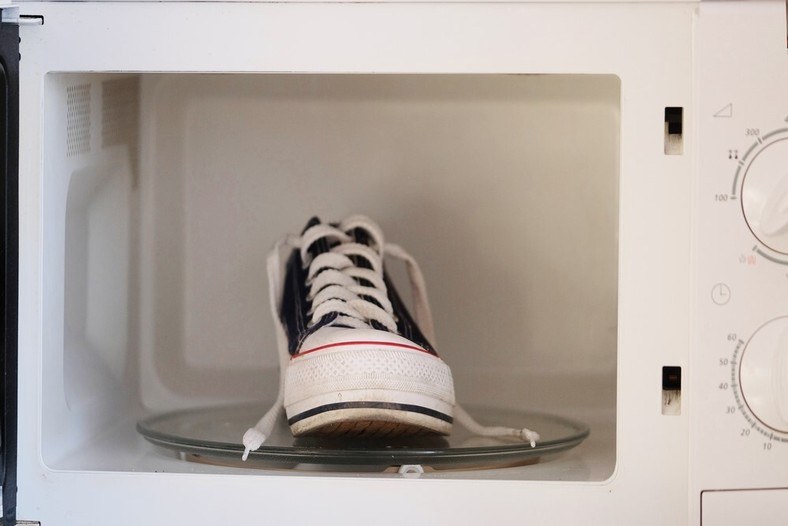 Using hairdryer
You will need a pair of thick socks, a spray bottle, some water, and a hairdryer to apply this method. First, pour water into the spray bottle. If you want the shoe to stretch faster, you can use warm water.
First of all, wear these thick socks and put your canvas shoes on. Next, spray water on the surface of the shoe until the shoe is damp. Don't spray too much water and get your shoes soaked, as this will probably render this method useless.
After that, use a hairdryer and dry evenly on the surface of the shoes for about 30 seconds to 1 minute. Note that you should set the dryer to a hot setting.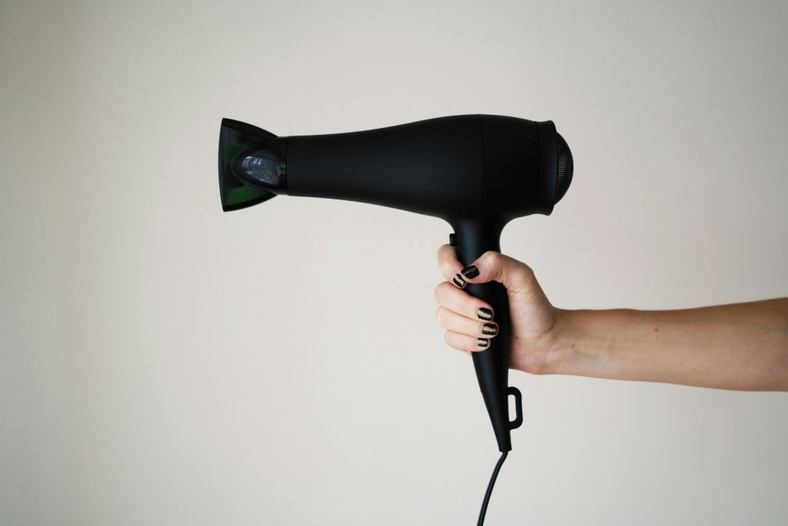 To stretch your canvas shoes, one of the ways is by using a hairdryer. After wearing socks, put on the shoes and heat the tight areas with the hairdryer. Walk around for about 30 minutes and let them cool down with your feet still inside the shoes. For more tips on stretching work boots, check out these easy tips from Hood MWR.
Method 2: Stuffing Canvas Shoes
Stuffing is another effective method to stretch your canvas shoes. You can use different tools and ingredients to stuff your fabric shoes. Here they are:
Stuffing with frozen water
Prepare two plastic bags or zip-lock bags and fill them with water. Then, you put these bags into your canvas shoes. Next, place the shoes in the fridge and wait overnight. When the water turns to ice, your shoes will stretch.
If you're having trouble stretching your canvas shoes, try stuffing them with frozen water to expand them. This unique method can help to widen the shoes and make them more comfortable. To learn more about different techniques to stretch your shoes, check out this article on top 50 most expensive foods ranked by price.
Stuffing with newspapers
You can create more room in your fabric shoes with some newspapers. First, roll up the newspapers, then tuck them tightly into the toe of the shoe. Leave them overnight. After taking the newspapers out, try on the shoes. If they don't really fit your feet, repeat the process.
If you have some old socks instead of newspapers, you can use them as alternatives. The process is similar to using newspapers.
Method 3: Using Shoe Stretchers To Loosen Canvas Shoes
There are two common types of shoe stretchers on the market, including ball and ring stretcher and two-way stretcher. Keep reading to know how to use these two tools.
If you're looking for a tool to help stretch out your canvas shoes, a shoe stretcher may be just what you need. Learn more about this handy device and how it can help you with your canvas shoes in our article "Shoe Stretcher: What is it & Does it Work?". Our guide can answer all your questions and teach you how to use the tool properly to achieve the perfect fit for your canvas shoes.
Using ball and ring stretcher
Since the ball and ring stretcher works in a particular area of the canvas shoes, the first step you have to do is determine what part needs to be more significant.
This tool includes two sides: the ball side and the ring side. Now, you need to place the ball side into your canvas shoes and another one on the outside of shoes.
Could you see the stretcher's arms? To get the ball to stretch the fabric, pull the stretcher arms together until you get the stretch you want. If you prefer a more effective result, you can leave this ball and ring stretcher in your fabric shoes overnight.
In case you get trouble imagining this process, the following video will clearly illustrate how to use a ball and ring stretcher to loosen your shoes.
Using two-way stretcher
The second tool that you can utilize to make your shoes wider is a two-way stretcher. You can loosen your canvas shoes widthwise or lengthwise, depending on your own purpose. Here is the detailed instruction on using a two-way stretcher to widen your fabric shoes.
Firstly, you need to prepare your canvas shoes with a shoe stretch spray. There is a wide range of shoe stretch sprays in the market that you can purchase. Personally, I recommend FootFitter spray. It would be best if you focused more on the tightest areas.
Next, put this two-way stretcher into your shoes and make sure that it touches the end of the shoe. Finally, rotate the stretcher handle clockwise to loosen the canvas shoes breadthwise.
You will need to repeat this step at least 2-3 times to see the difference. After that, leave the two-way stretcher in your shoes for at least 6 hours.
Finally, turn the stretcher handle counterclockwise to remove the tools from your shoes.
The way of preparing and putting the tool into your canvas shoes is similar to the widthwise stretching process.
Now, instead of turning the handle, you need to rotate the lengthening wheel counterclockwise until the heel block fits the heel counter of your shoes. It might take from 5 to 8 turns for the heel block to touch the end of the shoes.
Then, leave the tool for 6-8 hours. It is the ideal period for the two-way stretcher to expand the fibers. After removing the device, try on your shoes to know the fit. If you are not satisfied with the fitting, you can repeat the process.
RECOMMENDATION: To prevent shoes from returning to their original shape, you should use shoe trees.
Here is a tutorial video of using a two-way shoe stretcher.
FAQs
How do you loosen tight canvas shoes?
Stuffing is considered the most common and effective way to loosen canvas shoes. All you need to do is tuck some newspaper into the bottom of your shoes. Then press them firmly against the edge of the shoe to make sure you can stretch the fabric. Leave overnight and then remove the newspaper.
Do shoe stretchers work on canvas shoes?
Yes, they do. Both ball and ring stretchers and two-way stretchers are responsive and effective in canvas shoes. While the ball and ring stretchers help you stretch a part of the shoe, two-way stretchers will loosen the entire shoe.
Does canvas stretch when wet?
The answer is probably no. In fact, the fabric shrinks when wet. Therefore, if you stretch while your canvas shoes are wet, the material will stiffen and sag as a result.
How can I stretch my shoes in a hurry?
Putting your canvas shoes into a microwave is one of the quickest ways to loosen them. If your shoes are just slightly higher than your feet, all you have to do is put them into the microwave in about 30 seconds. The high temperature will quickly and effectively stretch the fibers.
How do you use rubbing alcohol to stretch shoes?
The process is straightforward. You just need some rubbing alcohol and a spray bottle. First, spray a sufficient amount of alcohol solution inside the shoe until the shoe is damp. Then, put on the shoes and walk as usual until the shoes are dry.
Does rubbing alcohol ruin shoes?
Rubbing alcohol will damage your shoes if you use it in the wrong way. For example, if you fill your boots with alcohol, the alcohol will dry out the fabric and damage the soles. Besides, using alcohol with a high concentration can burn the material.
How do you make shoe stretch spray?
You can create shoe stretch spray with rubbing alcohol and water. Dilute rubbing alcohol and water in a spray bottle with a 1:1 ratio. You now have an effective shoe stretch spray.
Is there a spray to stretch shoes?
Yes, there is. You can find a wide range of shoe stretch spray on the market. FootFitter could be considered one of the most effective products. This stretch spray is most suitable for canvas shoes.
Can wearing too-small shoes damage your feet?
Yes, it can. A pair of tight shoes can cause many foot problems such as foot fungus, blisters, or calluses on the feet. Besides, wearing too-small shoes will definitely make you uncomfortable more than anything.