Thorogood boots are produced by Weinbrenner Shoe Company – an employee-owned firm located in Wisconsin which has a deep root in American culture.
The Weinbrenner Shoe Company started making shoes in the late 1800s and was a primary supplier of boots for the US Army in World War I and World War II. This American pride is brought forward into the brand today's business, especially to the American Heritage line, which is proudly crafted in the USA by union workers.
This post will take a closer look at the Thorogood brand and figure out where Thorogood work boots are made. We'll also discuss whether these boots are worth the price to see why they can be around for such a long time.
Thorogood Brand Overview
The Weinbrenner Shoe Company was started in Wisconsin in 1892. And the Thorogood brand, introduced in 1918, represents Weinbrenner's first line of job-suited footwear. Thorogood is one of the market leaders in work boots, including tactical, outdoor footwear, uniform, industrial safety, fire, rescue, and military.
The brand's philosophy is simple and practical. Every job has particular demands and working conditions, so every job needs its customized footwear to match. Thorogood makes specially designed boots for miners, rail-workers, oil-workers, and more. In addition, Thorogood has continued to expand their product lines and innovate their boots with the latest technologies.
Today, Thorogood manufactures nearly 250 different styles of safety and work boots. The company is still based in their hometown of Wisconsin but has moved a little bit further north to the city of Merrill.
Are Thorogood Boots Made In The USA?
Yes. Thorogood still has kept some of the boot production right here in the USA. They are proudly one of a few remaining boot manufacturers who still make high-quality footwear in the US. According to a report, 65% of Thorogood footwear is made in the two company-owned plants in Merrill and Marshfield, Wisconsin, which has been their founding home since 1918.
Their American Heritage line is 100% handcrafted by UFCW union trades workers in the USA. All USA-made boots from Thorogood bear a small American flag tag or 'Made in USA' flag stitched into the seam between the front quarter and the vamp with the Thorogood logo marked in the boot heel.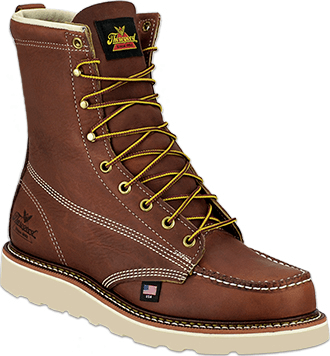 Thorogood's USA-made work boots are some of the most well-known boots on the market. These boots provide you with comfortable construction and durability. They also come in various styles for you to choose from, including lace-up, pull-on, round-toe, moc-toe, plain-toe, and safety-toe boots.
Discovering the origin of your favorite work boots can be satisfying. Similarly, you might like to know if Danner Boots are made in the USA. These boots are not only manufactured in America, but they also have an impressive history of manufacturing military boots. Learn more about this brand by visiting Where Are Danner Boots Made?.
Are Thorogood Boots Made In China?
Many footwear brands now take advantage of outsourcing their production to other countries where they can save much of the material and labor costs. And Thorogood is not an exception. Many of Thorogood boots' production has been moved to China. So, it is not surprising if you see the 'Made in China' label inside these boots.
As mentioned above, Thorogood does offer the American Heritage product line that is 100% American-made. So, if you want a long-lasting, premium-quality pair of work boots, you should consider this USA-made line.
Are Thorogood Boots Good?
Thorogood is proud of making high-quality handcrafted boots specially designed for workers around the world. For over 125 years, the brand has retained the mission of providing safety and comfort to the wearers. When searching around for work boots, you can see Thorogood is among well-known brand names, featuring their American Heritage boots that are made from only the highest quality materials.
Most Thorogood boots offer a wide range of features and technologies such as wedge sole, waterproofing, 360-degree Goodyear Storm welt, triple-stitched upper sole, cork molding layer, fiberglass shank, to name just a few. Thorogood boots also come in many styles, colors, heights, and types of leather and usually have the option for a reinforced safety toe box.
If you spend your time working on concrete frequently, you may not need a logger boot with heavy, aggressive lugs; then, Thorogood work boots are ideal alternatives as these boots are good combinations of toughness, style, and comfort.
Or, if you're working a job that requires constant stress to the boots (such as climbing ladders all day or walking on bumpy surfaces), you will need boots that have steel shanks. Thorogood offers lots of boots that have a steel shank for more foot support. Overall, Thorogood boots can suit all your needs, whether you are a construction worker or hiker.
However, some Thorogood boots are not waterproof, which is also a weakness of these boots. Of course, leather boots are, to some degree, able to repel moisture, but some versions of Thorogood boots are not equipped with a waterproof lining.
Although some Thorogood boot styles are not waterproof, they are built with the Goodyear Storm welt construction. The Goodyear Storm welt process is the best method to build a boot and be recrafted easily whenever you need a new outsole.
Thorogood Boots Prices
Thorogood boots usually retail at around $150 to under $250, which is considered an entry-level price.
It is noted that Thorogood boots are not work-inspired boots like many boots are often classified, but these boots are 100% work boots. There are many other harder-core boots for specific or serious types of work out there; lots of construction workers still choose Thorogood. Their comfort really stands out, and the price is about as reasonable as you can find for boots with this level of durability, quality, and designs.