Rad Power bike brand creates their reputation with various best quality e-Bike at the affordable price targeted for riding in the city, commuting, even transporting cargo. What do you want from an E-bike? Rad Power bikes will always be available for any purpose. Let's find it out!
Rad Power bikes brand has won a lot of awards, such as "Best Places to Work in Seattle," "Forbes 30 under 30", "Internet Retailer's top 100", and "50 Tech Companies to Know". All of that presents how famous the Rad brand is. My review will discover the details about the brand and its products.
Overview of Rad Power Bikes Company
E-Bike is the hope of changing the gas gobbling cars and chasing for the greener planet. However, the price of an E-bike is the biggest issue. Most e-bikes cost up to $3000, which will be ok to buy a used car.
Fortunately, Rad power is running to change that issue, and they are a Settle-based E-bike manufacturer. They are paying attention to making practical daily E-bikes that cost a low budget. For that, they are relying on retail solutions and clever production. They are successful with their ideas. The following will help you know more.
History of Rad Power Bikes
In 2007, Mike Radenbaugh first created the Rad power bike, his fist E-bike to get to high school and back. At that time, he needed to have a cheap way to commute to school. That made his decision to build his E-bike. Do you think everyone can do it?
It was made from rustic components about his first bike, including the Tupperware to encase the wiring, lead-acid battery, and brushless motor. However, he also started to make more E-bikes for friends, family, and neighbors.
In 2015, Mike and his neighbor friend – Ty Collins joined forces to make their Rad Power bikes growing up.
Mike Rodenbaugh (right) and Ty Collins (Left)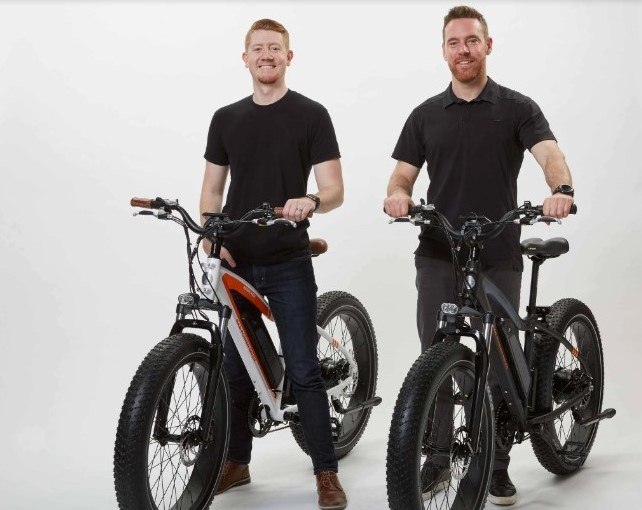 At the moment, two young men own the biggest and fastest developing E-bike manufacturer in the world. Their company is direct to customers with more than 160 employees and the 8 Ebike lineups.
As their mission "Offer the unrivaled customer experience with radical electric bikes that are built for everything and priced for everyone," they are always trying to make the bike for excellent efficiency, enjoyment, and availability to all.
Rad power bikes are labeled as Radical (Responsible, Accountable, Diverse, Innovators, Customer-driven, Approachable, and Learners).
Rad Power Bike Ranges
Rade Power brand has an impressive catalog characterized by the inimitable design of style, affordability, and great motors which can top 20mph and batteries with highly satisfying ranges. Both motor and battery serve great surprises considering it as the budget-friendliness.
As mentioned, Rad Power Bikes come with 6 E-bike models on offer now. They are including:
RadRunner: City
RadRover: Cross-country/gravel
RadCity: City/ Commuter
RadMini: Folding
RadWagon: Cargo/ Family
Radmission: City/Commuter
Indeed, you can find one among these models suitable for suiting your target. There is also the option of both step through and step over frames which will be perfect for older people to get on and start riding simply.
The significant benefits of these bikes are friendly-to-budget price, unique style, practicality, and powerful battery and motor. Although they are pretty heavy and limited sizing for some models, they are still significant enough for our needs.
Most Popular Rad Power Bikes
My review will bring you through the brand's bestseller bikes, and it might partly make your decision easier.
RadRunner (For urban riders on a budget, size: leg inseam 22-28")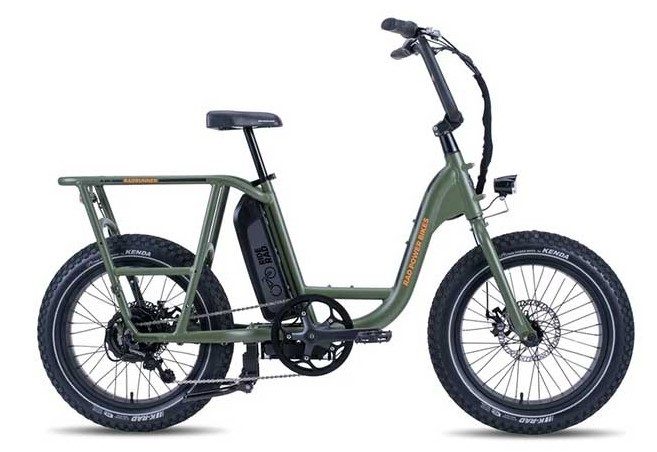 Specifications
Frame Material: Aluminum
Tire size: 20×3.3"
Motor: 750W, 80Nm of torque
Battery: 48V, 14Ah (672 Wh)
Components: Single speed
It can be said that RadRunner is the most affordable model and costs less than others $200 since this is a single-speed E-bike. This bike comes with small and wise 20" wheels making it a decent city bike for daily commuting.
RadRunner features the Tektro mechanical disc brake, comfortable saddle, flat pedals, integrated rear rack, and Kenda tire. These are quite the same as other bikes in Rad Power's lineup.
Besides, you can have passenger saddles, front rack, panniers, child seat, baskets, and center console. This bike can quickly deal with potholes, dirt roads, and even curbs thanks to the 20" wheels that are 3.3" in width.
Its Aluminum frame is no pushover, and its inclusion of the steel fork is one of the main factors keeping its low price range.
Suppose you expect the most uncomplicated and most affordable E-bike for getting your job done and provide you with a ridiculous riding experience. In that case, RadRunner will be your beast of choice. See also are mountain bikes good for urban riding?
RadRover (For off-road riders)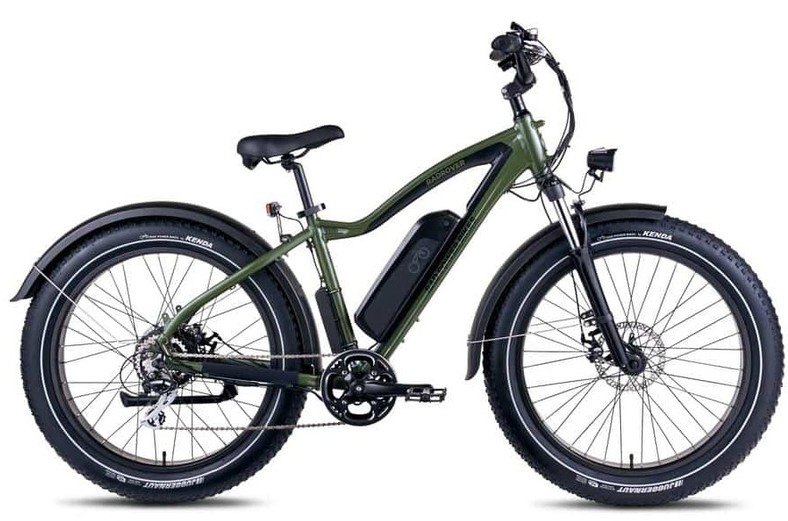 Specifications
Frame material: Aluminum
Tire size: 26x 4"
Motor: 750W, 80Nm of torque
Battery: 48V, 14 Ah (672 Wh)
Components: Shimano Acera
Off-road hungers will never ignore RadRover 5; it features the 4" wheels, and the burly rear hub motor. 4" wheels are also creating the reputation for a stable bike brand. Hence, it is the best choice to offer road and winter riding. Being the best-selling E-fat bike in 2021. With Radrover 5, you can go anywhere, do anything, as the dream bikes.
This Ebike features the backlit LCD, 750W, brushless Bafang geared hub modes, and the 5 level pedal assist with 12 magnet cadence sensor.
It is specialized with super wider tires and a front suspension with 80mm travel. Hence, your rider will be more comfortable and extend the off-roading capability.
Mainly, it has the rear Shimano Altus derailleur and the 1×7 Drivetrain. As an electric bike, you will not need too many speeds and complex components because it might increase its price and weight.
Briefly, if you love riding on the path, with the help of electricity, Radrover will be with you!
RadCity (RadCity 4 & step-thru 3 For Hybrid workhorse)


Specifications
Frame materials: Aluminum
Tire Type: 26x 2.3"
Motor: 750W, 80 Nm of torque
Battery: 48V, 14 Ah (672 Wh)
Components: Shimano Altus
RadCity is perfect for fitness riders, modern urban cyclists, and commuters. Besides, thanks to its wide tires, this bike is also well suited for off-road situations. RadCity is available with the step-through and steps over a frame which will be great for female or elderly cyclists. Both are suitable for anyone.
This model comes with the swept-back handlebars, which are designed for keeping you comfortable on long rides, mounted on its frame for the optional wheel locks for more security.
It also features puncture-resistant tires, and it has reflective sidewall striping, and integrated brake light. Thanks to the integrated rear rack, you can fit all the additional seats, bags, carriers, baskets. Besides, you also use it to ride your children or haul the crap.
Especially this bike with the standard motor of Rad Power, the battery with the estimated range of 25-45 miles/ charge, depending on how you ride; hence, it is enough for a week of riding.
RadMini 4 & Radmini step through 2
(Fat tire for urban riders with the height from 5'2" to 6'2")

Specifications
Frame material: Aluminum
Tire size: 20" x 3.3"
Motor: 750W, 80 Nm of torque
Battery: 48V, 14 Ah (672 Wh)
Components: Shimano Altus
A small Ebike folding with 20" wheels packed ultra-small and easily taken on the train or stored away in the small corner of your house or car's tank, how great it is! (its folded dimensions are 41x 22 x28") With the aluminum frame and mid-fold mechanism operated with the quick release lever, you can fold/ unfold it in a second with the accessories attached.
These Rad bikes have great power, convenience, and versatility. These heavy-duty bikes come with puncture-resistant tire fronts, rear fenders, and integrated brake lights. It features a suspension fork with 60mm of travel; it is perfect for potholes, curbs, and washboard gravel roads.
RadWagon (For car replacement, rider height from 5'1" to 6'4")
Specifications
Frame materials: Aluminum
Tire size: 26 x 2.3"
Motor: 750W, 40 Nm of torque
Battery: 48V, 14 Ah (672 Wh)
Components: Shimano Altus
If you are looking for a bike for massive loads, taking kids to school, or doing grocery shopping every week, you can not miss RadWagon. It is built for the last, strong aluminum frame, rear hub motor, and motorcycle kickstand for extra stability.
You won't need to take time on changing the flat on the fully loaded bike because it features 26 x 2.3" puncture-resistant tires. It has the Tektro mechanical disc brake, which is essential to the bike for getting the heavy or additional load on.
Its 750W motor supports you up to 20mph, and its battery provides 25-45 miles of range for each charge. Besides, its 2.3" tires on the 26" wheel will be perfect for on/off-road riding with the 1×7 drivetrain.
RadMission 1
(A single speed bike for the rider height of mid-step 5'2" – 6'2" or high step of 5'10" – 5'4")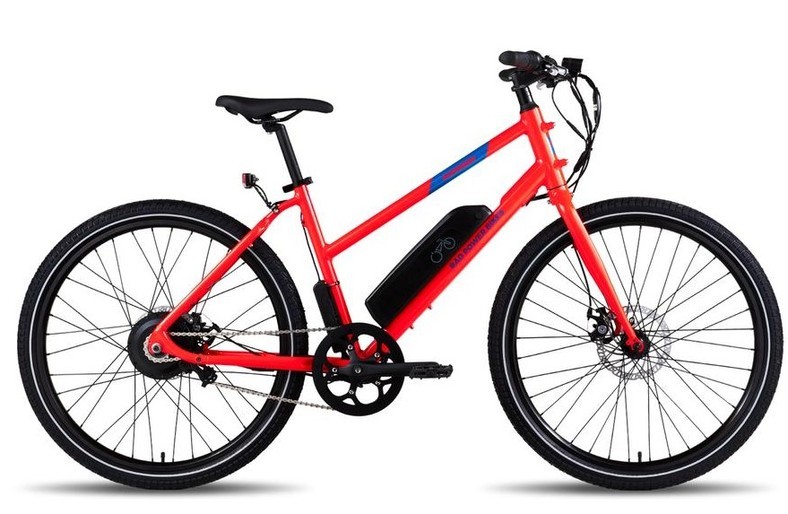 Specifications
Frame material: Aluminum
Tire size: 25.7 x 1.95"
Motor: 500W, 50 Nm of torque
Battery: 48V, 10.5 Ah (504 Wh)
Components: Single speed
Being one of the cheapest and lightest e-bikes in Rad power's product line. It is a simple bike for city riders who need a bike for keeping up and getting them from one place to another consistently. This bike is the entry-level commuter for those hesitant to take the plunge into the Ebike cycling world. It is not for hauling weight as the other Rad Powers.
Radmission 1 is built to mimic the fixie in look and utility. These stylish bikes come in 5 colors, two frame sizes, and two frame designs (step over & step-through).
Mainly, it features the front and rear lights for night riding, the LED display, comfortable riser bars, and the mechanical disc brakes. Although coming with a smaller battery and a weaker motor than others, it still maintains the 20-45 mile range and the pedal-assist or the throttle support up to 20mph. You can check the top list of 19 single speed bikes.
Bike Price Range
As the most affordable E-bike in the market, their price range is from $1000 to $1600. Specifically, their cheapest model is Readmission, and its price is only approximately $1000. And the most expensive models are RadWagon and the RadRubber Plus with a price up to $1600. Other models, such as RadRover, RadMini, and Radcity, are around $1500.
Are Rad Power's Bikes Any Good?
The answer is "Yes!" Rad Power bike creates great quality E-bikes for reddening daily commuting for years and thousands of miles. There are thousands of benefits from these E-bikes, such as it is an award-winning eco-friendly E-bikes. Hence, using an E-bike from Rad Power is better for the environment.
What do I like the most about Rad Power Bikes? Waterproof, it was initially designed to withstand rainy weather, perform well in wet conditions.
Besides, they make a variety of bikes for different functions. Moreover, the manufacturer offers free mobile at-home testing and service, 14 days free returns, and one year warranty.
Rad Power Vs. Aventon Bikes
One of the most usual asked questions is how different the brands Rad Power and Aventon Level bikes are.
RadRover vs Aventon Adventure bikes
Both E-bikes from 2 famous brands are fat tires; however, the Aventure uses hydraulic brakes while RadRover uses mechanical brakes. Besides, Aventon also comes with a higher capacity battery and is more powerful. Of course, you should spend a lot more money on Aventon, while Radrover is incredibly affordable.
RadCity vs Aventon Pace 350
Aventon defeats Radcity in terms of price; you can save $400 with Aventon. With Aventon, you can have the same Class II pedal and similar mechanical disc brakes. However, the Pace does not have the racks or fenders as RadCity.
RadMini vs Aventon Sinch
Radmin is $100 less than Aventon Sinch, and both are folding E-bikes with fat tires and suspension forks. Sinch uses a more robust hinge and locking mechanism on the frame. Its battery and controller are hidden inside the frame for a neat look. Besides, it uses the 4" wide tires for extra comfort and grips. Rad mini uses on ]ly 3.3" tires. Come with the same battery, motor wattage, and Class II pedal.