The finest Nocona boots are about to amaze you, so much you may mistakenly believe you're shopping for a far more expensive brand. But that is not Lady Enid Justin's intention. Instead, she tried to make high-quality leather affordable to the public, which marks her name in Nocona, Texas. Over the years, Nocona has earned a reputation for providing boots that have both outstanding quality and practical design.
The next thing you may consider is where Nocona boots are manufactured. This article will answer this question in detail, then discuss Nocona boots' prices and whether these boots are worth the money. If you're looking for a good pair of boots for everyday use, you'll find this article to be very helpful. 
Key Takeaways
Enid Justin Steltzer founded Nocona Boot Company in 1925 in Nocona, Texas.
The company has roots dating back to 1890 when H.J. (Joe) Justin, a leather craftsman from Indiana, moved his business to Nocona to take advantage of shipping facilities brought by the railroad.
In 1981, Nocona Boots merged with Justin Industries, the parent company of Justin Boots, bringing the two boot-making companies full circle.
Nocona made a 16-inch lace-up boot that was tough enough to survive the oil fields, which became popular among wildcatters.
The Nocona production facility closed in 1999, and manufacturing was shifted to El Paso, Texas.
Nocona Boots have a rich heritage and history and are known for their quality western boots.
Nocona Boots can be worn for everyday looks or special occasions and are a popular choice among boot enthusiasts.
In 2023, the Nocona Boot Factory announced that it would be returning to making boots in-house after a 21-year hiatus.
The Old Boot Factory in Nocona will once again be making one-of-a-kind boots in-house.
Nocona Boots continue to be a beloved brand among boot lovers and are a testament to the craftsmanship and legacy of American boot-making.
So, let's get started!
Nocona Brand Overview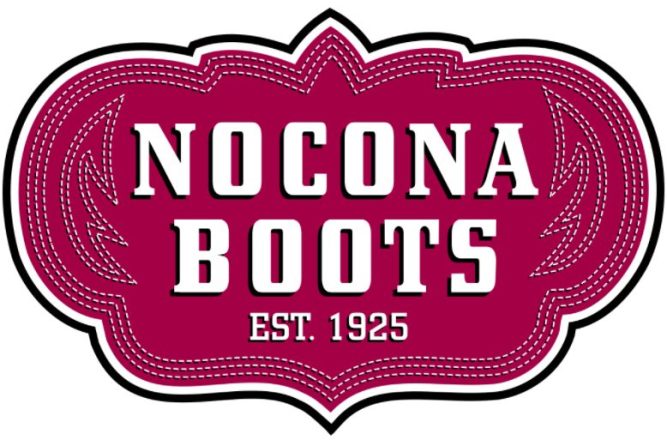 Nocona brand was established in 1925 in Nocona, Texas, by Enid Justin. She was the daughter of the founder of Justin Boots – H.J. Justin, who started producing boots in Spanish Fort, Texas, in 1879.
In 1981, Nocona joined with Justin Industries – the parent firm of Justin Boots, completing the circle between the two boot-making enterprises. The Nocona factory closed in 1999, and manufacturing was moved to El Paso, Texas.
Enid has run the Nocona Boot Company since 1925, powered by her independent mind and devotion to the community. Her daring "standing out in the crowd" mindset thrived as she expanded her new firm at the period when businesswomen were a rare breed.
Until now, Nocona Boots has stayed unchanged to the founder's motto, with distinctive styles and special designs that break convention. Nocona's boot-making innovations resonate in every pair of their boots, along with genuine features and details in every stitch. Nocona Boots was also the first brand that has cowboy boots officially recognized by The Collegiate Licensing Company.
If you are curious about where Nocona Boots are made, you might also be interested in the manufacturing location of Cody James boots. You may find that the relationship between these two brands is quite intriguing, as Nocona Boots is actually owned by Justin Brands, which also owns the Cody James boots line. So, check out the article for more information.
Are Nocona Boots Made In The USA?
Unfortunately, not all Nocona Boots are produced in the United States. There are just some models that are "manufactured in the USA using worldwide parts, based on our research." Close to 80 percent of Nocona Boots footwear is manufactured outside of the United States. However, it's nice to see Nocona keeping some of its popular product lines' manufacturing in the United States. Among that, Brisby is a popular American-made boot of the brand. 
Popular Regions Make Nocona Products
Speaking about performance, comfort, and durability, USA-made footwear is the winner. However, to ensure a reasonable cost, Nocona brings nearly 80% of its products overseas.
Since 1981, Nocona Boot Company has joined Justin Industries – the parent firm of Justin Boots, which completes the circle between the two well-known boot manufacturers. The Nocona production facility closed in 1999, and manufacturing was shifted to El Paso, Texas. Besides, there is about 20% of Nocona boots come from Mexico, according to the brand.
Nocona Boots made by Justin Brands and are crafted in the United States. Their production of hand-crafted western footwear continues in Nocona, Texas, with over 100 experienced craftsmen ensuring consistency and quality from each pair they create. Check out our article on where Justin Boots are made to learn more about their production process.
Are Nocona Boots Good?
Since the very first days, Nocona boots have been created with high-quality leather and refined materials, along with the cowboy style that highlights a 'Let's Rodeo' slogan of the brand. All of these boots still embrace the wild west spirit as Enid Justin has done before. Nocona boots are designed to withstand the adventurous and challenging activities of rodeo cowboys who put their lives on the line daily while maintaining a certain grace and attractiveness.
It is undeniable that many brands have been associated with excellence and quality throughout history. Nocona Boots is one of the names in the boot-making industry. Their boots give exceptional craftsmanship and durability that people trust, regardless you follow the western lifestyle or just want to be a countryside cowboy for a while. Since its foundation in 1925, Nocona Boots has been dedicated to its heritage, which has been founded on the trust that consumers have placed in them.
How Long Should Nocona Boots Last?
It is noticed that there are not many bad reviews about Nocona products, but similar to other footwear brands, Nocona also receives lots of questions from customers regarding durability. Nocona does not specify how long its boots can be used as the durability depends much on how and how frequently you wear them. However, Nocona boots are expected to last 4 to 5 years if used carefully, or maybe a year if you wear them every day.
Furthermore, because leather is a material that can be easily damaged, moisture and debris can reduce the life of Nocona boots. Hence, if you want your boots to last for years to come, you must take proper care of them on a regular basis. Proper maintenance is required to maintain their condition.
Nocona Boots Prices
When it comes to price, Nocona offers affordable boots that range from $150 to $170 in both men and women categories. Nocona boots are definitely among the best available out there! In addition, Nocona Boots offers a diverse choice of designs and models, allowing you to discover exactly what you're looking for within their product ranges. Generally, Nocona boots are a good investment. Nocona is a good option if you're looking for a new pair of traditional cowboy boots that can handle practically everything on the line.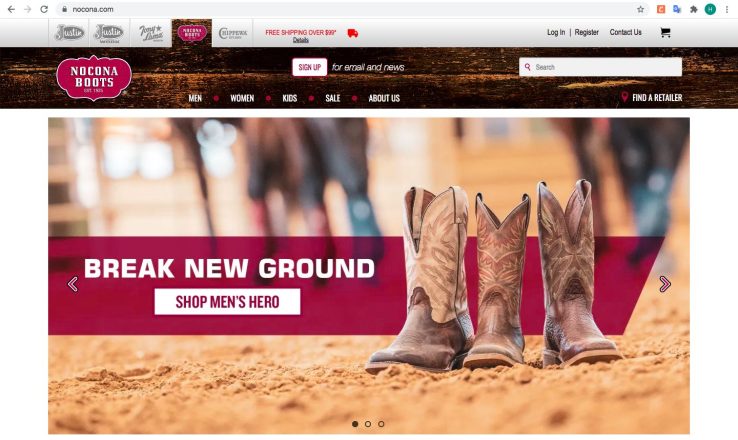 How Do The Nocona Boots Make?
Nocona Boots, like all cowboy boots, are made from a single piece of soft leather. The stitching on the boot is so close together that it appears to merge with the seam. These boots' soles, quarters, and insoles are made of thicker leather to withstand considerable wear on challenging terrain. A pair of Nocona Boots will outlast any other pair.
The pleating process is the most significant aspect of the Nocona boot manufacturing process. "Lace-ups," "pull-on," and "roll-downs" are the three varieties of cowboy boots. The only thing that separates them is how they're put together. There is a seam on top, one on the side, and two in the back of a lace-up boot. There is a single seam at the top, none in the front, and one in the heel of the pull-on. Except for the stitching that holds the boot together when rolled down over your foot, a roll-down boot has no seams.
If you are interested in the process of making boots, you might also be curious about where Lucchese boots are made. This brand is well-known for its high-quality materials and craftsmanship, and their boots are made in the USA. From the selection of the best leathers to the intricate stitching patterns, Lucchese has been making boots by hand since 1883.
1. Outsole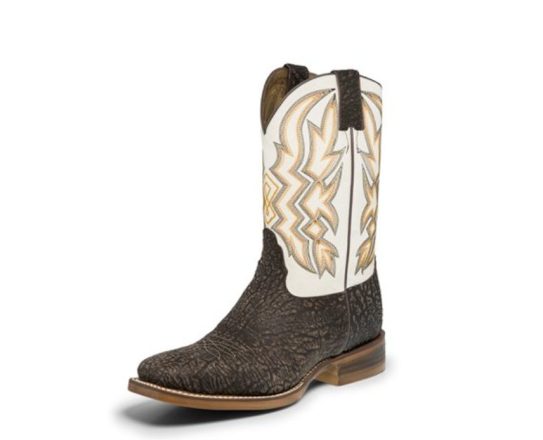 The development of the outsole is the first step in the production of a Nocona Boot. First, to ensure that the sole stampings fit precisely around the upper part of the boot, the sizes and forms are measured and cut by hand. After that, the outsole is steam softened, laid over an M-shaped former, and stitched into place.
2. Uppers
The upper section of most Nocona Boots is made up of 20 individual leather components. There are no rough edges or unfinished seams along the sidewalls because everything is hand-sewn together. Frayed edges on these jeans-style boots with clean lines so sharp they can cut you if you touch them too closely are avoided thanks to this procedure.
Looking for comfortable work shoes made of high-quality materials? Learn about the advantages and disadvantages of leather vs synthetic materials and choose the best option for your work environment.
3. Stitching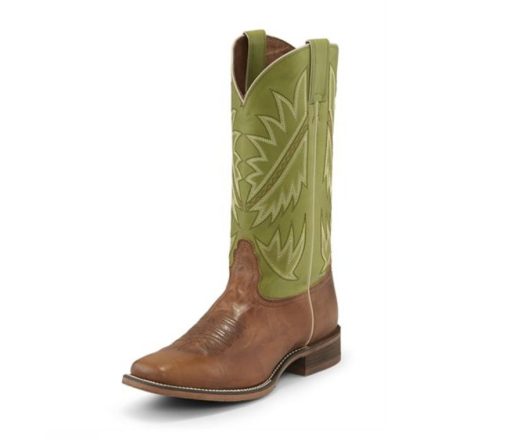 Stitching is a crucial step in the production process. First, each stitching line is cut carefully to match the seams of the boot properly. If the seams are not adequately sewed together, they will show and leave ugly lines on your cowboy boot. Oil is then massaged into the stitches to assist prevent breaking over time. This practice extends the life of your Nocona Boots significantly.
4. Outlining
Hand-painted Nocona Boots with a specific mixture of shoe dye and white lead. On the borders of the sole, white "stop" paint has been applied to allow you to see yourself from behind while walking on a dirt road. Cowboys often painted the upper sections of their boots to match their attire in black, red, blue, or yellow. Some rodeo contenders even had their boots painted in a wild floral pattern to make them stand out among the other competitors approaching the arena.
When it comes to finding the right size and fit for your shoes, it can be a challenging task. But don't worry, our Shoe Fitting Guide is here to help you. This guide provides detailed information on how to properly measure your feet, determine your shoe size, and test if your shoes fit well. With this guide, you can finally say goodbye to shoes that are too big or too small.
5. Soling and Heeling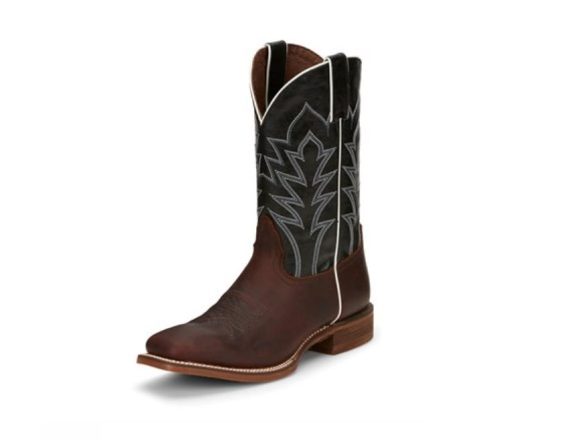 Soling and heeling are the third and last steps in the production of a Nocona boot. The soles are composed of vielle, a firm leather. The vielle is softened by hand, then dried overnight before being rubbed with a unique resin and oil mixture. This procedure aids in the creation of a flexible sole that conforms to the shape of your foot. The toe portion of the boot is covered with a lengthy piece of metal. After that, the heel is chopped off, and a piece of leather is put on top. Then, a soft felt pad is wrapped around the heels to protect them from harm while riding a horse.
6. Topping and Packing
Topping and packing are the final steps in the production process. First, the bottom of the boot is sewn with an inch-thick piece of soft leather. Next, the piece is sewn into place after being turned inside out and folded over at the bottom. A canvas binding is then whipped around the top of the boot to protect it from moisture and other outside forces that could damage it over time. After that, each Nocona Boot is packaged and mailed to its new owner.
The Nocona family still owns and operates the Nocona Boot Company. Its current headquarters, which were built in 1986 on the original site of the first manufacturing facility, are located on the original site of the first manufacturing building. Each year, over 4 million pairs of cowboy boots are produced at this location and satellite plants in San Antonio and El Paso, Texas.
Nocona Boots in Five Difference Types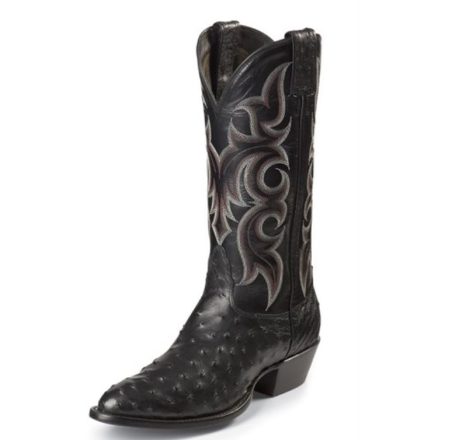 Cowboy boots have been a favorite of cowboys since the early 1900s, and the Nocona Boot Company offers four basic types. Lace-up, pull-on, roll-down, and lace-less designs are available. In addition, leather tops are offered with either vielle or leather soles underfoot.
Nocona Boots are available in five different types including dress boots, western boots, work and safety boots, and more. If you are interested in learning about the origin and popularity of Nixon Watches, check out this article on Where Are Nixon Watches Made? These stylish watches are manufactured using high-quality materials and are known for their durability and reliability.
1. Custom Boots
If you don't see exactly what you're looking for, the Nocona Boot Company may create custom boot software to meet your specific requirements. You can either choose your style and leather type or have one of the company's design specialists make these decisions for you. Nocona Boots will fulfill all of your needs, whether for riding on the saddle or for wearing in the office.
2. Fresco Boot Collection
There are lace-up, pull-on, and roll-down boots in this collection and a variety of colors. Leather or laced vielle soles are offered in most models. All of the models are made from the wealthiest leather, including aniline leather. Justin Boots created these boots specifically for a western style.
3. Laredo Collection
There are three various varieties of cowboy boots in this collection, featuring both heel-sewn and vielle soles. The smooth and tooled versions of pull-on and roll-down boots are both available. In addition, uppers are available in three colors: brown, black, or cherry red, in both smooth and tooled versions. At Nocona Boot Company's factory in Nocona, Texas, experienced bootmakers handcraft each pair of boots. There are two varieties of cowboy boots in the Laredo Collection: lace-up and pull-on cowboy boots with seasoned vielle soles. Leather is offered in black or brown on all models.
If you're looking for high-quality cowboy boots, the Ariat boots are perfect. These boots are made from premium materials and are designed to last. With Ariat, you can rest assured that your boots will be comfortable, stylish, and built to last. Enjoy the perfect blend of modern technology and traditional western design.
4. El Paso Collection
There are two varieties of boots in the El Paso Collection: lace-up and pull-on multiple soles in various colors. The leather soles come in two colors: brown and tan. The Nocona Boot Company's factory in El Paso, Texas, handcrafts each type. The demands of today's working cowboy are addressed in this book.
5. Acorn Boots
Justin Industries produces a variety of cowboy boots, including Nocona Boots. Acorn Boots are lace-up boots created by hand compared to the Nocona Boot Company's footwear. Acorn Boots are imported entirely from England. Traditional toe stitching and plain stitching on the side seam are available in either heel-sewn or vielle leather, with traditional toe stitching and plain stitching on the side seam. In 1845, Acorn was established. The company is presently run by the third generation of the founder's family and employs 300 employees in three factories: one in England, one in France, and one in Italy.
6. Royal Collection
There are two varieties of boots in the Royal Collection: lace-up vielle soles in tan or brown and lace-up vielle soles in tan or brown. Both types of boots come with brown and black leather tops, and each style is available with smooth or tooled uppers. At Nocona Boot Company's factory in Nocona, Texas, experienced bootmakers handcraft each model. Many organizations need their employees to wear ties as part of their official business attire, and these boots were intended to fit those criteria.
FAQs
Are Nocona Boots made in China?
Nocona Boots are not manufactured in China. The company's production site is in Nocona, Texas, and they are committed to manufacturing their boots in the United States.
Where were Nocona Boots made?
Nocona Boots were created in Nocona, Texas. But, in 1999, the production facility was relocated to El Paso, Texas.
Are Nocona Boots made of leather?
Nocona Boots are, indeed, constructed of leather. The company is well-known for producing high-quality leather boots.
What is the oldest boot company in the world?
R.M. Williams, the world's oldest boot business, was founded in Australia in 1932.
What is Nocona leather?
Nocona leather is a type of leather used to produce boots by the Nocona Boot Company. It is well-known for its durability and good quality.
Are Nocona belts made in the USA?
Indeed, Nocona belts are made in the United States. The company is committed to manufacturing their products in the United States and sourcing their supplies from American suppliers.