You may not even perceive it, but your inseam is a crucial consideration when purchasing jeans.
Nothing is more frustrating than purchasing a lovely pair of jeans, waiting days or even a week for them to arrive, and then discovering that they are significantly too short. Even worse, they are a potential hazard, requiring 6-inch heels merely to *possibly* wear them out.
Understanding your inseam will definitely make buying online much easier.
This article will help you learn all the things you need to know about inseams, along with how to take your own measurements.
So, What is an inseam?
Generally speaking, the inseam, also known as the length of the inner leg seam, is basically the distance between your ankle bones and your crotch. When purchasing pants or jeans, it is always one of the numerous dimensions that matter.
If you want to ensure your clothing fits well, you need accurate measurements. How to Measure Your Body for Clothing Sizes section on Hood MWR can help you to determine your measurements for chest, waist, hips, inseam, and more, gives you confidence when making online purchases.
What About Standard Inseams?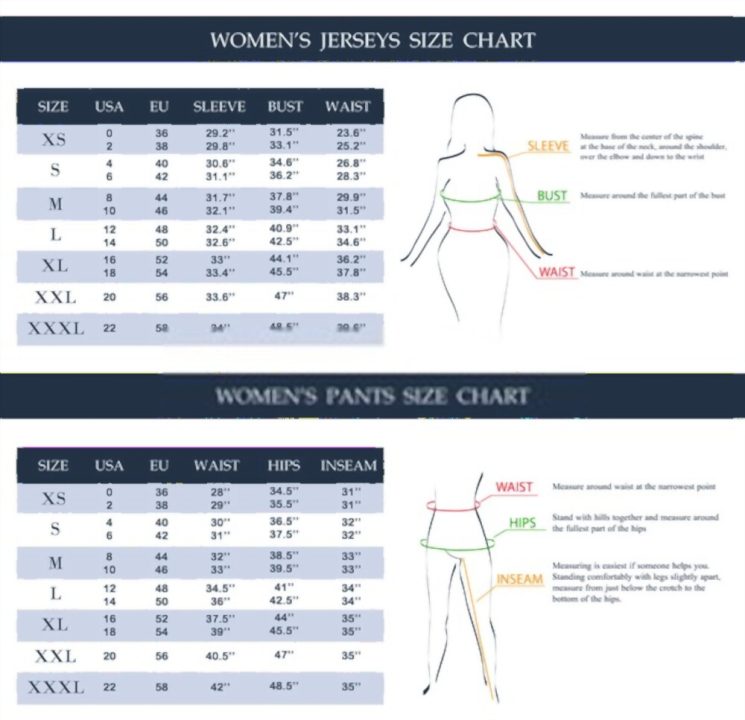 Actually, there is nothing called standard inseam measurement, and it varies from brand to brand and even from jean type to jean style.
That indicates that even if you purchase slim and straight-leg pants from the same brand, the inseam lengths will almost certainly vary.
A few brands (particularly in menswear) include the inseam on their tags, so always check there first.
The label on these jeans says they are a 34X32, which indicates they have an inseam of 32 inches.
Why is it important to know your inseam?
Actually, it is all about ratios or proportions — how to complement your body shape and what looks nice on you. It will also assist you in finding jeans that suit you properly. There will be no more too-short jeans or jeans that draw on the floor.
Understanding your inseam and also being able to utilize it for various designs of jeans to find the perfect pair for you is a must! And it will lead to significantly fewer clothes returns.
What's more, this will help you create the desired denim (or pant) appearance. You may now effortlessly select these if you want your jeans to gently gather at the ankle. If you want your jeans to softly touch the ground when you wear heels, understanding your inseam will help you choose the proper jean lengths to achieve this look.
Knowing your inseam has its advantages, as below:
1. It allows you to get a better idea of how a specific pair of jeans will fit on your body.
2. It Makes shopping online and determining which styles will suit you easier. Since most firms include a size guide for every model of jeans that you can consult before purchasing.
3. Assists in determining the length required for hemming — require a 30-inch inseam? No issue; rather than stripping and paying to get measured, simply tell your tailor.
How to Measure the Inseam: 6 Easy Ways
Several easy procedures can be used to achieve an exact inseam measurement. Understanding your own measurements has the major benefit of assisting you in purchasing appropriately fitting clothing for your body shape.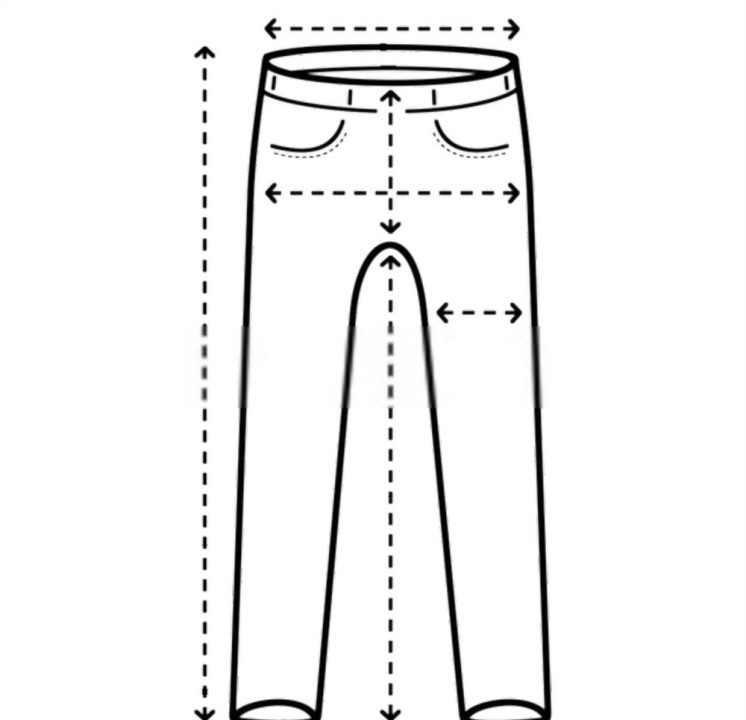 Note down your measurement and compare it to the jean/pant sizing chart offered by most brands or firms. Almost all online products have this information in their product descriptions.
You might discover that the manufacturer sells jeans with the appropriate waist measurement but a too-short inseam. This is important to know beforehand, so you don't purchase "hobbit jeans" rather than jeans that fit your legs properly.
When shopping for the perfect pair of jeans, be sure to check out our Jeans Size Charts 2023: Sizing Guide & Calculator to ensure you are getting the right fit. Knowing your inseam measurement is the first step in finding the perfect pair of jeans for your body shape and size.
Use a Mirror
Measuring your own inseam is a little bit tough, but you can completely do it with the help of a mirror. Yes, a mirror. If at all feasible, locate a location with a full-length mirror to get the most precise findings.
You should also attempt this approach at home, so you can conveniently take this measurement in either tight-fitting leggings or your undergarments. Your legs will swell up if you wear baggy garments or even jeans, giving you erroneous dimensions.
In front of the mirror, begin by assuming a tall, straight-backed position. You would not want to stand stiffly, but you must reach your full height in order to collect accurate measurements.
Use a pliable measuring tape, such as those used in sewing kits. Don't use a ruler or a rigid metal tape measure because you can acquire these at the dollar shop!
This might seem unpleasant, but precision is required if you want a precise inseam measurement. Put the end of the measuring tape where your thigh touches your crotch or where the groin seams will meet if you were wearing pants.
Roll down the outer edge of the measuring tape gradually, keeping it flat against your inner leg the entire time. It will be difficult to perform this while standing upright, but give it you all.
Keep a close eye on the mirror to ensure that the tape is running in a single direction down your inner leg.
As you approach your ankle, come to a halt. The tibia bone finishes in this portion of your inside ankle, and there is a little bone that hangs out. Use this knob to assist you in determining the endpoint of the measurement.
At this stage, squeeze the measuring tape and hold it in your palm until you can note down the number.
The inseam measurement of your jeans is now complete.
2. With The Help of Someone Else
A skilled tailor is typically one of the most precise and effective ways to achieve a proper inseam measurement. Having said that, you can also enlist the expertise of a family member or a friend.
Perhaps you have never contemplated seeing a tailor since having your clothes adjusted seems like a splurge only the wealthy can afford. In most events, this is not actually the case. A pair of jeans can be hemmed for as low as $15 by a qualified tailor.
If you have trouble finding leggings that are the perfect length for you, consider purchasing trousers that are a bit too long and having them altered for a low cost. This will ensure that your jeans fit your upper legs and waist perfectly, as well as give the proper inseam measurement.
On the flip side, by following these procedures, you can ask your friend or family member to help you measure your inseam for free:
Wear something form-fitting, such as leggings or bicycle shorts, or close-fitting underwear (if you are super comfy with this individual). Because baggy pants would get in the way, this will allow for the most precise inseam measurement.
Furthermore, this practice should be done barefoot. Since you were wearing heels, you didn't want your lower legs and ankles to be at various angles and heights.
You must stand in an upright but comfortable position. Rest the rear of your shoulders on a wall and concentrate on perfect posture for the best effects.
Lastly, have a family member or friend calculate the distance from your crotch seam to the ground with a measuring tape. The measuring tape should go all the way down your leg, not simply from the crotch seam to the ground. That is the measurement of your inseam.
3. On Shorts
You may measure the inseam on your shorts using the same basic procedures, but there is one important distinction to remember. Each type of short has a varied length, which means that the inseam measures will vary greatly. Booty shorts, biker shorts, boating shorts, loose khaki shorts, etc., are all available.
5, 7, 9, and 11-inch inseams are among some of the most common inseam measurements you will encounter on shorts. However, every pair of shorts will have a variable inseam.
As a result, you might need to become familiar with many inseam measurements that perfectly work for you when shopping for shorts. You can find out what length of shorts you like by using an old pair of shorts from last year that you found perfectly fit.
Lay down three or perhaps four different types of shorts for women and start measuring the inseam on every pair.
The hem of most shorts finishes at or near your ankle. However, shorts don't do this because each style has its own length! Therefore, before you choose an inseam measurement, always ensure that you know what sort of shorts you prefer.
If you are struggling to find the perfect shorts size, check out the Men's And Women's Shorts Size Chart. This chart provides measurements for both men and women, making it easier to find the right size. With this useful tool, you can avoid frustration when shopping for shorts.
4. For Women
One of the most challenging aspects of deciding on inseam measurements for ladies is that, depending on the design of your outfit, you may desire somewhat shorter or longer jeans. For example, you might want to lengthen the inseam of a pair of pants that you plan to wear with pumps by half an inch.
By calculating old jeans that really fit you well, you can typically get inseam measures that tell you exactly how jeans in various styles will perfectly fit you.
To begin, select a few pairs of jeans or trousers in various styles. You might want a pair of slim jeans, a pair of loose or bootcut jeans, and a great pair of formal trousers, for instance.
This process does not consider you to try on the trousers. Simply lay them out hands on the ground alternatively.
Fold the jeans in half along the center so that the side seams are overlapping.
Begin at the crotch and lift the top trouser leg away to find the inside leg seam.
Gradually flatten out a measuring tape from the crotch seam to the hemline of the jeans. Rather than slipping off onto the trouser leg, keep your measuring tape on top of the seam the entire way down.
Take a picture of the measuring tape or write down the measurement.
Several women's trousers, as a bonus, have the inseam measurement printed on the manufacturer's label inside the clothing. This is not as frequent in women's clothing as it is in men's. However, you can always inspect to see if the tag offers this essential information.
5. For Men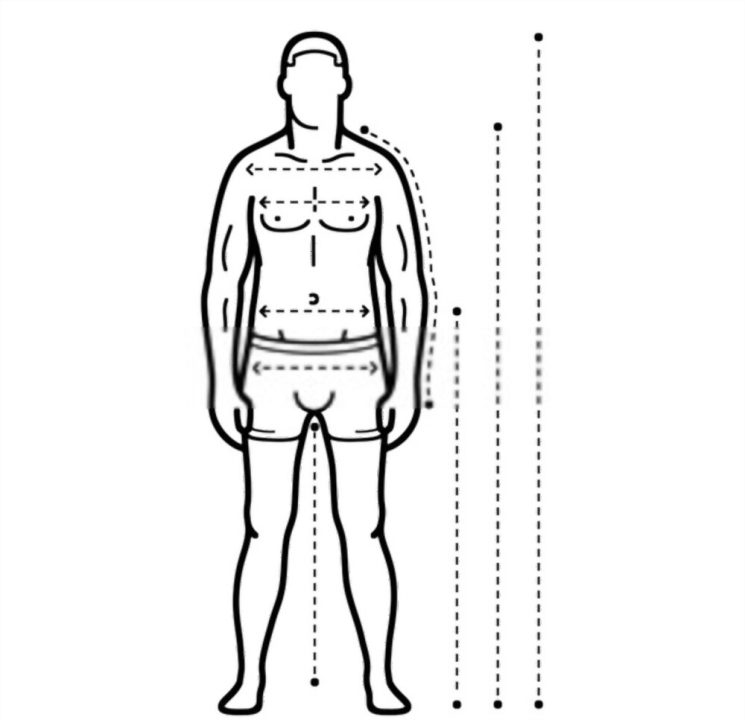 The positive thing about purchasing men's jeans and pants is that the inseam measurement is nearly always included in the name or item description. You may simply verify the inside of the waistband or the manufacturer's tag to see what inseam measurement properly fits you by going to your wardrobe and pulling out a random selection of jeans and trousers!
Inside your trousers, how does this measurement look? It is typically the second of two numbers. In particular, the waist measurement is shown by the first number, while the inseam measurement is indicated by the second. Men's jeans of size 34 X 32, for instance, have a waist measurement of 34 inches, and the inseam measurement is 32 inches.
By looking at the numbers of the inseam on the trousers you already have, you could get a fairly clear sense of your inseam measurement.
You might also want to use one of the ways suggested here to ensure that you understand your own inseam measurement for sure.
Looking for a trendy and versatile haircut? Check out these mod haircuts for men that range from classic to modern. Whether you're going for a sleek and polished look or a more textured and edgy vibe, there's a mod haircut that can fit your style.
6. For Youth
You can effortlessly have an inseam measurement using the same simple methods as the "with the help of someone else" method if you can persuade your youngster to stay still for a few moments.
Stand as straight and tall as possible with your kid's feet a little bit apart.
Hold one end of the measuring tape at your kid's crotch seam.
The long end of the measuring tape should be tumbled down your kid's leg to their ankle.
Make a note of this measurement.
Because children grow so quickly, you will want to take this seam measurement each time you buy them new pants.
A lot of bike sellers are using a kid's inseam to probably assist the child with the correct form and size of the bike, which is a great tip for anyone with a small and short person in their life. As a result, this measurement might have multiple applications.
What Are the Differences Between Inseam and Length?
The fundamental distinction between length and inseam is that length refers to the distance between the hem of the jeans, trousers, or shorts, and the top of the waistband, whereas inseam refers to the distance between the hem and the crotch.
This indicates that the length and inseam measurements are not the same/
In most cases, the length will not be specified in the product details. However, almost everybody will include the inseam measurement, which is critical for a decent fit in any type of jeans.
However, understanding the inseam can help you determine the length of a pair of trousers. If the inseam has to be adjusted, simply shorten or lengthen the hem. To put it another way, you change the length of the trousers to change the inseam.
If you're unsure about the differences between inseam and length, make sure to check out our article on how to measure inseam and leg opening on shorts to get a better understanding before making your next purchase. Knowing these measurements can help ensure you find the right fit and length for your body type.
What is the regular length of inseam?
Regular-length jeans for men typically have a 32-inch inseam, though this varies by manufacturer. Inseam dimensions fluctuate too much for females to have a consistent length assumption.
Women's legs will appear longer with a longer inseam. You should also assess whether or not your footwear will add height to your legs, as specific footwear might require a longer inseam.
Jeans with an inseam that is too long for your legs will have a break that falls to the ground or "stacks," meaning the hem will crinkle if there is just too much jean leg left over while the jeans reach your foot. If you just don't fit into some of the standard sizes, consider purchasing jeans with this extra-long inseam and having them hemmed.
The ratio of Inseam to Height
In almost all circumstances, your inseam is around 45 percent of your total height or a 2.2:1 ratio. Obviously, everyone's proportions are subtly different, so this is only an approximation.
If you know your whole height in inches, you could effortlessly multiply that by.45 to get an approximation of your average inseam. If you do want to see if you have shorter or longer legs than the ordinary individual your height, here is a nice tool to use.
However, use one of the methods discussed in this post to accurately measure your personal inseam.
Looking for an accurate waist measurement? Check out our guide on how to measure your waist. This will come in handy when you need to find the perfect fitting pair of pants that will complement your inseam length. Remember, it's best to measure your waist directly on your skin, and not over clothing.
Size Chart for Inseams
Each legwear company will provide an inseam size chart that will assist you in picking the proper size, depending on your measurements. Waist measurements and sometimes back and front rise are also included in these charts.
If feasible, match all of your important measurements when using an inseam sizing chart. Alternatively, you risk having pants that are the right length but have a wide waist. Alternatively, you may even get jeans that fit beautifully in the waist but end mid-calf rather than at the ankle.
The issue is that each company has subtle variations in the specifications and sizing they utilize. Furthermore, the sizes for women and men will be very varied.
This useful height and inseam chart, on the other hand, will offer you an overview of the typical inseam to height ratios in legwear.
| | |
| --- | --- |
| Average inseam | Average height |
| 28 – 30 inches | 5 – 5.3 inches |
| 30 – 31 inches | 5.4 – 5.6 inches |
| 31 – 33 inches | 5.7 – 5.9 inches |
| 33 – 35 inches | 5.10 – 6 inches |
| 34 – 35 inches | 6.1 – 6.3 inches |
When it comes to legwear, the inseam refers to the seam that goes up the internal leg, while the outseam refers to the longer seam that extends from the waistband all the way to the hem on the external leg.
Two primary seams run down the length of most jeans, trousers, and shorts. From the hip all the way down to your ankle, one of the seams will go down the external part of your leg. The other runs up your internal leg in an upside-down "V" form.
So, you will need to calculate that inner seam to get jean legs that fit you properly.
Outseam dimensions are not as common in product details as inseam measurements. If you must take this measurement, pick a pair of close-fitting jeans, lay them flat on the ground, and start measuring the outer seam from the border of the waistband to the hem of the trouser leg.
Conclusion
You'll be able to buy shorts, jeans, and trousers that fit you exactly if you learn how to take correct inseam measures. With the help of an old pair of jeans that fit you well or a mirror, you can effortlessly take your own measurements. You can also enlist the assistance of an expert or a friend, which will allow you to stand up straighter throughout the measurements.
Generally speaking, the inseam measurement is nearly often included in the size of men's legwear, such as trousers with a 32 X 34 size, which means a 32″ waist and a 34″ inseam. Based on the style of legwear, women's garments usually have a wide range of inseams.
Have you ever purchased pants based on your inseam measurement and a sizing chart? Did the procedure assist you in finding jeans that fit properly? Please feel free to let me know in the comment section below.