Since the 1950s, Xtratuf has been a mainstay of the work boot community. These boots were initially designed and manufactured by Norcross Safety Products, located in Rock Island, Illinois. Being made of well-known neoprene material, Xtratuf boots rapidly became popular among commercial fishers and those who work on slippery surfaces like boat docks.
Although Honeywell Safety Products acquired Norcross and the brand Xtratuf in May 2008, they continue to perform well. They are now making both rubber work boots and casual footwear for men and women.
But, do you wonder if these boots are still made in the USA? Let's read until the end to find the answer. This article will also let you know about the Xtratuf brand overview, whether these boots are of good quality, and Xtratuf boots prices on the market right now.

Are Xtratuf Boots Made In The USA Or China?
Xtratuf was used to taking pride in being the only rubber boot manufacturer that still manufactured their products in the USA at that time. However, these boots are no longer produced in the USA now.
After being acquired by Honeywell in 2008, Norcross closed their manufacturing plant in Rock Island, Illinois, and relocated the production of Xtratuf boots to China at the end of 2011. It was unfortunate as this was the last time Xtratuf rubber boots were made in North America.
This event was certainly disappointing to many of their customers. Rock Island, Illinois, was Xtratuf's hometown since the 1970s. Because of this move in 2011, the company has had to deal with many quality-related issues with customers, especially with their large fishermen segment in Alaska, who questioned the toughness and durability of China-made Xtratuf boots. However, Honeywell has claimed that the quality of all Xtratuf remains the same.
If you're curious about where your boots are being produced, you may be interested in reading about Muck Boots since there are also waterproof boots similar to Xtratuf. Knowing where products are made not only provides insight into the quality of the item, but also assists in making informed purchasing decisions.
Are Xtratuf Boots Good?
Generally, Xtratuf is one of the well-known boot manufacturers trusted by many customers. Xtratuf boots and shoes are put to the test every day by the company's professional fishermen and water lovers. After testing the products under severe circumstances, the team will provide feedback for the company to improve the products. Xtratuf attaches high importance to testing product performance in reality. Their footwear is highlighted in SNEWS, SGB Media, and Canadian Great Outdoors.
Xtratuf boots are all made by an experienced team of artisans. For example, the Alaskan sneaker's maker has 70 years of expertise and experience behind them. As a result, most Xtratuf boots can withstand even the most extreme weather conditions. They can be worn for commercial fishing, sport, regular fishing, snowmobiling (or as everyday winter boots), hunting, jumping in puddles, keeping safety and balance on your feet when working on wet surfaces, etc.
Besides, Xtratuf offers a range of winter insulated work boots that can withstand temperatures down to -10°F / -23°C. They were designed for use in Alaska, so you can be assured that they will keep your feet warm in any cold weather. Moreover, because they come with lots of waterproof features, you can use them as wet-weather footwear on the water or as a regular winter boot on land.
The mission of Xtratuf is to create trustworthy footwear that can withstand harsh outdoor circumstances, such as traversing slick wharves and boat decks, crossing rivers, and trekking through the mud on hiking and hunting expeditions. Xtratuf strives to keep your feet comfortably dry and protected in the harsh and wild aspects of outdoor life.
Xtratuf has received many positive reviews from the customers, and the fact that they are still on the favorite list of fishing boots and deck shoes of many anglers. So if your purpose is to stay dry, remain upright, and feel comfortable and warm in your rubber boots, Xtratuf should be a name you start searching for.
Xtratuf Boot Prices
Xtratuf boots' price ranges from $95 to $210 in both men and women categories. Some say that the price is relatively high for a pair of boots manufactured in China. However, it is still a trademark of a reputable work-oriented brand. It isn't easy to find more affordable alternatives that are of comparable or higher quality. The value of these boots is definitely worth your investment if you figure out the appropriate fit and spend much of your time in colder, wetter conditions.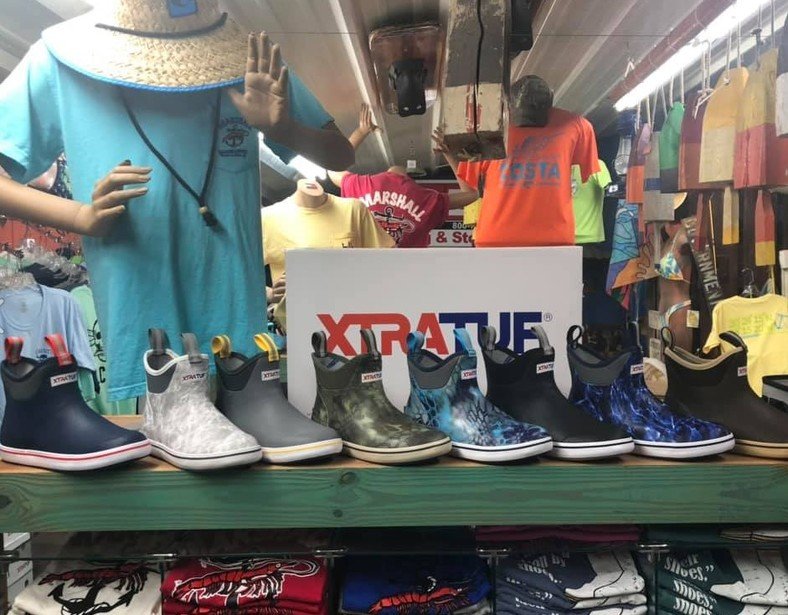 Conclusion
The production of all Xtratuf lines has been placed in China until now. However, the quality of materials and the manufacturing techniques are remained unchanged as the company's Chinese workforce has to get through many training programs to learn how these boots are to be built. There's no need to work as a professional fisherman in the Alaska waters to enjoy the benefits of these natural neoprene boots and shoes. Xtratuf is popular with anglers, hunters, and regular folk, especially in the Pacific Northwest's coastal areas. For people spending a lot of their time in the great outdoors, Xtratuf boots and shoes are a must-have.