Before buying any bike helmet, you must understand it well. So, what are bike helmets made of? What are bike helmet materials? The following article will help you answer these questions. Let's find out together.
Key Takeaways
A hard outer shell, a foam liner, and a fitting system are the three major components of a bike helmet.
A bike helmet's exterior shell is often composed of a tough plastic material such as polycarbonate or ABS.
A bike helmet's foam liner is commonly comprised of expanded polystyrene (EPS) foam, which is intended to absorb impact and protect the head.
A bike helmet's fitting system is used to modify the helmet to suit the rider's head securely and comfortably.
Bike helmets are manufactured by molding the outer shell and foam lining separately and then gluing them together.
Following the bonding of the outer shell and foam lining, the fitting system and any other features (such as ventilation or visors) are attached.
To ensure that their helmets provide enough protection for riders, bike helmet manufacturers must adhere to strict safety standards and regulations.
Several bike helmet manufacturers optimize the performance of their helmets using advanced technology like as computer-aided design (CAD) and wind tunnel testing.
Materials and designs for bike helmets are continuously improving as manufacturers strive to increase safety, comfort, and style.
To safeguard against head injuries, always ride with a properly fitted and certified bike helmet on.
Bike Helmet Materials
For cycling lovers, bike helmets are an indispensable companion. A good helmet will ensure the safety of its wearer. Usually, bike helmet parts are made from different materials.
The Lining: Expanded Polypropylene (EPP), Expanded Polyurethane (EPU or PU), Expanded Polystyrene Foam (EPS).
The Shell: ABS with PET markings, polycarbonate, other resins or Kevlar, fiberglass.
What are Bike Helmets Made of?
Typically, a bike helmet comprises three different parts, the liner, the case, and the strap. Currently, helmet linings are produced using 3D printers and new manufacturing techniques. The manufacturers will then attach it to a complete outer shell. Users can request to print the lining separately to fit their head size best. If you want to know what bike helmet materials are, check this out.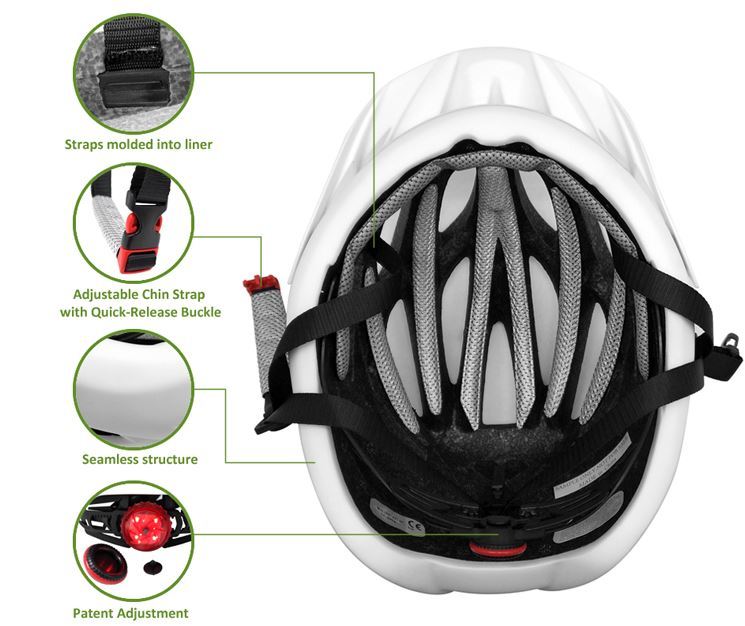 Bike helmets are made up of different materials, such as expanded polystyrene (EPS) foam, which is commonly found in most bike helmets. Other bike helmets may use multi-density foam, which offers a higher level of safety. Check out the Schwinn bike brand, which offers a variety of bike helmets with multi-density foam for added protection.
The Liner
Expanded Polystyrene Foam
Many people mistakenly believe that the shell is the most critical part of a bike helmet, but it is the lining. This unit acts as a soft foam layer to protect the head from substantial impacts.
Manufacturers mainly use Expanded Polystyrene foam (or EPS for short) to mold the lining of helmets. However, lower prices are always preferred. In the United States, sales of bicycle helmets skewed toward lower-priced models.
The helmet industry also has foam shops specializing in manufacturing EPS parts, and all apply this technology. The EPS beads are expanded by placing them in the mold to expose them to pressure and steam. They will slowly expand when acted on like that.
Mounting Technique
To produce a complete bike helmet, the manufacturer must apply the technique of connecting the mold to the adjacent parts. The inside of each helmet is carefully reinforced with small holes to ensure ventilation for the wearer.
However, each manufacturer has different proprietary techniques. Some of the common materials they use are polypropylene or nylon. In addition, some brands also apply reinforcement technology with metal or metal mesh.
In the late 1980s, people applied nylon mesh reinforcement to Protec Mirage helmets. The foam had covered the reinforcement entirely to the point that the crew did not even notice its existence. One thing to keep in mind is that the large vents should stay in place even under impact.
When it comes to mounting technique, it is important to have the right size mountain bike wheel for a smooth and safe ride. Learn how to measure mountain bike wheel size in 4 simple steps and ensure that your mountain bike wheels are the right fit for your bike. This will help you achieve optimal performance while avoiding accidents on the trail.
Other Foams
The EPS density layer will affect the impact on the helmet. Soft layers will protect the wearer from light impacts. On the contrary, substantial impacts will not be affected thanks to the stiffer layers. In addition, bike helmets improve impact resistance by changing the density of the vents or some other part.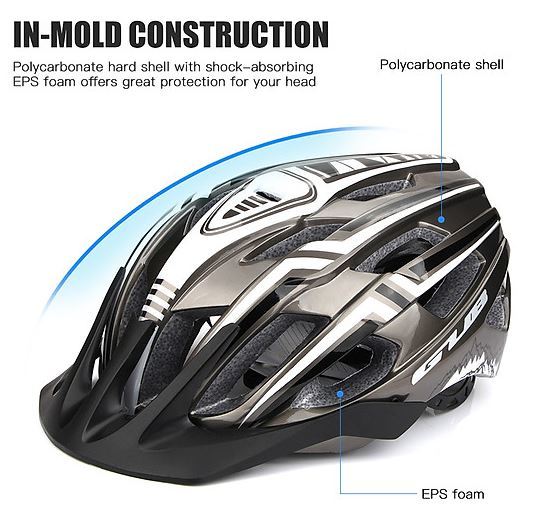 Besides EPS, manufacturers also apply other foam technology such as Expanded Polyurethane (PU) or Expanded Polypropylene (EPP). Each method has its unique manufacturing technology.
The Shell
Patent Technologies
Cheap helmets have relatively simple shells. Manufacturers usually stamp PET or some similar plastic material. If you do not know, PET is the plastic used to hold bottled water. The manufacturer will attach this plastic layer to the lining. To increase aesthetics, they also border this plastic around the edge.
The more expensive helmets are, the more reliable the manufacturing technology is. First, they extend the lining from the seed. Then melt PET or another high-quality plastic to fuse into the shell. These fabrication techniques require meticulousness, but manufacturers can fit five shells into the mold for added safety. Also, since the shell is attached to the liner in the mold, glue is not needed.
Thanks to this technique, the bike helmet becomes stronger and stronger. The vents are also more to ensure ventilation for the wearer.
Most bike companies today utilize a range of patent technologies to create their helmets. Among the popular technologies used are MIPS or Multi-directional Impact Protection System that adds protection against rotational forces, and WaveCel, which is Bontrager's proprietary helmet technology. For more information about popular bike brands, check out this article on the most popular bicycle brands.
Featured Materials
Each type of helmet is made from a different material. For skate helmets, the preferred materials are polycarbonate and ABS. In contrast, BMX helmets are made with more rigid materials.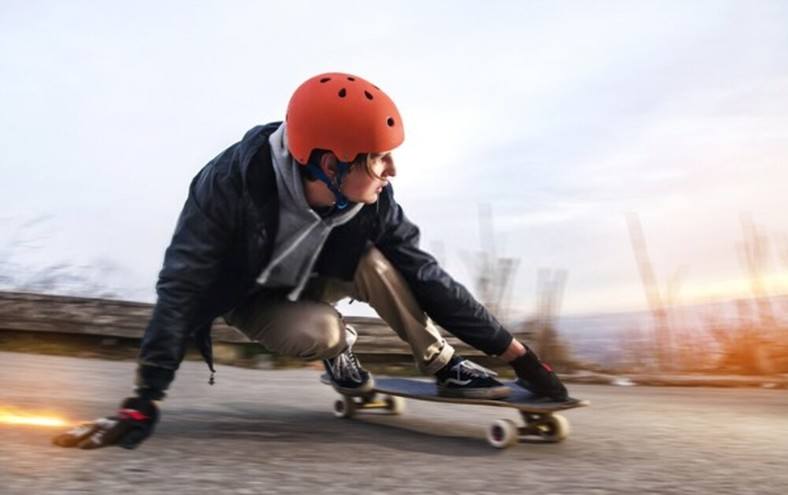 The manufacturer will apply a layer of epoxy on Kevlar, carbon fiber, or fiberglass to create a solid material. If people usually cast ABS, the composite shell is handcrafted from the skills of professional workers.
Currently, the materials for making bike helmets are expanding more and more than before. These materials are much more advanced than before, such as UHMWP or ultra-high molecular weight polyethylene. Their ability to block bullets is much better than composite.
The Strap
The strap of bike helmets must be secure so that it does not slip or break. A preferred material is a polypropylene or rugged nylon fabric. Most helmets share the same design.
However, manufacturers will use fabrics, sewing techniques and add a few details to create a unique finish. People attach the strap to the lining and then glue the outer shell on it. The helmet's strap is crossed across the liner to ensure stability. The shell is wholly encased on the outside. This method is only suitable for bike helmets that use shell glue.
This method is not suitable for more advanced techniques because the high temperature will damage the mesh fabric during the molding process. Once removed from the mold, the manufacturer will thread the strap through with a fixed anchor at the top. Besides the strap, the manufacturer also equips an occipital stabilizer for the helmets. You can adjust it to fit your head.
Finally, the primary strap connection is the buckle. Buckles are usually made from Fastex nylon or rigid plastic with a latch. Besides, the D-ring is also quite popular for BMX cyclists.
Whether a bike helmet sits securely on your head or not depends on the quality and type of strap attached to it. For comfortable riding experience, adjust the strap to where it fits snugly.
Assembly Stage
After the helmet parts are made, the manufacturer will assemble them to create a finished product. This stage is usually done manually by craftsmen. It helps the manufacturer save money. Most bike helmets will be assembled in China. The few remaining are of European and American origin.
Finishing the Product
To make the helmet more eye-catching, many brands include many other accessories. For fitness lovers, helmets with a visor on top are a great choice. Besides, cyclists can add accessories such as lights, earplugs, cat ears, rabbit ears, or assistive devices.
After choosing the right bike helmet material, the next step is to ensure that the product is finished well. You can check out the various hairstyles mentioned in Edgar Cut Hairstyles to complement your look while wearing the helmet. From classic to modern, there are plenty of styles to choose from that will suit your face shape and hair type.
Why is It Essential to Choose Bike Helmet Materials?
Guaranteed Safety
The most prominent advantage is safety. If you use inadequate quality bike helmet materials, it will not protect you. Bike helmet materials of high quality help you avoid bumps. Plus, you can save money and time by not having to replace your helmet as often.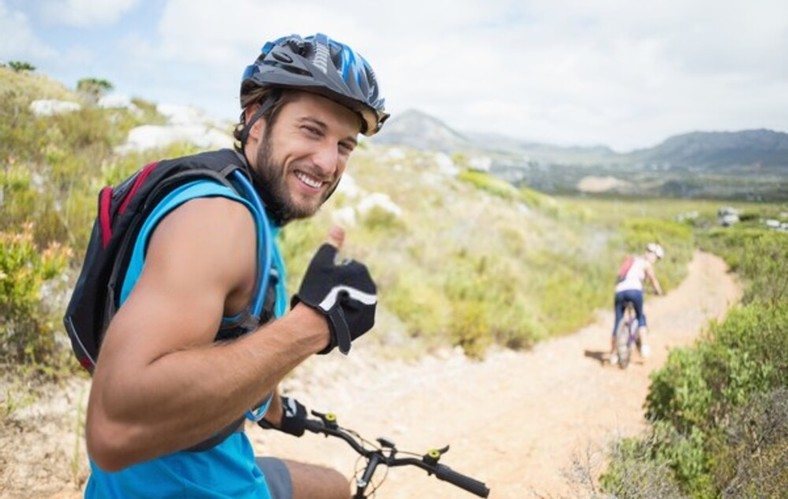 For cyclists, the leading cause of death is head injury. Rigid helmets can reduce the risk of injury in the most critical body by up to 85%. Besides the bike helmet, there is no other way to prevent accidents.
Ensure your safety while cycling by choosing a high-quality bike helmet made of sturdy materials like polycarbonate, EPS foam, or carbon fiber. For more information about bike helmet materials, visit Hood MWR's Bike Helmet Materials Guide.
Boost Your Confidence
If that helmet is made from high-quality materials, you will undoubtedly feel much more confident riding a bike. It can be said that wearing a low-quality helmet is superfluous. Wearing a helmet is not only safety protection but also a way of expressing personal style. You can completely attach funny stickers, add a few accessories to make the helmet more eye-catching. Moreover, choose sturdy materials with youthful colors to satisfy your preferences.
Keep Your Head Warm and Dry
Bike helmet materials are an essential factor when choosing a helmet because it contributes to your riding experience. High-quality materials both ensure safety and provide ventilation for the wearer. When you are cycling in hot weather, a helmet keeps your head dry. On the contrary, it provides warmth in low temperatures.
To prevent your helmet from getting waterlogged, it's important to keep your head warm and dry. One way to do that is by wearing a hat made of water-resistant material. This can also add another layer of protection in case of impact.
What parts do bike helmets include?
A standard bicycle helmet will consist of a few of the most critical parts. These parts are all made from high-quality materials to ensure the safety of cyclists:
Hardshell (usually made of fiberglass, ABS, or Kevlar)
Lining (usually made from EPS)
Front and rear guards
Head guard
Strap and adjustment mechanism
Ventilation holes ensure ventilation
Chin protection
Bike Helmet Size Chart
Helmet
Size
Circumference
(Inches)
Circumference
(cm)
Approximate
Size
XXXXS
18.11
46
XXS
18 1/2
47
Toddler
6
19
48.3
6 1/8
19 3/8
49.2
6 1/4
19 3/4
50.2
6 3/8
20 1/8
51.1
6 1/2
20 1/2
52.1
6 5/8
20 7/8
53
Small
6 3/4
21 1/4
54
Medium
6 7/8
21 5/8
55
7
22
559
7 1/8
22 3/8
56.8
7 1/4
22 3/4
57.8
Large
7 3/8
23 1/8
58.7
7 1/2
23 1/2
59.7
7 5/8
23 7/8
60.6
7 3/4
24 1/8
61.6
7 7/8
24 5/8
62.5
8
25
63.5
8 1/8
25 3/8
64.4
8 1/4
25 3/4
65.4
8 3/8
26 1/8
66.3
8 1/2
26 1/2
67.3
FAQs
What are suitable bike helmet materials?
Today, most bicycle helmets have a three-part construction, a thin lining, a hard outer shell, and a strap. Manufacturers will use polypropylene (EPS) or polystyrene to create a lining that is not too thick. The outer shell needs to be solid and durable, so polycarbonate or Kevlar is a good choice.
Is carbon fiber suitable for bike helmet materials?
Many brands consider carbon fiber as the primary material for making helmets. Carbon fiber is much stronger and more reliable than many other materials. In addition, the shell of bike helmets is also more durable when connecting Kevlar with carbon fiber.
Why is rigid foam suitable for making bike helmets?
The current bike helmets often use rigid foam to make the inner lining. Although the market has many types of foam with different quality, manufacturers still prefer EPS the most. This material can handle many situations. For example, it elastics between strong and light depending on the magnitude of the impact. Besides the low cost, foam also ensures ventilation.
What is the production procedure for bike helmets?
Bike helmets are made by shaping the outer shell and foam lining separately and then fusing them together. The fitting system and any other elements (such as ventilation or visors) are added once the outer shell and foam liner are fused together
How are the materials used in bike helmets assessed for safety?
To ensure that their helmets provide enough protection for riders, bike helmet manufacturers must comply to strict safety standards and regulations. Impact testing, penetration tests, and retention system tests are among the procedures used to evaluate helmets.
What technologies are employed in the manufacture of bicycle helmets?
Several bike helmet manufacturers optimize the performance of their helmets using advanced technology such as computer-aided design (CAD) and wind tunnel testing. These technologies can assist manufacturers in developing more aerodynamic, comfortable, and safe helmets.
What are some well-known bike helmet brands?
Some well-known bike helmet manufacturers include Giro, Bell, Specialized, and Bontrager. These companies provide a variety of helmets for various styles of riding and price points.
How do I select the proper size bike helmet?
To find the correct size bike helmet, measure the circumference of your head and compare it to the manufacturer's sizing chart. It is critical to select a helmet that fits snugly but comfortably on your head and does not slide about
Why is wearing a bike helmet so important?
A properly fitted and certified bike helmet is essential for preventing head injuries when riding. In the event of a crash, helmets can assist absorb impact and lower the risk of brain injury
Conclusion
One of the factors that determine the endurance of a helmet is the bike helmet materials. Cutting-edge technology now allows buyers to choose between a variety of materials, styles, and colors. Manufacturers also actively innovate their products so that users have the best experience. Lightweight and robust materials increasingly enhance the quality of helmets.
Hopefully, through this article, you have found the appropriate answer to the question: "what are bike helmets made of?" to choose the most suitable helmet.